If you happen to visit Big Sur (and you should) and only have one day to do it, I want to show you 5 awesome things to do (and explore) there and it can absolutely all be done in one day.

In all of the California Coast that I've personally explored so far, Big Sur be the region that is houses some of the most beautiful spots so close together and that leads me to share:
The top 5 places I recommend to do (and see) in Big Sur, all in one day:
Bixby Bridge.
Mcway Falls.
17 Mile Drive.
Pfeiffer Beach.
China Cove.
Further in this article, you're going to see exactly where each spot is in Big Sur, and why it's so awesome to explore each one, as it offers it's own individual type of attraction and scenery.
And you will have ample time to check out each area and still be able to fit it all into a one day trip through the Big Sur area.
My quick history with visiting Big Sur:
I've visited Big Sur 2 times:
Once in 2019 during a Pacific Northwest road trip that I took alone in 2019.
And a second time in 2020 with a friend of mine on a western US road trip.
The first time I'd visited this place, I was amazed at the scenery but because I was short on time, had to cut my exploration of this area short.
Out of the 5 places I suggest you visit, the first time I went here, I only explored 2 of them.
But after vowing to return, which I did a year later, I managed to explore 4 out of 5 of these places and I will show you the best photos I took while here, because they will surely encourage you to go here too.
If you decide to go, I highly recommend putting these 5 spots in your GPS so you don't miss them like I did.

Now it important to know that Big Sur holds a lot more places to see, hike, swim in, and enjoy than just these 5 locations, but based on what I saw when I went there, plus the missing areas, I would say if you have 1 day to visit this place, then read this list of the top places there to check out.
Here are the top 5 places to see in Big Sur all in one day:
Let's begin with the first place on this list:
1) See and drive over Bixby Bridge:
Since I was coming into Big Sur from the north, Bixby Bridge was the first location on this list that I saw. It's impossible to miss considering that it's the largest bridge in all of Big Sur.
There is a parking area near it and it is right off the road.
This bridge and the scenery around it are incredible and just so you know, getting down to the beach is illegal since the property there is private (I sort of tried, but was notified early that it's not legal).
In any case, stopping here and enjoying the scenery is a must if you're visiting Big Sur.
2) Make sure to check out McWay Falls: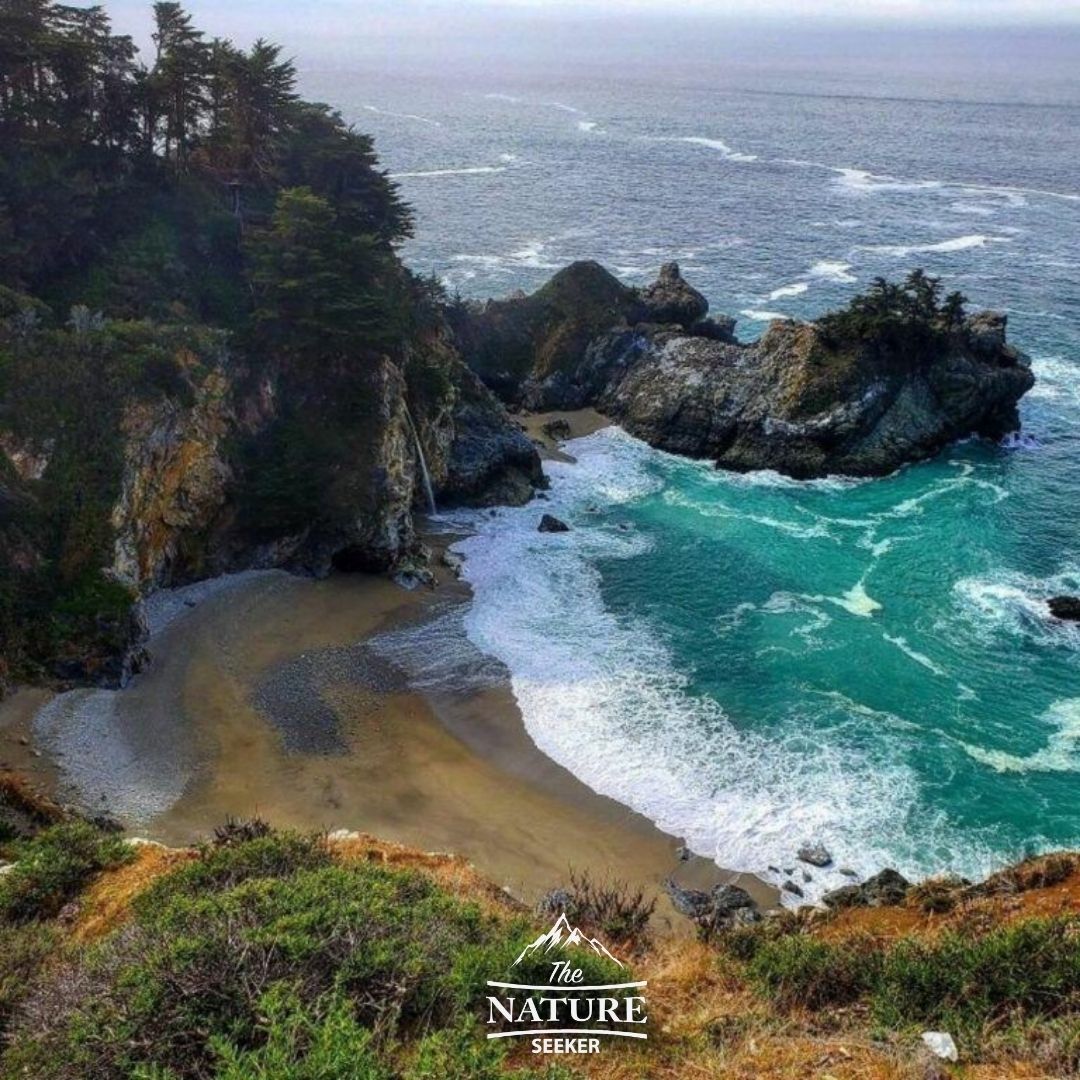 As long as you continue down the same road (1) after Bixby Bridge, you WILL cross McWay Falls and I would say this is one of the other main attractions in Big Sur (for obvious reasons).
The first thing you may be wondering if it's possible to get down there and the answer is yes it is, but the problem is that it's illegal and highly dangerous.
But you can view this area from a top, whether in the parking area (where I took this photo from), and also take a short walk to a walkway near the parking lot which will basically put you a little bit lower and closer to the falls.
To get there though, you will have to enter a park and pay a $10 fee so unless you really want to, I would recommend enjoying this view from the parking lot right over the falls like I did and avoiding the $10 charge.
Bixby Bridge was one of the first beaches with a waterfall I've ever seen and to date, it might be the most beautiful out of them all.
Let me pause for a moment to go and hit my forehead some more, because like I said, these next 3 spots are places I missed (and I will make up for it the next time I go)!
Ok, now that I did that, let's continue.
3) Do the famous The 17 Mile Drive:
I seriously believed that there was only 1 main road along Big Sur where I could see everything (Road 1), but seeing this option pop up on the list is what made me start hitting my forehead:
The 17 Mile drive is off road 1 (and then comes back to it, it's basically a semi circle) and is it's own separate road which has hikes, a scenic drive (here are 10 other amazing scenic drives in North America). It has neighborhoods, hikes, beach walks, and an actual scenic drive you can take around and then back to road 1. 
The 17 Mile Drive will give you an extra scenic experience of this area, even though road 1 itself is the main drive along this whole location. It is also sadly the only place on this list I didn't have a chance to visit both times that I went to Big Sur.
4) Visit Pfeiffer Beach (great for sunsets):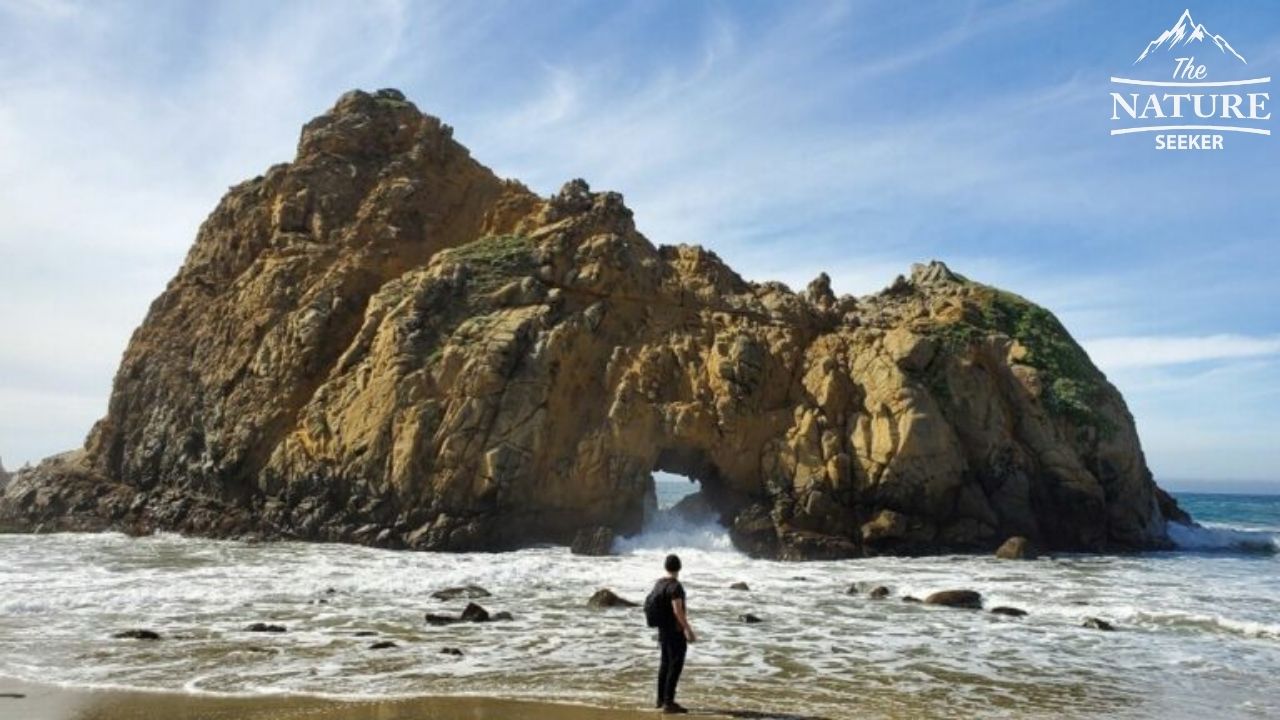 So here's another iconic spot to explore! 
It's a beach that contains natural bridges (well all of Big Sur basically does) and one of these bridges is shaped in a way that if you can get to this location during sunset, the hole that is in this specific spot lights up.
That is the photo above that you see. Sadly, I couldn't wait until the sun would set to see this, but if you go to Pfeiffer Beach and can time it well, go when the sun will set.
To enter this beach will require you enter through a toll and the cost is $10 per car.
Overall, if you decide to visit all these spots, time Pfeiffer beach as the last stop to ensure you get here during sunset.
And if you love natural bridges in general, I have some extra recommendations of areas you can see that have them on the Pacific coast:
1) See this list of California's top 10 coastal spots, some of which have them.
2) The Oregon Coast has plenty of areas with natural bridges, including an actual place called Natural Bridges, and another one called Secret Beach, as well as places like Devils Punchbowl and plenty more!
3) And by the way, you can easily do many day hikes on the Oregon Coast too as you can in Big Sur.
5) Take a tour through China Cove:
I cannot begin to tell you how frustrated I was the first time I visited Big Sur, only to later found out I missed China Cove which is what you see to the right:
So the next time I went, I made sure I wouldn't make that mistake again. And to show you why you need to see this place, have a look at this photo of it:
Here is where you'll find China Cove.
Note: You have to enter a park and pay a $12 fee, then drive through various parking lots to reach the footpath that goes to China Cove itself and the drive to that area is about 5 minutes. You can also elect to walk to China Cove but that might take you 40 minutes to do.
Unfortunately, like many other spots in Big Sur, getting down to China Cove is technically not allowed, and it's one of the reasons I consider visiting Oregon's Coast to be a better choice than California's coast, since there's more legal areas you can explore rather than see from the top like these spots.
How to make sure you see all of these Big Sur spots in one day:
1) If you're coming in from the north of Big Sur:
This is the order of spots you'll want to see to do that:
McWay Falls.
Pfeiffer Beach.
Bixby Bridge.
China Cove.
17 Mile Drive.
2) If you're coming in from the south of Big Sur, then you'll want to do the reverse order:
17 Mile Drive.
China Cove.
Bixby Bridge.
Pfeiffer Beach.
McWay Falls.
But overall, Big Sur has some truly astounding places and besides these 5 which I think you have to see, if you have more time to spend at Big Sur, you'll easily find plenty of other awesome attractions in this area worth exploring.
If you plan on doing the 5 places I listed in 1 day, start as early as possible. If you plan to stay the whole day and want to see the sunset at Pfeiffer beach, make sure that's your last stop before you finish the day trip.
This sight seeing strategy should help you enjoy all 5 places without rushing too much and do it all in one day.
Questions about Big Sur:
What is special about Big Sur?
In my opinion Big Sur is the most scenic region of the entire California Coast and offers a wide range of things to see and do.
Is Big Sur worth visiting?
Yes Big Sur is worth visiting if you are planning to explore the California Coast. It has a lot to offer and is an iconic part of the Pacific Coast Highway.
What is the best month to visit Big Sur?
In my opinion January through March. The reason why is because the weather is very pleasant, there are barely any people and you are much more likely to explore more of Big Sur that way.
More scenic drives and places to see on the California (Coast and inland):
1) Southern California holds many scenic drives I recommend exploring.
2) Northern California also holds a lot of scenic drives and also places to stop at and explore.
Throughout California's coast though, I doubt there's any place that holds more beauty in one condensed spot than Big Sur, but if you're looking to travel the greater Pacific Coast highway which I did on a road trip, then you may want to check out that article and see other beautiful areas there (including Big Sur).