In this article I want to share the 10 best hikes near Las Vegas that I have uncovered over the many years I've traveled to this city. If you're like me and you're more into nature than the casino life, then you're going to want to check out the places the next time you're visiting.
The beauty of where Las Vegas is located in is that it's basically in the middle of much diverse terrain ranging from mountains, to slot canyons and much more. I'll be sharing with you hiking trails and regions near Las Vegas that are perfect for day or overnight hikes too.
Here is the list of the 10 best hikes near Las Vegas to see: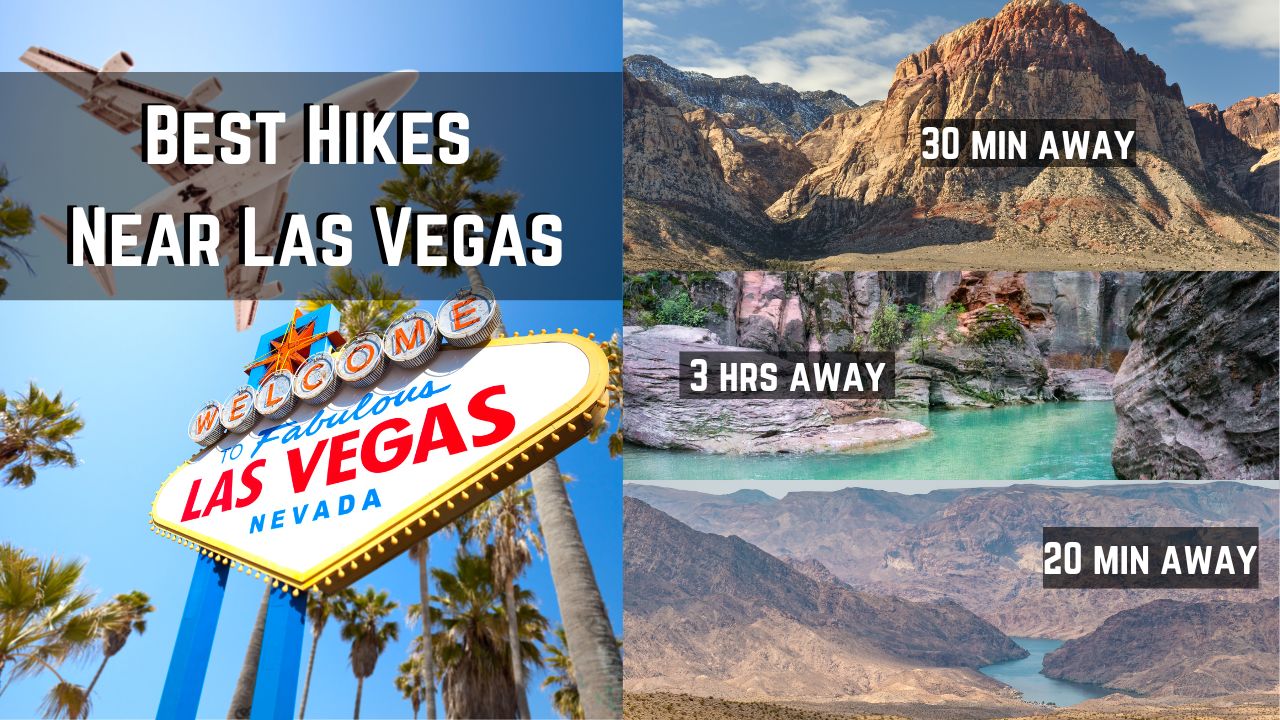 Mary Jane Falls trail (1 hour from Vegas).

Ice Box Canyon trail (30 minutes from Vegas).


Fire Wave and Red Vista Trail (1 hour from Vegas).

Shoreline trail (30 minutes from Vegas).

Gold Strike Hot Springs hike (30 minutes from Vegas).

Hikes in Zion National Park (3 hours from Vegas).

St. George Utah and hiking trails there (2 hours from Vegas).
Cedar Pocket Narrows trail (40 hour away from Vegas).
Black Mountain trail (30 minutes from Vegas).
Owl Canyon trail, Lake Mead (20 minutes from Vegas).
Each of these trails presents different kinds of hiking experiences in different terrains so you can get a lot of variety out of them.
1) Mt. Charleston and Mary Jane Falls trail: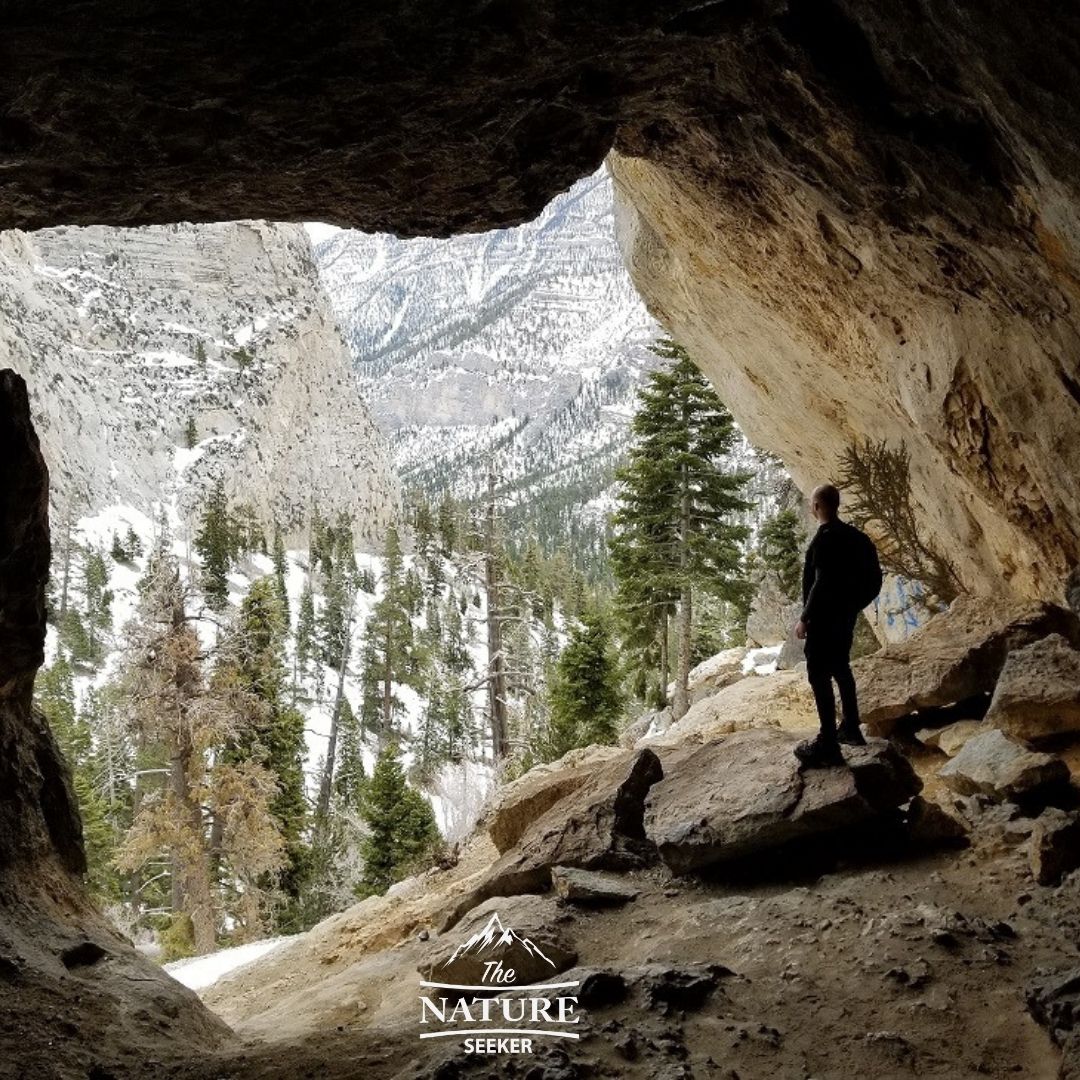 Location: 45 minutes west of Las Vegas (located beyond Red Rock Canyon).
Information on the hike: The name of the trail here is Mary Jane Falls and this is also close to a popular mountain called Mt. Charleston.

There is a hiking trail connecting Mt. Charleston and Mary Jane Falls together and I have personally done the Mary Jane Falls hike in late January. It was absolutely beautiful but very snowy too.

There are 2 things which of the things which made the Mary Jane Falls hike so interesting:
1) First you can find a cave near Mary Jane Falls itself which is where I took that picture you see.
2) Second, Mary Jane Falls is a cool waterfall to check out, but in my case because it was so cold, the water flow here was barely seen but either way, this waterfall, the cave and the hike itself are a really cool way to escape Vegas for a day or so and enjoy amazing spots nearby.
2) Ice Box Canyon Trail (has the closest waterfall near Las Vegas):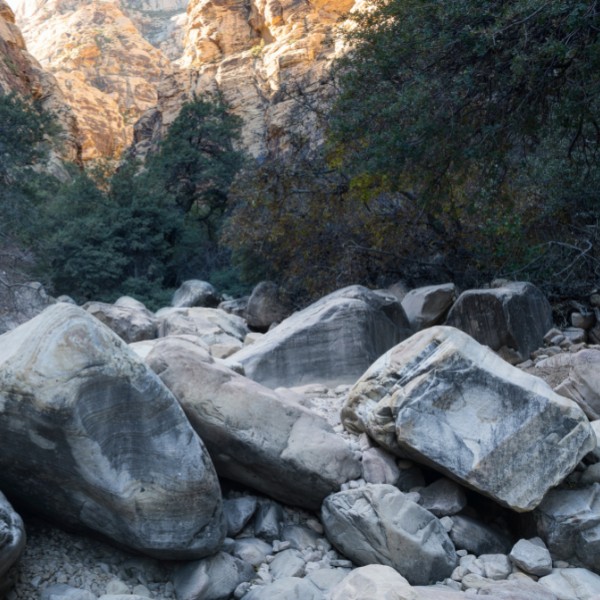 Location: Red Rock Canyon, a 30 minute drive west of Vegas.
Length of the hike: Ice Box trail Canyon Trail (2-3 miles).
Information about the hike: Red Rock Canyon is probably the most popular place to find many hikes near Las Vegas and there's many options besides Ice Box Trail.

However, I chose this one because it's short, very beautiful (canyon hike and amazing red and white rock views), popular and it leads people to a beautiful waterfall in the Red Rock Canyon that in my opinion is way more popular, closer and more beautiful than Mary Jane Falls and that's something that's tough to find in this region.
For more trails in Red Rock Canyon, use programs like Alltrails (great way to find many more options).
Icebox Canyon trail is maybe 1 of potentially dozens of hikes near Vegas to check out and a lot of them are longer but potentially more exciting.
3) The Fire Wave and Elephant Rock trails (Valley of Fire State Park):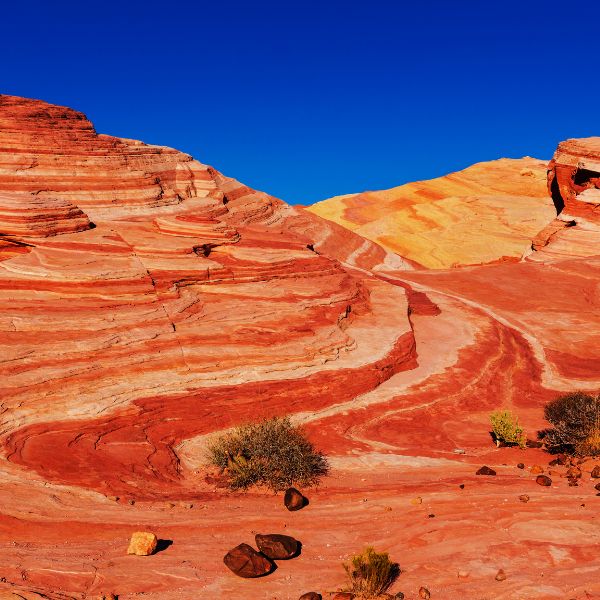 Location: 45 minutes away from Las Vegas.
Length of the hikes: 2-3 miles each (check with Alltrails to be safe).
Information about the hikes: Valley of Fire State Park is a very "cool" place to explore and I do believe it's the closest state park you'll find near Las Vegas.

It's not a big park, but it is very beautiful and there are many hikes to check out here too like in Red Rock Canyon, but they are more accessible in this park as the elevation isn't nearly as high and so it's easier to check out multiple hikes in one day.
In this case, I'm recommending you see the Fire Wave trail and just well Elephant Rock if you have time (you may find that you can get in another 1 or 2 hikes as they are usually short and easy to hike).
The Fire Wave trail is a really scenic hike that is actually one of the best alternatives to the Wave Trail you may have heard about at one point but it's only a simple 3 mile in and out hike.
4) Shoreline Trail (Lake Mead area):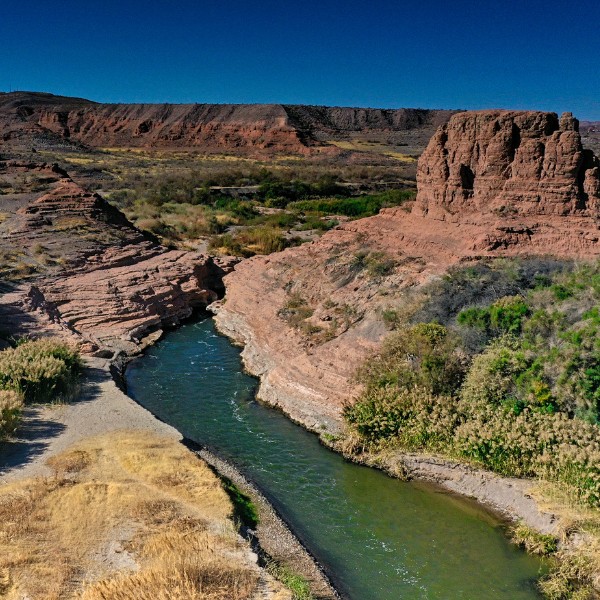 Location: 30 minutes east of Las Vegas (by Lake Mead).
Length of the hike: 3-4 miles.
Information about the hike: Lake Mead isn't just a giant lake and dam area near Vegas, it's actually a giant region east of the city which has a lot of different hiking trails and the one I'm recommending you check out is the Shoreline Trail.

It's located pretty much directly east of Vegas and it does require you enter a national park area (pay to get in), but then what you will find is a long and beautiful scenic drive with several hikes and scenic overlooks to check out (among other things).
The Shoreline trailhead in this case is on the northern side of Lake Mead and is a trail that has you walk along a beautiful river that flows into Lake Mead (with great views on just every part of the trail).
It's scenic, simple to follow, easy to find and makes for a great hike near Las Vegas to check out.
5) Gold Strike Hot Springs (has the best hiking near Las Vegas):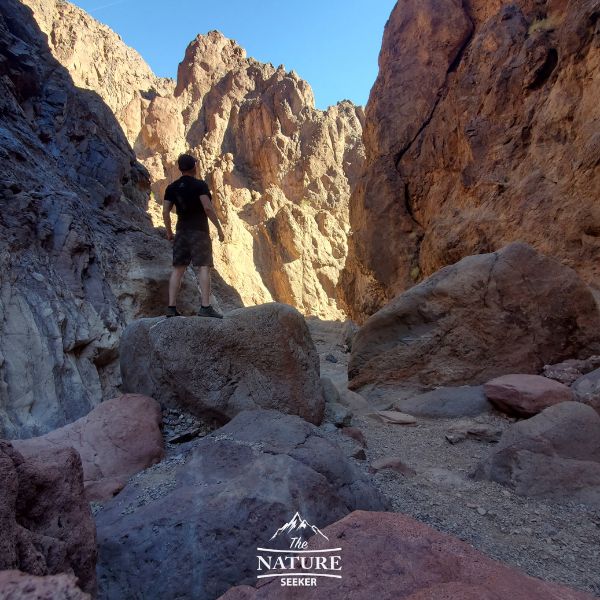 Location: 30 minutes from Vegas (south of the city).
Length of the hike: 5 miles in and out.
Info on the hike: Gold Strike Hot Springs is a very popular hike whose trail head is literally off Interstate 11.
It's also very close to Hoover Dam (by Lake Mead too). Anyway, the hike itself involves scrambling down a canyon for about 3 miles before finding the actual hot springs area.
There is rope climbing involved in parts of the hike and it can be pretty difficult for some people, especially the further down it goes.
But it is also a very fun and challenging hike you can undertake which would only take you about a half day to do in most cases if you're in Vegas and want to escape the city.
I've done this hike already and can tell you it's a 5 out of 5 if you enjoy scrambling, rock hopping, challenging rope climbs and scenic canyon hikes, because this trail has all of this and much more!
6) Hiking trails at Zion National Park: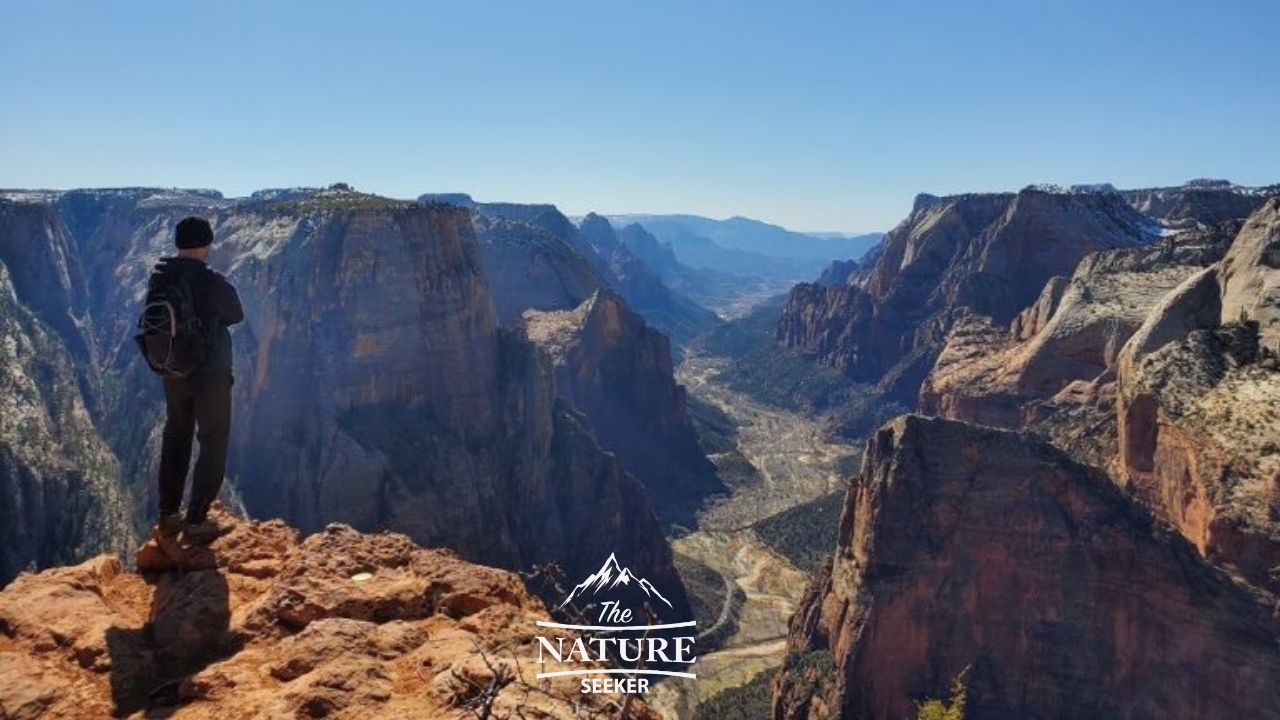 Location: 2-3 hours North East of Las Vegas.
Hiking trails to check out: Canyon Overlook (very easy), Angels Landing (scary hike), as well as Observation Point (most scenic views).
I also recommend hiking in the Narrows if you have time and also exploring the Subway. Those last 2 trails are difficult to get into a single day hike, but if you start early and go fast, it's possible.
Information about Zion National Park and the hikes there: If you're willing to drive a bit further and wake up early to do it, checking out Zion National Park is a MUST!
I've been to this park 3 times, of which 2 visits involved leaving from Las Vegas early in the morning, going to this place and coming back in the evening.
It is very doable if you're in good shape and want to see some amazing views.
You can squeeze in 2 hikes if you're fast, but if not, 1 hike and the scenic drive through this park are more than enough reasons to go.
7) St. George Utah (lots of hikes there too):
Location: St. George region (Utah). 2 hours near Las Vegas.
Hiking trails to check out: Check out day hikes in St. George here. It's a bit closer to Vegas than Zion National Park.
Information on the hikes: St. George itself is a beautiful town you can explore, but in addition to that, it also has a wide variety of hiking trails, including those which overlook the city itself, lava caves and much more.
There is also an awesome area called Snow Canyon State Park here which I have on my list of the best state parks in Utah and it has a lot to offer (in addition to all the other amazing hikes nearby).
St. George is very famous (among those who know the truth about it's beauty) for it's scenery and adventures.
But at the same time is often overlooked by general tourists who ignore this area and try to go to the big name places like Zion National Park.
This gives you the advantage in having to worry less about large crowds and lines!
8) Cedar Pocket Narrows trail (Virgin River Gorge):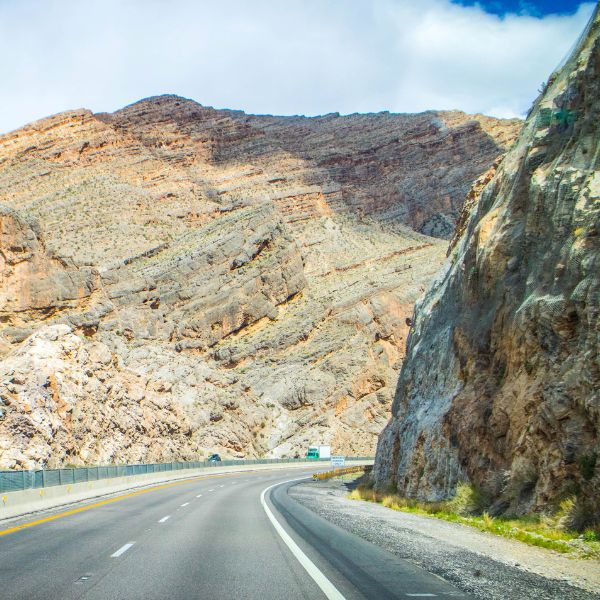 Location: 40 minutes near Las Vegas.
Length of hike: 5 miles.
Hiking trail information: Firstly, the Cedar Pocket Narrows trail offers incredible views and challenges.
And there are other incredible sights like Elephant Arch, kayak opportunities and much more.
Info: One of the most amazing areas I have ever driven through from Vegas (and back) from Zion was the Virgin River area, specifically in Arizona and there is a small section of it with humongous mountains in which you have the Virgin River run.
There are a large number of parking areas that will provide you with access to the hikes and other viewpoints.
Make sure to first plan which hike you want to do ahead of time because once you're in this area, you will likely not have any cell phone reception (that's been my experience when I drive through here).
If nothing else just drive through this area because I promise you, it will be unforgettable.
9) Black Mountain trail:
Location: 15 minutes south from Las Vegas.
Length of hike: 4 miles in and out.
Hiking information: Black Mountain trail is probably the closest hike you will find near Las Vegas at only about 15-20 minutes south of the city and it's very easy to find.
This hike isn't the most scenic out of the options listed here, but it is still a nice experience and a simple hike that leads to an overlook where you can see Las Vegas from.
It's a good family friendly hike to check out if you only have a few hours to explore hikes near Las Vegas.
It's also pretty close to 2 other hiking trails in the region known as Sloan Canyon National Conversation Area and they are Hidden Valley and Dry Falls so if you enjoy Black Mountain (or not), you will still have time to see one or more of the other trails nearby.
10) Owl Canyon trail:
Location: Near Lake Mead (20 minutes from Las Vegas).
Hiking distance: 3-4 miles in and out.
Description: Besides the Shoreline trail above, Lake Mead really does have some amazing hiking near Las Vegas and the Owl Canyon is the other trail I highly recommend checking out.
It's a mix of beautiful hiking scenery, a slot canyon hike, and a variety of other scenery and hiking experiences mixed together.
If you do the Shoreline Trail, I would strongly recommend doing the Owl Canyon Trail right after as it's literally about a 5-10 minute drive to that trailhead.
The hike is also pretty easy to do (one of the easier hikes near Las Vegas) and right by it is another trail you may want to add and that's the White Owl Canyon trail which also leads to another beautiful slot canyon.
With Lake Mead, you have a lot of extra hikes to get done close to Vegas.
Questions about hiking near Las Vegas:
Can you go hiking in Vegas?
Outside Las Vegas, there are plenty of hiking trails you can try, the closest of which is in Red Rock Canyon and it's only 30 minutes away.
Can you hike the mountains in Las Vegas?
Yes, there are many mountain areas outside of Vegas including Red Rock Canyon, Mt. Charleston and the Virgin River Gorge Mountains.