In this article I want to share the 8 best day hikes near Las Vegas that I have uncovered over the many years I've traveled to this city. If you're like me and you're more into nature than the casino life and city exploration, then you're going to want to check out the places I have to share with you.
The area in which Las Vegas lies in happens to be geographically centered between many mountains, forests and hiking opportunities that go way beyond the 8 I want to share with you here, but these 8 are very-somewhat close to the city and make for perfect day hikes to explore if you're tired of playing at the tables or just want to do something other than see the city.
Here is the list of the 8 best day hikes near Las Vegas: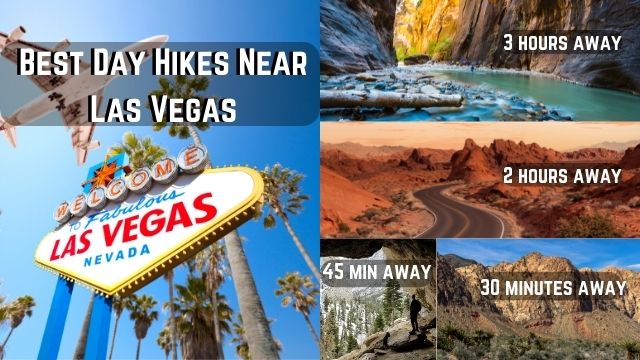 Mt. Charleston and Mary Jane Falls trail (1 hour from Vegas).

Ice Box Canyon trail (Red Rock Canyon, 30 minutes from Vegas).


Fire Wave and Red Vista Trail (Valley of Fire State Park, 1 hour from Vegas).

Black Mountain trail at Emerald Cove (2 hours from Vegas).

Gold Strike Hot Springs hike (30 minutes from Vegas).

Hikes in Zion National Park (3 hours from Vegas).

St. George Utah and hiking trails there (2 hours from Vegas).
Virgin River Gorge hikes (1 hour away from Vegas).
For me, I explored the first and last option on this list and passed the second, but for future visits to Las Vegas, when I'm tight on time, I'll be exploring the others and documenting them too.
But they all have great reviews, as well as scenic and adventurous hikes you can do, all in a single day trip if you're staying in Las Vegas.
So let's get to each location and show you what to expect, as they make for perfect getaways from the noise and business of Vegas:
1) Mt. Charleston and Mary Jane Falls trail:
Location: West of Las Vegas.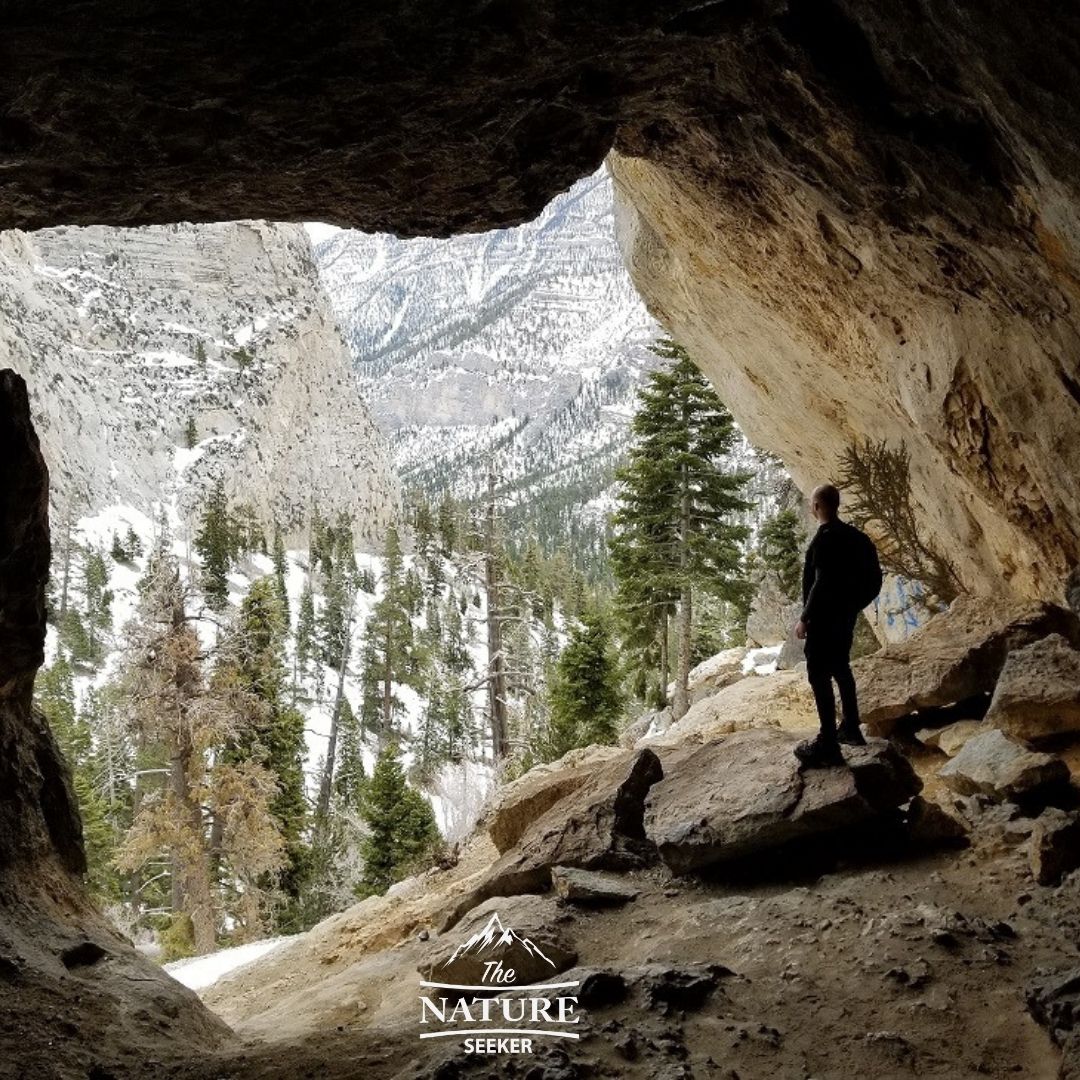 Distance from Las Vegas (by car): 45 minutes to 1 hour.
Things to see: Waterfalls, fun hikes, caves, scenic drives.
Both Mt. Charleston and Mary Jane Falls are part of the same hiking spot and it is the one I explored when I first looked at different hiking areas to check out near Vegas.
The following picture you see at the top is one of the most iconic spots of this hike which is a cave near Mary Jane Falls.
After visiting it and Mt. Charleston I have to say a few things:
I enjoyed the hike.

I liked the panoramic views there.

I wasn't thrilled with the actual Mary Jane Falls as it was more of a tinkle falls, with hardly any water running there.
It's likely because it was winter time and most of the areas were frozen. But the scenic areas around this hike make up for the lack of an awesome waterfall.
So this is a recommended location you should check out if like us:
You are in Vegas and want to explore nature areas outside that city.

Are tight on time. We rented a car, did this hike early in the morning and returned in the afternoon.

Aren't really interested in crazy hikes, but just want something that is scenic and short (this one is about 3 miles long).
Information about Mt. Charleston and Mary Jane Falls (before you go):
This location is about an hour drive west from Las Vegas and when I say it is near Vegas, we're talking about an hour drive along a beautiful scenic road. And if you are into scenic roads, I've got 14 more to show you here.
There's also great reviews and tips from this popular hiking site on this location.
The trail to Mary Jane Falls is in a place called Kyle Canyon (the same canyon you see in the photo above).
The views in Mt. Charleston are pretty amazing:
Now when you hike to Mary Jane Falls, it is not on the actual hike to Mt. Charleston itself, it's just one of the many hikes there (one of the easier ones and if you want to get to the mountain itself, you will need to follow a different trail).
Getting to the actual location is not difficult, and once you get to the trail head, just stay to the right of it, until the trail start going up. If you want directions, it's actually pretty simple to get to the trail head:
Just use this map listing to get to the parking area, then look for the signs to the trail head, and then just follow it.
Considering you walk pretty quickly, the hike can be completed within a few hours.
It took us a little longer to do it due to the snow, which made walking and hiking more difficult, and it also covered the trails themselves, so we had to use some common sense to figure out the way.
There is a map near the trail head, so take a picture of it with your phone and refer to it if you need to.
2) Ice Box Canyon Trail and Calioco trail (Red Rock Canyon):
Location: Red Rock Canyon, a 30 minute drive west of Vegas.
Length of the hikes: Calioco trail (2-3 miles) and Ice Box trail Canyon Trail (2-3 miles).
Information about the hike: Red Rock Canyon is probably the closest area to Las Vegas where you'll find a lot of different day hikes and the road which takes you to it is actually part of the same road which leads into Mt. Charleston.
2 of the most popular day hikes in this region are Calioco trail and the Ice Box Trail. Both options are fairly easy for most people to climb and feature awesome scenery of the canyon and even a waterfall.
3) The Fire Wave and Elephant Rock trails (Valley of Fire State Park):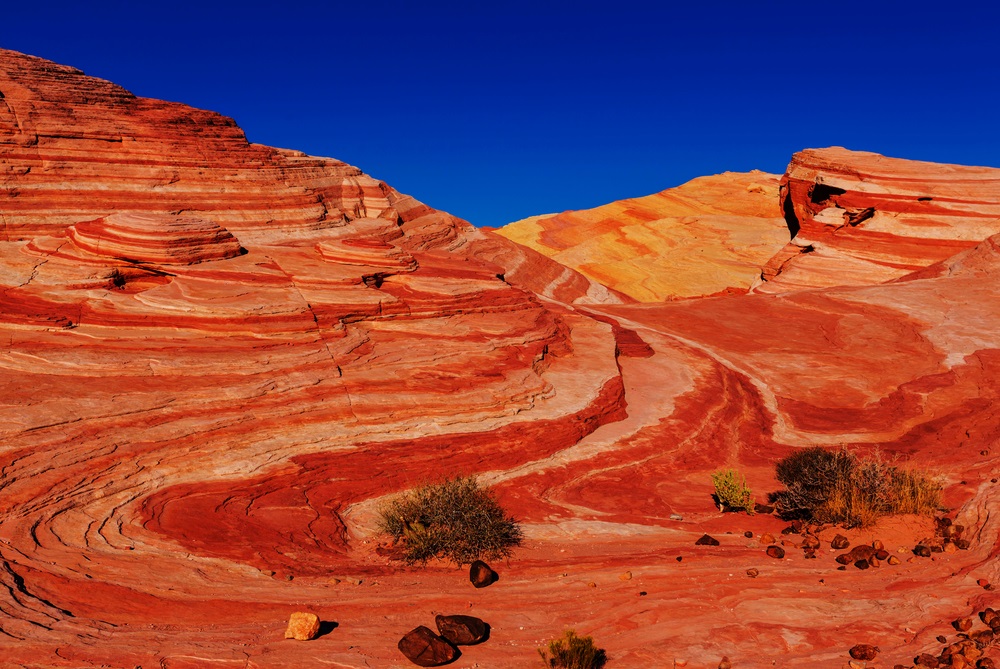 Location: 45 minutes north east of Las Vegas.
Length of the hikes: 2-3 miles each (check with Alltrails to be safe).
Information about the hikes: Valley of Fire State Park is a very "cool" place to explore and it's also close to Lake Mead, which features it's own fun filled activities you can do (such as kayaking).

But in regards to the park itself, there's many hikes to explore and 2 which I recommend you try are the Fire Wave, Elephant Rock and other places.
Additionally, the scenic drive in this park is outstanding and has many panoramic stops to check out. I've personally done it and HIGHLY recommend you pay a visit to this park if you get the chance!
4) Black Mountain trail (Emerald Cove):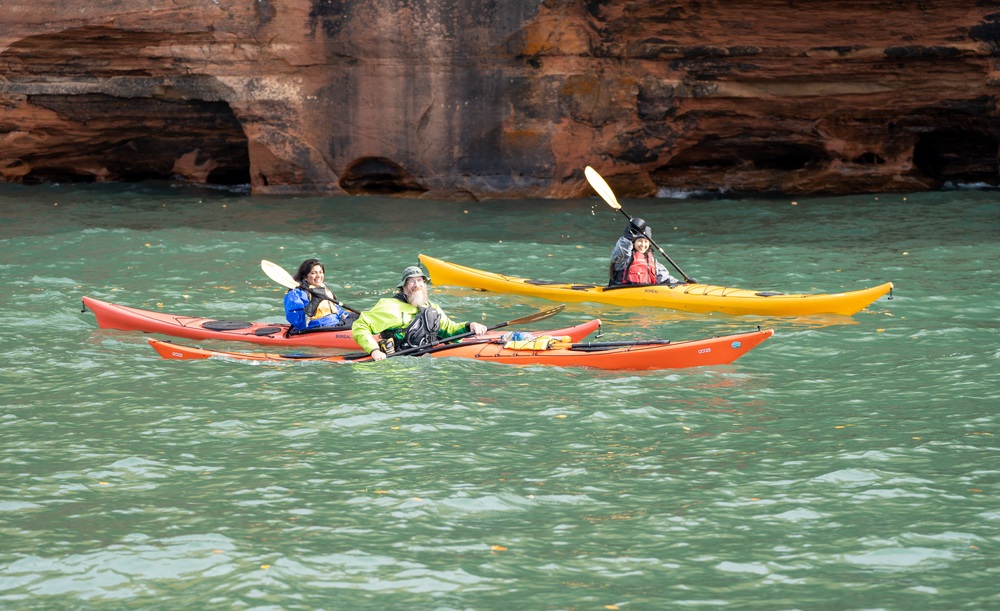 Location: 1 hour south of Las Vegas.
Length of the hike: 4-5 miles.
Information about the hike: This particular area has a combination of activities you can do.
On one hand, you have Black Mountain and the trail you can check out there (good for a day hike) and on the other, there's kayaking available here too which will take you through beautiful waters and even "sea caves" along the area.

Depending on when you decide to visit Vegas, going to this particular place would offer you a lot of awesome opportunities for adventure and in my opinion, going here during winter or fall would be ideal.
5) Gold Strike Hot Springs: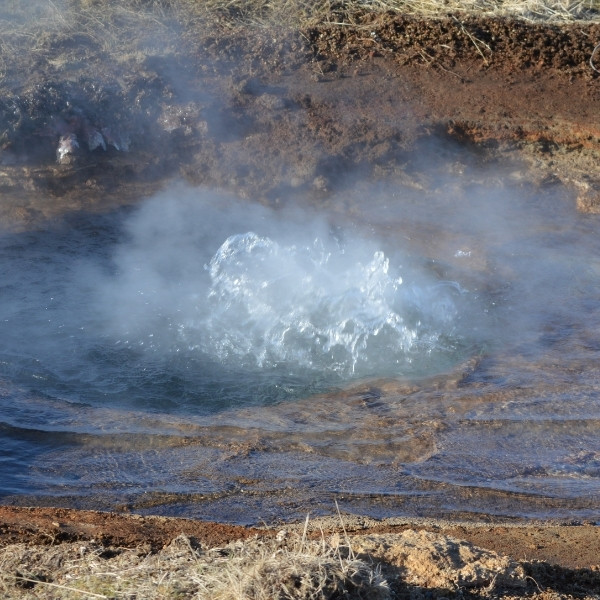 Location: 30 minutes from Vegas (south of the city).
Length of the hike: 5 miles in and out.
Info on the hike: Gold Strike Hot Springs is a very popular hike whose trail head is literally off Interstate 11.
It's also very close to Hoover Dam. Anyway, the hike itself involves scrambling down a canyon for about 3 miles before finding the actual hot springs area.
There is rope climbing involved in parts of the hike and it can be pretty difficult for some people, especially the further down it goes.
But it is also a very fun and challenging hike you can undertake which would only take you about a half day to do in most cases if you're in Vegas and want to escape the city.
I've done this hike already and can tell you it's a 5 out of 5 if you enjoy scrambling, rock hopping, challenging rope climbs and scenic canyon hikes, because this trail has all of this and much more!
6) 4 hikes at Zion National Park: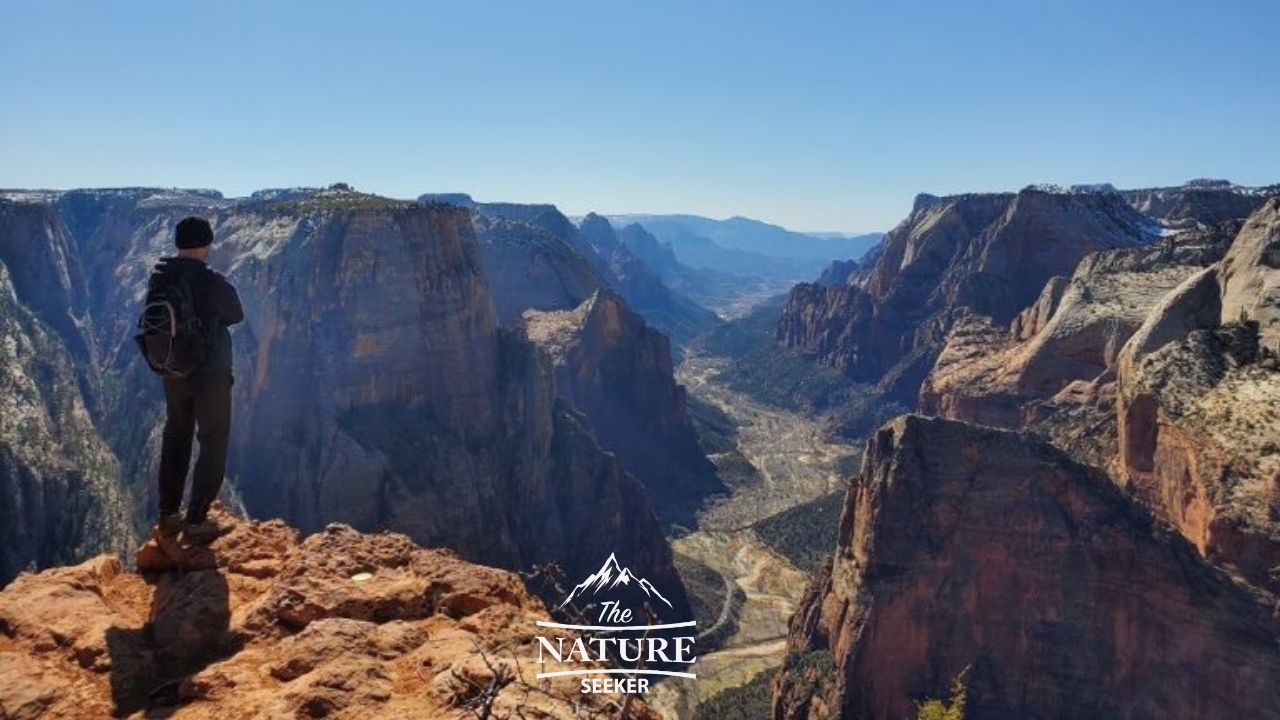 Location: 2-3 hours North East of Las Vegas.
Hiking trails to check out: Angels Landing, as well as Observation Point.
I also recommend hiking in the Narrows if you have time and also exploring the Subway. Those last 2 trails are difficult to get into a single day hike, but if you start early and go fast, it's possible.
Information about Zion National Park and the hikes there: If you're willing to drive a bit further and wake up early to do it, checking out Zion National Park is a MUST!
I've been to this park 3 times, of which 2 visits involved leaving from Las Vegas early in the morning, going to this place and coming back in the evening.
It is very doable if you're in good shape and want to see some amazing views.
You can squeeze in 2 hikes if you're fast, but if not, 1 hike and the scenic drive through this park are more than enough reasons to go.
7) St. George Utah (lots of hikes there too):
Location: St. George region (Utah). 2 hours near Las Vegas.
Hiking trails to check out: Check out day hikes in St. George here. It's a bit closer to Vegas than Zion National Park.
Information on the hikes: St. George itself is a beautiful town you can explore, but in addition to that, it also has a wide variety of hiking trails, including those which overlook the city itself, lava caves and much more.
There is also an awesome area called Snow Canyon State Park here which I have on my list of the best state parks in Utah and it has a lot to offer (in addition to all the other amazing hikes nearby).
St. George is very famous (among those who know the truth about it's beauty) for it's scenery and adventures.
But at the same time is often overlooked by general tourists who ignore this area and try to go to the big name places like Zion National Park.
This gives you the advantage in having to worry less about large crowds and lines!
8) Virgin River Gorge (Cedar Pocket Narrows trail):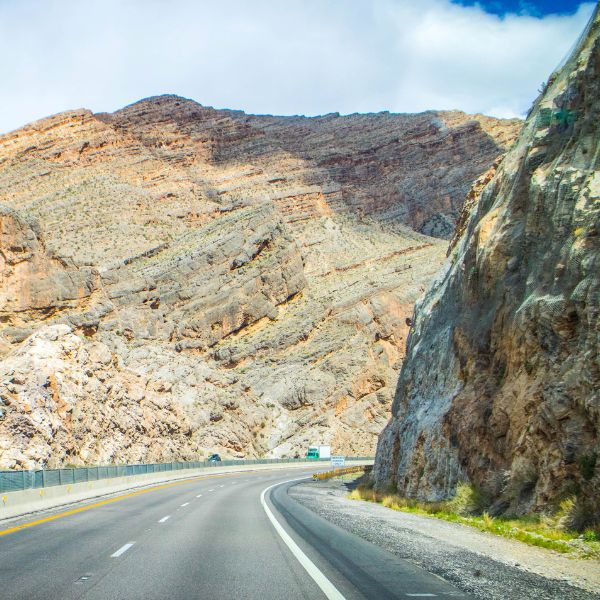 Location: 30 minutes near Las Vegas.
Hiking trails to check out: Firstly, the Cedar Pocket Narrows trail offers incredible views and challenges.
And there are other incredible sights like Elephant Arch, kayak opportunities and much more.
Info: One of the most amazing areas I have ever driven through from Vegas (and back) from Zion was the Virgin River area, specifically in Arizona and there is a small section of it with humongous mountains in which you have the Virgin River run.
There are a large number of parking areas that will provide you with access to the hikes and other viewpoints.
Make sure to first plan which hike you want to do ahead of time because once you're in this area, you will likely not have any cell phone reception (that's been my experience when I drive through here).
If nothing else just drive through this area because I promise you, it will be unforgettable.
Questions about hiking near Las Vegas:
Can you go hiking in Vegas?
Outside Las Vegas, there are plenty of hiking trails you can try, the closest of which is in Red Rock Canyon and it's only 30 minutes away.
Can you hike the mountains in Las Vegas?
Yes, there are many mountain areas outside of Vegas including Red Rock Canyon, Mt. Charleston and the Virgin River Gorge Mountains.