Lake Mead vs Lake Powell: Which Area is Better to Visit?
I want to give me personal opinion on the topic of Lake Mead vs Lake Powell and which of these amazing areas is better to visit, especially if you can only go to one of them. 
I've explored both Lake Mead and Lake Powell on multiple occasions and like most people, had no clue that there were actually 2 major lakes with their own dams like this in the southwest until I saw it for myself.
But once I did and began exploring each spot every chance I got, I began comparing the sights, hikes, attractions near it and slowly started to develop thought on which one was better and overall I will say that in my opinion, Lake Powell holds more advantages over Lake Mead based on what I personally consider important, but depending on what type of person you are and what you seek to explore, Lake Mead might be a better option for you to see instead.
Let's cover the

main similarities

between Lake Mead and Lake Powell first:
Obviously both areas are gigantic lakes.
Both lakes are very popular.
Both lakes are "fed" by the same river (Colorado River).
Both areas have a lot of hiking trails, scenic spots, scenic drives and things to do.
You can explore both lakes via boat, jet skis and more.
Both lakes are beautiful.
Both of them have gigantic dams (Lake Mead has the Hoover Dam, Lake Powell has the Glen Canyon Dam).
Both lakes have giant canyons around them.
Both lakes have hikes that take you to their base. In Lake Mead, the best one is Gold Strike Hot Springs and in Lake Powell, there's one called

Cathedral Wash

.
Now let's cover the

main differences

between Lake Mead & Powell:
Lake Mead is on the northwest tip of AZ (near Vegas). Lake Powell is on the northeast tip of AZ (near Page).
The terrain around Lake Mead is more rugged, while Lake Powell has more smooth terrain.
3 reasons Lake Mead is worth visiting more than Lake Powell: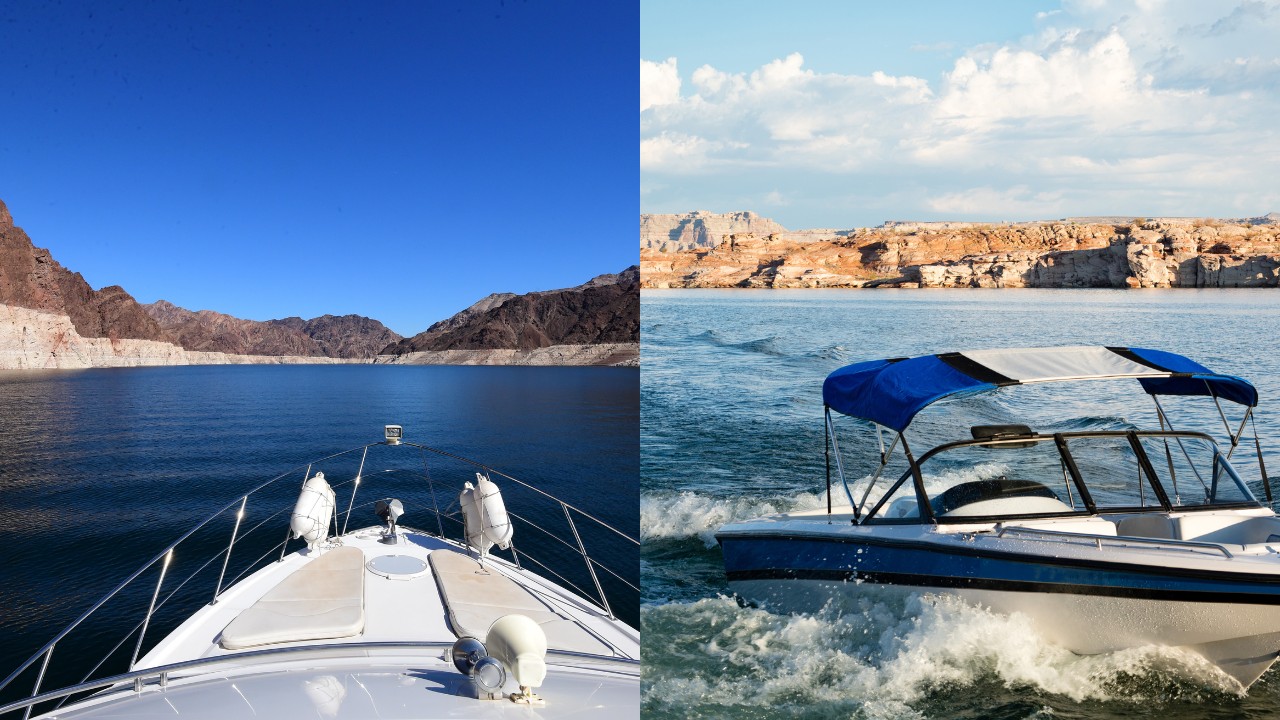 1) If you're planning to visit Las Vegas, then Lake Mead is an obvious choice:
The drive from Vegas to Lake Mead is about 30 minutes but if you're flying into that city and looking for the best hikes near Las Vegas or nature spots to see near the city, then Lake Mead would be a better choice. There are also other options other than the lake itself and they include:
Red Rock Canyon.
Maybe exploring

St. George

(it would take you 2 hours to reach from Vegas or Lake Mead).
There's a few close day trips from Las Vegas in general you can take if you're closer to Lake Mead.
Lake mead also has a scenic drive you can do, simple hikes to check out and so forth.
2) You're someone who enjoys simple nature experiences (there's just a lot of easy outdoor activities around there to explore):
Because Lake Mead is close to Vegas and there are many tourist attractions there, better cell phone reception around the area and so forth, exploring this area might be more convenient. You can do things like this:
See the Hoover Dam.
See Vegas.
Take a kayak ride or jet ski on Lake Mead itself.
If you like hikes, you can do something like the

Gold Strike Hot Springs trail

or more simpler trails around Lake Mead.
There are plenty of remote and more difficult but fun outdoor experiences there too, but it's just closer to a big city in this case (Vegas).
3) It's better for a mixed experience:
What I mean is that if you want to get the experience of exploring a giant city (Las Vegas) or you have to stay there for whatever reason, then you can do that and mix up the activities in and around Lake Mead, then come back to Vegas.
4 reasons Lake Powell is worth visiting more than Lake Mead: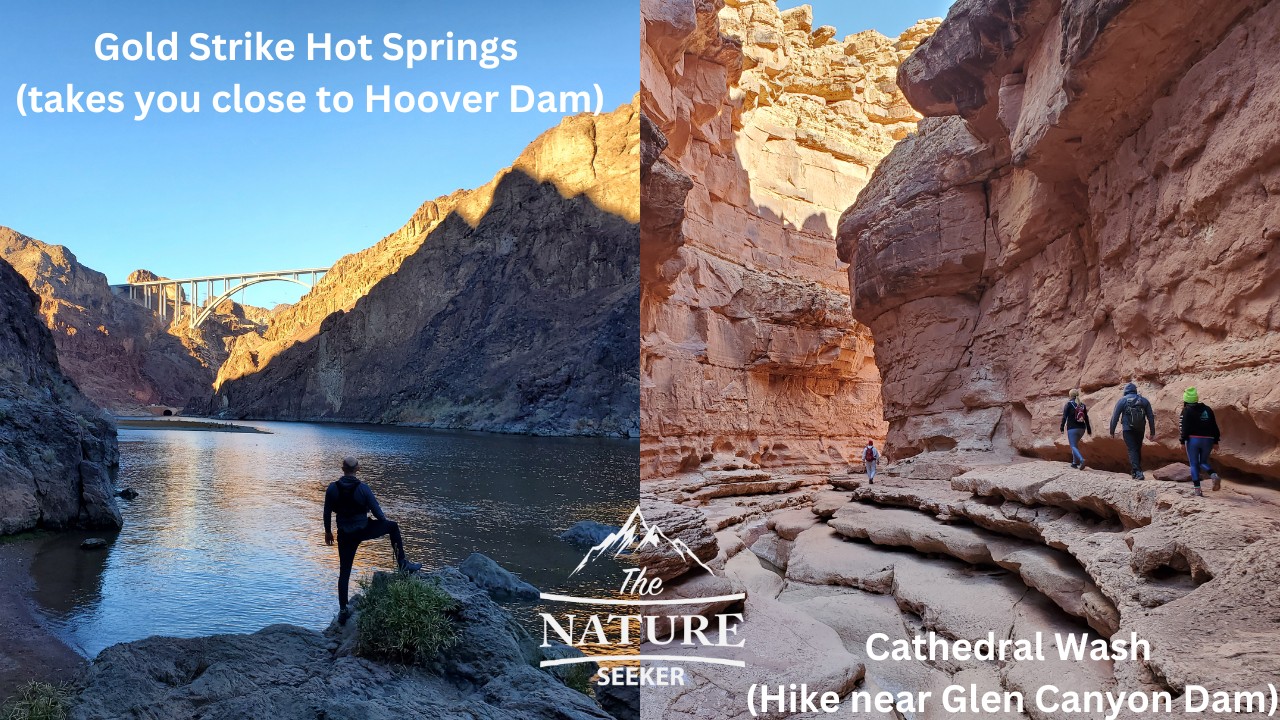 1) If you're more into wilder and remote outdoor adventures, Lake Powell is better:
There's much more variety and options for remote hikes, camping spots and adventures in my opinion inside and around Lake Powell.
2) Page Arizona is right there (lots to do there and no need to travel far):
While Lake Mead is about 30 minutes from Vegas, if you're exploring Lake Powell, you can just stay inside Page Arizona and do everything from there. There's literal scenic drives, hikes and tons of tourist attractions right inside this city so you don't have to drive far outside the city.
3) I honestly believe the terrain and overall area is more beautiful:
Lake Mead is beautiful too don't get me wrong, but when I look at Lake Powell and how the mountains and smooth terrain looks there as well as the slot canyons which you can kayak or jet ski through and the sights you can see inside it, it just looks better in my opinion.
4) There's more variety of beautiful sights, hiking trails and overall outdoor activities:
With Lake Mead, you do in fact have a lot of variety too with the scenery, hikes and stuff, but with Lake Powell, there is even more of that with better sights. Here are some examples:
1) There's tons of slot canyons near Lake Powell (not as much in or around Lake Mead), including popular ones like Antelope Canyon and similar spots nearby. There are also amazing short hikes like Toadstool Hoodoos nearby and other varieties of beaches, scenic drives and much more.
2) You also have amazing Grand Staircase Escalante hikes including places like the Wire Pass Trail and more sights right near Lake Powell to explore.
3) There is also Monument Valley a few hours away.
4) Slightly south of this area is Horseshoe Bend and then Marble Canyon.
5) Then even further south of that (2 hours) is the Grand Canyon and then south of that is Sedona and that is an amazing spot to explore!
6) Not far from Page AZ and Lake Powell is Kanab Utah and national parks like Zion National Park.
7) There are also several amazing scenic drives in Utah around that area.
8) Overall exploring Lake Powell itself is also awesome and I honestly think you can see more and do more with just that activity alone. You can rent a boat for a whole day and go through the slot canyons inside the area, and there are so many sights there to explore that it's just incredible and that includes Lake Powell itself and beyond the dam (south of it) on the Colorado River.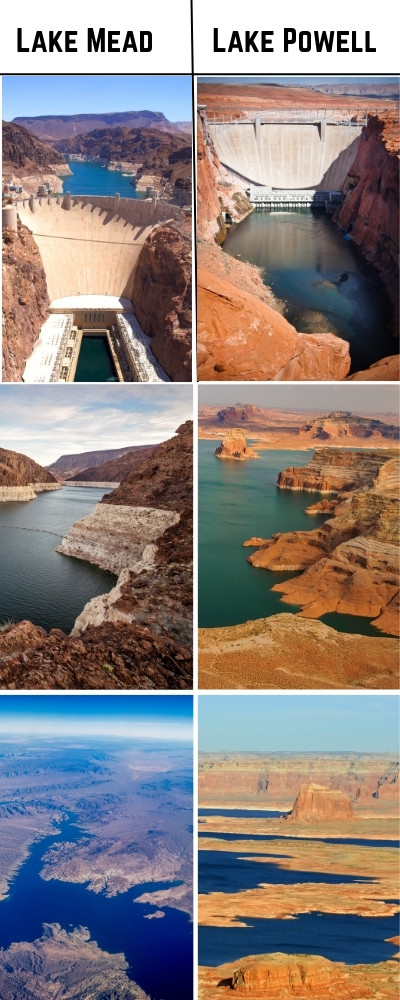 How to do a road trip and get the best out of both Lake Mead and Lake Powell:
The following is based on an actual road trip I did in 2022 and you can either do the same way I did, or backwards. The point is it'll take you through both Lake Mead & Powell. On top of that you'll be able to see even more than just those 2 lakes:
Days 1 and 2: Start in Las Vegas and explore Lake Mead and the best spots there.
Day 3: Drive to Zion National Park, and stay in Kanab Utah.
Day 4 and 5: Drive to Page AZ and explore Lake Powell for 2 or more days.
Day 6 and 7: Drive down to the Grand Canyon, or skip it and go to Sedona (it's better).
Day 8: Finish and leave from Phoenix.
8 days for such a trip is enough and I promise you that it will involve doing a lot of things. but you can also skip a few areas and basically each area you visit a day trip before moving to the next. However if you love both Lake Mead and Lake Powell, you can explore them thoroughly by following this approach.
All this being said, I would love to hear your questions and thoughts on Lake Mead vs Lake Powell and if you want to add more reasons to see one over the other!