Hiking Antelope Canyon isn't a simple thing to do as there are many pros and cons to it and I want to share with you what to expect if you plan to come to this place (or if you're better off going to another place).
Before I do that, I want to share some important info about Antelope Canyon that most people probably have no idea about and it's important to know before you go here:
Quick info about Antelope Canyon: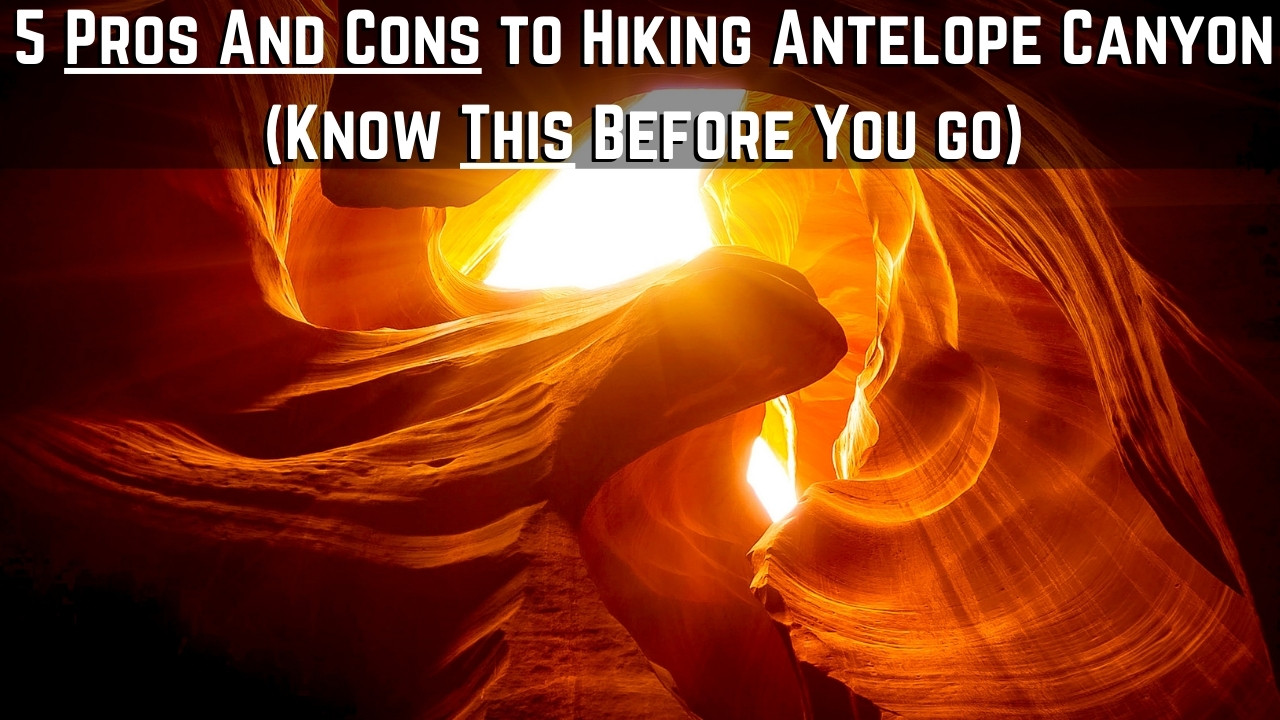 Name: Antelope Canyon (there is an upper and lower Antelope Canyon, 2 different hikes).
Location: Arizona (near Page).
Hike length: Upper Antelope is over 600 feet long. Lower Antelope is over 1,000 feet long.
Difficulty: Easy to

moderate

.
Tour required to enter? Yes.
Cost to enter: About $40-$130 per person.
Rating: 3.5 out of 5 (because of the cons).
Recommended hike? If you don't mind the cons I'll share below, then absolutely and if you do mind them, I can promise you that there's a lot of other options for amazing hikes, including slot canyons like Antelope Canyon that I'll show you.
The 5 pros of hiking to Antelope Canyon:
These are the most common reasons why I would recommend you visit this place:
1) Its one of the most beautiful slot canyons in Arizona (incredibly photogenic):
Whether it's upper or lower Antelope Canyon, you are going to be amazing sights. And there are specific aspects to it that make this place amazing:
The sun rays/light beams:
Yes there are light beams (in upper Antelope Canyon) which you can see a few hours before the afternoon and keep this in mind for timing your visit to this place.
The hike:
As for the hikes in both slot canyons, they are also incredible as well.
Photography:
In terms of photography, to get the type of photos you see online of this place, you would need to have a good camera and come here before the afternoon to catch those lights.
However one of the cons I'll show you involves having to wait in crowds to have that opportunity but we'll cover that in a moment.
2) Hiking Antelope Canyon is pretty safe too:
You do have to go in a group, but the fact is you have people nearby and the whole experience is more or less safe because of that. There are many remote slot canyons in Arizona and in general where there are no people around, including cell phone reception so if anything bad happens, it's a big problem.
3) If you don't mind having crowds and the tours then go here too:
I personally don't like having to go hiking where there are large crowds, and you will have that with Antelope Canyon (most likely) but if you're the sort of hiker who doesn't mind those things, then you can definitely enjoy hiking here.
4) The hike is pretty easy and it is overall a family friendly trail:
If you like scenic hikes, but don't like them to be long and difficult, then Antelope Canyon is worth going to without a doubt. I would not bring babies to this hike, go with people who are used to hiking easy trails at least.
5) There's many other things to do near Antelope Canyon:

Antelope Canyon is right by Page (city) and there are many incredible things to do in Page Arizona.
Obviously hiking Antelope Canyon is one of them but there's many more incredible attractions, hikes and things to do there.
So if you do decide to visit to hike Antelope Canyon, I strongly recommend you also consider staying in Page to explore the many other places there.
I would even argue that there aren't just many other things to do there, but that most of them could be even more fun, less restrictive and less crowded than hiking Antelope Canyon.
5 cons of Antelope Canyon hiking:
This is where it gets very important. If you're going to visit Antelope Canyon, you have to know about these 5 cons and plan accordingly:
1) Upper and lower Antelope Canyon can only be accessed via tour (and it's not cheap):
I did try to visit this place once as I was driving through Arizona and I discovered that it can only be explored via tour (I didn't even intend to come here, I was just driving through the area and saw the signs for Antelope Canyon and tried going).
I personally did not want to wait for the next tour (and I would have to pay $130 to even go), and instead I was able to enjoy many other spots around the area instead of having to put in a lot of money and time into one exploring one place.
2) You have to register way ahead of time to tour Antelope Canyon:
And it may be many months ahead of time too. Here is info on Antelope hike tours. This is basically a hike and entire trip you will have to plan for as early as you can.
3) The hike can be "restrictive" in my opinion:
The very same link I shared above mentions how you're not allowed to bring certain items and that certain parts of the hike need to be done quickly (because there will be other tours before and after yours).
While I totally understand why these restrictions are there and respect it, you have to know these things before you go here. You can't just be one of those tourists or hikers that holds back the tour because you are trying to get that amazing photo or you're just blocking things because you're unable to move forward.
4) There are most likely going to be many people hiking Antelope Canyon too:
While the rules keep the crowds moving in Antelope Canyon, if you are intending to have a lot of time to take pictures and have beautiful sections of this hike to yourself, that is extremely unlikely.
You will be lucky in all honesty to get those amazing photos of this place because there's a good chance there will be tons of other people in your tour group trying to get it too meaning you may have a lot of other people to wait for in line, but if the tour needs to keep moving to make room for the next tour group, it's just going to be a difficult experience to enjoy this hike in my opinion.
In fact, the same sun rays I talked about seeing above in Antelope Canyon are also an extremely popular thing to do and that makes it even more difficult to reserve a time slot to see them.
5) You should explore alternative slot canyon hikes that look like Antelope Canyon:
That's exactly what I did and I literally listed an entire article with alternatives to Antelope Canyon here. I can promise you that that most of those alternatives are less crowded (some have required tours too), but there are also plenty of slot canyon hikes like this where you don't need to be in any tour and can hike it freely.
2 examples would be Cathedral Wash trail (40 minutes from Antelope Canyon) and Wire Pass Slot Canyon (2 hours from Antelope Canyon). In some cases, those 2 slot canyons alone have very similar views and rays of light inside them as you would see in Antelope Canyon. Then there's the others on that list which look almost identical to it!
Antelope Canyon is not it's own unique slot canyon (there's plenty of others) and if you plan to visit Utah, I also have a list of amazing slot canyon hikes in Utah you should check out.
More questions about exploring Antelope Canyon:
How long is the walk through Antelope Canyon?
Antelope Canyon is actually made up of an upper and lower hike. Upper takes about 45 minutes to do and lower takes about 1 hour to walk through.
Why is Antelope Canyon so expensive?
Because there are many people who want to visit Antelope Canyon and with paid tours and other restrictions, it makes it possible to still come here.
Can you drive your own car to Antelope Canyon?
No, you have to park your car in a specific area where a tour truck picks you up, and that will take you to Antelope Canyon.
Concluding thoughts: Should you hike Antelope Canyon?
If you don't mind the 5 cons I listed and you're able to find a slot (no pun intended) to do a tour through this place, then I would recommend going, but I am confident that if you love to explore these kinds of places and you look at the alternatives I listed (and actually go), then you will actually forget about Antelope Canyon like I did.
I do plan to one day visit this place to just see it, but I have already explored so many different slot canyons with different colors, many of which had the sun rays too and they were all amazing hikes that I don't exactly feel like I'm missing out on Antelope Canyon.
The bottom line though is that at the very least after you read this article on hiking Antelope Canyon, you'll either:
Visit Antelope Canyon itself and see if you like it (just remember about there being an upper and lower hike).
And/or you will check out the many beautiful hikes and similar slot canyons like Antelope Canyon.
If you have any questions about hiking Antelope Canyon, let me know below!