I recently did the Wire Pass Trail in Utah and I have to say that it is one of the best, most scenic and easiest hikes I've done, and I highly recommend it.
If you don't know, the Wire Pass trail is basically a simple, slot canyon type day hike and just about anyone can do it. You'll come across a beautiful river wash, a canyon walk, slot canyon areas, and this trail also meets together with Buckskin Gulch, which is more for very experienced hikers and overnight campers (but that's a completely different hike).
But hiking the Wire Pass Trail isn't as simple as it seems and there are things to know before you go, while you are on it and more that I want to cover in this post so you're ready. We'll start with this:
Quick info on the Wire Pass Trail:
Name: Wire Pass Trail.
Location: Utah, Grand Staircase Escalante (south end).
Hike distance: 3-4 miles (in and out).
Difficulty: Easy.
Hike rating:

5 out of 5

.
Easy to get lost? No.
Permit required? Yes (instructions coming up).
Main pros: Incredible views, very scenic and easy hike, slot canyon walks, ladders and more.
Main cons: Potential flash flood dangers, requires permit to enter and rocky road to access.
Hiking to this area is simple, but you may want to use Alltrails or a similar app just in case.
1) Before hiking the Wire Pass Trail, you must get a permit:
I'm glad I researched this before coming here. Getting a permit for this trail is a little annoying, but here's the process explained:
First, you can get the Wire Pass permit here.
Second, you will need to find the Wire Pass trail on that same site. I included the direct link.
Third, you will need to fill out the form (vehicle plate, number of people going, payment, etc…). The cost is $6 per person (Plus $0.50 charge).
Once you fill out the form and pay for the permit, you will be emailed it.
You'll have to print the confirmation and put that on your car's dashboard.
There are people who visit this trail without a permit but I wouldn't risk it.
2) Next, accessing the Wire Pass Trailhead isn't easy: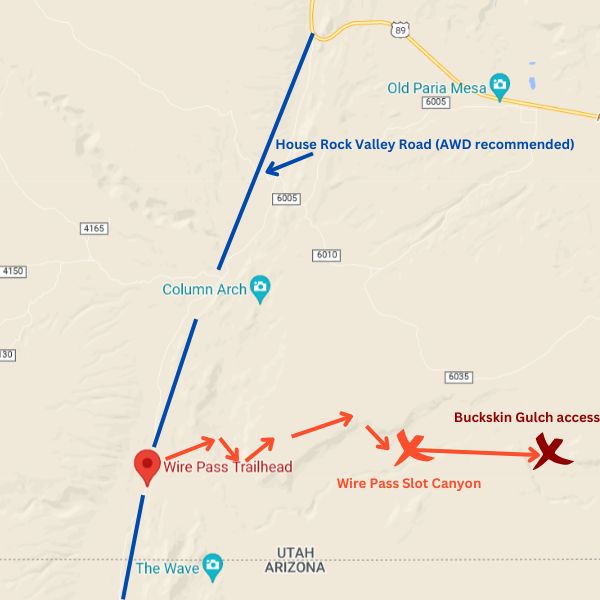 You can access the Wire Pass Trailhead from the north (from road 89) or the south (road 89A).
Between these 2 highways is a connecting road called House Rock Valley Road which you will need to go on in order to reach the trailhead and it is not paved, is often very rocky and a tough drive to go through if you are on a regular sedan car.
I would strongly recommend coming to the Wire Pass Trailhead area in an SUV with AWD or a 4×4 car. I also recommend you visit the Wire Pass Trail from the north, because it is only 8 miles to reach it. If you come from the south, you will have to be on the annoying, rocky road for over 20 miles.
But in any case, the trailhead is off the same rocky road and it's easy to spot (you'll see a large parking lot) with a lot of cars.
3) Starting the Wire Pass trail: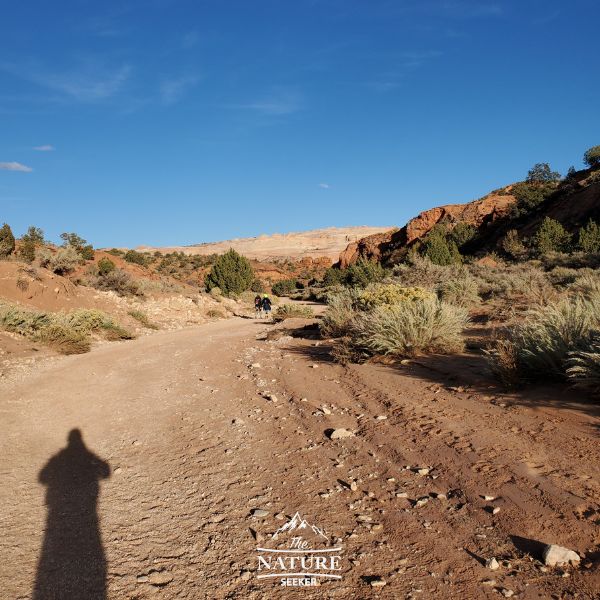 To start the trail, you'll have to cross the road and look for a sign post (it's easy to spot as it's right by the parking lot).
You will basically enter a wash area (where a river used to flow on).
You will follow the wash area north (normally you'll see people coming and going through it as it's a popular trail).
For the first mile or so, the trail will just be on the wash and will zigzag from time to time.
You will encounter some "short cut" areas where you can hike over the wash area. It's optional to go on these areas, but they all meet up with the main trail.
Heading along the wash is the easiest way to navigate through this trail so you won't get lost.
4) Entering the Wire Pass slot canyon area:
At around 1.5 miles into the trail, you will start to slowly descend into the first slot canyon area.
There are actually 2-3 of them past the first 1.5 miles and the main, longest one will be last (which is Wire Pass).
As you enter the main Wire Pass slot canyon, you will encounter a ladder area which takes you down about 20 feet.
There are instances where a flash flood washes away this ladder, so if you do find yourself in a spot where the ladder is missing, it's because a flood washed it away, in which case I would not go any further.
But in most cases, you should be fine, will climb down the ladder and continue through the beautiful slot canyon. It is beautiful and an excellent alternative to Antelope Canyon too!
5) The first opening (exiting the slot canyon further into the trail):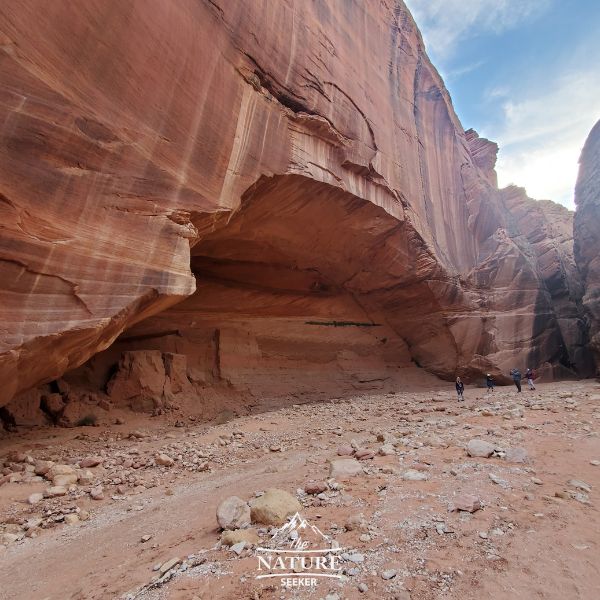 Shortly after going through the Wire Pass area, you will come across a huge opening area with a giant arch looking area to your right. This opening will meet up with another (longer) canyon known as Buckskin Gulch.
You will 2 options here:
1) You can explore a bit of Buckskin Gulch (considering how much time you have) and turn right or left to do it. My group turned right and explored a bit of it and it was just one long slot canyon similar to Wire Pass.
Keep in mind that Buckskin Gulch is a very long slot canyon and I would not recommend trying to go to it's end if you are doing a simple day hike through Wire Pass trail.
2) Another option you have is just to turn back around and head back to the parking lot the same exact way (which you will have to do anyway).
6) Returning back to the Wire Pass Trailhead (parking lot):
It's very simple: Just turn around and go back to Wire Pass Trailhead. Just make sure if you are exploring Buckskin Gulch that you actually turn back to Wire Pass trail and don't go in the opposite (Buckskin Gulch) direction.
Going back through the slot canyon and wash is very scenic and you will get another great angle of the hike.The group that I was with exited out of Wire Pass trail and into the wash by the time the sun set and we were hiking back to our cars at night. This is one of the rare cases where I was OK with hiking at night because the moon and sky were beautiful and it was easy to navigate back to the parking lot.
From the moment you return to the parking lot, you will have to still drive out of the same rocky road to get back onto road 89 or 89A depending on which direction you came from. I would be very cautious driving through this road at night as there are several old wash areas with major bumps you have to very slowly drive through.
And that completes the Wire Pass hike!
Other questions for the Wire Pass Trail commonly asked:
Do you need a permit for Wire Pass trail?
Yes. A permit for Wire Pass Trail is $6 per person and you can get it online, but you will need to print it to display on your car before hiking there.
How long is the hike to Wire Pass Slot Canyon?
It takes about 20 minutes to reach Wire Pass Slot Canyon from the parking lot.
How far is Wire Pass from Buckskin Gulch?
Once you exit out of Wire Pass Slot Canyon, Buckskin Gulch is a few 100 feet away.
Are dogs allowed on Wire Pass trail?
Yes but you have to pay a fee to also bring your dog on the Wire Pass Trail.
A note on flash floods for Wire Pass trail: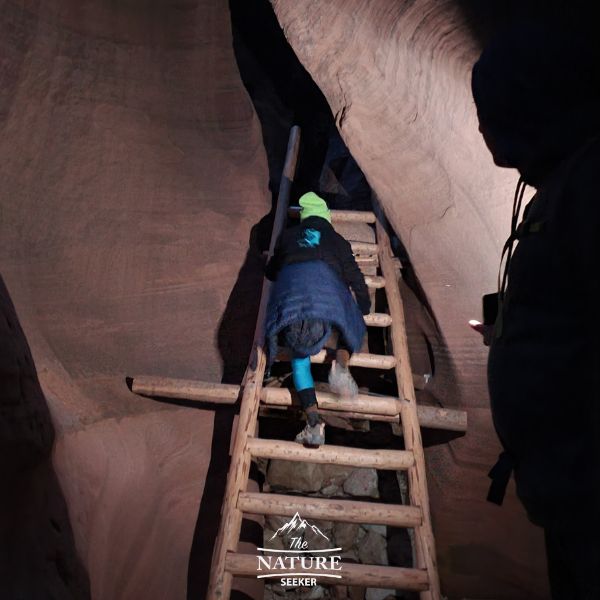 Any slot canyon area in the mid west can be dangerous to be on during flood season which is usually April through September.
Be sure to check the conditions before you go. You will see signs around Wire Pass trailhead showing the danger level and times to avoid going there.
Other than this, this trail is awesome! I really enjoying hiking there and fully intend to come back and hike through to Buckskin Gulch (fully) eventually in the future. I also include this trail on my best hiking trails in Utah to check out.
But other than that, the Wire Pass trail is an excellent trail to explore for beginner hikers, families and people looking to check out Grand Staircase Escalante.
It also happens to be that the road you use to get to this trail also crosses into Arizona and into Vermilion Cliffs National Monument territory allowing you to see much more (like White Pocket, the Wave and more).
Just as well, Wire Pass is in my opinion one of the best Utah slot canyon hikes I've done so far, but this state has so many that you should explore more of them if you have the chance!