A lot of people don't know this, but there are many alternatives out there to Antelope Canyon that aren't just as beautiful if not better, but are also nearby to it. In this post, I'll show you at least 7 of them.
In 2022, after visiting Monument Valley, I was driving south west through Arizona, heading towards Kanab (It's in Utah) and during that drive, I was looking for easy hikes near me and stuff to sight see on the way. To my surprise, Antelope Canyon came up and it's been a spot I had wanted to see for years.
Unfortunately when I arrived at what I thought was supposed to "the spot", I quickly discovered 3 things:
It's on private land and only accessible via a special tour to it (In my case, it was $130 per person!).
Antelope Canyon is extremely popular and often over crowded.
And finally, some restrictions may limit your ability to visit this area.
Since I hate tours and crowded areas (you probably do too), I figured it wasn't worth it and continued my drive, but on the way started looking up alternatives to Antelope Canyon.
All I wanted to do was find an epic slot canyon (like Antelope Canyon) and not have to worry about high cost tours or crowds. It didn't take long before I discovered that there were several options, all nearby where I could do just that. Unfortunately there aren't many good lists out there compiling the alternative spots to visit, which is why I've done it for you here.
What I often find is that the most popular spots in the US (like Antelope Canyon) get so much attention that people think those spots are the only ones of it's kind when nothing could be further from the truth. In Antelope Canyon's case, it is simply a very scenic slot canyon and if you know anything about the south west (Arizona, Utah specifically), you'll know that there are TONS of slot canyons all across these states. And this is a perfect segue to our main topic:
Here are 7 alternatives to Antelope Canyon (that are all nearby it):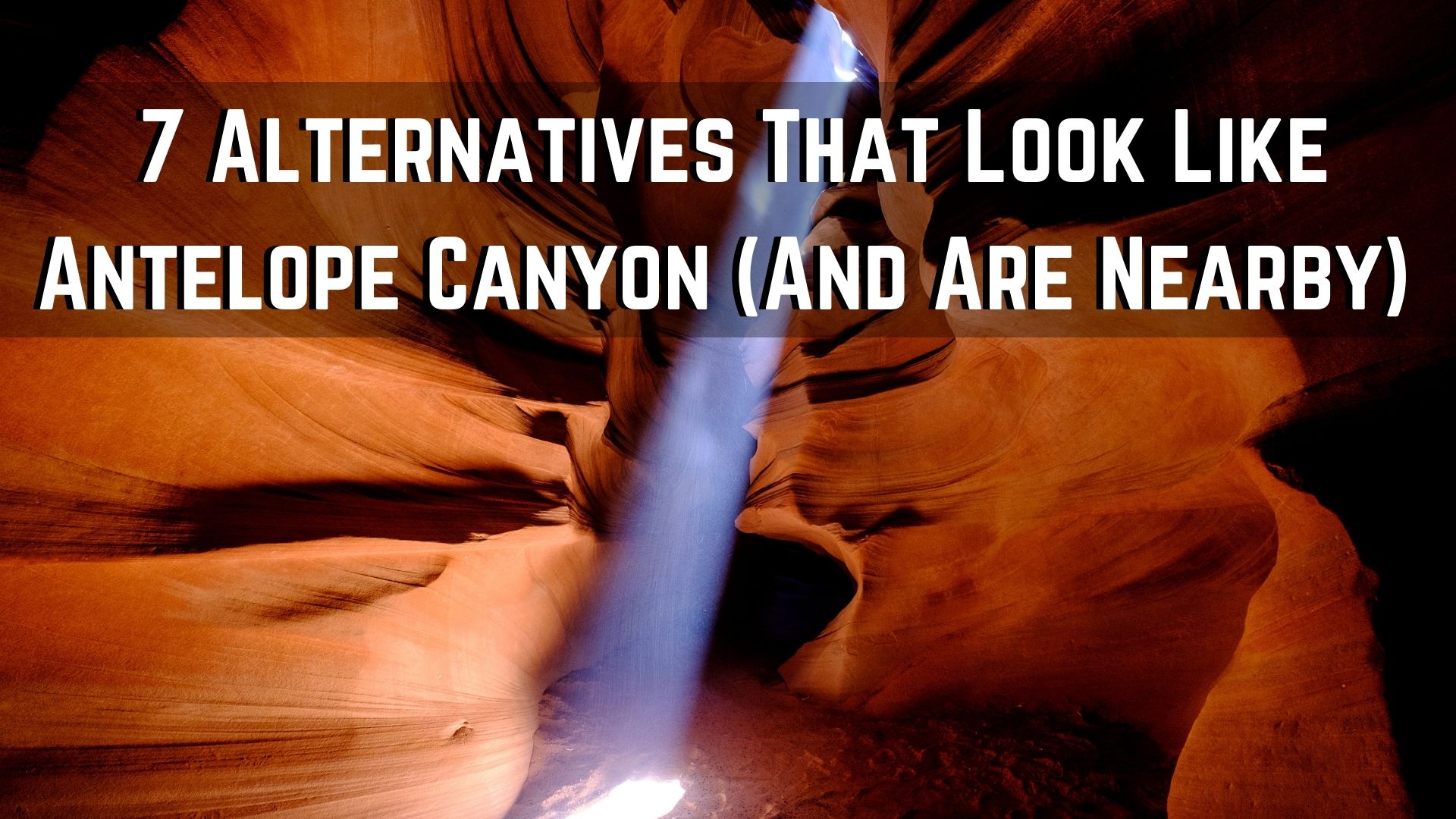 Antelope Canyon X.
Secret Canyon.
Cathedral Wash.
Waterholes Canyon.
Mountain Sheep Canyon.
Rattlesnake Canyon.
Owl Canyon.
All of these alternatives are anywhere from 30 minutes to 1 hour away (in diameter) to Antelope Canyon, and most of them look either exactly like it, or are far better in appearance. Let's discuss each one in detail now:
1) Antelope Canyon X: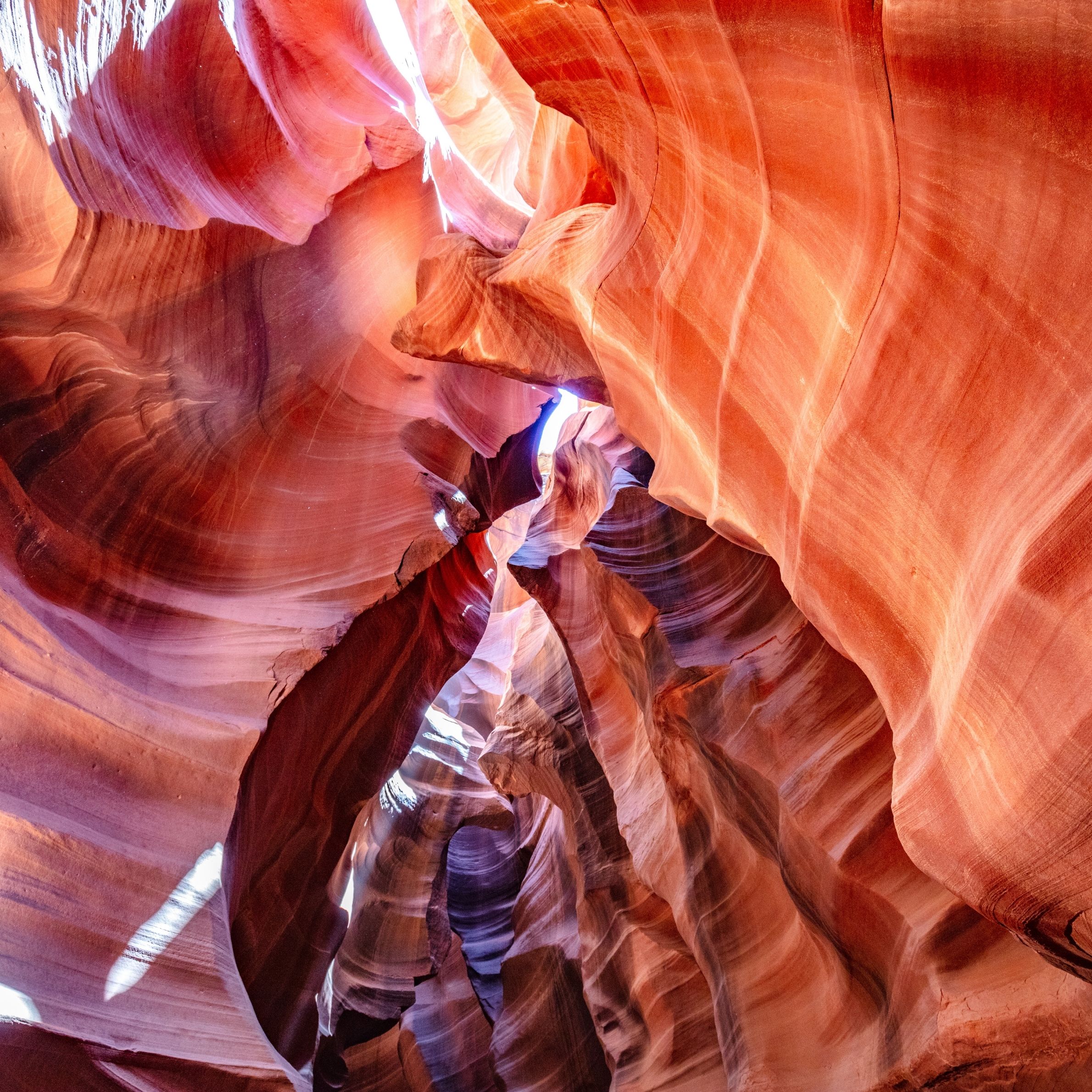 Guided tour required? Yes. Consider this company.
Distance: 1.5 hour tour.
Description: Make sure you include the "X" part if you decide to go here.
It's basically off the same road as you would take if you were looking to visit one or more of the guided tours to Antelope Canyon itself.
Benefits:
Way less crowds.
Lower costs ($65 per person to my knowledge).
As good if not better than the regular Antelope Canyon.
In fact, if I were to give you a picture of both these places, I'll bet you couldn't tell me which is the original one and which is the Antelope Canyon X.
That's how similar these 2 spots are.
2) Secret Canyon (Horseshoe Bend Slot Canyon):
Guided tour required? Yes. Try this company.
Distance: Under 1/4 mile, maybe an hour tour.
Description: Secret Canyon is very close to Glen Canyon and the famous Horseshoe Bend tourist attraction (hence why it has it's nickname is Horseshoe Bend Slot Canyon).
It is also a very scenic area that bears a lot of resemblance to Antelope Canyon but also has better benefits.
Benefits:
Also a ton less crowds (under 20 per tour).
Also lower costs than Antelope Canyon.
Looks very similar.
If you're OK with doing guided tours but dislike large crowds, then is another awesome choice to visit.
3) Cathedral Wash:
Guided tour required? No (car pass to enter region).
Guided tour? Nope!
Distance: 3 miles round trip.
Description: Cathedral Wash is the alternative hike I found and did after I decided to skip Antelope Canyon. It was only about 30 minutes away from it and I am very thankful that I did it! This is not a simple, family friendly hike but much more for adventure seekers (right up my alley). I absolutely fell in love with this hike and will totally do it again if I'm in the area (highly recommended).
Benefits:
Extremely scenic hike!
Also has a slot canyon section (doesn't look much like Antelope Canyon though).
Only 1 car fee required to enter (about $15 per car).
Hardly any people there!
No tour fees or guided tours (do it yourself).
It's in Vermillion Cliffs that also has tons of other beautiful hikes and adventures.
4) Waterholes Canyon: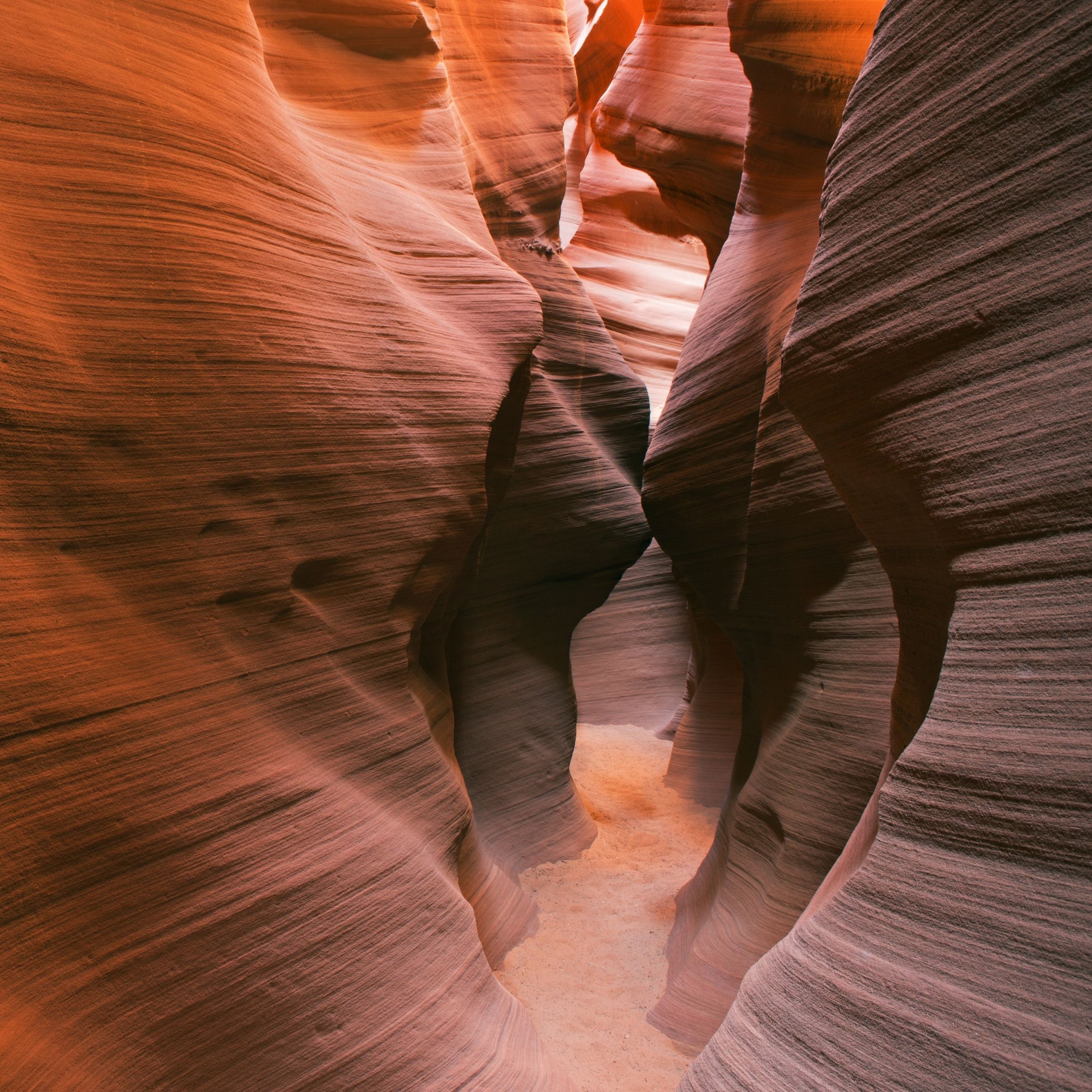 Guided tour required? Yes ($80 per person last time I checked).
Distance: Under 1/2 mile.
Description: This particular alternative to Antelope Canyon gets mixed reviews (see this Alltrails page for details).
Some say it's great for checking out and others don't think so highly of it (most of the Google reviews though are pretty positive and recommend visiting this particular slot canyon).
Either way, it is another alternative to add to your list that is close by to Antelope Canyon.

Benefits:
Less expensive than Antelope Canyon.
Also less crowded.
Let's move on:
5) Mountain Sheep Canyon:
Guided tour required? Yes.
Distance: Under 1/4 miles.
Description: This is another alternative spot that gets mixed views from people, but it's overall great for the same reasons every other spot on this list is to Antelope Canyon.
You may find that this particular place is less "smooth" on the ground than others, but it still has similar features though.
Benefits:
Of course, it's cheaper.
Another obvious one is that it's less crowded because it's much less known about.
The simple truth is, doing a Google search for "Slot canyons" in the same region as Antelope Canyon will bring up gems like this (and many others).
6) Rattlesnake Canyon:
Guided tour required? Yes, learn more here.
Distance: 1/4 mile.
Description: Firstly, the name of this spot might scare people but it's not really like that.
Second, there are several places across the US that have the name Rattlesnake Canyon and I've included a link to the specific one near Antelope Canyon.
Overall, this particular spot closely resembles it and it's one more to add to your list.
Benefits:
Very beautiful spot.
Less crowds too.
Less costs for the guided tour than for Antelope Canyon.
Same kind of smooth canyon walls as it.
7) Owl Canyon:
Guided tour required? Yes. Here is location info.
Distance: 1/4 mile. You can get tours to this spot from one of the many Navajo tour companies nearby (there isn't a specific one for this particular area, but if you reach out to the nearby tour companies and mention this place, odds are there may be a tour deal available).
Description: There is more hiking involved in Owl Canyon than most of the spots on this list, but once more, it is another great alternative to Antelope Canyon. I won't even list the benefits because they are still the same as any other option on this list (less crowds, less expensive and also scenic).
Obviously Antelope Canyon itself is the most famous out of all these spots for good reason (the lighting, the beams and so forth), but considering all the cons to visiting it, I would strongly recommend that if you are in this area, to not rely on ONLY making it to this specific area.
Consider these 7 and also know that this region of Arizona has many adventures available in the form of other slot canyons and other cool things to do!