If you're looking to explore the best scenic drives in Utah state, I have 13 to share with you in this post.
I've driven through Utah many times, and each time I think I have seen the "best scenic drive" in the state, I try another one there and in many cases it doesn't just match the last one I drive in views, but sometimes it's even better. And so over the last few years I've explored this state, I have always tried to add a new scenic drive to my list, and so far these are the ones I consider to be the best:
Here are the 13 best scenic drives in Utah I highly recommend exploring:
Arches Scenic Drive Road.
Road 313 to Dead Horse Point State Park.
Island in The Sky Road (Canyonlands National Park).
Road 12 Utah.
Hole in The Rock Road to Coyote Gulch.
Road 63 into Bryce Canyon National Park.
Road 9/Zion Canyon Scenic Drive.
I 15 from Las Vegas to Zion National Park (Gorge of Virgin River).
Capital Reef Scenic Drive (Road 12 and 24).
White Rim Trail (Canyonlands).
Valley of The Gods (Monument Valley).
Nebo Loop National Scenic Byway.
Big Cottonwood Canyon scenic drive.
Some of these drives are pretty short, while others will span on for 100's of miles.
Either way, the diverse nature Utah state has to offer will really shine as you go on each road and every time you think that you already saw what Utah has to offer, that next turn you make will reveal entirely new nature and a completely different landscape.
That's one of the things that makes this state so amazing and beautiful. So let's begin:
1) Arches National Park scenic drive road: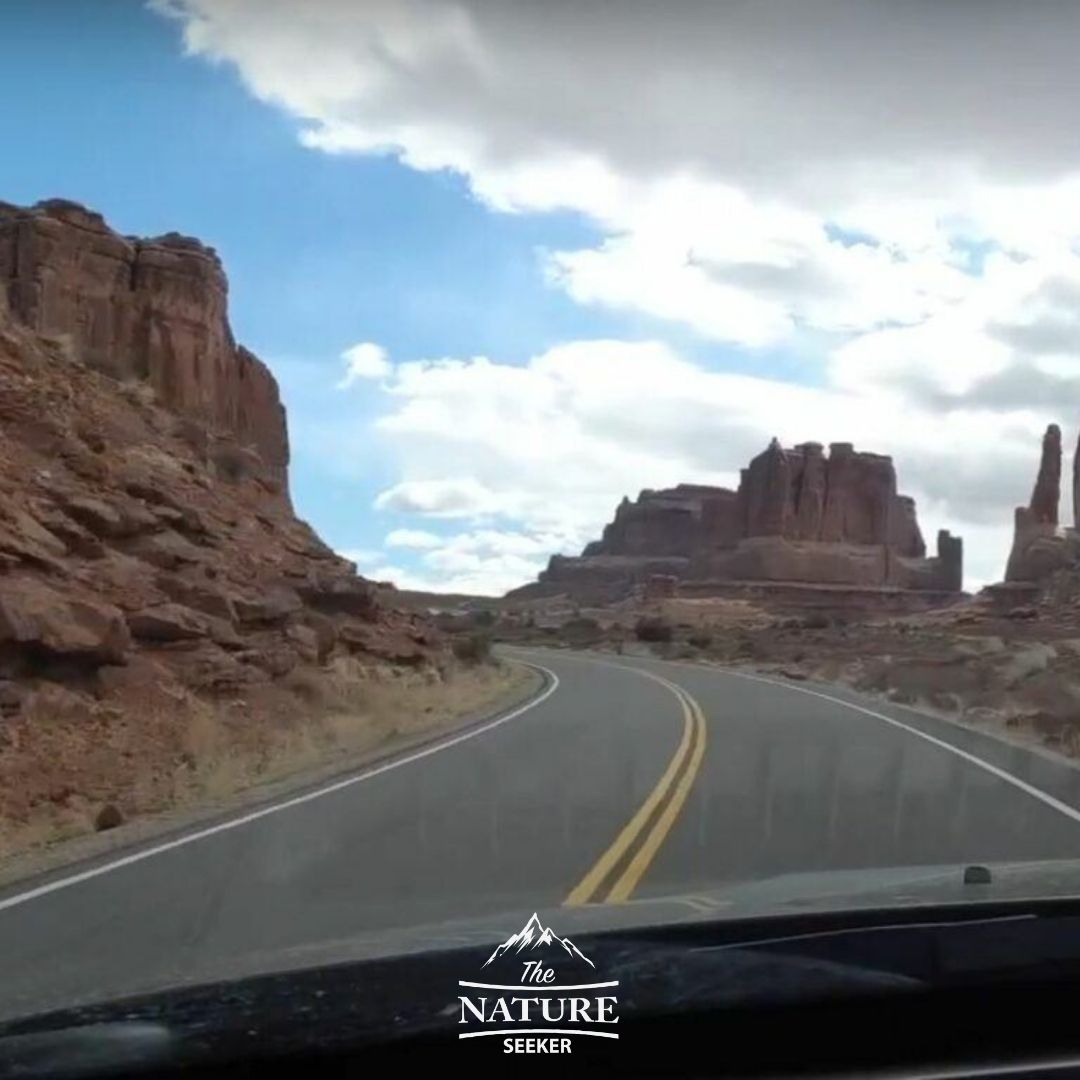 Arches National Park is a phenomenal national park I recommend everyone check out and one of it's main attractions is it's scenic drive that goes through the whole area.
It takes about an hour to finish this drive (one end of it), but as you enter it and begin the drive through the park, you are probably going to have a hard time focusing on the road because of the things you'll see.
In my opinion, the best spots of the drive in this park are actually closer to it's entrance. As you get deeper into the park, you will see more flat lands and less canyon walls like the image to the right shows.
But on the flip side, as the landscape changes in Arches the deeper you drive into it, so do the opportunities to see the many beautiful arches there, and you will have plenty to check out the deeper you go.
The link above I shared will show you some of the nicest areas of Arches National Park you can explore in a single day.
2) Road 313 to Dead Horse State Park:
Dead Horse State Park is nested deep in Utah and there is a beautiful road that leads into it.
Unfortunately I didn't have time to explore it during my 2 trips to Utah, but the research has been done so you can see a preview of how beautiful it is to drive there (as is the park itself):
This park bears a lot of resemblance to Canyonlands National Park with how the landscape looks (because it's literally next door to it).
But you'll probably find less people in this region because of the lack of advertising this area gets.
And that's mainly because it's surrounded by the Mighty 5 National Parks of Utah which take all that attention away.
Never the less, give this scenic drive a shot and of course, explore the park itself because the scenic drive isn't going to be enough to truly appreciate how beautiful this place is!
And just as well, Dead Horse State Park is in my opinion one of the best state parks in Utah to explore.
3) Island in The Sky Road (Canyonlands National Park):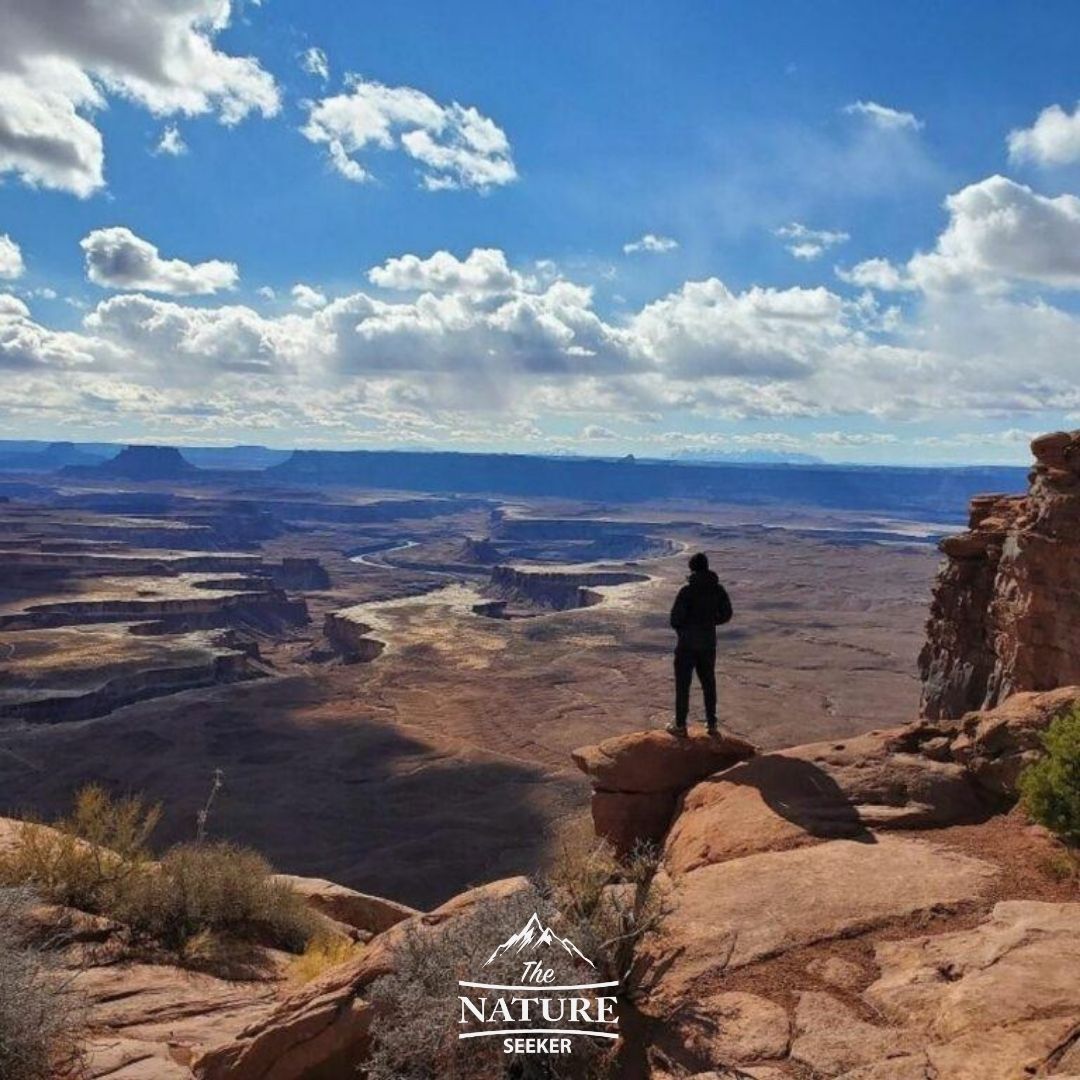 Canyonlands National Park is an incredible park I was fortunate enough to fit in as my last stop before finishing my road trip in Utah and the main road that goes through parts of the park there is known as Island in The Sky.
It is a road that takes you over the top of the park and allows you to access most of the fun hikes this park has to offer from the top of it, negating the need to climb up.
In fact, the 4 hikes I did in this park rarely involved much uphill climbing.
But back to the scenic drive itself:
This road has a lot to see as you drive through it, including what looks like barren planets that used to have oceans roaring through them, but that are now gone.
The landscape here is just something else and this drive through the park will help you see that, but you will have to turn to the sides to really get that good view of it (just don't drive off the road).
There is also one more scenic drive I'll be including on this list at the end, which will take you to the bottom of this park.
4) Road 12 in Utah:
Out of all the roads on this list, Utah's Road 12 might be the most popular and longest and that's because it stretches from Zion all the way up to Capital Reef Park.
And this is the main road which take you through most of the main national parks in Utah.
I honestly thought the only main scenic drives in Utah were centered inside the national parks, but I was very wrong as I drove through pretty much all of Road 12.
This road will take you to the top of mountains on narrow drives and into deep canyons and turns that will distract you a lot, I promise, so be prepared to drive extra carefully.
Just a warning about this area: There's cows that roam freely in this region (and state) and I had never seen anything like that in any other state I've crossed. This whole state has open ranges for them and while seeing them is pretty rare, I had a few such occasions, especially at night, so be careful.
5) Hole in The Rock Road to Coyote Gulch: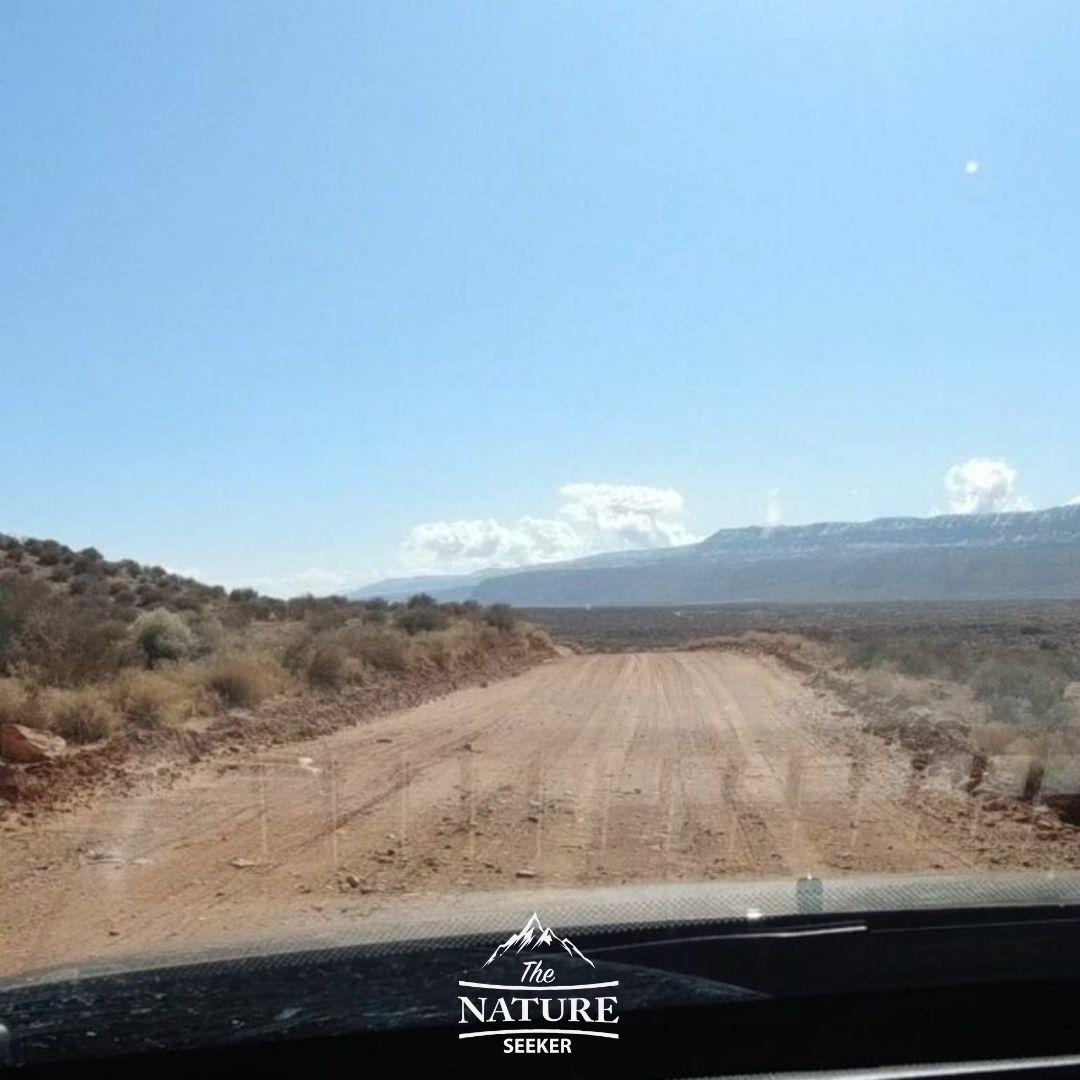 I didn't think I would be putting this road up because it's not really as scenic as any of the other roads on this list. But what does make it worth of it is 2 things:
It leads people to Coyote Gulch.
It's actually a very adventurous drive and it is challenging.
There's a bunch of places to see along this road for adventurous hikes. In fact, here is a list of the best hiking trails in Utah, 2 of which are in this region of the state.
So Hole in The Rock Road is actually connected to Road 12 but steers away from it and into many areas of the Grand Staircase Escalante Region.
If you drive on it, the major destination you'll want to explore is Coyote Gulch and that drive itself will take you about an hour or longer to reach.
Along the way you'll find very bumpy areas and a scenic mountain range to your right, with a pretty barren dessert to the left, but that's where many of the of the exotic areas are hidden.
I enjoyed this drive when I did it and knowing the amazing places there are to see there is what adds to it's beauty.
6) Road 63 near Bryce Canyon National Park and Red Canyon:
There is another stunning scenic drive right by Bryce Canyon National Park also holds a beautiful scenic drive and it also cuts from Road 12. It's not a very long drive, but it's very scenic with rock tunnels, beautiful landscapes and much more to see.
In fact, the landscape of Bryce Canyon National Park is the only one of it's kind in Utah.
Once you get through this short drive, you'll enter the park itself, which has another scenic drive you can do, that also has branches of parking lots around it that you can stop at to do hikes into the park itself.
Because Bryce Canyon is basically a canyon, the scenic drives you'll do won't really show you the heart of the park unless you park your car near one of the hikes and embark on it yourself.
The main scenic drive in Bryce is really the entrance road into it and that is really a great appetizer for what you'll see once you start hiking at this place. I only did a few hikes in Bryce, but I truly enjoyed this park and it's short drive.
7) Road 9 and Zion Canyon Scenic Drive:
Both these roads are located inside Zion National Park and they are the initial 2 places I explored when I first began checking out Utah State.
It was really the roads here that really aroused my curiosity to explore more of Utah State.
To be honest, after I drove through this park and was amazed by the beauty of it and the scenic drive there, I didn't think I needed to explore anything else, as Zion had pretty much done it for me.
And you might feel that too if this is the first scenic drive you do in Utah, but I want to recommend you avoid that because Utah has so much more to offer in terms of everything!
If the other scenic drives on this list are any indication (and they are), Utah will have many more places for you to drive through that are equally as good and if you have done scenic drives through this state, I'd love to know which one stood out the most for you below.
8) Interstate 15 from Las Vegas to Zion National Park:
This was the first real drive I did in Utah when I began exploring this state and I'll never forget some of the most memorable spots on Interstate 15 that I saw, including a very beautiful gorge area around the Virgin River as well as arid and beautiful mountain ranges that are fully red at sunrise.
I did this drive on my way to Zion National Park from Las Vegas and it spanned for over 2 hours, but it really was the first drive that introduced me to the landscape of Utah and what it had to offer.
Over the years I've traveled to Utah, I've done this drive at least 4 times and while it's not part of or connected to any major park, it still offers a ton of amazing scenery in many places and is well worth driving.
If you have the chance to drive this road, do it.
One more option to consider is driving on this path from any spot in Utah to California, specifically Los Angeles and that's because the terrain changes quickly and you can see a lot more wild changes in the views.
That's actually a drive I did on my first Pacific Northwest road trip.
9) Capital Reef scenic Drive (Road 12 and 24):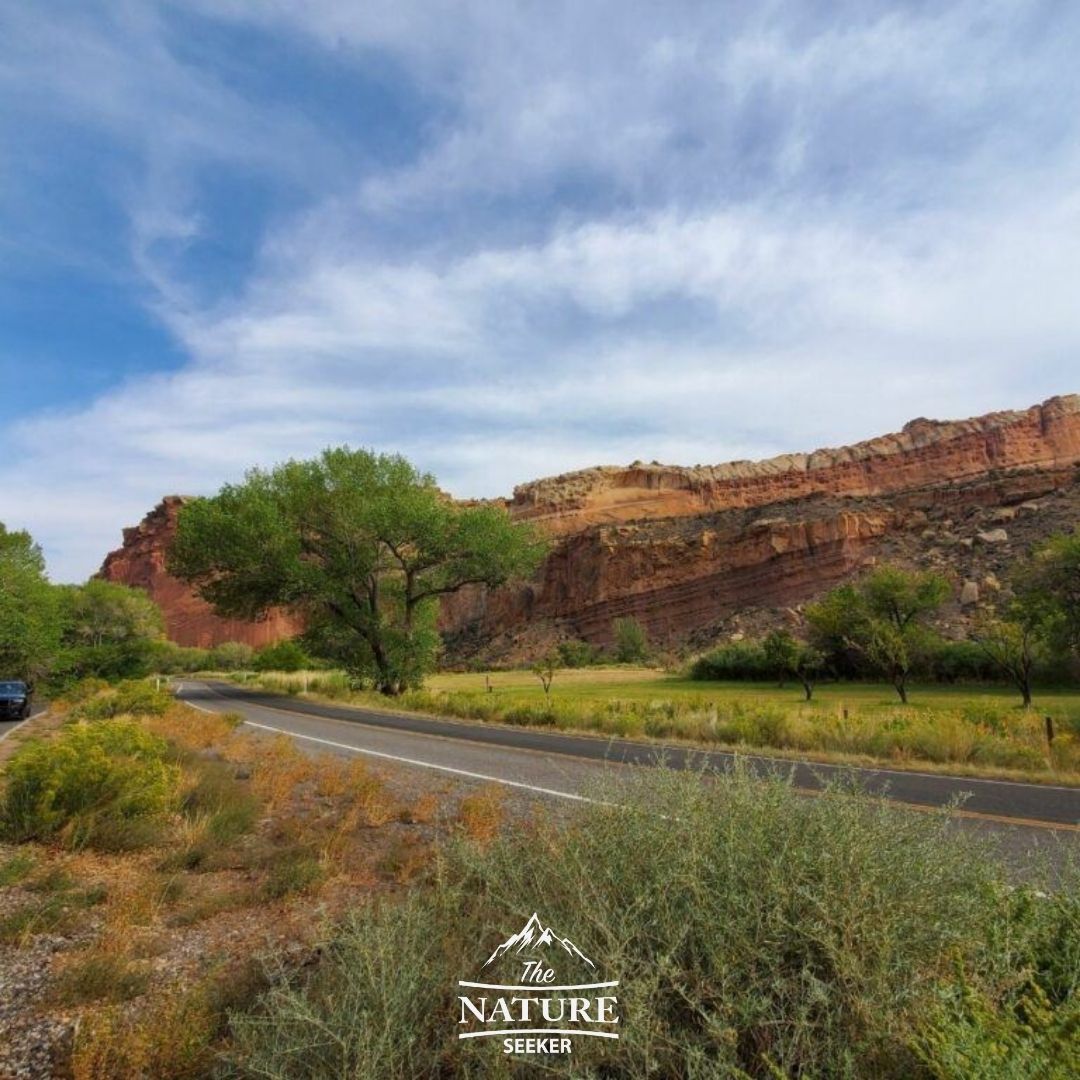 The last scenic drive on this list has to be Capital Reef's scenic drive and that's because it contains basically a mix of what the other drives on this list have to offer, mixed in with it's own unique landscape too.
I briefly stopped at this park on my last road trip through Utah and the little time I had there was more than enough for me to want to come back.
The scenic drive there is one of the MANY gems you'll find in the park. This particular one you see to the right is near the western entrance of it.
As you drive through this road, it loops many times before taking you into the eastern end of Utah State where you cross some very strange, yet amazing landscapes that look like endless flat lands made of concrete.
To describe the landscape in Utah is very difficult unless you've been there yourself, but Capital Reef National Park mixes a lot of the variety you see all across Utah and puts it together within and outside of the park area.
It's only of the reasons I loved seeing this park!
10) The White Rim Trail in Canyonlands National Park:
I'm embarrassed to admit that I had no clue that this trail existed.
I saw it from the top of Island in The Sky Road, but never knew you can actually check it out.
Well the second time I visited Canyonlands National Park, I later learned this was possible and perhaps when I take a third trip to this park in Utah, I'll do it.
In any case, The White Rim Trail is all dirt road and is a little rugged in areas, but you will be able to see Canyonlands up close driving it.
I personally want to do it, but think the upper area scenic drive in this park (Island in The Sky) might be better for scenery.
In any case, if you have the time, put the White Rim Trail on your list of scenic drives to do in Utah!
Note: You can also bike through the White Rim Trail, but understand that it is 100 miles long (prepare accordingly).
More Utah scenic drives uncovered!
This is a list that's going to keep growing. As of now, there are 2 additional drives I have added to this list and it starts with:
11) Valley of The Gods (East Utah):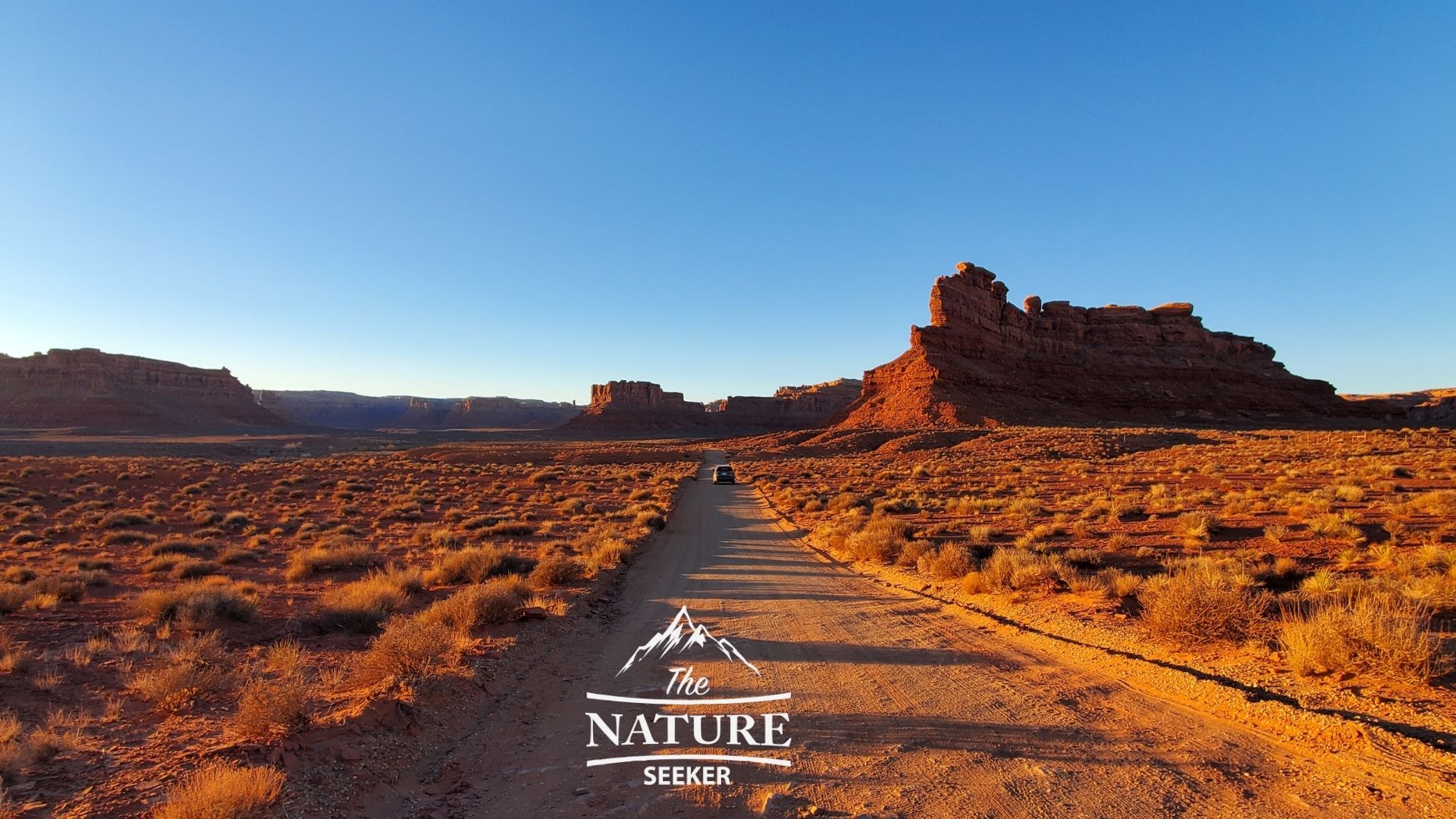 I came upon this drive by accident (well it was more of a recommendation).
Valley of The Gods is a scenic drive that is located near Monument Valley in eastern Utah and it is an absolute gem of a drive as I personally found out.
This drive is not that long, but it takes about 30 minutes to explore (if you don't make any spots which you will be tempted to do) you through the heart of eastern Utah's terrain and has so much to offer, including other amazing areas to explore nearby (see my article on Monument Valley I linked above).
12) Nebo Loop National Scenic Byway: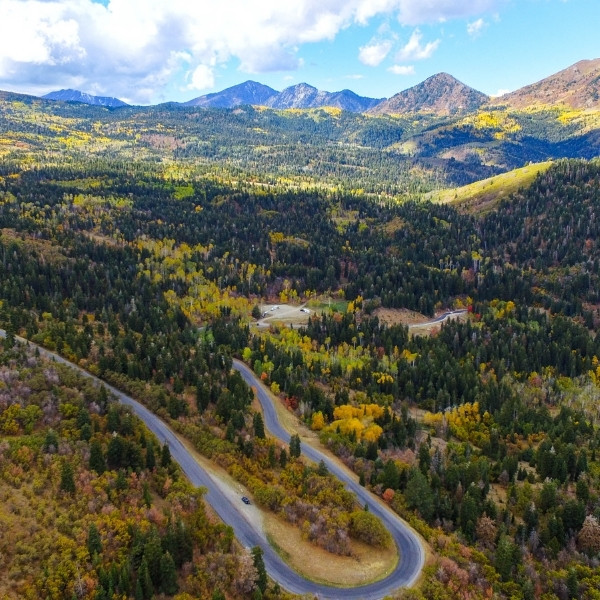 For some strange reason this specific scenic drive in Utah gets mistaken for Interstate 15 (I say that because that's what came up in Google), but after doing more careful research, I discovered this specific drive and where it's at, and most importantly why I highly recommend you visit it.
Here's what you need to know:
The Nebo Loop National Scenic byway is about 40 miles long, and is located south of Salt Lake City.
This drive is a great place to explore if you're coming down from Salt Lake City into places like Arches National Park (or vice versa) and on it, you will be able to drive along Nebo Loop Road and see tons of amazing sights.
I'll be doing a specific post on this specific drive and what to see if you go on this drive on a new post soon, but add this amazing place to your list of scenic drives in Utah, you won't regret it.
It's not long, but there's a lot to see while you drive on it and that makes it an incredible opportunity to explore the amazing sights in Utah, as in this case, there's a lot of mix of desert, green and many other environments.
Update: Here is a post on the Nebo Loop Scenic Byway and what to see there.
13) Big Cottonwood Canyon scenic drive:
This amazing scenic drive came upon my research and I originally thought it was in Colorado because of the giant mountains, twisty roads and so forth.
Much to my surprise it turned out that this was actually in Utah, and even more surprisingly conveniently close to Salt Lake City (it's located east of it, about 20-30 miles).
Big Cottonwood Canyon is known for having awesome hiking trails, ski slopes and more, but for the context of this article, it also has an official scenic byway called Big Cottonwood Canyon Scenic drive.
While it's under 10 miles, if you are flying into Salt Lake City and heading south or east, definitely make a stop in this area and enjoy the sights or even do a day trip here to just check out the area!
Have questions about driving through Utah? Here are common ones you'll see:
What is the prettiest drive in Utah?
According to popularity, Route 12 is the considered the prettiest and most popular drive in Utah.
Is Route 12 in Utah worth it?
Yes Route 12 in Utah it is worth driving through at least once. There are many other scenic drives in the state, but this is the most famous.
Is Route 15 in Utah scenic?
Route 15 is often mistaken for Interstate 15 that goes through the western side of Utah and it is a very scenic drive.
There will be more scenic drives to come soon but if you have any recommendations, feel free to mention them below!