If you're a first time visitor to Coyote Gulch, you probably have a lot of questions about this place. I did too before I went and I gathered 10 of the most common ones I found through my own experiences and similar ones I found others had.
After visiting this place, I have the answers and I know they are going to greatly help you enjoy this beautiful place.
Here are the 10 most questions I'll be covering about Coyote Gulch:
Some of the answers are already here and some need more clarity, but here they are:
What Coyote Gulch is. It's more than just a gorge.
Can you camp there? Yes.
The best ways to access Coyote Gulch. There's a few entrances, each has their own benefits.
How many trails are to Coyote Gulch? 5.
What's the best way to hike Coyote Gulch? Depends on your goal. I'll show you long and short hiking options.
What supplies to bring with you to Coyote Gulch. It depends on how long you go for and when.
When the best season to hike Coyote Gulch is. Depends on your taste, but I prefer winter.
When is the best time to hike into Coyote Gulch? Start as early as possible.
Is hiking into Coyote Gulch dangerous? It can be if you're not prepared. I'll help you prepare.
Can you run into dangerous animals in Coyote Gulch? Most of the time no, but there are some to watch out for (spiders, coyotes, snakes).
For some of those questions, the short answers have already be given, but some of them require more details which is why I included my own personal video on helping you get through Coyote Gulch safely and prepare for it when you hike it below. The same 10 questions will also be clarified further to help you properly prepare.
Before I get to these questions, I'd like to share with you how my first hike at Coyote Gulch went and it's an important experience because you may find yourself in similar situations that I did:
Here's what happened when I went to Coyote Gulch (It wasn't the experience I expected):
Coyote Gulch was one of the most incredible and disappointing hikes I've ever done when I visited this spot on a western US road trip I did in 2020 and that's because I had many questions going into it the first time I tried it, which weren't properly answered beforehand and because of that lack of preparedness, the following things happened:
1) I got lost with the buddy I went with (yes we had panic moments from this).
2) I wasn't sure which of the starting locations of Coyote Gulch were best to begin hiking on (a local helped us find one).
3) I didn't understand the map or trail heads that surrounded Coyote Gulch.
4) I didn't plan the hike properly and thus I lost a lot of time (including backtracking after getting lost).
5) I wasn't used to this way of hiking and naturally (neither was my friend) and so we had to improvise our hike.
6) We did eventually figure out where we needed to go and even got close to the spot we originally sought to find which was the descent area into Coyote Gulch that led to Jacob Hamlin Arch, the main attraction we wanted to see.
But despite getting on the right path eventually, we

couldn't risk going further.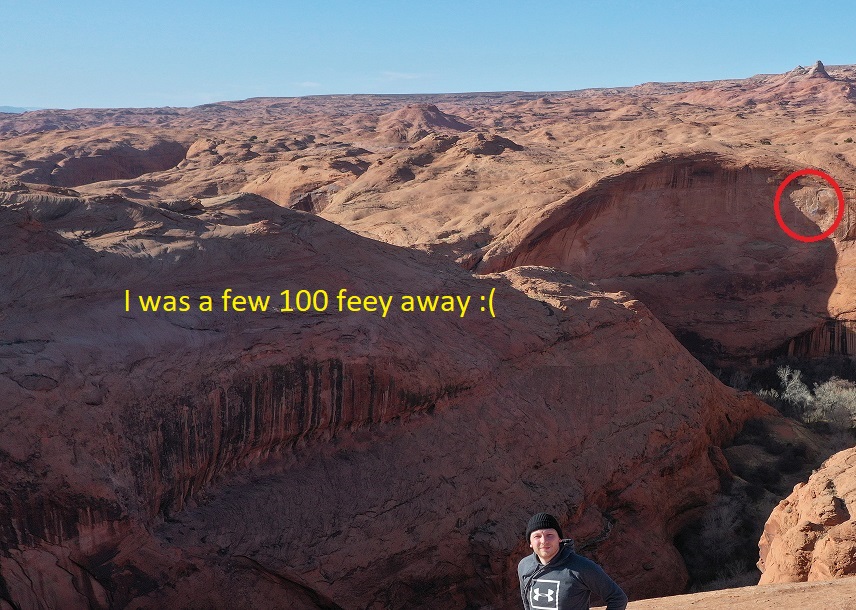 By the time we were on the right path, and getting very close to the area of Coyote Gulch where you had to descend by rope to see Jacob Hamlin Arch, which is basically the main gem of Coyote Gulch everyone comes to see.
But for us, by the time we go there, we had very little daylight left and because of this, I had to make a critical decision which was:
We had to cancel, and hike back to the parking lot, lest we be caught in the dark (and then we were likely going to be screwed).
And the truth is, we were VERY close to the descent area. In fact, here is how close it actually was:
To get so close and then have to turn back and scrap the hike entirely was tough to make, but it was the right one. 
At the time, I was very angry that things turned out this way and we had to continue our road trip further north afterwards, meaning I'd have to wait a long time before being able to see and try to hike through Coyote Gulch again.
Update: I successfully hiked this area the second time I went and here's my rope climbing experience in Coyote Gulch.
Now you may be wondering, why didn't I plan better? Well here are the answers:
I actually did plan a lot because I knew this place was very remote. I researched official sites, personal blogs and plenty of YouTube videos on this area.
Yet I have to say, despite collecting all this information, I still felt uncertain about it. No single source I found online clearly explained what I needed to do and where I needed to go.
I had maps but I didn't have directions from experts saying "If you're looking to do this in Coyote Gulch, do this".
Overall, with many different options, and no clear directions on what to do, this is what led to us having to improvise. I actually tried to find local areas near Coyote Gulch and ask people about what to do. Most were closed and only offered OK advice.
But this disappointing experience gave me the knowledge to understand how to hike Coyote Gulch properly (my second time):
As we were driving back, I was recollecting all the sights, maps and trail heads I saw and little by little, the whole picture of Coyote Gulch, where we went wrong and what we needed to do the next time we came here.
And after cross referencing my experience with all the past information I found, I was able to finally understand pretty much everything I needed to about Coyote Gulch and it is with this new experience that I am sharing this article and video with you.
So let's get these questions and answers about Coyote Gulch started: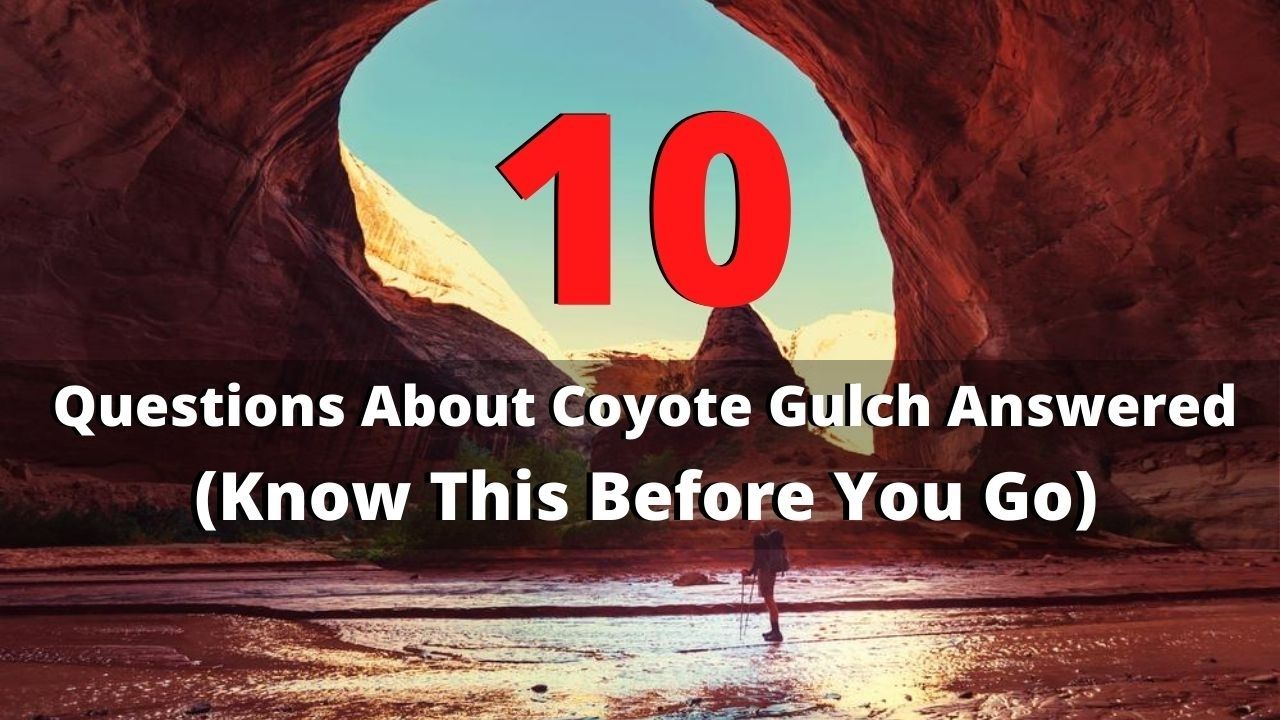 The following 10 things are based on what happened after I successfully hiked through Coyote Gulch (my second time):
I'm going to give you the most common questions I found about this place and if none of them match the one/s you have, feel free to ask about it below.
1) What is Coyote Gulch?
It's a narrow canyon in the Escalante region of Utah state that zig zags and stretches for about 20 miles. It is a popular hiking location that has some truly incredible sights such as the Jacob Hamlin Arch, Coyote Natural Bridge and Steven's Arch.
Here is a general map of Coyote Gulch:


2) Can you camp in Coyote Gulch? 
The answer is yes, but you need to get a permit for it. Hiking through the gulch (not staying overnight though) is legal and doesn't require a permit. Get a permit to camp at Coyote Gulch here.
Now there are several areas where you can do that and one common question I get is:
Can you camp out near Jacob Hamlin Arch? The answer is yes.
3) How do you access and hike Coyote Gulch?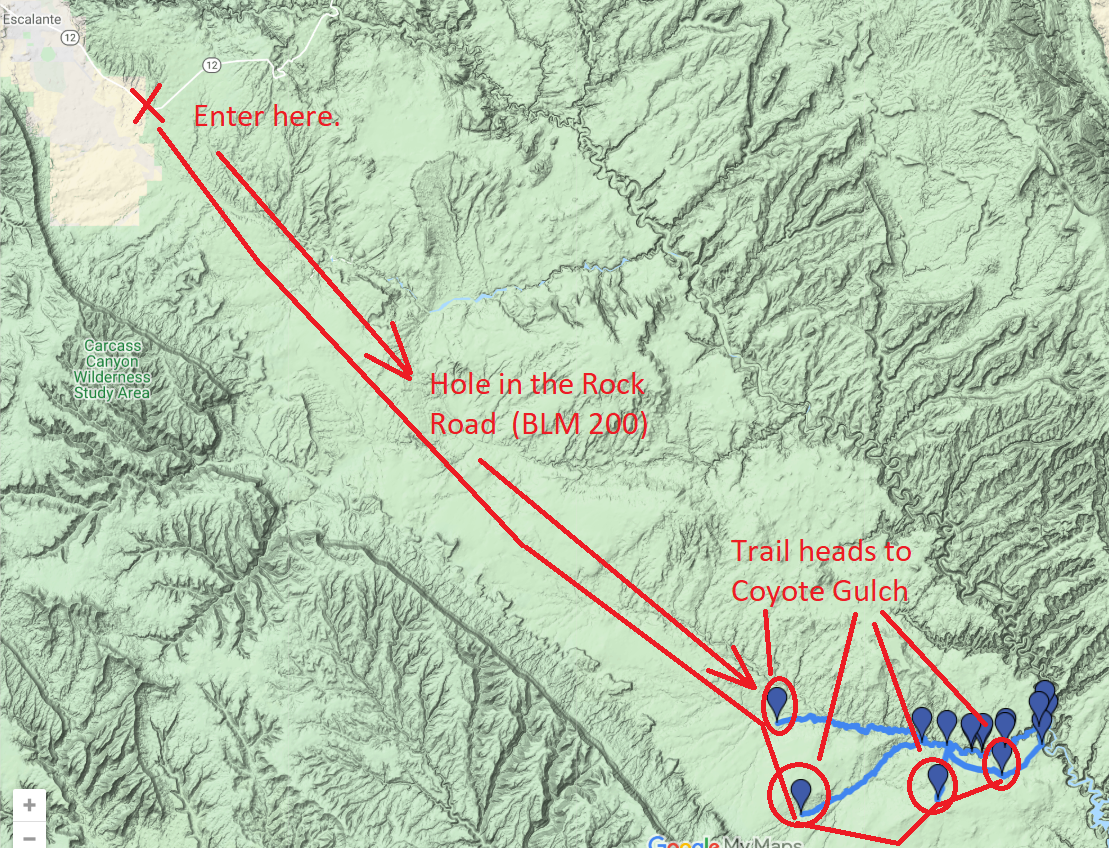 So there are several different access points INTO the actual Gulch. The way it is works is:
You will be driving across a very rocky road known as Hole in The Rock Road for at least an hour before you come up to signs for parking lots that are connected to trails that lead to Coyote Gulch access points (where you can hike into the Gulch).
Each trail head will take you into a different section of Coyote Gulch and the one you should choose depends on how long you wish to stay at Coyote Gulch.
I'll be going over those options shortly to help you know where you need to go and park your car according to which trail you choose to take.
But here is the map of Hole in The Rock road and Coyote Gulch for reference:
4) How many different trails are there that go into Coyote Gulch?
There are 4 main ones:
1) Red Well.
Signs for Red Well will show up as you drive through Hole in The Rock Road and if you go there, you'll arrive at a parking lot, which will take you to the Red Well trail head.
This trail head begins in the western most side of Coyote Gulch and takes at least 7 miles of hiking to actually get to Coyote Gulch itself. If you start at Red Well and have to go back to it, plan for at least a 20 mile hike.
2) Hurricane Wash.
Hurricane Wash is easy to spot. As you drive through Hole in The Rock road, you will pass a pretty large parking area, and the sign for Hurricane Wash will be there (it's a pretty small sign). From the parking area, the trail head will take you north for about 6 miles before you reach Coyote Gulch.
While this is the easiest hike in my opinion, it is not the shortest. Expect about 15-20 miles of hiking at least. This is considered the easiest route for most hikers. It is pretty flat but slightly downhill for about 6 miles (and that's just the Hurricane Wash trail that leads into Coyote Gulch, not Coyote Gulch itself).  
3) 
Water Tank trail (Sneaker Route/Moki Stairs):
You won't find an official sign for the water tank trail on the Hole in The Rock Road, but you can find the actual trail (and water tank area) if you follow your GPS to the next trail head on this list which is Coyote Gulch Access Point.
Basically the water tank trail is the Sneaker Route and many people elect to take this trail to Coyote Gulch. It takes you to a section of Coyote Gulch involving a rope climb down (it's optional to use the rope) and it's right next to Jacob Hamlin Arch.
This hike is actually very challenging, but very fun! I have a list of 17 of the best hikes in Utah and the water tank trail is on it.
5) Coyote Gulch Access Point:
This trail head is literally 100 feet away from the water tank trail head and you will be able to find it on your GPS. It's actually the one I went to the first time I went to Coyote Gulch.
Coyote Gulch Access Point isn't an actual access point to Coyote Gulch, but a parking lot. From it you have 2 ways you can navigate:
A) You can follow the official trail which goes east of Coyote Gulch Access point and it will take you to Crack in The Wall, which is an official access point into Coyote Gulch (at the eastern most end of the Gulch). 
B) Or you can head west off the parking lot for about 2 miles and it will take you to the same exact descent area which the water tank and sneaker route trail take you to, BUT keep in mind that if you choose this route, you won't have an official trail to go on.
There's an old road that does lead there, but it is so difficult to see it, especially as you go further that I wouldn't rely on it.
Here is how these trails look on the map:

5) What is the best way to hike Coyote Gulch?
So there's 3 types of people who will hike through Coyote Gulch:
People who want to do a short day hike in Coyote Gulch (Under 6 hours).

People who want to stay for more than one night inside the Gulch (camp out).

People who want to hike through the entire Gulch in a single day (Under 12 hours).
Because Coyote Gulch has 5 different access points, there are multiple options. So I'll break down different options available to each type of person hiking this place:

If you're in category 1 and want to do a short day hike (5 hours or less):
Here are a few options:
1) Start a the Water tank trail (Sneaker Route), head north west to Coyote Gulch (Jacob Hamlin Access Point), descend, and come out the same way and back to the same trail.
3) Start at Coyote Gulch Access Point, head west north west to the same exact Jacob Hamlin Access Point, also descend, then out the same way. 
3) Start at either the Water Tank trail or Coyote Gulch Access Point, head north east to Crack in the Wall, then work your way back to Jacob Hamlin Arch and exit out there, and head back to where you started.
These 3 routes will typically be short hikes into the Gulch and however long you wish to spend inside Coyote Gulch is up to you, but they are the shortest trails to it.
See this article on one day hikes in Coyote Gulch for more details on these 3 options and directions.
If you're in category 2 and want to stay for more than one night:
You can honest take any of the known trails into Coyote Gulch, but depending on how many supplies you're bringing determines where you should start. Less supplies = more trail options. More supplies = take the longer/safer routes (don't do the Jacob Hamlin Arch descent area).
The following trail options are the most common for people who wish to stay at Coyote Gulch for more than one day:
1) Red Well to Confluence, then hike through and stay in Coyote Gulch. Exit out Red Well (backtrack).
2) Hurricane Wash to Confluence, then hike through Coyote Gulch. Exit the same way.
3) Start at Coyote Gulch Access Point, head north east to Crack in The Wall, descend into Coyote Gulch and exit out the same way (or via Red Well or Hurricane Wash).
And if you're in category 3 and want to hike through the entire Coyote Gulch in one day (20 or so miles):
And you're in incredible shape, then honestly ANY trail head start is fine for you. The longest option would be Red Well to Confluence, then Coyote Gulch to Crack in The Rock and back. You'd be doing about 20 miles or so in that case.
6) What supplies should I bring with me to Coyote Gulch?
At the bare minimum, if you're going for a single day hike, bring at least several liters of water and if you're going during the spring or summer seasons, bring even more. Leave some extra in your car too. I'd also bring energy bars. Read this post on what to bring on a hike for more details.

If you're going for overnight camping trips, bring food (more days = more food), water, a flashlight, lighter and tent equipment.
Make sure to also bring a hat or cat to protect your head from the sun. Also sunscreen is important.
7) When is the best time to go to Coyote Gulch?
I would say during the fall and winter seasons.
The good news is that no matter how cold it gets there, I don't think you'll ever see ice or snow in this region. I went in February thinking for sure I'd see snow, and there wasn't any of it and the temperature at it's highest was close to 60 degrees. 
Just a dessert environment, but it was easy to deal with the weather since it wasn't hot at all, just cool. 
8) When is the best time to hike through Coyote Gulch?
Start as early as possible. Don't make my mistake of starting at 11. Those extra few hours of daylight would have helped us actually descend into the gulch. 
Some people choose to drive to one of the trail heads, park, and spend the night in the their car (or camp out near the trail head), before starting their hike early in the morning.
If you're going to to a single day hike, I would try to get to and start driving on Hole in The Rock Road as soon as the sun rises, so you can get to your trail head. If you do this hike during the fall and winter seasons, except the sun to set sooner, so this is a good argument for starting early. 
But if you decide to hike to Coyote Gulch in the spring and summer seasons, you should still start very early because the temperatures won't be as hot early in the morning (they'll climb quickly though).
9) Is hiking through Coyote Gulch dangerous?
Hiking through most of the trails to Coyote Gulch is totally fine and safe. The only ones which may present any danger are the descents you have in either Crack in The Wall or the descent into Jacob Hamlin Arch via a rope climb. Both options involve steep climbs down (and back up). 
If you're scared about trying that, elect to do the simpler trails such as Red Well and Hurricane Wash.
10) Are there dangerous animals near Coyote Gulch?
From what I read, there are tarantulas there as well as Coyotes.
Personally I didn't see any of them when I went (thank goodness because I hate spiders). As long as you don't stick your hands in holes, go into caves or leave food out for coyotes, you should be fine.
Bonus 11: More things to see around Coyote Gulch.
Besides the actual Coyote Gulch itself, there are other attractions near this region, such as:
Zebra Slot Canyon.
Peek a Boo Slot Canyon.
Spooky Gulch.
Golden Cathedral Slot Canyon.
Golden Cathedral.
All of these things are right off the Hole in The Rock Road and you will see signs for them. They all come up even before you reach Coyote Gulch so if you have extra time and want to explore more around the Grand Staircase Escalante, Coyote Gulch area, these 5 places are good to check out!
Bonus 12: Awesome areas outside of Coyote Gulch to explore.
1) My first recommendation is Bryce Canyon National Park.
2) My second recommendation is Capital Reef National Park. Both options are about 1-2 hours away from Coyote Gulch.
3) Another big recommendation is exploring Canyonlands National Park,
4) Dead Horse State Park.
5) Then there's Arches National Park, which are east of Coyote Gulch.
6) And then south west of Coyote Gulch are Zion National Park (Basically this encompasses the Mighty 5 National Parks).
7) And then there's also the many scenic drives in Utah which help you cross all of these places.
8) Coyote Gulch also has other places to check out including Zebra Slot Canyon, Peek a Boo and Spooky Slot Canyons.
9) And altogether, Utah has many awesome hiking trails to explore.
10) St. George Utah also has many beautiful hikes (4 hours away from Coyote Gulch and a nice town to stay at).
I highly recommend doing all of these adventures if you're visiting Utah.