15 Best Things to do in Kanab Utah (Why It's Amazing Here)
If you're doing a first time visit to this place, know that there many things to do in Kanab Utah and the 15 you're going to learn about here are excellent for planning an itinerary.
I've been in Kanab a few times and am amazed at how many things you can do (hikes, sights, attractions, etc…) that are so close to it and frankly, there are many towns throughout Utah which you can use as an HQ to explore tons of amazing areas nearby and in terms of logistics, here's how it looks:
St. George is an excellent HQ for exploring the western Utah.
Moab is an excellent HQ for exploring the mid north of Utah.
Bluff and Monument Valley are an excellent HQ for exploring east Utah.
Hildale is also an amazing spot in Utah for great hikes.
And in the case Kanab, that is an excellent (if not one of the best) place for exploring the southern region of Utah.
While Kanab is a pretty small town, it's still one of the largest in southern Utah and in terms of actual activities inside the town, there's not much to see. However, what lies near/outside of it is what makes it so special:
Here are the (now) 15 best things to do in Kanab Utah: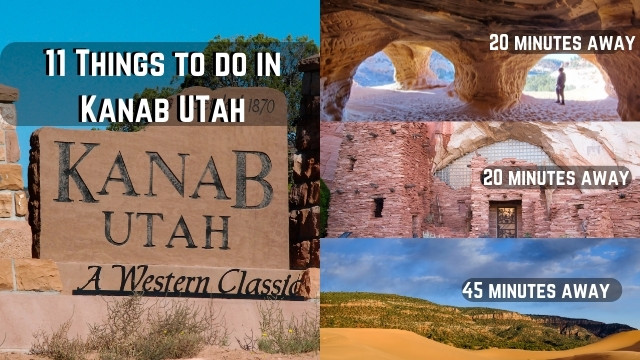 Check out Moqui Caverns.
See the Sand Caves.
Hike to Cutler Point (incredible arch).
Hike to Red Canyon (slot canyon).
Do the White Wave hike.
See Belly of The Dragon Cave.
See Elkheart Cliffs Slot Canyon.
Spend a day at Coral Pink Sand Dunes State Park.
Check out Vermilion Cliffs National Monument.
Hike to Inchworm Arch.
See Wahweap Hoodoos.
Explore Kaibab National Forest.
Visit Zion National Park.
Check out Canyon Point.
Explore the Yellow Rock trail.
Now aside from these 15 things, know that Kanab also has a lot of historical sites and family friendly things to check out like pictographs and even dinosaur track hikes. Me personally, I love the scenic hikes and adventures you can find in and near Kanab so that's what this list reflects. If you want to share some of your own recommendations on things to do in Kanab, feel free to leave a suggestion in the comments.
Visit the Kanab Moqui Caverns (caves):
How far from Kanab Utah? Only 15 minutes.
Moqui Caverns (or caves) happen to be one of the most commercialized pictures you see if you look up Kanab on Google. However before I explain why I recommend this spot, you may encounter some confusion if you go here (like I did).
You see, when you actually look up images of this area, you may get either the Moqui Caves themselves which is a tourist attraction for families where you can see historic sandstone, old ruins and so forth and more.
But right nearby this area is a place called Sand Caves which is the next spot on this list and the images of this place sometimes show up for people who look up Moqui Caves and this confuses people. That's exactly what happened to me because I was originally looking for the Sand Caves while visiting this area and my GPS took me to the Moqui Caves instead.
Not that I'm complaining here. I enjoyed looking at this area and think it's an excellent spot for simple/tourist adventures.
See the Kanab Sand Caves: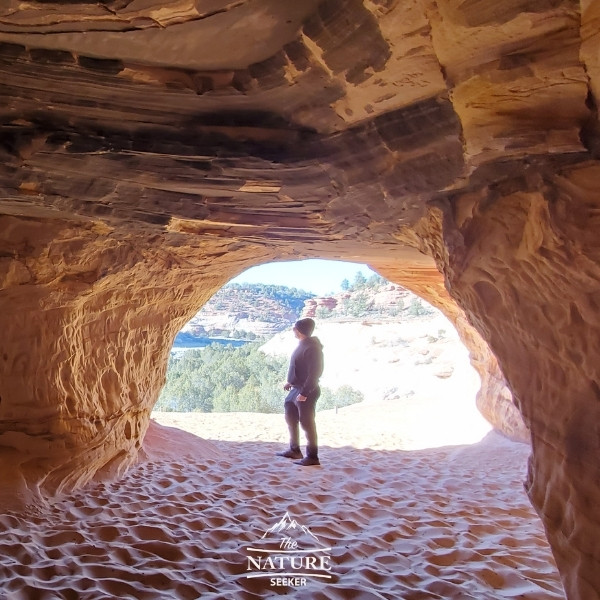 Distance from Kanab Utah: 15 minutes as well (north of the town).
About 300 feet south of Moqui Caves is where you'll "see" the Sand Caves. I say that because they are not easy to spot when you're driving but once you park your car either at Moqui Caves, or a plan B parking lot across the road from it (by the way, there's a nice waterfall there), if you look east and up, you will see them.
The Sand Caves are what you will often see shown off on social media and on Google maps when you look up Kanab and I'm glad I was able to find it when I went here. Believe me, it's worth going and getting some amazing views and experiences in there.
However one thing you have to know is that to get there requires you hike to it. It took me about 10 minutes, but I followed some people who appeared to know where to go and we were able to get to the Caves.
The hike up there can be a little tough for some people but there's a way to do is in a simple way (it can be pretty steep).
Hike to Cutler Point, aka Great Chamber:
Distance near Kanab Utah: 30 minutes from the town to the trailhead.
I've wanted to hike to this amazing arch for a long time but I never knew where it was, let alone which town was near by it and as it just so happens, Kanab happens to be that town. Now if you want to do this hike, here's what you need to know:
Besides Cutler Point, it's also called Great Chamber and it's one of the best hikes in Utah.
It takes about a whole day to get there and the road to reach it is very rugged and sandy (AWD or 4×4 required).
I would not do this hike unless you are prepared.
Now if you feel ready for this hike, the main 2 attractions are the views when you reach the Great Chamber and the second is the Great Chamber arch itself which is gigantic.
Update: I've done the Great Chamber hike and include details on finding it.
Hike to the Red Canyon (aka Peekaboo Slot Canyon Kanab):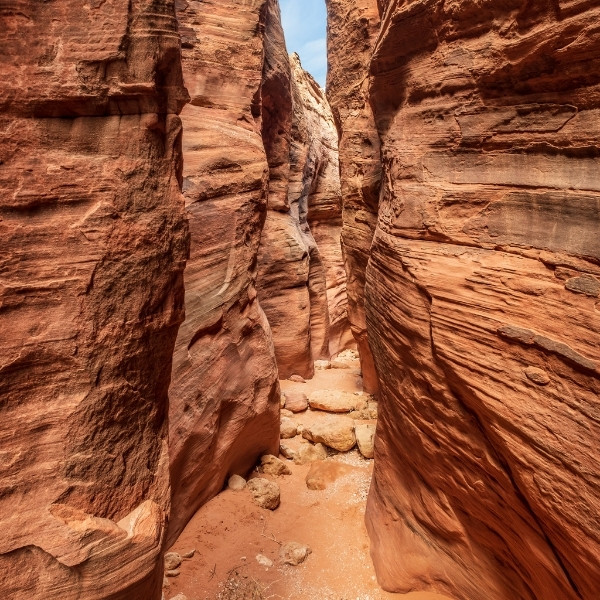 Distance from Kanab: 30 minutes north.
As you drive north out of Kanab, you will see a trailhead to explore a very popular slot canyon called Red Canyon. However to reach it, you will have to hike about 4+ miles to reach the trailhead (and then another 4+ back to the parking lot).
The reason I'm adding this specific hike is because I love slot canyons in general and this specific one might be far less crowded than most of the others you'll find in Utah and Arizona in this case since there's many similar ones there.
A few things you should know before you hike here:
First, Red Canyon is also the name of a popular region in Utah near Bryce Canyon National Park, but they are completely different regions of the state.
Second, this place is also known as Peekaboo slot canyon and as it just so happens, there's another Peekaboo slot canyon further north in Utah within the

Grand Staircase Escalante

area, but that one is even tighter than this one.
Third, if you are looking for great Antelope Slot Canyon alternatives, this would be it!
Explore the White Wave Utah hike:
Distance from Kanab: 20 minutes north.
I am so glad I discovered that there is a Wave hike alternative near Kanab and it's this one! If you don't know, there is actually a very popular hike (known across the country and even world) called the Wave and it's in Arizona, specifically south east of Kanab (not far), but getting to that hike is extremely difficult as you need a permit.
But there are alternatives hikes like it and the White Wave hike (also known as the Nautilus hike) is one of them! I'm not sure if a permit/tour is required (although they are available), but the hike to it is very long (about 6 miles one way) so keep this in mind! The amazing thing about this place is that the Wave look a like is on amazing terrain and the adventure of getting there speaks for itself, something that any hiker would (in my opinion) be happy to do, including me.
Belly of the Dragon cave: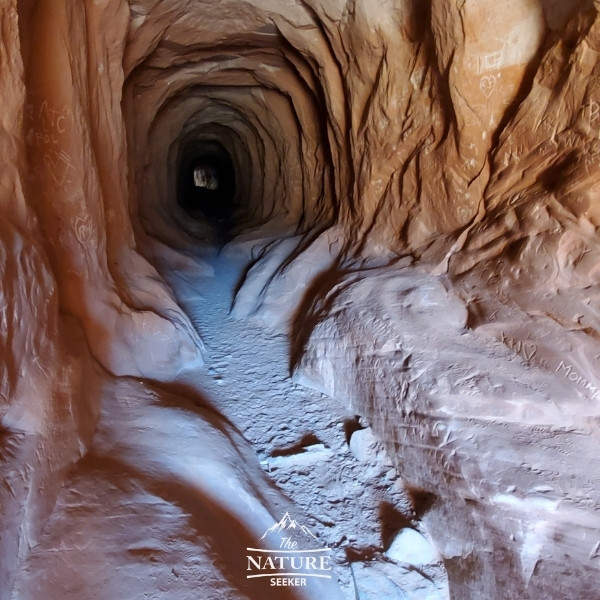 Distance from Kanab: 45 minutes.
I am happy to report I also explored this area when I was passing through the Kanab area and finding it was a bit tricky for me. You have to drive on highway 89 and while you do have a GPS Google listing for Belly of The Dragon, you have to drive on a rugged road, but only for about 2 minutes and look back at where the road is to see this cave.
I missed it the first time I drove through here, but just remember that the cave actually passes underneath highway 89. The cave itself is well over 100 feet long and when I went there, I was the only person in the cave. There is very smooth, yet rugged sandstone there and it's pretty easy to walk through. You can keep going further and further till you reach the next exit point, but in my case I didn't go through the cave all the way. If you keep driving on the same rugged road further, you will find hiking trails, camping spots and even horse back riding areas.
Elkheart Cliffs Slot Canyon:
Distance from Kanab: About 45 minutes.
Here's another awesome slot canyon near Kanab you should explore if you're into these types of hikes folks! This slot canyon is about a 3 mile in and out trip off the road and not far from any of the other major things I've listed here (included the other slot canyon, and White Wave).
In fact, a lot of these regions are not just close to Kanab, but also near one another and you may even find opportunities to mix some of the places on this list together for a single day hike that passes through multiple spots so if you're advanced and ready to do this, then you can make an entire day adventure out of this area.
This slot canyon is also highly rated for scenic views and awesome picturesque opportunities. I'm considering adding this as a great Antelope Slot Canyon alternative too, but I'll hold off on that for now.
Coral Pink Sand Dunes State Park: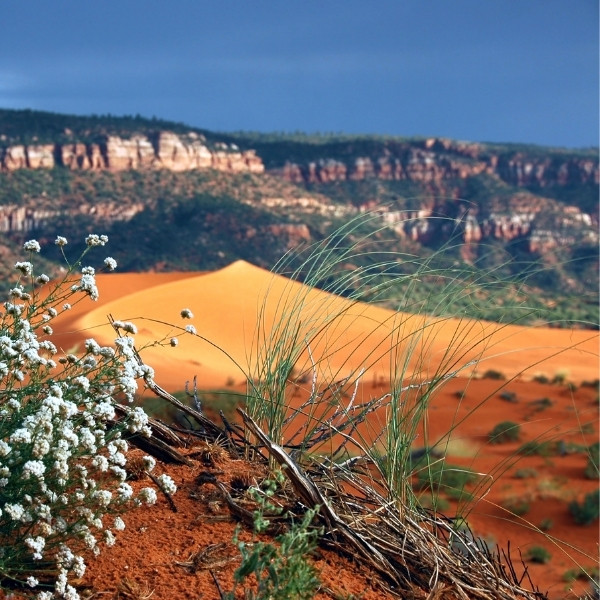 Distance from Kanab: About 30-45 minutes.
I absolutely love Coral Pink Sand Dunes State Park and when it comes to this state, it's one of the best state parks in Utah that I have seen so far. The sand itself really is pink, and very coarse in general.
The park is also huge and you can do a lot of outdoor activities there all ranging in different levels of difficulty and taste. There's overlooks, scenic hikes, sand boarding and way more, all of which is packed into this beautiful park. Out of the several sand dunes I have seen across the US, without a doubt this has been my favorite so far and it's not just because of the color of the sand there, but also because it's so beautiful there in general and you'll understand that when you visit this park. I only had about an hour to spend here while I was headed to Kanab but I am planning to return to this park soon to do things like ATV riding and sand boarding.
Vermilion Cliffs National Monument:
Distance from Kanab: About 1 hour south east.
Vermilion Cliffs National Monument crosses between AZ and UT and in this case if you want to check out the best spots there, you'd be in the AZ side of this region. Anyway, the main areas here I would recommend you check out are:
The official Wave hike I talked about earlier (if you can get he permit of course).
White Pocket which is very close to the Wave and actually looks better in my opinion than the White Wave hike.

Cathedral Wash

which is an amazing hike that I will never forget and will do again (this requires about a 2 hour drive from Kanab though).
And that's just 3 of many more. I have included a link above to help you see what else you can see and do at Vermilion Cliffs. The closest town to it (eastern end) is Page, something to consider if you plan on seeing more of this region.
Inchworm Arch: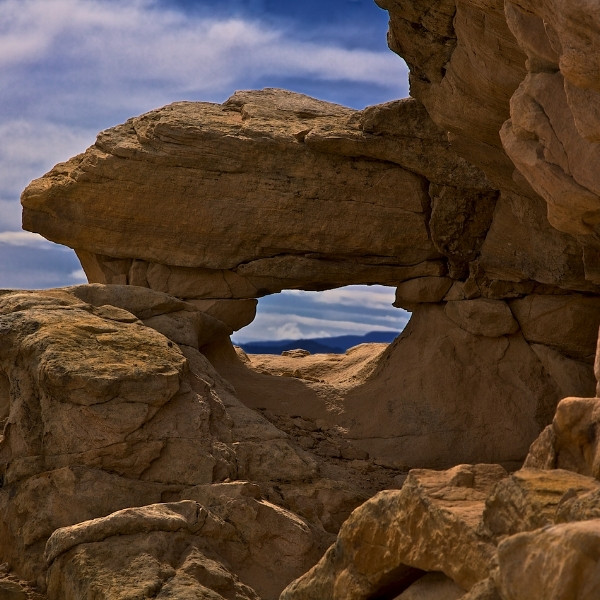 Distance from Kanab: 30 minutes east.
Inchworm Arch is an awesome natural bridge you will find off a 3 mile hike near Kanab. The area is amazing with mixes of white and red rocks. The arch itself is pretty large too, but accessing the area requires you to take road 3600 to reach. Getting up to the actual arch from the hike requires a bit of a scramble/climb but the payoff, pictures and area is just amazing to behold once you are there.
I am not sure if Inchworm Arch is part of the Grand Staircase Escalante, but if it is, it's certainly one more of the many beautiful spots in that region I strongly recommend you take several days to check out (but you'd want to do that in the town of Escalante vs Kanab so you can have closer access to more spots, especially one of my favorite which is Coyote Gulch that has even bigger natural bridges and arches).
Note: I will be uploading a much better picture of Inchworm at in the future (this isn't an accurate one).
Wahweap Hoodoos: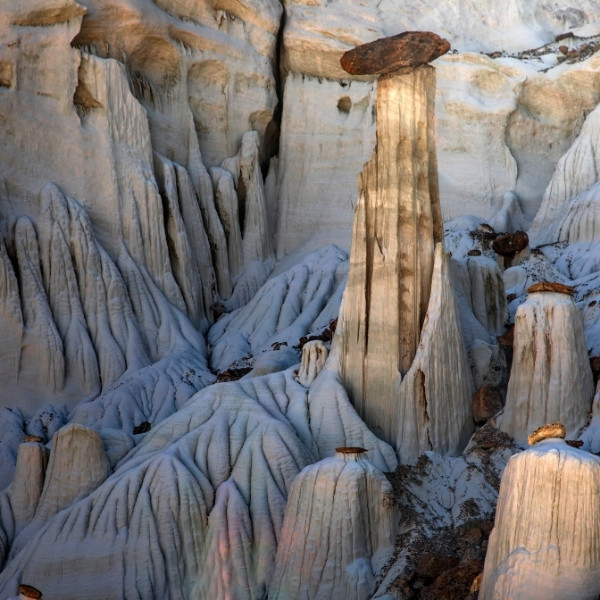 Distance from Kanab: 2 hours east.
If you're going to visit the Vermilion Cliffs region of Arizona, specifically the eastern side, then I would absolutely add Wahweap Hoodoos to your list of things to see. While it is about 2 hours away from Kanab, it's worth making the trip here because of how amazing this area is.
It's actually outside the Vermilion Cliffs, but the trail and area here is amazing. Its not easy to describe how and why this place is awesome but this picture should help with the description. It's basically boulders on top of building like rock formations, all naturally made by the way and the area has a mix of the White Wave as well as stuff you'd see in Goblin Valley State Park (further north in Utah, but more red and white rocks).
My advice for seeing this region as well as others so far outside Kanab (if you consider 2 or more hours to be far) is to start in Page, Arizona, see these spots and then move further west to Kanab and see the other spots on the list there.
Kaibab National Forest: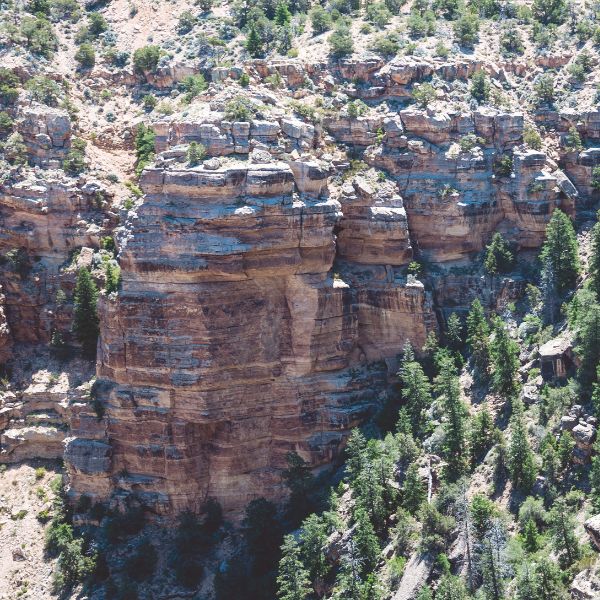 Distance from Kanab: 20 minutes (south).
I've driven through Kaibab National Forest several times and I have to say that it is an underrated spot to explore near Kanab and in general because most of the attention on things to do in Kanab are mainly the above things I listed so far. It offers a completely different landscape to enjoy than most of what you'd see near Kanab in general as the region consists of more green forests, high mountains and great views in general of the land and especially of what is beyond that.
You'll also find way less people exploring Kaibab National Forest than many other hikes that are closer to Kanab itself, but considering how close this place is to the town, it's well worth visiting! There's plenty of hikes, campgrounds, rock climbing and things to do here in general and the area is gigantic too which means there's just that much more to explore.
Zion National Park: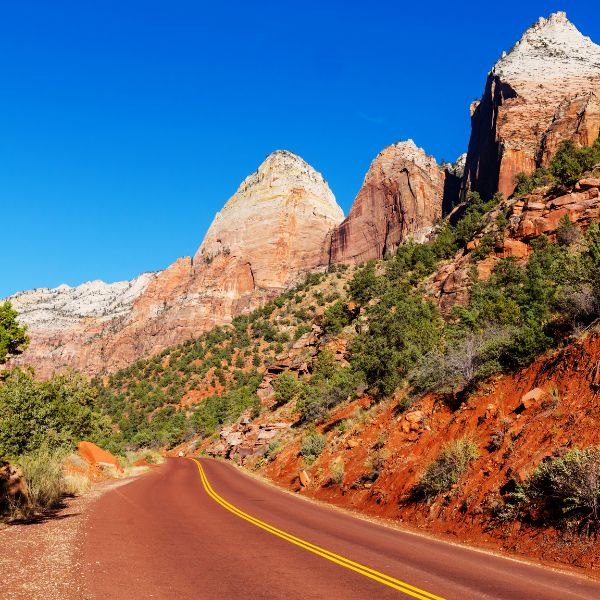 Distance from Kanab: 30 minutes.
Zion National Park doesn't require much explanation as it's already one of the most popular Utah destinations and just about everyone has heard of this national park. However, what most people may not know is that it's also very close to Kanab and by staying there, you not only are close to this park but because you also have the other spots I've listed on this post, there is just that much more to see and staying in Kanab will give you the best logistical spot to see it all from.
Anyway, Zion National Park is indeed worth a visit and I have provided a link to things you can do there in a day. There's amazing scenic drives, great and simple hikes, the famous Narrows trail and way more to explore. By visiting Zion from Kanab, you will be enering it from the eastern side of the park and there are also trails that give you access to places like Observation Point which overlooks Zion Canyon.
Canyon Point: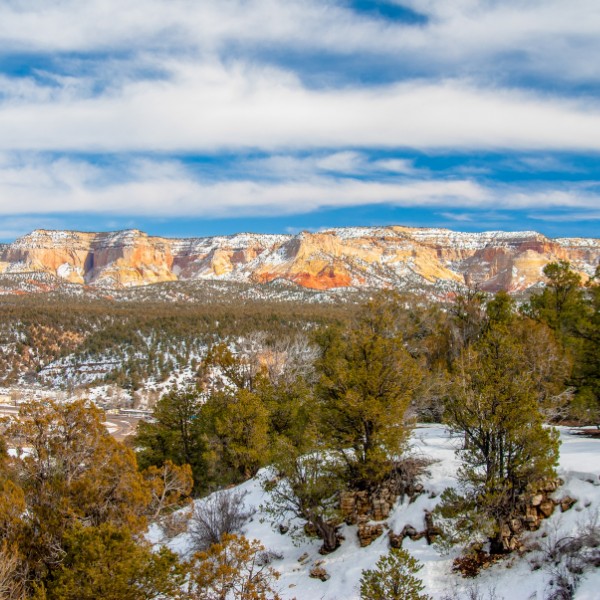 Distance from Kanab: 20 minutes.
Canyon Point is actually another awesome spot close to Kanab that features awesome hiking trails and great views of Grand Staircase Escalante, Kaibab National Forest and basically amazing scenery in general. Not only that but from this area, you can actually get a great view of Bryce Canyon National Park as well which is great because if you are traveling in a way where you can't see this amazing national park, you can still see it from Canyon Point and get an awesome experience from it.
For what it's worth, Bryce Canyon is about a 1 hour drive from Kanab and it is totally possible to stay in Kanab and take a day trip to Bryce if you want (I actually did that). There are other places along the way to see like Red Canyon, Willis Creek Slot Canyon and more, but if you are only staying in the southern area, go to Canyon Point to get a great view of Bryce.
Yellow Rock trail:
Distance from Kanab: 1-2 hours.
I have seen amazing rock formations and colors throughout Utah, but Yellow Rock is the latest place that totally surprised me. I added a picture of it and it's worth exploring if you are OK with driving in sand and rocky areas. And if you've explored (or are planning to) other places on this list like Cutler Point or the other hikes on this list that require you drive in similar areas, you should be alright with exploring this place. In addition to that, there are also other trails on the same drive which lead to this trail like the Lower Hackberry Canyon trail.
Questions about Kanab Utah:
What is Kanab UT known for?
Mostly as a logistically convenient area to check out some of Utah's best scenic areas like caves, hiking trails and much more.
Is Kanab worth visiting?
Absolutely and one of the main reasons why is because some of the best hikes and scenic spots are so close to Kanab itself.
Is there anything to do in Kanab Utah?
Yes there are tons of things to explore in Kanab and especially near it such as the parks, slot canyons and historic sights.
Is Kanab near Zion?
Yes Kanab is very close to Zion National Park (30-40 minutes).
Other things to explore near or outside of Kanab UT: