7 Incredible Things to do Around Monument Valley
Believe it or not, there are actually more fun things to do around Monument Valley than inside it and that's exactly what I'm going to show you in this post!
You've likely stumbled onto this article because:
You already saw Monument Valley and want to know what to do near it.
Or perhaps you weren't able to get in because they do have a permit system and the amount of people who can visit the area is very limited.
Either way, I can promise you that this list I'm about to share with you will really give you a lot to do within this region.
Here are the 7 things to see near Monument Valley: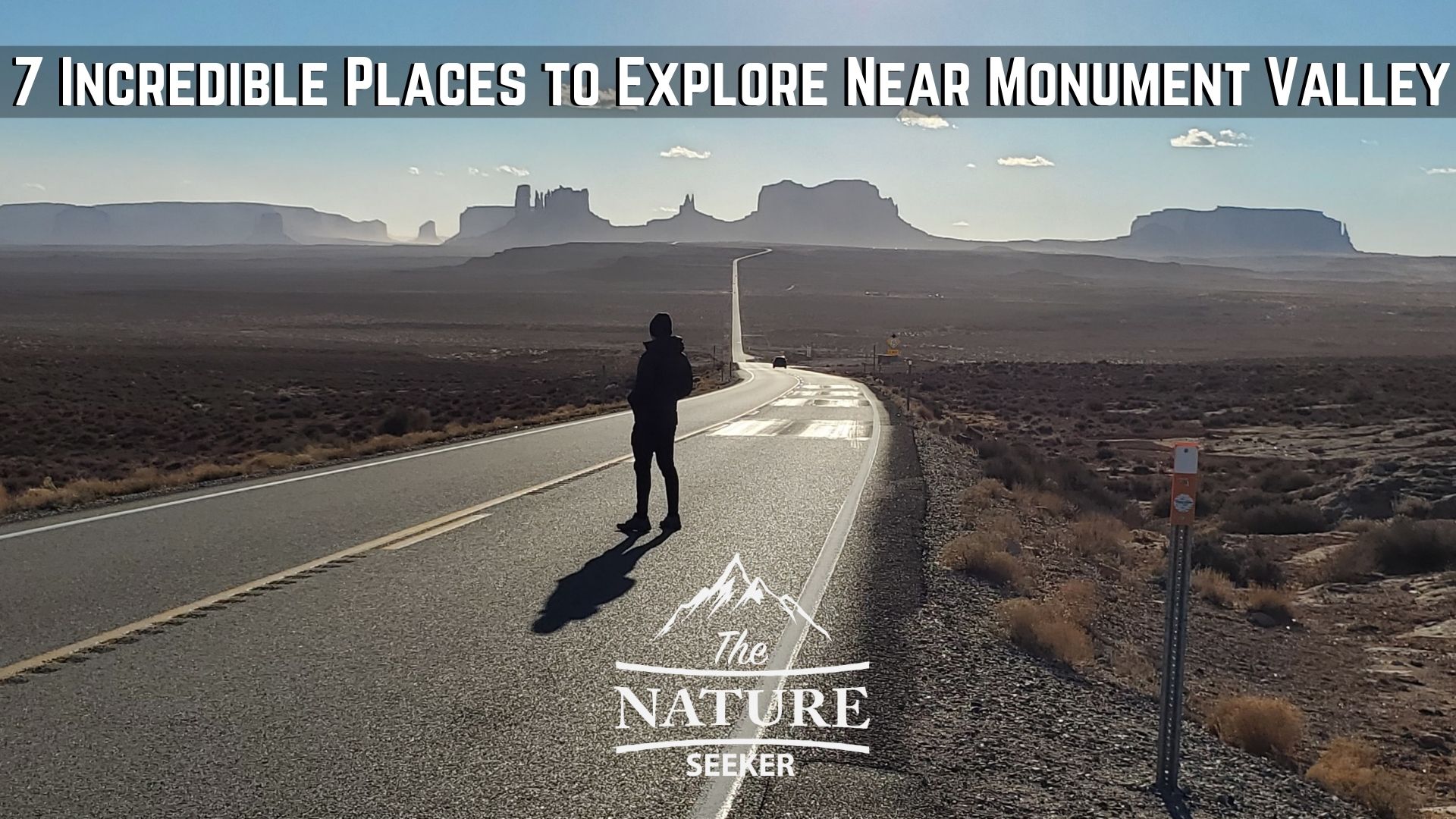 Monument Valley Overlook (Forest Gump highway spot).
Valley of the Gods (scenic drive).
Mexican Hat (awesome hike and views).
Goosenecks State Park.
Navajo National Monument.
The incredible mountain region south west of Monument Valley.
Glen Canyon National Recreation Area (Halls Crossing Marina).
Obviously, I'll get into the details of every spot and where to find it, but just know that every spot listed here is as much worth exploring as the inside region of Monument Valley itself (and you don't have to pay to see most of these spots either).
It's also worth noting that a lot of places you may see online of Monument Valley are actually not in that spot, but are outside of it (including many on this list). That's something I discovered myself when I visited.
How my "failed" trip to Monument Valley turned into a blessing in disguise to help me discover these 5 spots: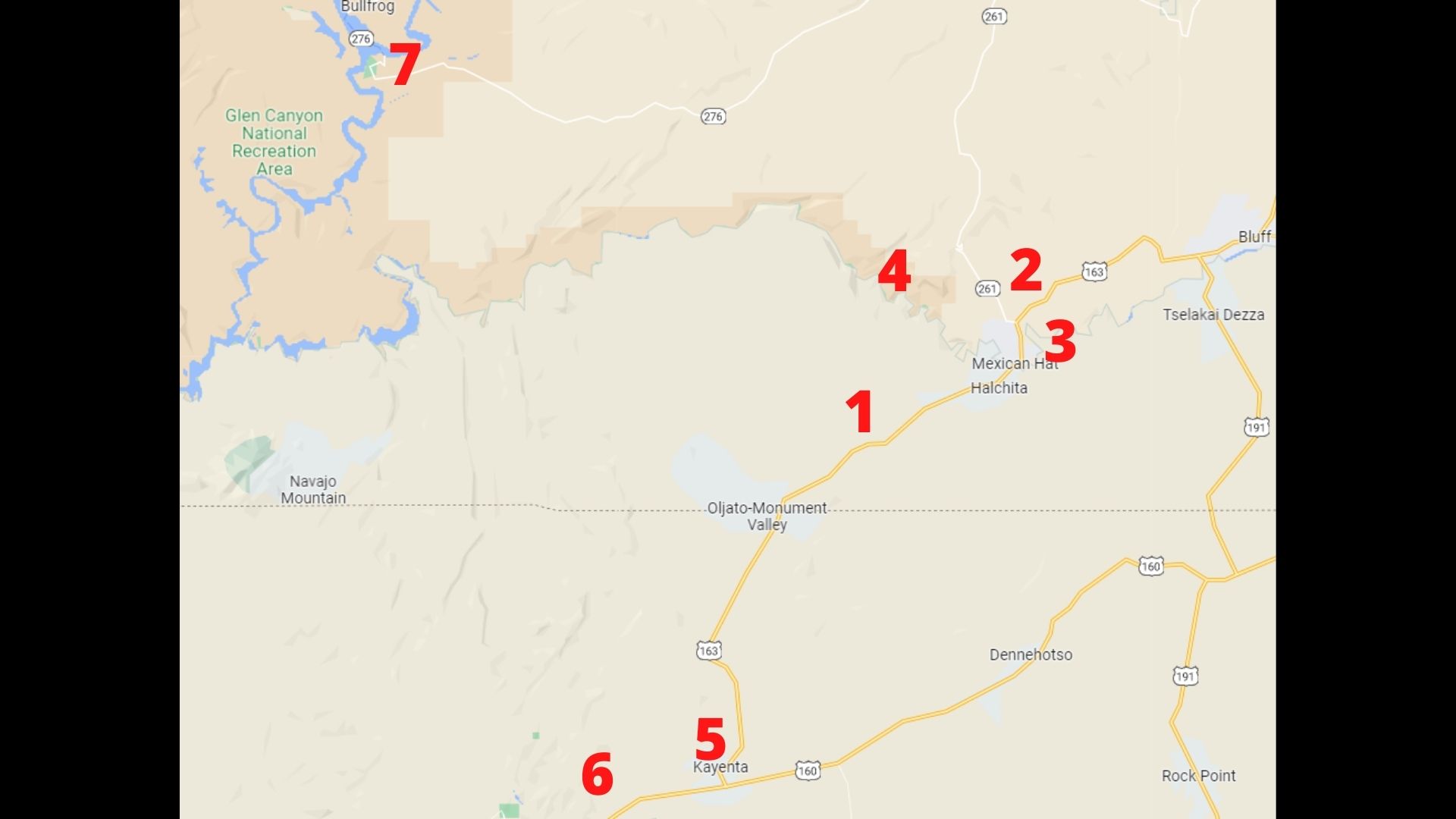 A few months ago, I set plans in motion to try and see Monument Valley, a place I've never been to before. However, circumstances prevented me from actually entering into the park itself as by the time I arrived, it was set to close (that would turn out for the better as you'll discover in a moment).
What ended up happening was that the day I was supposed to visit Monument Valley, I had left early in the morning from Flaggstaff, Arizona, went up to the South Rim of the Grand Canyon (my first visit there too), and attempted to also squeeze in a trip to Monument Valley the same day (yes I was in a rush).
By the time I had arrived to the entrance, I learned that Monument Valley itself is an area you have to pay to enter, and access to it closes at 5 p.m. Though disappointed, I had a few hours left of daylight and asked the staff what there was to see nearby, and to my surprise, the answer was: A lot.
Thanks to the lady at the front desk who showed me what else there was to see near Monument Valley, not only were my last 2 hours there well spent, but the sights I saw took my breath away and in all honesty, even if I had made it to Monument Valley, I wouldn't have been able to see these other amazing spots.
1) Monument Valley overlook (highway spot from the Forest Gump movie):

Most of the pictures you might see of Monument Valley are this specific spot which also happens to the same famous spot in the Forest Gump movie. As it turns out, this spot is actually near/outside Monument Valley, despite many thinking it's inside.
To get to it, you have to drive on road 163 (northbound) and it's about 5-6 miles from the official entrance to Monument Valley (10-15 minute drive). Here is the Monument Valley overlook for you to input to your GPS in case you need specifics.
This spot is worth seeing in all hours of the day. I managed to see it twice, once while the sun was setting the first time I got there, and once during sunrise the next day when I was headed back south (towards Kanab, Utah).
There are several viewpoints in this region and it is well worth stopping at and enjoying the views.
2) Valley of the Gods (incredible scenic drive):
North of the Monument Valley overlook lies a less known about road known as the Valley of The Gods. It's not paved, but it is developed enough for most cars to drive through. To my knowledge, it's about 17 miles long and I had the fortune of driving through much of it right during the last 30 minutes before the sun set. I have also happily added this particular spot to my top scenic drives in Utah article you're welcome to check out too.
Another awesome fact is that Valley of The Gods is also open 24 hours, so if you enjoy the famous starlight of Utah, you will likely find it there too.
The views from this region during that time are not something I can describe, but only recommend you check out if you ever have the chance. There is no entry fee to drive on this road, and when I went, I was the only person there. You will find many stops on this road, including camping spots to stop at.
3) Mexican Hat: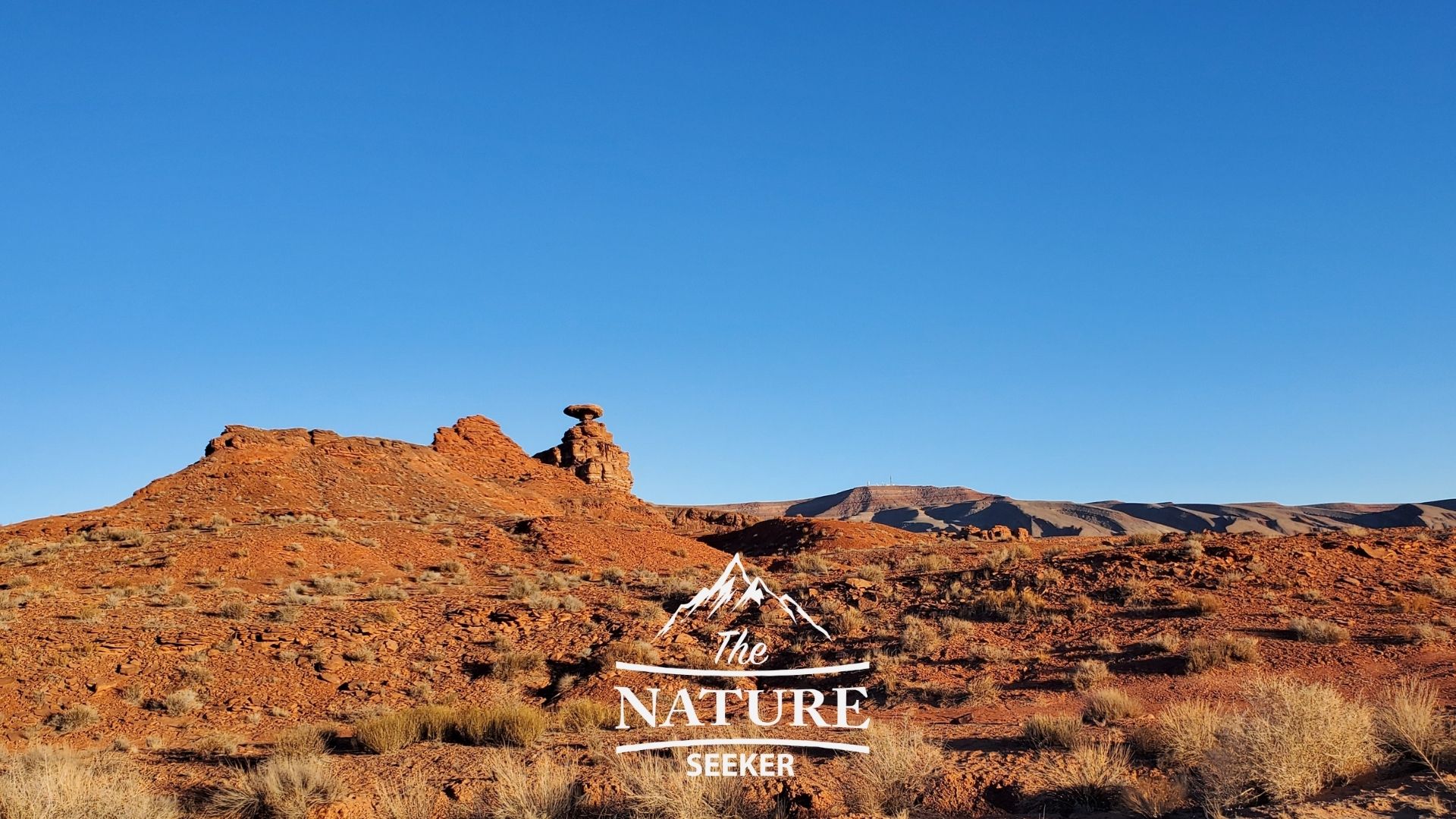 If you're looking to do a hike, Mexican Hat is where you'll want to go. It's located right by Valley of The Gods and you can see it off the same road (163) as you would the other spots I've listed so far.
It's "just" a small mountain with a rock on the very top of it that looks like a hat. You can drive up to it and/or hike up to and under it if you want. I didn't get the chance to hike the trail due to the sun setting, but I did get a good look at it and it is amazing to see how well balanced the rock is and how it ended up looking like that.
Note: Literally a few minutes south of this region lies the town of Mexican Hat. While the town is small, I caution you to be careful while driving there because there are a lot of stray dogs in this area. Be careful while driving there so as to not hit them (because I have seen them run by cars passing by).
4) Goosenecks State Park: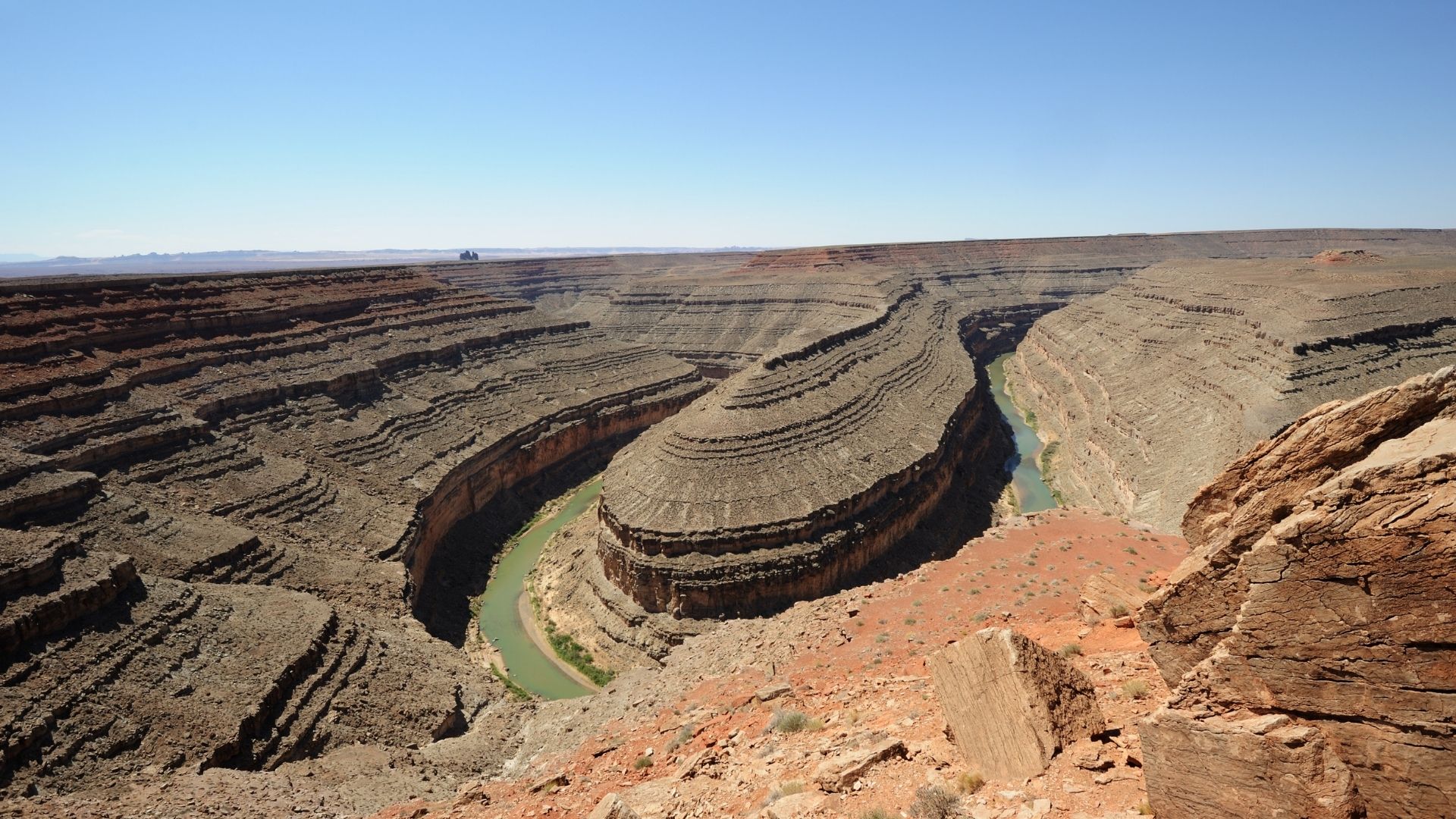 This was one of the other recommendations the lady at the entrance to Monument Valley suggested I check out, but unfortunately I didn't have much time to do that. Yet the beauty of this spot isn't just that it's beautiful (and it's a top state park in Utah to see), but it's also off the same road and right by Mexican Hat and Valley of The Gods.
It's a large park with amazing overlooks that actually look like 2 other spots you can find in Utah and Arizona, specifically:
Deadhorse State Park in Capital Reef National Park.
Horseshoe Bend in Arizona.
Fun fact: There is another state park (in Minnesota) known as Gooseberry Falls State Park, located on the North Shore Coast, another place I recommend you visit.
This is another spot on the list I missed and only found out about later, but it's a famous region south of Monument Valley (10 miles) which has old Indian Ruins and much more to see.
If you're interested in tourist spots and checking out some history, this is the place to go.
Not only that but it is also very beautiful in this area as it's part of a mountain region that I am recommending you also check out (the next stop on this list).
Either way, the nature here is what I personally like, but again, there's cool, historic spots to explore here as well.
6) The Mountain Region southwest of Monument Valley: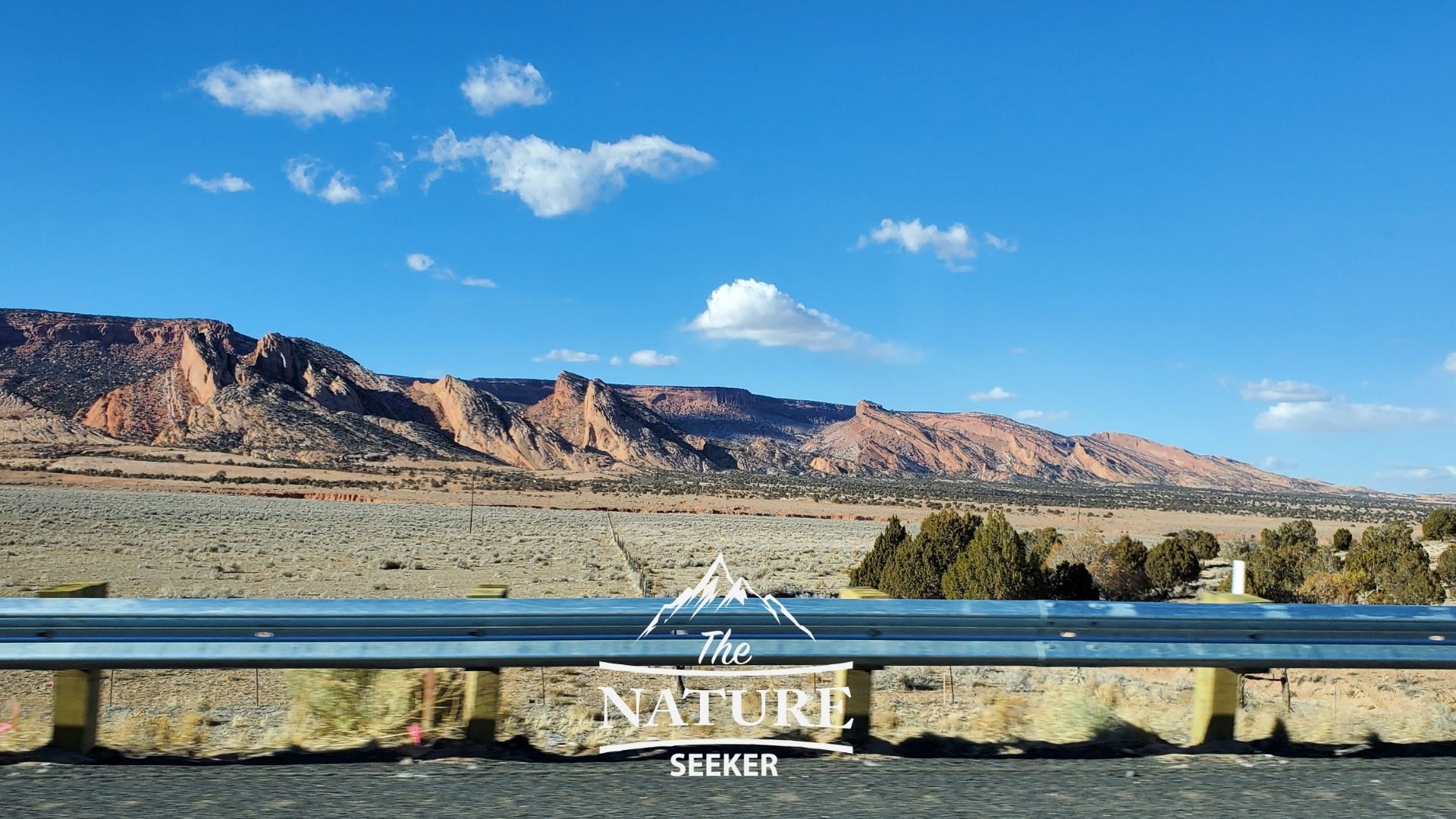 I accidentally came upon this area while driving towards Monument Valley and at first, I thought this was the actual region itself, but it turns out, it was a completely different area.
It's hard to miss these mountains, let alone their beauty, especially if you're coming to Monument Valley from the southwest, but the formations here are incredible to behold. You will see giant, pink rock mountains with a large crevice in front of it (that actually extends all the way from the Grand Canyon to my knowledge).
I didn't have enough time to explore this area (because I honestly didn't even know it existed), but there are hikes and things to explore in this region, including slot canyons and much more (something I intend to look at closer the next time I'm there). This area looks like a blend of Zion National Park and some places I saw in Sedona, Arizona and I have been doing my best to find the name of this mountain region, yet still have not been able to do.
I've indicated where this region is on the map within this article for your reference though so if you do get the chance to explore these mountains, I absolutely recommend it.
7) Glen Canyon National Recreation Area (Halls Crossing Marina):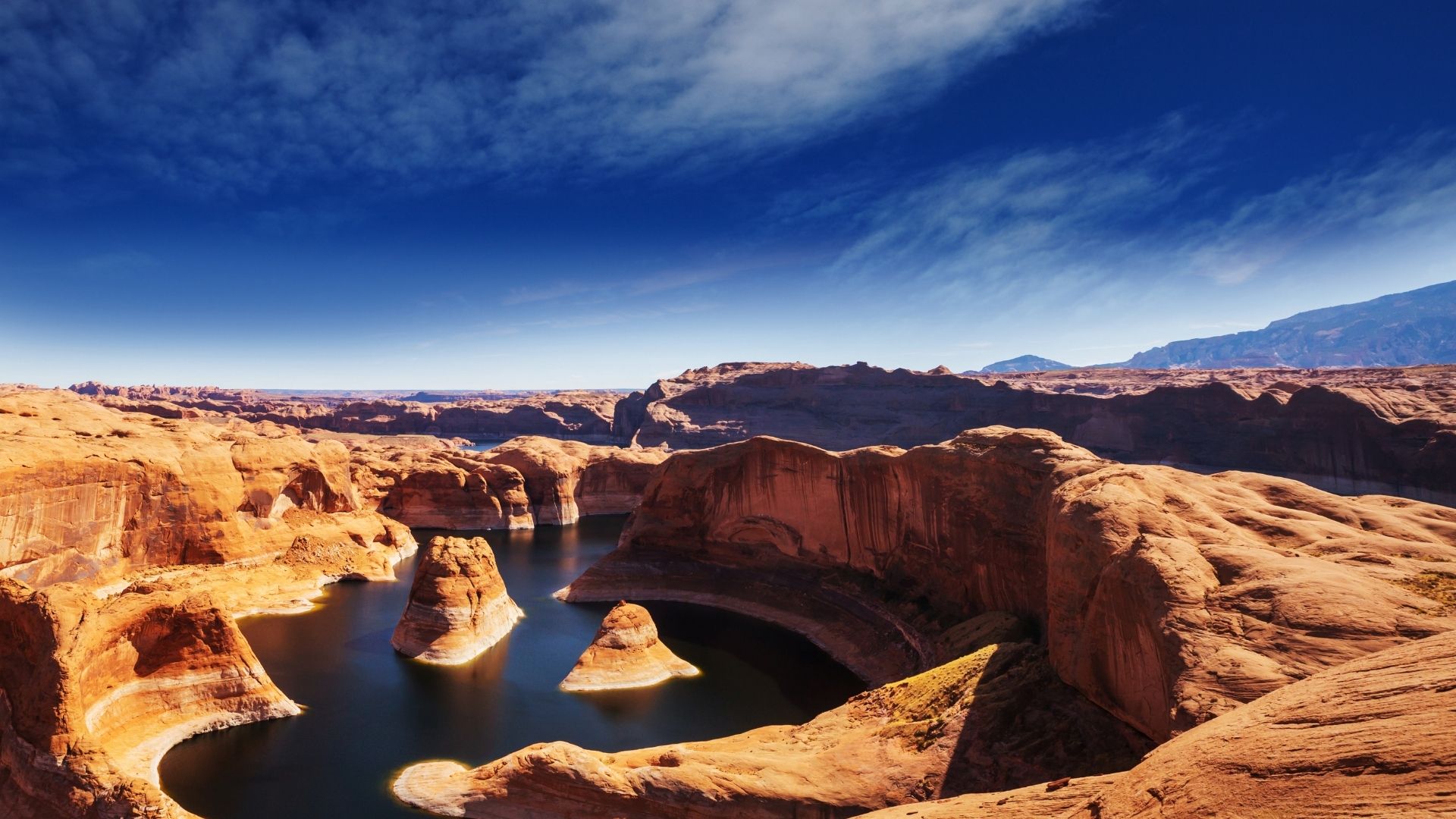 About 2-3 hours north west of Monument Valley is a stunning region of Utah known as Glen Canyon. It is a large and long water gorge which has many spots you can check out (and kayak or boat on). It also has access to some amazing spots such as:
Reflection Canyon.
Rainbow Bridge (largest natural bridge in the United States).
While Glen Canyon isn't really "near" Monument Valley, the only way to really access it if you're going to Monument Valley anyway is through that region anyway so if you are visiting this area, and you have an extra day or two to explore the surrounding spots, you may as well come here, rent a boat, or take a tour and enjoy the region. It's something I wish I had more time to do myself (and also plan to do at a later time).
Questions and info about Monument Valley itself:
Is Monument Valley worth seeing?
Yes it is very worth it to see Monument Valley but also keep in mind that there are many amazing places right by it too.
What is the best time of year to visit Monument Valley?
Generally the best times to visit Monument Valley are fall and winter because of smaller crowd sizes and there also being snow to make the area even more beautiful.
How long is the drive through Valley of the Gods?
Generally without stops it will take you about 30-45 minutes to do the full Valley of Gods drive which is 17 miles long.
Are there any towns in Monument Valley?
Yes, they are far apart but the closest town to Monument Valley is called Mexican Hat.
More spots to check out near Monument Valley:
Obviously if you get the chance, go inside Monument Valley and explore that area, but always know that outside this region are amazing spots worth visiting.
Another similar spot to Monument Valley worth checking out is Canyon de Chelly. It's a very large and beautiful canyon (on Navajo Land too) that is a few hours from Monument Valley with a lot of things to do outside and inside of it.
While I will add more spots that I find in the future to this list, one thing you should know is that every spot I listed here has other areas, monuments and other amazing places to check out, so while you are exploring one or more spots on this list, you may very likely see more places on your Google maps (or signs) and be able to check that out.
I recommend you check out my article on how to find easy hikes near me which will show you ways I do that (and that can open up the doors to amazing adventures anywhere you travel).