There are a lot of amazing things to do in Canyon de Chelly and in this post I'll be sharing 7 of my top choices (I've been there). However, before you visit this place, you should know that most of these activities require you to hire a private guide or tour which I'll cover in more detail in a moment, but the good news is that whether or not you're not interested in that, you can still do a lot here regardless.
Quick info on Canyon de Chelly National Monument:
Name: Canyon de Chelly.
Location: Arizona.
What is it? A canyon with incredible overlooks, hikes and historical areas.
Cost to enter? It's free to drive into, but requires paid guided tours to explore certain parts of it.
Permit/reservations required? For certain activities yes (like hiking, horseback riding, camping).
Rating: 5 out of 5.
Recommended? Yes! Though this area is very remote and takes a long time to drive to from major cities, it's worth coming here even for a day because of the views, sights and more.
The 7 best things to do in Canyon de Chelly: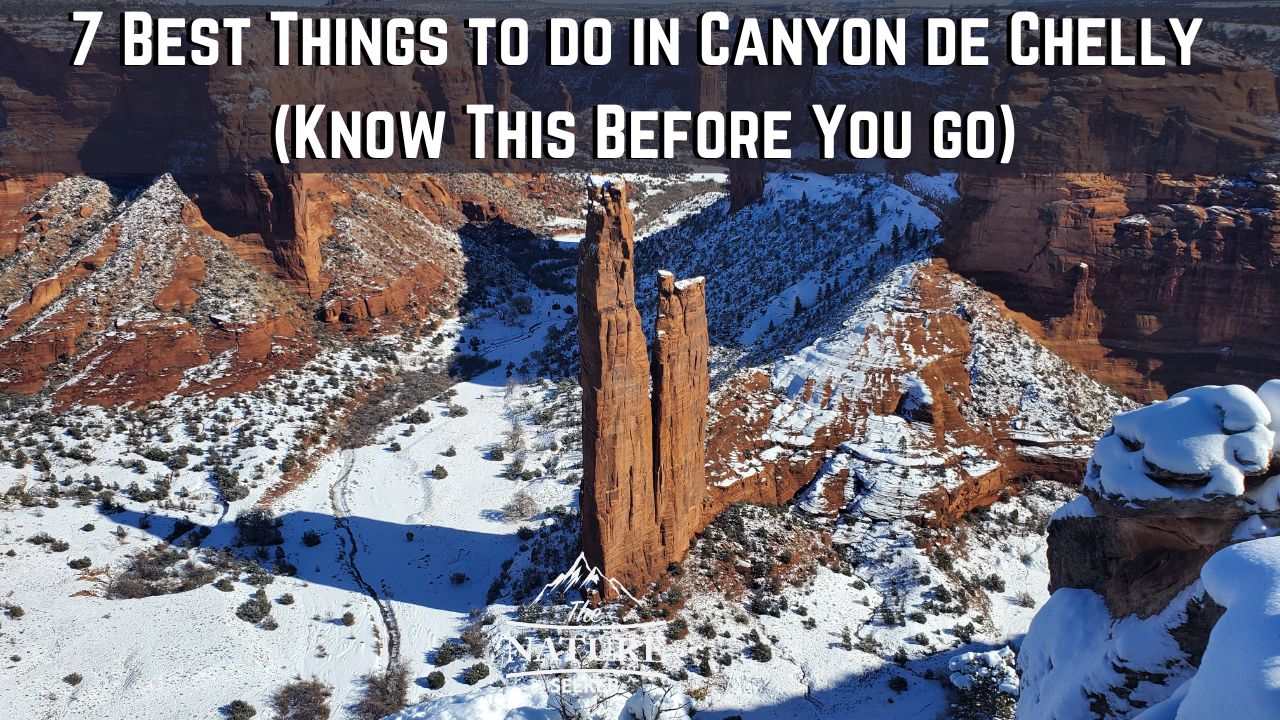 See Spider Rock overlook.
Do the south rim drive.
Also do the north rim drive.
Hiking the lower parts of Canyon de Chelly.
Camping (and lodging).
Horseback riding.
Do a jeep tour inside the canyon.
Things to know about Canyon de Chelly before you go:
1) There are 2 ways to explore it (upper and lower parts):
A) The upper part of Canyon de Chelly consists of 2 different scenic drives which takes you to multiple stops overlooking the canyon. It's free to explore and highly recommended especially if you only have 1 day to see the area.
B) The lower part of Canyon de Chelly is where you can do all the hikes, tours, horseback riding, etc…, but any area in the lower part of the canyon requires you to hire a Navajo guide or private tour to explore. This can be purchased either at the welcome center or online (I'll include links below).
The first 3 things to do above are in the upper area.
Camping and lodging is mainly outside the canyon.
The last 3 things to do on the list are located inside the canyon.
Ideally you would want to explore both the upper and lower parts of this place to get the best experience and the activities you can do here (the 7 below), are all encapsulated as either something you can see/do in the upper or lower areas anyway.
2) When you first get to this area, I would recommend going to the Canyon de Chelly welcome center first:
If you have any questions about what to see and do there, this is a great place to get your answers.
Here is a Canyon de Chelly map: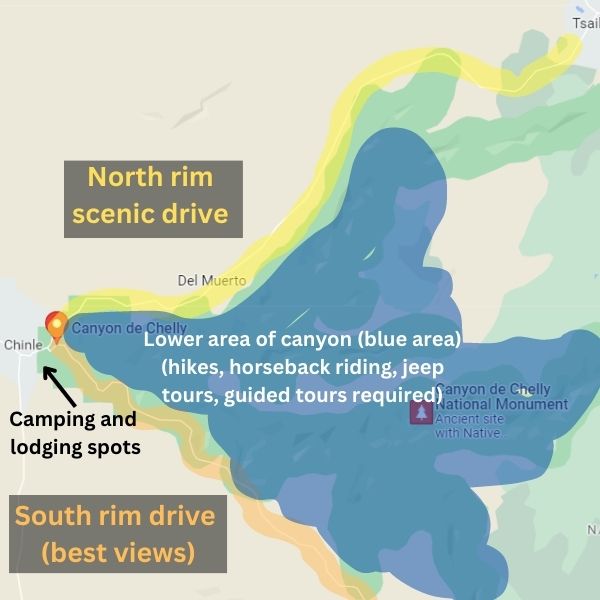 I've indicated the areas which are the lower and upper parts of it for your reference:
1) See Spider Rock in Canyon de Chelly:
What is it?
It's one of the most famous rock structures in the area. It is a tall, giant pillar rock centered in the middle of the canyon area.
Do you need a do a private tour to see it?

No

.
You can see this place for free (there's an overlook of Spider Rock where you can do this).
Description:
Spider Rock is what I had originally saw online that made me want to see this whole area. And you can actually do it one of two ways:
You can see it from the overlook area, which involves you driving on road 7 (the southern scenic drive) all the way to the end. You will see signs for Spider Rock overlook there. The walk to the overlook is only about 5 minutes long.
You can hire a guide to take you to the base of Spider Rock too.
The views from Spider Rock in my opinion are better than the views I saw in the Grand Canyon.
2) Explore the entire south rim drive (road 7):
What is it?
It's a 20 mile scenic drive that takes you over the southern top of the canyon, along which you will have access to many different turns that take you to amazing overlooks. Sometimes these overlooks will be right off the road, and other times, they'll require a 5-10 minute drive to reach.
Do you need a do a private tour to see it?

No

.

You can access this area for free as well.
Description:
When I first visited the welcome center of Canyon de Chelly, I was disappointed that I couldn't do any hikes there without a specific guide, but I was also told that one of the best ways to explore the park in my situation was to do this very scenic drive and I am glad I did because I stopped at nearly every single overlook. You can really see a lot of awesome spots in Canyon de Chelly from this area alone.
3) Explore the entire north rim drive of (road 64):
What is it?
It's the second scenic drive you can do in Canyon de Chelly.
Do you need to do a private tour to see it?

No

.

This is also a free attraction.
Description:
While the northern drive in this area isn't as scenic as the southern part because there are less overlooks to check out, there's still a few amazing options such as Antelope House and Mummy Cave so if you're going to do the southern scenic drive, I'd also recommend checking out the northern one too. This drive also takes about 30 minutes to do (not including stopping at overlooks).
2 important notes:
Both scenic drives 7 and 64 venture beyond the Canyon de Chelly area and even cross over into New Mexico later on.
These are regular roads, and any type of car can be on it.
4) Hiking trails: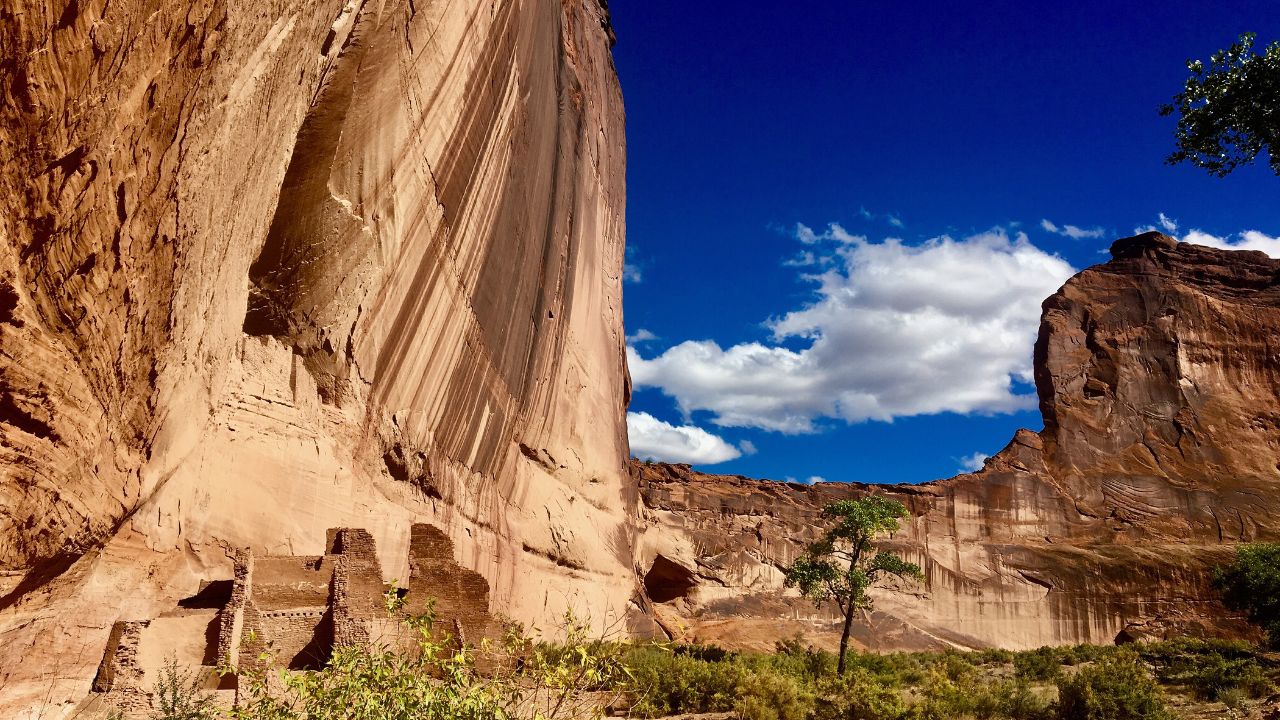 Do you need a private tour guide to hike through Canyon de Chelly?

Yes, for all but 1 hike.



Remember, any area in the lower part of this place requires you to hire a guide that is approved by the Navajo Nation (with 1 exception which is the White House Trail). But overall the hikes here will not just take you inside the area, but also to historical ruins and even petroglyphs.
Description:
There are many beautiful hikes within this region, but due to the land being private, you'll need to hire a special guide to take you there. As I mentioned the only public trail available to you is the White House trail that's a little over 2 miles long. Here's a link to hiking tours in Canyon de Chelly. You should also check the status of the White House trail because (currently), it's closed.
Based on what I have seen, the hikes inside this area might very well be included in my list of the best hikes in Arizona. For pricing, hiking tours are around $100 and up depending on how long you wish to hike for and how big your group is. There's more than 1 tour company that goes there, but that'll give you at least 1 option to start with.
Note: From what I know, there are no hiking trails along the south and north rim drives (upper areas), only in the lower parts of it.
5) Lodging and camping near Canyon de Chelly:
Do you need to reserve a spot to camp in Canyon de Chelly?

Yes.
There are campsites close to and inside Canyon de Chelly.
Description:
The most popular campsite is called Cottonwood Campground. There is also the Spider Rock Campground to consider which is deeper into the canyon. I would recommend calling up their customer numbers to reserve spots there.
A note about lodging and hotels outside Canyon de Chelly:
There is a town right called Chinle that's right outside the canyon and it has a few options for lodging:
There is a

Holiday Inn

a few minutes outside Canyon de Chelly.
There is also a Best Western Canyon de Chelly Inn available close by too.
Thunderbird Lodge is also right by the entrance to the canyon too.
6) Horseback riding:
Do you need to hire a private guide to do horseback riding inside Canyon de Chelly?

Yes.



The good news is that there's a few options.
Description:
There are several stables within the area where you can hire Navajo residents to take you inside the canyon. I have looked at several tours which are the most popular for this and so far, this horseback tour is considered one of the best.
7) Jeep tours inside Canyon de Chelly (great for seeing petroglyphs):
What is it?
You can hire a Navajo guide to take you into their jeep throughout the lower parts of Canyon de Chelly.
Do you need to hire a guide for this?

Yes.



You can't rent a jeep and drive inside this area yourself, it has to be an approved guide.
Description:
Guided jeep tours are one of the best things you can do inside Canyon de Chelly because you will not only be driven throughout large sections of the lower canyon, giving you amazing views of it, but (depending on the tour guide) you will also be provided with a great historical lesson on the area. This is also one of the best ways to see petroglyphs in the area too since the tour guides know where they are and take you there.
How jeep tours inside Canyon de Chelly work:
After you schedule a tour, there are several pick up spots available, mainly in one of the major hotels near the canyon. You'll be given a time to meet your tour guide there, and once you're done will be dropped off in the same area.
Recommendations (which jeep tour to go with):
Here's a good jeep tour recommendation for Canyon de Chelly from someone I trust on this topic that has done it. Prices are $100+ for each person usually.
Things to do near Canyon de Chelly:
1) Explore Page Arizona:
Page Arizona is about 2 hours away but there's way more things to do in that area of Arizona (most of which do not require guided tours). As an example, besides there being hikes literally in the town itself, there is also a place close by called Vermilion Cliffs National Monument which has incredible hikes (Cathedral Wash and the Spencer Trail are great examples) and even things like boat rentals, ATV rentals and way more.
2) Sedona Arizona:
Sedona in my opinion is more beautiful to explore (it's only 2 hours away). For reference, see my list of the best hikes in Sedona here. There is also a nice town to stay at with many hotels.
3) Grand Canyon:
I honestly believe Canyon de Chelly is a better and more beautiful place to visit than the Grand Canyon (it's 2-3 hours away), but if you've never been there, it's a good additional spot to add to your list of places to see in Arizona as the overlooks are way higher and the canyon itself is way larger.
4) Monument Valley:
Monument Valley is also about 2 hours away and also requires similar things to explore, such as guided tours. However at the same time, it's a great place to explore as well not just for this spot, but because there are many things to do near Monument Valley which don't require permits or tours (and they are only 20-30 minutes from the area).
5) Petrified Forest National Park:
It's about 2-3 hours southwest of Canyon de Chelly and another 3 hour drive from Phoenix but is an amazing national park to check out in Arizona.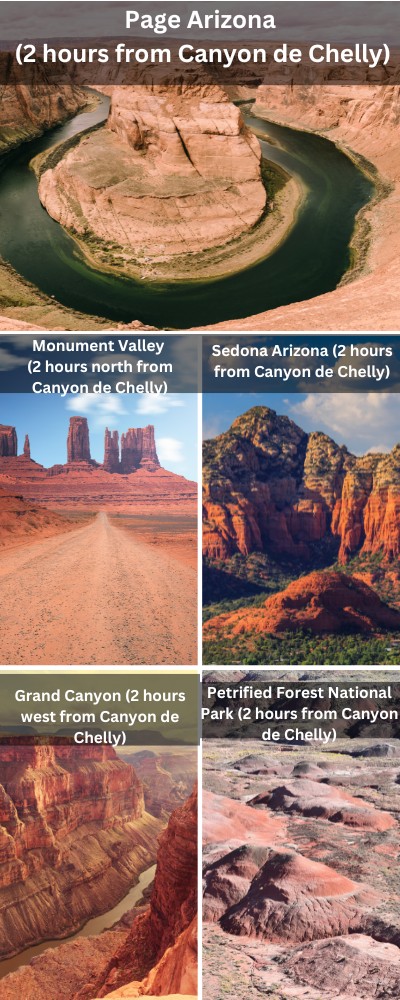 Other questions about Canyon de Chelly answered:
How long does it take to drive through Canyon de Chelly?
There are 2 roads around Canyon de Chelly, the north and south rim drives which each take about 30 minutes to drive through.
Is Canyon de Chelly worth visiting?
Yes, Canyon de Chelly is a very scenic area that's great for exploring in many different ways including driving, hiking, horseback riding and more.
With all this said, I hope this post helps you plan an awesome trip to Canyon de Chelly and if you have any suggestions or questions about the activities I listed above, let me know. I personally enjoyed going there and will be revisiting this area in the future to try the more immersive things available there (like exploring the lower part of it).