I consider the Spencer Trail in Lees Ferry Arizona to be one of the best hikes I've ever done, but at the same time there are many wrong ways to do it and if you're planning to try it, this guide is going to help you do it properly.
Quick info on the Spencer Trail at Lees Ferry AZ: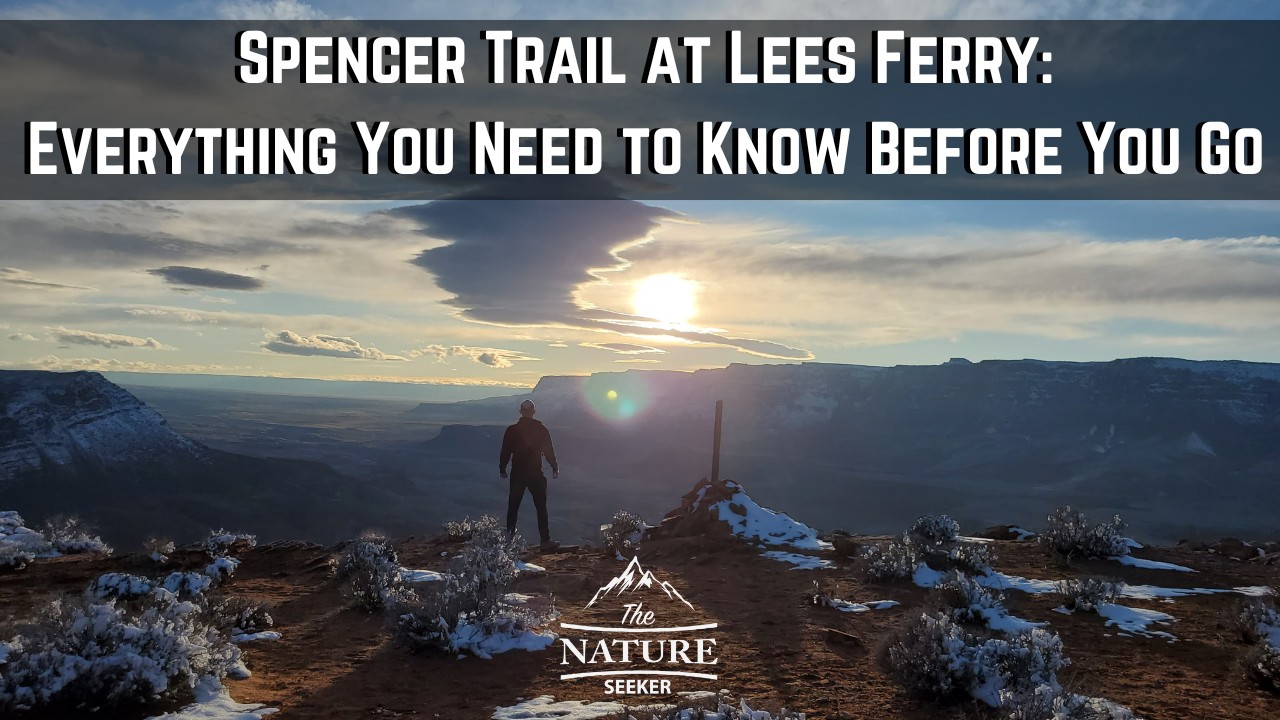 Name: Spencer Trail.
Location: Lees Ferry Arizona.
Hiking distance: 4-5 miles in and out.
Difficulty: Hard.
Rating: 5 out of 5.
Recommended hike? Yes, but because it's difficult, I would not recommend it if it's during a warm/hot season or if you're injured.
4 things you need to do the Spencer Trail hike:
1) Timing (do this hike when it's cold or early in the morning):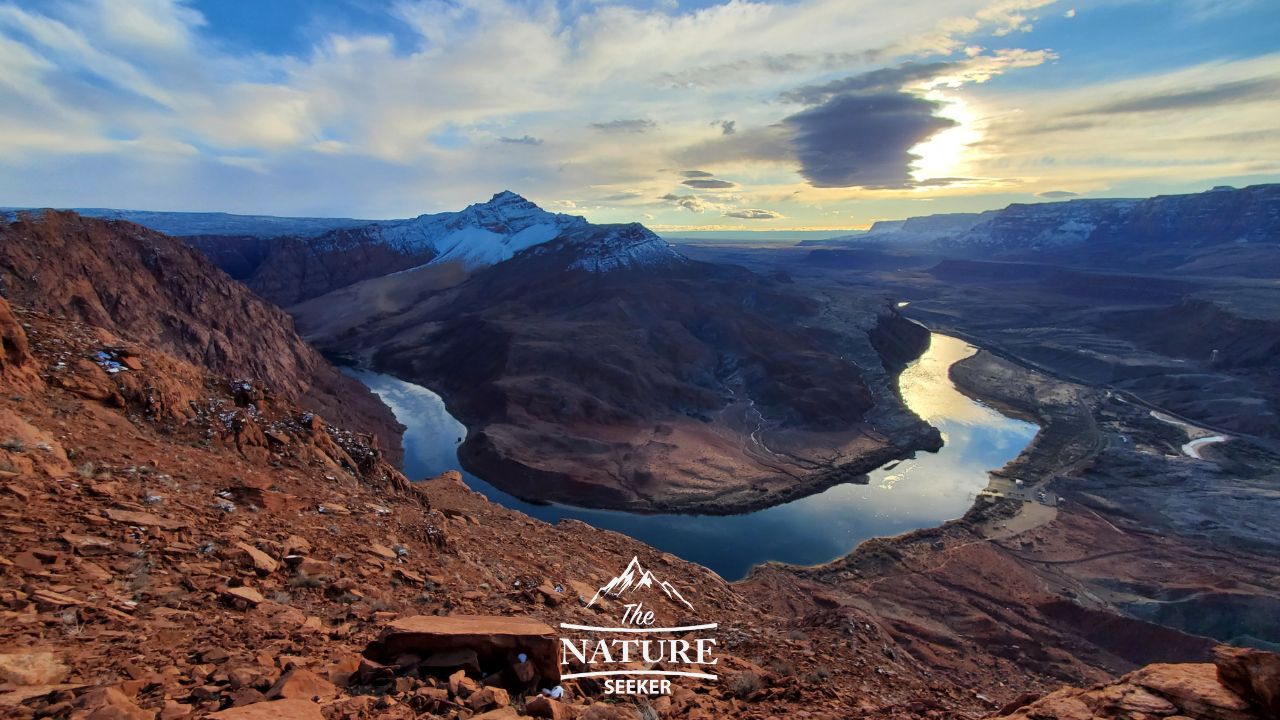 One of the main dangers of hiking this specific trail is that if you do it between April-October, you are likely going to experience a lot of heat on it, and that is very dangerous for this specific trail (or any hike in Arizona).
Because the Spencer Trail is difficult and steep, the last thing you would ever want to experience is heat exhaustion and while you will get tired on this hike regardless of when you do it, it's far more dangerous if you add heat to that.
I personally did this trail in January and all throughout, there was 0 heat, it was very chilly and that made it way easier to do. I did see snow and some ice, but only at the upper part of this trail, but I'd prefer that over doing this hike in heat.
If you are planning to do it, I would recommend trying it between November-March but if you are doing it during the warm/hot months, at least do it very early in the morning before the heat starts to build up.
2) Bring hiking poles!
They'll make hiking the Spencer Trail way easier. On top of that if you are somewhat injured or perhaps not in the best shape, these will be even more useful on the trail.
I personally hiked this trail in about 1 hour and 20 minutes but I did it quickly because it was cool and also because I used hiking poles (the Trailbuddy Trekking Poles specifically).
Because this trail is pretty much on incline from the moment you start and then nothing but decline when you go down, the hiking poles will just make that process much easier.
3) Hiking supplies:
What I mean is bring water and obviously a few snacks. The hike is short at about 2+ miles one way and if you do it in the cold, 2 bottles of water should be enough, but you should also bring energy bars too.
However if you do this hike in the warmer seasons, I'd bring at least 4 bottles of water (per person) and more snacks. I'd even recommend a product I use on hikes called the pH Miracle pHour Salts as they help a lot when I mix it with the water I drink.
As for clothing, see my post on what to wear when hiking in the summer safely. As for winter hiking like I did, I wore a hoodie and sweatpants for this hike. Hiking shoes like the Salomon Speedcross 5 were perfect for this trail, but any sort of hiking or trail running shoes will do fine here.
4) Endurance:
Obviously you should be experienced at hiking difficult trails and have endurance and strength for it. Simple exercises like stair master and just incline walks really help for a trail like this one and it's what I mainly practice for these sorts of hikes and that's why I was able to complete this trail very quickly. It takes people a few hours to do this hike most of the time.
What to expect when you hike the Spencer Trail in Lee's Ferry:
1) Driving to the trailhead:
You'll need to first enter Marble Canyon which is located it the Vermilion Cliffs National Monument and drive along the Lees Ferry Road till the end. Basically just head to the Spencer Trailhead. Do note that you will need to pay to get into Marble Canyon.
2) Starting out on the Spencer Trail:
You'll stop at a large parking area and see a trailhead sign for Spencer Trail. You'll also see old museum houses around the area and I recommend exploring that if you have the time. From the bottom, it's tough to imagine that there is actually a trail that goes up to the mountain you'll be hiking, but as you make your way through the trail, it'll make sense.
3) Be ready to go through a lot of switch backs:
There were at least 15-20 of them but the good news is that the views from this trail are incredible, even shortly after you start on the trail and make your way up. You'll see the Colorado River from better and better angles.
4) Reaching the top:
As you get to the top, there will be a trail marker stick in the ground which you will use to then go back down, but while you are up there, enjoy the views of the Colorado River, Marble Canyon, the Vermilion Cliffs and even Page Arizona which is on the other side of the overlook.
If you are able to, I would recommend trying this hike around sunset so you're able to see these amazing views and add in a nice sunset to it which is what I did.
5) Going back to the parking lot:
Once you're ready, you'll descend back down the exact same trail. Going down to me is more fun and I like to do it quickly, but you should be careful not to fall. The trail isn't exactly skinny where you're on a ledge or anything, but there are spots where you will want to be careful and slowly make your way down (and up). You will have steps in certain parts of the trail and areas where you will likely need to use your hands and feet together to progress.
The further up you go, the more steep and difficult the trail will get, but as you go down, the further down you go, the more sandy and easier the trail will become.
More things to see and do near the Spencer Trail:
1) I strongly recommend checking out the Cathedral Wash trail that is also located in Marble Canyon. It's much easier to do than the Spencer Trail but it also might be even better and more scenic depending on who you ask. To me, both trails are awesome and worth trying!
2) Try the River Trail right by the same Spencer Trailhead. That will take you to the right and exploring the Colorado River whereas the Spencer Trail goes up to the top mountain there.
3) Explore more of the Marble Canyon. You will find a lot to do these including boat tours, balancing rocks and other sights to check out.
4) See more of the Vermilion Cliffs area! That includes inside and out of the Marble Canyon.
5) Make sure to stay in Page AZ because there are more hikes and things to see around the area (which I will write about soon).
Conclusions on the Spencer Trail:
As I said before, I think the Spencer Trail is one of the best hikes in Arizona and I liked it so much that I would gladly do it again in the future. It was a great experience for me and one that I will share with anyone I bring to this area.
I hope this simple guide helps you enjoy this trail too and if you have any questions about the Spencer Trail in Lees Ferry or things to do in the area, let me know!