In this post, I'm going to share 13 of the best state parks in Utah worth exploring and whose beauty is such that you either wouldn't believe is real till you see it and/or you would think it's a national park!
I've been to Utah several times but this is the one state I continue to come back to over and over because each time, I am stunned by what "else" it has to offer. I use the word "else" because when I started exploring this state, like most others it was because I wanted to see the Mighty 5 National Parks, which to be fair is what it's most known for in the nature context.
But the truth is, while these 5 national parks are stunning and I revisit them whenever I have the chance, Utah is littered (in a good way) with tons of other places worth exploring, that has less crowds and similar or even better views than the national parks themselves, and in the context of this post, that would be the state parks located there.
Here are the 13 best state parks in Utah to explore: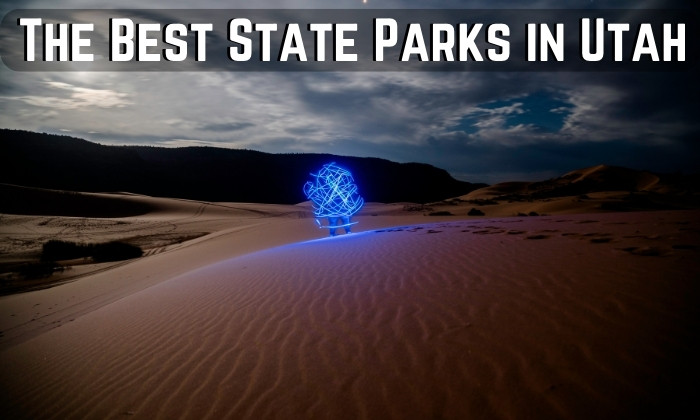 Coral Pink Sand Dunes State Park.
Goosenecks State Park.
Dead Horse State Park.
Flight Park State Park.
Escalante Petrified Forest State Park.
Goblin Valley State Park.
Kodachrome Basin State Park.
Snow Canyon State Park.
Wasatch Mountain State Park.
Utah Lake State Park.
Sand Hollow State Park.
Piute State Park.
Millsite State Park.
Quick info (questions and answers) on state parks in Utah:
How many state parks does Utah State have?
Believe it or not, there's over 40 (I was very surprised to learn this).
Do you have to pay to enter Utah State Parks?
In some cases yes and the prices are usually per car or person depending on the park and those vary from $10-$20.
Can you purchase an annual pass for all the state parks in Utah?
Yes, here is a link to annual passes for Utah state parks. It's about $100+ for the year, but if you plan to travel to at least 5 or more parks in a single trip or year, it's worth it.
Are Utah State Parks better than Utah's National Parks?
It really depends on your preference. The national parks in this state are out of this world yes, but so are the state parks and you really have to visit them to be able to compare. Sometimes I'll be in a state park and will think it's a national park because of how beautiful it is there.
One thing state parks in Utah have over the national parks there is that the crowds are much smaller (most people hear about and visit the national parks, not realizing there's so much more) and this gives you and others who know about this take advantage of it.
What is the most popular state park in Utah?
Most likely Dead Horse State Park.
Is every state park in Utah worth checking out?
I haven't personally seen all of them, but based on a bit of research I would say the following 13 are most worth seeing. You would have to make your own decisions about it but in my opinion, not all 40+ of them are worth seeing. I personally like views and the ability to do and see a lot in each park, and these 13 have that.
1) Coral Pink Sand Dunes State Park: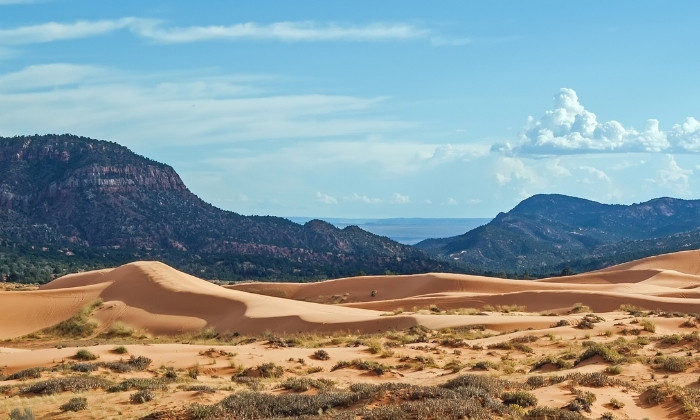 I explored this park in 2022 and happened to do so by accident. I was making my way from Kanab Utah to Zion National Park and saw signs for it and of course I had to stop and see it for myself. Up until then, I had only heard of a few sand dunes regions in the states including on the Oregon Coast, the Great Sand Dunes National Park in Colorado and one in the Mojave Desert, but all of them were your classic white sand dunes.
This however was pink, coral pink specifically and just like the name suggested, the sand really was that color. I was amazed not just by the sand color itself, but also the beauty of this park. There's trails, sand boarding, ATV rides and more to explore here and it's quite a huge park too.
There is a fee to enter and you can even fly your drones there if you pay $5 and fill out a form.
2) Goosenecks State Park: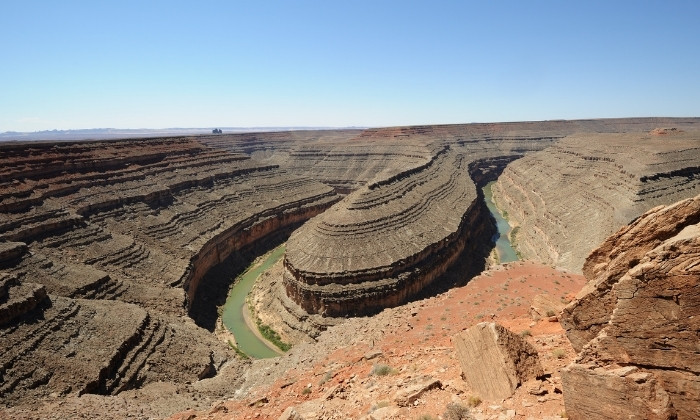 I had not visited this place yet, but I was exploring nearby regions when I heard of it. You see, this park lies very near Monument Valley.
In fact, you won't often find huge crowds here because so many people end up visiting Monument Valley itself, and not knowing that this state park and other amazing places can be found outside and near Monument Valley.
If you plan to visit this area, know that there's tons to see here, including amazing scenic drives across areas like Valley of The Gods.
The reason it's highly recommended is because it's not very crowded, is super beautiful and there's lots to sight see and explore.
3) Dead Horse State Park: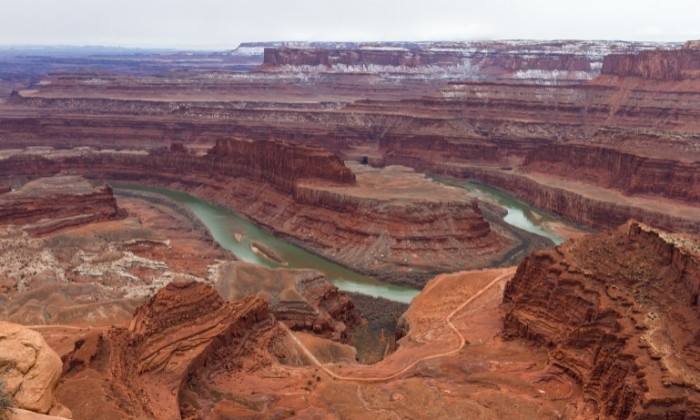 This amazing park lies very close to Canyonlands National Park and is often missed or neglected because people just focus on seeing the national park itself.
In fact, the signs for this place are much more rare to encounter and if anything, you'll just see signs for the national parks around the area anyway.
For Dead Horse State Park, the most iconic thing about it is the incredible overlooks and views which somewhat resemble the Grand Canyon. And that shouldn't be taken as a disappointment as the park itself is stunning.
Just as well, sunsets in this area are incredible!
4) Flight Park State Park:
If you're into paragliding and hang gliding, go to this park!
In terms of views, there's no much to see, on the ground that is but if you are up in the air, then you will be able to see some amazing scenery. That's why the picture of this park is either one of two things:
Either you're on the ground with not much to see.
Or you're up in the air with nice views in the distance, but that's hard to find.
I honestly never knew there was a region/park that was solely dedicated to hang gliding and other ariel sports, but much to my surprise I happened to find such a spot in Utah.
5) Escalante Petrified Forest State Park:
There are several reasons to visit Escalante Petrified Forest State Park:
1) First, it's beautiful.
2) Second, it's great for family trips.
3) Third, you can camp there.
4) Fourth and in my opinion the biggest reason is that it lies next door to the Grand Staircase Escalante region of Utah which I would honestly consider a national park, but it's officially not and thus so many people/crowds miss it (thank goodness for that).
If you do go into Grand Staircase Escalante, check out that article I provided with things to see there, especially Coyote Gulch.
6) Goblin Valley State Park: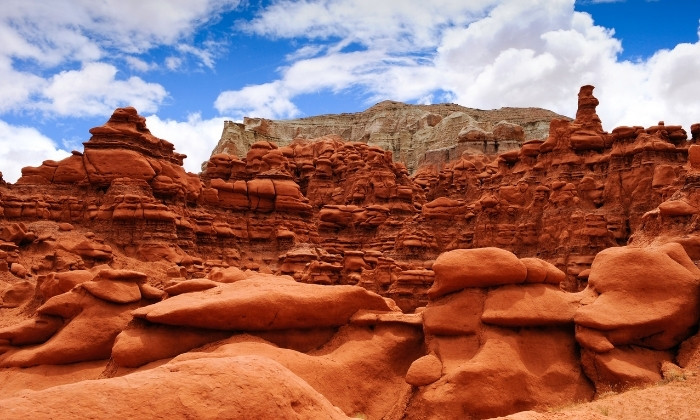 Goblin Valley State Park is a great example of the type of diverse nature you'll find in Utah.
If someone were to describe what makes this place so unique, the best explanation I've come up with is that it's a mountainous region with rock clusters stacked on one another. There's also colored rocks here that are a mix of white and red.
This is also a great park to visit for families and there are also many hiking trails to explore.
If you ever have the chance to visit this park (it's pretty remote and west of Arches National Park, then do it!
7) Kodachrome Basin State Park:
This place resembles a mini national park (as you can see).
Some of the rock formations here are a blend of the stuff you'd see in Arches and Capital Reef National Park.
This particular state park is close to Bryce Canyon National Park so if you go here (or there), you can mix in a visit to this place.
You'll find natural bridges, caves, great Utah hiking trails and a lot to explore in such a small place (also great views of Bryce from afar), but at the same time excellent viewing areas of the state park itself.
I wish I'd known about this park earlier!
8) Snow Canyon State Park: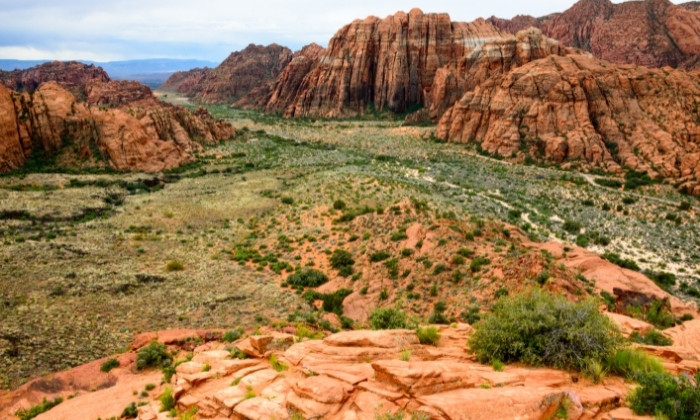 This park is located near St. George and has a lot to explore, plus has unique rock formations and easter eggs to check out. For what it's worth Snow Canyon is also close to Las Vegas if you are visiting that city but also want to come here.
Here's just some of the unique features in this area:
Lava tubes (most famous).
Sand dunes (I think Coral Pink Sand Dunes is better though).
Great hiking trails.
Caves.
Awesome overlooks and nearby places to stay in St. George.
It's also very close to Zion National Park if you're planning a trip there.
Another cool thing is that there are some regions in this park that look like
state parks in Texas
(like Caprock Canyons State Park).
9) Wasatch Mountain State Park:
This park is located north east of Salt Lake City and honestly if you saw pictures of it (or were there), it would be hard to believe this is actually in Utah.
Since this state is mostly known for having a desert environment, the stuff you'll find in this park is completely 180 to that.
You'll find beautiful green mountains, a nice lake (with water sports to enjoy), a lot of grassy areas and overall an environment that doesn't feel Utah-ish, yet it's one of the things which make the state so unique.
If you are spending time in Salt Lake City, this is one of the places I would recommend checking out.
10) Utah Lake State Park: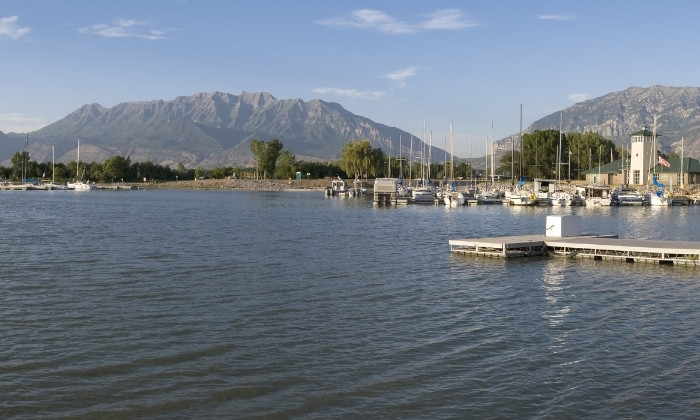 Utah Lake State Park may be commonly mistake for the Great Salt Lake but these are 2 entirely different lakes.
The Great Salt Lake is close to Salt Lake City, while Utah Lake State Park is right next to Provo (and Provo is about 2 hours south of that).
Aside from that, this lake is like a mini Great Salt Lake (but is still huge) and offers a wide range of activities.
It is also less crowded than popular spots you'd find on the Great Salt Lake too, with similar activities and explorations.
The northern part of Utah has a lot of these lake type parks available and this is one of the biggest.
11) Sand Hollow State Park:
This park happens to be very close to the Arizona border and not far from St. George and the Snow Canyon State Park I mentioned earlier, so this could provide another visit to cross of your list of state parks if you go.
One of the many reasons this is a highly recommended state park to visit is because of the great mix of nature scenery you get here (as well as activities).
It's basically a lot of red rocks, desert environments, but also by a lake so you can include tons of water sports and activities here too.
There's even cliff dividing areas to explore around here, some of which are about 20 feet high or so.
12) Piute State Park: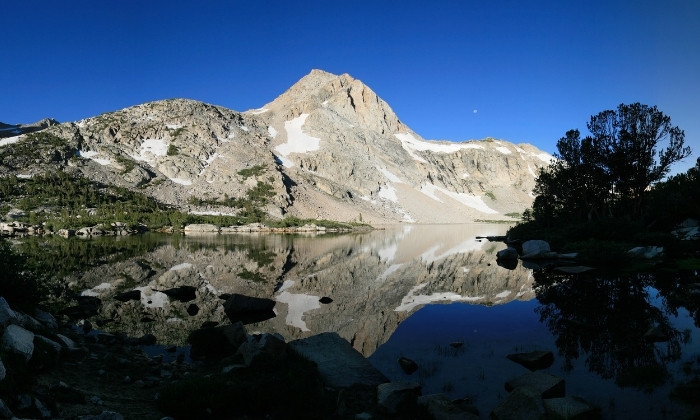 This is a small park that lies closer to the western side of Utah so if you're doing some sort of road trip from Salt Lake City south to Las Vegas (or opposite), this would be a great stop to make.
The beauty of this park is that it's a bit remote, somewhat smaller than the other parks I've listed here which have lakes on it, but there's many activities to try here, including horseback riding, of course water sports and the scenery here is also something that is very much something you'd see only in Utah.
Some of the views here remind me of Pyramid Lake in California (similar scenery).
13) Millsite State Park: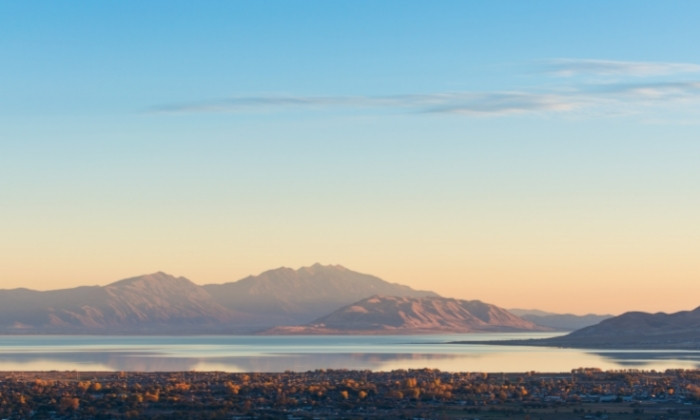 The last state park on this list is another blend of desert and lake environments and there is also a lot to do here, including picnicking, boating, hiking and more.
In fact, it's tough to find good pictures of this place so when I do go here (and trust me, I added this park to the list for a good reason), I'll be sure to do that as what I have seen of this place makes it look like an amazing oasis in places. There is also a dam waterfall in the area to explore.
As much as I love the desert scenery in Utah, the truth is there's a lot of it and I'd much rather have that when there's watery areas nearby. Within this park, you'll also find great views of gigantic mountains nearby.
How to plan your Utah road trip through these state parks:
Because these parks are scattered across the state, it's tough to find and explore them all in a single road trip so if you do go, understand that you won't be able to see them all in one trip.
But one thing you can do is plot a course in which start at point A on your trip but finish at a point B. For example, start in Las Vegas and finish in Salt Lake City, and this will give you a lot of road to cover and allow you to see more. If I were doing a trip like this, I would cover all 5 of the Mighty 5 National Parks and whenever possible (30 minutes to an hour out of the way) find one of these state parks.
If you have any questions on how to do this, let me know below and I can help you plot a trip which would allow you to see as much as possible of Utah and these spots!