The Oregon Coast contains tons of awesome and scenic places to do day hikes on and in today's post, I'd like to share 10 which I have no doubt you're going to love exploring.
I've thus far explored the Oregon Coast 3 times and about 90% of the day hikes on this list and every time I re explore the Oregon Coast all over again, I'll make sure to add 1 or more new spots to this list.
While all of the places listed here are great for day hikes, they are also extremely scenic in some places, so however long you decide to spend in any of these places, I recommend taking your time, because they truly are special and unforgettable.
Here is a preview of the 10 best day hikes to explore on the Oregon Coast:
Otter Rock and Trail to Devil's Punchbowl.
Thor's Well trail.
Hug Point Beach (And trail to the waterfall).
Whaleshead Beach.
Secret Beach trail.
Natural Bridges trail.
Cannon Beach.
China Beach.
Indian Head Trail.
Cape Ferello Viewpoint and trail.
Despite these 10 being awesome, I can tell you that the Oregon Coast has a ton more places to explore that are great for day hikes and as I learn more about these places, I'll continually update this article for it. If you also have your own list of places to share, I'd love to hear about them below.
1) Otter Rock and Devil's Punchbowl:
One of the coolest areas on the Oregon Coast I've ever explored is Devils Punchbowl.
Not only is it good to explore for a day hike, but it also is very scenic and there's an easy parking lot close to the trail that leads there.
In order to get to this spot as well as Otter Rock, you'll want to time you visit here during low tide (as with some other spots on this list).
But to get from the parking lot to Devils Punchbowl is only about under 1 mile one way.
Just make sure to wear some decent hiking shoes like the Ozark shoes I use.
The reason why is because as you get closer and closer to the Punchbowl, it's going to get very slippery and if you're not wearing something that more or less handles slippery rocks, and algae, you're going to have a hard time getting here.
There are no shoes that offer complete protection from these elements, but those Ozark shoes that you see me wearing in the picture to the right in Devils Punchbowl were pretty good for this day hike.
2) Thor's Well Trail: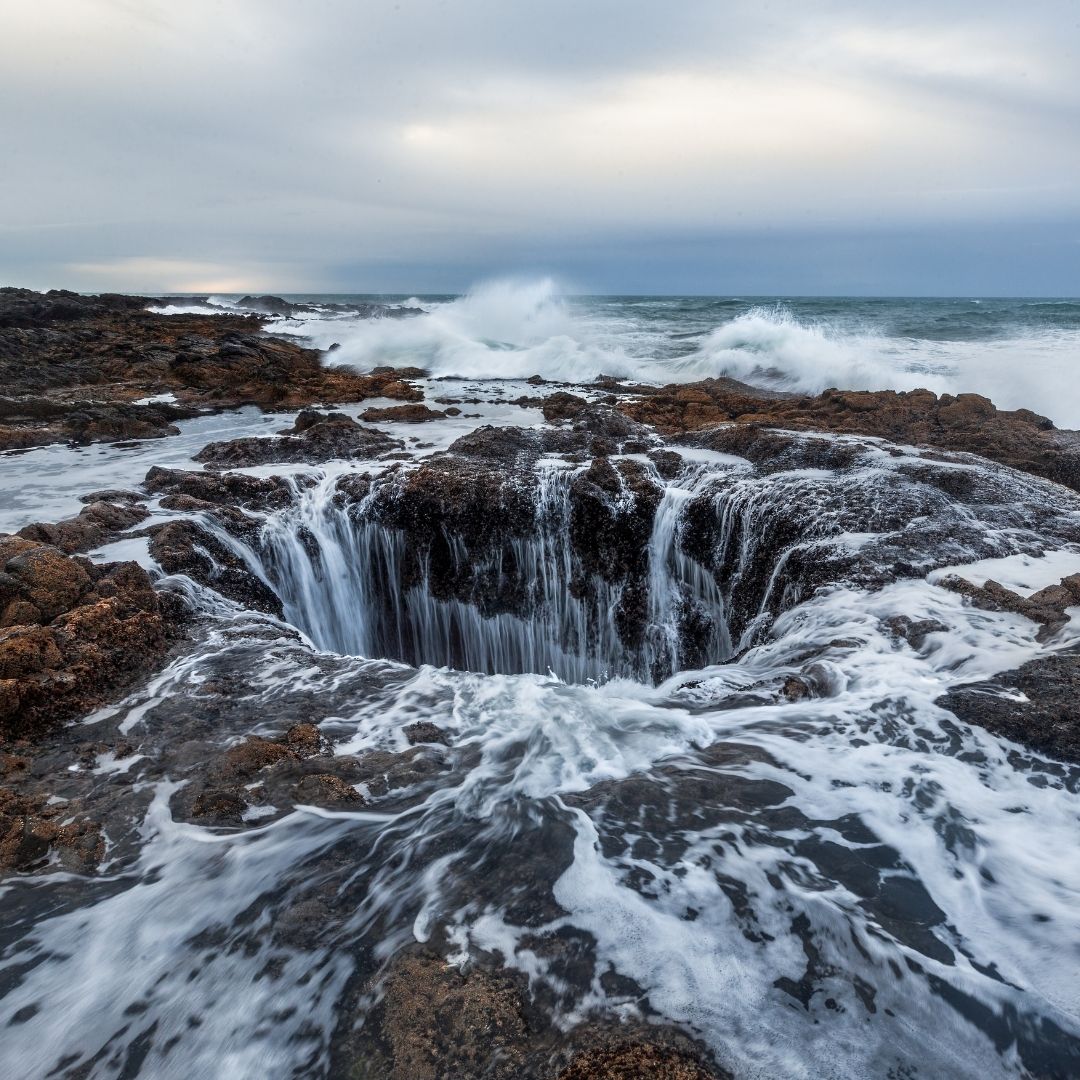 This is another easy day hike right off the road on the Oregon Coast.
From the parking area, there is a switch back trail to the Thor's Well area which is literally under a quarter mile hike and depending on what time of the day you get there, you'll be able to see the main attraction which is Thor's Well spewing the Pacific Ocean waves out of it.
Additionally, there is another trail further north of Thor's Well that is great for day hikes.
Overall, you can easily spend a few hours in this area and have fun doing so.
And of course if you make it here during sunset, the views are incredible. In my case, the 2 times I've visited Thor's Well was already after the sun had set and I didn't have much time to check out any other views around the area other than Thor's Well itself.
Again, make sure to get here during the low tide period to be able to get very close to Thor's Well.
3) Hug Point Beach (and the trail to it's waterfall):
Hug Point is also an easy day hike to access, but you'll need to do it at low tide.
There's a long parking lot right next to the beach and then from there, reaching the actual waterfall (the main attraction since it's a waterfall on a beach) is literally 1/4 of a mile.
You can hike up to the waterfall, up it, and even see some cool sea caves here.
Aside from the waterfall itself, is the beach at Hug Point which is also pretty cool to explore.
It's about a mile long each way, but obviously when people come here, it's for the waterfall and on weekends, this place has tons of people!
I've been to this area twice, and the first time, I had no idea about the low tide thing impacting if I could see this waterfall, but trust me, it affects it.
You'll have to hike about 1/4 of a mile to get from the parking area to the waterfall. So once again, Google those low tide times and plan your trip so you get there at the right period.
4) Whaleshead Beach: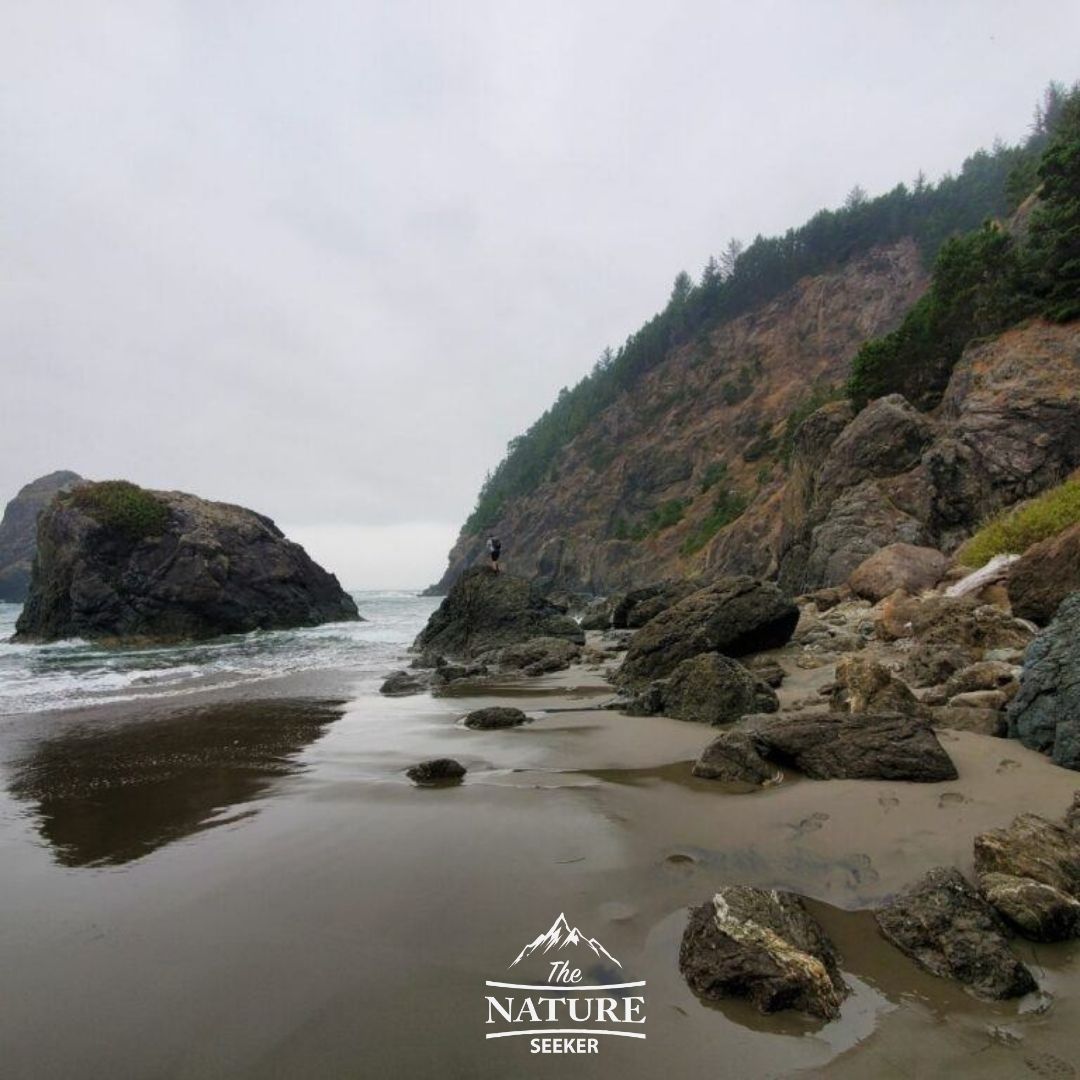 I love Whaleshead Beach because it offers cool, short day hikes as well as picnic and BBQ areas.
You can walk along the beautiful beach and see the massive cliffs in the water, do some hikes or just regular walks.
There's a trail all across the beach you can try and it's about 1-2 miles long. In that image you see to the right, it's the right section of Whaleshead Beach and that's probably where you can do some cool hiking (just make sure the rocks are dry).
There's also a beautiful river that runs into the beach next to the area where the trail leads onto the beach.
Getting to Whaleshead beach involves going through a very rocky road for which it's recommended to have a 4×4 or car with AWD do it.
But like I said, for day hikes, you'll probably have a great time at Whaleshead beach and I honestly recommend it. It's one of the most nostalgic spots I saw when I visited the Oregon Coast.
5) Secret Beach Trail: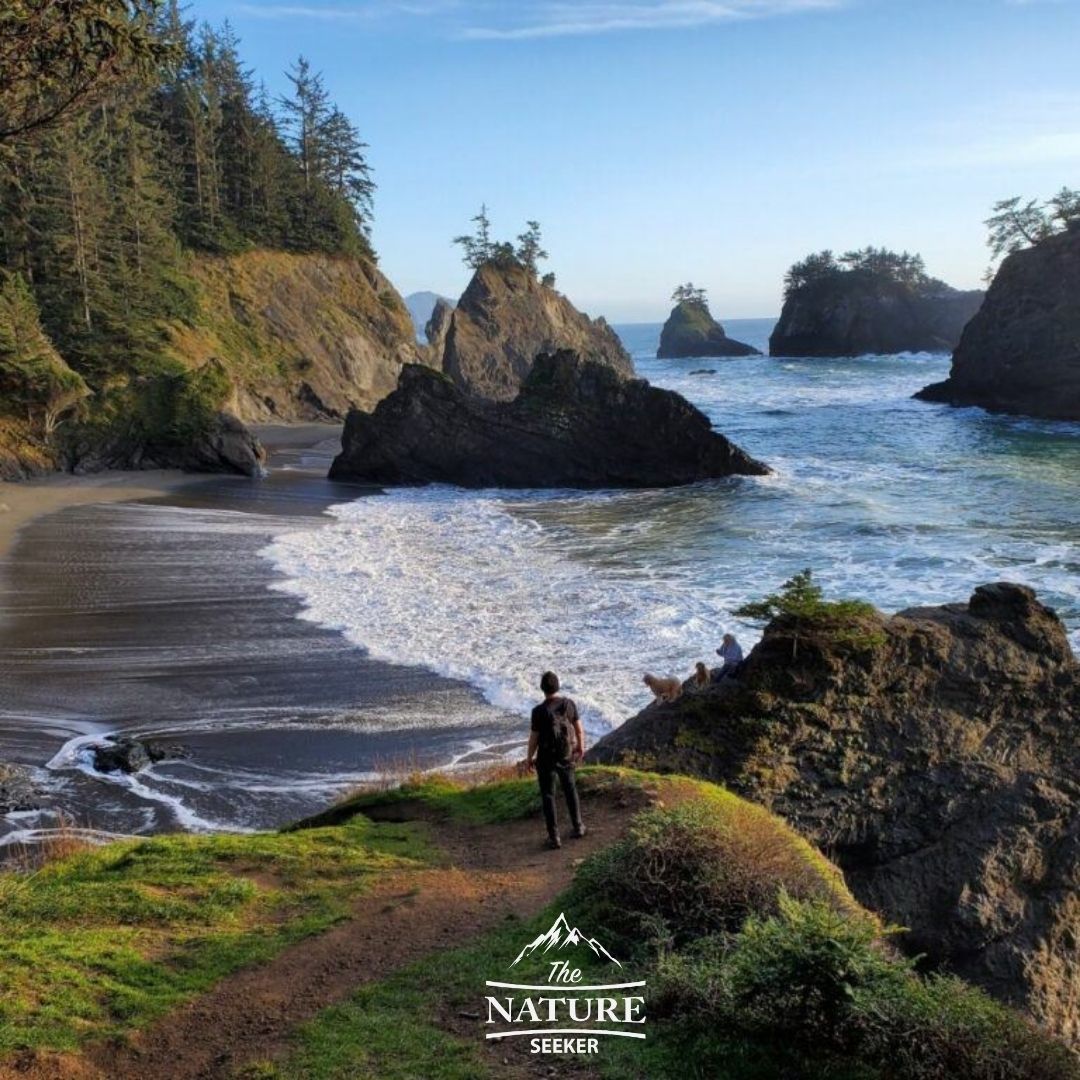 One of the coolest and most beautiful areas in the southern Oregon Coast is Secret Beach.
Depending on when you get there (I recommend during the day and during low tide), you can access up to 4 different beaches in this area, hike some really cool spots and see amazing waterfalls and sea caves.
Obviously, to see all 4 beaches, the sea caves and so forth, peak low tide is when you'll want to make it here.
I've only had the chance to see 3 of them and that's my road trip schedule through this area is never flexible, thus I have to resort seeing what I can when I come here. So make sure to plan ahead before you visit Secret Beach if you want to explore all of it and do the day hikes here.
Added to all of this is the beauty of the Secret Beach area which is hard to ignore and it's just a spot you have to see to believe.
I left a link to finding Secret Beach here because this area is not actually listed on a GPS or sign, but finding it isn't that difficult either.
You can expect to have at least 1-2 miles of hiking in this area if you go.
6) Natural Bridges trail:
Right next door to Secret Beach is Natural Bridges and right here is where I love to go most out of any spot on the Oregon Coast. You have at least 3 different day hikes you can do here.
1) One of them is the official trail that crosses through Natural Bridges and takes you to Secret Beach. It's a few miles long, is scenic and adventurous.
2) The second is to the beach on Natural Bridges which isn't an official trail, is steep and possibly dangerous, but some people do it.
If you're going to try this one, it's like 1/10 of a mile, but the climb is what makes it difficult and you will need rope to get down to the beach (which is only accessible during low tide).
3) And finally, the most popular one is the hike to the top of Natural Bridges which I explain here. You can get some amazing photos in this area and it's the most popular part of Natural Bridges people go to.
You can even do all 3 trails as a singular day hike here if you're up for it but I promise you, it's very tiring.
7) Cannon Beach: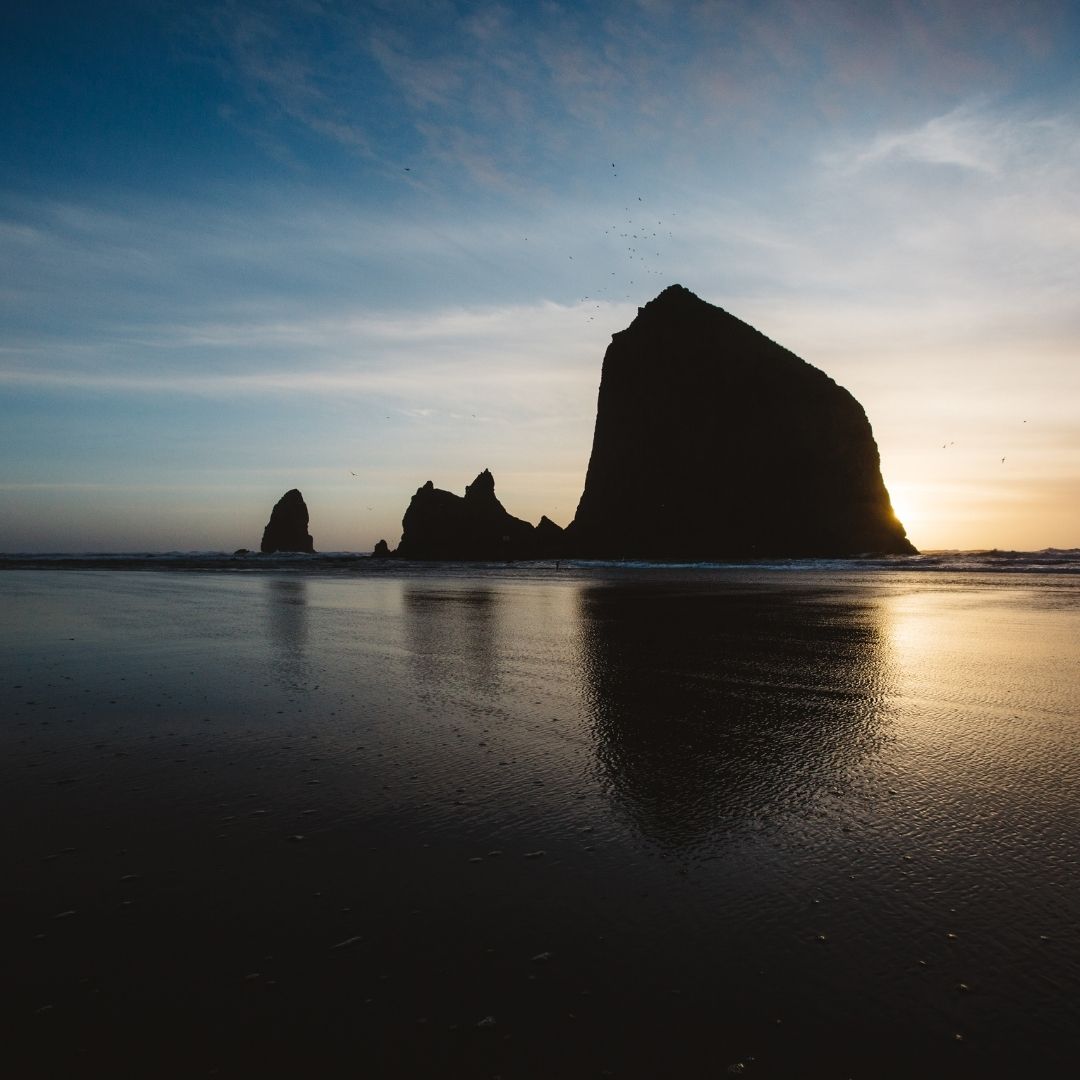 If you want to do a simple day hike, see scenic spots and have a ton of amnesties available to you including restaurants, hotels and so forth, Cannon Beach is where you're going to want to go.
It's probably one of the most widely visited areas in all of the Oregon Coast and there's a lot of stuff you can do here.
A simple walk across the scenic beach there alone is about 2-3 miles.
I've only been at this place once and even on a none weekend or holiday period, this place gets packed quickly and it's hard to find parking.
However, I still recommend going here just for the views (and day hikes) if nothing else.
Besides the giant mountain in the water you see in that picture, there are areas near Cannon Beach you can explore as well.
Cannon Beach is certainly one of the top spots on this list to check out.
8) China Beach:
China Beach is located in the same region in southern Oregon's Coast as Secret Beach, Natural Bridges and a few others on this list.
And it's basically a beautiful beach with a few miles of trail that take people onto the coast and into the wilderness next to it to give you a great hiking experience that can be done in a single day.
One of the best attractions of China Beach is a natural bridge called "Harris Beach Arch" and it's one of the jewels of this place to enjoy.
I actually missed this area when I traveled there, but I'm adding it to my list the next time I go here.
Arches and sea caves are certainly common on the Oregon Coast and this is one of the many places where you'll find them.
Other than that, there are always other connecting trails you'll find in every spot on this list, including this one.
Moving on:
9) Indian Beach Trail: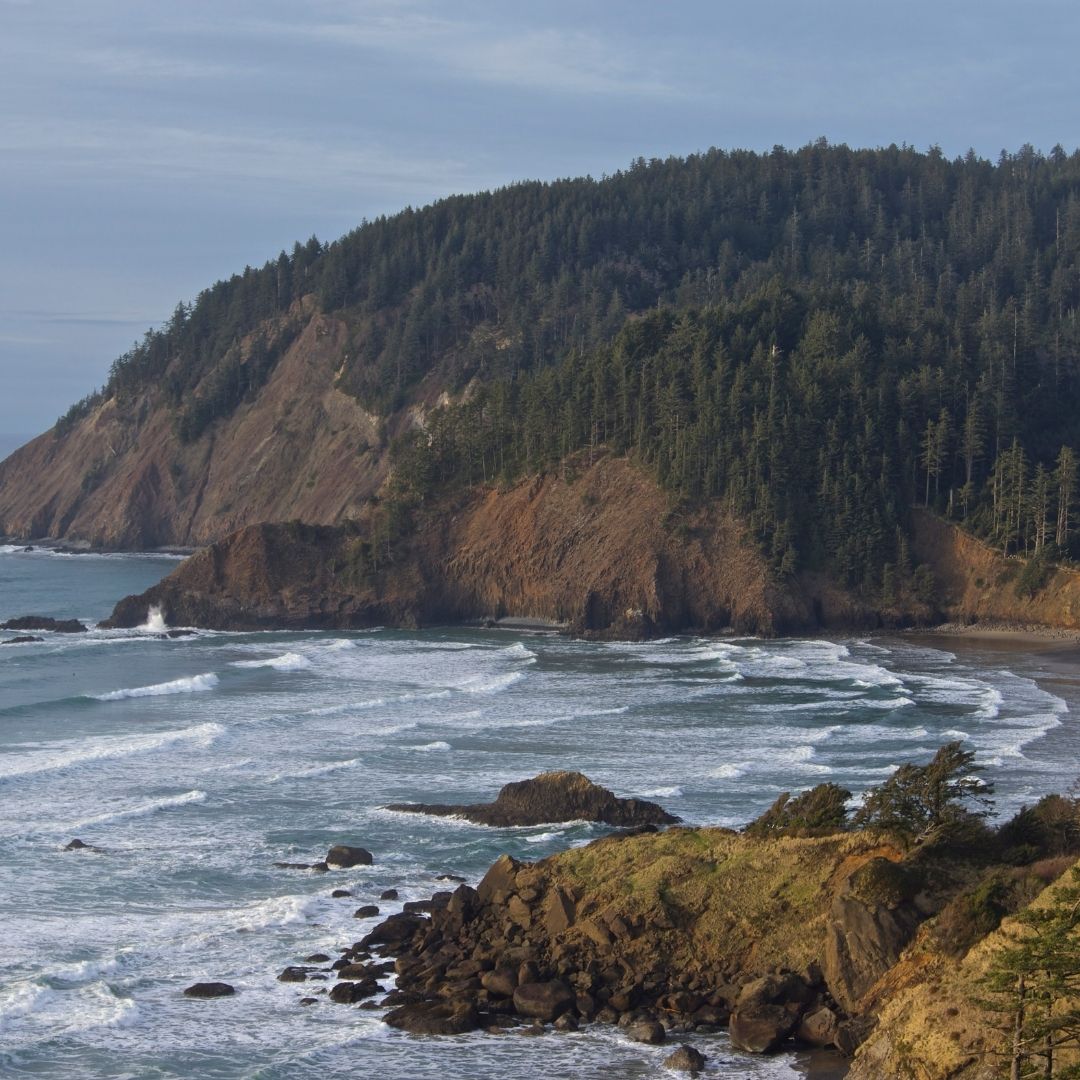 This trail is located at Ecola State Park on the Oregon Coast and its over 6 miles long one way, but very scenic and gives you a great tour of the Oregon Coast overall. Besides this particular park, I also recommend seeing a post I made on the best state parks in Oregon for more options like this.
10) Cape Ferello Viewpoint: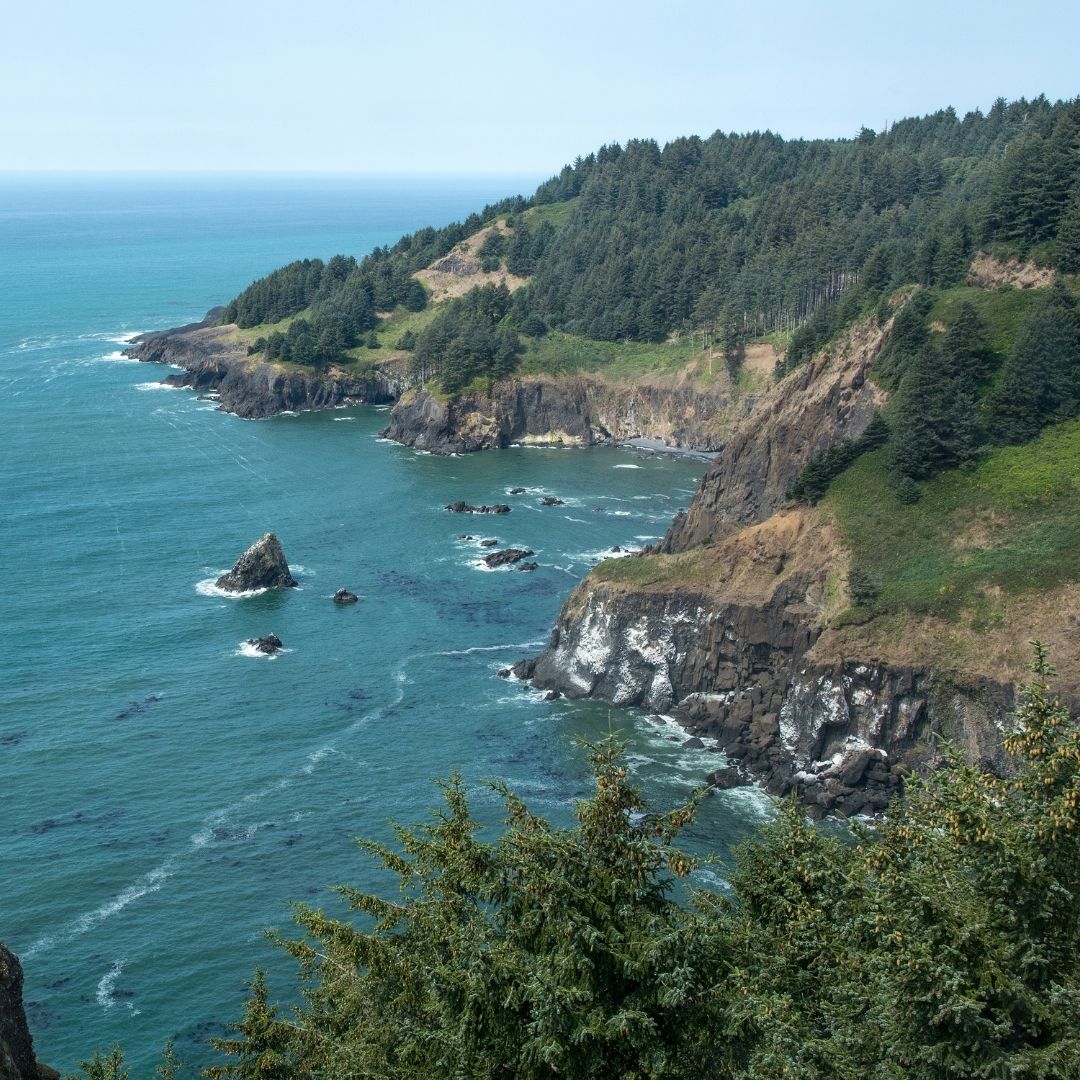 While looking for Natural Bridges on my first Pacific Northwest road trip, this was one of the spots I accidentally found.
It's a turn uphill into a parking area which has a great viewpoint of the Oregon Coast.
Next to it though is a trail and that trail takes you to even more scenic views of the Oregon Coast and even a tree tunnel I found amazing the first time I was there.
This trail is a few miles long and can get pretty steep but it's basically on the top of the mountains that oversee the Oregon Coast and I can only imagine how beautiful the sunsets are there, something I have yet to see but hope to soon!
As you can probably tell from this picture, getting down to the actual coast from there is tough if not impossible, so if you're planning on doing that, I would recommend another day hike on this list do to just that.
But the day hike above this region will give you great views that in my opinion might be better than going down to the coast!
Shoes, backpacks and other gear I recommend to bring on these hikes:
Does the Oregon Coast have many more hikes to explore? Of course:
There's 100's of miles of possibilities here folks and there's a good chance that if you truly want to explore as much of this coast as possible, you may have to revisit this area several times. That's what I've been doing.