In early March of 2020, I hiked down into Devil's Punchbowl in Oregon and in this article, will be showing you how to do that too. It's an easy hike and frankly, there's plenty of articles and videos showing you how to do this.
But since you landed on this page (thanks!), I'll show you how to do it, and more importantly:
Give you some safety tips you should use when you go.

And you'll also find some other awesome spots on the Oregon Coast to visit near this area too!
Here's the summary on how to hike down into Devil's Punchbowl in Oregon:
Only do this hike when low tide is present.

Park in the official Devil's Punchbowl Parking lot or the one near the short trail down to it.

Walk down to the beach via the trail.

Turn left to the actual Punchbowl (watch your steps as it's slippery there).

Get into the Punchbowl and enjoy it before high tide comes back.
Most people who visit Devil's Punchbowl usually only reach the top overlook area of it, but to hike down into it, you'll need to follow a trail that's nearby.
And the funny thing is, there are no instructions or signs to it, which means you have to kind of guess which way to go.
Luckily the trail is close and I'll tell you about it now.
Follow this Devils Punchbowl map to get to the area: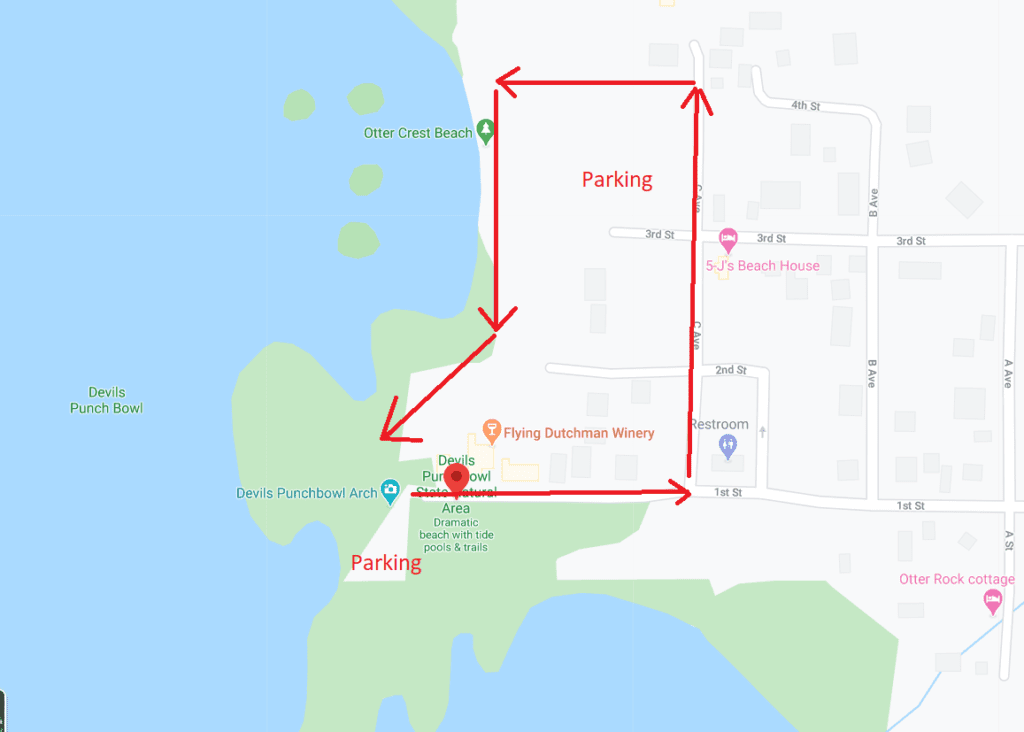 The hike from the parking lot to the actual Punchbowl is very short and shouldn't take you more than 10-20 minutes to reach. There's 2 parking areas you can use, with the northern one being closer to the actual trail.
Here is what the trail sign to Devil's Punchbowl looks like: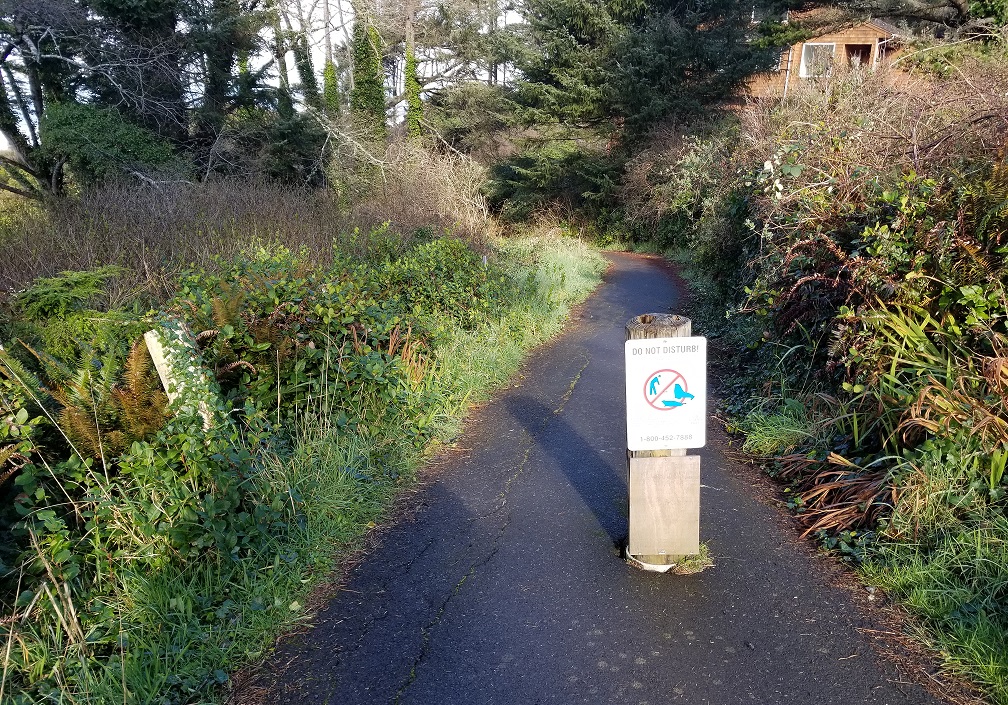 It's a simple walk down to the beach from this point. After you get to the beach, simply turn left and the walk is about 10 minutes from there: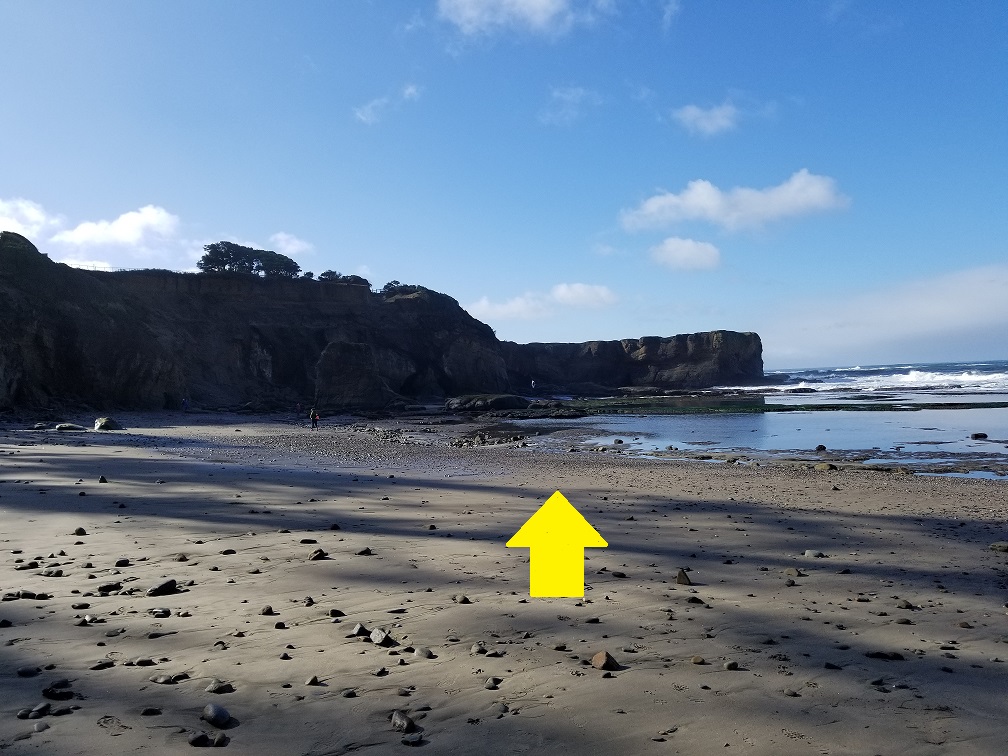 Apparently, sometimes seals can be found on this beach as the trail sign shows above, and it's important not to disturb them, But anyway, follow that arrow above and you'll reach Devil's Punchbowl in no time.
Once you do get closer though, be careful because it's very slippery: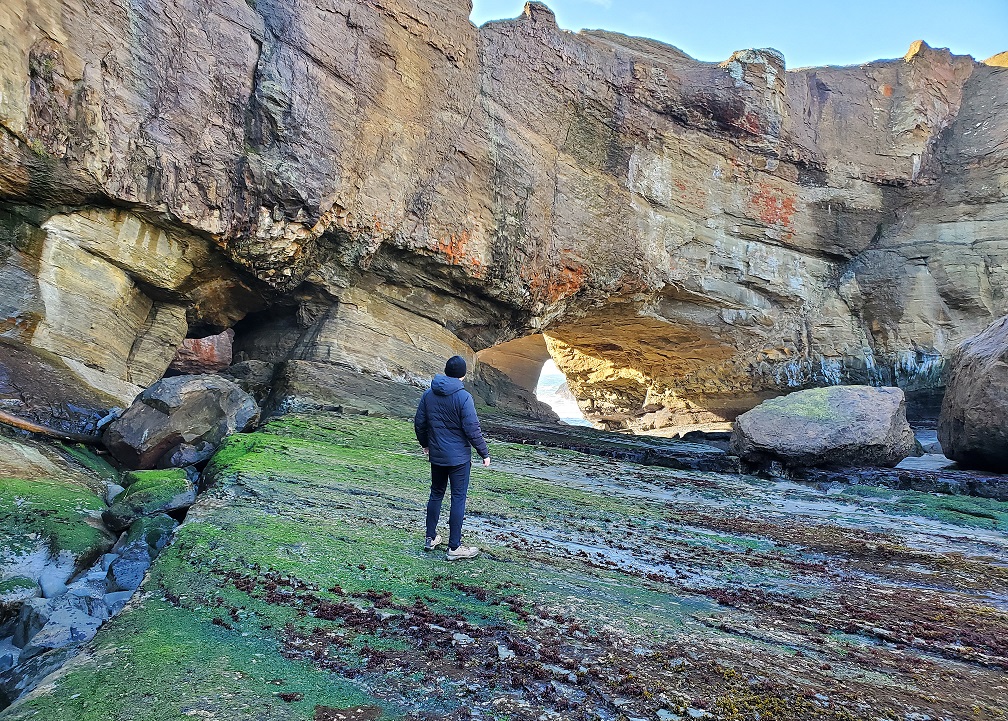 You can wear hiking shoes like these that I used. Or you can wear water shoes like these. Both will do pretty well when you hike to this spot.
Remember, time your hike to Devil's Punchbowl only when it's low tide.
It's seriously dangerous if you don't and even deadly. You do NOT want to be here when it's high tide so if you wish to stay here for a bit, plan your visit so you have a few hours of low tide time available.
It's truly beautiful inside the Devils Punchbowl: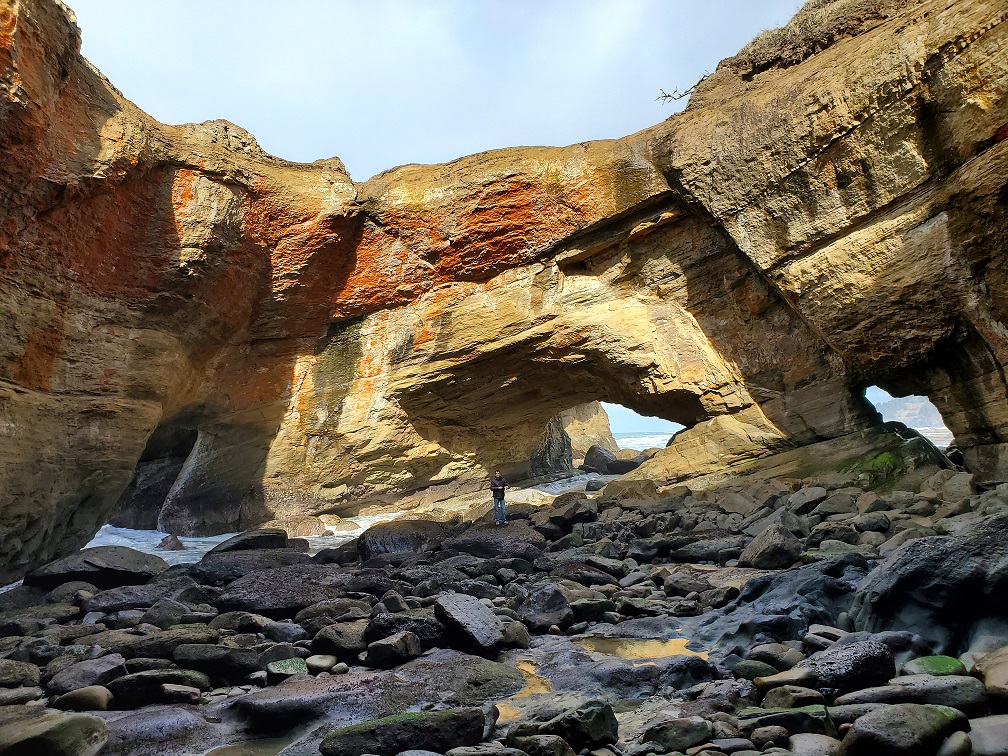 And aside from these natural bridges, there are some sea saves near this area you can also explore if there's time.
To the left of that picture you'll see a natural bridge with water.
That's where it comes in from when high tide hits, but during low tide, depending on what period you reach it at, you'll be able to walk out that natural bridge and onto the beach.
And of course, once you're ready to go, just backtrack on the short trail to the parking lot.
Other spots on the Oregon Coast worth seeing:
Since Devil's Punchbowl is more towards the northern end of Oregon, the closest scenic spots like this one that you'll find are:
Hug Point.

Cannon Beach.

Thor's Well.
But if you decide to go further south along the Oregon Coast, then these following areas are highly recommended:
And basically these 10 spots on the Oregon Coast. I personally find the southern coast of Oregon to be the prettiest, but this whole state has beautiful spots on the coast to check out. And here are specifically 10 day hikes on the Oregon Coast too.
And if you go north, besides Hug Point and Cannon Beach, you'll also find Astoria, then Washington State and the many coastal spots you can visit there too.
Other road trip spots to see:
Depending on how far south of Oregon you go, if you get into California, it also has many beautiful coastal areas to see including the Redwoods.
Even further south of that are places like Fort Bragg, which are also cool to visit, though not as scenic as these other spots in this article, but it has sea glass, so that might be fun for you to collect.
I explore areas like the Pacific West Coast on the road trips that I do so I'll be adding updates for more recommended areas to see, not just on the coast, but anywhere I go. So if you have any recommendations on what nature spots are worth seeing, let me know.
And as for Devil's Punchbowl, I hope this simple article showing you how to hike into it was helpful!