Over the many years I've been traveling, I have developed and refined simple strategies (11 so far) to find easy hikes near me no matter which location I'm in or going to and in this post, I'd like to share them with you.
The truth is, most people who enjoy traveling and hiking do one or more of the following things:
They look at where they're going (point B) and find hikes in the B destination ahead of time.
Or they just go on their travels and whatever comes up in terms of hiking opportunities, they take.
Since I've been on many road trips and travels, I've done both of these things and granted, you'll not only find opportunities these ways, but you'll likely find some popular hikes too.
But knowing what I know now about how to find easy hikes near me, I was always missing out on the bigger opportunities:
And there's a good chance you are too. Let me explain:
1) If you're using the first option (going to point B), odds are you are missing out on dozens of fun and amazing hikes along the way to point B (some secret) that could be even more fun and amazing than the one you're going to. Not to mention missing out on cool hikes you didn't know point B even had!
2) And if you're doing an impromptu trip (like I used to), you are basically flipping a coin and hoping something appears on the way and I've personally had times that it worked out and times it didn't.
For instance, with my eastern US road trip where we got lucky and had plenty of awesome hikes along our impromptu paths (Gulf Hagas, Ausable Chasm, Smugglers Notch and more).
And then there were times this strategy didn't work out like on my my Eastern Canada road trip in which we tried the same strategy, drove a ton, and missed out on a lot of cool hikes in hindsight. Here are some:
In the second scenario, I was often headed down a boring road, not knowing that just a few miles away, the best adventures I could have had were close by. And in hindsight, these 2 spots alone had a plethora of easy hikes near me that I could have explored (if I knew better at the time).
In short: Without knowing how to find these amazing hikes near you, you'll be missing out (and lots of people do).
And so, with what I've been doing over the past years in refining my hiking trips, I've made sure not to make those mistakes again and the strategies I'll show you shortly help you:
Find pretty much all the potential hikes near you no matter where you are.
See preview images of those hikes as well as reviews of them.
You'll see the difficulties for them (easy, moderate, strenuous).
And then determine which one/s to go on to get a great experience out of it.
These are also strategies I use to find short and small hikes near me too!
Following these strategies, you'll be getting more out of your hiking travels moving forward! In my case, every single I've found using these strategies have mostly been easy.
And now, here are 11 ways I find easy hikes near me when I go traveling: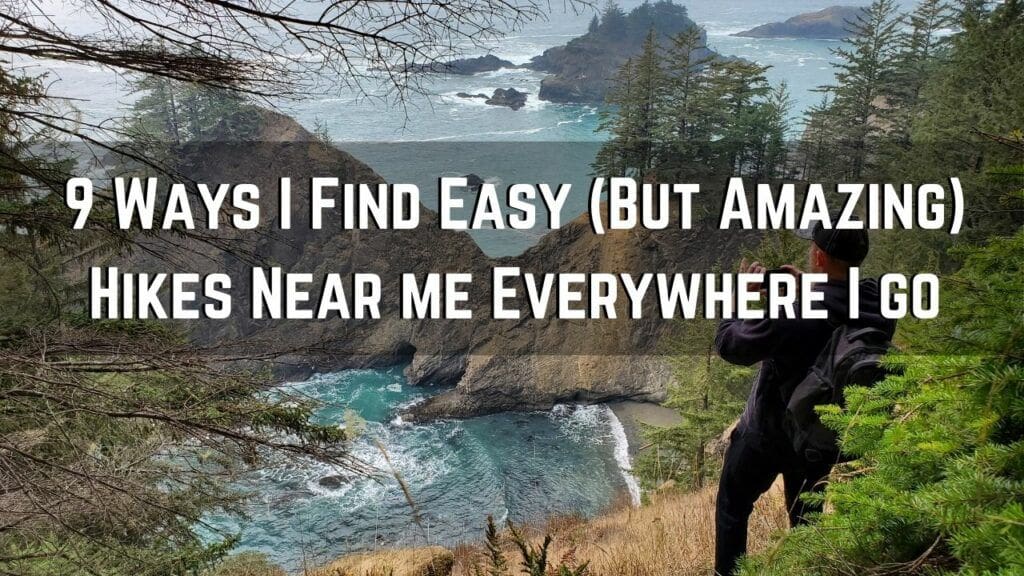 Google "hikes near me" on your phone.
Use the Alltrails app to find every popular hiking spot near you.
Ask locals in any area you're in what they recommend for hikes.
Use Google and search up "best hikes near" and see the website results.
Use Instagram, look up the hashtags near the you're in and choose the best looking options.
Use YouTube search for find hikes near your area for ideas.
Find the "green spots " on your Google maps app. Those have hiking options near you.
Use your eyes and spot what looks like great hiking opportunities right near you.
Look at "where all the cars are". Odds are, a popular hike is close by.
Spot the trailheads!
Join social hiking groups.
Any one of these options can help you find numerous, beautiful and easy hikes near you when you travel, but I'm just giving you different options to find which one suites you best. I've used them all, whether for impromptu findings while I'm on the road, or planning ahead.
1) Google "hikes near me" on your phone when traveling (use the map results):
This option is awesome and easy to use when you're traveling and don't know the region ahead of you, but want to know what hiking trails are available.
What you're specifically using here is the Google search option, but then looking at the map listings. Google is really good at showing you the many options near or in the vicinity of where you are. Here is an example: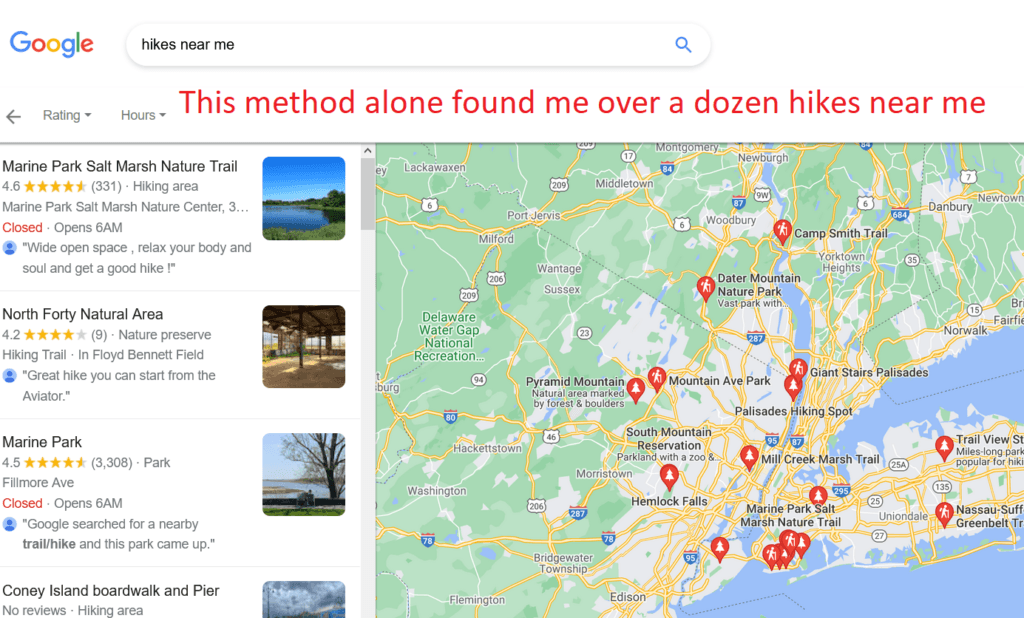 Real life example:
I was once traveling through the White Mountains in New Hampshire, and upon visiting one of the popular locations there (Flume Gorge), simply typing "hikes near me" showed me the region in the White Mountains and a list of the most popular hikes. I could then select and find which ones I wanted to explore.
You can also use this option for search terms like:
Waterfalls near me.

Swimming holes near me.

Scenic drives near me.
These search terms are also associated with hiking trails and in some cases might lead you to even more beautiful places than the most known about hikes.
2) Use the Alltrails app on your phone (you'll find countless hikes near you):
Alltrails is available for free and you sign up to use it's features. Most of what it does is that it takes your location and tell your the hikes near you that are available.
Additionally, you can also select from the list of hikes near you using this app and see reviews, images and tips from people who have hiked the trail or trails there.
You can also see the difficulty level of these hikes.
You can also type up the name or a town, famous trail, or specific region you're in or visiting and see a list of hikes near those areas. Out of all the options on this list, Alltrails gives you access to the most hikes available near you or where you want to go.
Here is an example of how this app works:
An upgraded membership for this app is available which is for advanced users who want to use the maps and GPS tools in it. Me personally, I downloaded it for my hike in Coyote Gulch, but ended up using Google maps instead.
3) Talk to locals in the area you're in and ask for hiking suggestions near you:
Most locals know their areas better than any Google listing or app out there and they can give you some golden tips on which hikes are available near you that absolutely rock!
Also keep in mind that in many places you visit or hike to, you may have really bad cell phone reception, so sometimes using the other options above isn't possible. The key is to be nice and get on their good side so they reveal that.
Note: Ask park rangers at stations what the best hikes are near you. They'll often tell you which ones to go to.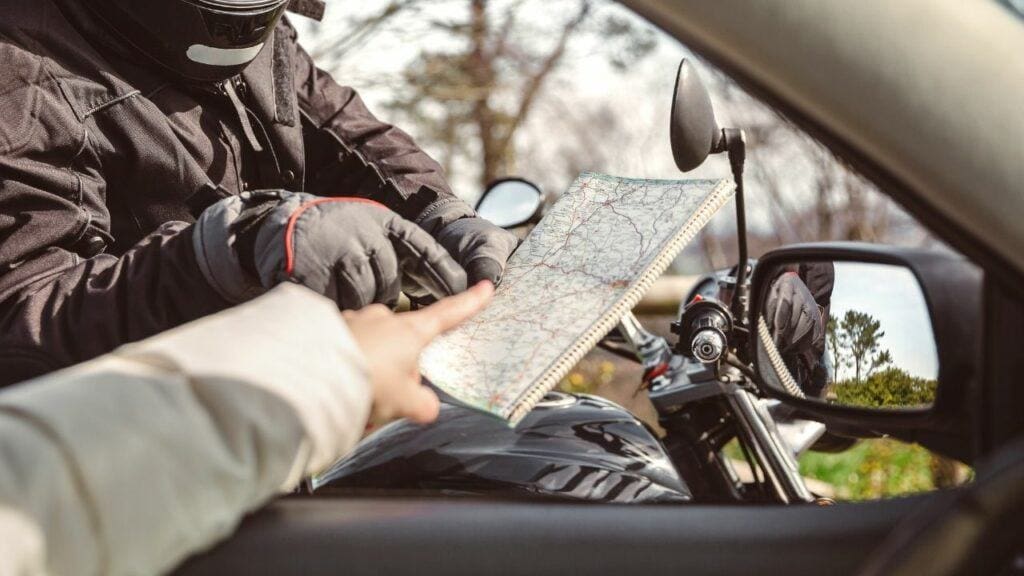 Real life example:
I have 2:
1) I was on Sombrio Beach once while visiting Canada and spoke to some locals there about what there was to see. They suggested checking out "Sooke Potholes Park", which ended up being an amazing hike my buddy and I did. Had we never approached these locals and asked them, we'd never have known such a cool spot existed!
2) I was traveling across the Appalachian Mountains with a buddy of mine and we ended up heading west to a place called Daniel Boone National Forest, but improper planning caused us to stop at the wrong town.
And so while asking for directions, we found out what we were originally looking for was hours away and instead of driving for that long, we asked if they could recommend seeing anything.
They suggested Eagle Falls which was only 10 minutes away from us. That side trip to the falls was one of my best memories to date! Had it not been for using this tip, we would have never found it!
It was an easy hike near us and the swim afterward was incredible. Here's a picture of it: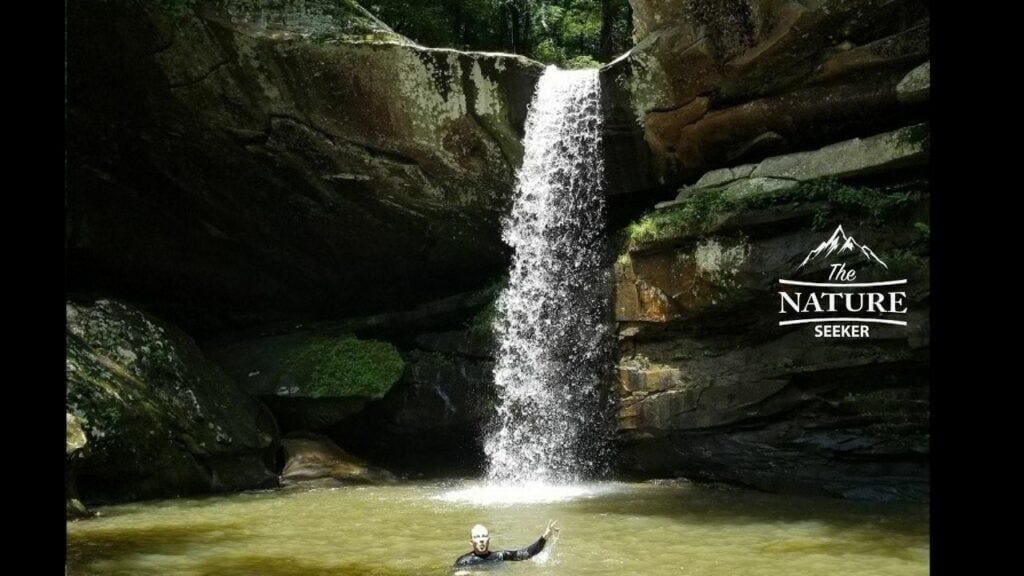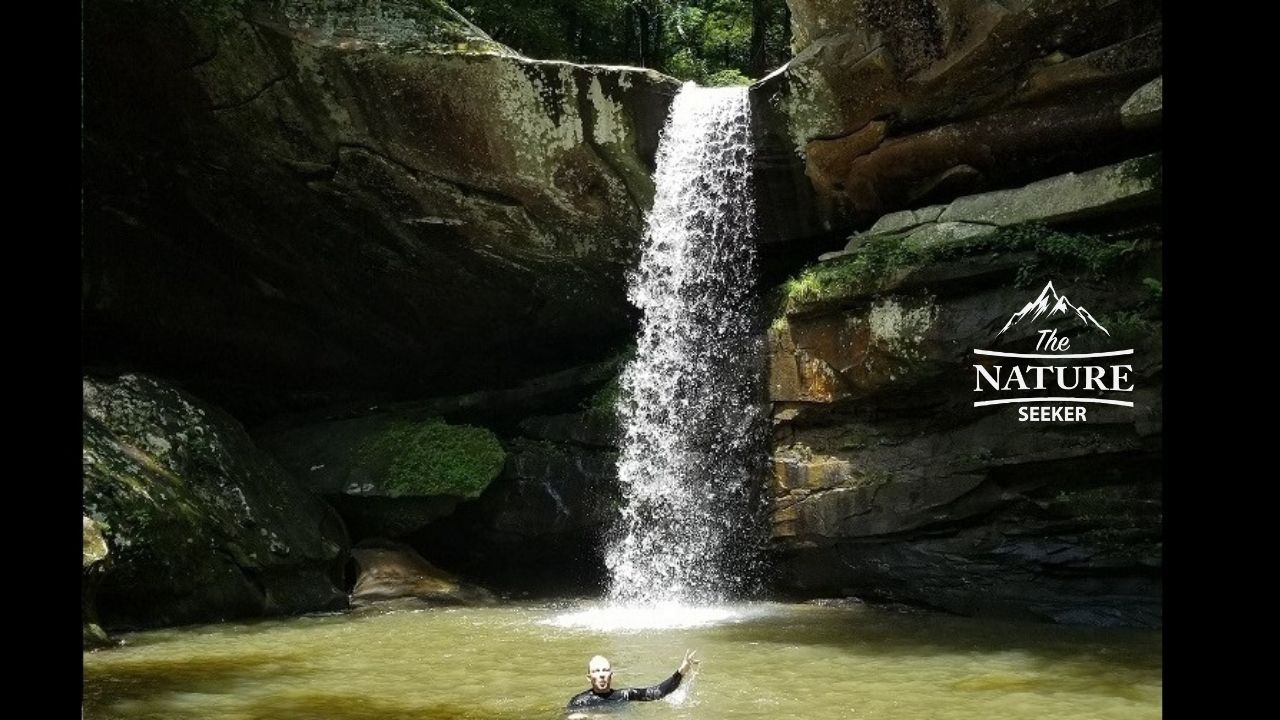 4) Use Google search and type in things like "best hikes near me" and your area. Then look at the site results:
This tip is different than number one because while you're typing up the same search basically, you are looking at the website results, not map listings.
You'll find plenty of sites, blogs and tons of other golden nugget sources showcasing the best hikes near you and I've found many that I've put on a list while traveling across the countries I've been in.
Whenever you use the search term: Best hikes near me, Google will identify your location and show you the most relevant listings. You don't even have to type in the name of the place (unless you're going to it, not on it).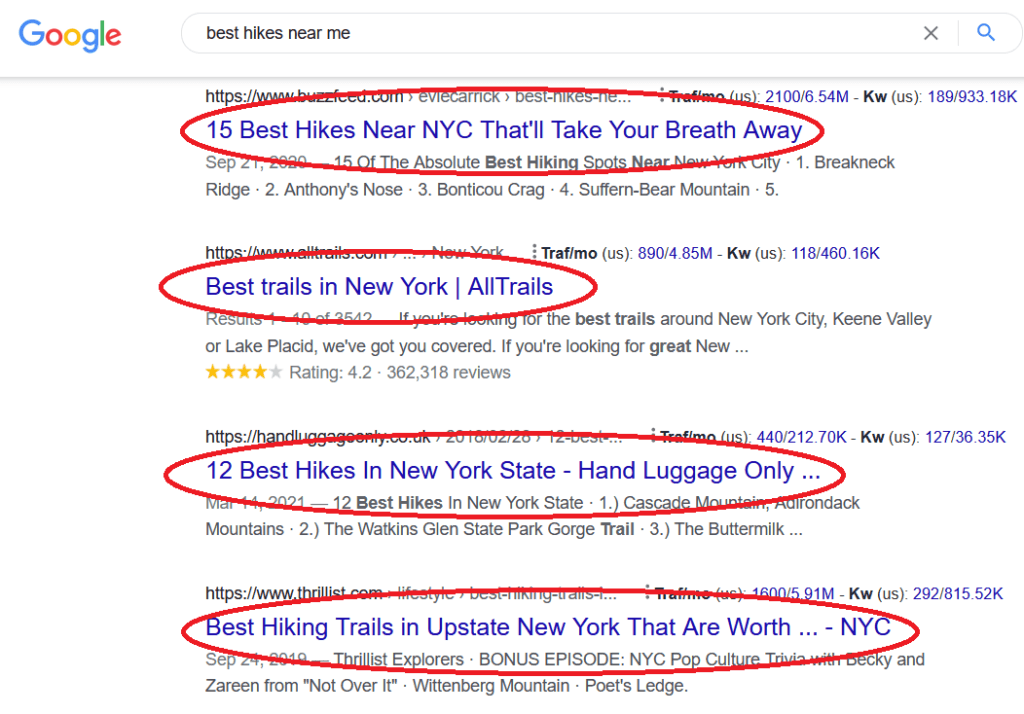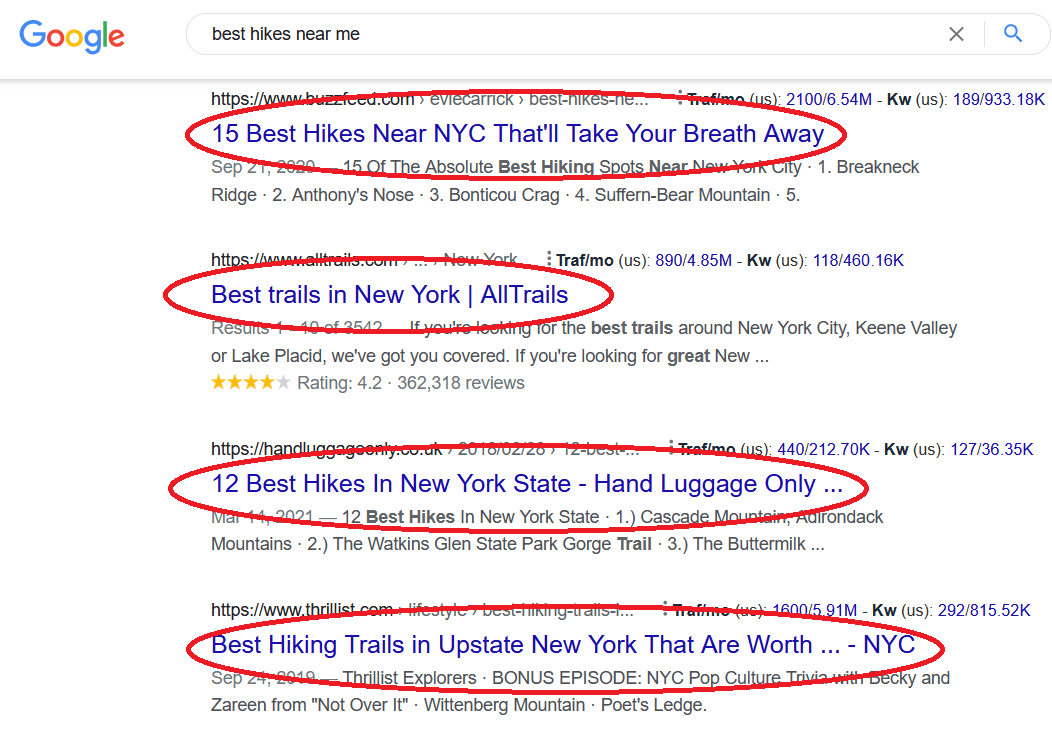 A real life example:
The Hidden Waterfall on Sombrio Beach is a perfect example. I used to see images of this but found it's name on a blog, put it on a to visit list and when I found out where it was (Vancouver Island), plotted a point to it and it was a truly amazing hike (easy too):
5) I often use Instagram to find easy and amazing hikes me near: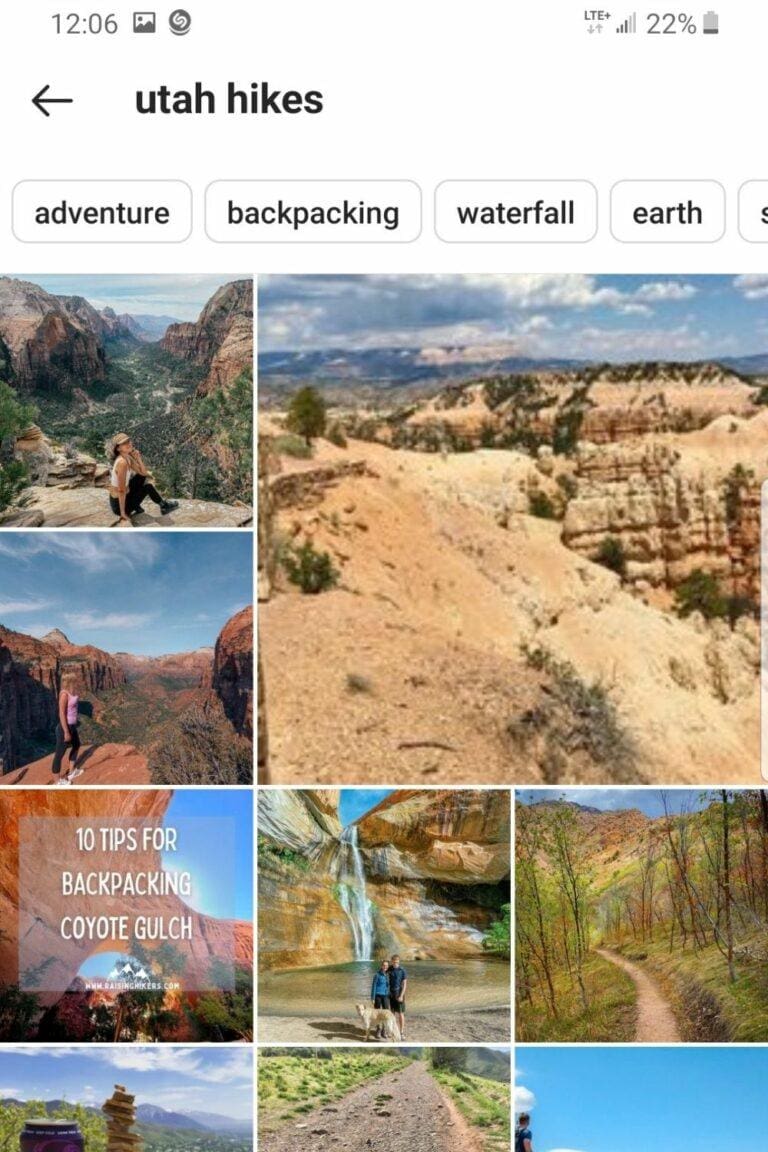 You'll find countless images on Instagram for hikes and beautiful nature sights and it just so happens that many of them can be utilized to find amazing hikes near you.
Here's how it works:
Let's say you're traveling to Utah and want to find hikes there. I will go to Instagram and type in hashtags like:
#utahhikes or even without the hashtag (Utah hikes).
I will then see which results have the most posts.
I'll then find the best looking images of hikes.
I'll then see which hikes have location info and which are near me.
I'll then bookmark the ones I want to see on my travels.
I've been able to use this strategy to find truly incredible hiking spots ahead of time when traveling.
Real life example:
Before going to the Canadian Rockies and exploring it through the famous Icefields Parkway drive, I looked up hashtags and searches on Instagram for the Canadian Rockies, Jasper and Banff (towns in that region).
I was able to find so many beautiful images of places to see and bookmarked as many as I could.
I was then able to explore many of them ahead of time when I traveled through it and most of them were easy hikes for me.
6) Use YouTube search to find hiking trails near you (or where you're going):
I've begun using YouTube's search to find hikes near me and I love it!
I've been able to not just discover many more spots using this option, but many of the videos I have found in the process have also given me great tips on what to do when I travel to the said spot/s so I am able to stay safe and get more detailed info before going (difficulty, dangers, ect…).
This might be the option which gives you the most information because a lot of people really take the time to record themselves in many areas you may plan to visit and having access to their experience makes you better prepared for your hikes in the same locations.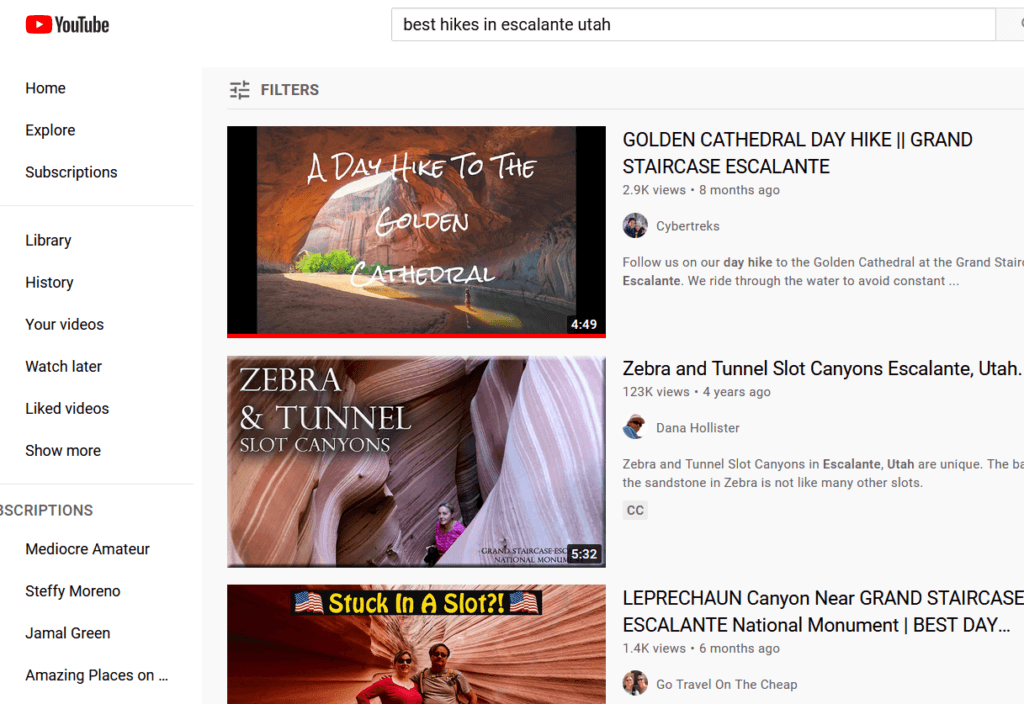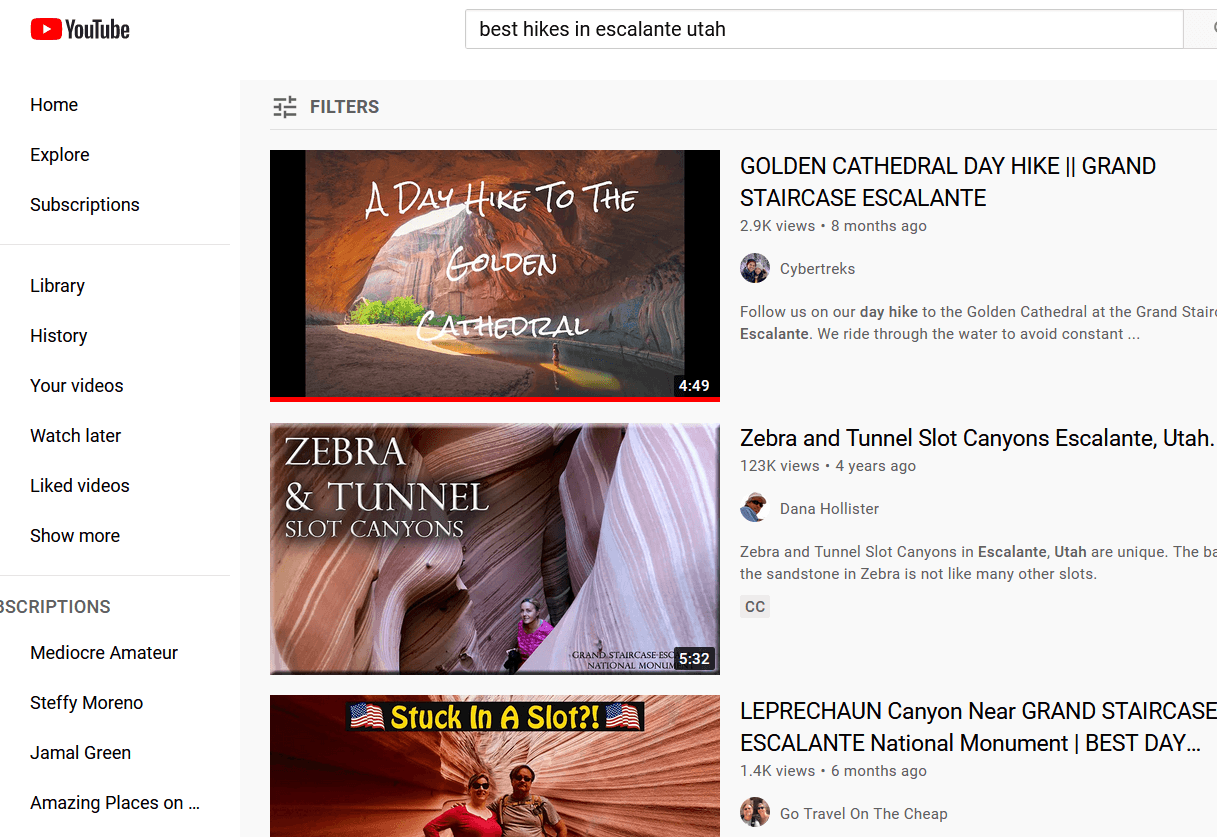 Here is how to use this option:
Go to YouTube.
Type in "hikes near" and the name of the spot.
Go through the videos and see what shows up.
Research the best hiking spots based on the videos and visit them!
Real life example:
There's several travel channels I am subscribed to (Mediocre Ametuer and America's Parks). Those channels give great insights on hiking trails and in this case, the latter option showed me other cool trails I could explore in Arches National Park (while I was there), namely the Devil's Garden Trail.
Another cool example is that America's Parks helped me find out about the many cool hikes in Grand Staircase Escalante (Spooky and Peekaboo Gulch hikes).
The preview of it in the video inspired me to go there and I truly loved it! I've also personally begun making videos on the trails I run (and document on this blog too) to help people use my tips for their hikes.
7) Find "green" areas on your phone GPS. They could be parks with cool, easy hikes nearby: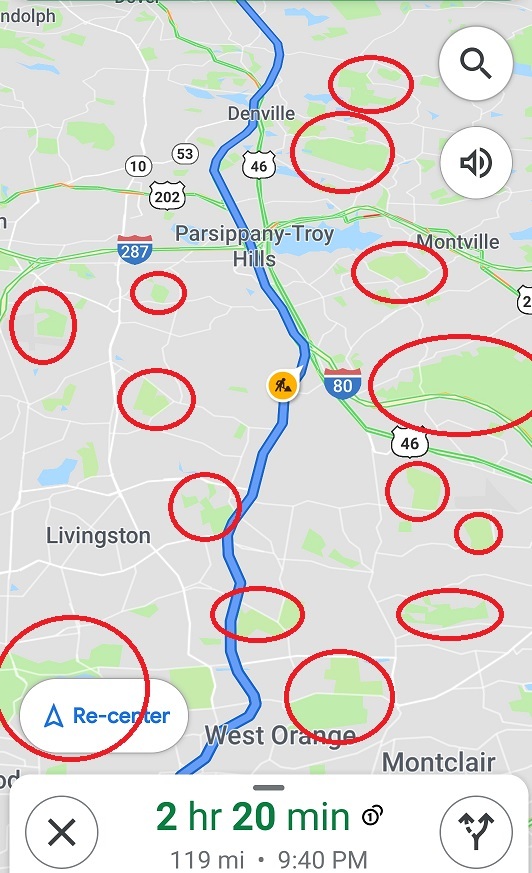 Whenever I activate my Google maps GPS and it's taking me to my destination (point B), I'll always keep an eye out for "green spots" on the map. Those usually represent parks and most of them have hiking opportunities.
Sometimes I'll look at my GPS and expand the map out to see what's near me (parks that is) and then if I see the park (green spot) has a name, I'll Google it to see images. If there's something to find and look at there (like hikes), I'll adjust my GPS (time permitting) to go there and have a look.
This is an awesome way to utilize hiking opportunities on your path to wherever you're going.
Here's how it can look:
I attached an image to the right which is a screenshot from my phone while I was driving to my destination. I circled all of the red areas on my screen as being potential parks and hikes near me as I'm going.
Now with this option, you're going to have tons of opportunities pop up, but:

Not every green spot is going to be a park. Look for the biggest green spots, as those tend to be the parks.
From there, use the above option to filter out which spot to visit.
In the case of this image, I have over 100 miles left on my trip, and utilizing this opportunity, beautiful parks and subsequently easy hikes are all around me, all the time!
A real life example:
This strategy is literally how my friend and I found Daniel Boone National Forest. We were on the Blue Ridge Mountains in Georgia, got tired of sight seeing there and wanting to see something different.
Expanding the map outward and seeing a giant green area west of the Blue Ridge Mountains, we found out it was Daniel Boone National Forest, and so we adjusted our trip to go there and many fun adventurous hikes followed.
8) I often find places to hike near me using my eyes! Here's how:
You don't always need a phone to find amazing hiking spots. Sometimes, an opportunity will present itself if you just look for it and sometimes it happens by accident.
Some cool, easy hiking experiences you find will literally present themselves while you're looking ahead or around while sight seeing.
A real life example:
I actually have at least 4 to cite here:
First is when I was on Vancouver Island driving to Mystic Beach.
On the way, we saw a cool looking entrance to a trail and a parking lot.
It ended up being Sandcut beach which we didn't plan to visit but ended up doing thanks to just seeing it on the way and taking the chance to explore it: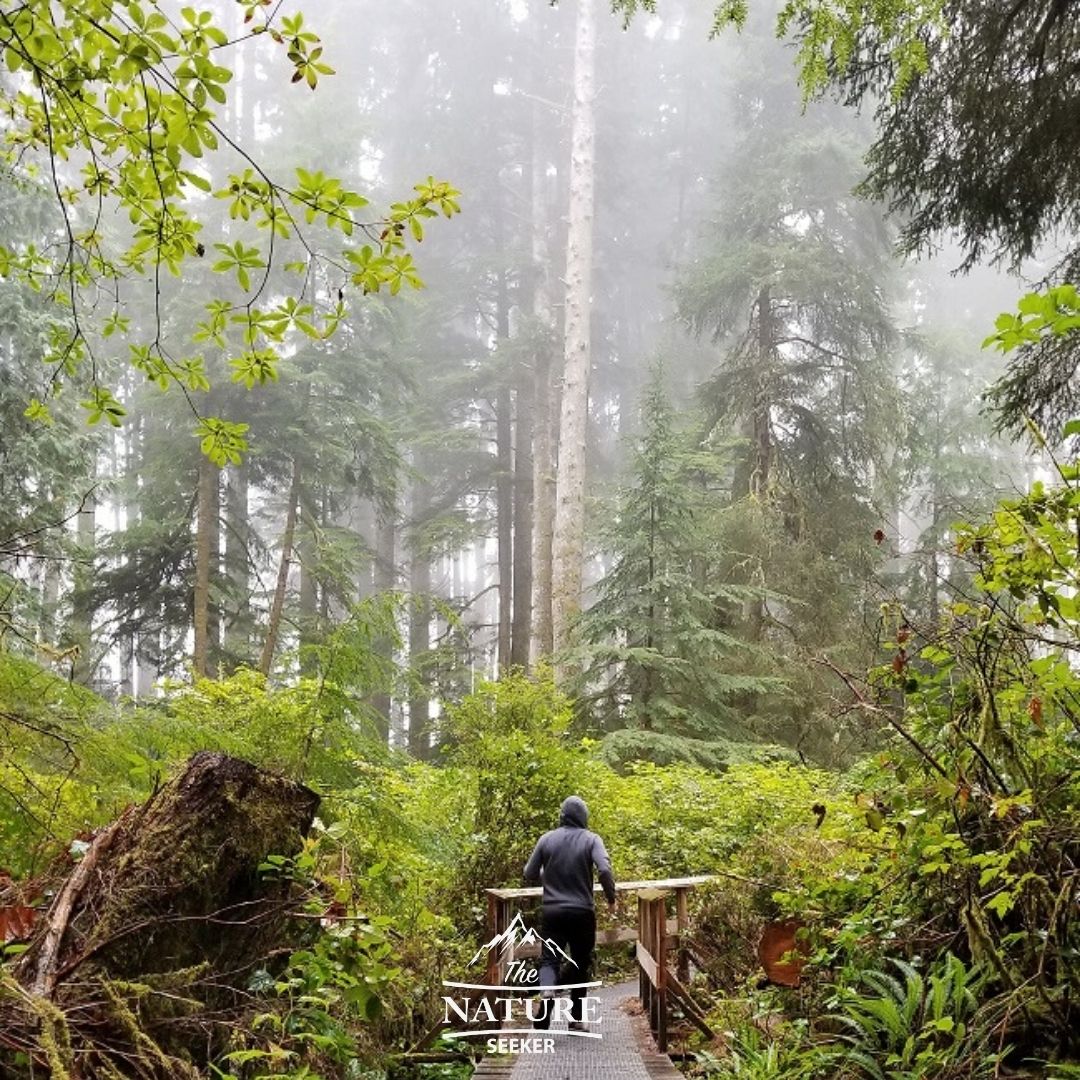 Second is the Canadian Rockies again.
We were traveling from one popular spot to another during our trip, but all throughout one road, the Icefields Parkway drive.
On it, from a distance we spotted what looked like a cave and it ended up being an amazing trail that was never listed on the map (sometimes the best hikes near you are not on the map).
Here is what this beautiful spot looked like: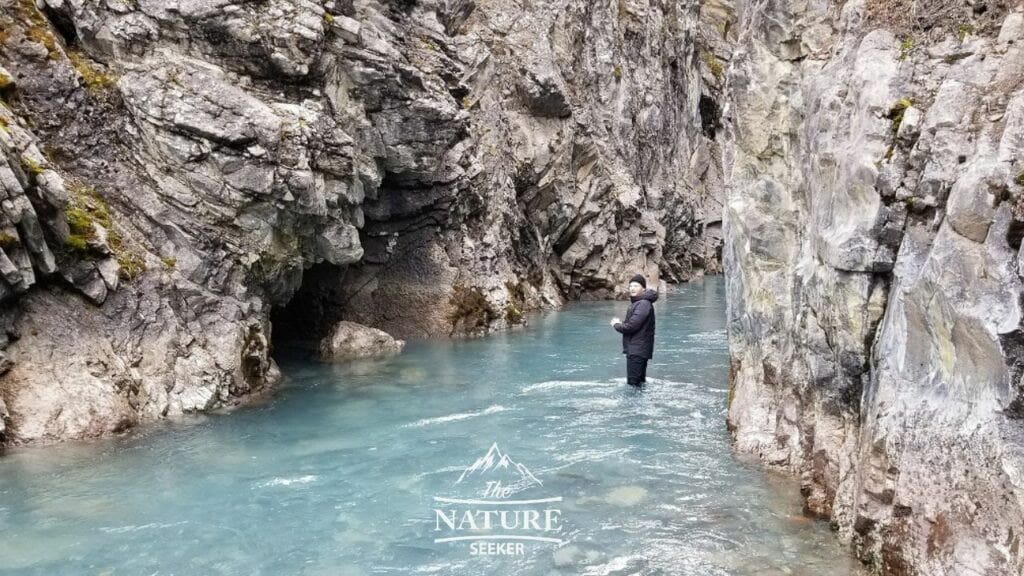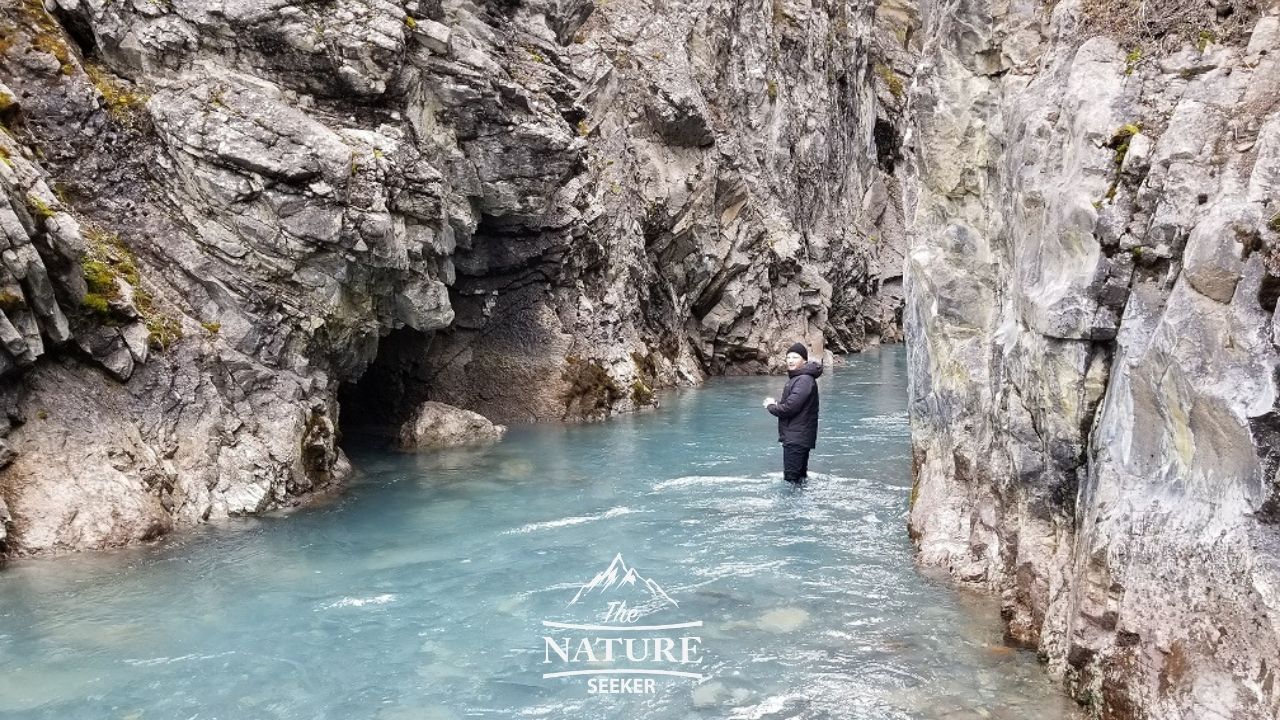 Third is the Catskills:
While driving on the scenic road in the Catskill Mountains, I crossed a bridge, heard a waterfall, found a place to stop and discovered this beautiful gem I still go to many years since: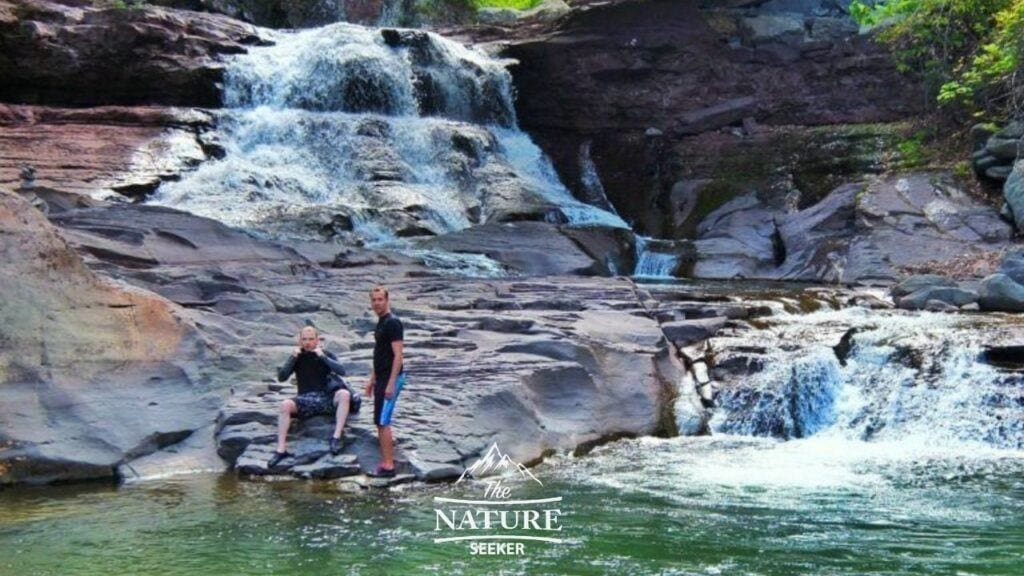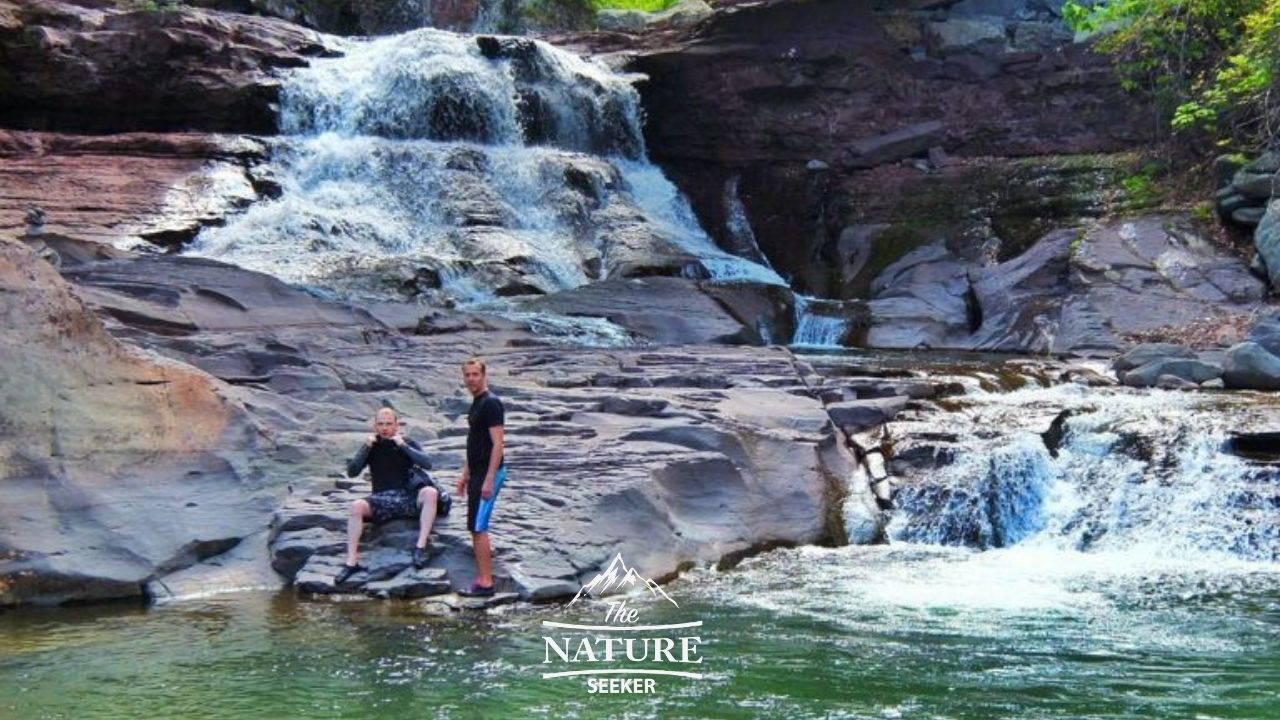 Fourth is Smugglers Notch (amazing secret gorge):
While hiking through Smugglers Notch and checking out swimming holes there, I saw an opportunity to explore a nearby gorge that was off trail. I hiked in there, swam through it and found a secret waterfall on the other end of it: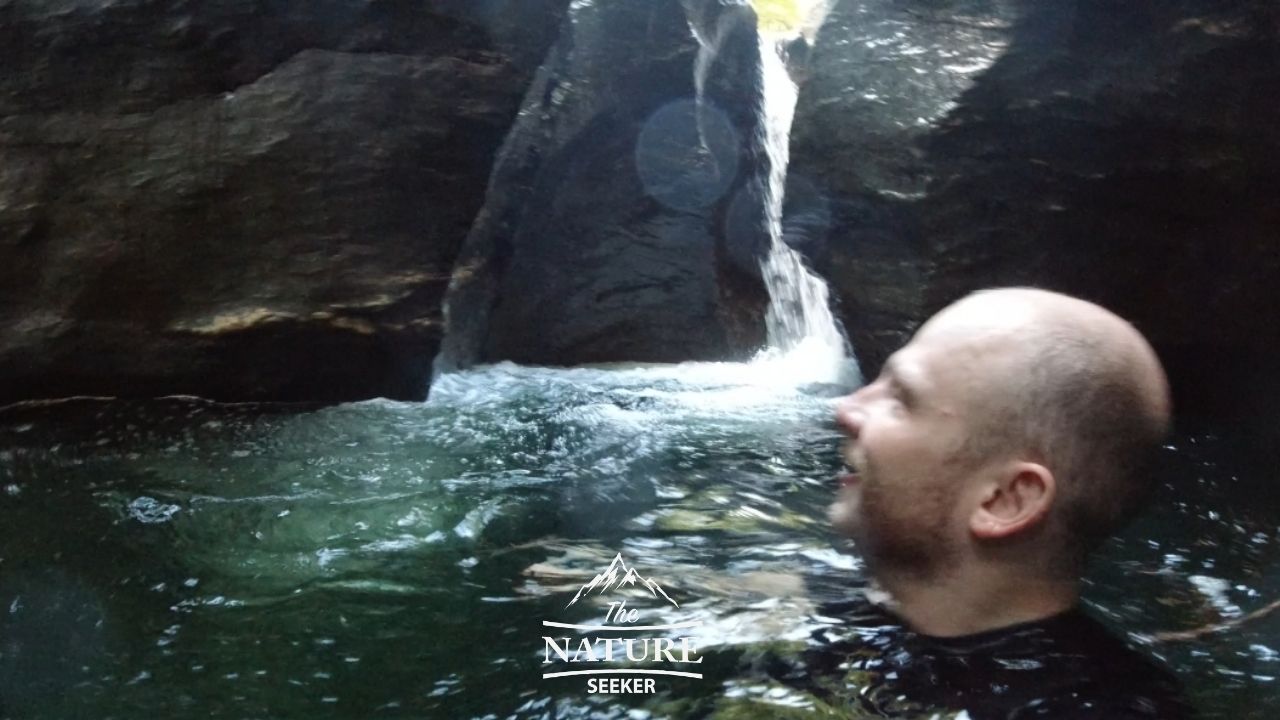 9) Look for where all the cars are gathered in parks or off the road (great hikes are nearby):
This was made very clear for me while driving through Harriman State Park.
To find the best hiking trails, all I had to do was drive through that park and see where all the cars were parked. That led me to a trail head and to an amazing, and "easy" hiking trail that ended up being quite memorable: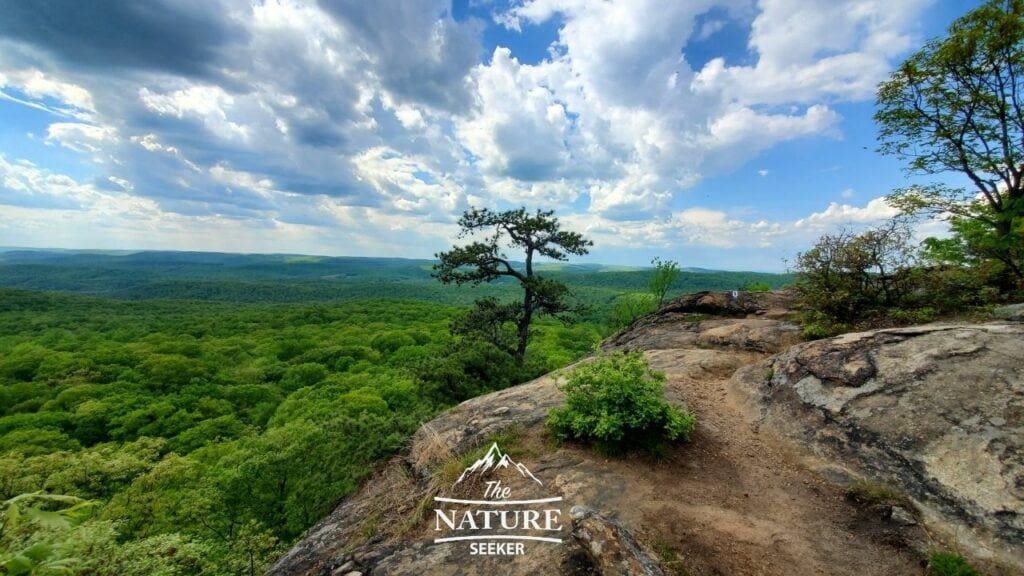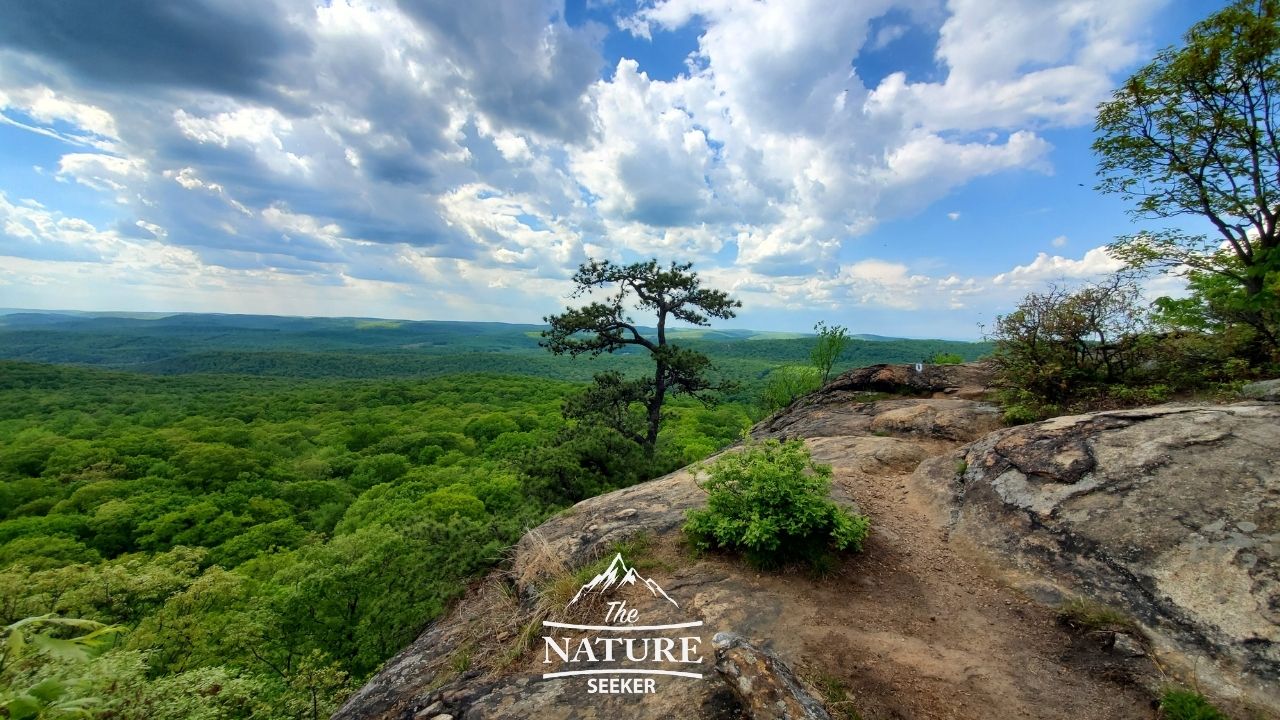 The best hikes in every location are known to locals and people who travel there frequently and you can utilize that opportunity for yourself! It's simple: The more packed a parking lot is near what looks like a trail, the more there's a good chance it's a really popular hike with a lot to offer.
10) Bonus: Join Facebook groups for nature spots near you!
I have found this strategy to be one of the best on the list not just for finding easy hikes near me, but also for being able to quickly filter out which ones are the most worth going to.
Here is how it works:
Let's say I live in New York. I will go on Facebook and look for FB groups related to things like New York nature. One of these groups happens to be one called New York State Waterfalls (which I joined).
Every single day, I get notifications from this group about people sharing the best waterfalls in New York State and thanks to this strategy, I have already mounted a large list of hikes and waterfalls to visit in this state when I plan to go on a road trip and one or more of these spots and hikes are near me.
Here's another example:
My uncle visited Arizona recently and asked if I could recommend some places. I actually never visited this state (yet), but I joined a group on Facebook called "When in Arizona" and just like the other option above, I quickly saw notifications and lists of hikes and places to visit in this state that I relayed to my Uncle. This made it so easy to find the best hikes near him when he was there.
Join these groups if you can folks. They are free, but some require proving you're real and following their rules (not a big deal at all). But it's worth it because this gives you access to many locals in the spots you want to visit as well as those who have already done the job of searching up the best hikes near them.
You just have to scroll through the pictures, and select which places you want to visit, then plot them on a GPS and go!
11) Another bonus: Look for a trailhead!
As you apply the tips I've given you here, you're going to find hikes yes, but it's ideal to also look for trailheads which are official starting points for hikes.
On them you will usually find maps, lists of trails nearby and be able to gauge which ones are easy, which ones are hard and worth avoiding.
How to find trailheads near you:
1) You can usually find them marked as green icons with a hiker on it on Google maps (usually within large green areas on your GPS), although sometimes the trailheads are near those markers, not exactly on that spot you see on Google maps.
2) Wherever cars are parked in large chunks, there's a good chance that not only a trail is nearby, but also a trailhead that gets you started on it.
It's always a good idea to find a trailhead first before embarking on a hike, lest you know how to use Alltrails and can find where you are and where to go (requires experience to do).
Questions about finding easy hiking places near you (further help/reference):
What is the easiest hiking trail?
The best way to find the easiest hiking trail near you is by using Google or Alltrails on your phone and looking for trails that are under 5 miles long and easy loops to do.
What should a beginner take hiking?
A beginner hiker should always bring a backpack that can fit water bottles, snacks and a change of clothes if needed.
How long should a hike be for beginners?
Usually hikes under 5 miles are considered beginner friendly. The best beginner friendly hikes are typically in crowded places that are family friendly.
Do you lose weight from hiking?
Yes, you can lose a lot of calories and weight from hiking, but it is important to drink and eat snacks to avoid getting dehydrated or hungry.
So there you have it! 11 different ways I find easy and short hikes near me!
I'm continually refining these strategies, but these 10 have really helped me get more out of my travels and I am happy to share them with you in this article! If you have your own strategies for finding hikes near you that you don't mind sharing, I'd love to hear them below!
Similar posts: Besides hikes, I use many similar strategies to find waterfalls near me when traveling. You can check them out too!