The Nebo Loop Scenic Byway in Utah might be one of the state's best drives to check out if you're exploring the area and in this post I want to share 10 things to do if you go there.
This drive is pretty short all things considered, but in it's 2 hour length there are tons of things to see and do, making it into a perfect day or multi day trip if you're exploring the northern Utah region (specifically near Provo and the Salt Lake areas). Before I share the 10 places that are worth exploring on this drive, let me quickly share how I discovered this area:
It was honestly by accident. I was updating my scenic drives in Utah post and while doing some research found out that this place existed, but had been mistaken for a completely different drive in the state. Yet a little more digging helped me discover this amazing area and the more I looked into it, the more I became astounded by how incredible this short, yet extremely scenic and adventurous section of Utah is.
Quick information about the Nebo Loop Scenic Byway:
What is the Nebo Loop Scenic Byway?
This is a 38 mile drive that runs parallel to Interstate 15 in Utah. It starts from the south of Provo Utah (north end) and ends near the town of Nephi.
On that drive, which usually takes 2 hours (without stops) you will come across a bunch of amazing sights, overlooks, hiking trails, waterfalls and much more. It makes for a great "side quest" exploration of Utah if you're driving through the area.
The 10 things to see on the Nebo Loop Scenic Byway in Utah: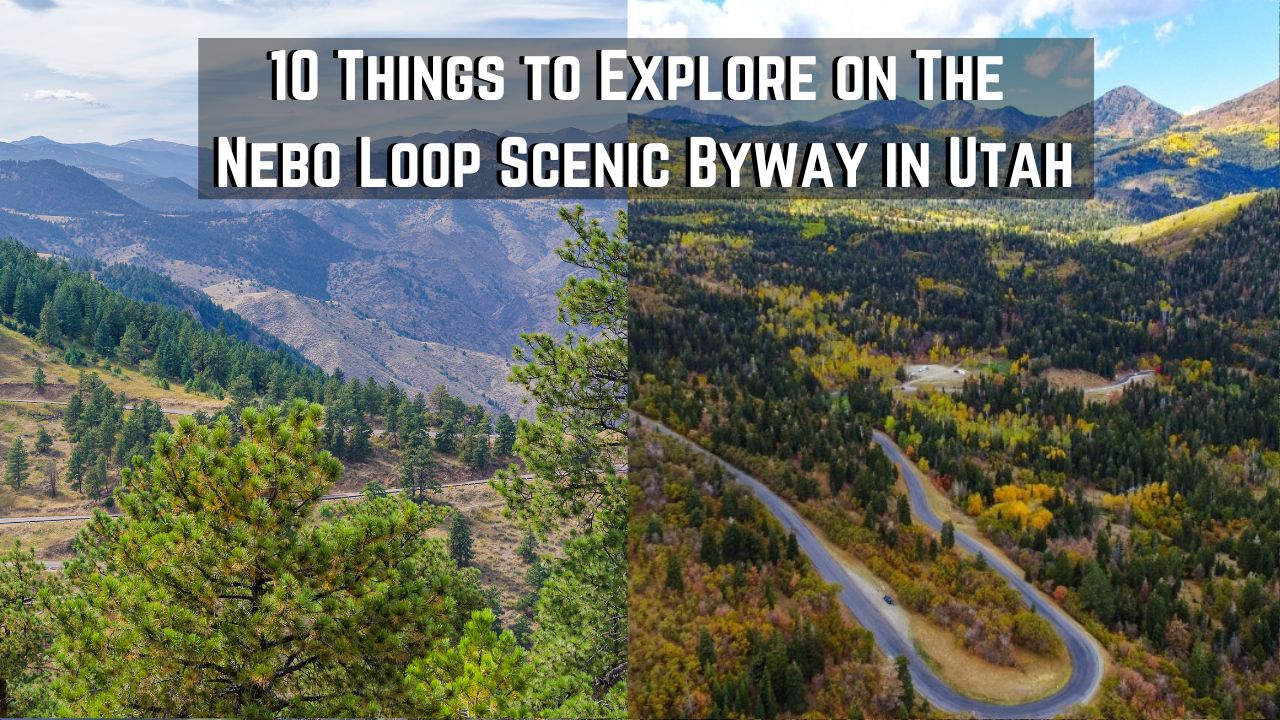 The following way of exploring this scenic byway is from north to south:
Do the 30+ mile Nebo Loop Scenic byway for starters.
Do the Grotto Trail.
Explore the Double Falls trail.
Check out the Loafer Mountain hike.
Stop at the Utah Valley Overlook.
Hike to Mount Nebo.
Check out the Mount Nebo Overlook.
See the Devils Kitchen Overlook and hike.
Stop at the Salt Creek Overlook.
Finish with the Nebo Bench trail hike.
Now keep in mind that these are some of the many main things you can see on the Nebo Loop Scenic Byway. There are also campgrounds, lakes and other things you can if you're looking to spend more than a day here, but for a one day trip, you can easily see most of the spots on this list.
1) Do the full Nebo Loop Scenic Byway: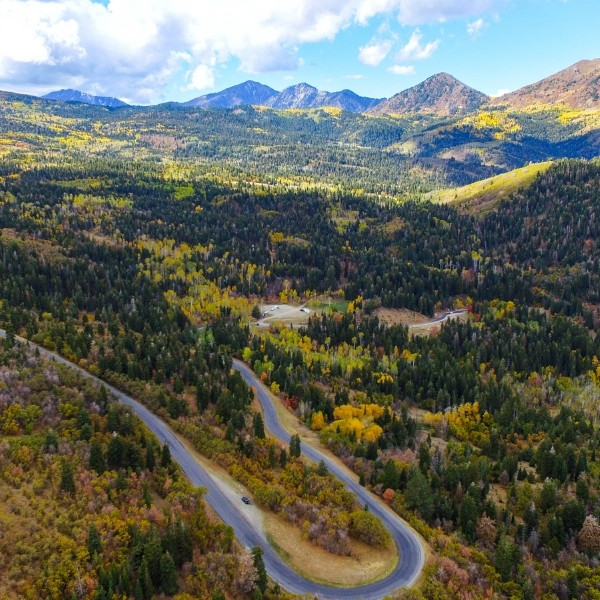 The main attraction in this post is the actual scenic byway (a must do).
If you decide to not explore anything else on this list, just do the drive and that will be more than enough.
The great news about this drive is that it's parallel to I15, so even if you are in a rush and heading north or south, you can take a 1-2 hour trip off the main road and explore this place easily.
You're going to run into amazing overlooks, great hiking trails and if you use tips like I do when I look for easy hiking trails near me, you'll find tons of spots to see in the area additionally (some of which are on this list).
The Nebo Loop Scenic Byway is well worth exploring itself and there is a lot packed into this drive that is worth taking the time to explore.
Note: The Nebo Scenic byway is closed during winter (it's open all other seasons).
2) Hike the Grotto trail: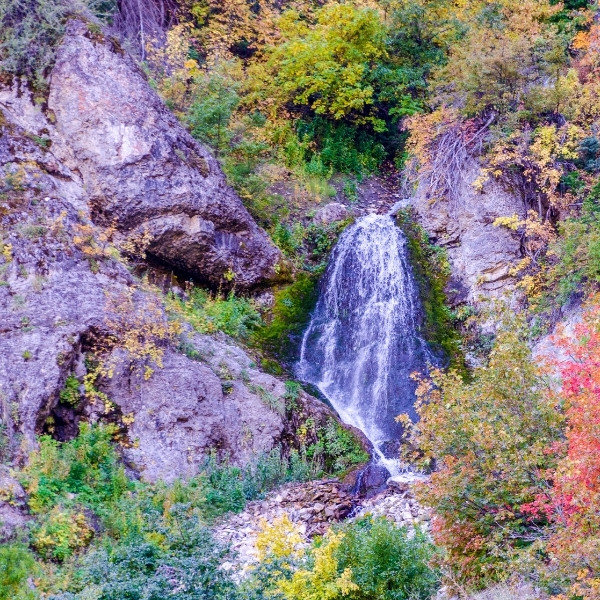 The Grotto Trail will be the first hiking trail you will encounter on the Nebo Scenic Byway if you are starting from the north end of it.
It is a short, but scenic half mile hike to a beautiful, yet small waterfall (worth it though).
I wouldn't say that the Grotto Trail is one my list of the best hiking trails in Utah, but if you're into hiking and like waterfalls, you're going to get both of those great experiences here.
Plus it's a great way to mix together the actual drive through this area with a stop here and there to mix up the adventures.
The area here is simple to find (the Grotto Trail is also on Google) and you should be fine when exploring this trail (I mean not getting lost that is). Some other options on this list are not as easy to hike on or navigate.
3) Check out the Double Falls trail:
As long as you continue going south on the Nebo Scenic Byway, a little after you explore (or don't) the Grotto Trail, you will come up to the next hiking opportunity which is Double Falls trail.
In fact, if you use places like Alltrails (or the official map on the trailhead), you can actually hike to both places instead of driving, but for shorter hikes, do the drive instead.
Anyway, there are 2 main ways to explore Double Falls:
The first is going to the official trailhead of Double Falls, then hiking to it (it's about a 1/4 mile hike).
The second, if you have a camping permit (or if it's allowed to go there) is to drive on the closest camp road nearby which will take you close to the falls.
The waterfall is almost 50 feet high (if you include both falls) and is like a step waterfall. It's very scenic, and the hike is similar to the Grotto hike (since they are basically close together).
4) Do the Loafer Mountain hike: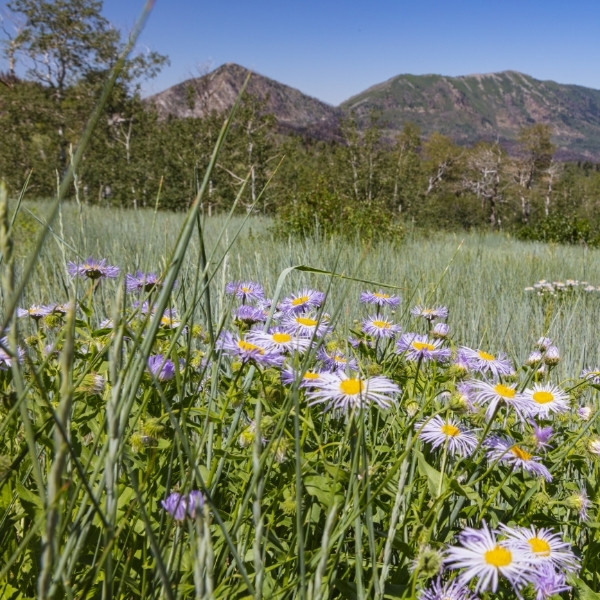 If you enjoy a challenging hike, Loafer Mountain is where you'll get it and the trailhead to start it is also off the Nebo Scenic Byway. The hike is about 12 miles in total, and involves a large climb up to the actual Loafer Mountain.
If you're going to do this hike fully, you may need to spend more than one day exploring the Nebo Scenic Byway, but in terms of why this hike is great, here's a few reasons:
You get amazing views of the valley nearby.
The hike itself is challenging.
If you go during autumn, you'll see even better views of the area.
And more.
I would recommend using trekking poles such as the Trailbuddy trekking poles if you go because of the elevation of this hike (and difficulty) and make sure to do it on a cooler season (fall or spring).
5) Stop at Utah Valley Overlook: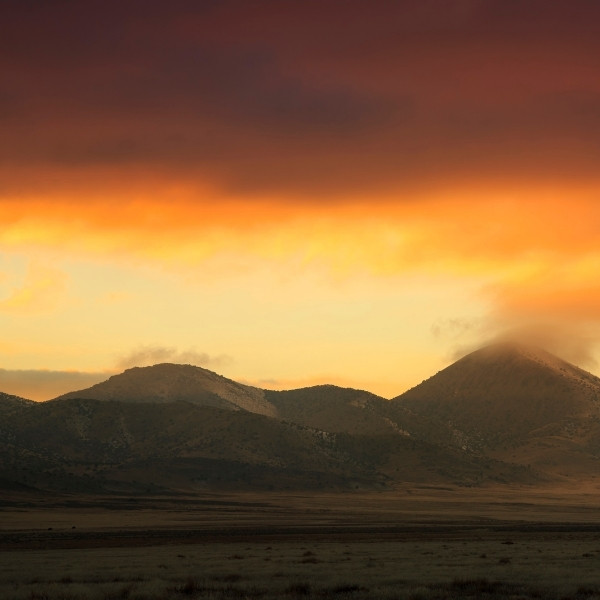 If driving on scenic roads and having access to stops with amazing views is your thing, then the Utah Valley Overlook is where you'll get that.
Again it is off the Nebo Scenic Byway and hard to miss. The parking isn't large, but you should be able to find a stop on most days.
Besides having an awesome look to the western side of Utah, this place is also great to check out the sunset at.
Another thing to note is that there are 2 other overlooks very close to this one:
Beaver Dam Overlook (north).
Santaquin Overlook (further south).
The provide similar views, but the Utah Valley Overlook is the main attraction here. There are also hiking trails nearby.
6) Hike to Mount Nebo: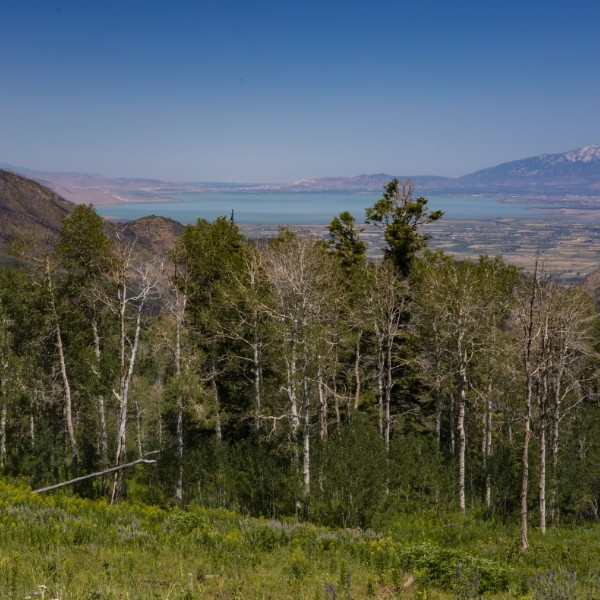 This is arguably the most famous hiking trail in the entire Nebo Scenic Byway for obvious reasons (since the name is in the trail), but the main thing to know is that this is considered one of the most scenic and best trails in the entire drive you do here.
But at the same time, it is also considered very difficult at around 10 miles or more (a long hike).
There is a lot of incline, loose rocks but also beautiful summit/ridge walks with excellent views of the mountains/region and of course a great place to see sunsets at.
If you do this trail, I would only suggest it if you are experienced and carry a lot of necessary supplies (especially water).
This isn't easy so bring trekking poles and know that there are also a few peaks to cross (in addition to Mount Nebo).
7) Check out the Mount Nebo Overlook:
If the Mount Nebo hike is not something you want to do (or have time for), then the next best alternative is the Mount Nebo overlook which is also off the road.
Like the Utah Valley Overlook further north of it, this is a great spot to enjoy the views of the mountains and sunsets in the area.
The Mount Nebo Overlook is only 5 minutes south from the Mount Nebo trailhead.
Depending on which time of year you reach this overlook, it may be cloudy or clear.
Typically most days are clear in this region, but there are periods, like early spring where there is rain and sometimes cloudy days.
Either way, this is an easy to find area that is worth taking at least 10 minutes to stop at.
8) See Devils Kitchen Overlook:
Devils Kitchen is a beautiful overlook area with red rocks and other incredible sights.
In fact, when you look up Nebo Scenic Byway, you will likely see a picture of this place and this is where you'll find it on the drive.
Hiking trails are available nearby (Summit Trail) and there is also another overlook area shortly south of that called Salt Creek Overlook.
If you enjoy red rocks mixed with beautiful other colors, this is where you'll see it.
Normally this type of scenery is more commonly seen further south of Utah, when you get into the Moab area of the state, but here you can see it and likely see less people there as well.
There are some parts of this area which look a lot like the type of terrain you see in Bryce Canyon National Park.
9) Stop at Salt Creek Overlook:
While this is another famous overlook and very close to the Devils Kitchen Overlook, the appeal here is that this faces east while Devils Kitchen faces west.
Just as well, there are incredible views in this overlook that are actually different than the ones mentioned before. The main appeal of this overlook area is that in the distance you will see many mountains like before, but this area also has a lot more red rock areas, so the nature is all mixed together in the distance, making for a variety of amazing nature colors.
I can only imagine how incredible this specific area is during the autumn when all the year's colors are mixed together with yellow and red leaves!
10) Finish with the Nebo Bench trail: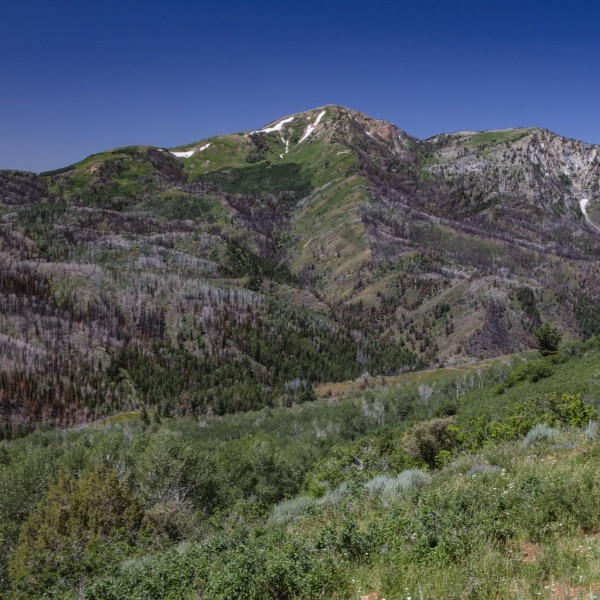 This trail is near the southern end of the Nebo Scenic Byway and actually has access to Mount Nebo, but from the southern ends (you will just take a different trail to reach it).
The main trail is about 15+ miles in and out, very difficult but the appeal is that there is a beautiful river walk, a nice waterfall to explore called Salt Canyon Trail Falls.
Reading the reviews for this trail, there are common things you will see such as:
It's very difficult (so be ready).
It's absolutely gorgeous (that is almost unanimous).
It's difficult to track (bad trail markers) so be ready and know how to avoid

getting lost in the woods

.
I would recommend this trail only for experienced/physically fit individuals. But it is worth the exploration.
Questions about Nebo Loop Scenic Byway:
How long does it take to do the Nebo Loop?
If you don't make any stops, it usually takes 1-2 hours to drive the Nebo Loop but with stops, it can be a whole day in most cases.
Is Nebo Loop Scenic Byway open?
Yes the Nebo Loop Scenic Byway is open all year, except during the winter season.
Where do you start the Nebo Loop?
You can start the Nebo loop either near the town of Nephi (southern end) or by Provo (northern end).
Is the Nebo Loop paved?
Yes the entire Nebo Loop road is paved, but there are side roads to campsites and trails which are not.
Places to see outside the Nebo Loop Scenic byway:
Depending on which side of the Nebo Loop you finish, there is a lot to see in the rest of the state and here are some suggestions:
1) The Mighty 5 National Parks of Utah. You can't go wrong with this exploration!
2) The best state parks in Utah. There are a ton of amazing parks to explore across Utah that are not part of the NP areas too.
3) The closest park near the Nebo Loop is Arches National Park, highly recommended!
4) If you like the Nebo Loop Scenic drive, then I am certain you will possibly enjoy the many other scenic drives in Utah even more.
5) Moab, the closest town near the Nebo Loop worth exploring for hikes (and national parks like Canyonlands National Park).