17 Incredible Bryce Canyon National Park Photos
Whether or not this is your first time seeing Bryce Canyon National Park photos or hearing about this place, the bottom line is that it's one of the most beautiful locations in Utah and the pictures in this post will be showing you proof of that.
In addition to that, I'll also be providing a further guide to another post I wrote about things to do in this park so you can actually visit these places vs just looking at and enjoying these Bryce Canyon photos. Most of these were taken throughout the main hike in the park known as the Navajo Loop trail and I've explored this park 2 times, once during fall and one time during winter and the pictures below are documented from both those visits.
Here's the first of many Bryce Canyon National Park photos:
Photo details:
The above photo was taken while I was hiking the Navajo Loop Trail which happens to be the most famous hike in Bryce Canyon National Park. This particular photo shows you a beautiful rocky landscape with a tunnel in the middle which the trail does go through. Because this is a loop trail, you can go through this tunnel 2 different ways and get amazing pictures from either angle.
Here's another Bryce Canyon photo of the same area, but in winter:
Photo details:
Obviously this is the exact same spot as the other Bryce Canyon photo above but as you can see, during winter the colors of the rocks do seem very different and that's something you'll also notice if you visit this park in the winter. But I can also tell you that the entire park looks entirely different every other season which is why I do recommend visiting it more than once and during different months. Typically December through February is when you will see a lot of snow in this park, whereas any other months you will usually get views like from the first photo above.
Next we have a photo of Bryce Canyon National Park from the top: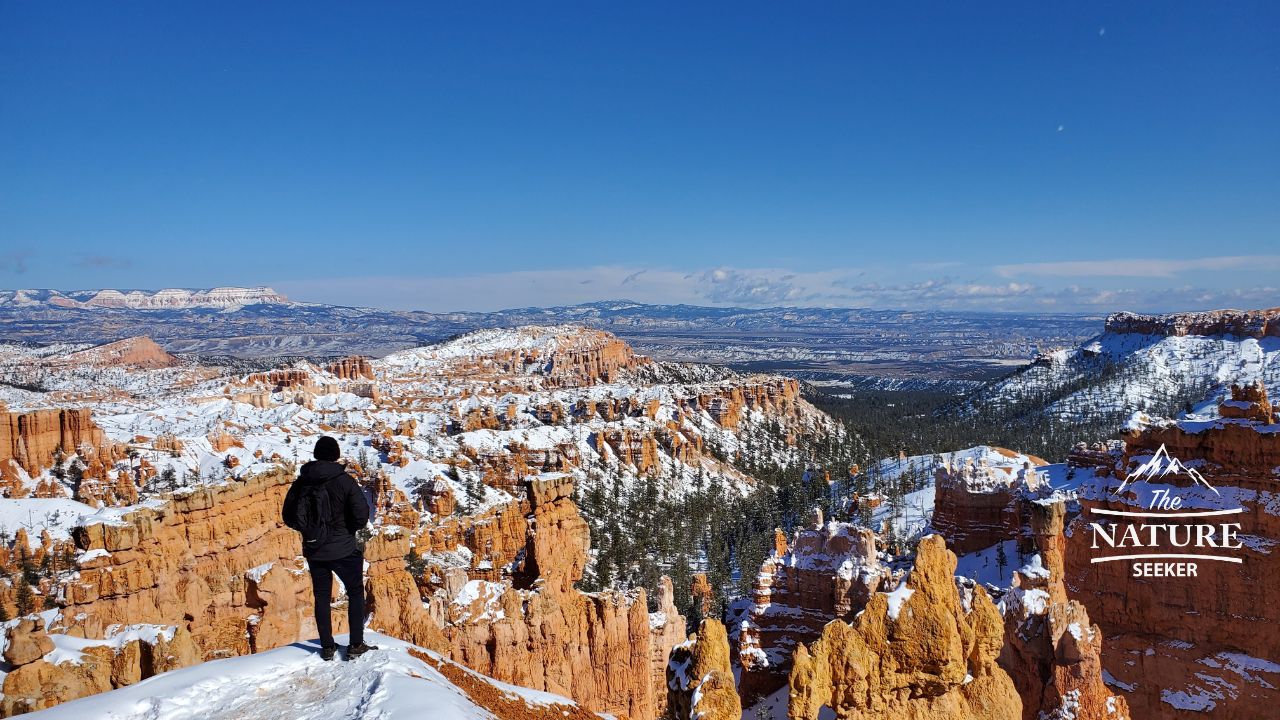 Photo details:
Here's a great example of how much snow can envelop Bryce Canyon National Park and in this photo you can see me standing at a very high point of the canyon looking into it. The hiking spots from the 2 earlier pictures are actually located deep in that same canyon but once you're done with the loop trail, you will come back out to the top of the park to exit out of there.
You may also notice similar looking mountains to the left of this overlook. That's actually from a sight that looks like Bryce Canyon and it's called Cedar Breaks National Monument (also a highly recommended place to see).
I will also say that when it's winter time here, it's strongly recommended to wear very warm hiking clothes as the snow mixes with the dirt in the park, making it slippery and often muddy. Other than a very warm winter jacket (in the photo above I was wearing the REI Co Op Stormhenge 850 Down Jacket), 2 other things I recommend for hiking here would be hiking shoes and very reliable waterproof socks. In my case, I used the Salomon Speedcross hiking shoes and the Randy Sun waterproof socks.
Onto the next Bryce Canyon photo:
Photo details:
This picture was taken not far from the above overlook I showed you earlier. This particular area of Bryce Canyon gives you closer access to the canyon walls and there is another trail located further below this. Unfortunately in the 2 times I've come to this place, that trail has been closed and I honestly don't know which area of the park it goes to. Never the less this scenic spot is also a great place to visit in the park.
Next is a photo from the start of the main trail in Bryce Canyon:
Photo details:
This is where you can start on the main loop trail. You will notice there is a warning sign about loose rocks and how good hiking boots are recommended. I will say that this part of the trail was very slippery and not just during the winter photo above but also in November when I visited this park. While there was no snow throughout Bryce Canyon then, there were actually a bunch of icy areas so no matter when you go to this park, make sure to have decent hiking shoes at least. 
Here's another photo taken close to the trailhead: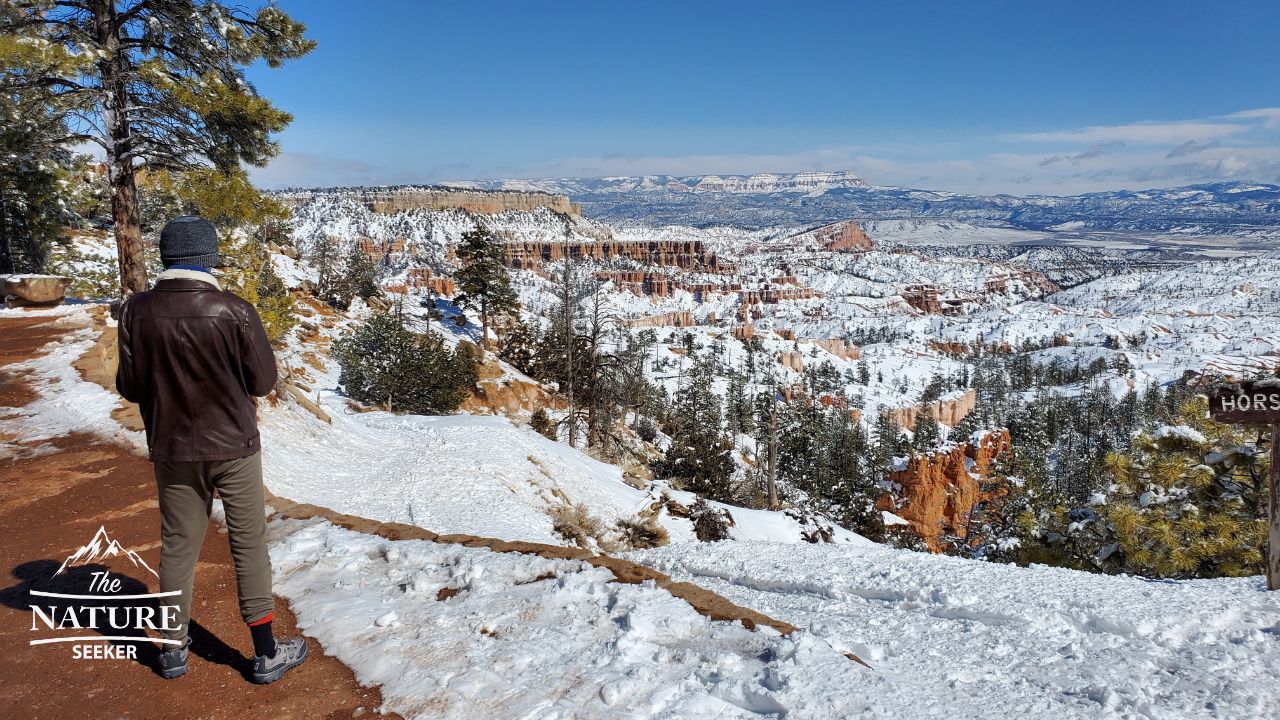 Photo details:
This photo of Bryce Canyon was actually taken once we finished the loop trail and it just so happens that the above photo from earlier (the start of that trail) is only 100-200 feet away. This provides a different angle and overlook of the park and you may also notice an example of the waterproof socks my friend was wearing. Those were actually a different brand (the Showers Pass waterproof socks).
One more important thing to know is that if you don't want to get in the snow or wet, you will have a better chance of that at the top of the park as it's much better maintained there. The deeper you go into Bryce Canyon, the less tidy the trail will get.
Next we have a photo of Bryce Canyon from the bottom area:
Photo details:
This area is connected to the main trail. Once you get to the very bottom of the park, the loop will turn to have you hike back to the starting point and this photo was taken from that section of the trail. As you can see, there are a bunch of trees located within this area and the trail itself is very easy to walk on as well. 
Here's are 2 Bryce Canyon National Park photos showcasing the different looks each season:
Photo details:
So because I explored this park 2 times, I was able to take a lot of the same photos and in the same spots as from before, so it was nice to compare how different the same trail and areas of Bryce Canyon look during different seasons. This specific photo shows you a section of the main trail that's often seen on social media and this is where you basically hike up a lot of switch backs. Although one of the photos shows this area covered in snow, you can still hike through it during that time (another tool that will help with that are trekking poles).
Here's 2 more Bryce Canyon photos of the bottom area of the park: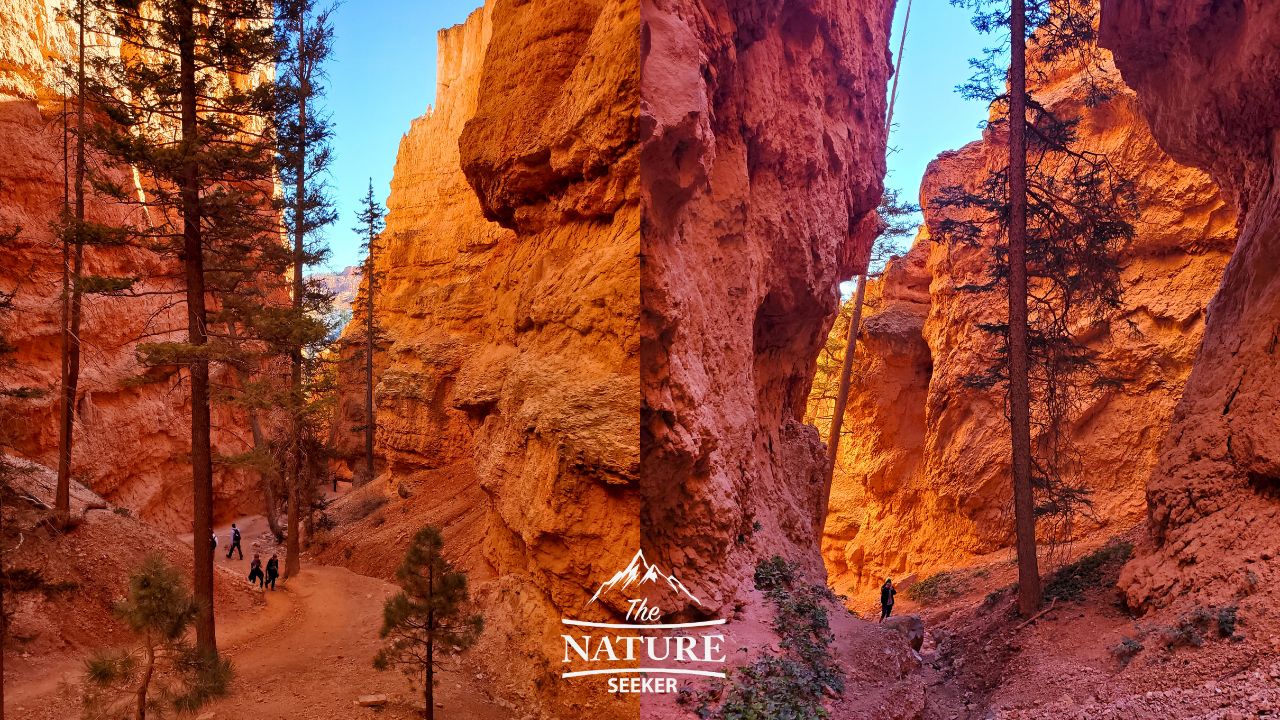 Photo details:
The lighting in these photos is one of the reasons why they are 2 of my favorites. Here I'm actually showing a repeat photo on the left which you saw earlier, but now it's zoomed out so you can see a much bigger view of the canyon. The photo to the right however was taken close to where the left photo was and it showcases a person standing underneath the canyon looking up. The beauty there in my opinion is the lighting of the canyon and the scale of it compared to the person.
And here's another 2 Bryce Canyon photos of the exit/entrance into the switch back trail:
Photo details:
Following up on the previous 2 photos of the switch back trail, this is what it looks like when you reach the top area. In my case, I was exiting the area and finishing up the loop trail, but depending on which direction you take to do this loop, you may be entering it here and then going backwards to finish up.
Here's another photogenic spot in the park:
Photo details:
So this photo was taken close to the tunnel I showed you earlier. This illustrates how many great Bryce Canyon photos you can take by just turning around throughout your hike here and seeing completely different angles of the views in the park. The 2 people in that photo are my uncle and his friend. You may also notice some Hoodoos. These are basically balanced rocks throughout the park and this is one of the reasons Bryce Canyon is so famous for it (there are actually many other hikes throughout Utah which have them include the Toadstool Hoodoos Trail).
Here's more Bryce Canyon photos of my favorite area in the park: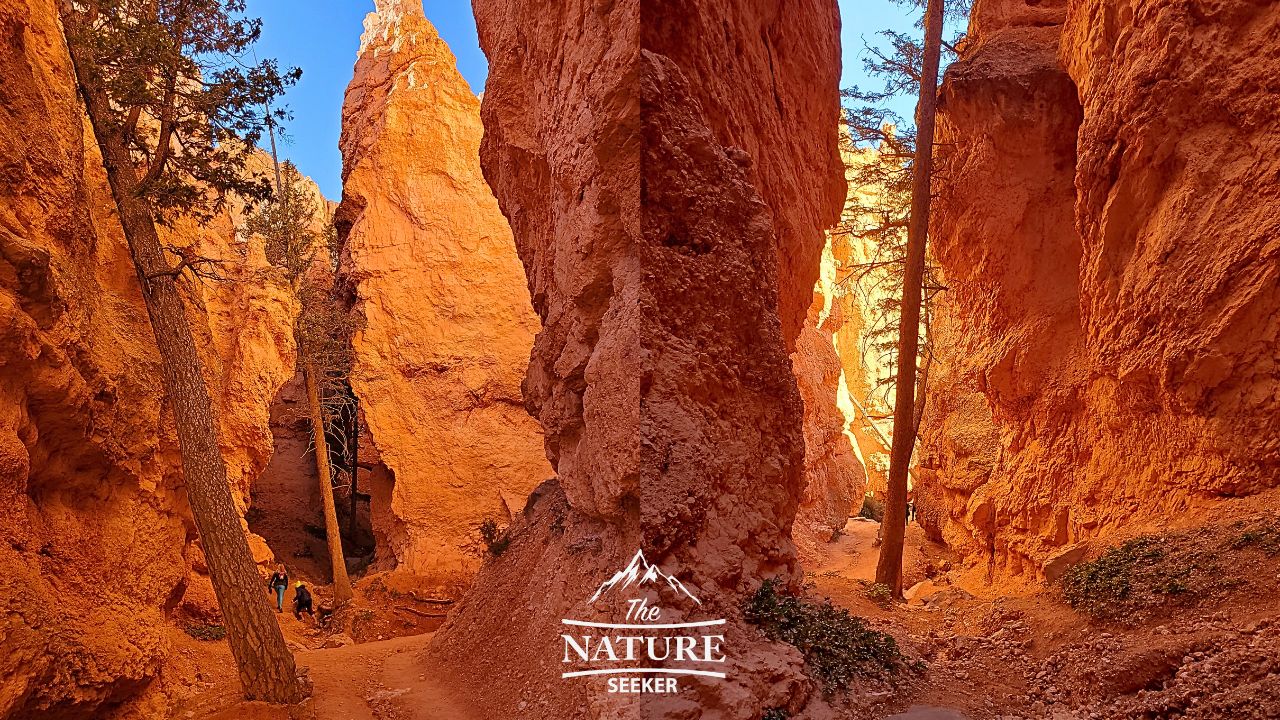 Photo details:
You may recognize this area of the park from the earlier photos but it's the bottom area again, this time from a different angle. I do believe the timing of these photos was very important because the sun was shining around mid day for this effect to show. In my honest opinion, the angle of the sun makes any photos of Bryce Canyon National Park that you take that much better (well at least in the deep canyon area).
Here's another photo of Hoodoos in the park:
Photo details:
For starters, notice the hoodoo rock in the middle of the photo and it's shadow on the canyon wall. Right above that shadow you may also notice 3 more hoodoos connected to each other. There are tons of these throughout the park, but I personally found these 4 to be some of the most amazing. Overall there are tons of these attractions and things to do in Bryce Canyon National Park overall and I hope these photos really showcased what I said earlier about how incredible this park is!
At the same time I want you to know that this is only 1 of many incredible parks in Utah (5 national ones called the Mighty 5 and plenty of other none national ones worth exploring) and one of the most popular things people do is check out all the national parks in this state and I do provide a Mighty 5 road trip itinerary so you can see them.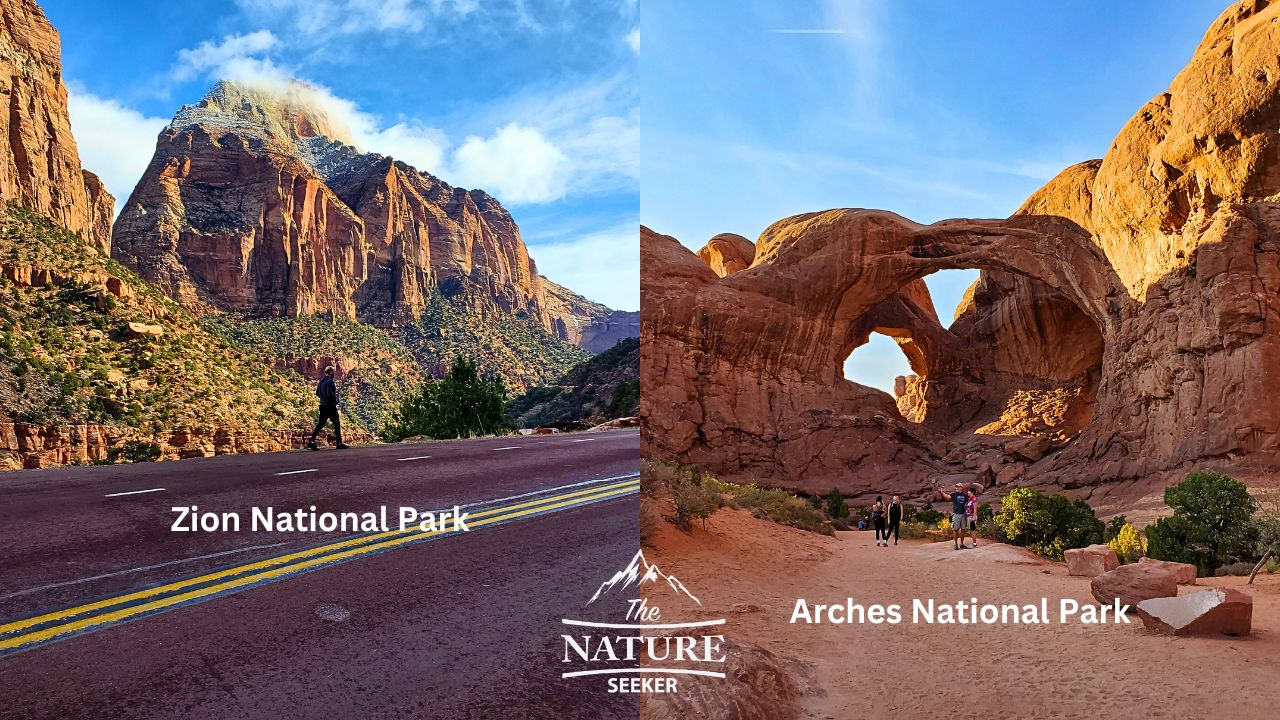 There are other parks I'll add photo links to in the future as well, but you will notice how completely different all of these parks are compared to Bryce Canyon!