I know there's countless Zion National Park photos you can find out there, but in this post I want to show you 13 of my top ones as well as the location details of every single one, so if you see one or more images here that make you want to visit that specific area, you'll know exactly where to go to find that spot.
Most of the time people who share photos of Zion National Park or any other amazing place out there typically leave out the location details of how to get there. While I understand that some places need to respected for secrecy, with this place in particular every single photo I'll be sharing is of a popular location within it.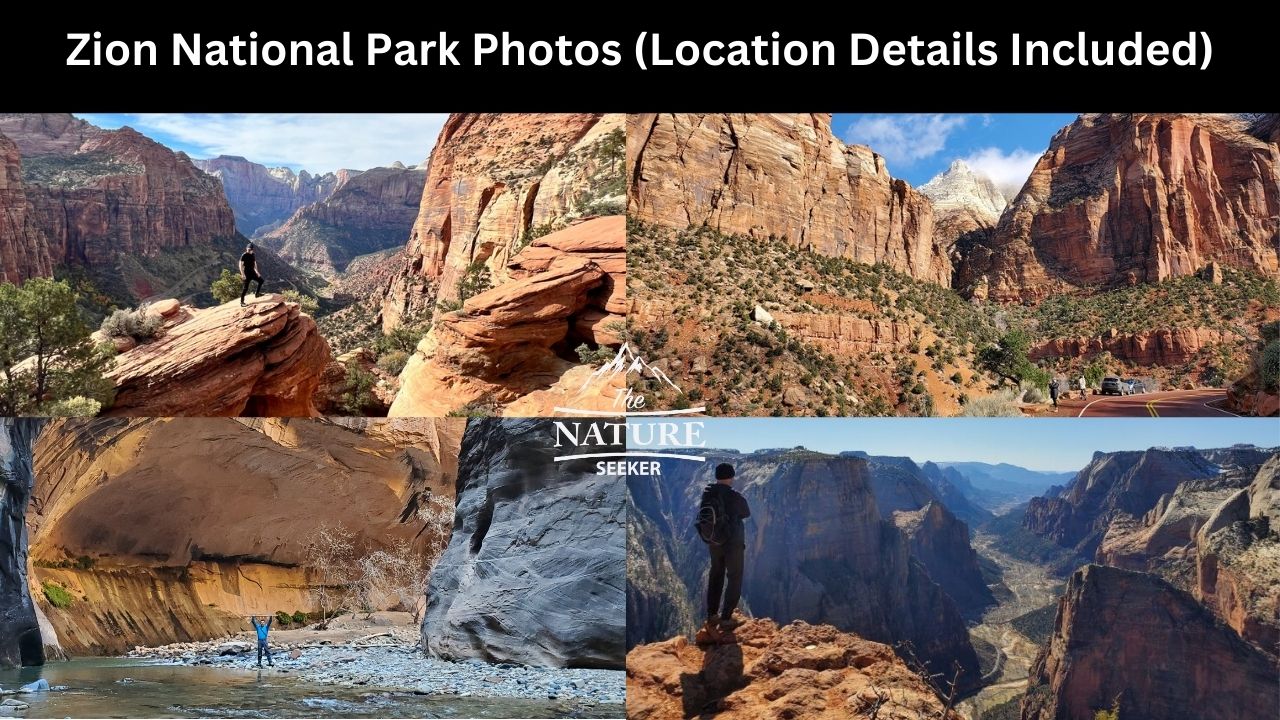 1) Here's one of my top Zion National Park photos: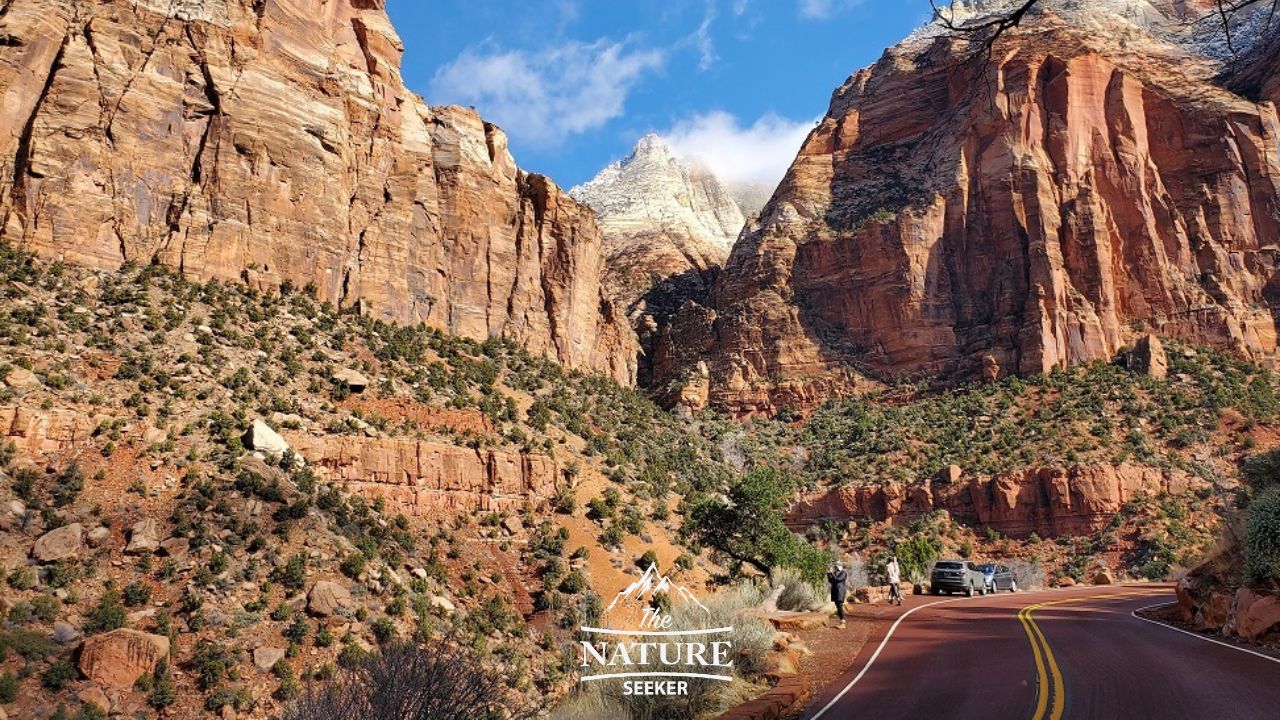 Location info:
This spot is located on Road 9 in Zion National Park, specifically the serpentine section of it that is close to the western entrance to the park.
Details on the spot:
This spot, among many others is easy to find because you will be driving slowly on this road and there will be parking areas throughout the serpentine drive as you can see in the photo above where you can stop to take these kinds of amazing photos. I didn't use any incredible camera for this, other than my S10+ smartphone at the time. This photo was also taken around February which is one of the best times to visit this park due to low crowds and the fact that the Zion National Park weather during this time is very pleasant in my opinion.
2) Zion-Mount Carmel Tunnel photo: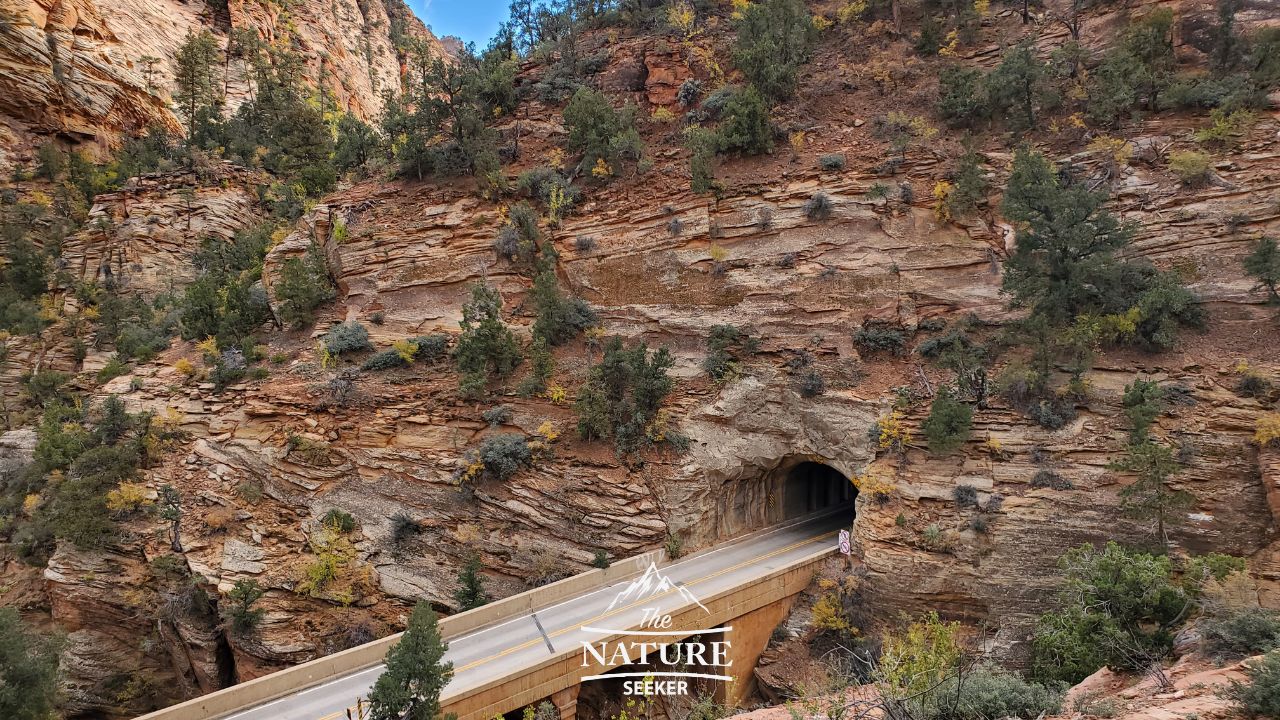 Location info:
This tunnel is right on Road 9 past the serpentine section of it (if you're coming in from the west). It's a very long tunnel with no lighting but there are carved out openings throughout that tunnel which allow you to briefly see beautiful but very limited views of the park.
Details on the spot:
While you can't stop your car when going through Zion Mount Carmel tunnel, you can get decent views of it from it's eastern side after you pass it as there is a parking area and hiking trail right by that give you a decent view of it and that's where the photo above was taken (on the hike).
3) Canyon Overlook of Zion National Park photo: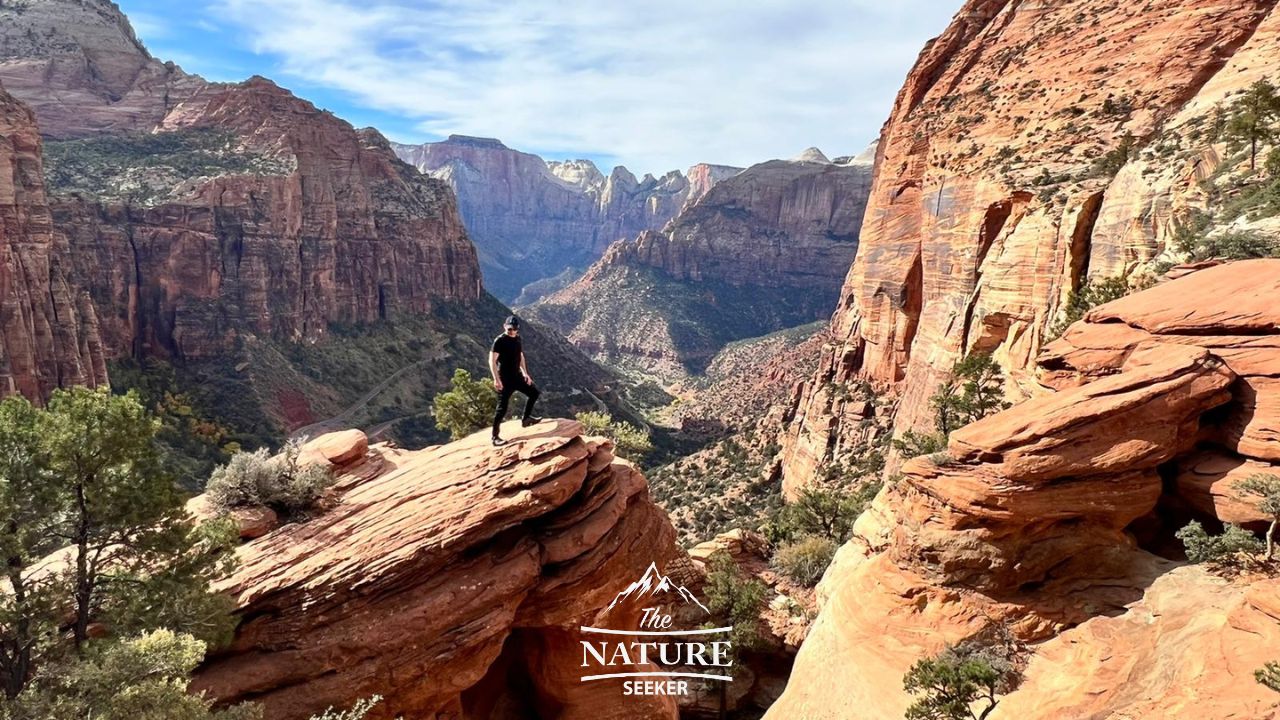 Location info:
The Canyon Overlook trail is located right after you pass through Mount Carmel Tunnel (eastern exit). There is a limited parking space there but a longer overflow parking shortly after that's available.
Details on the spot:
Canyon Overlook is one of the easiest trails to one of the best overlooks in the entire park. It's about 1/4 mile from the parking area to get to the overlook and there is a bit of an elevation gain (about 200) feet, but the views from there are incredible. I personally prefer coming to this area either early in the morning, around the afternoon for the most bright views of the canyon or right after sunset as it also illuminates the canyon in a different light.
4) Observation Point: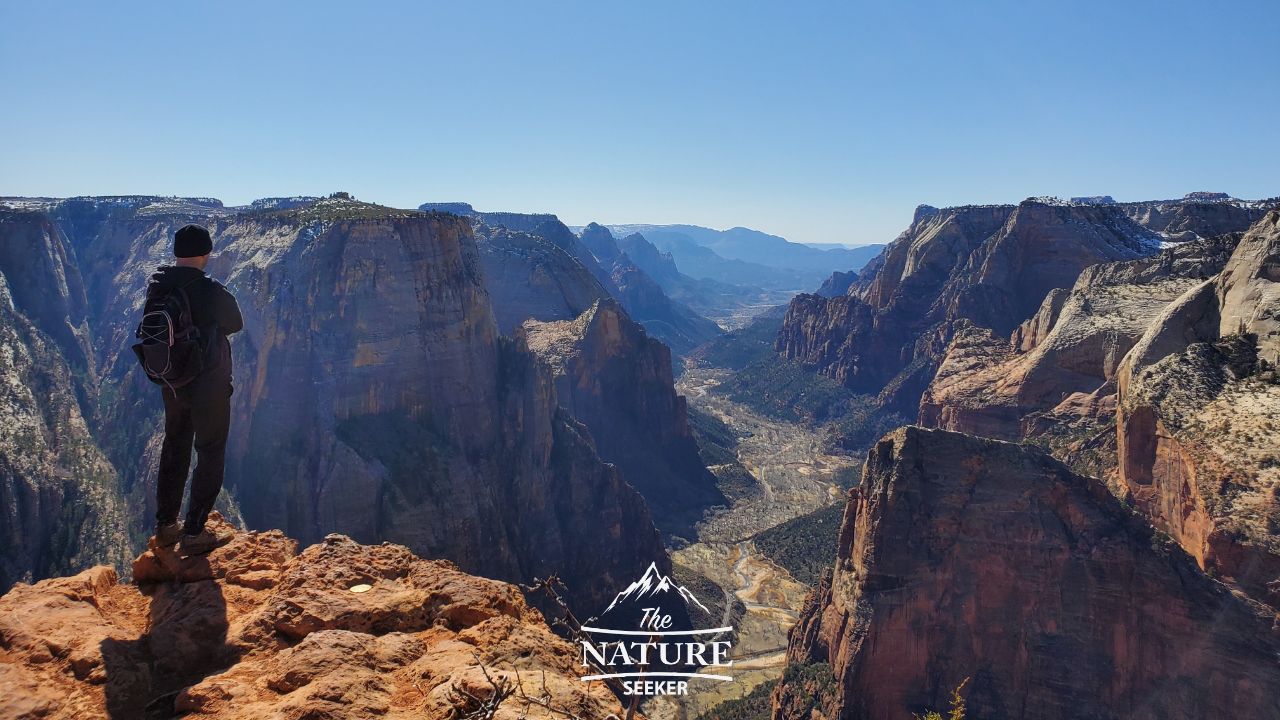 Location info:
Observation Point is basically located in the center of the park.
Details on the spot:
Observation Point is another photogenic overlook in Zion but it's located in a completely different area than the previous photo you saw of Canyon Overlook. While Canyon Overlook provides an incredible view of the west canyons of Zion, Observation Point provides an incredible view of the northern canyon area of the park. The only problem is that getting there now requires you to take an alternate route that starts outside the eastern entrance of Zion.
It's a bit tricky to reach and the reason why is because there used to be an easy to access trailhead with a moderate hike to get there, but because of a rock fall it's been closed down. However there is another trail that goes there too and I've included a link to that hike above so you can find it. It's less strenuous than the original trail that goes there, just harder to find and drive to because it is on dirt roads.
5) The Narrows: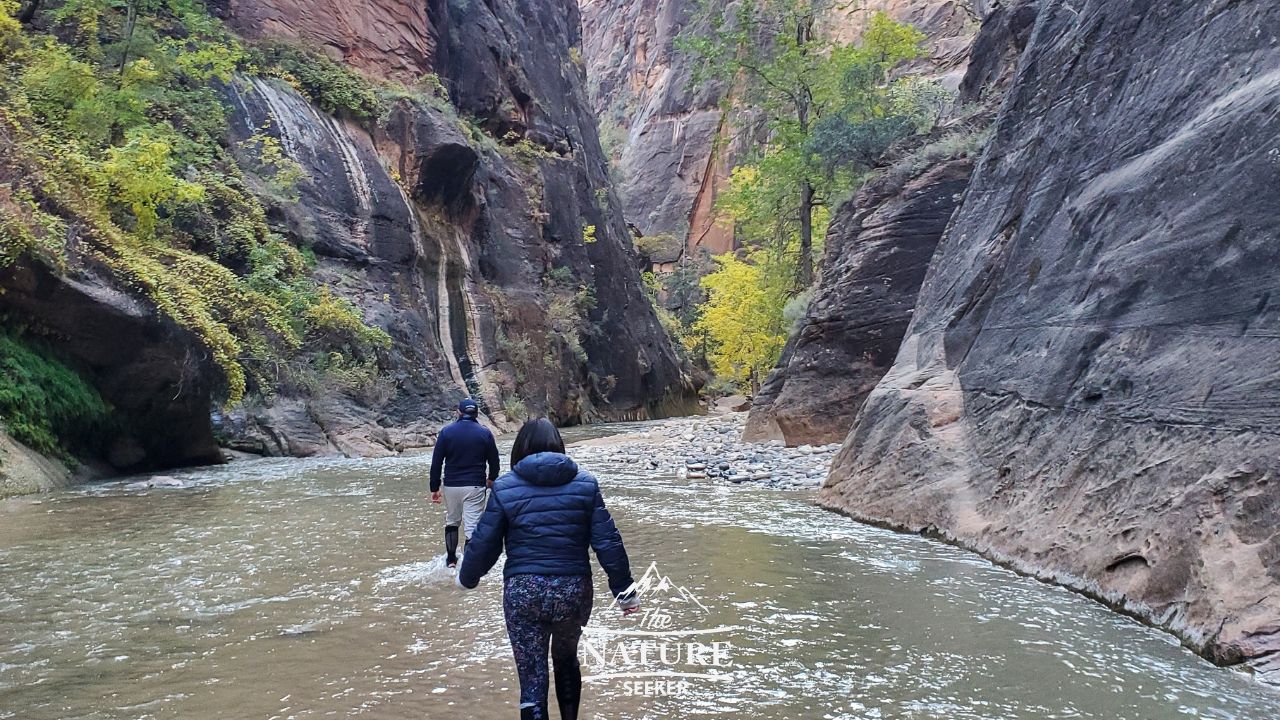 Location info:
The Narrows trail is typically accessed from driving on Zion Canyon Road all the way to it's end that's located in the northern section of the park. From there, you will find a short walkway to the start of the Narrows hike.
Details on the spot:
The Narrows hike is probably the most famous hike in the park and there's miles of photogenic canyons and waterfalls to check out. There is a guide for hiking the Narrows for beginners I wrote up on how to do it. I've personally done this hike a few times, but not to it's very end and there are important timings on when it's best to come here.
The photo above was taken at the very beginning of this trail. I was checking the area out in November with a few other people and this is why you'll notice that we were very dressed up. We couldn't do the full hike due to the timing and cold conditions but we were able to walk a bit into the canyon thanks to wearing some decent waterproof socks.
6) More photos of the Narrows of Zion:
Location info:
Same exact Narrows area, just a bit deeper into the canyon than the previous one.
Details on the spot:
The above photo was taken on a separate trip I did to Zion and the Narrows hike. It's also around the same beginning area of the hike where you pass by a beautiful waterfall (you may notice it on the right side). This was around February and it was much colder then, but I was able to hike way further into the Narrows and even areas where it was chest deep thanks to wearing dry suits I rented outside the park (past the western entrance). During this hike, I actually came back from the hike when it was dark and I'll warn you right now, if you happen to also finish the hike around the same time, bring flashlights because while there are bathrooms and a parking lot by the Narrows, there are no lights there.
7) Here's a photo of Zion National Park during fall foliage:
Location info:
This trail you see is actually the same walkway that leads you to the Narrows hike. It was taken during my November trip here which coincidentally turned out to be one of the best times to see fall foliage in Zion National Park.
Details on the spot:
The following walkway above is about 1/2 miles long. When you drive on Zion Canyon Road to get to the Narrows, you will first park your car at the end of that road, then walk on this walkway you see above. That walkway will end after 1/2 miles and that's when you will be able to get on the Narrows trail. There are also areas close to the walkway where you can walk on a beach and just enjoy the views of the canyon and Virgin River.
8) More photos of Zion National Park during autumn:
Location info:
Same exact walkway from earlier (the one that leads to the Narrows).
Details on the spot:
I'm continuing to show photos of fall foliage in Zion National Park because (at least to me) I was amazed at how beautiful the park is and the fact that it even has fall foliage. Again, you'd want to come here during November to see it but you would also be able to get great views of it in the lower areas of the park vs the upper ones.
9) Here's a photo of Checkerboard Mesa: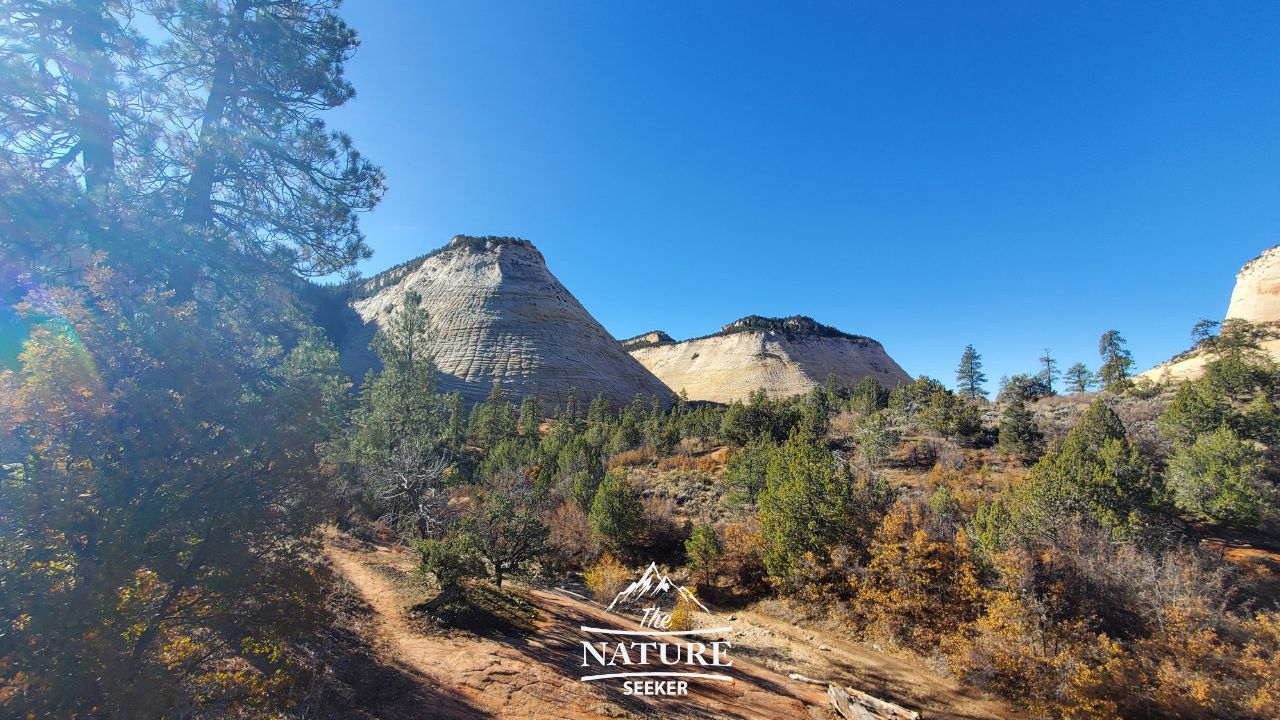 Location info:
There's an viewing area near the eastern entrance of Zion National Park to an overlook of Checkerboard Mesa (on road 9).
Details on the spot:
Checkerboard Mesa are 2 mountains in Zion National Park that have a square like outline around them (like a Checkerboard). You can see this spot from either driving on Road 9, and/or stopping by the overlook right by it which is where I took the photo from. I'm not sure if you can hike around that spot, but this isn't the only mountain in Zion National Park with that type of look, there are others but the Checkerboard Mesa is the easiest one to see.
10) Zion Canyon scenic drive photo: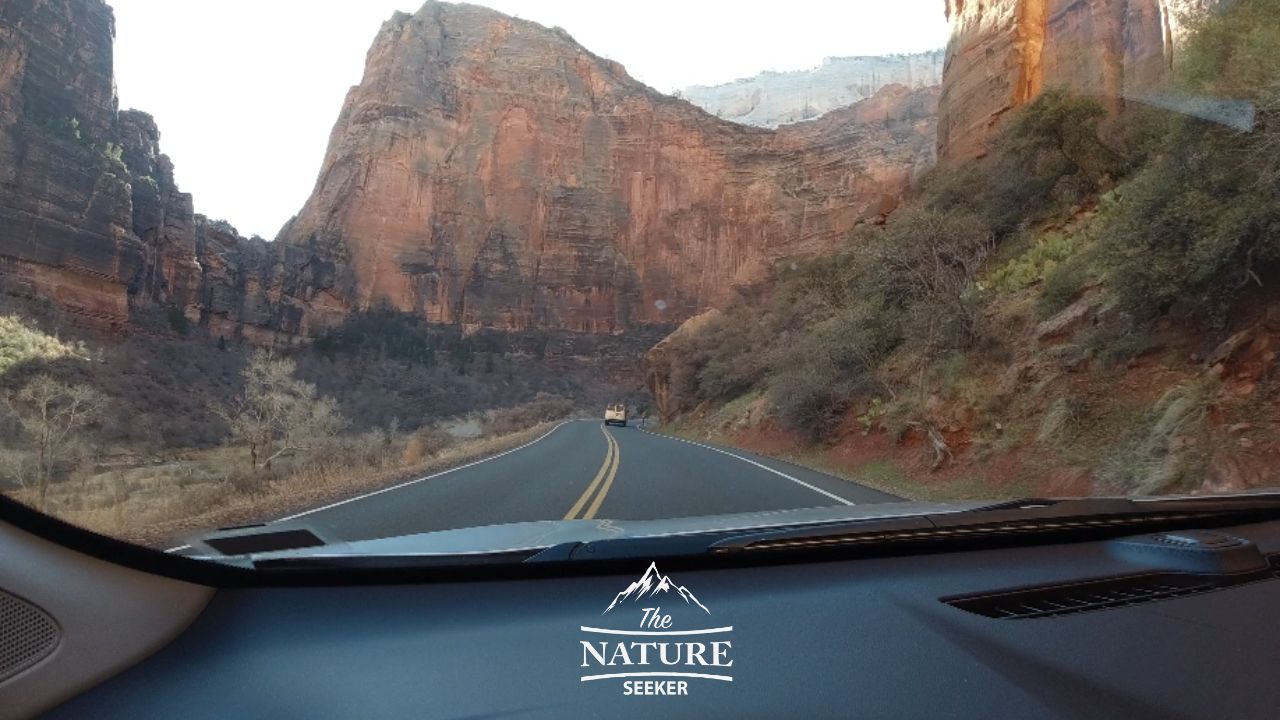 Location info:
The Canyon scenic drive is located close to the western entrance of the park. You'll start on Road 9 but right before the serpentine road begins, there will be a turn to access the Canyon drive.
Details on the spot:
Although I haven't taken the best photos of this area of Zion I can tell you that this drive is also as good as the Road 9 one and I highly recommend it, not just for the experiences but also because this is where you will find access to the Narrows, and other popular hikes like Angels Landing. The following photo was taken during my first trip to Zion.
11) Angels Landing via the West Rim Trail photo:
Location info:
You'll start on the trailhead to Angels Landing and about 1/2 a mile in will reach the amazing viewpoint. It's of the same northern canyon area you see from Observation Point but just on a much lower elevation.
Details on the spot:
Although this was also not one of my best Zion National Park photos (I will update it on the next visit), what I can tell you is that this overlook and trail leads to one of the most amazing and scary hikes in the park, and that is Angels Landing. This section of the hike is still the scenic and easy part, but then it does rise a lot in elevation before reaching the last part which is a narrow mountain walk to the top of Angels Landing (the scary area).
I currently do not have good photos of Angels Landing itself, nor another popular hike in the park known as the Subway Trail, but I will be updating this article in the future when I finally finish those hikes.
12) More photos from inside the Narrows trail:
Location info:
This section of the Narrows trail is also very close to the starting point (about 500 feet in).
Details on the spot:
Earlier I mentioned the waterfalls of the Narrows and one of the most famous is the one you see above. I don't know it's name but it gently cascades from the top of the canyon into the Virgin River. This is one of my favorite photos of Zion National Park but one thing it doesn't show is how huge the canyon walls are. There are rare times throughout the Narrows hike where you will be able to see how far up the canyon goes but this area is one of those spots.
13) A photo of what the Narrows looks like several miles into the trail: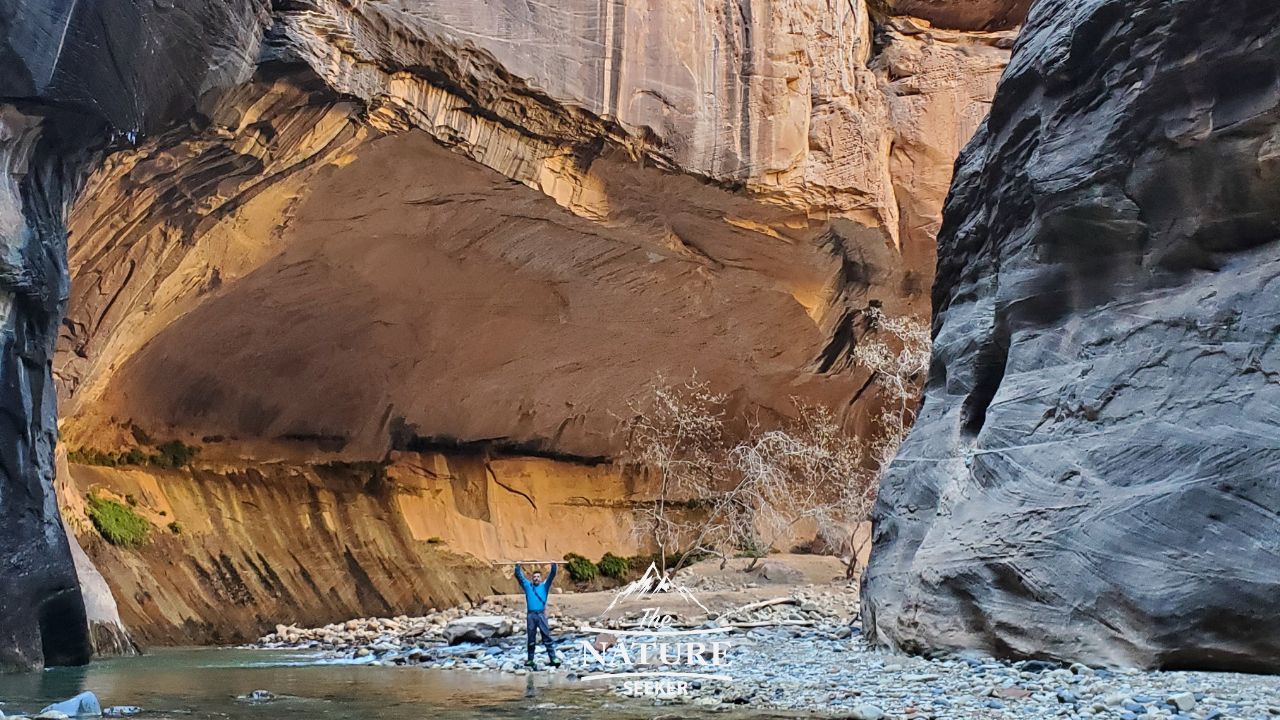 Location info:
About 2 miles into the Narrows trail is when you'll come across this part of it.
Details on the spot:
The views in the Narrows really change up as you go deeper into the canyon and while there's many more trees when you start on the trail, it becomes far more watery and rocky the further you go. As I also said earlier, there will be many parts of this specific hike where you will have to get your feet wet or perhaps even go deeper into the water (waist and even chest deep areas depending on the season). One more thing to note in that photo is that it's of a friend of mine who went with me to this place, and you can see him wearing that dry suit I was walking about earlier which kept us safe from the freezing water and cold temperatures that day in the park.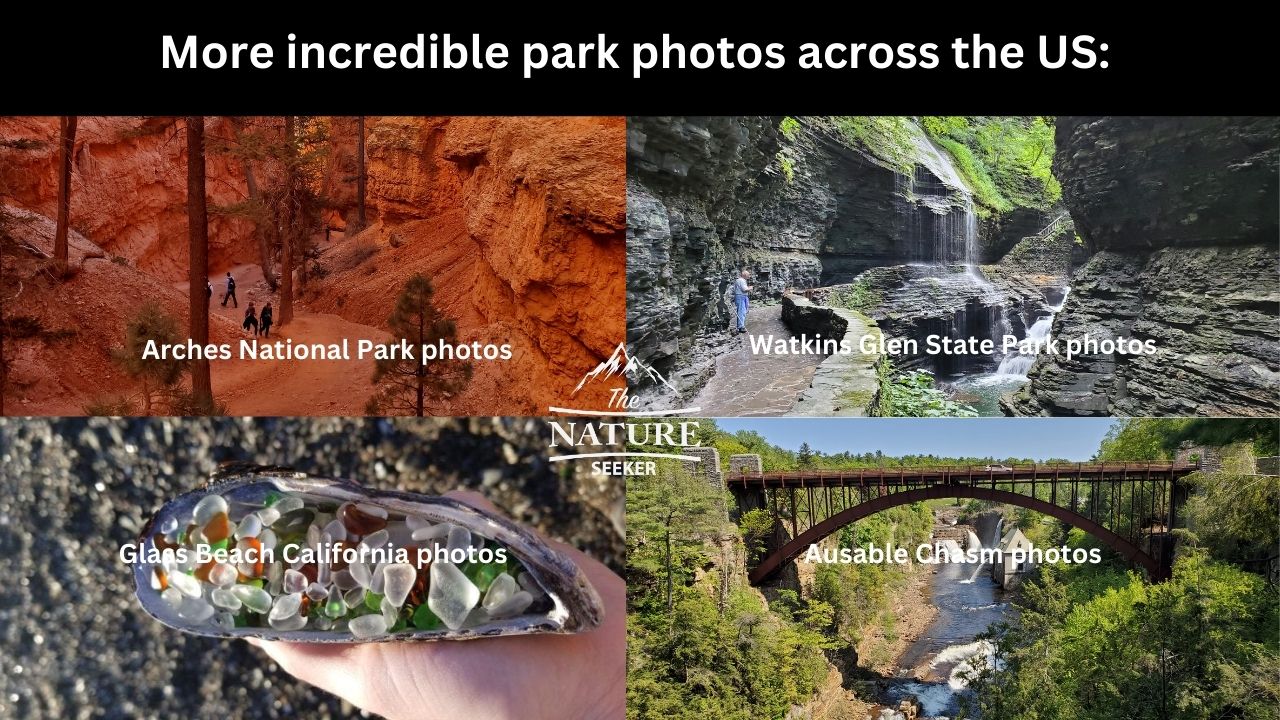 As I mentioned earlier I will be adding many more photos of Zion National Park as I come back to it but I hope that this post and it's photos help you have an amazing time here and even if you don't plan on going, that you at least enjoyed them.