Oneonta Gorge is one of the most sought after hikes in all of Oregon (for good reason), and yet it is also one of the most often closed off hiking trails due to a fire that occurred years ago (Eagle Creek Fire).
Over the past 3 years I've been trying to hike the famous Oneonta Gorge trail (on 4 occasions), only to constantly be stopped at the trailhead by "closed" signs over and over.
The last time this happened was in mid February of 2022, and since then, the gorge trail has reopened but considering how many times it's closed over the years, I would never be too comfortable coming here and expecting that to always be the case. And so, the last time I went here, I took an alternative route that I'll be sharing with you today that I would recommend as a plan B should you also find yourself in the same situation I have. Here are the details:
Quick info on the alternative trail at Oneonta Gorge: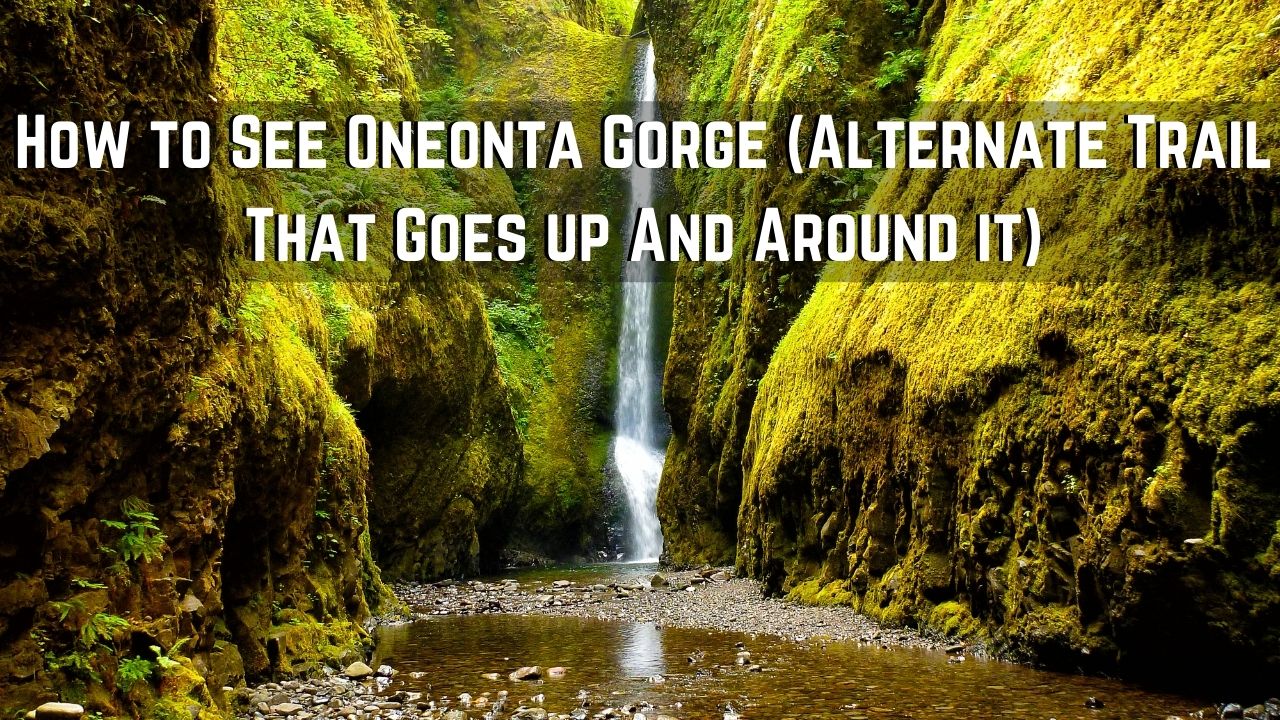 Full name of the trail: Oneonta Trail and Gorge trail.
Hiking distance: About 2.5 miles (loop trail).
Where does it start? Oneonta Trailhead or Horsetail Falls trailhead.
Difficulty: Easy to moderate.
Is it dangerous? At times it can be (there are rock falls sometimes).
Rating: 4 out of 5 stars.
Do I recommend this hike? If the official gorge trail is closed, yes.
You will basically walk over the top of Oneonta Gorge, then around it and also see some beautiful sights at Columbia River Gorge, including several amazing waterfalls (at least 4).
Here's how the Oneonta Trail and Gorge trail works: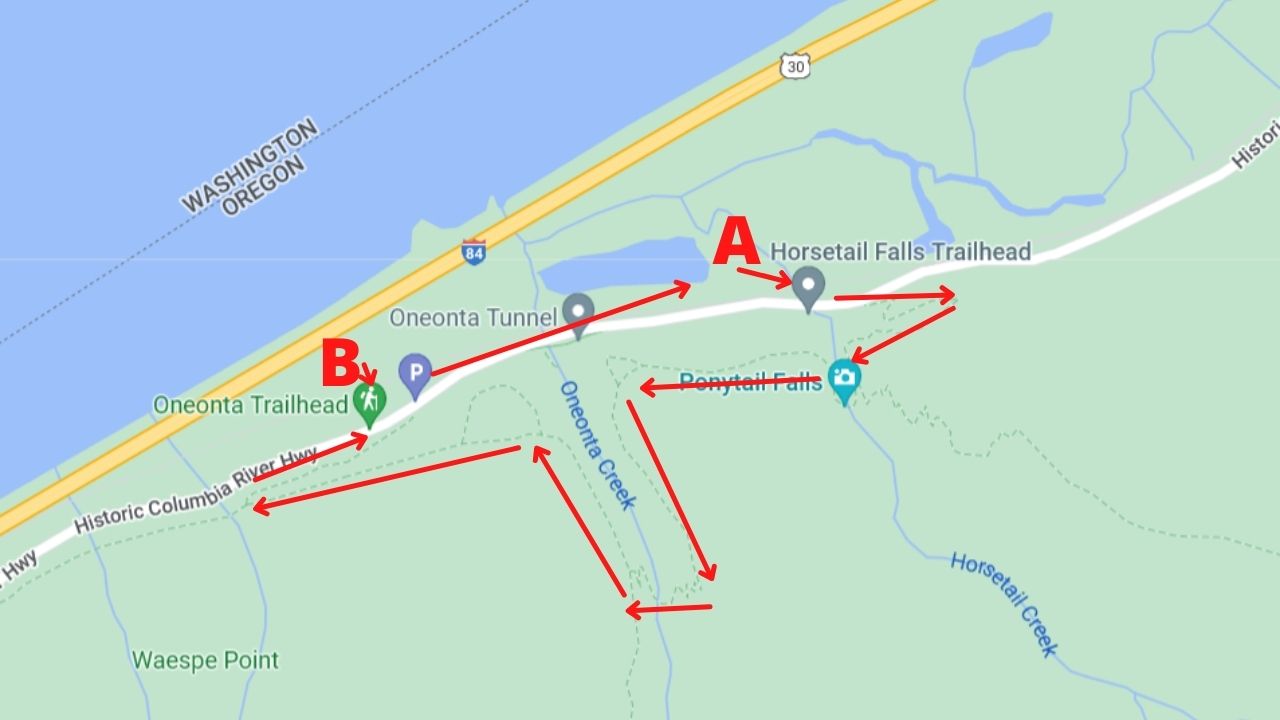 First, I have to clarify the names of the trails. the very famous gorge trail that takes you through a tunnel, then into a canyon and then to a waterfall at the end of it is called Oneonta Gorge trail.
That is the one that is often closed off due to debris falling into the canyon (tree logs, rocks, and even mud slides sometimes).
The alternative trail I'm talking about here is known as Oneonta Trail and Gorge trail, which contrary to the name does NOT take you inside the gorge, but up and around it. It's confusing I know, but you have to know the differences if you're going to do this right. It's a very scenic trail that has a lot to offer.
1) Where the trail starts:
This is a loop trail with 2 points. You can either start at Horsetail Falls trailhead (which is where I began), or you can start at the Oneonta Trailhead which is about 50 feet west of the actual tunnel/parking spot that goes into Oneonta Gorge.
Whichever trail you start at, obviously that is where you'll finish, but you'll have to walk about a 3rd of a mile on the road in any case.
2) What to expect as you begin the trail:
There are several switchbacks you'll have to cross regardless of which point you start at and it around this area that I would advise caution.
In my case, when I was starting at Horsetail Falls, there were several spots I crossed where rocks were falling so just be on the lookout. This is something that is often unavoidable, but keeping this risk in mind will at least be better than nothing.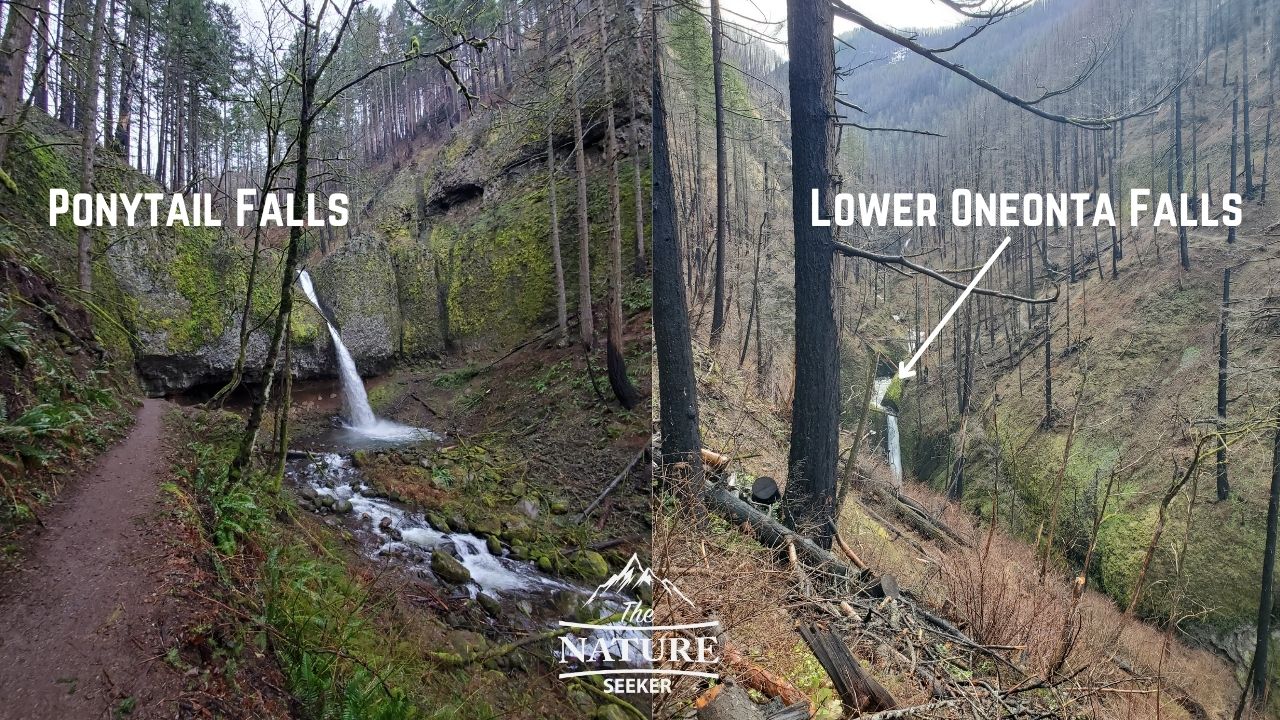 3) When you reach the top of the trail, that's when it gets pretty:
After you finish the switchbacks, you will be presented with the option to walk towards the top of Oneonta Gorge or follow another trail in a different direction. Obviously, you'll want to choose the former option (head towards Oneonta Gorge).
In my case, since I started at Horsetail Falls, once I hiked up the switchbacks, I hiked over Horsetail Falls and that took me to another famous waterfall known as Ponytail Falls. You can walk underneath it and continue the trail from there.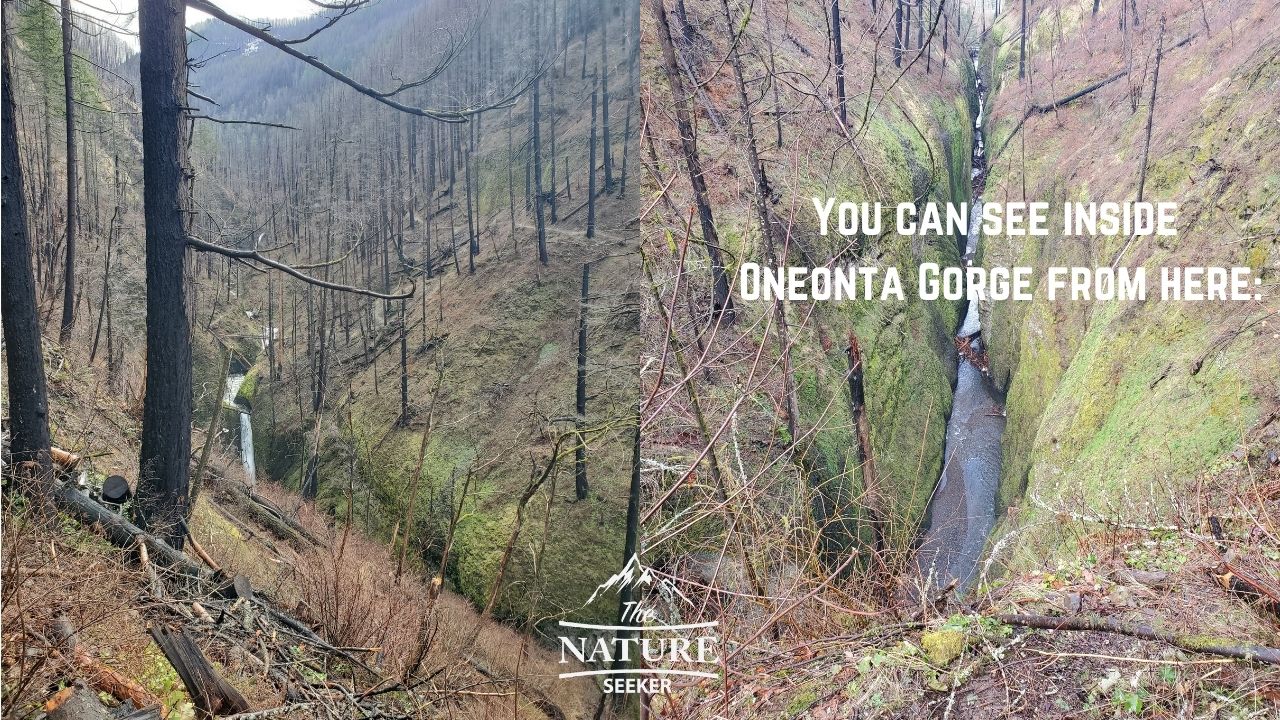 4) Crossing over Oneonta Gorge:
It doesn't take long to reach this spot on the trail and once you do, you will see the famous waterfall known as Lower Oneonta Falls as well as the actual gorge in it's entirety going all the way to the road. There's no way into the gorge from the top just so you know, but you can at least get a good look into it to see what to expect.
You will also be able to see more waterfalls further upriver, but in any case, you'll cross a bridge that goes over Oneonta Creek and into the Gorge.
5) Making your way back to the road and completing the loop trail:
After you cross Oneonta Gorge, you will continue walking along the trail and see some beautiful sights and views of Columbia River Gorge and shortly after, see a sign that points to the Oneonta Trailhead, which you will follow downhill to reach the road. Obviously if you're doing this hike the opposite way, you'll look for signs to Horsetail Falls trailhead.
Once you get to the road, you will basically just walk back to your car and finish the hike from there.
Other important questions about Oneonte Gorge:
Is Oneonta Gorge still closed?
Unfortunately Oneonta Gorge is still closed but there are other trails that take you over it to see inside.
When did Oneonta Gorge close?
Originally Oneonta Gorge closed due a massive fire in Eagle Creek. Now it's mainly closed due to debris and logs falling into the area.
Where is Oneonta Gorge located?
It is located by Oneonta Tunnel which you can find in Columbia River Gorge.
How do I hike Oneonta Gorge?
Currently hiking into Lower Oneonta Gorge is not possible, but you can take a trail over it which begins near Horsetrail falls.
6 tips to keep in mind for this hike:
1) Again, watch out for rocks falling on the trail, especially in the switch back areas. It doesn't happen often, but just be on the lookout.
2) When you cross over Oneonta Gorge, you may or may not see all of the debris on top of the actual gorge that would explain why it's closed off so often. In my case, I saw a lot of loose rocks, fallen trees and more just waiting to fall into the gorge and considering how often it rains in this region, plus slippery terrains leading to the likelihood of this all happening, you can see why it's so dangerous to be in the gorge when it's closed off. You just don't want to be inside that area when all of this could come crashing down on your head.
3) Proper footwear and clothing is recommended! Most of the trail is muddy (since it rains there pretty often), but there are spots where you'll be rock scrambling a little bit.
For footwear, hiking shoes should be just fine for this. Trail running shoes are also good (like the Salomon Speedcross 5). If it does rain or you expect it to, then read this post on what to rain when hiking in the rain to stay dry. In my case, there was a literal thunderstorm happening off and on when I was there.
4) Don't try to make your trip to this area all about visiting Oneonta Gorge. I get that it's very scenic and trust me, every time I go there, only to be denied entry is very annoying, but there's a lot to see in the region besides this spot. For example:
Columbia River Gorge is full of many beautiful trails worth checking out.
Oregon has many beautiful waterfall hikes you can explore. In terms of gorge hikes, there's plenty in state.
There's also beautiful gorge hikes anywhere where you'll find gorges, and that doesn't just have to be in Oregon either. For example, you have beautiful waterfall hikes in Washington State worth checking out and even in areas not close to the Pacific Northwest. For instance, spots like this can be found all around the United States such as the North Shore Coast which has a spot that I found which reminded me of this.
5) A word of caution: This region of Columbia River Gorge often has vandalism occur where people's cars are broken into while they are hiking on trails, so keep this in mind and prepare accordingly (don't leave anything valuable in your car basically).
6) To finish up, if the actual Gorge trail is open, definitely go there. I know I will the next chance I get (it'll be my 5th attempt next time), and it is absolutely one of the most beautiful spots to check out, but in case it does close (which has been the case many times over the years), you at least have another option now worth checking out!
If you've tried this alternate trail and/or have similar recommendations of what to see nearby, let me know below!