If you're looking to do the Trail of Ten Falls, this simple guide is going to show you everything you need to know ahead of time. I recently did this hike and while it is incredibly beautiful (it's no wonder some say it's the best waterfall hike in Oregon), there are some things you should know before you go here.
Quick info on the Trail of Ten Falls (Oregon):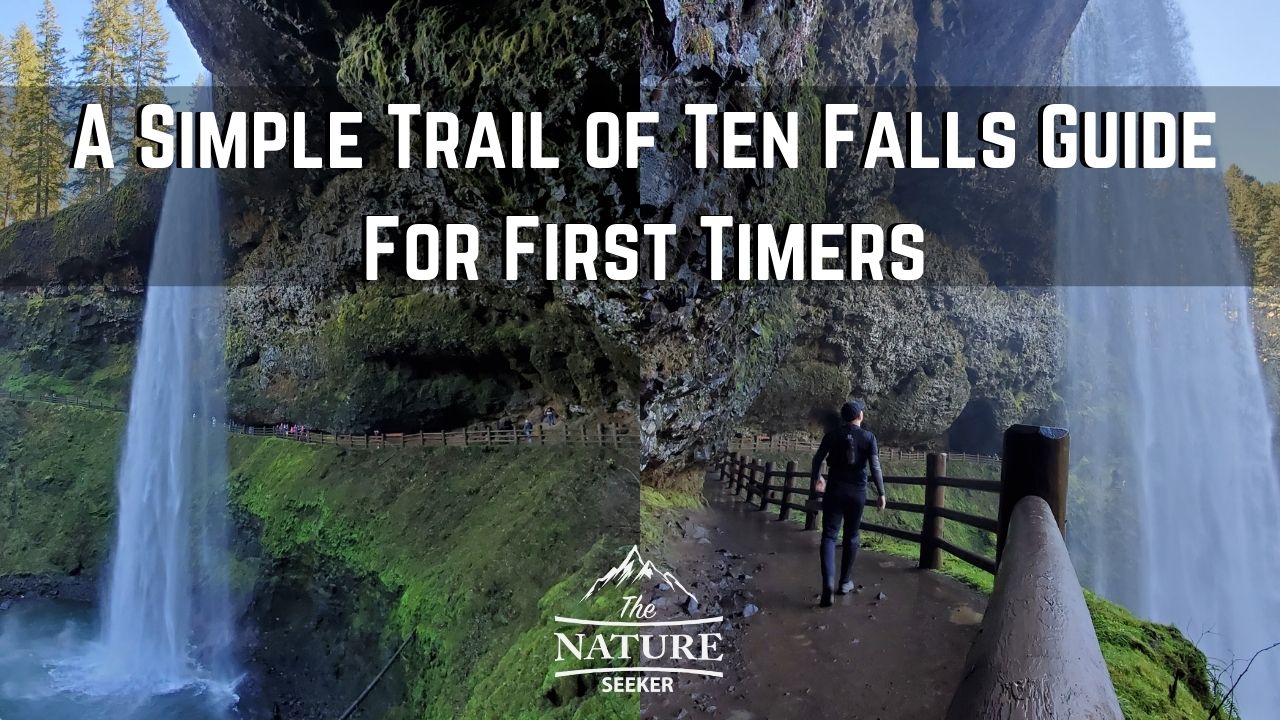 Name: Trail of Ten Falls.
Location: Silver Falls State Park (Oregon).
Hiking Distance: 7-8 mile loop or 9 mile in and out trail.
Difficulty: Easy to moderate.
Hike rating: 5 out of 5
Recommended hike? Absolutely!
3 quick things to know about the Trail of 10 Falls:
1) There are 2 points where you can start it:
The first one is South Falls Day use area (located on the southern end of Silver Falls State Park).
The second one is North Falls Parking (located on the norther end of Silver Falls State Park).
The first option is more popular. In my case, I started with the second one (North Falls). It doesn't matter which place you start at, you will still be on the same trail and still see the same waterfalls.
2) There are 2 main ways to hike the Trail of Ten Falls: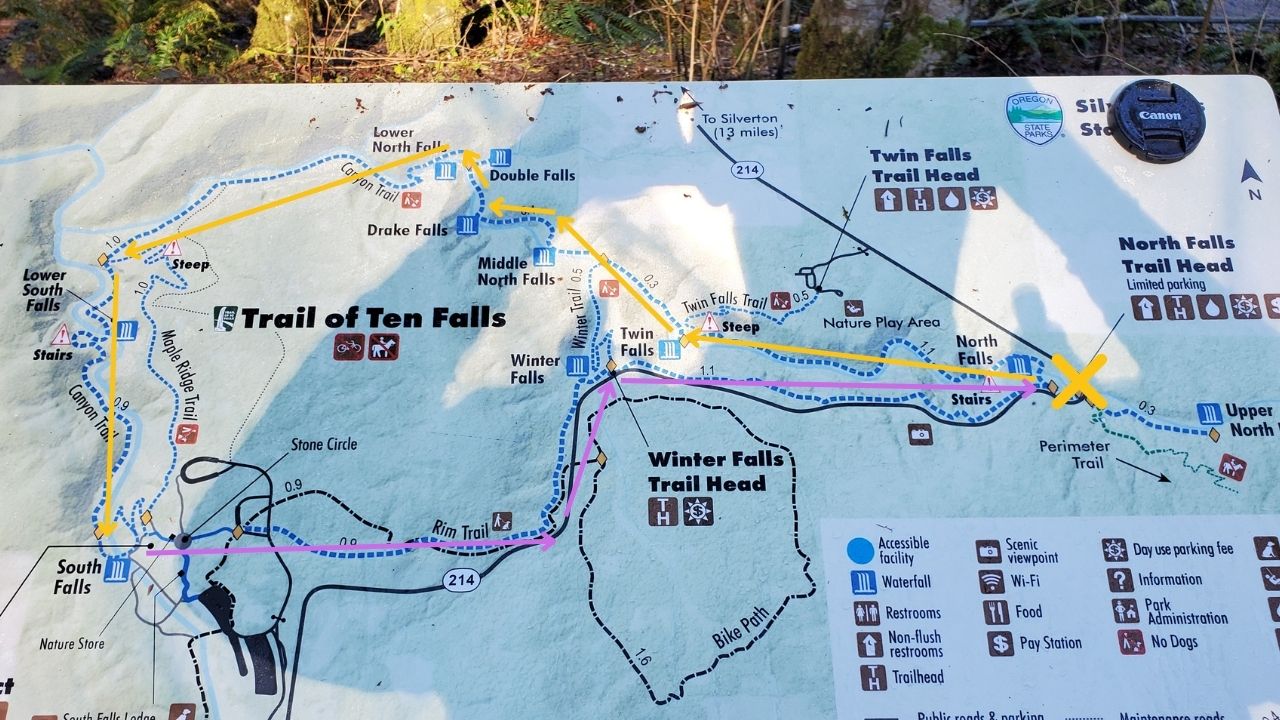 The first option (in and out trail) is just doing the Canyon trail (which I marked as orange on the map) which is about 4.5 miles one way. Then walk back the same way for about a 9 mile hike (this is what I did).
The second option (loop) is also taking the same Canyon trail, but then instead of walking back, you take the Rim Trail (which I marked violet on the map) when the Canyon Trail finishes and the Rim Trail will take you back to the starting point.
The Canyon Trail will take you right by all 10 of the waterfalls in the park. The Rim Trail will give you a good overlook of each waterfall.
Most people recommend the second option to get the most vantage points of the waterfalls (getting close to them on the Canyon Trail and seeing them from a distance on the Rim Trail). You can also do a vice versa option where you start on the Rim Trail, then circle back around via the Canyon Trail for the full loop.
Depending on which side of the park you start at and which trail you go on first determines if the hike will be clockwise or counter clockwise.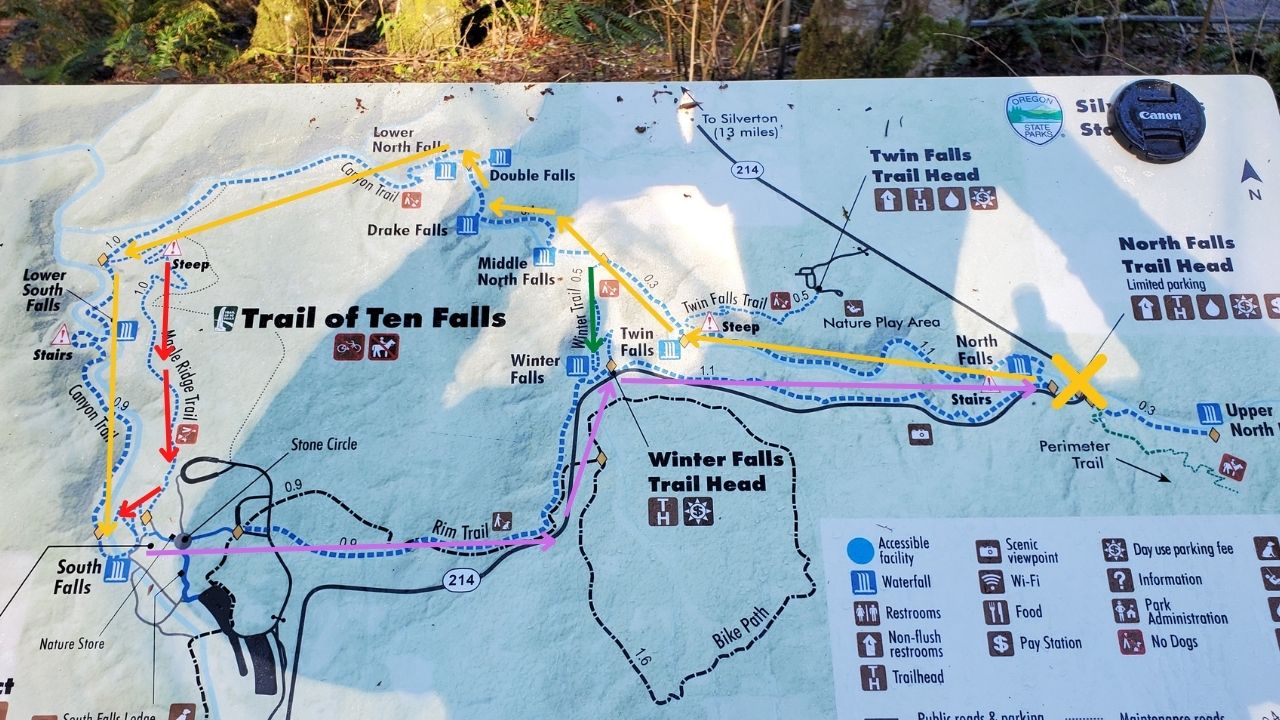 There are also 2 side trails:
The first one is known as "Maple Ridge Trail" which doesn't really go around the park but is parallel to a small part of the Canyon trail.
The second one is Winter Trail which connects the Canyon and Rim trails if you don't to do the full loop (it's like a shortcut).
When I went there, I spoke to a few people who did the Rim Trail and they told me it's better to just do the in and out Canyon Trail as it's more beautiful.
3) This trail isn't difficult, but it can get long:
There are inclines and declines as well as stairs to climb at certain parts. Most people should take their time on this trail. Me personally, I kind of rushed most of it because I was in a hurry, but there are wet areas here, so I would recommend wearing nice hiking shoes just in case (Salomon Speedcross 5 were the ones I wore).
A quick "tour" of the Trail of Ten Falls and what to expect:
Because I started this hike in the North Falls parking lot, this is where my tour will begin.
In your case, if you start at South Falls, you can just read this list from the bottom up to get an accurate tour of it.
I don't have a good picture of every single waterfall you will see on this trail, but you will at least get a good idea of what it looks like there.
1) Upper North Falls:
This is the first waterfall on the trail of Ten Falls (if you start at the North end of the park).
Upper North Falls was actually one I missed until later.
When I began the trail at North Falls Parking lot, I cross the bridge to start the trail.
There was a fork and I figured I had to go right to start the trail, but if you turn left, you'll go under a bridge and walk for about 1/4 of a mile and see Upper North Falls. Consider this the first waterfall on your trail.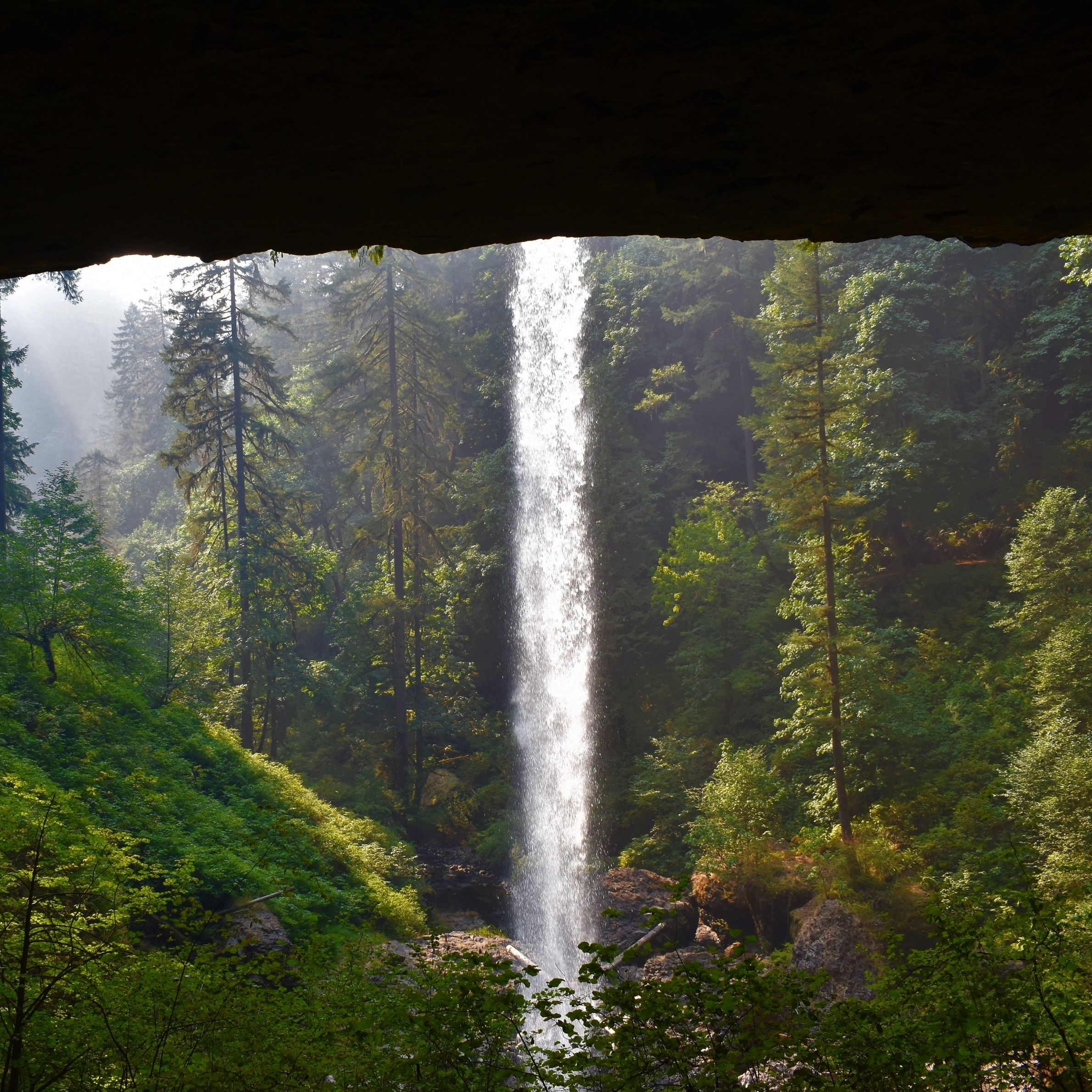 2) North Falls:
After seeing Upper North Falls, you will turn around, head back towards the parking lot, but instead of walking to it, you will continue to the Canyon trail and to North Falls.
You will walk down some stairs and go underneath that waterfall. In my opinion, this was the best waterfall in the entire park.
You will walk around in the cave, and continue on the trail (stay to the left as there will be some forks that lead to campsites which are off trail).
But from the picture you see here, it is underneath the falls and it is pretty stunning to just stand there and enjoy the view. In some ways, the region here sort of reminded me of Hocking Hills State Park.
There's actually a beautiful (giant) cave there called Ash Cave which looks similar to this, and also has a waterfall come down it like it does here.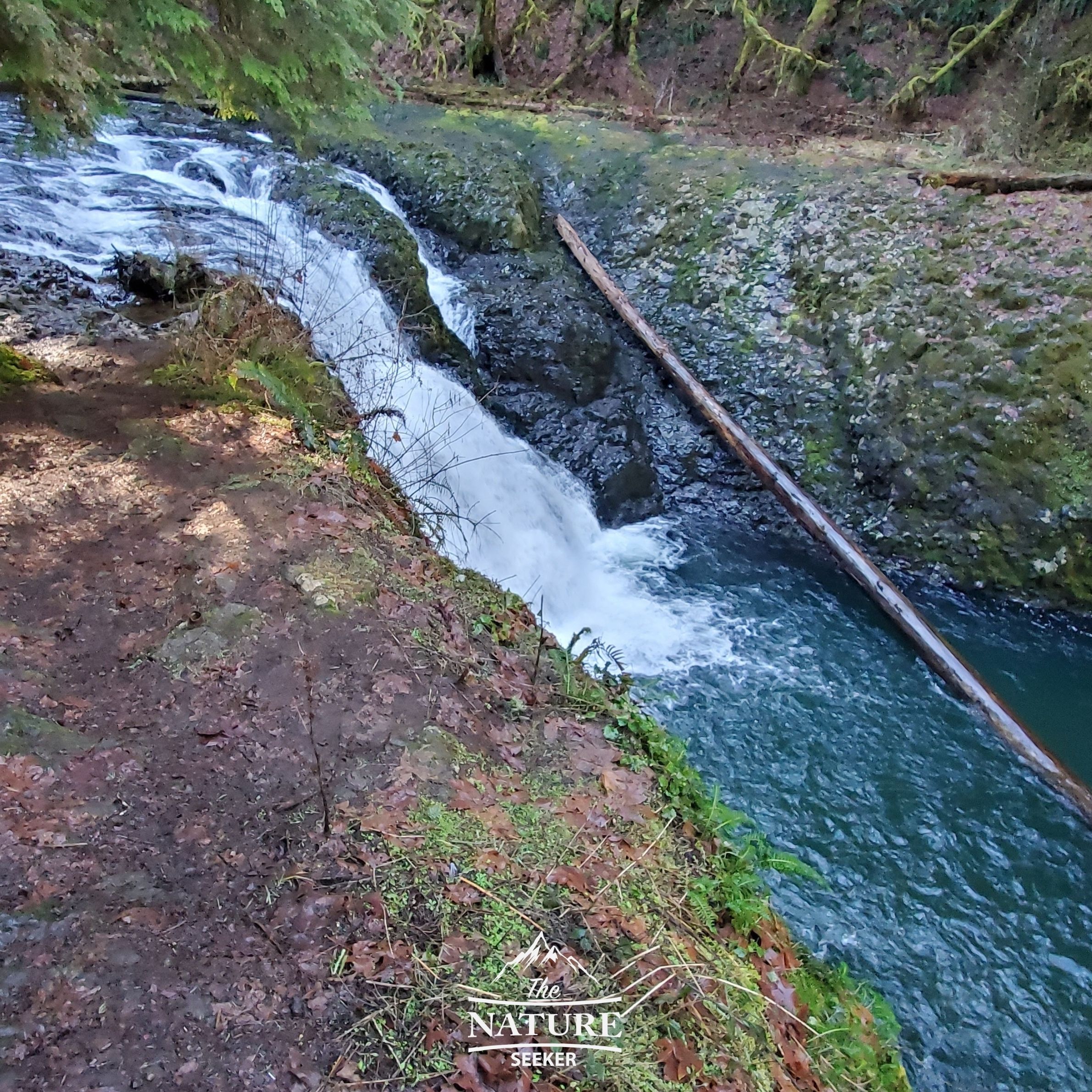 3) Twin Falls:
This waterfall is about 1/2 a mile away from North Falls. It's not that pretty in my opinion, but the surrounding area certainly is. Frankly most of the Canyon Trail is very scenic and worth exploring.
Either way, Twin Falls is a small waterfall, but there is a platform from where you can view it. Once you're done, continue on the trail.
4) Winter Falls:
You will see this waterfall from a distance and you have 2 options there:
You can turn left to get closer to it (which would put you Winter Trail).
Or you can stay to the right and continue on the Canyon Trail (this is where you'll want to go to continue seeing the other waterfalls).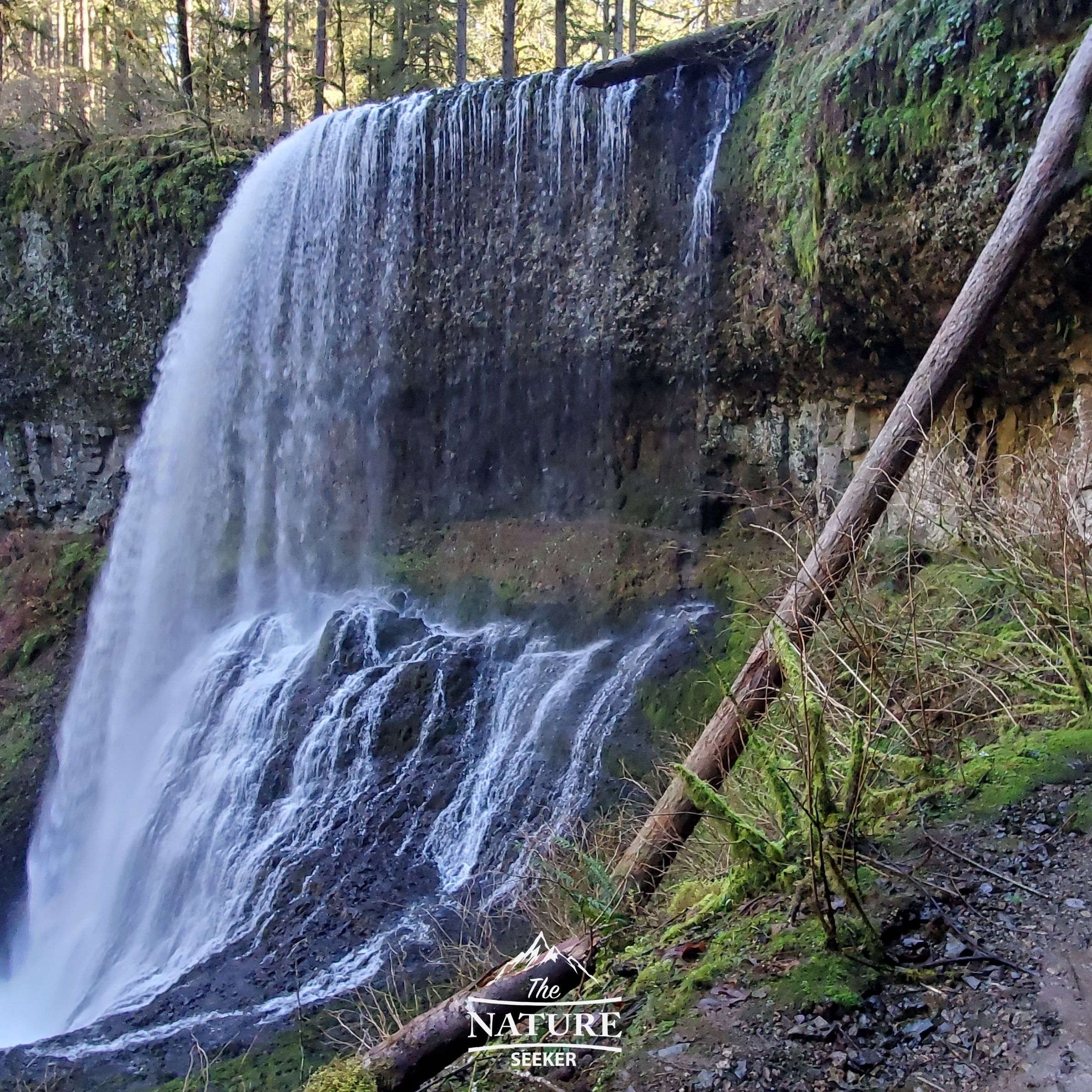 Winter Falls is the only waterfall I personally didn't get to close enough on my trail, but it's really the only waterfall you'll get close to if you take the Rim Trail.
Every other waterfall (that you want to get close to), just make sure to stay on the Canyon Trail.
5) Middle North Falls:
This was an exquisite waterfall! You can get close to it and even walk underneath it. The picture you see here is me doing just that.
It's an amazing feeling to be underneath this stunning waterfall but it is very muddy around that spot (just be aware).
It's about 50 feet high overall and I highly recommend you take the time to also check it out from underneath like I did.
6) Drake Falls:
Drake Falls in my opinion is the most boring one to see on The Trail of Ten Falls.
It's a nice waterfall overall but when you consider how beautiful the other ones are within this park, this one just doesn't cut it.
But still, it's nice to walk by it and check it off your list. If anything, the gorge areas, pools and everything else around the waterfall are the nicest things to enjoy around here and that's really something you'll want to take the time to view, because there is a lot of that to see on the trail.
But the good news is that Drake Falls is the only one on this list that's like that (boring that is).
The one coming up may be on the top ones and that is:
7) Double Falls:
When I saw this waterfall, it immediately reminded me of Kaaterskill Falls, which I consider one of the best waterfalls in New York State and honestly, one of the top ones I've ever seen.
Double Falls is like a "mini" version of that, and is also very beautiful in my opinion, but it's also a very fall, 2 tiered waterfall. I would say it's about 150-200 feet high (if you include both waterfalls).
You can walk right underneath the first one and get some great pictures of it from there.
8) Lower North Falls:
The next waterfall on your list is only about 100 feet away from Double Falls, and it's called Lower North Falls.
It's a giant, wide waterfall that is nearly 100 feet high.
The only thing I personally found is that it's tough to get a good view of this waterfall (as well as photos) since many trees and grass cover the best spots.
But overall, it's one of the more "average" waterfalls on this trail in my opinion.
Now one thing to note is that about a mile from Lower North Falls, you will come across a small and very beautiful waterfall that is actually not on the official list of the Trail of Ten Falls.
It looks a lot like Rainbow Falls in Watkins Glen State Park and you can't really miss it.
9) Lower South Falls:
This waterfall looks a lot like Middle North Falls (the one you can walk under) and just like that one, you can also walk underneath this one too.
The difference with this one though is that there is a stone path to walk on and I honestly found that a little bit boring (it was also crowded here), but this will take you underneath the falls, around it.
From there you will walk up some switch back steps and walk for another half mile before finishing up the final waterfall and that is South Falls.
Once again, if you begin your hike on the Trail of Ten Falls from the southern side, South Falls will be the first one you start with (and you will end with Upper North Falls).
Anyway, let's talk about South Falls (it deserves a lot of recognition):
10) South Falls:
South Falls is the last and tallest waterfall on the Trail of Ten Falls.
You can also walk underneath it and there are several viewpoints you can see it from including taking the Maple Ridge Trail that gets you a nice overlook of it.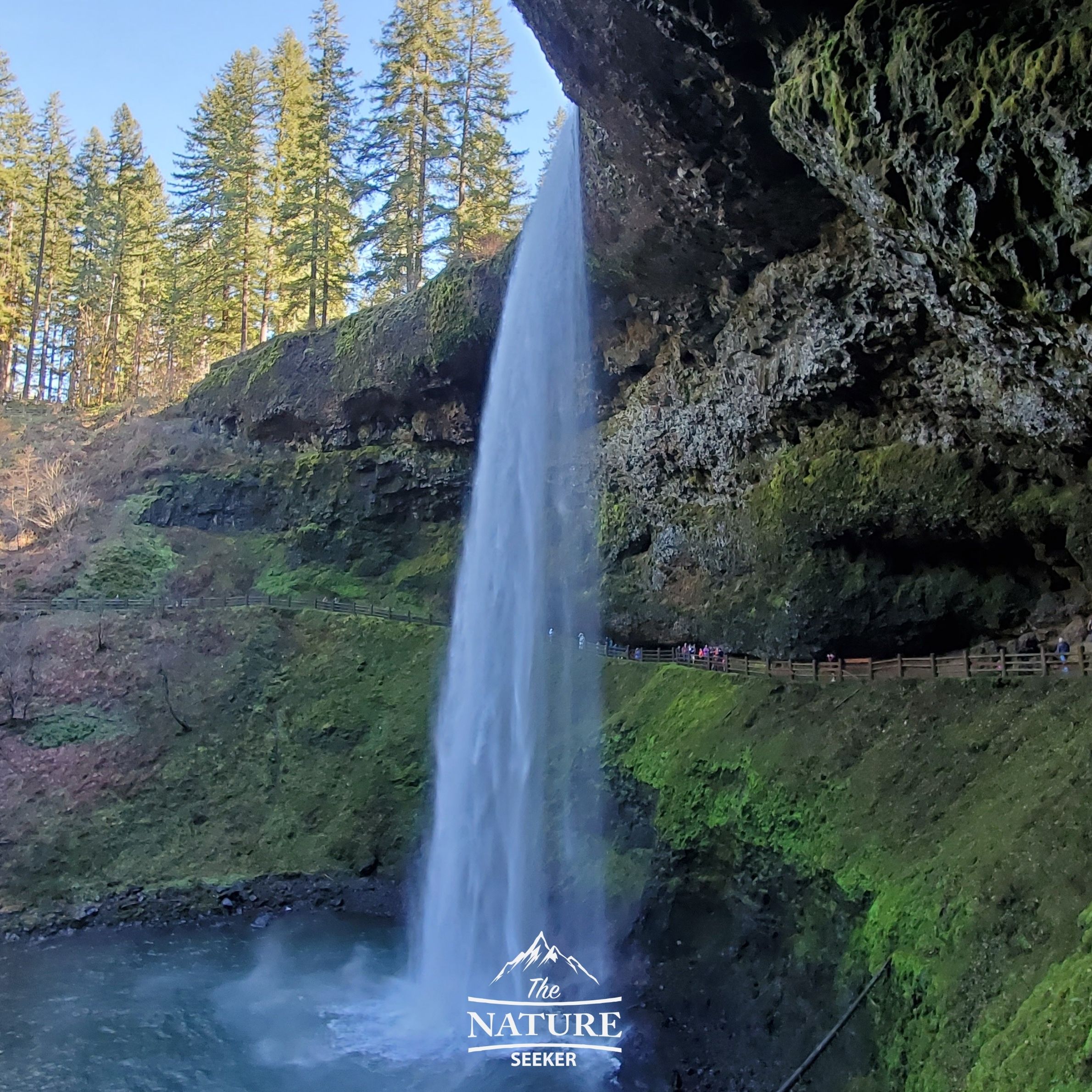 I spent most of my time at South Falls taking a lot of pictures (for obvious reasons).
This waterfall is well over 150 feet high and there are wooden "railings" keeping you safe there.
Note: If you begin at the south part of the park, this will be the first waterfall you start at. In my case, I'm glad I ended with this one as it was the tallest one.
From that waterfall, I turned back and walked the entire Canyon Trail again, getting a second (backwards) look at each waterfall.
I honestly enjoyed that a lot and recommend doing this trail the same way I did especially if you like getting close to the waterfalls. Again, the Rim Trail is meant to give you a basic overlook of each waterfall and the only falls it will take you close to is Winter Falls.
Keep in mind though that if you decide to do the Canyon Trail in and out, that will extend the overall hike to about 9 miles, but to me it's well worth it.
Clothing and hiking gear I would recommend bringing to the Trail of Ten Falls:
Final questions regarding the Trail of Ten falls hike:
How long does it take to hike the trail of Ten Falls?
Depending on whether you do the loop or in and out version hike of Trail of Ten Falls it may take you 3-4 hours to complete.
Is Trail of Ten Falls hard?
No the hike in Trail of Ten Falls is pretty beginner friendly, but it is long which may make it tough to complete for some people with injuries.
Is Trail of Ten Falls paved?
There are a few paved parts of the Trail of Ten Falls trail, but most of the hike is on dirt or mud areas.
Are dogs allowed on trail of Ten Falls?
Yes but only on a small portion of the Trail of Ten Falls hike.
Are there bears in Silver Falls State Park?
Yes bears are known to be around the Silver Falls State Park area.
Overall, the Trail of Ten falls is one of the top in Oregon but is it the best?
I can't really say that. Oregon itself has stunning waterfall hikes, some with single waterfalls and other spots with multiple ones too. For example, Columbia River Gorge has an amazing mixture of awesome waterfall hikes that I would say are better than the ones here so if you're looking for other options, that would be the next place I'd visit.
Another awesome waterfall that is about 30 minutes away from the Trail of Ten Falls is one called Abiqua Falls. I highly recommend that one too, although the trail to it is a bit more "wild".