I've been to Multnomah Falls Oregon numerous times and there are many ways you can explore this area so if you're planning a first time trip here, this guide is going to show you all of the options and how to get the best possible experiences from this place.
Quick info on Multnomah Falls Oregon:
Name: Multnomah Falls.
Location: Columbia River Gorge Oregon.
What is it? It's a 600+ foot waterfall (Upper and Lower Multnomah Falls, the tallest in Oregon).
Things to do: Walk up to it, hike up to the top, dining nearby, camping and more.
Permit needed to go here? Yes, between late May through early September.
Family friendly? Yes!
Rating: 5 out of 5.
Recommended? Yes! Multnomah Falls is one of the nicest places I've been to in Oregon and the great news aside from it being easy to get there and hike to it, there are also many places to check out nearby in the greater Columbia River Gorge area which can make for an awesome day trip there.
Multnomah Falls location (how to find it):
Multnomah Falls is located 30 minutes east of Portland Oregon and it's very easy to find as the waterfall is easily seen from the road. Here is a map of it's location:
Finding Multnomah Falls on a map (Google maps especially) is easy, but it's also a little tricky because there are 2 ways to get there:
One involves parking at Multnomah Falls parking lot which is off Interstate 84 (large parking area).
The second is a parking lot closer to the waterfall which is on Historic Columbia River Highway (small parking lot).
Ideally you'll want to park at the second option and most seasons there's space there, but if it's during spring or summer (peak season when people visit Multnomah Falls Oregon), then if you can't find a parking there, you'll need to use option 1.
The only problem with option 1 is that it's a pain to get there from option 2 because you have to go around one road, get back onto the Interstate and then get there. Another thing is that if you park in option 1, you'll have to walk underneath a small tunnel to get to the entrance of Multnomah Falls. In either case, you'll get great views of Multnomah Falls in the distance regardless of where you park.
How to explore Multnomah Falls Oregon:
It just so happens that there's numerous (and awesome) ways to explore Multnomah Falls and here are your options:
1) Doing a short walk from the parking lot/s to the base of Multnomah Falls (best for beginners):
This is the option that most people go with. Basically once you park your car (option 1 or 2), you'll walk up to the entrance of the waterfall. There are stone steps to take you to the base of it (lower Multnomah Falls) where you can get amazing photos of it. The walk from the parking lot to the base is about 200 feet (very easy) and there are also beautiful gorges and views around the area. Additionally right by the entrance is a gift shop, bathrooms and a coffee shop I recommend checking out too.
2) Doing the Multnomah Falls hike to the top of it. It's 1-2 miles in and out (best for hikers):
If you want to go to the top of Multnomah Falls, there is a hike right by the photogenic spot (lower Multnomah Falls) to your right. That is known as the Multnomah Falls hike and it zigzags to the top (you will also pass a beautiful bridge that divides lower and upper falls).
Once you get to the top, you can get amazing views of the Columbia River Gorge area but in my opinion if you want the best photos of the waterfall, they are at the bottom. After you're done, you can go back down to the bottom the same exact way (if you go to the other trail, it will take you to other hikes, but that is not a loop just remember that).
3) Just seeing it from the road (best for people not looking to stop at Multnomah Falls):
If you're just looking to drive past the area and not stop, you can really do that from Interstate 84 or the Historic Columbia River Gorge scenic highway (these are 2 of the best Oregon scenic drives in my opinion). In any case, you will still get nice views of the waterfall regardless.
Note: Know about timed permits ($2)!
Because this place gets packed between May to most of September, there is now a timed permit system for when you come here. You can get a permit for Multnomah Falls here. These are in place specifically for the option 2 parking lot (the one that's not large and close to Multnomah Falls).
What to do if you come here without a permit (there are alternatives):
You can come here before May or after September and just avoid the whole thing.
Or you can just park in option B (the large parking lot by the Interstate).
You can also park in the other spots around Columbia River Gorge east/west of the Historic Columbia River Gorge Highway but some of them may also require you get a permit to park there.
Best time to visit Multnomah Falls Oregon (my personal recommendation):
Firstly I am not a fan of coming here in the spring or summer, not just because of the permit system but also because it's extremely crowded around the whole area, meaning that if not Multnomah Falls, then there will likely be another spot across all of Columbia River Gorge that's packed. But if you have no choice but to visit then, at least come very early because you will have less crowds then.
As for the best times, I'm going to recommend the late winter season, around mid February to mid March. Here's a photo of the same Multnomah Falls but for 3 different seasons so you can decide when it's most beautiful: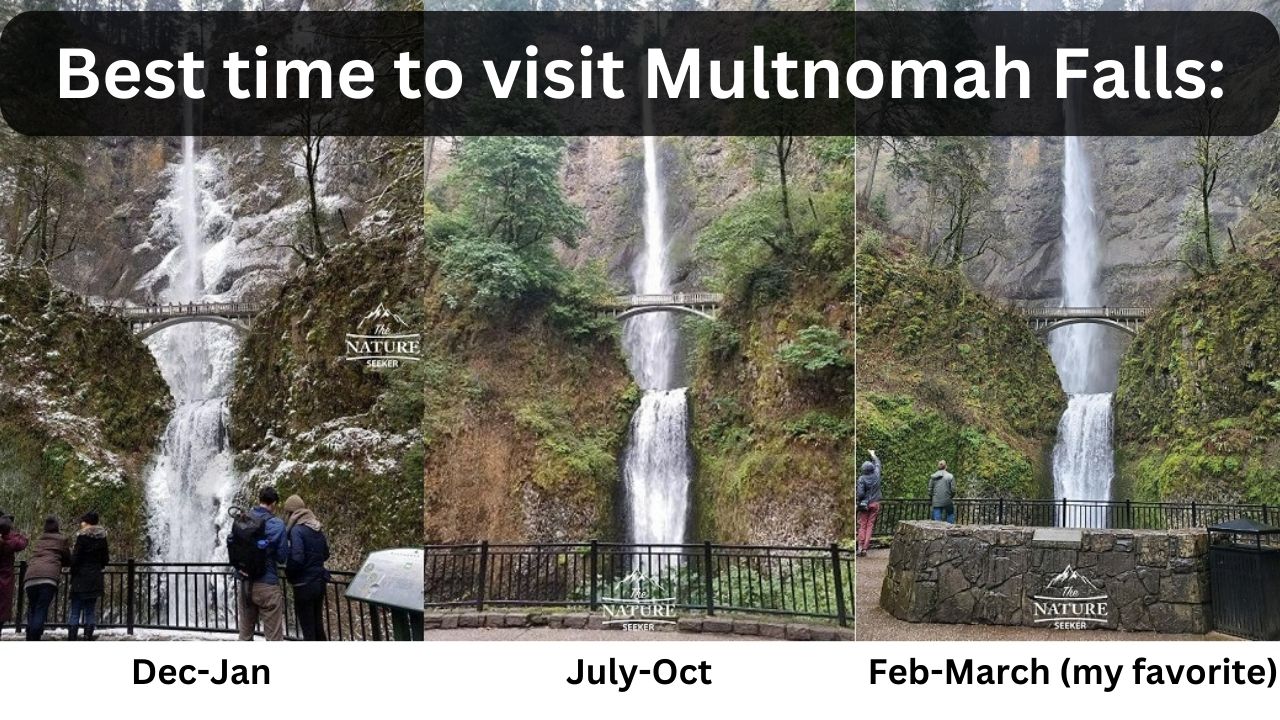 6 best things to do near Multnomah Falls: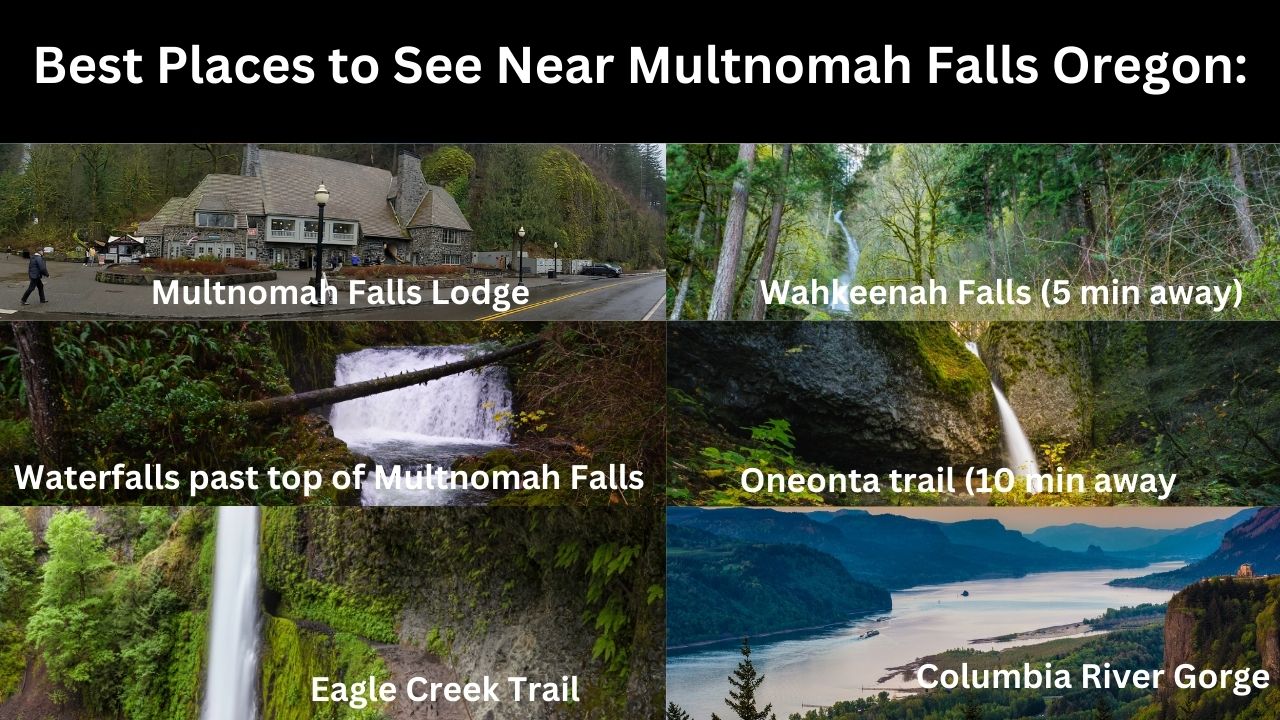 1) Explore the Multnomah Falls lodge:
This is specifically a restaurant very close to the waterfall. I've personally eaten there before and really enjoyed it. There are 2 sections of the Multnomah Falls Lodge, one is closer to the road and the second is right next to it but with a glass roof so you can see the waterfall in the distance.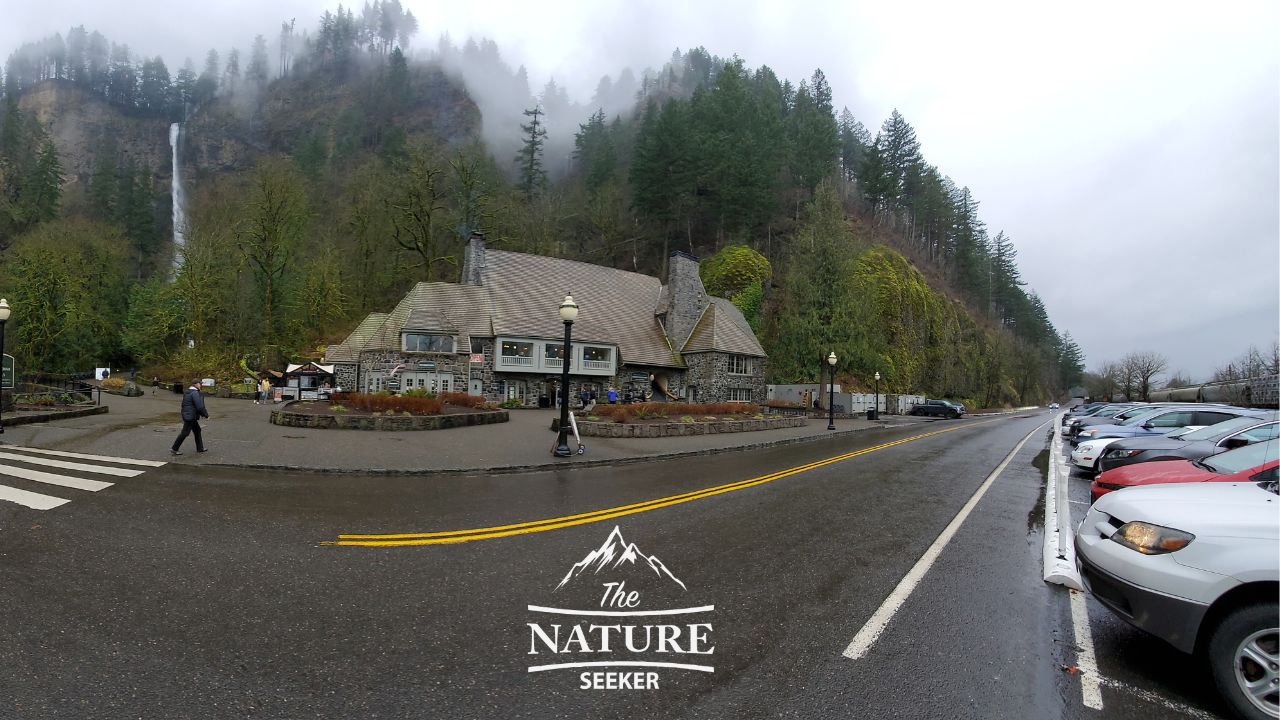 2) Explore Wahkeena Falls (1/2 mile west of Multnomah Falls):
This is a cascading waterfall with a parking lot and hike right next to it. This trail also leads to Multnomah Falls as well but be sure to use Alltrails if you plan to do a longer loop hike to see more than one waterfall. Columbia River Gorge has a lot of hikes that go very deep into the mountains and it's easy to get lost in the woods there.
3) Explore the waterfall hikes right past the top of Multnomah Falls:
If you elected to do the Multnomah Falls trail that takes you to the top, there is an additional trail that heads south past it which will take you to more waterfalls including:
Dutchman Falls.
Wiesendanger Falls.
Ecola Falls.
All 3 of these are about within a 1/2 mile hike past the top of Multnomah Falls. After that the trail continues to campgrounds and other connecting trails in the Columbia River Gorge trail system (it's not a loop trail so be sure to just go back the same way when you're done).
4) Check out the Oneonta Gorge scenic hike:
This one is about 1/2 mile east of Multnomah Falls and it's about a 3-4 mile loop hike which takes you to several other amazing waterfalls including Horsetail Falls. Learn more about the Oneonta Gorge trail.
5) Hike the Eagle Creek trail:
This is about 20 minutes east of Multnomah Falls and it's about a 13+ mile hike in and out which takes you through some of the best waterfall hikes in Oregon (there's about 10 different waterfalls there). You can see my Eagle Creek trail post for details on how it's done.
6) Explore more of Columbia River Gorge:
I have a whole post on the best things to do in Columbia River Gorge in general that you can check out.
Other waterfalls near Multnomah Falls to check out:
In addition to the several options on different hikes I mentioned above, here are a few other waterfalls near Multnomah Falls you can check out (Columbia River Gorge is full of them):
Horsetail Falls (5 minutes east). It's about 100 feet high, right by the road.
Latourell falls (15 minutes west). It's a 100+ foot waterfall with an easy walk to it.
Bridal Veil Falls (10 minutes west). 50+ foot waterfall near the road.
Sheperds Dell Falls (10 minutes west). 50+ foot cascading waterfall near a bridge.
Fairy Falls (2 minutes west). Beautiful cascading waterfall past Wahkeena Falls.
Here are photos of the other waterfalls near Multnomah Falls:
Other questions about Multnomah Falls Oregon:
Do you have to pay to see Multnomah Falls?
Multnomah Falls is free to explore but there is a timed permit system for the parking lot by it which is in place between late May through early September and it's only $2.
How long of a hike is Multnomah Falls?
It's almost a 3 mile modertate hike to the top of Multnomah Falls and back.
What is the best time of day to see Multnomah Falls?
I recommend early morning to see Multnomah Falls or just coming here before spring for less crowds and better views overall.
Can you see Multnomah Falls from your car?
Yes you can see the entire Multnomah Falls from your car by driving through Interstate 84 or the Historic Columbia River Highway roads.
There are many more things to do around Columbia River Gorge, but what I want to share is more great things to explore in the greater Oregon area:
Eastern Oregon is a must (it's not far from Columbia River Gorge).
Smith Rock State Park is one of the best Oregon State Parks I've ever been to personally.
Of course, I have to also recommend exploring the Oregon Coast if you can!
I hope all of this information on Multnomah Falls was helpful and that you get the most when you come here!