If you're looking for the best Oregon Coast camping areas, you're going to see 10 of the most popular in this article.
The great news is that the Oregon coast in general has dozens of amazing camping spots to stay at (both free and paid), but the ones in this particular post are basically rated the highest, meaning you are going to see where the best places are.
I have personally explored the Oregon Coast 3 different times, and while I prefer hotel stays over camping, there are certainly many options of camp grounds and spots you can stay very close or even right on the coast.
Here's the 10 best Oregon Coast campground I recommend staying at: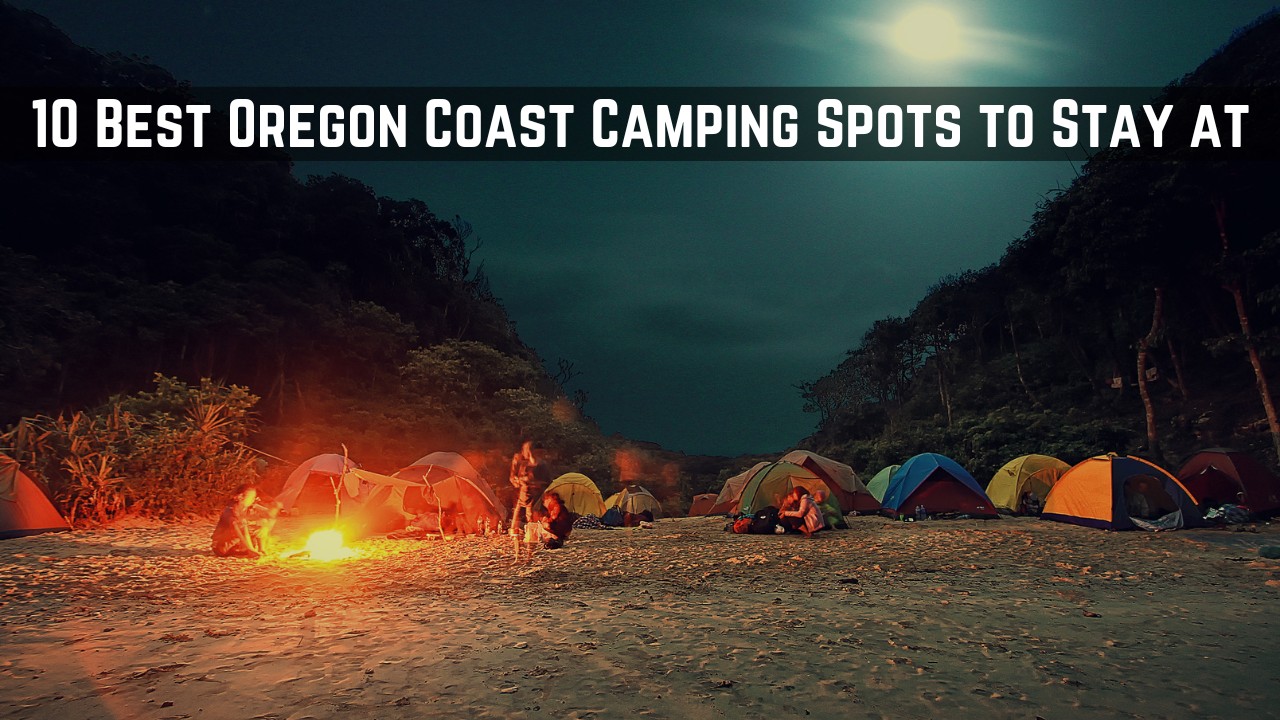 These spots start from the south and head north:
Ledlum campground.
Miller Bar campground.
Quosatana campground.
West Laverne Large group campground.
Oregon Dunes KOA holiday.
Bluebill campground.
Riley Ranch campground.
Cape Lookout state park campground.
Jones Creek campground.
Wright's for camping.
Each of these campgrounds is either within 10 miles to the Oregon Coast (southern, middle and northern) and has good reviews on them.
As the Oregon Coast is a very popular destination, camping just anywhere on it is not allowed, which is why these official camping spots are the next best thing. So let's examine each camping spot and see what beauties you can explore on the Oregon Coast while there:
1) Ledlum campground (Southern Oregon coast):
This campground gets good reviews and the drive to the Oregon Coast from there is about 5 miles. Here is a link to the Ledlum campground so you can register if you wish to go.
This place is also close to my favorite part of the Oregon Coast which is the southern portion of it where I personally think the best spots are found in. I'll get to them in a moment as I continue the list of the southern coast locations.
2) Miller Bar campground (also southern Oregon Coast):
Miller Bar campground is pretty close to Ledlum and is a good option B if Ledlum is filled up.
It's under 10 miles to the coast from this spot and it also gets good reviews from people. Here is a link to the Miller Bar campground.
3) Quosatana campgound (another southern Oregon Coast spot):
If you're truly looking for a camping spot very close to the southern Oregon Coast, Quotsatana campground is probably your best option. It is only about a mile or less to the coast from here and it's another positively reviewed camping spot.
Southern Oregon coast destinations I recommend exploring: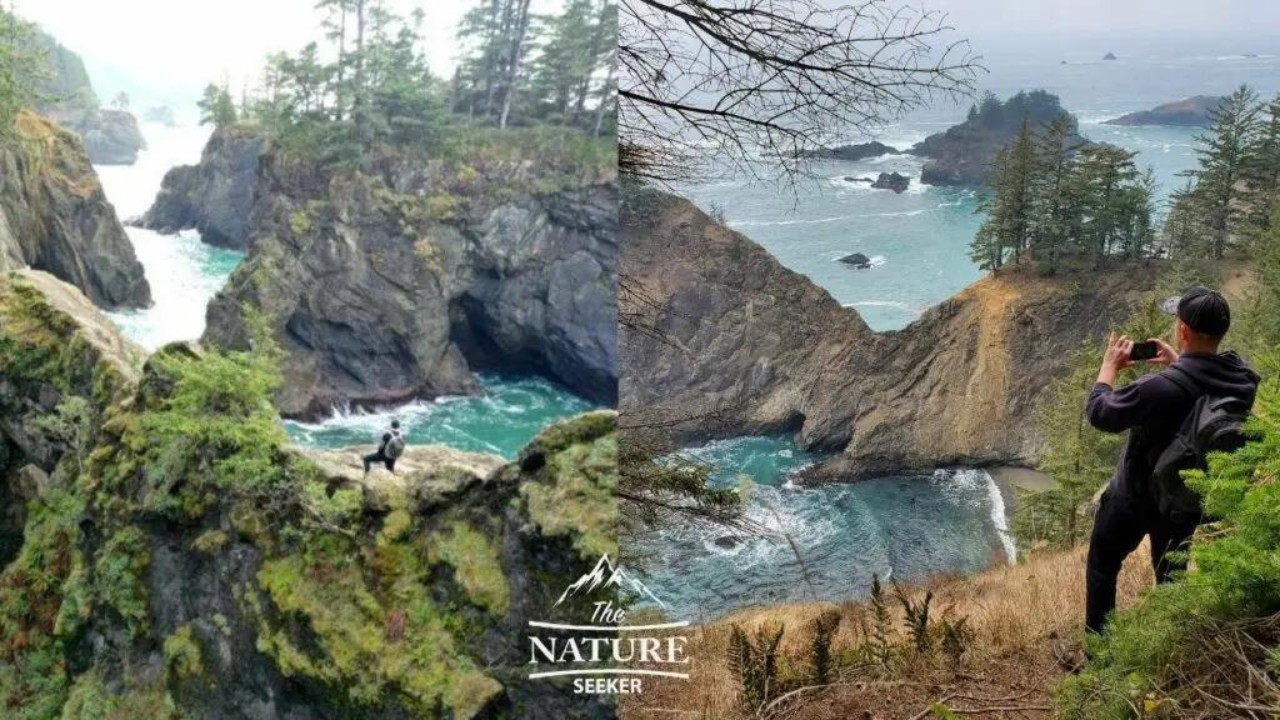 If you stay at any of the above camping spots, here are just some of the beautiful spots to see on the southern Oregon Coast:
Samuel H. Boardman Scenic Corridor (many spots there).
I've included some picture previews of those spots above from my personal visits there.
4) West Laverne Large Group Campground (near mid Oregon Coast):
This campground is great for larger groups of people and has a number of very positive comments and reviews. It's also under 10 miles from the coast. Here's where you'll find West Laverne campground.
5) Oregon Dunes KOA Holiday camping spot (mid Oregon Coast):
The Oregon Dunes KOA Holiday Campground is very popular and isn't just located right by the coast, but also provides access to the famous Oregon Sand Dunes, where you can engage in a lot of fun activities including:
Sand boarding.
ATV riding.
Dune buggy riding.
And more.
6) Bluebill Campground (mid Oregon coast):
This campground is about 1/2 mile away from the coast and is also close to the Oregon Sand Dunes. If you'd like to learn more about this spot, here's the link to the Bluebill campground.
7) Riley Ranch campground (mid Oregon coast too):
This campground is a little further north from Bluebill but is also very close to the coast (under 1 mile) and is right off the 101 road, so it's one of the easier camping spots to access on this list. Here's a link to the Riley Range campground.
Mid Oregon Coast destinations I recommend seeing: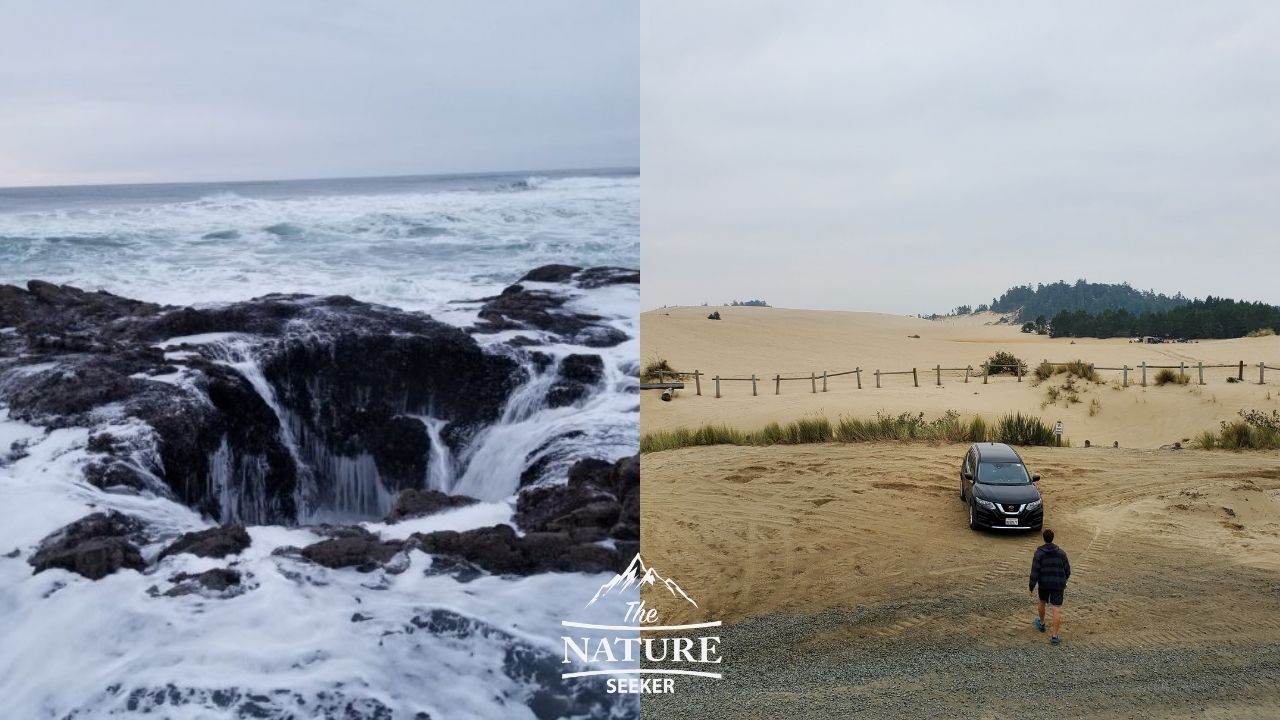 If you're staying in any one of the spots above (4-7), here's several beautiful destinations to explore:
Elliot State Forest (close to the coast).
William Tugman State Park.
Oregon Sand Dunes.
Thor's Well.
8) Cape Lookout State Park Campground (northern Oregon Coast):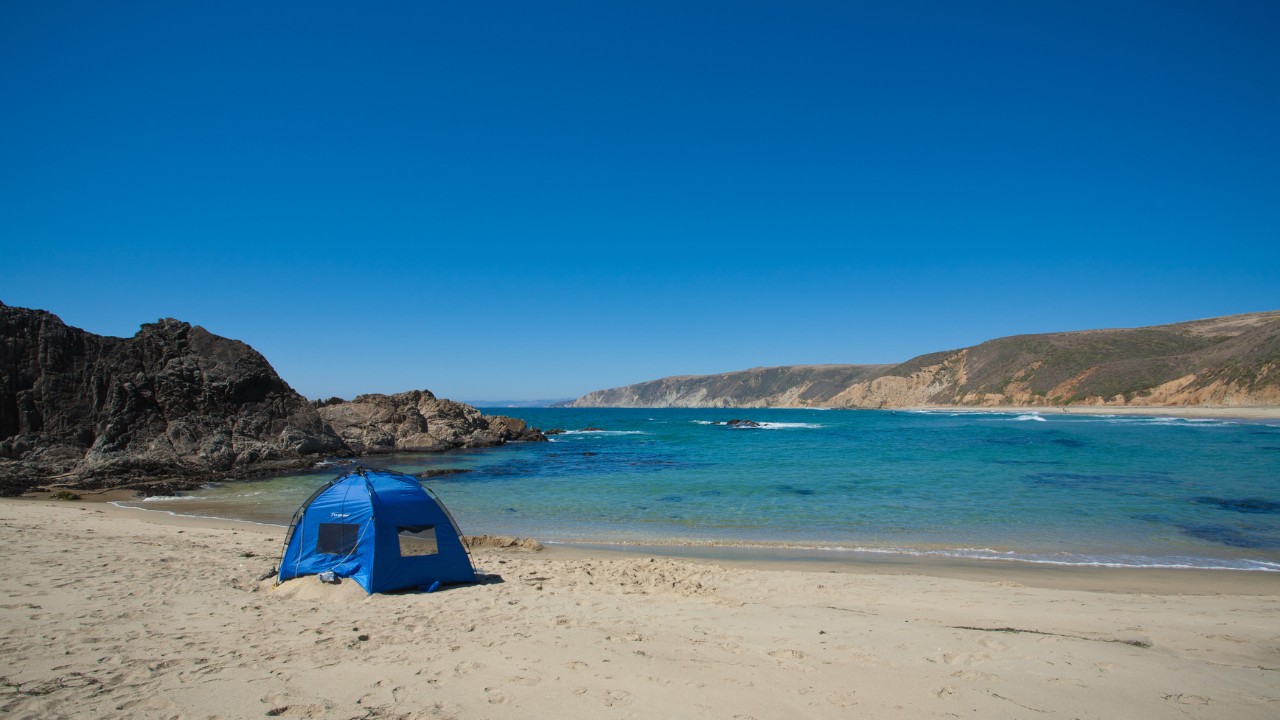 This is one of the most popular camping spots on the entire Oregon Coast and one of the reasons why is because like the name suggests (lookout), you are right by the coast and there's a lot of space to stay there for your camping needs.
Additionally, you also have hikes, a state park, amenities and more at Cape Lookout State Park campground.
9) Jones Creek campground (northern Oregon Coast):
Jones Creek campground is located northwest of Cape Lookout State Park and is a good plan B if that spot is unavailable. It's a bit further inland, but still not far from the coast.
Besides the coast being close by, you also have Tillamook State Forest nearby, rivers, streams, swimming holes and more to explore.
10) Wright's for camping (northern Oregon Coast):
The last camping spot on this list is situated in one of the most popular destinations on the Oregon Coast (Cannon Beach). If you're not into staying in the middle of the woods and like to have civilization close by, then this is the place you'll want to stay at.
Wright's for camping will give you plenty of access to restaurants, trails, state parks (Ecola State Park), the Oregon Coast (Cannon Beach) and many other things to do there. And just as well, if you're heading north to the Washington Coast, you'll only be about 30 minutes away from it.
Northern Oregon Coast destinations I recommend seeing: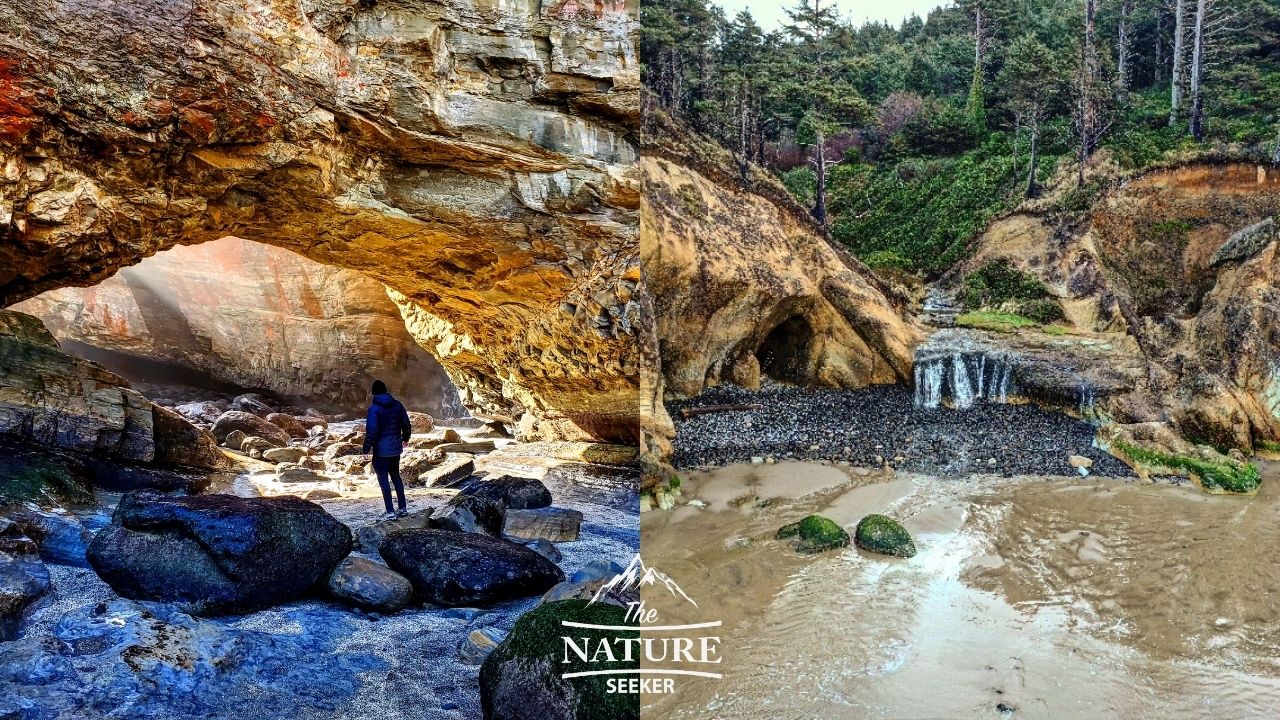 Overall, these 10 camping spots provide a lot of close access to the 3 different parts of the Oregon Coast and having crossed it a few times, I have also listed some of the most beautiful spots you can see in each section.
If you're traveling to the Oregon Coast for the first time, then read that article I shared on what to do, but overall, these 10 camping spots should do more than suffice a dream trip through this beautiful area!
Questions about Oregon Coast camping in general: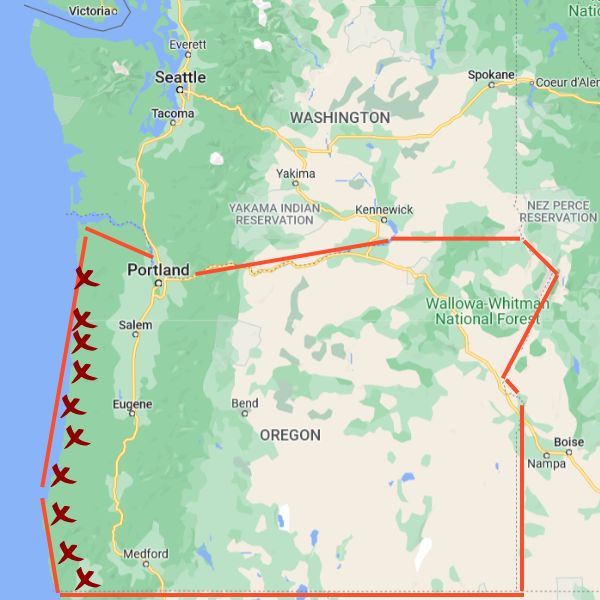 Can you camp anywhere on the Oregon Coast?
Not exactly, but there are many open spots and camping regions on beaches along the Oregon Coast. You need to check the specific area you are going to, then see if there are restrictions.
Where can you camp on the Oregon Coast for free?
There are good spots near Samuel H. Boardman Scenic Corridor in south Oregon as well as places like Smith River Falls where free camping is allowed. Do know the risks of staying at free campgrounds first before going.
Are you allowed to camp on Cannon Beach?
No, but there are campgrounds near Cannon Beach where you can stay overnight.
Free or paid campgrounds? What's better if you're visiting the Oregon Coast?
One of the benefits of staying in Oregon State is that there is a lot of free space an availability for free camping. However, one of the risks to bear in mind that is that free camping tends to attract either a lot of crowds and/or perhaps not the best crowds.
I would recommend staying at a paid campground if you want to avoid that.
Additional Oregon Coast articles I recommend to get more out of it:
If you have any questions or personal reviews of these camping spots I shared, let me know!