Flat Lick Falls KY is one of the most scenic waterfalls and areas I've ever seen and if you've never been to this place, you should definitely go there, but know that there's a lot more to see and do there which is what this post is going to be covering.
Quick info on Flat Lick Falls in KY: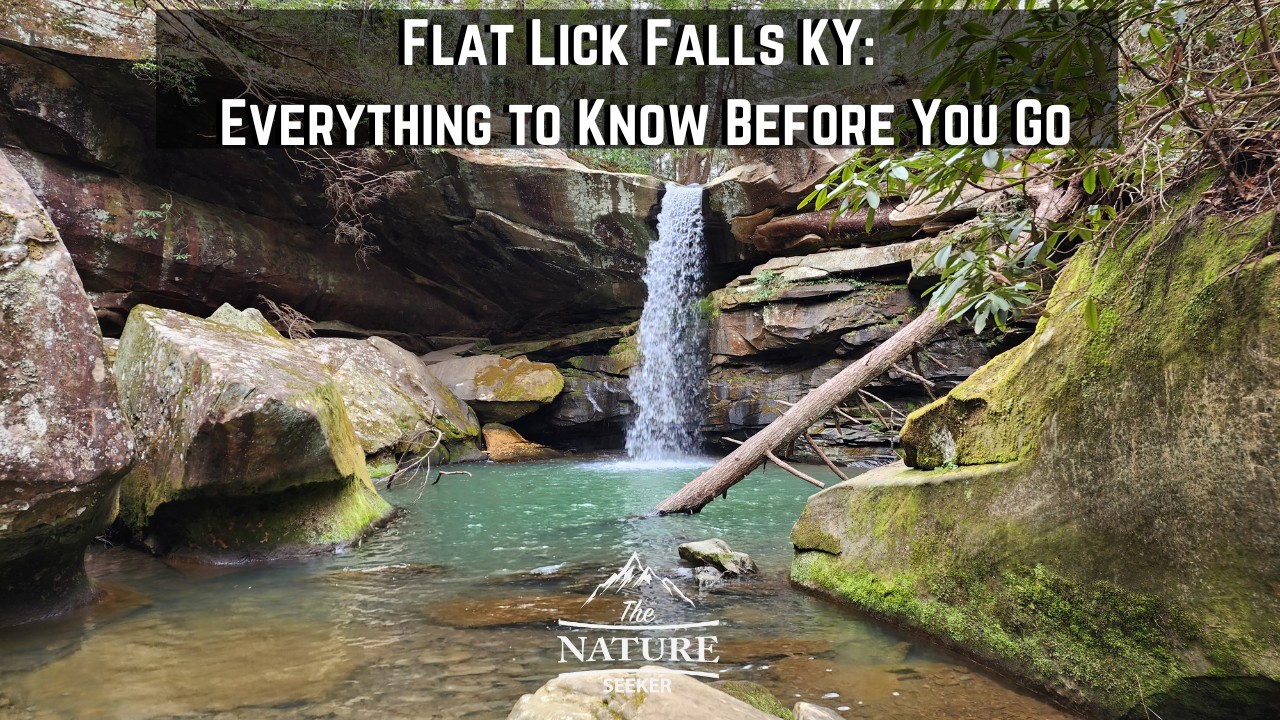 Name: Flat Lick Falls.
Location: Jackson County, inside Daniel Boone National Forest Kentucky.
Things to do: Hiking, camping, RV spots, and more.
Hiking distance to waterfall: Under 1 mile in total.
Difficulty: Easy.
Rating: 5 out of 5.
Recommended? Yes! Flat Lick Falls isn't a gigantic waterfall, but it is extremely scenic and as a whole, the entire area by it is worth exploring and even staying overnight at.
Things to know about Flat Lick Falls: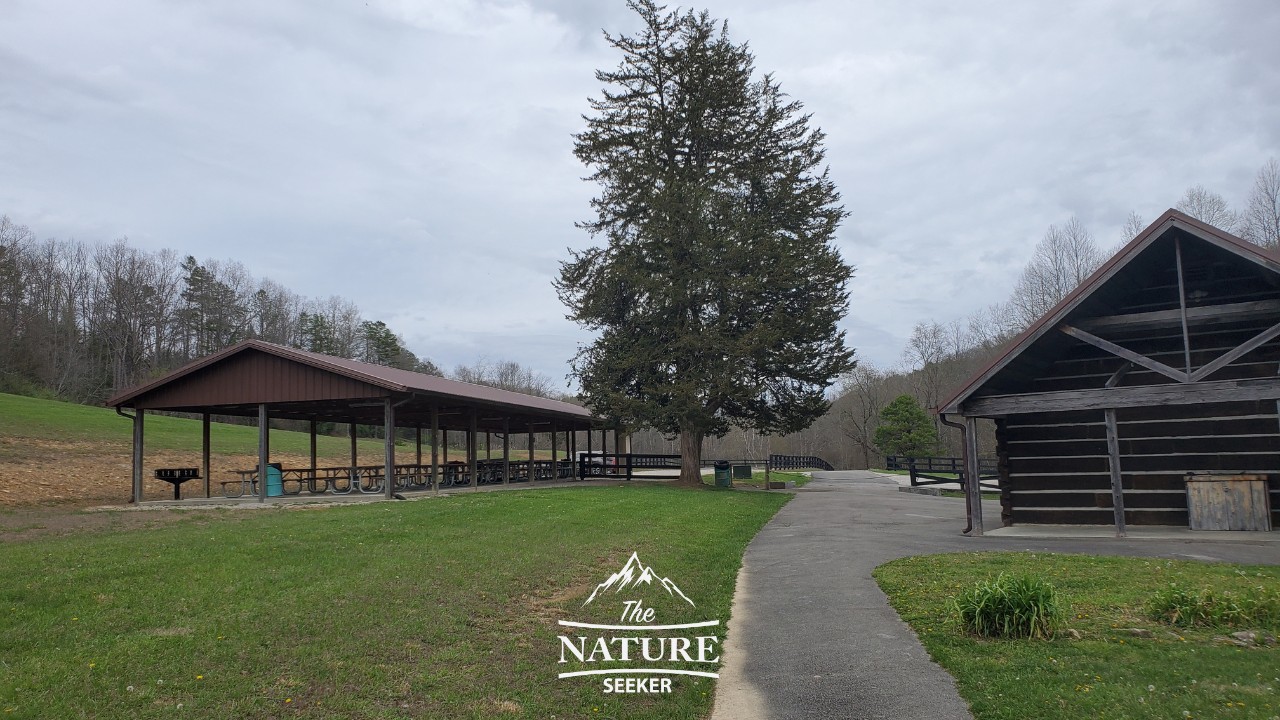 There's a large parking area before you even start hiking to the waterfall.
You can stay overnight in RVs around this area.
There's also a large picnic area with a roof over it (there's groups that go here).
There is a bathroom and even showers available on the Flat Lick Falls site.
You can camp there too.
The waterfall itself is a 2 part hike. One is an overlook, the other is to the base (better option).
When you hike to the bottom of the waterfall, you will see caves and canyons.
You can even swim around the waterfall.
In addition to that hike, there are also other hiking trails around the Flat Lick Falls area.
I've personally been to this waterfall twice and the first time was during a road trip through Daniel Boone National Forest. At the time (my first visit) I had no idea that this waterfall area had so many other things to see and do, and had I known that, I'd plan a longer trip there.
The Flat Lick Falls trail (hike details):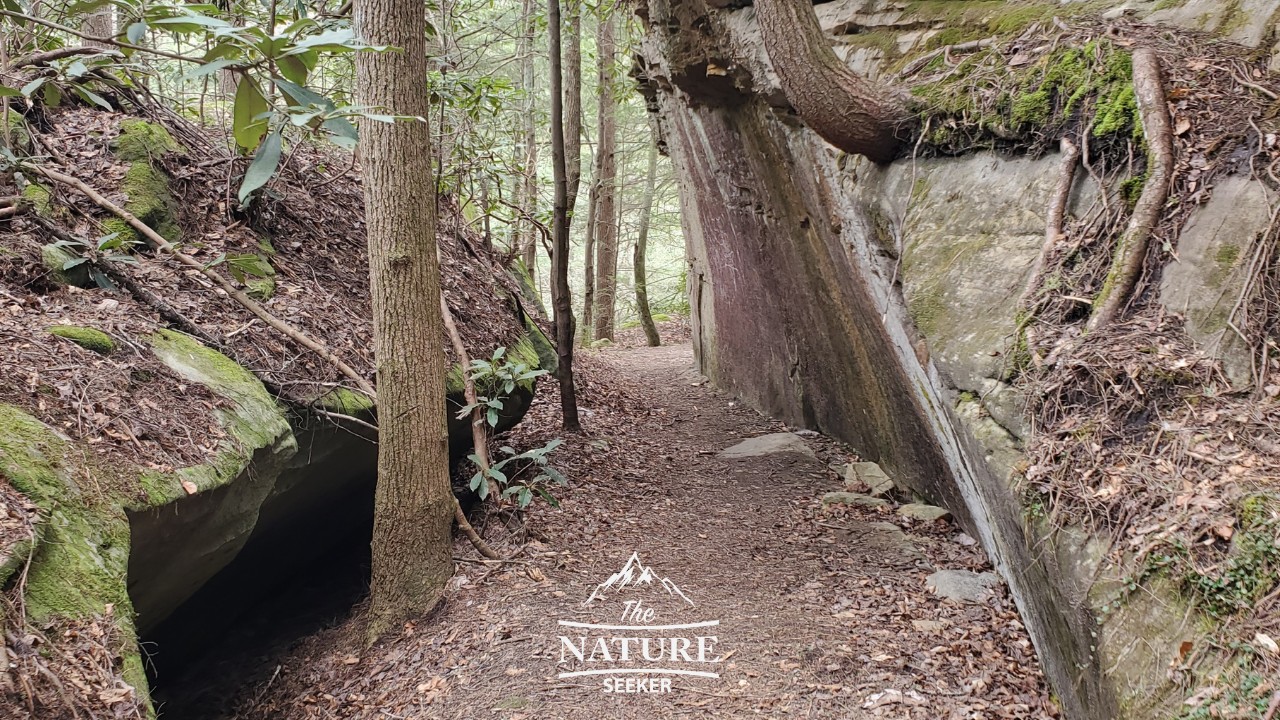 The trail to Flat Lick Falls is pretty easy and straight forward:
1) The trailhead begins about 200 feet from the bathroom area. You will see a walkway going to that trailhead.
2) At the trailhead you will follow the signs to reach the waterfall. At about 300 feet into it, you will come across an overlook and see the waterfall. From here you can elect to either follow the trail further that will take you to the base of the waterfall or finish there (I recommend going down to the base of the falls).
Here is how it looks from that overlook: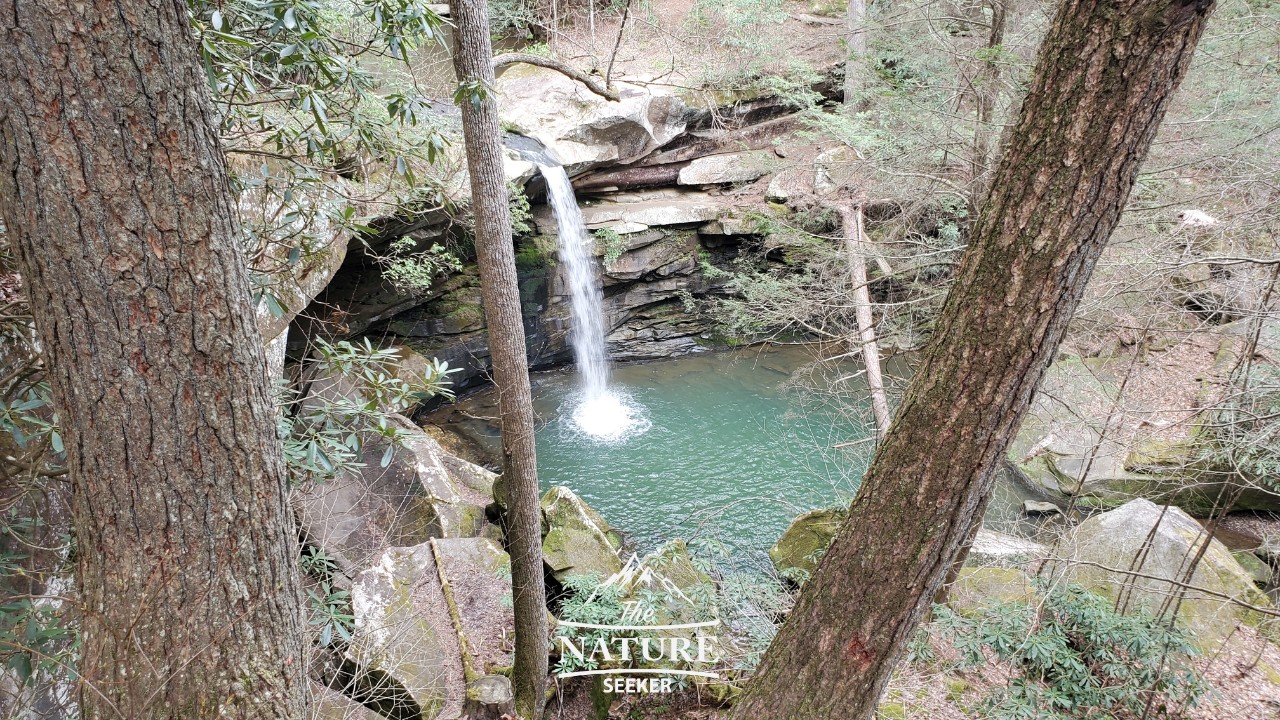 3) If you choose to do the latter, you will just follow the easy trail which will (at first) go deeper into the woods, then circle back around to Flat Lick Falls and you will hike your way down to the river that stems from it. This trail is easy to follow (you shouldn't have any problems with getting lost in the woods).
4) As you hike down, you will come across certain spots like a cave area and other scenic canyons which I recommend checking out. But once you reach the creek that Flat Lick Falls stems from, just follow it upriver (the trail does continue there). Depending on the season, if the water is very cold, you may want to wear waterproof socks. Otherwise you don't really need any sort of major hiking shoes.
However if you do intend to swim and hike around the waterfall, I would wear swimming shoes as they have better traction on wet rocks (the Body Glove Rip Tide is good for this).
5) Flat Lick Falls is not far from the point of you reaching the creek region.
6) Once you get to Flat Lick Falls, it's way more scenic to see it from that area than from the overlook and aside from that, you have a bunch of other things you can do there:
You can just stay there all day if you want.
You can go swimming at the swimming hole right by the waterfall.
You can hike around the waterfall to get amazing side views of it.
And you can just do things like enjoy a picnic day there.
This is a popular area so there's a good chance there will be other people. I was fortunate to see this waterfall all by myself the second time I went but this is because it was during a weekday and when it was colder.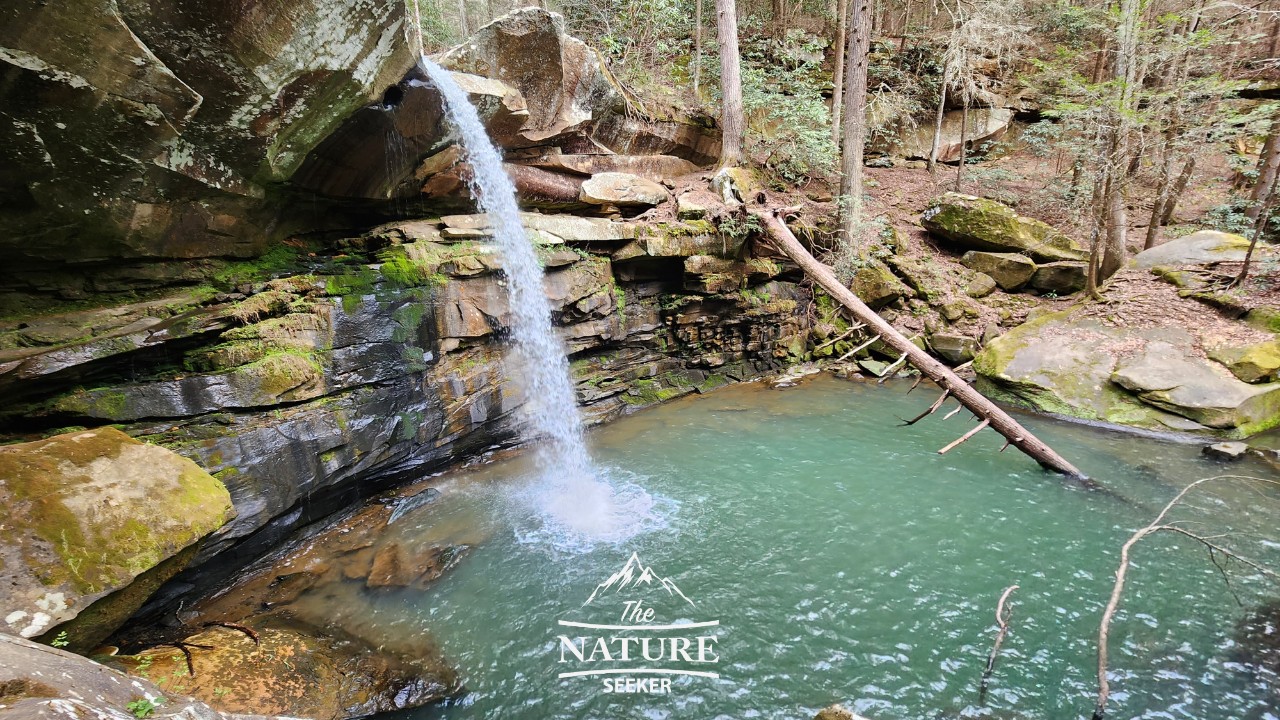 7) When you exit out of Flat Lick Falls, there's actually 2 ways to do it:
The first is just hiking back the same way (easiest option).
The second is a hike through the right side of Flat Lick Falls itself. There is no official trail there, but there is a scramble involved that'll take you over the top of the waterfall and then back to the trail. It's not something I'd recommend if you're not using to scrambling or hiking and there are slippery areas, but if you're into more adventurous hikes, this is one of the options for that. It'll also cut your hiking time by around 1/2 a mile.
The best times to visit Flat Lick Falls:
So there's a few circumstances to consider here:
If you're trying to avoid crowds, go here during weekdays and if possible avoid coming here between May and October.
For views, it also depends. The water in Flat Lick Falls is more blue and clear between November and April and during spring and summer more dirty (at least that's how I saw it).
Another thing to consider is coming here during November specifically because in addition to a beautiful waterfall with clear water, you will also get autumn colors.
Other questions about Flat Lick Falls:
Is Flat Lick Falls dog friendly?
Yes, I have seen people with dogs hike to Flat Lick Falls before.
How tall is Flat Lick Falls KY?
Flat Lick Falls is a little over 30 feet high.
Things to see near Flat Lick Falls:
There are amazing areas several hours each way around Flat Lick Falls worth seeing and they include:
More of Daniel Boone National Forest.
Red River Gorge is north of this area and has even more waterfalls, trails, natural bridges and more.
Natural Bridge Park is also an amazing spot.
Further north (if you have extra days to explore) is

Hocking Hills State Park

and

Cuyahoga Valley National Park

. They are both located in Ohio but worth visiting, especially Hocking Hills.
Further south is

Big South Fork

where you also have similar terrain, waterfalls and amazing hiking trails like the

Honey Creek Loop trail

. There's also several gigantic natural bridges there. I'll be writing more about Big South Fork soon.
Overall, Flat Lick Falls is a highly recommend waterfall and area to visit if you're in Kentucky, and traveling through Daniel Boone National Forest. If you have any questions about this area, let me know!