Before you visit Salmon River Falls, let me show you what to expect from that trip with this simple guide I wrote up on it. Earlier this year I visited this place and while it is beautiful, there are limits to how much stuff you can do here and knowing that beforehand will help you plan for how much time to spend here.
Quick info on Salmon River Falls:
Name: Salmon River Falls Unique Area.
Location: 2 hours north of Syracuse NY.
Entrance fee? $0!
What is it? One of the largest waterfalls in New York that you can hike down to.
Height of the waterfall: 100+ feet.
Hike distance to waterfall: There's 2 hikes, both under 1 mile.
Difficulty: 1 trail is easy, the other is difficult.
Rating: 4 out of 5.
Recommended? Yes, this is one of the most beautiful waterfalls in New York but the amount of things you can really do here is limited to just seeing the waterfall from the top and bottom areas. Other than this, unless you plan on camping or fishing, there's not much else to do around Salmon River Falls.
Reaching Salmon River Falls:
Getting to the area is easy. Here's a GPS to Salmon River Falls. There is a fairly large parking area with a portable bathroom. Fortunately the parking is free and because the area is pretty remote, you are unlikely to see large crowds there unless it's during weekends or holidays.
There's 2 ways to see Salmon River Falls:
The first one is the Gorge Trail which involves a pretty steep hike down to the base of the waterfall.
The second is a regular walking trail to the top of the waterfall, but you can't get to the edge, only about 100 feet from it.
The better views of Salmon River Falls are definitely seen from the Gorge trail so I would recommend doing that hike if you can. I'll be detailing both of them shortly, but the good news is that they are easy to find, easy to navigate and short overall.
Hiking to Salmon River Falls on the Gorge trail:
Accessing the first trail is easy. It's only about 300 feet from the parking lot and there is a sign and some steps (initially) that take you down there. Later on the steps do become much more of a steep hike down and even some spots where a slight scramble is required. Although it is a little bit difficult, it is short and as you get closer to the bottom, you'll have a fork towards the end: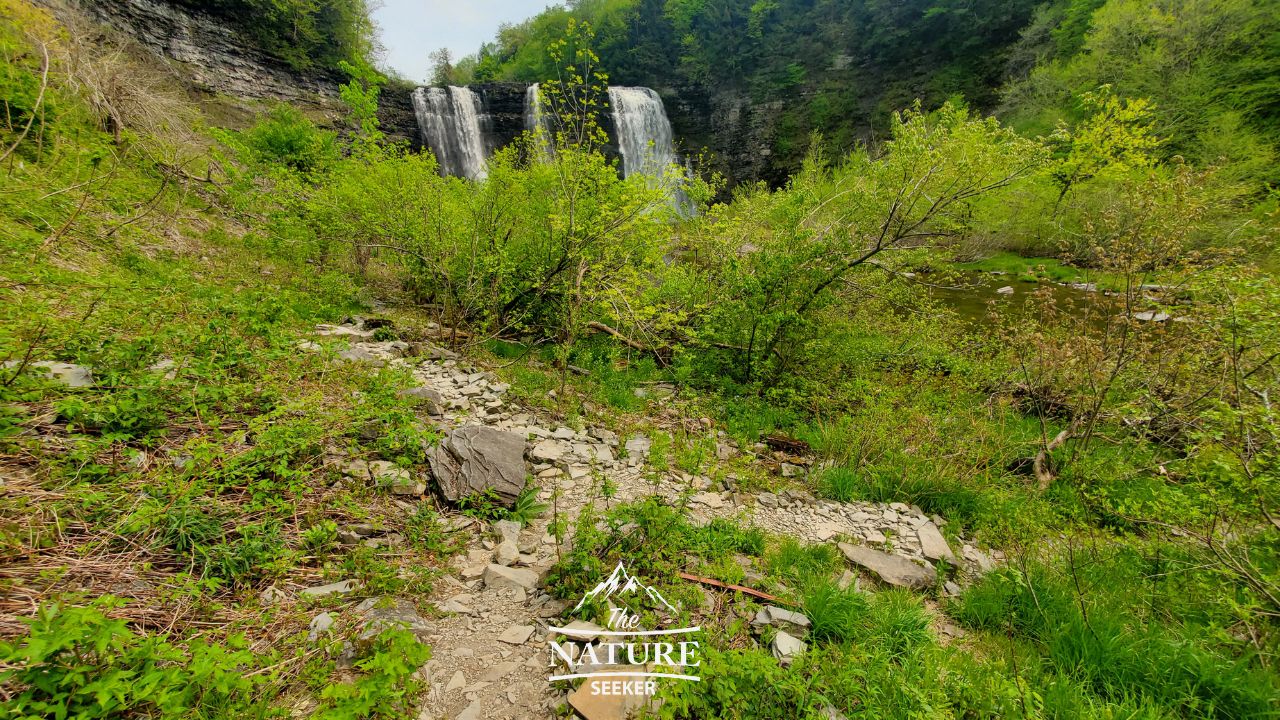 If you go left on the fork, you'll come closer to the base of Salmon River Falls from the left side.
If you go right on the fork, you'll hike down a little more, then have a river crossing to pass through that then takes you closer to the waterfall, but closer to the middle area of it. That spot is annoying to get to because the river crossing and rocks in the water are very slippery.
Once you're done seeing the waterfall, you'll just hike back up the Gorge trail and either finish up from there or continue to the next trail. Now one thing that's important to know is that after mid November, the Gorge trail will close because of the cold.
Hiking to the top via the Salmon River Falls trail:
This is the second hike in the area you can check out and it takes you to the top area of the waterfall. Accessing this trail is also easy as it's part of the same exact one that starts from the parking lot and passes by the entrance to the Gorge trail, except here instead of hiking down the Gorge trail, you'll instead keep walking east.
This trail is short and very easy and as you pass the top of the waterfall, you will have the opportunity to walk down closer to it via a staircase that will bring you a top the Salmon River. From there you will be able to see the top of the waterfall but the views won't be nearly as good, plus access to the top of the waterfall is not allowed due to the dangers. From there you can walk a little bit further on the remaining trail or come back.
Further things to explore near Salmon River Falls:
Because there's really only 2 things to do in Salmon River Falls (exploring it via the 2 trails), once you're done you'll have a few other options that are about 20 minutes away from the region. Though there aren't any major hikes or waterfalls to see because of how remote the area is, you can still do some interesting things and here's a few options:
Fishing:
You can do this a few ways including manually fishing by the Salmon River Reservoir area which is east of the waterfall. There's several roads which take you around it where you can park and fish. I'm not sure about permits in the area, but you can check an official site here for that.
Boating:
You can do that and fish in the same reservoir area. There's a boat launch area here which is popular for fishing, kayaking and even jetskiing.
Camping:
There's at least 1 or more campgrounds further east of the waterfall near the reservoir as well.
Other questions about Salmon River Falls: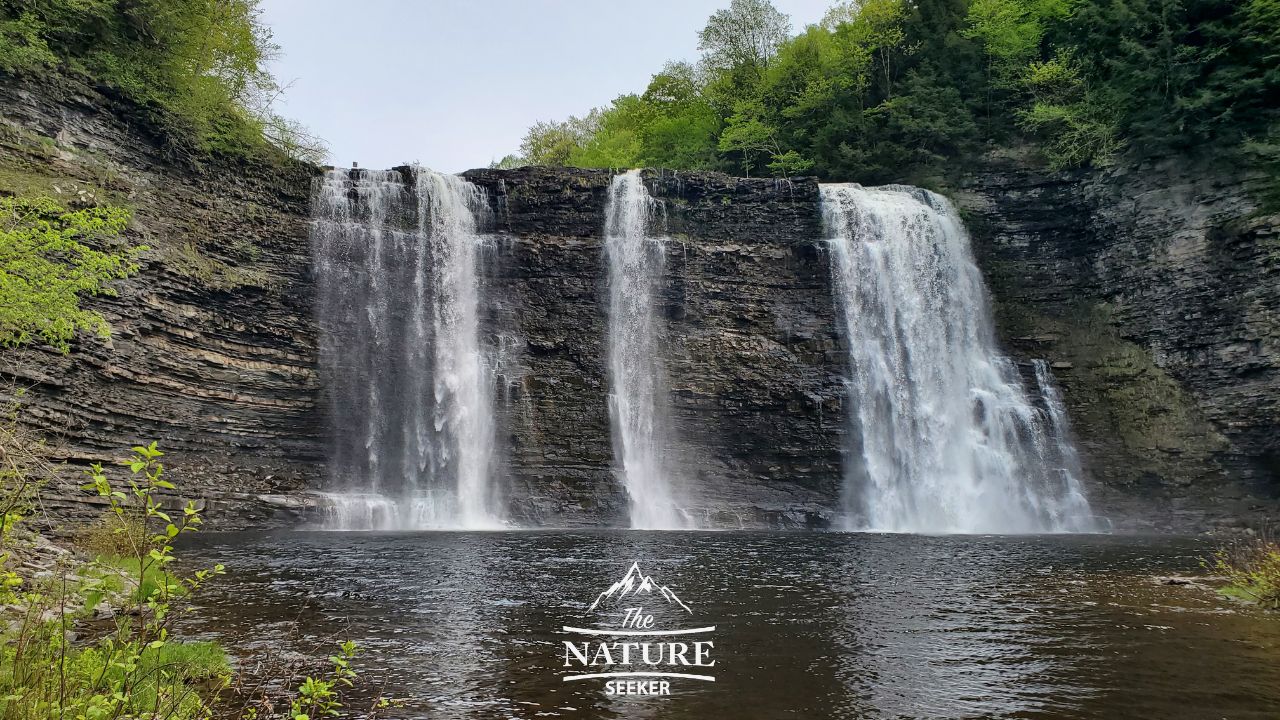 How long does it take to hike Salmon River Falls?
There's 2 trails at Salmon River Falls and both take about an hour to hike.
Can you fish at Salmon River Falls?
There is a reservoir lake above Salmon River Falls where fishing is possible.
How long is Salmon Falls trail?
The Salmon Falls trail is less than half a mile in and out, but there is also a Gorge trail to the bottom of it that's about half a mile in and out as well.
Other things to see near Salmon River Falls:
Unfortunately if you want to see amazing areas, you'd have to go a bit further beyond Salmon River Falls to do it in my opinion and so the following locations I'm going to recommend may take you about 1-2 hours each way to reach, but since most people who visit this area only do it for a short period, perhaps via a road trip and they're usually headed somewhere else, this part may help you plan to see even more amazing areas:
Finger Lakes:
This is going to be 1-2 hours south of Salmon River Falls. If you've never been there before it's an amazing and large area full of lakes, waterfalls and amazing hiking trails. For example, there are countless Finger Lakes waterfalls to check out and there's even larger ones there than Salmon River Falls such as Hector Falls, Ithaca Falls and Taughannock Falls.
At the same time, there's amazing parks throughout like Buttermilk State Park and Watkins Glen State Park where you have 2 different gorge trails and even swimming areas located in the parks (I also forgot to mention that I highly recommend visiting Robert H Treman State Park too).
Wesley Island Park:
This is a very famous area north of Salmon River Falls which has 100's of islands and castles to see. I only briefly went here but I can tell you that it's one of the most amazing spots in NY to see and if you go further through Canada which is close by there, you can also see the stunning 1,000 Islands Provincial Park.
Adirondack Mountains:
Those are about 2 or more hours east of Salmon River Falls. If you like giant mountains and waterfalls, you will get that and much more in this area and I recommnd staying in Lake Placid if you do visit the area and check out hikes like the Indian Head trail as well as the Avalanche Pass trail.
Letchworth State Park:
This is located 3 hours south west of Salmon River Falls. Letchworth State Park has 2 major waterfalls, one of which is as big if not bigger than Salmon River Falls and the whole area has amazing scenic sights like a train bridge, hot air balloon rides and much more.
Depending on which direction you're going after you visit to Salmon River will determine which of these other areas are best to see afterwards, but if you have any questions about that or need recommendations, feel free to ask me below about it and I'd be happy to provide details on a good itinerary for you to try.
I've also done a list of the best waterfalls in New York to see which I recommend if you like sights like Salmon River Falls. There's so many jaw dropping waterfalls in NY to check out and that post will help you make a list of other ones to see in the state.