If you've never been to Buttermilk Falls State Park and/or are planning to check it out for the first time, then I want to share with you 5 things to do there.
Prelude: My trip to Buttermilk Falls explained
Before I share those 5 things (you can just skip there if you don't want to read this part), I have to share how shocked I was that I had never heard of this park before.
I was on a one day trip at Finger Lakes, which is in New York and had just finished exploring Robert H. Treman State Park. I ran into someone who told me to check it out (Buttermilk Falls State Park that is) and at the time, I didn't even know this place existed.
I had heard of Buttermilk Falls (as in the waterfall), but never knew it that it was connected to an entire state park. And thankfully, it was very close to Robert H. Treman State Park, so of course I couldn't miss out.
After getting there, I was absolutely shocked at how amazing this place was (as in it's beauty) and I'll be sure to explore it some more the next time I go, but in the short time I was there, I was able to do a lot and thus that brings me to the point of this post:
Here are the 5 things to do at Buttermilk Falls State Park:
Do the short Buttermilk Falls Gorge and Rim Trail.
Camp out near the gorge trail.
Enjoy the picnic areas near Buttermilk Falls itself.
Take a dip near Buttermilk Falls (the swimming hole).
Do the Lake Treman, Bear and Rim Trail.
Besides camping, the other activities in this park can be done in a single day if you arrive early enough.
In my case, the weather was pretty cold, so the most I could get done here was enjoy the main attractions and trust me, for most people, that will be plenty!
Here's some quick info about Buttermilk Falls State Park before we get to the things to do there:
It's located in Finger Lakes, New York State.
It's one of the most popular parks in all of Finger Lakes.
There are a wide range of activities, scenery and activities available there (covered shortly).
Yes there is parking there and most of the trails are beginner friendly to hike at.
And now, onto the things I recommend you do at Buttermilk Falls State Park:
1) Absolutely do the Buttermilk Falls Gorge and Rim Trail:
My main goal with Buttermilk Falls State Park was to see the main attractions in as little time as possible and I was recommended to do the short, but super scenic Buttermilk Falls Gorge and Rim Trail.
Let me tell you folks, if you look for pictures of this park online, the most beautiful photos you'll see will be from this trail.
It's only 1.5 miles long (loop) and I recommend you do it clockwise (as I was suggested to do it too).
You'll first begin at the Buttermilk Falls State Park parking area, work your way up the western end of the park (the red trail). That'll take you above the gorge trail, but parallel to it.
Then you'll reach west King road, and make a right, cross the river, and start working your way south along the gorge trail. This will take you through what I personally consider the best area in the entire Buttermilk Falls State Park.
You'll see many waterfalls, incredible scenic gorges and stuff that will really make your jaw drop.
This stuff even challenges views you'd get at the famous Watkins Glen State Park.
Long story short, out of all the activities on this list, this particular trail is the one I recommend you do most.
And if you're into waterfalls, this is another reason why you'll want to do the gorge trail there as you'll see some of the best waterfalls in all of Finger Lakes here.
2) Camp out near the Buttermilk Falls gorge trail:
There's a camping area right by the park available for people to check out and if you're someone who enjoys staying at these kinds of places, I'd absolutely make a reservation to stay there.
3) Check out the picnic areas right by Buttermilk Falls State Park:
The biggest waterfall in the park is obviously Buttermilk Falls State Park and it's where you'll probably find most people gather at.
By that falls are several activities including picnic tables. If you want to just sit by the waterfall, enjoy the views and eat, this is where you can do that.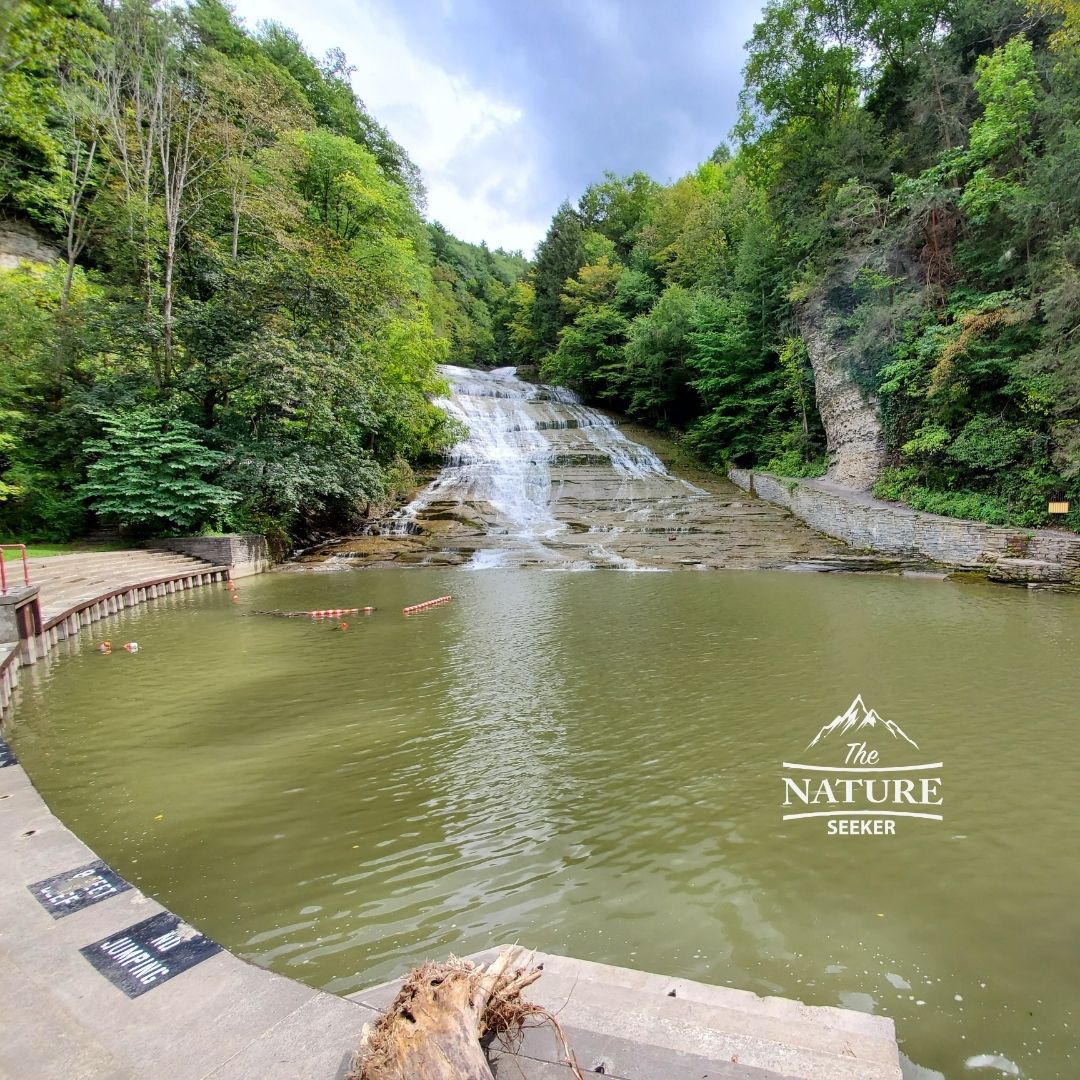 4) Swim at the swimming hole by Buttermilk Falls:
There's an area right by the falls which will allow you to swim at, but it is open only during certain seasons and provided the weather is good for it as well.
Personally for me, I like secluded swimming holes with less people, but the views of the waterfall itself cascading right above you is something that is worth the experience for some.
If you enjoy that sort of stuff, come here during late spring-summer and you'll be able to swim by Buttermilk Falls.
I'd recommend doing that only after you finish doing the gorge hike to freshen up afterwards.
5) Do the Lake Treman, Bear and Rim Trail: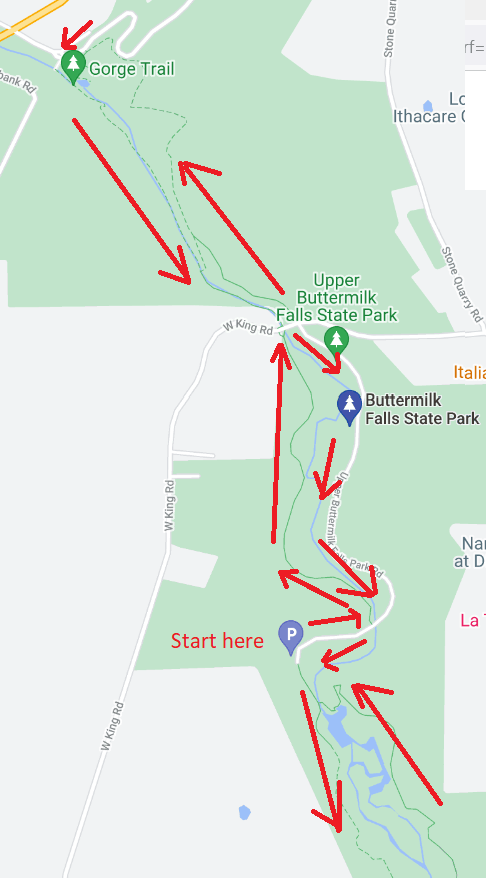 My original plan when I visited this park was to do this trail.
It's basically the gorge trail (#1 above) and 2 other trails added into it, which include the Bear trail and Lake Treman trail. Here's how it works:
1) You start at the parking lot and do the red trail to west king road (which is exactly what you'd take if you were going to the gorge trail).
2) Once you pass the road, instead of going to the gorge, you'll cross the bridge, but head north. This will take you onto the bear trail which spans for a little over 2 miles.
3) You'll cross some wooded trails, nice trails and a pond area. This will loop around and take you back to the west king road.
4) From there, you'll take the gorge trail back down south to Buttermilk Falls, and from there, head further south and do a loop around Lake Treman.
5) You'll finish back at the parking area you started at.
It's almost going to look like a double figure eight loop trail (see the map on the right so you know what I mean.
This is going to be a 4-5 mile loop trail and I would recommend it if you want to explore most of the areas around the park.
If you need more references, check out this trail on Alltrails.
Hiking shoes and other stuff I recommend wearing in this park:
Other questions about exploring Buttermilk Falls State Park:
How long of a walk is Buttermilk Falls?
The most popular trail in Buttermilk Falls which takes you through most of the waterfalls there takes about 1-2 hours to walk through. Other parts of the park may take 4-5 hours.
How much does it cost to get into Buttermilk Falls State Park?
Currently it is free, but when I went, I paid $10 for my car to get into the official parking lot.
What is there to do at Buttermilk Falls State Park?
Buttermilk Falls has many things to do. The main one is the beautiful gorge and rim hike. Another popular one is swimming by the biggest waterfall there. Other activities there include hiking and camping.
Can you go swimming at Buttermilk Falls?
Yes, there is a swimming area right by the Buttermilk Falls area. It normally opens during summer and closes before fall, but also closes when weather conditions are dangerous.
What to do after you explore Buttermilk Falls State Park:
1) My first suggestion is to visit Robert H. Treman State Park. It's close by and it also has a nice gorge trail which is even longer than in Buttermilk Falls State Park.
2) Other than that, explore the greater Finger Lakes area because it has a lot to offer. There is also a post here on the best state parks in NY to see (some near Buttermilk Falls).
For me, I started in NYC, arrived in this region early in the morning, and explored a bunch of sights before heading west (check out my Minnesota North Shore post for details).