After reading such highly favorable reviews of the West Fork Trail in Sedona, I decided to hike it myself and see if it was truly that good.
What I discovered is 3 things about the West Fork Trail:
Yes, most of the trail is amazing.
There is actually a 2-3 mile "add on" to that trail towards it's end and that's where it gets 100x better.
Ironically, most people miss out on this last 2-3 miles because it involves getting into deeper, colder water, so they stop and return home thinking they saw the best parts of the West Fork Trail, when in fact, they actually missed it!
The point of this West Fork Trail article I'm writing is to help you avoid that "mistake" and get the most out of this amazing hike. Yes it involves getting into (likely) very cold water, but if you prepare properly beforehand like I did, you may be able to do the full West Fork trail hike. So here's what you need to know:
Quick info on the West Fork trail in Sedona:
Name: West Fork Trail.
Location: Sedona, Arizona.
Length: 6-9 miles in and out (if you do the add on, it'll be 9 miles).
Rating: 4 out of 5 for the first part, 5 out of 5 if you do the add on.
Permit required? No, but you do need to pay $11 to enter the parking area.
Main pros: Very easy hike (mostly), scenic views and even a Subway/Narrows type hike in the end.
Main cons:

Not very challenging (mostly) and

you may potentially get wet and cold if you do the add on hike in the end.
Aside from this summary, let's get into the details of what it's like to hike the West Fork Trail:
1) Starting out on the West Fork Trailhead (near Oak Creek):
It's very easy to find and here's a Google listing for West Fork Trail.
You will need to pay $11 to get into this area and there is a lot of space, but if you know Sedona, you should probably keep in mind that pretty much every popular parking area fills up VERY quickly.
Get here early, especially if you're not into crowds like me. The good news is there is also a bathroom and nice scenic view of the area before you even start the trail. Once you've parked and prepped for your hike, you'll find the trailhead, and follow that. You'll cross an old house ruins area, then a bridge and begin the trail. I personally had no idea there were historic spots on this trail but if you enjoy that, you'll see it very early before you even begin the official trail which is great in my opinion.
2) Crossing the first 2-3 miles of the West Fork Trail (what to expect):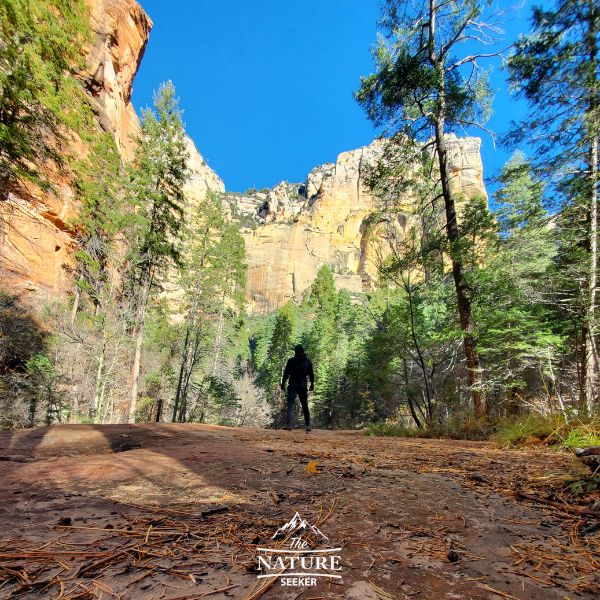 As you cross the bridge and begin this hike, you'll basically walk parallel to West Fork creek with giant mountains around you. Aside from the trees blocking out the views often, you will find numerous photogenic areas. This is how it'll continue for the first 2+ miles. The trail is easy to walk on for the most part and elevation wise, you are looking at few 100 feet of that at most for the entirety of the West Fork Trail, so nothing crazy if you have joint issues.
There is one section towards the 3rd mile where you can either cross underneath a Narrows type area or over it. The official trail (as I later learned) is actually over that Narrows area, but it doesn't matter which one you do because it still meets up in the same spots. I just chose to go through the bottom because I wanted the hike to get a little bit more challenging.
3) Entering the best part of the West Fork Trail (which many people miss):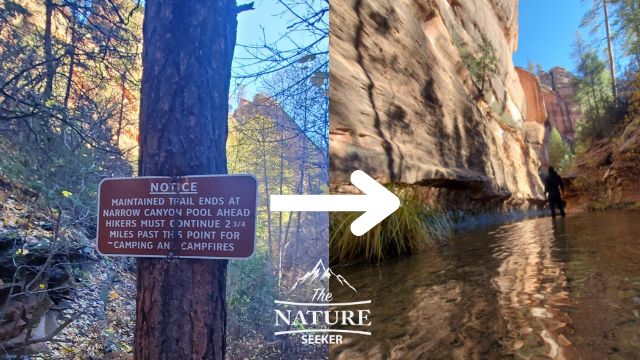 As you near the "end" of the official West Fork trail which ends at about 3 miles in from the parking lot, you'll come across the following sign. This sign basically says that the water level gets deep and there is a campground later on into the add on part of the trail.
Note: There was nothing on that sign saying I couldn't go further or that it was closed, so I just figured it was up to me if I wanted to try it out.
Up until now, you could avoid getting wet by rock hopping but if you elect to try this part of the trail, you WILL get wet 100%. Now how deep the water level goes depends on the season. In my case, the water level varied but never got deeper than knee high. It's why I was so tempted to try it (and happy that I did).
4) What to expect if you do the 2 extra miles of the West Fork Trail: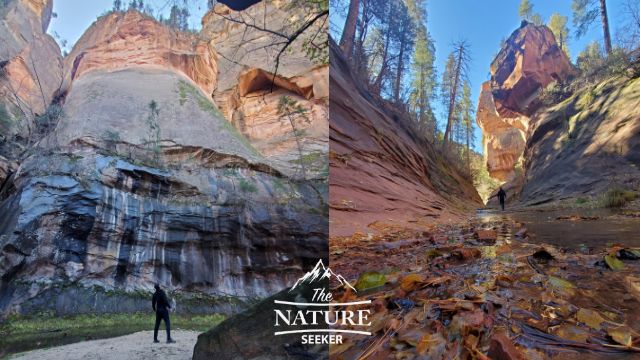 The first thing that you will have to do after that sign that warns you about the deep water is you'll have to get into that water. Fortunately the views quickly become amazing as you are crossing an area that looks very similar to the Subway hike you find in Zion National Park. In fact, I did mention how the West Fork trail is a great Narrows alternative hike to check out and after trying it out myself, I can confirm that! It really does look a lot like the Subway and the Narrows.
Once you cross that, you will continue upstream. The trail from the moment you enter this area becomes very wild, mixing together rock hopping, water walks and having to navigate as best as you can to avoid getting wet (which is impossible in certain areas).
But as you continue walking upstream, you'll come across what I think is the campground area later on. It is very beautiful here as you are right in a canyon area and it also resembles the type of hike you get the Narrows.
This will continue for about another mile until you reach another canyon area where it almost looks like a swimming hole. It is the widest one I saw and crossed because I just couldn't resist it to see what was further up and this is where the water level reached knee high levels, which I actually suspect is still at a low point for the season (November time). At no point was anyone on that trail (because I suspect everyone turns around at that sign earlier). Shortly after that canyon walk, the woods became much more thick and I didn't think there was much else to see, so I decided to turn back around.
5) Returning to the West Fork trail parking lot:
It was literally just a matter of turning around and heading back through the same canyons and Subway/Narrows parts. Once I reached the same sign warning about those areas, it was an easy hike back to the parking lot. I have to say that after seeing what was beyond that sign, I am very happy that I tried it out considering that it really did get 100x better and while the main West Fork Trail is nice, it's really nothing (in my opinion) compared to the beauty that lies beyond that sign.
What to wear for the West Fork Trail (especially the best parts of it):
While my opinion is that the best part of the West Fork Trail is towards the end which adds another 3-4 miles to your total trip, you should decide if this is something you are comfortable doing.
Most importantly for this hike, great waterproof socks are what will greatly help you. I relied on my Randy Sun waterproof socks here and once again, they delivered. I did also bring my Showers Pass waterproof socks for a plan B in case they were needed.
Questions about hiking the West Fork trail Sedona:
How long is the West Fork Trail?
The main West Fork trail is 6 miles in and out. An add on trail there makes it 9 miles.
Is West Fork Trail hard?
No, West Fork Trail is a mostly easy hike to do with very low elevation gain.
Do you need a permit for West Fork trail?
No you don't need a permit to hike West Fork Trail, but the parking lot to the trailhead is $11 per car to enter.
Is West Fork trail busy?
If you arrive very early, West Fork Trail will not be busy, but in the afternoon, the parking lot and trail fills up with crowds almost every day.
My personal thoughts on the West Fork Trail after completing it:
I did really enjoy this trail, but the latter part of it was where I truly saw breathtaking views. If I was to ever do this trail again, it would honestly be because I would want to experience that latter part of the trail beauty again, and not so much the first parts of it (which again, I have to stress are beautiful, just not as beautiful as the add on section).
Overall, this trail is an excellent change up to what you normally see and hear about when it comes to Sedona. Most of the popular hikes here normally involve mountain hiking and seeing distant views of the region and that's quite amazing, but it gets repetitive so switching it up with the West Fork Trail is a great way to mix it up. And if you are new to exploring Sedona, here are a few other trails you may want to check out too (ones I've personally done):
Vultee Arch

(excellent hike too).

Robbers Roost

(An awesome Sedona Easter egg to explore).
Keyhole Cave (more details on that hike will be up in the future).
Subway Cave (not to be mistaken with the Zion one, but the caves look very similar).
Fay Canyon (details will be up in the future too).
If you have any questions about hiking West Fork Trail, let me know! But other than this, I hope this article helps you truly get the most out of this trail and now you know how to do that!