How to Hike to Birthing Cave Sedona Step by Step
In this post, I'm going to show you exactly how to hike to Birthing Cave Sedona based on the same directions I used to get there. The first thing to know is this hike is both simple and confusing at the same time, here's why:
On one hand, it's simple because once you're on the right trail, reaching the Birthing Cave becomes easy.
But it's also difficult because there is no official Birthing Cave trailhead available and in order to find it, you have to follow directions on blog posts like this (that's what ended up happening to me).
But the good news is that I'm going to give you very simple directions on finding it. Once you do this hike once, it's actually not that difficult to find and I'll also show you other caves and spots to explore in Sedona after that are just as good!
Quick info on the Birthing Cave Sedona hike:
Name: Birthing Cave
Location: Sedona (specifically Long Canyon trailhead)
Hiking distance: 2.5 miles in and out
Difficulty: Easy to moderate
Permit needed? No (surprisingly)
Rating: 5 out of 5.
Recommended hike? Oh yeah! I've also included an entire map which you can use to get to this amazing cave. It's pretty easy to follow and in addition to that you may also want to get yourself Alltrails as it also has a map to this spot too.
Here are the exact directions on how to do the Birthing Cave trail (step by step):
There's actually 2-3 different ways to reach Birthing Cave, but I'll show you the most popular and shortest option.
1) Start at Long Canyon Trailhead:
There is space for about 10 cars there, and like most of Sedona's top hikes, if you don't get there early enough (or during the winter when there's less people), you'll likely have to wait for a spot to open up. 
But anyway, Long Canyon trail is where the the unofficial Birthing Cave trail starts (even though you won't actually see signs for it). Once you park your car, you'll head north along the only trail that's there (Long Canyon). Make sure you go north and NOT south. You're going to be on this trail for about 1/3 miles. It's actually quite a beautiful trail that's easy to follow and you will see some awesome sights all around you, so make sure to enjoy the views here.
Note: Do NOT rely on Google maps for this trail. If you use the maps app and type in Birthing Cave, it will show up, but the spot on Google maps is totally wrong and will lead you to a completely different trailhead known as the Mescal trailhead which goes to other spots in Sedona, including Devils Bridge Sedona. You will simply use Google maps only to find the Long Canyon Trailhead which I linked within this article to make sure it's the right one.
2) At around 0.4 miles into Long Canyon trail, turn left at the fork: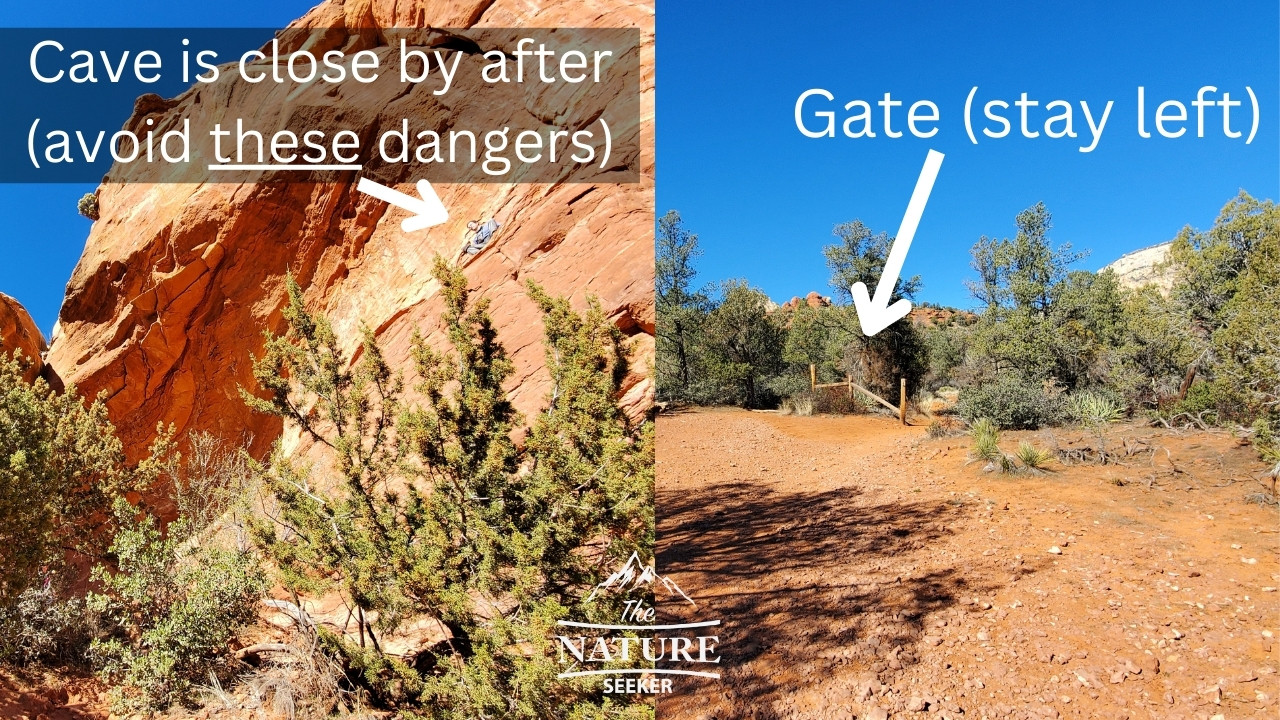 You'll continue on the new trail (which goes to Birthing Cave) for another quarter mile. There is no name for this trail as far I know but there will be a split. Long Canyon trail will continue north and connect with other trails, but you will want to exit to the left and continue on the new trail which isn't as well marked. It will literally be the first fork on the Long Canyon trail. Once you are on this trail, you will only be on it for 1/3 of a mile. There are 3 ways to tell if this trail you are on is the right one:
First, you can use Alltrails. They have a trail map of Birthing Cave.
Second, there's really no other trail other than this one which is on the left.
3) Follow the new trail till you pass a gate (Birthing Cave isn't far after that):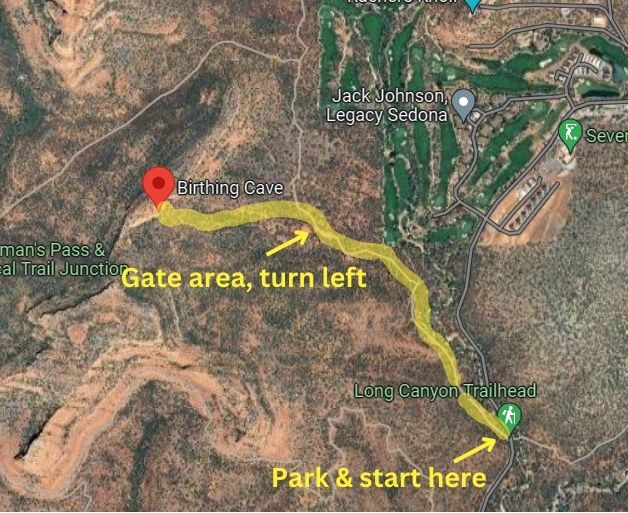 Once you pass the gate, you will steer left and continue on the same trail which is now going to be much more narrow than before, but still clear enough to follow. This will bring you close to the mountain walls within which you will find Birthing Cave. As the trail continues, it will turn right and that will take you straight up into Birthing Cave. The hike to the cave from this turn is only about 100 feet but the elevation is also around 200 feet from here. It's a scramble to reach the cave, but it's nothing too difficult.
Once you finish exploring it, you will just go back the exact same way, except it'll be done this way:
Once you hike down from Birthing Cave, at the first fork, turn left.
Walk on the trail, pass the gate and turn right on Long Canyon Trail.
Take Long Canyon Trail (south) until you reach the parking lot to finish.
Important safety tips: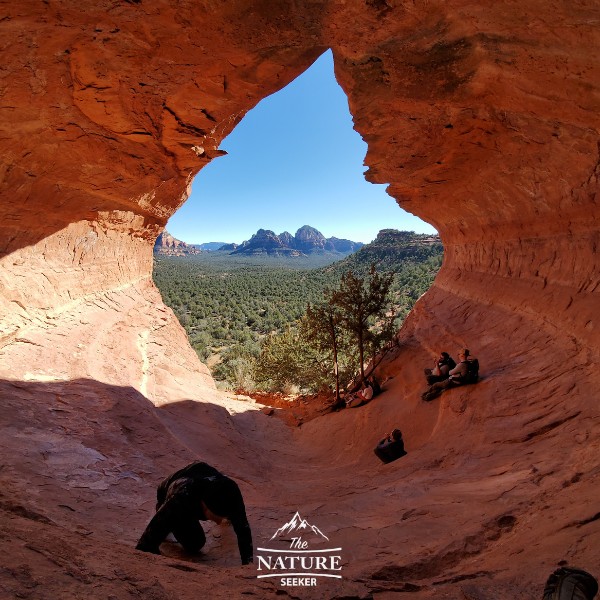 1) There's several parts on the Birthing Cave hike itself where you can climb up into it:
And they can be pretty dangerous. The picture you saw of me inside this cave was taken by a lady who climbed up as far into the cave as possible, where there was actually a hole you can crawl into.
However, getting into that hole is something I would NOT recommend you do as it's very dangerous. I couldn't even get up there as the rock felt very discombobulating to step on and I felt that if I kept going further up, I'd slip or fall eventually down the cave and so I just backtracked, and even then it was a VERY annoying climb down.
2) Second, you can get great views of the cave and Sedona once you're right inside it:
While climbing into the spots I just mentioned is where you'll get the best pictures, I wouldn't risk it unless when you get there, you see someone inside that spot and you can ask them to take a picture of you.
3) Avoid the crowds! Go to Birthing Cave early or in winter:
I was there in late January and there were about 7 people when I arrived there. I'm glad one person was in the small area inside the cave where that picture was taken, but trust me, you probably don't want to be in a long line or bump into others on this trail (or any other in Sedona), so to avoid it, get there super early and if it can't be helped, go there when it's winter time as you'll find way less people.
4) Remember, there is no Birthing Cave trailhead or signs for it, so make sure to prep ahead of time with the directions I have you:
Trust me, you will not see a trailhead marker or signs for Birthing Cave Sedona in this area (only basic signs and maps), so if you do decide to go there, download the Alltrails map of this spot and/or save this page for your reference and know about it ahead of time. You'll likely run into a few people while you're on it who will tell you which way to go, but it's still better to know the basic idea of where to hike just in case. There is also no signal on this hike and as simple as it is, getting lost is still possible.
5) Bring water, especially if it's a warmer season:
Yes the hike is pretty short (but one of the best hikes in Sedona AZ in my opinion), but unless you're familiar with it, bring extra water and maybe a few snacks in case you want to sit down somewhere and take a break.
More info on Birthing Cave Sedona:
Is the Birthing Cave a hard hike?
Most of the hike to Birthing Cave is easy. The last 200 feet into it however is a moderate scramble.
How long does Birthing Cave hike take?
It takes less than an hour to reach Birthing Cave from the trailhead for most people.
How do you get to the Birthing Cave in Sedona?
To get to Birthing Cave, you have to park at Long Canyon Trailhead, then follow the path north. After that you will turn left, pass a gate and that will take you to the mountain where you'll find it. Make sure you use a map to reach this area.
Do you need a Red Rock Pass for Birthing Cave?
No, parking at Long Canyon Trailhead where the trail to Birthing Cave starts does not require a Red Rock Pass.
Other awesome hikes I suggest you check out besides Birthing Cave Sedona:
Obviously, Devil's Bridge. There is a Mescal trailhead near Long Canyon Trailhead that you can use to get there.
The Subway Cave in Boyton Canyon is amazing too.
Soldiers Pass and it's caves (might be more amazing than Birthing Cave!).

Robbers Roost

which is a quasi cave and old ruins area.

Cathedral Rock

is also amazing (short but steep).
Also Keyhole Cave (I think it's as big as Birthing Cave, but is a lot riskier to climb).

West Fork Trail

(amazing water hike that bears resemblance to the Narrows and even the

Subway hike

).
Some

waterfall hikes in Arizona

(closest to Sedona is Chocolate Falls).
I'll be providing more step by step guides on each hike I mentioned (and more) but I hope this one helps you in hiking to Birthing Cave. It really is one of Sedona's many awesome spots to explore!