How to Hike The Cathedral Rock Trail in Sedona For Beginners
The Cathedral Rock hike in Sedona is likely the most popular trail in the area and while it is indeed amazing, before you go there just make sure you're actually ready for it and the 5 things I want to share with you in this post will help you.
Quick info on the Cathedral Rock Sedona hike:
Name: Cathedral Rock.
Location: Sedona Arizona.
Distance: 1 to 1.5 miles in and out.
Difficulty: Moderate to

hard

.
Rating: 5 out of 5.
Recommended hike? Yes! This was the first hike I ever did in Sedona and it really blew me away even though it was short. It's one of my favorite trails there and I recommend it for anyone who is OK with scrambling.
5 things you need to know:
Cathedral Rock is a short but difficult hike (due to the elevation gain during the hike).
Try to do it closer to sunset.
Also try to visit it during sunrise.
See the other viewpoint near Cathedral Rock.
See connecting trails close to Cathedral Rock too.
These tips are pretty obvious to understand but these are the 5 main things I took when I did this trail. I do want to offer more context below to each in case you're wondering why they are even hike. You see a regular hike to Cathedral Rock is fine and all, but if you do it in the right times and know what to expect, you'll just get more out of it and that's why these 5 thing will help you do that (and possibly avoid problems).
Cathedral Rock is not going to be a simple hike for most people:
On the surface, it may seem like Cathedral Rock is short, at a little over 1 mile in and out, but in truth it isn't and that's because the elevation gain from this trail is no joke. Alltrails says it's close to 800 feet and I believe that but prior to visiting, I had done some research and almost every source warned about the elevation, which I didn't really take seriously. But as soon as I was on the trail, I knew I had underestimated it, so make sure you don't repeat that mistake.
The hike is going to be upwards almost immediately and it'll mostly be a scramble but you will have to do climbs in parts too. The climbing parts aren't 90 degrees and are slanted, but you will have to use your hands and feet to get through them. I would recommend taking your time here. When I did this hike, I was short on daylight and tried rushing it. That quickly zapped my energy.
Try to hike Cathedral Rock around sunset:
The "day" I did this hike, I was getting into Sedona for the first time and only had about 2 hours to do one hike there before the sun had set. Although I had the option to skip this hike and do it the next day (I only had 2 total nights in Sedona), I decided not to wait and just do it with only about 2 hours of daylight left and this is why I somewhat rushed it. However, that would prove to be a good idea since I saw with my own eyes that sunset time is one of the best times to do this hike for a few reasons:
You will have less crowds around the trail.
When you do reach the top of Cathedral Rock, the sunset views are incredible!
There are also parts of the rock that "light up" as the sun gets to a certain angle.
It's also colder and if you come here during spring/summer, chillier weather hikes are easier to do.
If possible, hike the Cathedral Rock Sedona trail at sunrise too: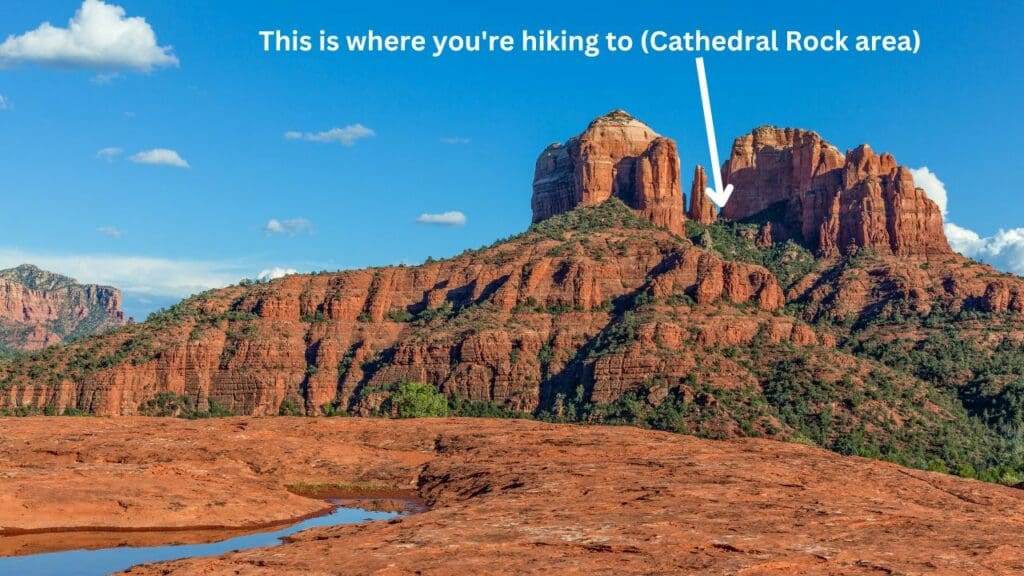 While you can totally enjoy this hike anytime of the day, sunset is one of the best times, and the other "best" time would be sunrise. The views you'd get from Cathedral Rock would be incredible from the moment you park at the Cathedral Rock trailhead as the sun would light up the whole mountain you're climbing on.
When I went, the sun was behind the mountain and so most of my photos were darkened. Either way, the best times to hike here is during sunrise or sunset (maybe do both if you can) because you'll get different lighting and amazing views during those periods and just as well, you will also have less crowds and cooler weather in the area.
Visit the other awesome viewpoint near Cathedral Rock (the 3 sisters):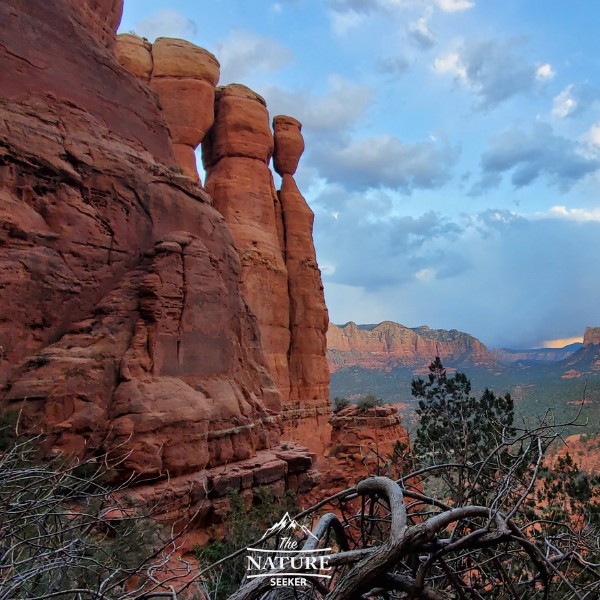 Once you reach the top of Cathedral Rock, you will see a "End of Trail" sign but the best parts of it are actually close by. You will have a fork after the trail ends to explore.
Turning right on this fork will lead you to the most popular overlook in Cathedral Rock and likely one of the most popular viewpoints in Sedona which is where I took the main picture from and this is likely where you will also find other people standing in line waiting to do the same.
However, most people don't know that if you turn left at that same fork, you will have another small hike before you after which you will be in another beautiful park of this trail where you will see amazing rock formations. I highly recommend checking this place out to get the most out of your hike. After that, you'll just return back to the main trail and work your way down to the parking lot.
Check out connecting trails close to Cathedral Rock too:
There are several other trails close to Cathedral Rock and in fact some parts of it connect with it. Here are just some I later learned were close by:
Little Horse Trailhead (about 1 mile away).
Buddha Beach (1/2 mile away).
Secret Slickrock trail (1-2 miles away).
And more.
Several of these trails aren't as packed as Cathedral Rock but I would research them on Alltrails first or another app like it just in case. Some of them require you drive to the trailhead while others in one way or another connect with Cathedral Rock. The more of a beginner hiker you are though, the less I'd go on the connecting trails and just look for the trailheads to start on.
Bonus! About the Cathedral Rock vortex (my experiences with that):
I've read about the supposed vortex at Cathedral Rock and some sources have said it is during the hike up to the top and others have said it is felt once you are at the summit or overlook area. Personally I did not experience any sort of vortex, but I did experience the difficulty hiking up the area because of the incline so it's entirely possible that it's there, but only felt when you are more relaxed. It might be different for other people, but if you do this hike and experience that vortex effect, I'd love to know what that was like, so feel free to comment on that below!
Questions about the Cathedral Rock trail:
Do you need hiking boots for Cathedral Rock?
I would recommend hiking boots or trail running shoes when doing the Cathedral Rock trail as they just have better traction.
Can you drive to the top of Cathedral Rock?
Unfortunately no. The only way to get to the top of Cathedral Rock is by hiking to it.
Why is Cathedral Rock famous?
Cathedral Rock is famous for a few reasons including that it may have a vortex, the overlook at the top is amazing and the hike is very fun.
Can you see Cathedral Rock from the car?
You can see Cathedral Rock from the trailhead and from your car, but there are many beautiful parts of it you can only see by hiking to the top of it.
How long does Cathedral Rock hike take?
People usually take about 2 or so hours to do the Cathedral Rock hike.
More trails to check out other than Cathedral Rock Sedona:
Aside from this and the other nearby trails that are available, Sedona is just amazing for different hikes and there's numerous ones that aren't just the same type of climb to the top of a mountain like Cathedral Rock is. Here are just some I've personally done and highly recommend:
I also want to recommend you check out an article I wrote on the best hikes in Arizona. There are plenty of other places throughout the state worth checking out like Page AZ, Flagstaff, Phoenix and other cities/regions that also have amazing hikes too.