In this post, I'm going to share with you how to hike to Vultee Arch in Sedona which is something I recently did and very much enjoyed.
Vultee Arch is an excellent none crowded hike to check out and it's also not far from the popular Devils Bridge which most people do when they visit Sedona. However, while Devils Bridge is ridiculously crowded and difficult to access because of that, Vultee Arch is just as scenic (and more so in my opinion), you can also walk on top of the arch and the hike to get to it is way better than Devils Bridge (I've done both these hikes so I speak from experience).
There are 3 main ways to reach Vultee Arch and before I explain what they are (each has it's pros and cons), let me first give you a simple breakdown of this hike:
Quick info on the Vultee Arch hike: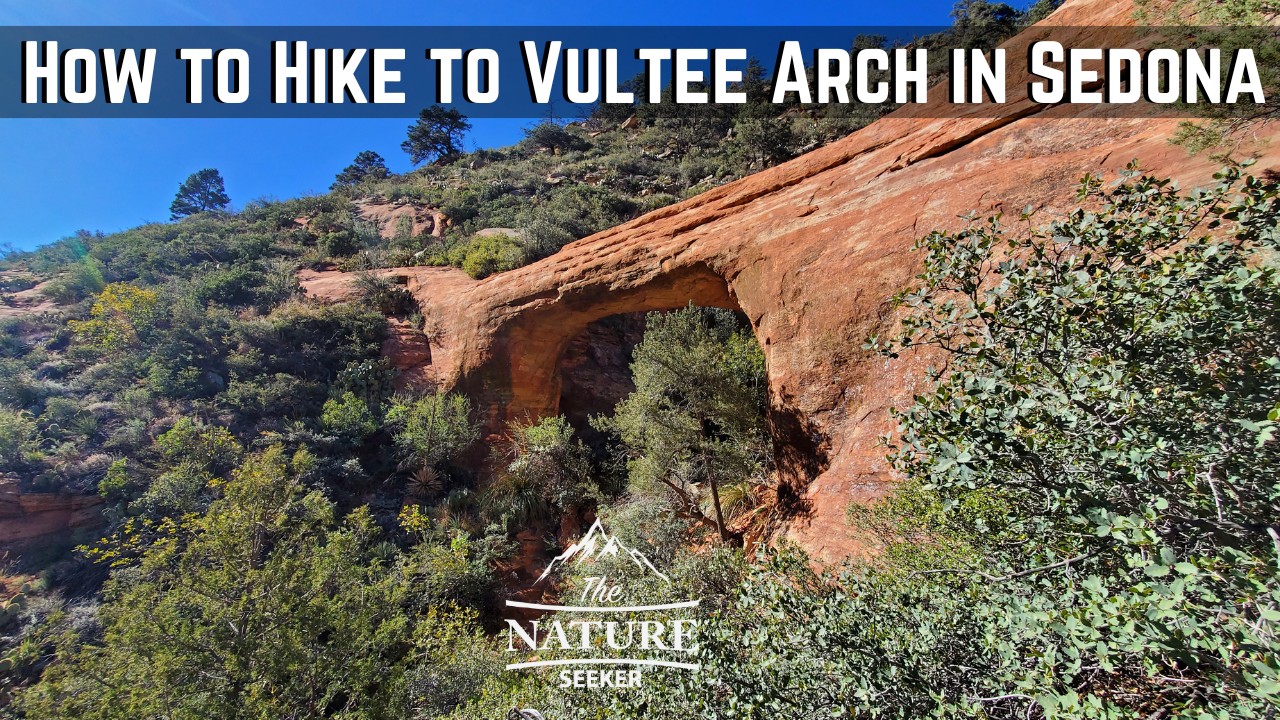 Name: Vultee Arch hike.
Location: Sedona, Arizona.
Distance: 3-10 miles (depends on which trail you take).
Difficulty:

Moderate

to difficult.
Easy to get lost? Not really.
Rating: 5 out of 5.
Family friendly hike? If you take the easier trail, then yes. Otherwise, I'd avoid it.
So now with the basic info explained, let me once again say that there are 2 main ways to hike to Vultee Arch and each method has it's own pros and cons vs the other so depending on your personal circumstance, this will determine which option is better for you.
1) Option 1 to reach Vultee Arch explained (

easiest

):
The first option to hike to Vultee Arch is "technically easier" and that's because there is an option A and B to do it. Here's how it works:
Option 1 (4 mile, easy hike):
1) You will head to the Devil's Bridge parking lot (it is known as Dry Creek trailhead).
2) On that parking lot, you will not stop there, but will access Dry Creek road and drive for about 3 miles on it. This road is extremely rugged, rocky and only accessible for high clearance or 4X4 vehicles.
3) You will access the Vultee Arch trailhead at the end of Dry Creek Road after driving on it for 3 miles. You will actually drive past the Devils Bridge trailhead road too (1 mile before the Vultee Arch trailhead).
4) You will park your car on the Vultee Arch trailhead, and hike about 2 miles to reach Vultee Arch. The hike is pretty easy and the elevation gain is about 600 feet (not a lot of incline).
Let me be clear: To be able to do this, you will absolutely need a high clearance vehicle and if you don't have it, then you will have to rely either on option 2 or 3. But this is the easiest one to access the arch. The only really difficult part is getting to the trailhead by car.
2) Option 2 to reach Vultee Arch (

medium

level hike, just a lot longer):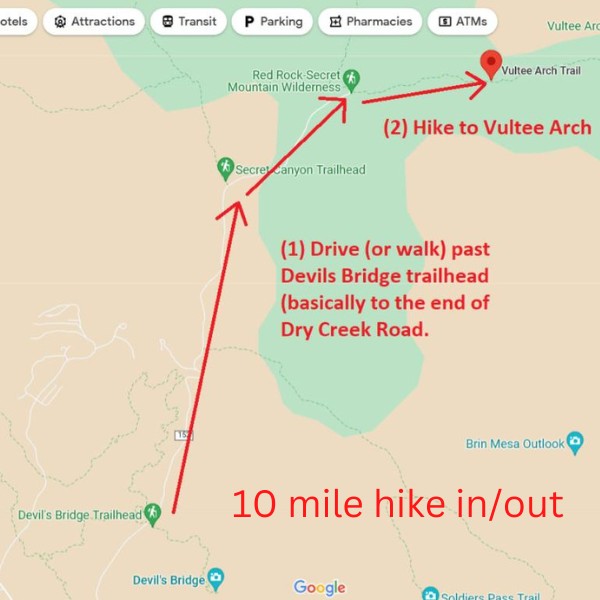 The second option is your fallback plan if you don't have a high clearance vehicle to drive on Dry Creek Road. If this is the case, then you will do the following:
Reach and park at Devils Bridge Parking lot (again it's called Dry Creek Trailhead).
You will then walk the entirety of the Dry Creek Road on foot (3 miles) to Vultee Arch Trailhead.
From the trailhead, it'll be another 2 miles to reach the arch.
After reaching it, you will backtrack the same way.
This actually makes your entire hike about 10 miles long. There's a few major cons to this:
The first is that it's longer than your first option (around 10 miles instead of about 4).
Second, the Dry Creek Trailhead parking lot fills up quickly because 90% of all people who go there, do it to visit Devil's Bridge.
Third, if it's a hot day, then you will need to bring a lot more water.
However, the elevation gain for this option of the hike is still under 1,000 feet in total which is still not bad. You will just need to decide if this is a hike you want to do, but if it's a no go for you, then you have one more option to rely on.
3) Option 3 to reach Vultee Arch (

hardest hike

, but shortest trail):
The last option is the one I used when I hiked to Vultee Arch and here's how it works:
You will park your car at Sterling Pass trailhead.
You will hike about 2.5 miles to Vultee Arch.
You will return the same way (about 5+ miles total hike).
While this option sounds simple (you don't need any high clearance vehicle to start on the trail), there are several cons to this last option which make it the hardest option:
1) The parking area here is very limited. You're looking at maybe up to 10 cars can fit there and it's literally off the road, not some official parking lot.
2) Second, the trail itself is very wild with a major elevation gain (my Alltrails report said it was about 2,000 feet of elevation gain).
3) While the hike is straight forward in terms of navigating and there is eventually a sign to Vultee Arch (but very bushy with a ton of switch backs), Alltrails doesn't actually have an official trail map for this version of it (I followed my own custom made map which wasn't really difficult), so if you fear getting lost in the woods and are not a fit hiker or experienced for that matter, I would avoid this option.
The thing which makes this hike so difficult is the elevation gain (with constant switch backs). You are basically going through some of the highest points in Sedona, dropping down into the valley, then hitting Vultee Arch, then having to backtrack all the way back through the same Sterling Pass. I did it in the fall and even with the colder weather, this hike was not easy.
Which option should you choose to reach Vultee arch and is it worth it?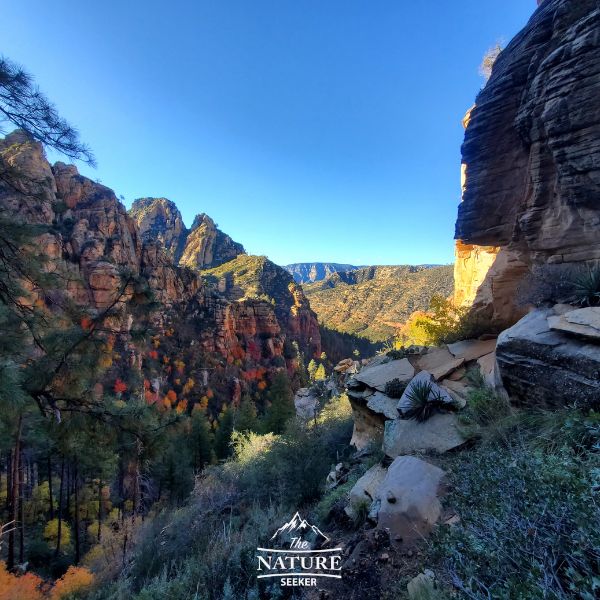 I personally love a difficult hike, so option 3 was right for me in this case. I can also navigate my way through these trails and again, there's nothing confusing about any of the options on this list to reach the arch, but if you're not physically fit, forget option 3.
If you don't have the right vehicle, forget option 1 and rely either on option 2 or 3.
Go with your comfort level for this hike, because the first 2 options are decent in difficulty and the third is hard.
In terms of if this hike is worth it, in my opinion it is. You can walk on top of the arch, it looks great, the crowds are very small there (no need to wait in line like with Devils Bridge) and most people wouldn't do this hike even if they could (the longer the hike, the less crowds will go there).
But it's very scenic to reach this arch, get on it and the views are excellent around it too and I personally rated this hike 5 out of 5 because of that. With regards to other hiking trails, I have done numerous other ones, many of which I've included in my list of the best hikes in Sedona Arizona here too other than this and Devils Bridge:
I have done a few others in Sedona which I will add another day in separate posts, but Vultee Arch is definitely a good hike to check out if you are up for it, and now you have the different ways you can access it.
Here's good gear to bring if you hike to Vultee Arch:
Salomon Speedcross 5

. These are trail running shoes I wore when I hiked the harder route to Vultee Arch.

Trailbuddy trekking poles

. They helped a ton on the massive inclines for this Sedona hike.
Also I cannot stress enough how important bringing lots of water is on this hike if you go during spring and summer! Also a good product to keep on you is the pH Miracle Phour salts (great stuff I use when I hike).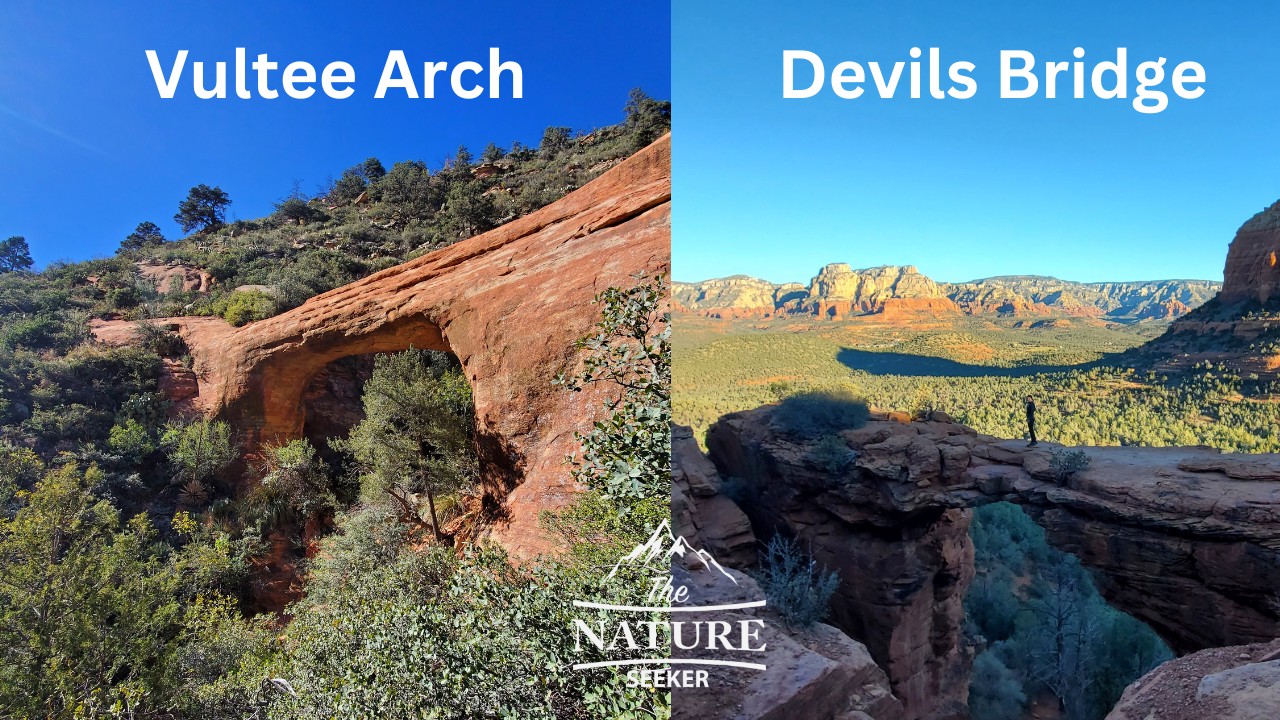 Other questions about the Vultee Arch hike:
Is Vultee Arch the same as Devils Bridge?
No, Vultee Arch and Devils Bridge are 2 different hikes in Sedona.
Can you walk on Vultee Arch?
Yes but you need to be careful as there is a climb to get to the top of Vultee Arch.
Thanks for reading this post on hiking to Vultee Arch! If you benefit from it, I'd love to know your experiences with this trail!