7 Things to Know About The Gold Strike Hot Springs Trail
Just about a week ago, I finally got a chance to complete the Gold Strike hot springs trail, a very popular hike close to Las Vegas.
After exploring it fully, I wanted to share what to expect if you decide to hike it yourself because in my case (and many others as I later found out), there are certain precautions and things you should know before going and that's the purpose of this post. And so there are 7 things you need to know before checking this hike out, but before we get to that, we'll start with this:
Quick info on the Gold Strike hot springs trail:
Name: Gold Strike hot springs.
Location: Nevada, right by Hoover Dam (Clark County).
Hike distance: 6 miles in and out.
Difficulty: Moderate to difficult.
Hike rating: 5 out of 5.
Easy to get lost there? There's 1 area where it could happen (more on that later).
Main pros: Very fun hike with ropes, scrambling, hot springs, great views and more.
Main cons: Tough in parts (rope climbing and scrambling isn't that easy in parts).
7 things to know about the Gold Strike hot springs trail: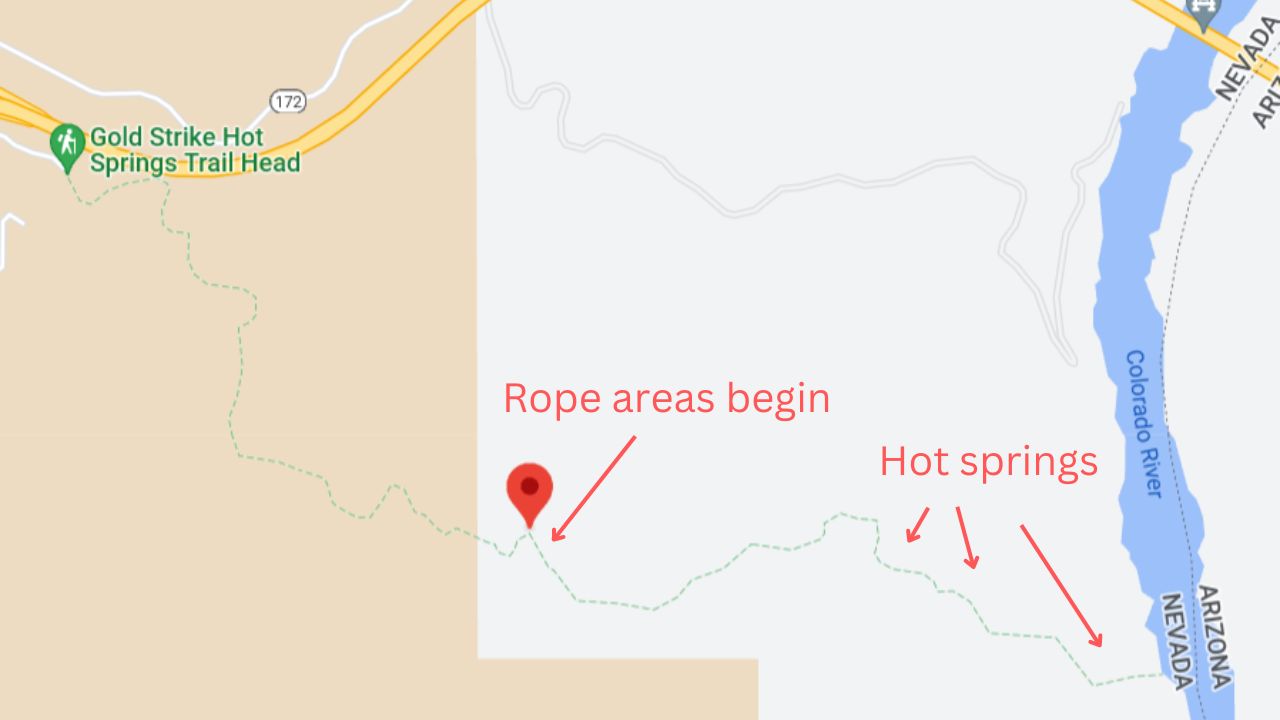 1) Gold Strike hot springs is only 30 minutes away from the Las Vegas strip:
This speaks for itself. I rented a car and it took me about this long to get here. There is an official Gold Strike hot springs trailhead you can use to get to the parking lot.
2) It's very close to the Hoover Dam and Lake Mead area:
Not only is the drive from Gold Strike hot springs to the Hoover Dam and Lake Mead area a few minutes away, but when you hike down to the end of Gold Strike Hot Springs, you'll also see a great view of the Hoover Dam bridge (Pat Tillman Memorial Bridge).
3) There's at least 4-5 rope climbing areas:
Aside from the hot springs, this hike is known for having rope climbs. Some of them are very short and help you get down 10 foot or higher rocky areas. Others are 30 or more feet high, but for the most part, the slope of the rope climbing areas is steep but not fully vertical. If you're scared of rope climbs, I would say just take your time here. You do need to be pretty strong to hoist yourself up (rope climbing down is easy in my opinion) but you can use your legs to push along the rocks as you do it.
4) This place is popular and busy most of the time:
I would also strongly recommend coming here either very early, on a weekday or when it's colder because the parking spots get filled up very quickly. 
5) There are at least 4 or more hot springs:
The first hot spring you find is about 2 miles into the trail. Then once you reach that, the next hot springs are closer. There's also one or two right by the Colorado river (last section of the hike before you turn back).
6) Getting lost may happen in one section:
I'm embarrassed to admit that about halfway into the trail, there's an open area with telephone poles, and when I was coming back, that open area had 3 canyon areas, and only 1 was the official trail. I wandered off into the 2 others before finding my way back. In this case, I'd recommend using Alltrails, following the crowd that goes in the right spot, and/or seeing where the graffiti and signs are on the canyon (that's the right one to be on).
7) Avoid leaving any important luggage in your car before you go (

theft

):
I've read at least 1 review from someone who said their car was broken into while they were hiking at Gold Strike hot springs. The odds are low, but just leave the most important things either with you or at home.
What to expect from hiking to Gold Strike hot springs:
Starting out:
Reaching the trailhead to Gold Strike hot springs is very simple. Just enter it into your GPS (I've included the link to it).
If you're doing this day hike near Las Vegas, you'll be driving on a very scenic road (30 minutes from the city) and right before you reach the Hoover Dam area, you'll exit out, and enter the parking lot. It fits about 30 cars so like I warned before, go here when it's very early and avoid weekends if you can. Another thing I did find was a sign that said this trail is closed May 15 through September 30th. I'm not sure why but check before you go. After you park the car, the trail starts very close to it. You will head downward, parallel to the highway. The trail will zigzag.
The first mile on the Gold Strike hot springs trail is easy:
You will mostly be walking over sand and some rocky areas. There will be some canyon walks and they are beautiful. Just keep in mind that the trail continues downward for 3 miles basically.
Second mile on the trail is where you'll find rope descents:
As I said earlier, there are about 4-5 rope areas on this hike. The first one is easy, the second one is the highest, but the other 2 or 3 after are OK. There are other ways to descend on the trail, but you will come across areas on the hike where there are massive drops and it'll be impossible to climb down without rope.
If and when you find these areas, you should look for arrows (white or red) pointing to which way to go. This helped me out a lot when I went here because it basically helps you navigate correctly down this trail and reduce the risks. As for the rope climbs, yes you do need good upper body strength and I personally loved these parts of the hike. Climbing up using the ropes is harder then going down (at least for me).
The hot springs are 2.5 miles into the trail:
The closer you get to the hot springs, the more plants you'll start to notice. The hot springs on this hike are kept together by sandbags as I found out, but they can fit at least 5 people. Not all of the hot springs on this hike are the same temperature. For me, most of them were warm, but only 1 was hot. Keep in mind that if you find a hot spring and it's either crowded or not hot enough for you, there will be more options as you continue down the trail.
Note: Make sure to bring water and snacks on this hike, especially when it gets hot. Even though you are coming to hot springs and a river, the hike here isn't easy and when it's warm/hot, hiking here can be dangerous.
The end of the trail is when you reach the Colorado river:
Here you'll find another hot spring and a great view of that bridge I talked about earlier. It's an awesome place for pictures and just relaxing. But once you're done, it's time to repeat the same exact trail backwards.
The hike back up is tough, but be careful in this area specifically:
About 1.5 miles up the hike is when you'll come to an open area with telephone poles. There's actually 3 canyon access areas there, and only 1 of them is the official Gold Strike hot springs trail. I made the mistake of choosing literally the 2 wrong ones before hitting the right one headed back. The point here is that if you don't want to get lost, follow something like Alltrails (the pro one because you will likely lose signal), or follow others if they are there. If you come across a canyon with high climbs and there is no rope, or graffiti, there is a good chance you are in the wrong canyon.
Finish the hike by returning to the parking lot:
After you cross that open area section, it's a simple navigation back to the parking lot. You'll eventually hear the highway and cars meaning you are close to the end of the trail (or start of it in this case).
Other questions regarding Gold Strike hot springs:
Can you swim at Gold Strike hot springs?
You can swim in the actual hot springs there, but I would avoid swimming in the Colorado river because of the cold water and currents.
How hard is the Gold Strike Hot Springs hike?
For most people, Gold Strike hot springs is a moderate hike. For a few, it'll be difficult especially during the rope climbs.
How long of a hike is gold strike?
Gold Stike Hot Springs is about 6 miles long (in and out) and for most people, it takes 3 hours or more to finish.
Conclusions on the Gold Strike hot springs hike: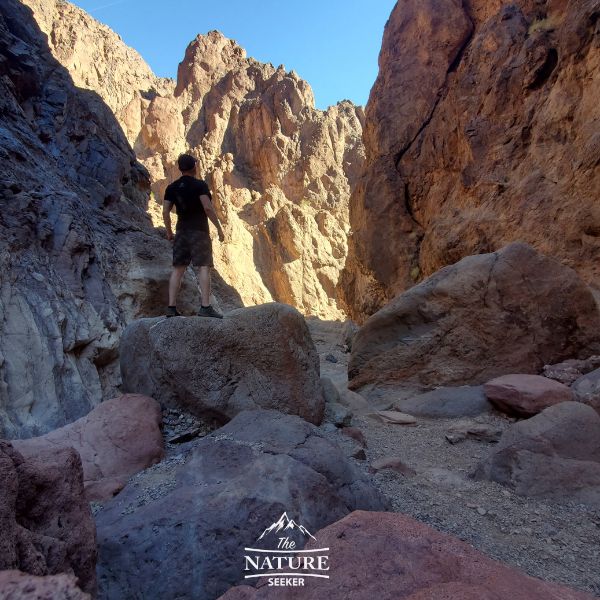 I personally loved this hike and have done more than one day trip from Las Vegas here. Every time I return to Vegas, if I have the time (and it's the right season), I'll try to come out here again and again.