If you're wondering what the best things to do in Valley of State Park are (for your first visit there), this article is going to help you discover that and really make the most out of it.
For me, I had visited this park (finally) in 2022 after "avoiding it" for many years prior. I visit Las Vegas once a year and had always heard about Valley of Fire State Park being nearby (about 30 minutes away), but in my opinion, this park's popularity is often overshadowed by other places that just get more name recognition: Red Rock Canyon, Zion National Park, obviously the Grand Canyon, Hoover Dam, etc…
This is why the many times I had a chance to visit it, I would always think "well isn't there a better place than this?" and that would take me to the other spots I listed. But man was I missing out and glad to finally cross this place off my list when I finally did come here (and I also plan to revisit it several more times). But for the short period I spent in this park, here's what I did:
The 5 best things to do in Valley of The Fire State Park (for first time visitors):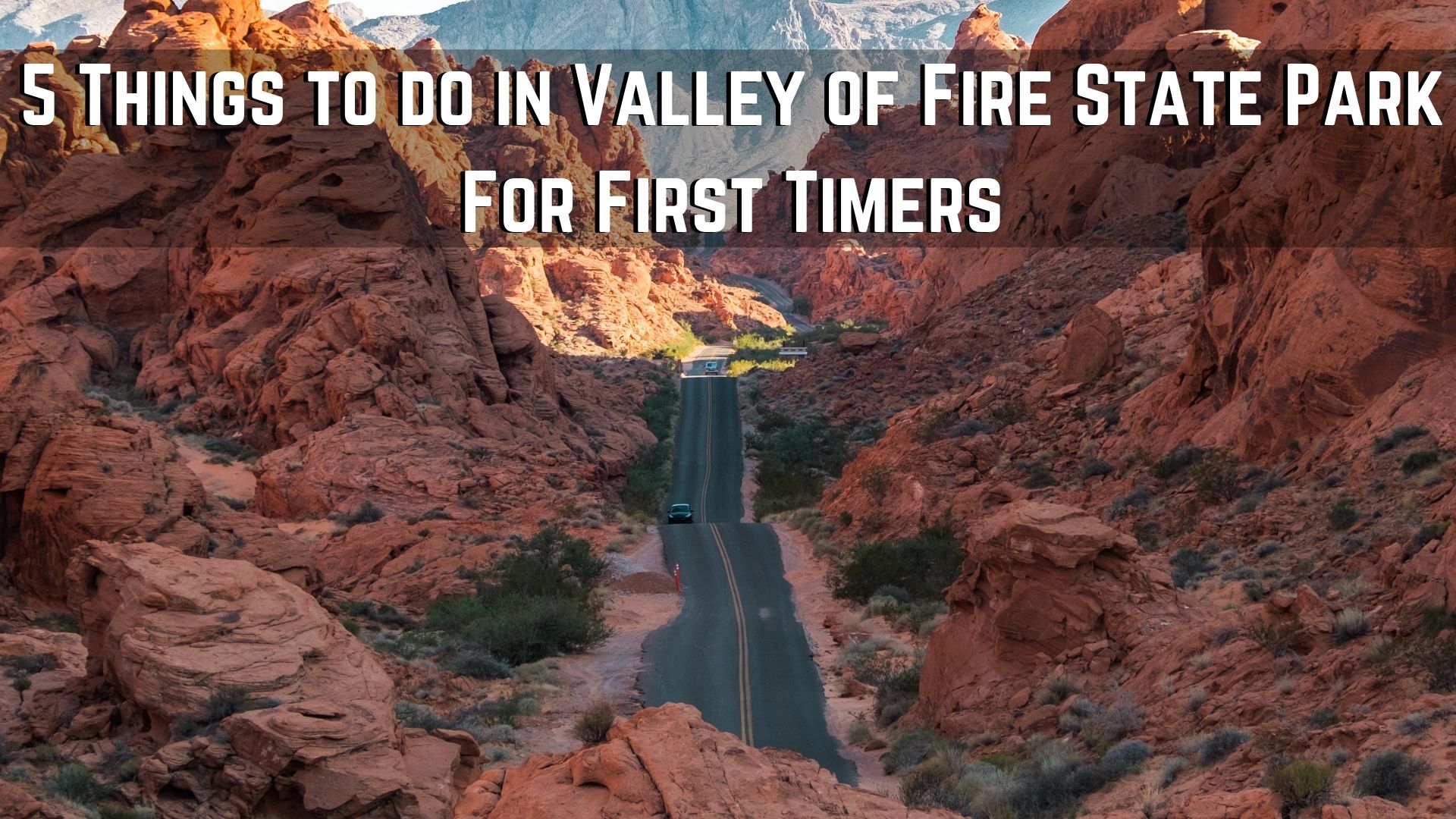 Do the Valley of Fire Highway scenic drive.
Also do the Mouse's Tank Road scenic drive.
Hiking (I'll list the top trails).
Explore hidden gems in the park (slot canyons, petroglyphs and more).
Camping (if you're into doing an overnight trip).
Before I get into the details, let me share some quick info about this park that is very important to know before you go there. I've created a simple list that explains everything and here is a summary of that:
Here's a Valley of Fire State Park map and popular questions on it: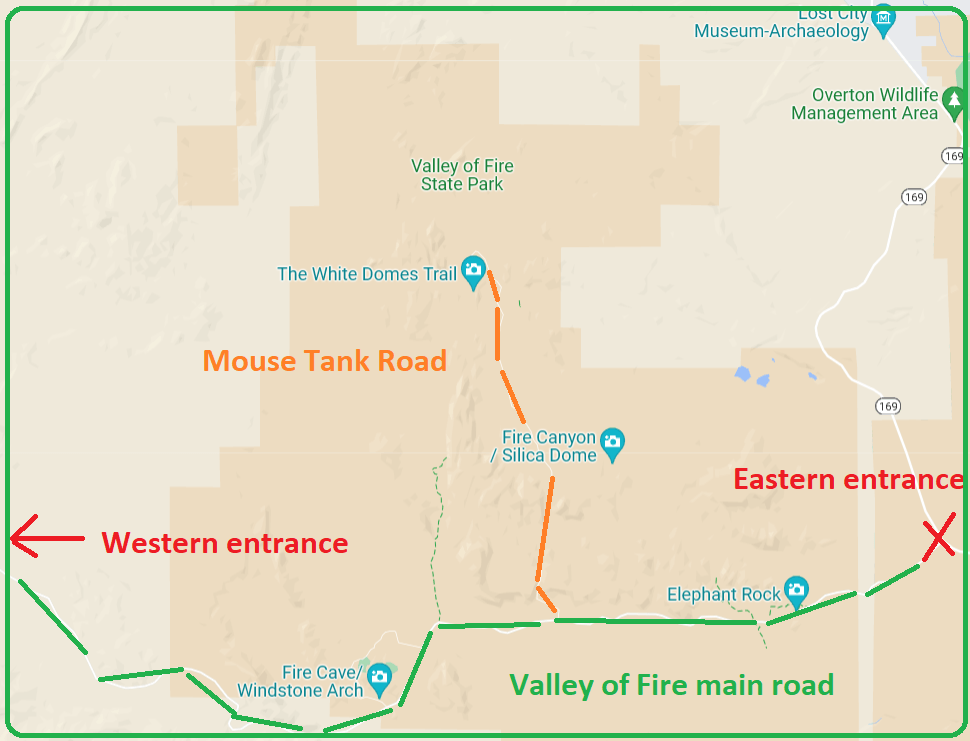 Is Valley of Fire worth visiting?
Yes, I highly recommend seeing Valley of Fire State Park for the scenic drives, hikes and views it has.
How long does it take to go through Valley of Fire State Park?
Without stops, it only takes about 20-30 minutes to drive through all of Valley of Fire State Park.
Is there cell service in Valley of Fire?
The cell service in Valley of Fire is very bad the deeper into the park you go. Near the entrances of the park is where you will generally have better reception.
How much is the entrance fee to Valley of Fire?
There is a $25 per car fee to enter Valley of Fire State Park.
What is the best time to visit Valley of Fire?
In my opinion December through February is the best time to visit Valley of Fire because the temperatures are very cool and there are way less people.
1) Do the Valley of Fire Highway scenic drive: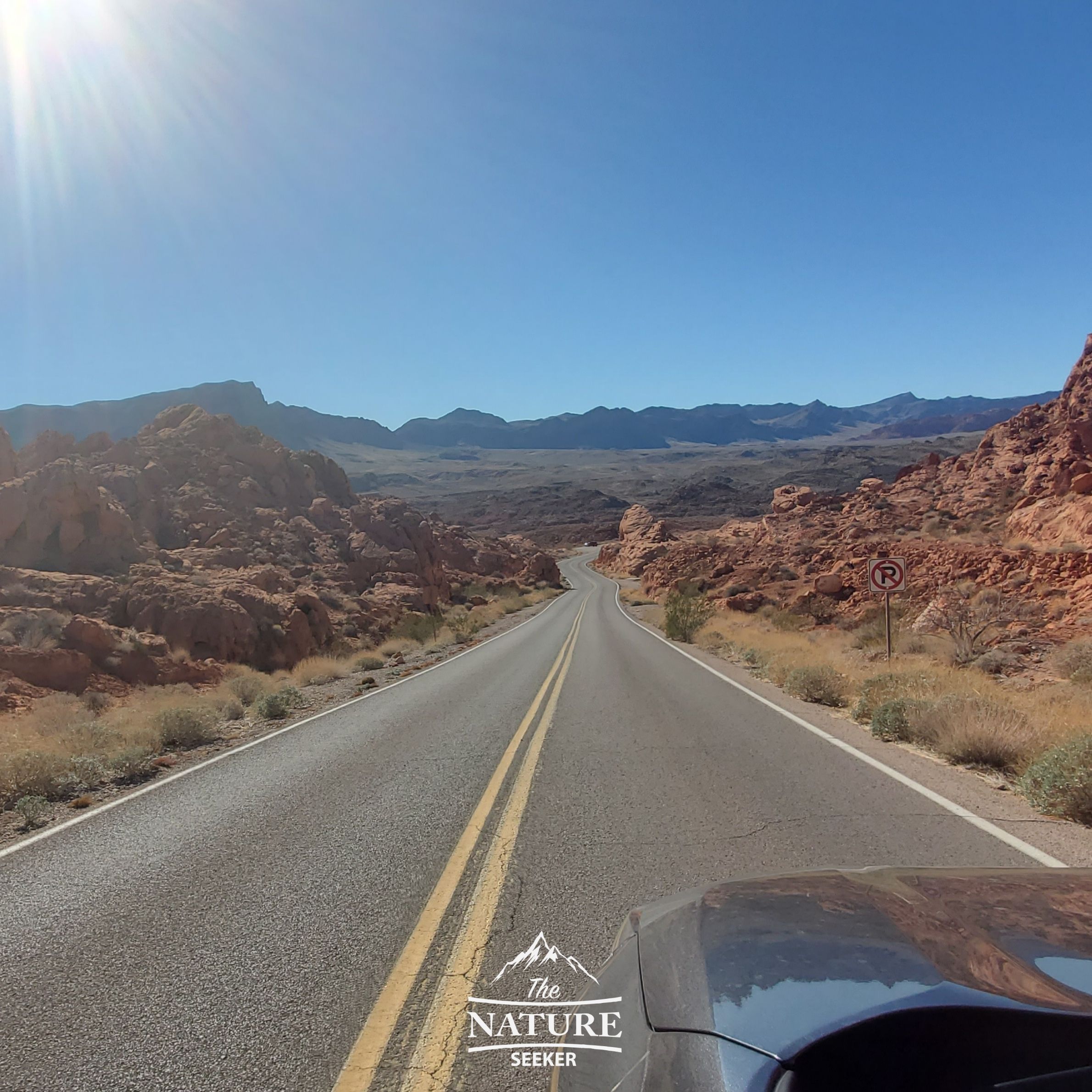 This is the main road of the park which you will enter onto no matter which side of the park you enter through. The drive itself is very beautiful and if you're someone who doesn't really have time to stop at the park and check it out (or maybe have 1 hour of free time), at least do this scenic drive. It takes about 20-30 minutes to do it if you don't include the other road (the next option on this list).
You can get back onto the main road or Interstate 15 (which leads back to Vegas or into Utah) and at least get a nice tour of the park from a distance. I did the entire scenic drive when I came here and I really enjoyed it (you really have no choice but to do it anyway). I was also very fortunate to barely see any cars on this road. Just as well, most of the best hikes and activities are off this road and you will see the many parking areas and cars near the most popular spots, indicating to you where you can stop and explore more of the park.
2) Do the Mouse Tank scenic drive too:
While the Valley of Fire Highway is the main road that goes through the park, there is another one that is off the main one called Mouse Tank scenic drive. And while it is short and has a dead end (takes you to the north end of the park, then you have to turn back the main road to exit), it's beauty and what it takes you through is arguably the best views you'll get in the entire park.
This scenic drive not only takes you through a beautiful canyon in the park, that also offer tons of hiking stops, and one of the most famous viewpoints for picture taking which the Mouse Tank viewpoint area (you'll probably see a ton of photos of this spot on Instagram). So if you've ever seen this iconic photo of Valley of Fire State Park, the Mouse Tank road is where it was taken.
You need to drive up it for about half a mile to reach this specific spot to be able to take that picture though, but the drive itself is totally worth it and in real life, it's even more beautiful. One more thing to consider is that Valley of Fire State Park is awesome for biking (considering the weather affords that), so if you enjoy cycling, consider this park as being another awesome activity you engage in there.
3) Hiking! Here are the best hikes in Valley of Fire State Park: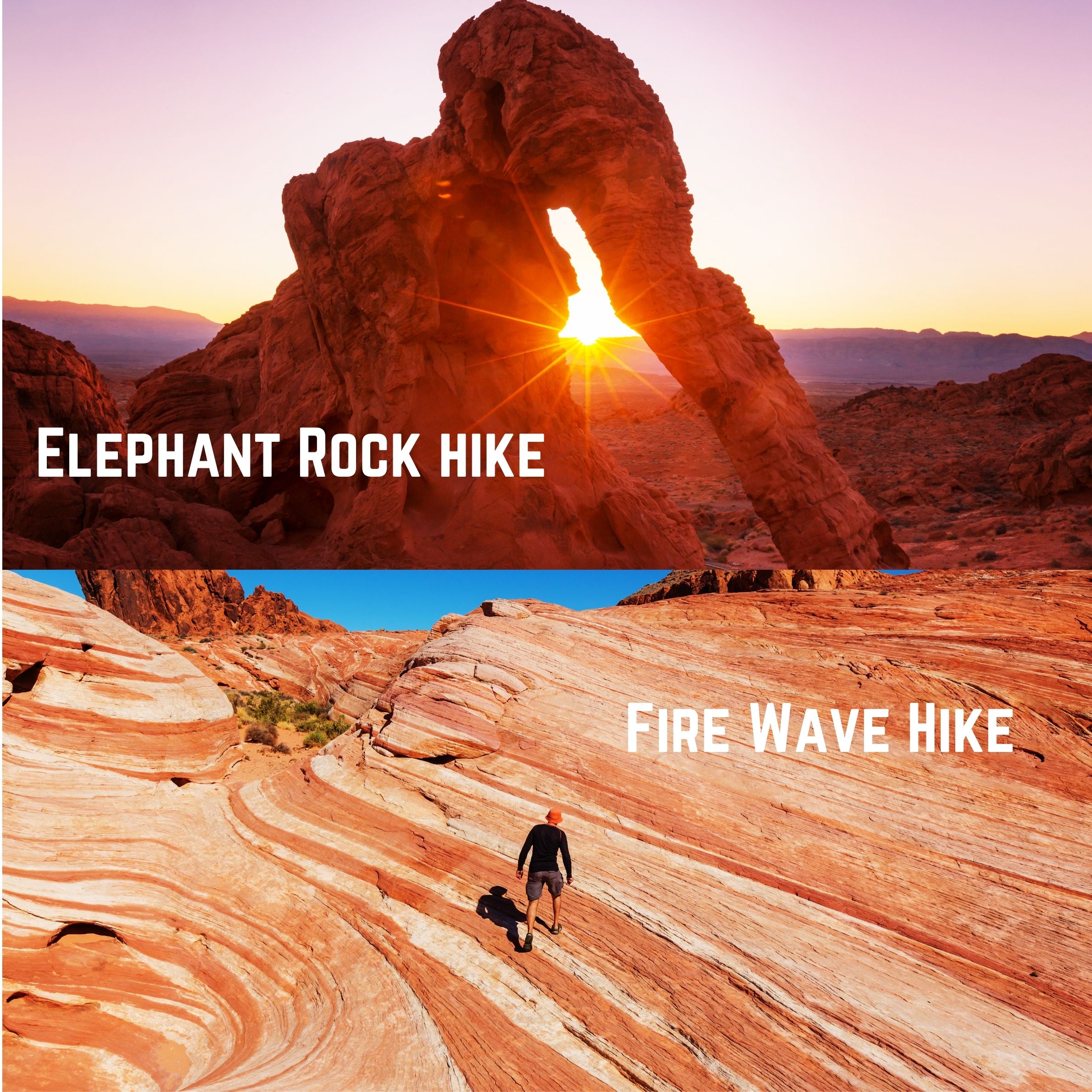 Elephant Rock (0.3 mile trail, near the eastern entrance of the park).
Fire Wave Trail (1.5 miles, moderate).
White Domes Trail (1+ mile, easy and is close to the Fire Wave Trail).
Rainbow Vista Trail (1+ mile, easy hike with beautiful views of the park).
Seven Wonders Loop Trail (1+ mile, connected to Fire Wave Trail, making it 2+ miles).
Atlati Rock trail (Under 1/4 miles, easy and features petroglyphs).
Balancing Rock trail (0.3 miles, very easy hike that's right off the Mouse Tank drive).
There are many other hikes, but these 7 are considered some of the top, the most scenic and most popular among visitors. One I really want to draw your attention to is the Fire Wave hike.
It's one of the most popular in the park because it resembles the Wave hike that is in Arizona and if you know anything about that particular hike, you'll know that it's super popular, but also super hard to reach due to a lottery permit system. But in Valley of Fire State Park, the Fire Wave hike is easily accessible.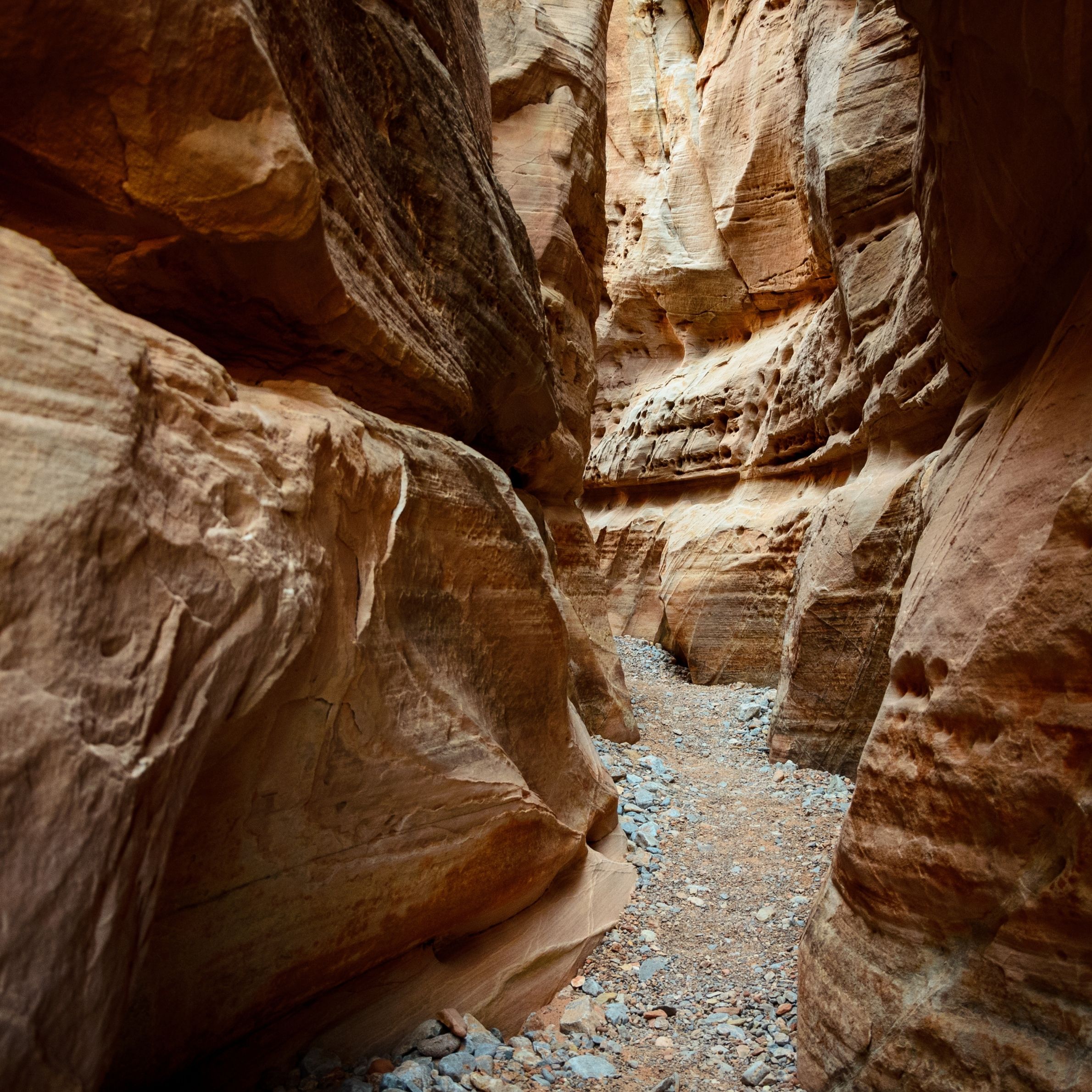 Like any other awesome park, Valley of Fire State Park has TONS of hidden gems to offer visitors. You can find them several ways:
You can drive on one of the 2 scenic drives and just stop anywhere you see something is worth exploring.
I saw TONS of canyons, and climbs that if I had the time to do so, would stop at, and just take the time to explore it.
You can hike one of the 7 main trails I listed above and just check out the many beautiful places within or near the trails, including small/large caves, overlooks, the petroglyphs, old abandoned houses and much more.
To do this stuff though, I would make sure you are experienced at making it back to your car or the main trail so you don't get lost. If you're not too experienced or are worried, then just stick to doing the 7 main hikes or whatever is close to the road (there will be plenty of options that way).
5) Camping: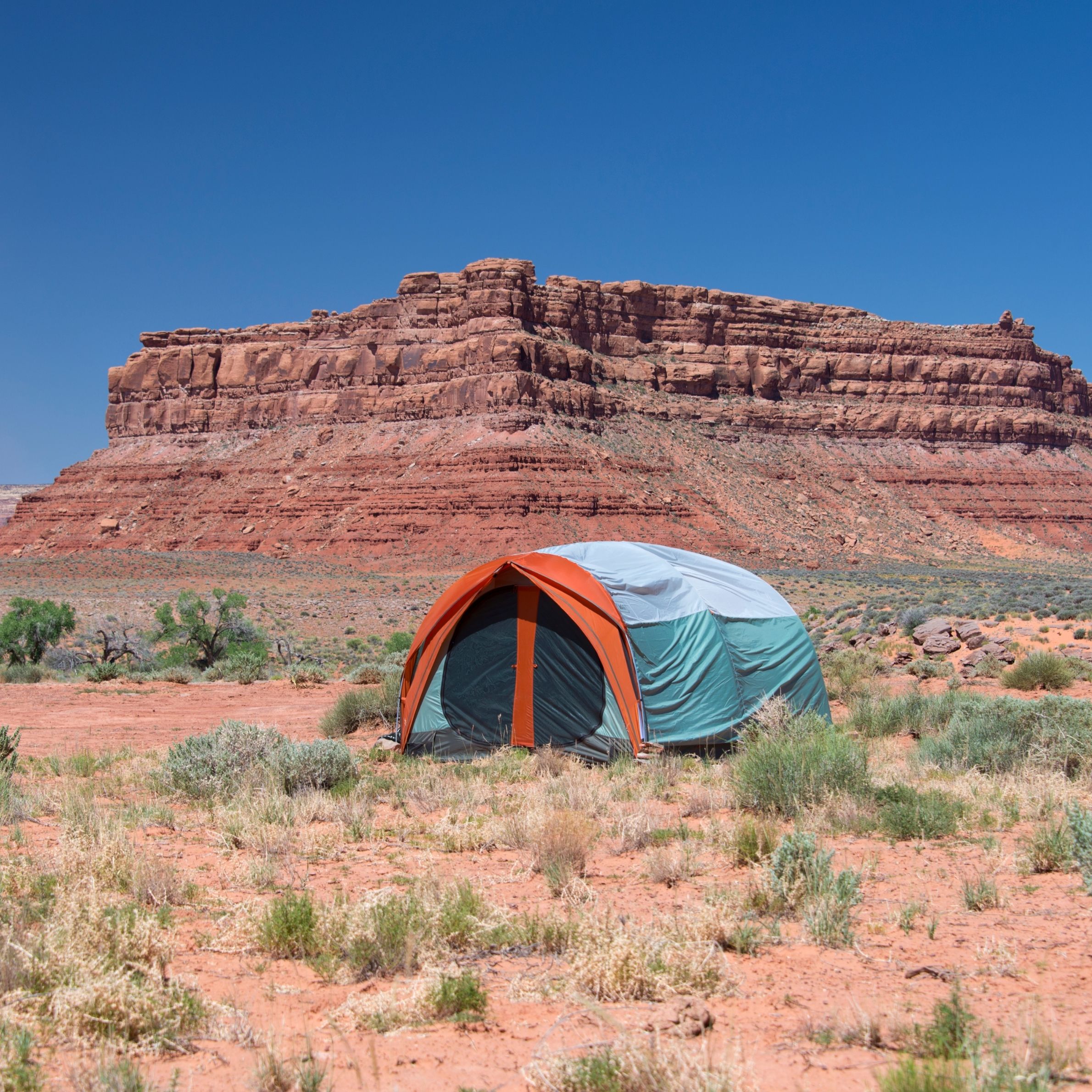 There is 1 main campground in Valley of Fire State Park that is near the western end of it called Atlati Rock Campground. It is also by one of the main hikes I listed above. If you enjoy camping, like this park, this is where you'll want to stay at.
As far as I heard, to camp there, you can pay at the station when you enter or reserve online if you expect it to be filled up and the cost is about $20 a night. Now I don't know about you, but for me camping, especially in the desert is not something I would enjoy doing.
I personally have a massive fear of spiders and snakes and they are present in this region of the desert, but if this is not a problem for you and you love desert camping, then Valley of Fire State Park is a place worth staying at. Another reason to consider the camping activity is that the night sky here is truly stunning as it's in the part of the US where you normally don't get too many clouds and thus you will clearly see beautiful skies at night.
Places to see near Valley of Fire State Park:
If you enjoy your visit to this park and want to know what else is close by, here are a few recommendations:
St. George (1 hour away). There are many hiking trails and a beautiful town there.
Zion National Park (2 hours away). In my opinion, it's the best park in all of the Mighty 5 National Parks.
Red Rock Canyon (1 hour away). It's a great day trip from Las Vegas you can do (Valley of Fire State Park is equally as good).
Hoover Dam. You'll have to drive into Vegas, then head south to Arizona. I would also recommend seeing the

Gold Strike Hot Springs hike

there.
Kanab (Utah): Its about 2-3 hours east.
There's tons of other things to see around (or close enough) to Valley of Fire State Park.
Las Vegas hikes too and most of them are actually about a 30-40 minutes from Valley of Fire State Park.

Kanarra Falls

. It's an awesome slot canyon and waterfall hike in Utah (about 1 hour away from Valley of Fire).
This is where I want to hear YOUR ideas. If you've been to this park and have your own recommendations on what to see, I'm all ears! Just post your comment/thoughts below.