Have a nature trip planned but can only see the Redwoods or the Sequoias? Read this article to figure out which giant tree forest you should visit. Here's the truth though:
If you ever have the chance, visit both Sequoia and the Redwoods: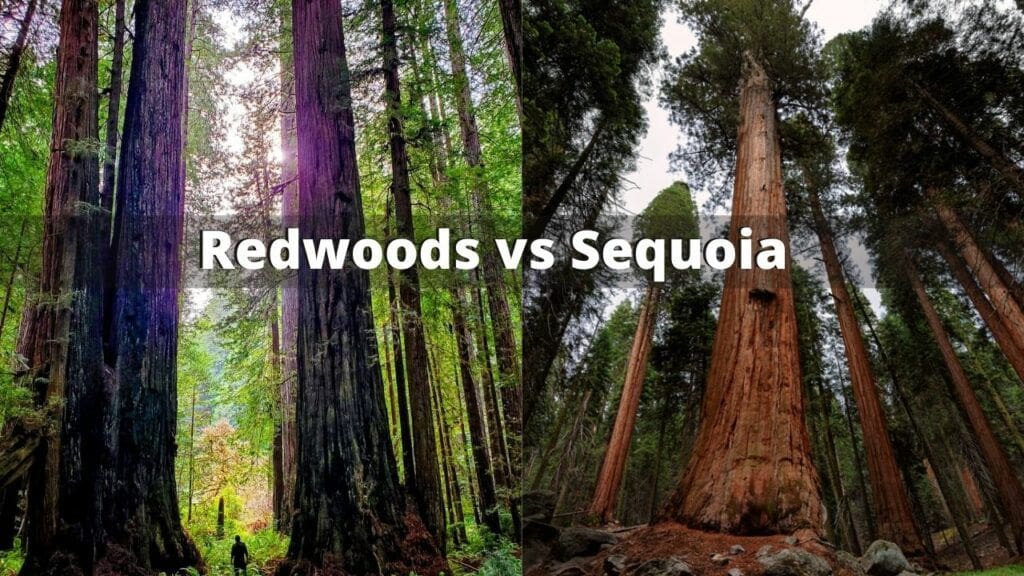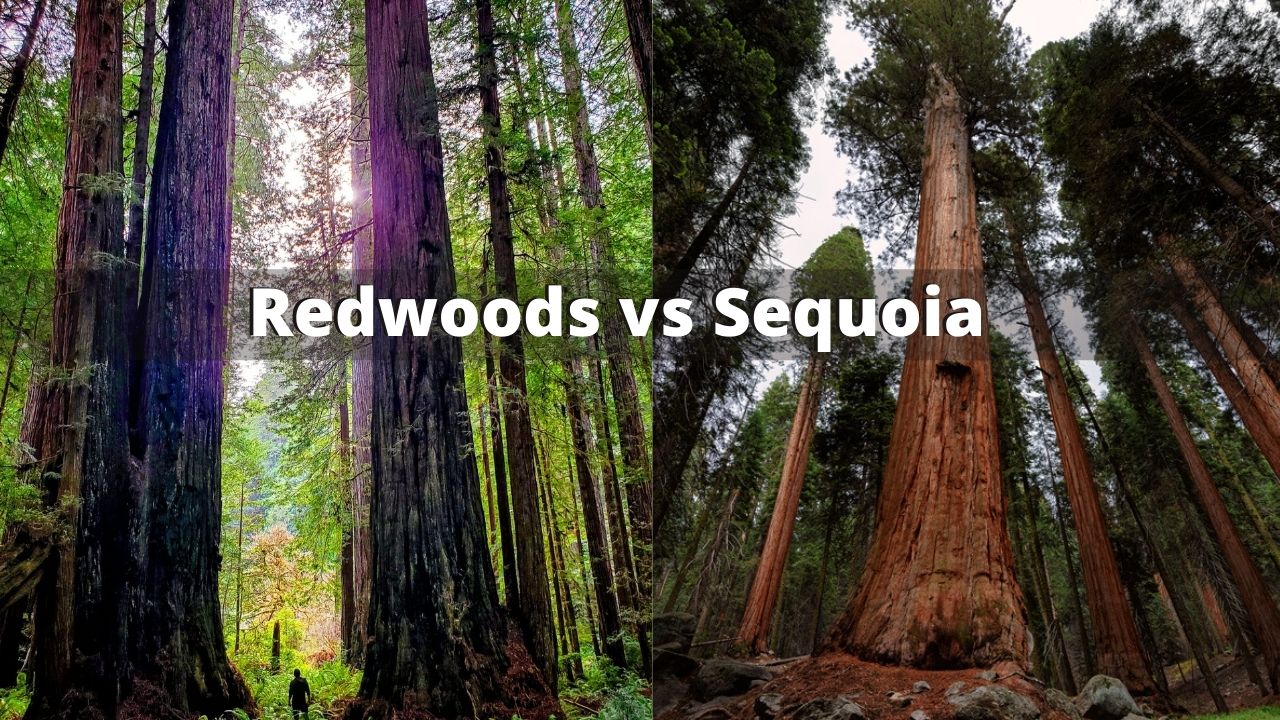 But if you can only choose one, the answer relies solely on these 2 criteria:
How much time you have to see either or both spots.
And which area you're closest to if you can only see one.
If you wish to see the Redwoods:
I would recommend you see this place if you're in the Pacific Northwest area and doing a road trip there, near northern California, because there's a lot of other stuff to see there, especially on the Pacific Coast Highway.
Do note that there are also SEVERAL locations for the Redwoods in Northern California.
If you wish to see Sequoia National Park:
Do it only if you're in the southern area of California as it's nearby and you can also check out other areas in the region such as the southern coast of California and even head east towards Nevada and check out places like Death Valley National Park.
Let's take a closer look at the Redwoods and Sequoia to help you decide:
I'll give you a list of scenarios where one park is worth seeing over the other.

I'll also show you comparison photos to help you see which one draws you in more.

I'll also explain the differences between both these places, because there are key details about the trees most people don't know.
My experiences with the Redwoods and Sequoia National Park: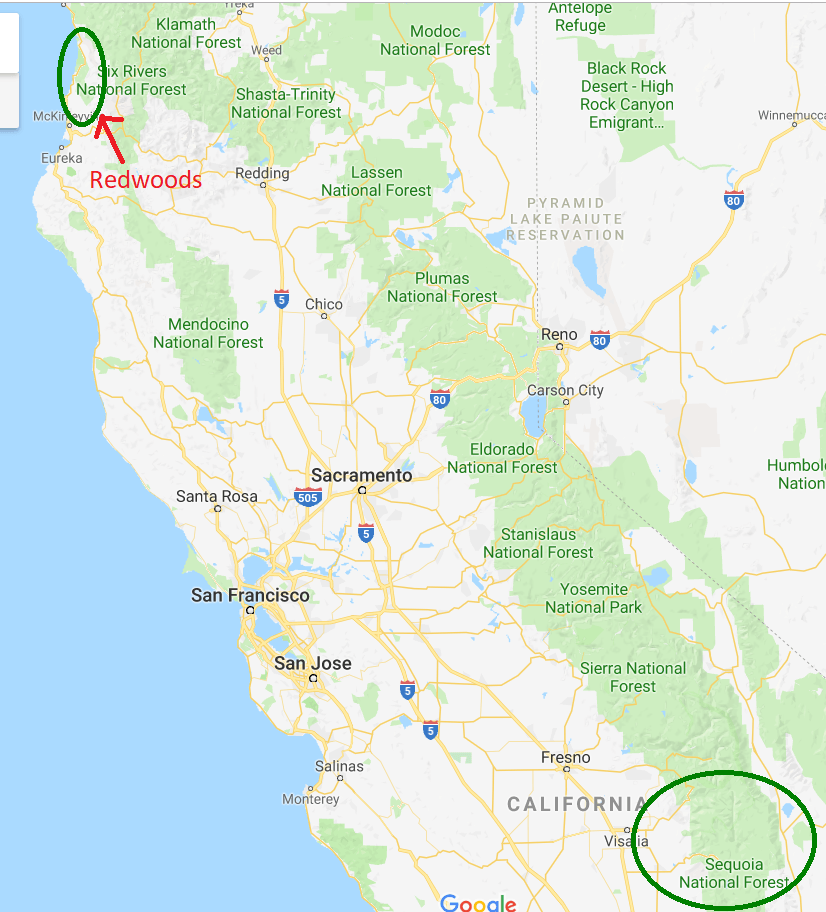 I recently had a chance to visit both parks on a Pacific Northwest road trip and quite honestly, I had no idea what Sequoia National Park was.
I just associated giant trees in California as being the Redwoods, having no clue another park existed that had them too.
My trip started in Las Vegas, went to L.A and then up to Modesto, California and then west to the Pacific coast.
It was on the road to Modesto (It's a highly scenic road by the way) that I discovered I was on a highway that wasn't too far away from a place called Sequoia National Park.
Upon Googling it, I saw giant trees and though to myself "Wait, aren't these called the Redwoods?". 
Further research led me to discover (what many probably do) that the Redwoods and Sequoias are 2 totally different places, each with their own giant trees and in completely different locations of California state as you can see on the map to the right:
The areas of California where you'll find each National park:
Sequoia National Park is in south east California.
The Redwoods are north west of California (and there are several regions of it in northern California, the north most one being the national park).
Seeing as how both places were on my trip's path, I decided to make a side stop at Sequoia on the way, while headed towards Modesto.
Sadly upon entering the ranger entrance, I was notified that the park was closed due to a winter storm and other previous storms that filled up the roads with too much snow and that I needed to buy tire chains to get anywhere, which would make no sense since the roads were too snowed in as it was, within the park to even make it close enough to see a single giant tree there (called Sequoias obviously).
I had to turn back, head to Modesto, but vowed to stop at the other place, the Redwoods and a few days later, I kept to that promise. All of the photos in this article from the Redwoods are of me and thankfully the weather there is always good enough to visit. 
In fact, I've visited the Redwoods three times so far, and each time, the weather is always perfect to go there and explore it.
Here is one of the comparison photos between the Redwoods (left) and Sequoia (right):
While I missed Sequoia (just saw the entrance of it as well as the scenic drive to it), visiting the Redwoods really made up for it and I am still set on seeing the other park the next chance I get.
Now with all of this being said, let me finally give you my thoughts on whether you should visit the Redwoods or Sequoia National Park and again, this is all considering you can only visit one park.
And again, visit both places because each one has more than just giant trees to explore and is in it's own unique geographic region making for an amazing nature experience all around.
So let's do this:
5 reasons to see Sequoia National Park over The Redwoods: 
1) It's trees are actually wider in many cases than those in the Redwoods.
You also have one of the largest and longest living trees there too. There's a famous one that is on the road with a hole cut out in it that you can drive through.
2) It's gorgeous there.
Even though I didn't get a chance to go INSIDE the park, the road leading into it as well as the landscape were amazing and from the other images I saw of what's inside, it's well worth it. And if you're wondering how I got those awesome photos of Sequoia, it's because I purchased them and can use them on this site and I plan to until I get a chance to take my own when I visit.
3) Yosemite National Park and other awesome national parks are "somewhat" close by.
You have several national park options if you visit Sequoia (each several hours away, but close enough to visit in a day) and they include:
Kings Canyon.
Sierra Nevada Mountains.
Death Valley.
Each of these spots is a few hours away from Sequoia National Park and some in particular such as the Sierra Nevada Mountains are incredibly beautiful and full of adventures.
4) The air is thinner in this place and it is also more dry.
So if your preference is for this type of air, then you'll have an easier time going through this park.
5) Other mountain regions nearby so there's a lot of other scenic views.
This is all close to the Sierra Nevada mountains region and that is honestly one of the major reasons why Sequoia might be a better choice for you since this area is stunning.
Note: Also here is an excellent Tripadvisor post on Sequoia I recommend checking out where you can get additional good tips on what to do see/do there as well as where to stay.
5 reasons to visit the Redwoods over Sequoia: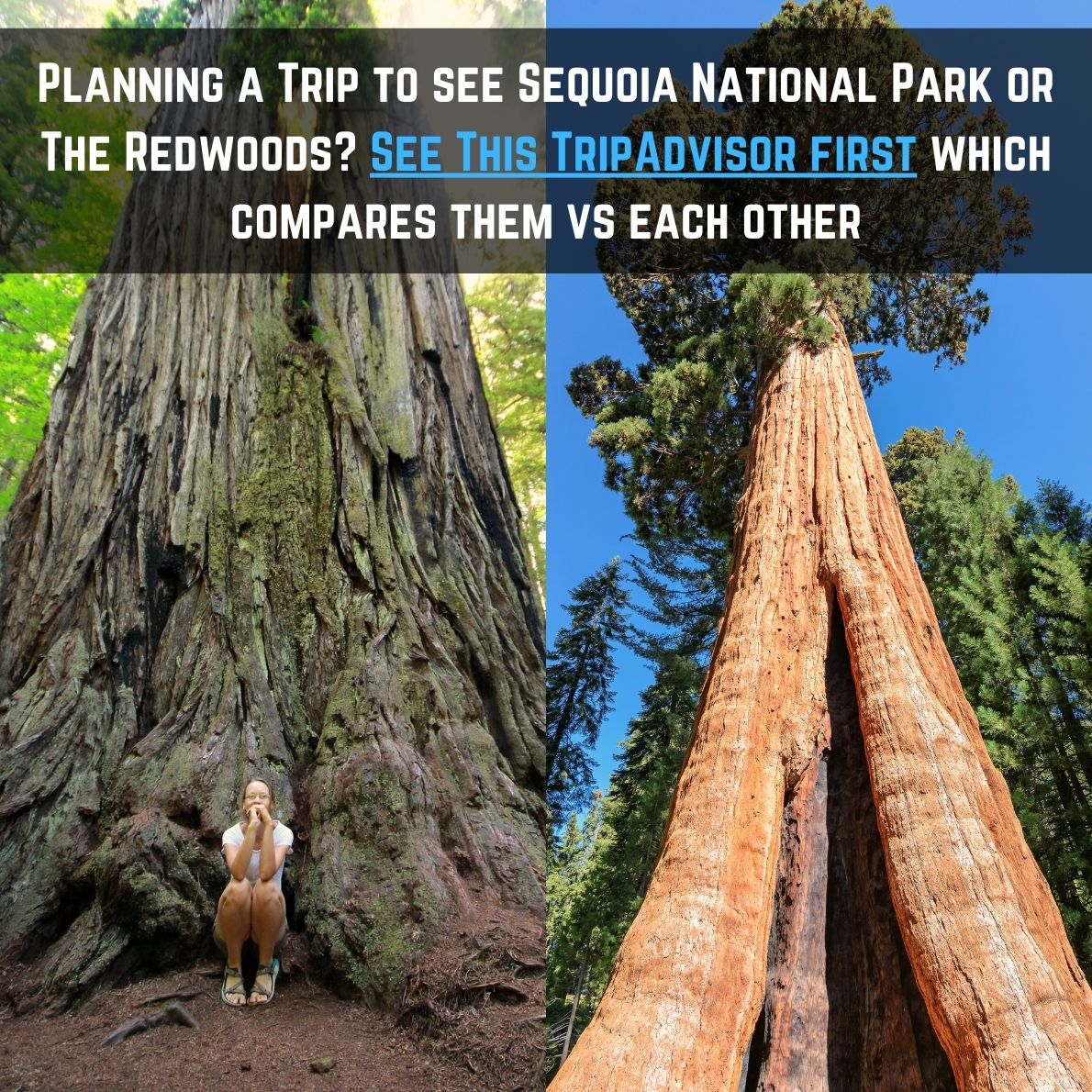 1) It is way easier to get to as it is right next to the 101 Pacific Coastal Highway (PCH) road.
All of the Redwood areas can also be driven through on a car to save time. As I was on the Pacific Coast Highway, to get to this place, only involved me getting off an exit, onto the road which was parallel to the PCH and just going on it for a little over 10 miles, before making my way back out onto the PCH and continuing my trip.
2) Many trees in this place are said to be taller than the ones in Sequoia.
And I did have to stop several times because of how stunning huge they were. Being there really made me feel satisfied, as though I didn't need to see Sequoia and I would guess anyone who visited the other park might think the same thing about the Redwoods. But if you do visit both, do tell me which one you preferred! Kayaking is also something you can do in this place.
3) I found this place to be very peaceful and hardly ever busy.
I was there early in the morning (on a weekday), but I hardly saw any cars nearby and when I stopped to do a short hike, there was literally no one on the trails. I also found the landscape to be beautiful and almost alien in certain spots. I felt like a little man in a giant insect world and even had a few moments where I thought giant spiders would jump out at me. It's silly to think, but when you go there, you'll get that "alien world" feeling too, believe me.
4) The air is more moist and it's also humid so if you prefer that, then this is the place for you. There's also plenty of cool spots near it:
Here's a preview of the closest spots:
It is also right by the Pacific Ocean so if you enjoy beaches, you'll find it near this place.
5) There's more than one area in California where you'll find Redwoods:
I was surprised to learn this, but all throughout Northern California are parks and areas with Redwoods including near San Fransisco, Vineyard spots, where I went which is the Northern most park for Redwoods and finally, even the Oregon Coast has them (southern side).
So being able to see more Redwood areas (and other beautiful spots along the way) give tourists much more to see overall vs Sequoia.
Note: And just like with Sequoia, I found a good Tripadvisor post on the Redwoods here you should check out if you're serious about going.
Similarities between the Redwoods and Sequoia trees: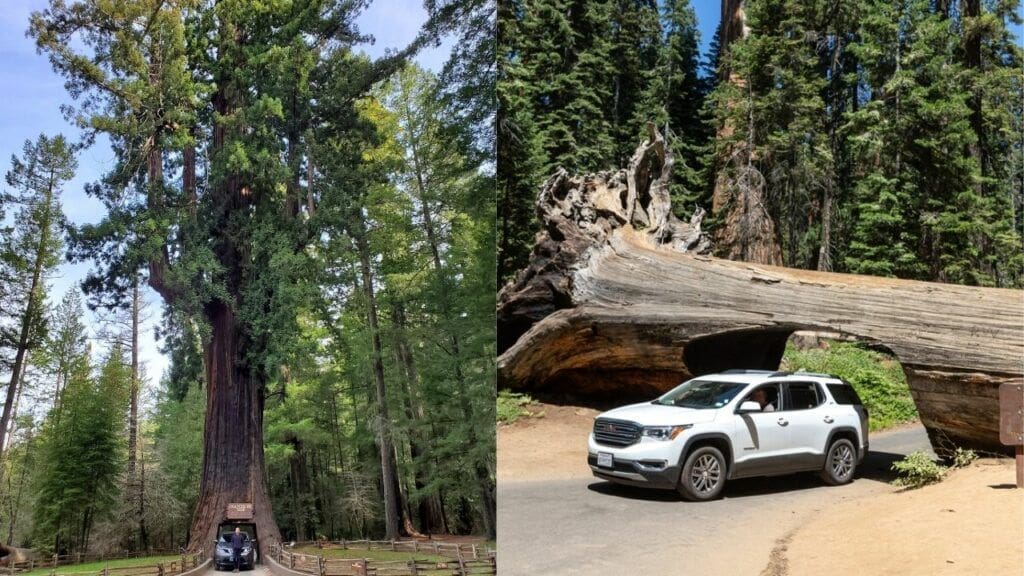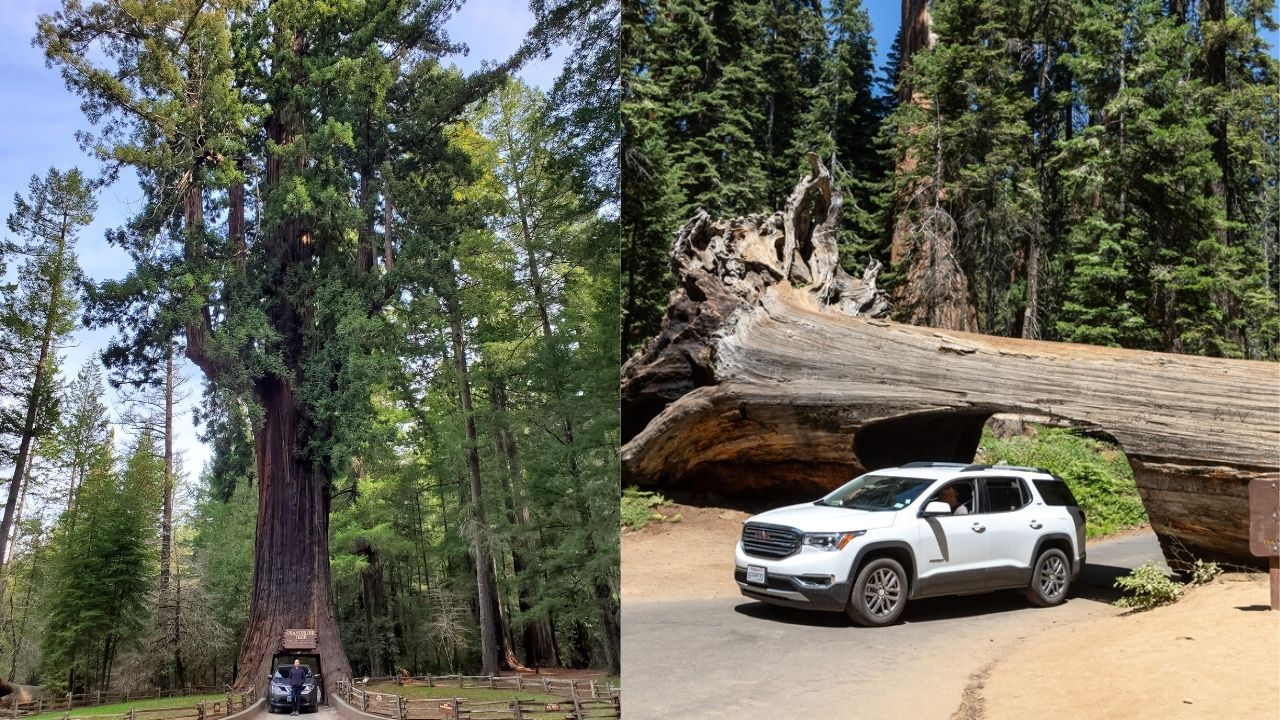 Both parks obviously have huge trees.
Both parks are beautiful.
Both have very scenic roads that are awesome to drive through.
Both parks have areas where you can drive your car through one of the big trees there.
Now I also found a good Redwoods vs Sequoia thread on this subject where others who have been to both places explain their picks. But like I said, visiting both places would be idea.
Additionally, there are 2 things I WISH I did when I was there:
However, I know most people have to plan beforehand, so depending on your starting location:
If you're closer to the northern California coast (road 1), go with the Redwoods.
if you're at the south west coast and heading east, go to Sequoia. 
And of course, know that those 2 spots aren't the only places worth visiting and have plenty of other nature attractions nearby you can make a road trip out of.
Recommended gear to bring when hiking through the Redwoods or Sequoia National Park:
| | | |
| --- | --- | --- |
| | For any hike in the Redwoods or Sequoia National Park, you can't go wrong with the Salomon Speedcross 5. No matter how simple or difficult of a hike you decide to do, these sneakers will make it an easier (and fun) experience. | Check Price |
| | Waterproof socks are highly recommended for the more wet hikes in either the Redwoods or Sequoia locations (trust me, there's many). These ones I recommend get the best rating from all the ones I've tried. The Redwoods are much soggier to explore than Sequoia so I'd get them for that especially. | Check Price |
| | For any trail running involved in either area, a good hydration pack will always come in handy and this one is highly rated for such adventures. | Check Price |
| | Trekking poles are good for any strenuous hike or if you have injuries and for either location, these will do very well. | Check Price |
|   |   |   |
Interested in knowing the other awesome locations I visited? 
My adventures have taken me through many spots ranging from:
And I've be blessed to see and share so many of the places I've seen and hope to see in the future. If you'd like to know more about how I do what I do, see my post on how I blog for a living to do this.
Questions about Redwoods vs Sequoia National Park trees:
What is better Sequoia or Redwood National Park?
Both parks are incredible and depending on which area of California you're in determines which park to visit. If you are in southern California, Sequoia is the winner. If it's northern California, then see the Redwoods.
Does Sequoia National Park have Redwoods?
No, there are different types of giant trees in Sequoia than in the Redwoods.
How far is Sequoia National Park from the Redwoods?
About 5 hours. If you start at Sequoia National Park and drive north west, the closest Redwood Park (Muir Woods) is north of San Francisco.
Where is the best place to see giant Redwoods?
Redwood trees can be found north of San Francisco all the way to South Oregon. The most popular areas to find them are the Muir Woods and Redwood National and State Park closer to the Oregon border.
Which area do you prefer? The Redwoods or Sequoia?
If you've been able to see both of these amazing trees, I'd love to know your thoughts on which park, region, and trees are better and why. Let me know below!