There are many things to do in Pinnacles National Park despite it not being the biggest or most popular NP in California (yet since it's still new) and in this article, I'd like to share the top activities as well as how to get the most out of your first visit there.
For me, when I first visited Pinnacles National Park, it was early February 2022 and I only had one day to explore it. However if you know anything about me, you'll know I tend to fit a lot of activities into a single day trip anywhere and in most cases end up doing as much in that short period of time as people would if they spent days there and that's exactly what happened when I visited this NP.
What I want to do is share the top 7 activities to do in Pinnacles NP before sharing how I spent my day there if you plan to visit it for the same period of time.
Here are the 5 things to do in Pinnacles National Park (even if it's in one day):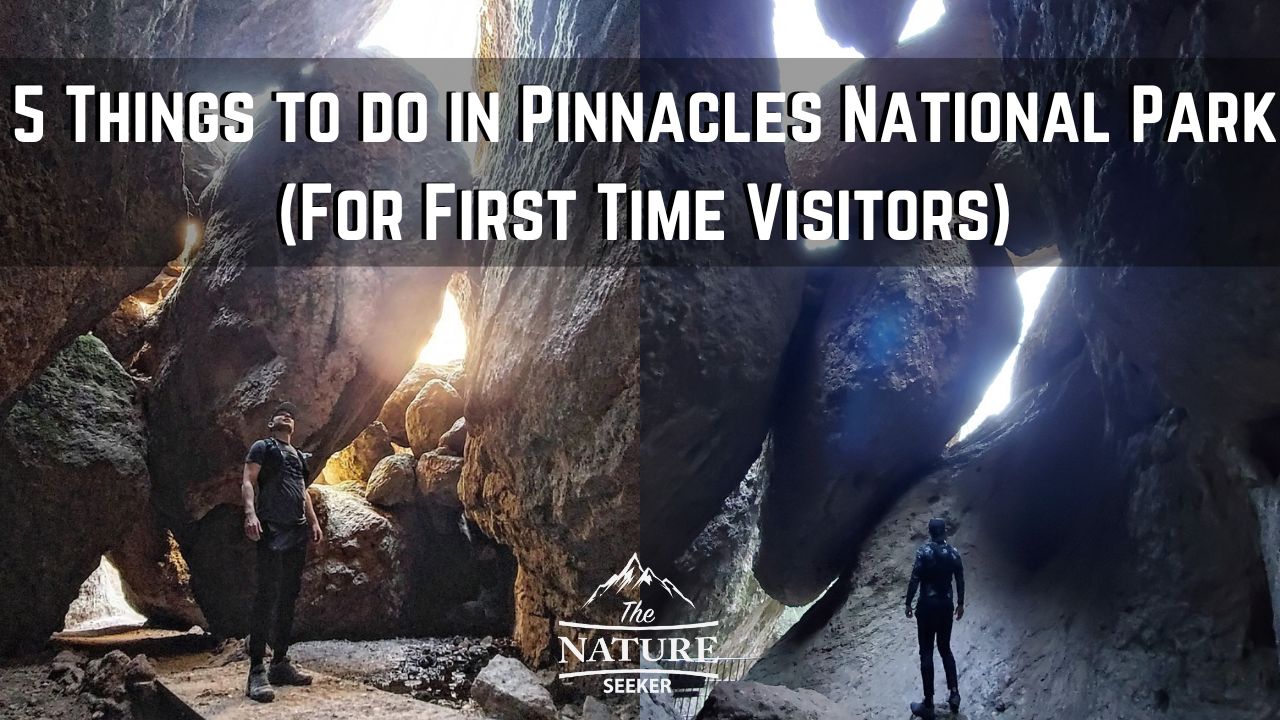 Explore Bear Gulch Cave Trail.
Check out the Balconies Cave Trail.
Camping.
Rock climbing.
Check out other things to do near Pinnacles National Park.
Now this may not seem like a lot of things to do for a national park, but because of it's layout and terrain, these activities are the most popular and the good news is that they're all very close together, and this allows you to get the most out of your visit here.
And for the day trip I did there, I was completely satisfied with what I saw.
A look at the Pinnacles National Park map (this is important):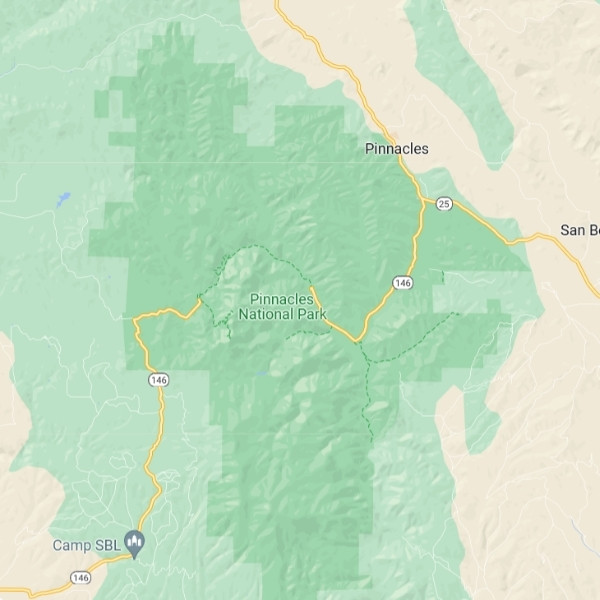 Most state and national parks I've visited have a lot of options to drive through or reach specific destinations there. In the case of Pinnacles National Park, it's layout is quite unique compared to other places and it's because:
1) There are only 2 main entrances. One is on the west and the other on the east.
2) These roads do NOT cross one another so you cannot drive through Pinnacles National Park. You can only stop at the eastern end or the western end. I stopped at the eastern one when I went.
3) It doesn't really matter which of the parking spots you stop at (unless you're looking to camp in which case the eastern part is where you'll want to go), because once you hike, the same spots are accessible regardless of which area you started at.
4) Keep in mind that if you make a mistake and park in the wrong side of the NP for whatever reason, it'll take you about a good hour to get to the other side of the park because of this layout, so make sure you choose which location to stop at ahead of time.
About hotels near Pinnacles National Park (4 nearby towns and things to know):
Usually national parks have major hotels and places to stay nearby but in Pinnacles National Park's case, the spots are choices are very limited. Here's what you need to know:
The closest places to stay near Pinnacles National Park:
1) Town of Soldad: It's about 20 minutes outside Pinnacles National Park (west end), but it's small and when I was looking for places to stay, there were only 2 choices and I personally wasn't a fan.
2) King City: It's south of Pinnacles National Park (about 30 minutes or so), but the choices are again very limited (maybe 3 places to stay at which are motels and inns).
3) Town of Salinas: It's about 30-40 minutes north of the NP and likely where you'll find the most options for places to stay near Pinnacles including major hotels. This is where I stayed at personally when I was visiting.
4) Monterey: About an hour away from Pinnacles, and it's by the California Coastline. This is where you'll have the most choices.
5) There are no major towns or places near Pinnacles National Park on the eastern side unless you go a lot further south or north. It just a lot of hills and farmland.
1) Explore Pinnacles National Park Bear Gulch Cave trail: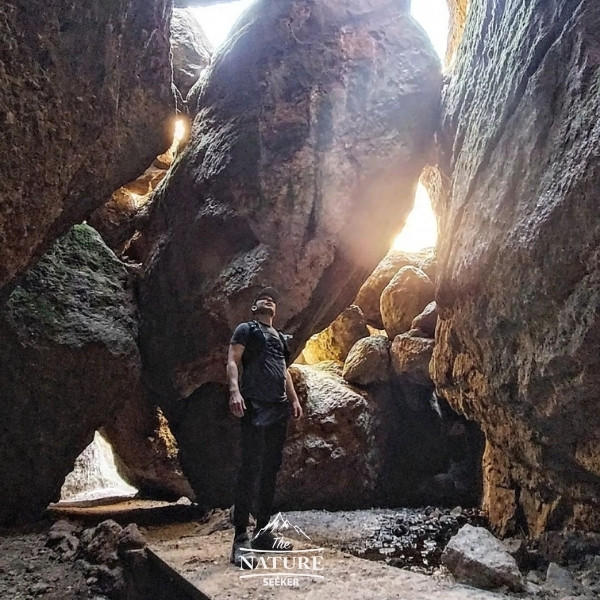 If you do a Google (or any) search for Pinnacles National Park, there's a good chance that the image you'll see as a preview is off a huge cave or people passing through it. This is what I initially saw that drew me to this NP and as I later learned, that is actually called Bear Gulch Cave and here's what you need to know about it:
It's located on the southern side of the NP park.
The closest parking lot to this cave is Mosses Spring Parking area (with restrooms).
This cave is very easy to navigate and there are easy walks (good for beginners).
When people type up Pinnacles National Park caves, Bear Gulch is what comes up.
So if you're looking to explore this specific spot in the park, this is what it's called and it's probably the most popular area to check out. Out of all the places with parking I saw the day I went there, the Moses Spring Parking area was where I saw most of the cars and people.
The cave itself is pretty cool to check out, and there are underground rivers, streams and a few waterfalls. The hike in Bear Gulch isn't very long (maybe under 1/4 mile), but it is very scenic and highly recommended especially if you aren't looking to do the more difficult hikes in this park.
2) Check out the Pinnacles National Park Balconies Cave (my favorite):
There are 2 cave areas in Pinnacles National Park. Bear Gulch is one of them and the Balconies Cave is the second and in my opinion the latter is much more scenic, less crowded and more exciting to explore.
In fact, this was my favorite spot in the entire park because there was no one there when I went. The silence of the caves, distant drops of water and even not knowing where the trail continued was exciting to me.
Getting here is a lot more difficult though as you have to park about 1.5 miles south of the trail and walk there (trail is pretty easy though) and when you do reach the cave area, there will be scrambling, crouching and even pitch black areas where you'll need a flashlight to navigate further.
There is also a slot canyon area with boulders you'll navigate and for any adventurer, this is going to feel like a playground as it did for me. Not only that, but the surrounding mountains in this spot also add to the beauty.
Without a doubt be sure to check out the Balconies Cave if you intend to visit Pinnacles National Park! This was one of the top 5 experiences I had when exploring caves, with the other fun ones being:
Note: Unlike Bear Gulch Cave which is much more beginner friendly, to pass through Balconies Cave requires a lot more physical skill.
Other popular hiking trails in Pinnacles National Park:
Prewett trail (western side of the park).
North Wilderness trail (north end of the park).
High Peaks Trail (cuts through the middle of the park).
Condor Gulch trail (cuts through the middle/south of the park).
Juniper Canyon Trail (west end of park, scenic and a lot of switchbacks).
Moses Spring Trail (pretty scenic and takes you past a pond and reservoir).
You can find more on

Alltrails

.
In terms of which of these trails to take, it depends on which side of the park you start at and what your intended hiking goal is. Some of these trails can be connected together to do a loop and further below I'll show you the big loop I did the one day I spent in Pinnacles which honestly was a very satisfying hike that had me seeing a ton of this park (including both caves).
3) Pinnacles National park camping (plenty of options):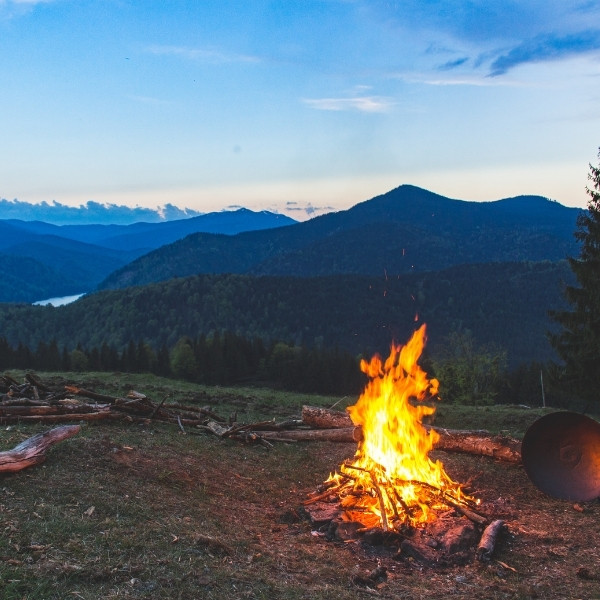 There is at least one famous campground in this NP and it's called Pinnacles Campground.
It's on the eastern end of the national park so make sure you don't get that wrong!
There is also an amphitheater on the campgrounds as well as showers, bathrooms and more.
If you are looking for camping at Pinnacles National Park, you can check out this page for reservations.
There's over 130 spots available there and if it's full, there are other areas further outside the park to find camping in.
I already addressed the hotels question above but if you enjoy camping, Pinnacles is a great place for that and being that it isn't as popular of a park as others in California, you shouldn't have issues reserving a campsite if you do it a few weeks before your trip.
I'd just plan it a month ahead of time just in case.
4) Rock climbing: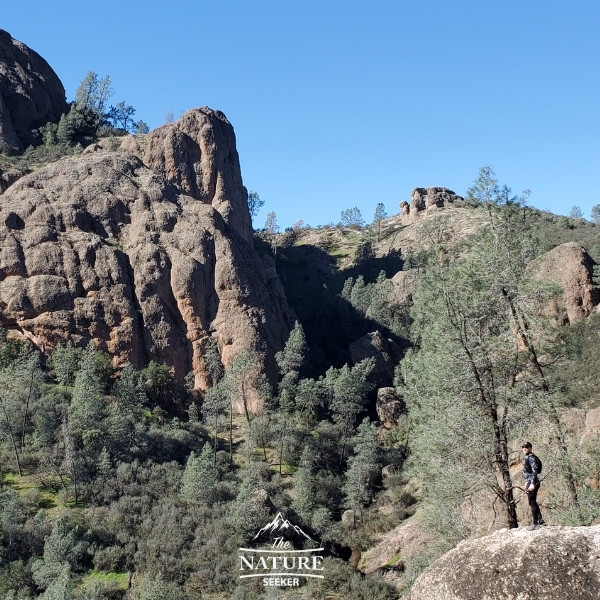 One of the reasons I even discovered Pinnacles NP existed was thanks to a friend who used to do rock climbing there.
He highly recommended I check out this park when he overheard I was traveling through California.
Rock climbing is indeed a popular activity in this NP and highly recommended as there are numerous mountains, and stone formations that are perfect for it.
I believe I saw some as I was traveling through Balconies Cave, but even so there are numerous spots I saw on the trail where it was pretty clear it was a starting point for rock climbing.
What you see in the picture here is me standing at one of the famous viewpoints in the park.
If you look out into the mountains, you will see a lot of climbing opportunities available.
If you hike through the park like I did, you'll also see designated spots for this as well.
5) Other things to do near Pinnacles National Park:
Although the activities seem limited in this NP, again they are very wholesome and doing even one of them (especially the cave trails) makes for a lot. But the other thing to note is that there are other fun places to explore that are near Pinnacles National Park and here is a short list:
1) Big Sur:
Big Sur is about 1-2 hours west of the park. There's many beautiful coastal spots there including Mcway Falls I would highly recommend checking out (and as much of Big Sur as possible since it is very beautiful there).
2) Henry W. Coe State Park:
1-2 hours north of the NP. It's a large and very beautiful park with amazing green hills (provided you come between February and August) as well as hiking trails and just overall a very scenic area.
3) Road 25 (scenic drive):
A lot of the middle area of California in this region has very beautiful sights, hills and places to stop and sight see at. While my buddy and I were driving up to Pinnacles from the south we saw a lot of potential areas for future exploration, but even if you don't plan to stop anywhere, just the drive here is wonderful.
4) Hollister Hills State Vehicular Recreation Area:
1-2 hours northeast of Pinnacles, this is a park for off road vehicles and adventures.
If you love riding ATV vehicles, dirt bikes and 4 wheel drives in mud and other obstacle like courses, this is a great place to explore.
5) Explore San Jose:
San Jose is about 2 hours north of Pinnacles and is the closest major city to the NP.
Other spots:
Technically if you don't mind driving 2-3 hours, then there's 4 other options to consider, and they are:
Redwoods north of San Francisco (Muir Woods).
How I spent one day at Pinnacles National Park: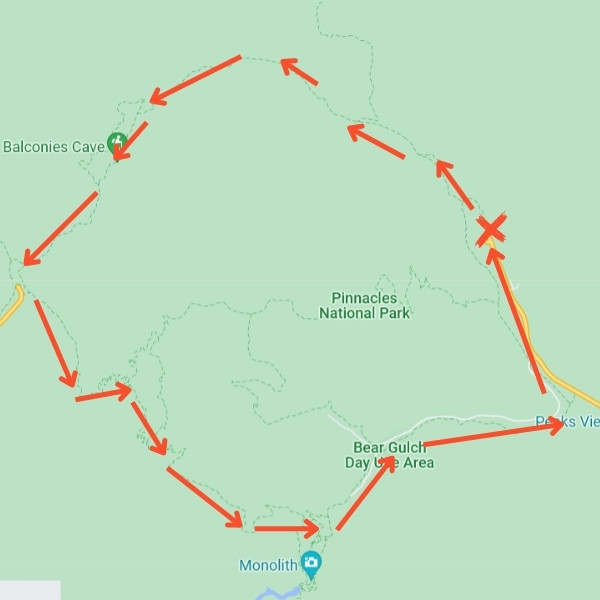 I explored this place with my buddy.
We began on the eastern end of the park.
We parked at Old Pinnacles Trailhead.
We proceed to take Old Pinnacles Trail to Balconies Cave.
Then we crossed into the Juniper Trail (1-2 miles, tough trail).
Then we switched to the High Peaks Trail.
Then we took the Moses Spring trail to Bear Gulch Trail.
Then we exited north out of Bear Gulch Cave (still followed Bear Gulch Trail).
Bear Gulch trail intersected with Bench Trail which we took back to the parking lot we began at.
This allowed us to explore much of the major parts of the park and especially the 2 major cave systems there.
Overall, this hike (map included) was about 10 miles long. There were plenty of other cool things we saw on the way.
Note: Do not rely on this map alone. Get an official map of the park and plot out the path you wish to take, even if it is the exact same one I did.
Frequently asked questions about Pinnacles National Park:
Is it worth visiting Pinnacles National Park?
Yes. It's very scenic, there are caves and overall you can get a lot done in just 1 day there.
What month is best to visit Pinnacles National Park?
In my opinion February-April. It's very cool then most of the day and there aren't many crowds in the park either.
What is special about Pinnacles National Park?
The caves and the combination of views there. Definitely worth visiting for that!
How many days do you need to see Pinnacles National Park?
One day is honestly enough, but if you're staying in the area, 2-3 is more than enough.
If you have any other questions about this NP, just ask below!