I explored the famous Fern Canyon trail earlier this year and while yes it is spectacular, I want to share some surprises that popped up not just during my hike there, but beforehand too so you can be ready and fully enjoy your time here.
Quick info on the Fern Canyon Trail:
Name: Fern Canyon.
Location: Prairie Creek Redwoods State Park (Northern California).
Hiking Distance: A little over 1 mile (loop).
Difficulty: Easy.
Hike rating: 5 out of 5
Recommended hike? Yes!
Note: There is another Fern Canyon hiking trail located further south on the California Coast (in Van Damme State Park).
It's also very scenic but just don't get these 2 spots mixed up. The "famous one" is the one we're talking about here which is in northern California and close to the Oregon Coast.
1) Before you start the Fern Canyon trail: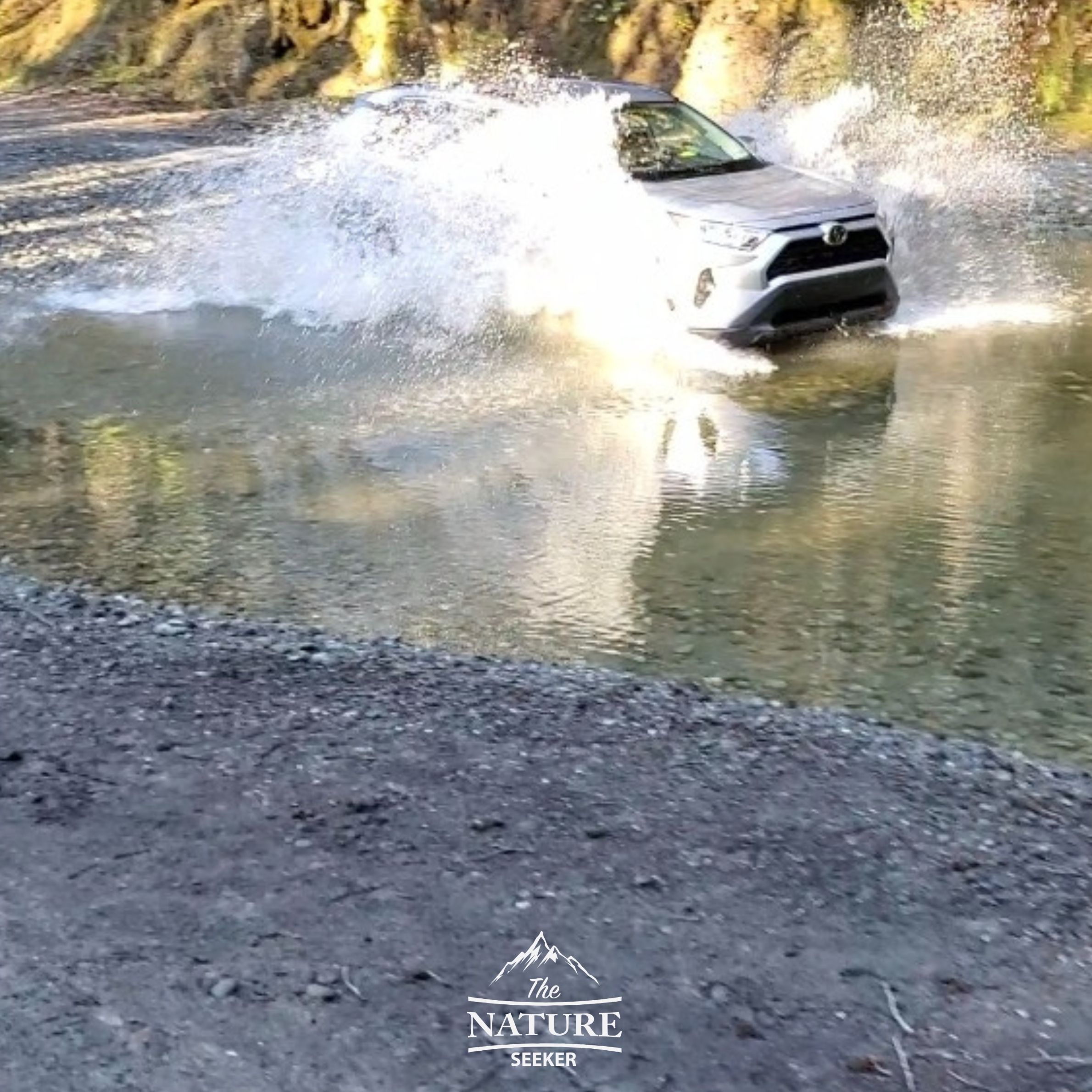 You're going to have to do a pretty long drive to get there and there are a several parts to it:
First, you're going to want to input this GPS location of it.
Second, Fern Canyon is actually located deep into an off road drive.
You'll first turn into the off road part off route 101 (Redwood highway).
Then you'll get off road and be on it for about 8 miles (it gets 1 lane tight in spots).
You will follow that road to the beach (Gold Bluffs Beach) and it will shift right.
Once it turns right, you will have to pass many pothole areas and even drive over shallow rivers (that's really fun).
You'll follow the road to the end and that's where the trailhead to Fern Canyon begins.
Your GPS will guide you through all of this so don't worry about the turn details, but just know that the road, especially at the end can get really bumpy and annoying, so drive safely. You don't need a jeep or all wheel drive car (although it makes the drive safer and more fun).
2) The best part of the trail is actually the beginning area (Ferns):
The good news is if you come here for the fern part of the canyon, it's literally only about 100 feet away from the trailhead. You'll walk on some muddy trail which will pass a creek. You'll turn right on the creek and that's where you'll see Fern Canyon. This is the counter clockwise approach to the hike.
If you want to "save the best for last", you can elect to do this hike clockwise and finish with the Fern Canyon part at the end.
3) The Fern canyon part of the trail only spans for about 500 feet (gets boring after):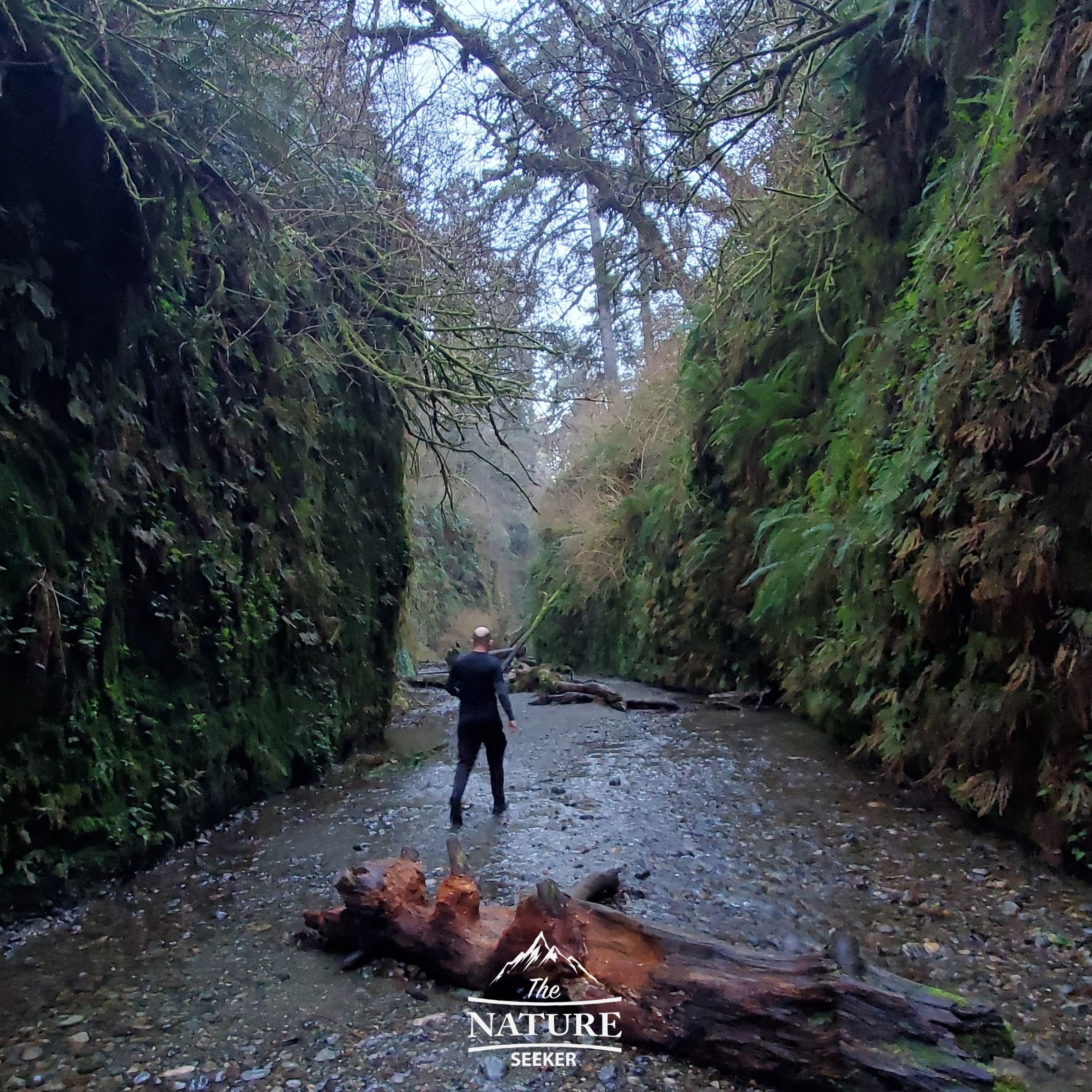 It's a very scenic trail, but unfortunately it's short. But you'll still have a lot of beautiful things to see in that small frame.
As you continue up trail, the canyon will open up and the trail will continue left.
You will pass some parts where you'll have to walk underneath downed trees and that really looks amazing.
You can elect to go for the full trail or just go back the same way.
The loop trail could be fun, but it is short and aside from the Ferns which are the best part, it probably doesn't get better (depending on who you ask).
4) I do recommend you wear waterproof socks certain seasons when you're there:
I was there in late February and while there wasn't any snow, the water was freezing. In most areas of Fern Canyon, the water level is only ankle deep, but if it's really cold, you'll probably want to wear some decent waterproof socks.
If you're looking for recommendations, I'd say the Randy Sun waterproof socks are awesome as are the Showers Pass socks as well. I own both but can't remember which of them I wore here, but I do remember that they kept me dry.
5) Be aware: There's a lot of elk in the area!
You'll probably see most of them off the main road (101) before you enter the off road part to Gold Bluffs beach and then Fern Canyon, but it's something you should keep in mind. Avoid getting out of your car if you see them.
6) The area is extremely scenic and also has many campgrounds:
Gold Bluffs beach has some spots if I remember correctly (see the main site for reservations here), but there are also campgrounds as you drive on the off road part so if you really like it here, you can certainly find multiple areas to stay at. Just reserve ahead of time since this place is popular.
7) There are many nearby areas to check out too: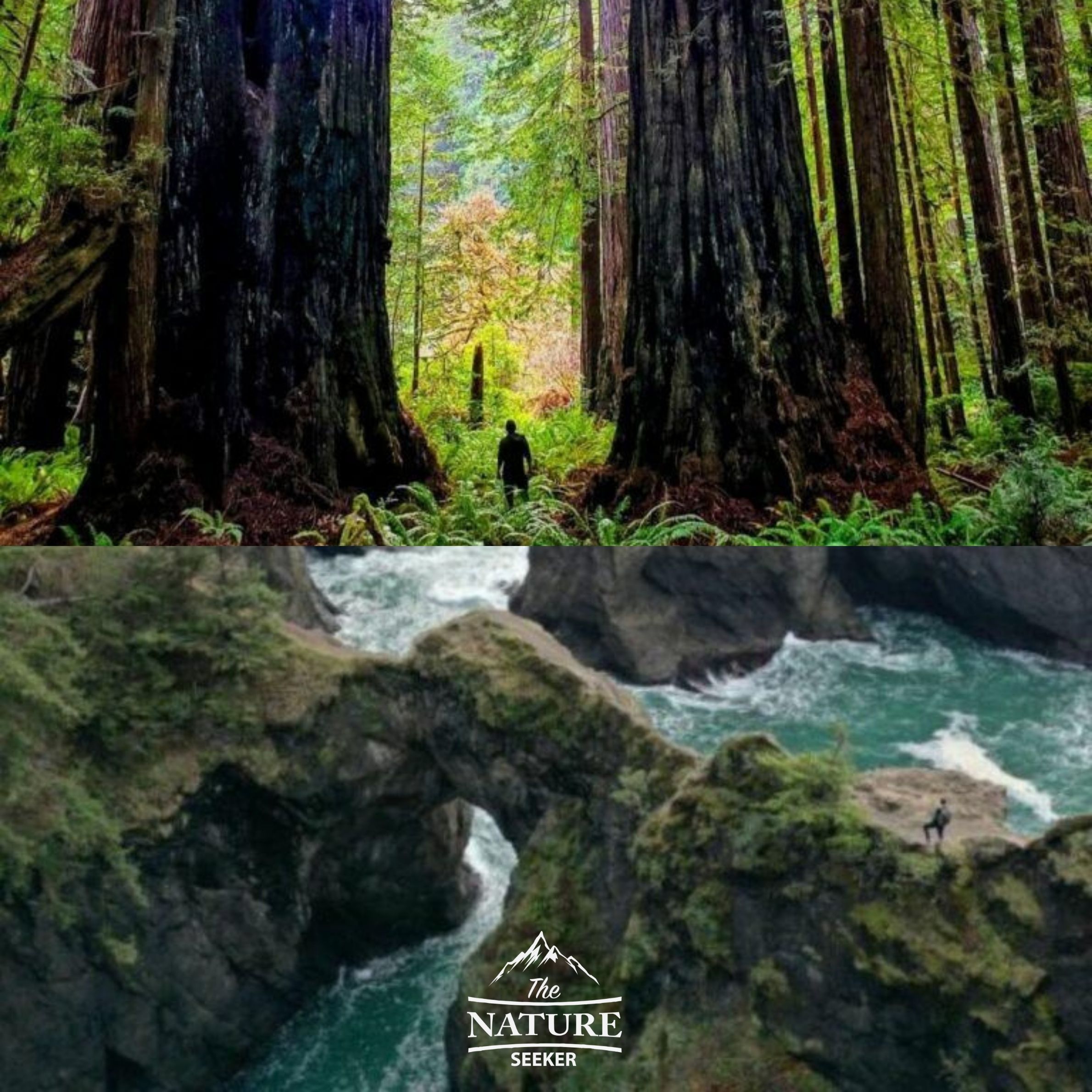 The nearest one is the Redwoods State and National Park.
It's about a 15 minute drive north of Gold Bluffs beach and is one of the most serene and beautiful areas I've ever seen on the California Coast. There's also a lot of cool hiking trails there as well.
Further north is Southern Oregon coast territory and the good news is that beautiful spots are nearby once you pass into that state. First up will be Samuel H. Boardman Scenic Corridor where you'll find several beautiful coastal spots, including:
Those 2 spots are in my opinion even more scenic than Fern Canyon and even the Redwoods Park, but that's up to you to decide and you will have that opportunity since these spots are all close to one another.
Another cool thing to note is that if you cannot find camping spots near Fern Canyon, then the Redwoods area and southern Oregon area nearby have many campgrounds too.
Any good gear worth wearing to Fern Canyon?
It may be a short hike, but it is muddy and wet there, so I recommend these things (especially the socks and shoes):
Additional questions about Fern Canyon:
How long of a hike is Fern Canyon?
Only 1 mile round trip, but you can see the actual Fern Canyon area about 100 feet from the trailhead.
Is Fern Canyon worth visiting?
Yes Fern Canyon is very beautiful especially the actual gorge, fern area of the hike.
Is Fern Canyon in Jurassic Park?
Yes the Fern Canyon area was one of the locations filmed for the second Jurassic Park movie.
Is Fern Canyon open now?
Yes Fern Canyon is open now and across the whole year.
What is the best time to visit Fern Canyon?
Generally it's best to visit Fern Canyon between February to September.
Finalizing your trip to Fern Canyon (bottom line):
When you put this all together, Fern Canyon is definitely worth visiting for it's beauty (and I highly recommend it), but in all honesty, it's really just the tip of the iceberg of the beauty that's close by to it and I would argue it's even better.
If you're going to visit this area, make sure to plan ahead and visit the other spots I recommended. Further south of Fern Canyon, you will also find beautiful spots, but in my opinion, Northern California (and then Southern Oregon) is where it's at if you're a nature seeker like myself!
Thanks for reading this post and if you have any questions about hiking Fern Canyon, let me know!