Anyone that appreciates and loves nature NEEDS to see the Oregon Coast and if you need proof, I'll give you 10 places I saw that'll sell it to you.
While detailing my recent trip across the Pacific Northwest (article here), where I traveled from California, up to Washington State, I mentioned how Oregon (the state in the middle of that trip) took my breath away and it had the most beautiful coastal spots I'd ever seen.
These spots included the following things that make it unforgettable:
Natural bridges, which are basically caves and tunnels carved into the mountains from erosion. 

Incredible and unforgettable hiking trails. 

Plenty of spots to visit along the coast to enjoy the diverse nature there.

Seals, one of the spots (a town called Astoria) has plenty of them.

Most if not all the locations are close to the Pacific 101 highway road and pretty easily accessible.
All these benefits make Oregon's coast something that just about everyone can explore and take in, without having to hike like crazy or seek out the specific locations on this list. Most of them are literally off the road and if not, they are close enough to hike to.
For the most part, all you really need to do is drive along the 101 road, see the signs, stop anywhere you like and then enjoy the views, hikes or whatever it is you plan to do (like camping).
Mark these 10 spots (All on the Oregon Coast):
Samuel H. Boardman Park (Scenic Corridor) and the next 3 locations in it:

Whaleshead Beach.

Natural bridges.

Secret Beach.

Oregon's Sand Dunes (dunes on a beach).

Thor's well.

Florence (Sea Lions and caves)

Cannon Beach.

Devil's Punchbowl.

Astoria (Where the Goonies were filmed & where you can find sea lions too).
Details on each spot (and locations):
I've left links to Google maps for all these spots so you can easily add them to your trip if you're going or are on it.
10) Samuel H. Boardman State Park.
One of the first locations I drove through after enter Oregon from the South was this park. The road that takes you across this park is known as the 101 highway, but also goes by the name of the scenic corridor and once you enter it, you'll understand why.
This park itself stretches for miles and miles across the Oregon coast and has at least 10 different spots where you can pull off the road and go exploring to the coast itself, including secret beaches, natural bridges, hiking trails and more. 
In fact, the entire park is one big trail that zigzags across the coast and into the mountains, then back down again and it is a must do for any avid hiker and the trail WILL take you through each location within this park that I am recommending that you definitely see.
If you're not into hiking, don't worry, the drive itself (the scenic corridor) will take you through each location that you can check out without having to hike anywhere major. 
Samuel H. Boardman park itself has at least 10 different and amazing locations you can explore and I could honestly fill up this whole article's list with just the locations here, but this park is only a small chunk of the beauty that is the Oregon coast…
But I would be re missed if I didn't mention the next 3 locations WITHIN this park that I honestly think you can't afford to miss and they are location numbers 9, 8 and 7…
9) Whaleshead. 


I mentioned Whaleshead and how awestruck I was when I got there in this article, so I won't say the same stuff other than you should go here if you own a all wheel drive vehicle. This is simply a beach that has a beautiful scenic view where you can spend hours at:
If I had my way, I'd stay there all night, camp out and enjoy the view. Other than the rocky road that is a bit annoying to drive through, the parking lot near the beach is clean, organized and the beach is a few steps from there.
8) Natural bridges. 
Go. To. This. Place. And here is the map location of it. And it's also the first image you saw in this article by the way.
And quite frankly, out of all the spots in the park I saw on the road, this one, ironically was the easiest to access (and most beautiful in my opinion). You can park right outside the viewpoint of this place and if you then wish to, hike down to it (that is a tough hike, and I explain how to do it, but fair warning, it's dangerous).
But viewing it and taking in this spot's beauty takes literally nothing. Here is a video I took from there:
7) Secret Beach.
It's shortly past Natural Bridges and also a HIGHLY recommended spot. I passed this spot along the scenic corridor and WISH I had stopped there, simply because it basically combines the beauty of natural bridges, and the up close scenic panorama of Whaleshead into one location as well as waterfalls going into the ocean too.
I don't have my own personal images to share with you but click this link to be taken to the location you can input on your GPS and see for yourself if you want to go here (I think you do!). Here is a video preview of what you'll see (it's a drone shot of secret beach):
6) Oregon's Sand Dunes. 
The 101 will undoubtedly lead you across a large beach mixed in with sand dunes. I only saw it from a distance, and regret not going (it was getting dark when I was passed through there). But the sand dunes in this place are also worth looking at if you enjoy a combination of beaches, desserts and activities you can do on both.
5) Thor's well.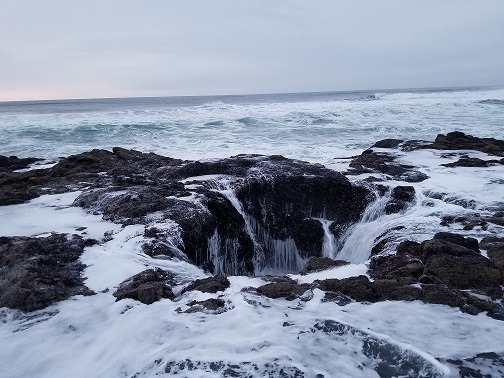 This is a popular spot for tourists and honestly, it's not even that big, but the whole location around Thor's well is well worth looking at. It is located on this amazing black rock that looks like it's been made from lava and the entire landscape around Thor's well is also impressive. Here is a map of where to find it:
4) Florence (you can see sea lions).
Florence is actually a town right by the Oregon Coast and it has it's own beach and nature spots, but the thing to look for here (besides the town) is the caves on the beach which often have sea lions in them. I don't recall if they are accessible, but you can find the spot here:
3) Cannon Beach.
I missed this spot on my trip, but I can tell you that it's a large beach with a single large mountain in the middle of it and it's really something that an east coast native like myself is simply not used to seeing. Although you can find these landscapes ALL across the Oregon Coast, Cannon beach is the one where you can get close to it without having to hike much as it's literally off the beach and accessible during low tide:
2) Devil's Punchbowl.
This was a location I tried my best to get to after Thor's well but sadly, night hit me earlier than I hit this spot and I couldn't actually see much while there, but it is highly recommended for you.
Imagine a meteor lands on land, makes a huge hole in it and then within that hole you can enter and see the ocean waves come in. That's basically what this location is and it's amazing:
1) Astoria.
One of my favorite childhood movies was the Goonies and if you've ever seen that movie and wondered where it was filmed, the answer is Astoria, Oregon:
This was the last location on my trip that I took before I took the bridge into Washington State, but here I was able to see seals in large numbers and I really enjoyed that experience, so if you want to see seals more along the Oregon Coast, Astoria is where I'd find them.
What else is there to see?
If these 10 places weren't enough for you, then you may also want to see these other spots:
Hug Point (It's south of Astoria and is near Cannon Beach).
Deadman's Cove (Washington and you need to pass the bridge in Astoria to reach this area).
And if you're headed south of Oregon in general, you'll obviously hit California and from there, you can see a number of awesome spots like these, but specifically:
The Redwoods and Fort Bragg among other spots in California like Big Sur. In fact, it's coastal area is also very beautiful, like Oregon, but is it better? You tell me.
As for the Oregon Coast, if you have your own personal list of places to see, please let me know 🙂