With over 400 miles of coastal land to explore, California's Northern coast has tons of amazing camping spots you can stay at, which are right by the beach too and in this post, I'll show you 7 of them.
I've explored a chunk of the Northern California Coastline and in addition to:
There's also a lot of opportunities to camp there and I'll be sharing the best spots, that are by the beach and near my favorite locations in this region. I've narrowed it down to 7 which are very positively reviewed and near some of the most beautiful spots on the California Coast.
Here's the 7 best beach camping spots to stay at on the northern California Coast:
Sky Campground (Point Reyes National Seashore).
Casini Ranch Family Campground (Near Sonoma Coast State Park).
Grestle Campground (near Salt Point State Park).
Russian Gulch State Park (Camping available close to the beach).
Cleone Campground (near Fort Bragg).
Nadelos Campground (Near Little Black Sands Beach).
Clam Beach State Campground (Near Redwoods).
Bonus: Gold Bluffs Beach (might be the best one).
Let's get into each campground and location on this list and I'll also show you the attractions you can see nearby (the beautiful beaches and hikes there).
1) Sky Campground:
This campground is in the region of Northern California known as Point Reyes National Seashore and is located on the top of a mountain overlooking the beautiful Pacific Ocean.
The beach is literally within 1 mile of this campground so you can get there pretty quickly. It is also a very highly rated camp site for people who are in the Northern California area. In addition, it's not too far from San Francisco.
You will have plenty of hikes, attractions and beautiful places near and right in this campground to explore and enjoy.
2) Casini Ranch Family Campground:
This campground is about 2 miles away from the California Coach and it's nearby beach that is in the beautiful Sonoma Coast State Park.
This is a very popular camping spot that has you staying in a beautiful forest, by a river and another plan B option (in terms of campgrounds) that is literally right by the beach and near Sonoma Coast State Park is Wright's Beach Campground. But if this option is taken, your next best campground would be Casini Ranch.
3) Grestle Campground:
Grestle Campground is located very close to another beautiful and coastal state park in Northern California known as Salt Point State Park. Like the many other campgrounds on this list, the campgrounds are right off road 1 on the Pacific Coast Highway, which makes this one of the best spots to access in additions to 100's of very highly favorable reviews of it.
4) Russian Gulch State Park (and campground):

Time and time again, I go on about how much I love the Russian Gulch State Park and the fact that there is a campground right inside it makes it even better.
You will have tons of things to do in this park (aside from camping), in addition to kayaking, hiking and more.
You can see my article above for a list of things you can do at Russian Gulch state park.
But overall, it's a mixture of very scenic views, an absolutely stunning panorama, a beautiful beach and nice hikes to explore on the coast and in the forest near the beach (including Redwoods).
I can't say enough about Russian Gulch and how much I love it. It's one of my favorite places in California.
And it's one I plan to revisit every single time I am in the area.
5) Cleone Campground:

A little further north of Fort Bragg is where you'll find this popular campground. I chose it because it's in a section of the northern California coastline that I personally find to be absolutely stunning.
For one, the coastal drive in this region is amazing, but for another, there's also the popular Fort Bragg and it's Glass Beach you can explore.
Scenery like the one above is one of the other reasons why stopping by in this campground is highly recommended.
6) Nadelos Campground:
This is a campground you'll find about 1 mile from the beach and specifically a beautiful coastal spot known as Little Black Sands beach. If trail hiking the northern California Coast is something you want to do, then this area is where you'll get a lot of that!
7) Clam Beach State Campground:

There are several reasons why I highly recommend staying at Clam Beach State Campground and the biggest one is that it's close to the Redwoods National Park (and state park too).
Now California actually has several sections in the northern region that have Redwoods, but this one is in my experience less crowded (and also stunning).
It's located very close to the Redwoods Forest and that forest goes straight to the beach that you can explore.
Whenever I visit the Pacific Northwest, and drive through California, this Redwoods region is what I always drive through!
And if you've never seen the Redwoods, this is a great place to explore them and their beauty!
And now that this list is done, let me mention one more very important thing (about experiencing even more beautiful spots nearby):
8) Bonus: Gold Bluffs Beach!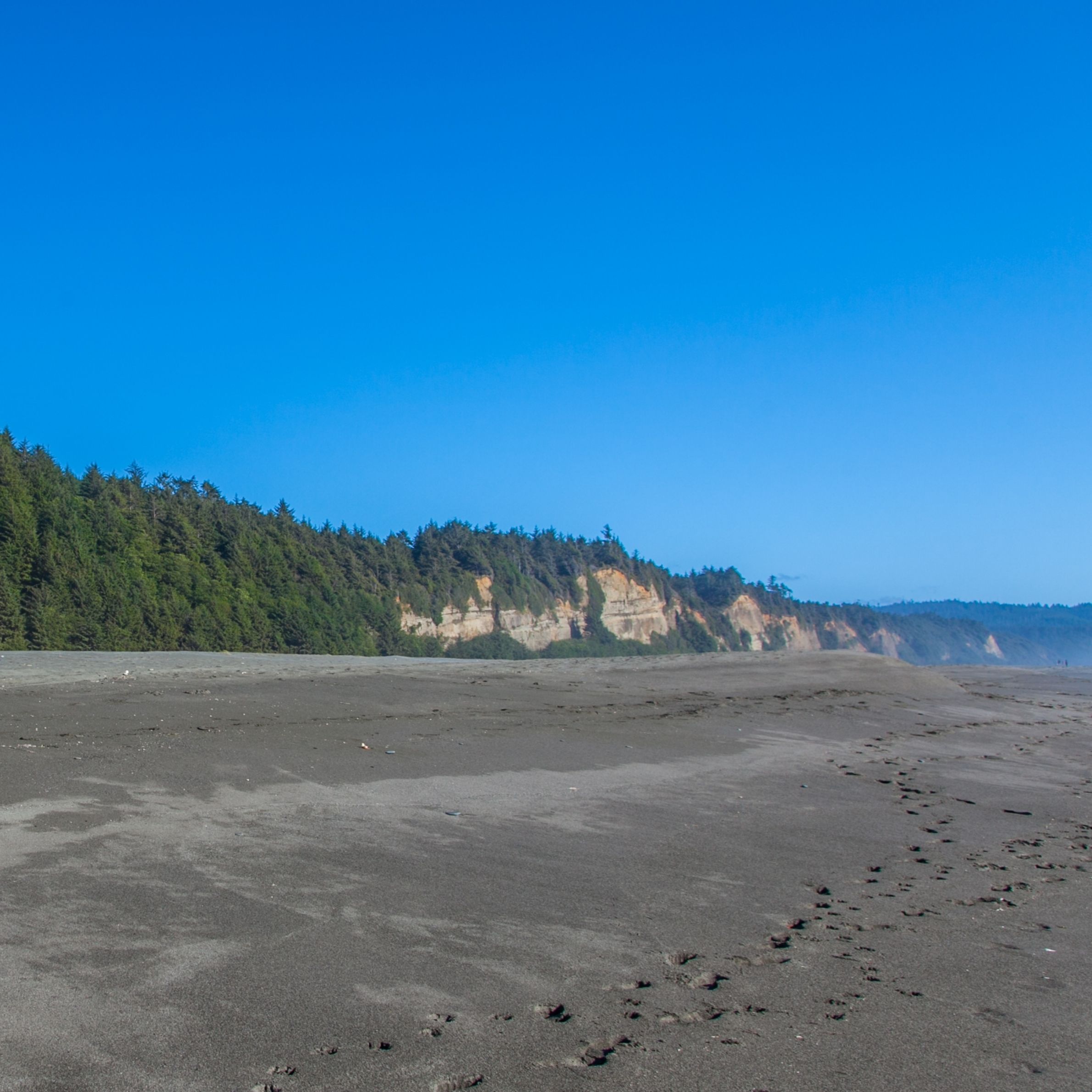 This is in my opinion the best campground to visit because of a few reasons:
The beach itself is scenic.
Fern Canyon is right nearby (beautiful area).
It's also close to many Redwood spots.
It's also very close to the Oregon Coast (south).
I've been to Gold Bluffs beach and while I didn't camp out there, I did visit the nearby area (Fern Canyon and saw the surroundings) and I have to say, it is wonderful there.
If you have a chance to stay here, do it. Also know that this campground is very close to many other beautiful spots (aside from the beach itself).
One more reason to visit these beach camping spots in Northern California:
And another big reason I highly recommend this spot is because it's not far from the border of California and Oregon and just about everyone knows that the Oregon Coast is stunning, which is why if you want to see the northern California Coast but just as well travel through the Oregon Coast, this particular campground is a great place to stay at in between that trip.
Just as well, if you're going on more camping excursions, then the Oregon coast has many camping spots to stay at just much as the northern California Coast does.
I'll be making a post on the Washington coast and spots to camp at there soon, so if you're looking to do a full trip through the entire Pacific Coast, you'll have plenty of options in all 3 states to do just that.
Just as well, if you're looking for a list of great camping spots on the Southern California Coastline, let me know below (because I will be making a post on that too).