While traveling up California's northern coast a little over a month ago, I had plotted several points to visit, one of which was Glass Beach in Fort Bragg.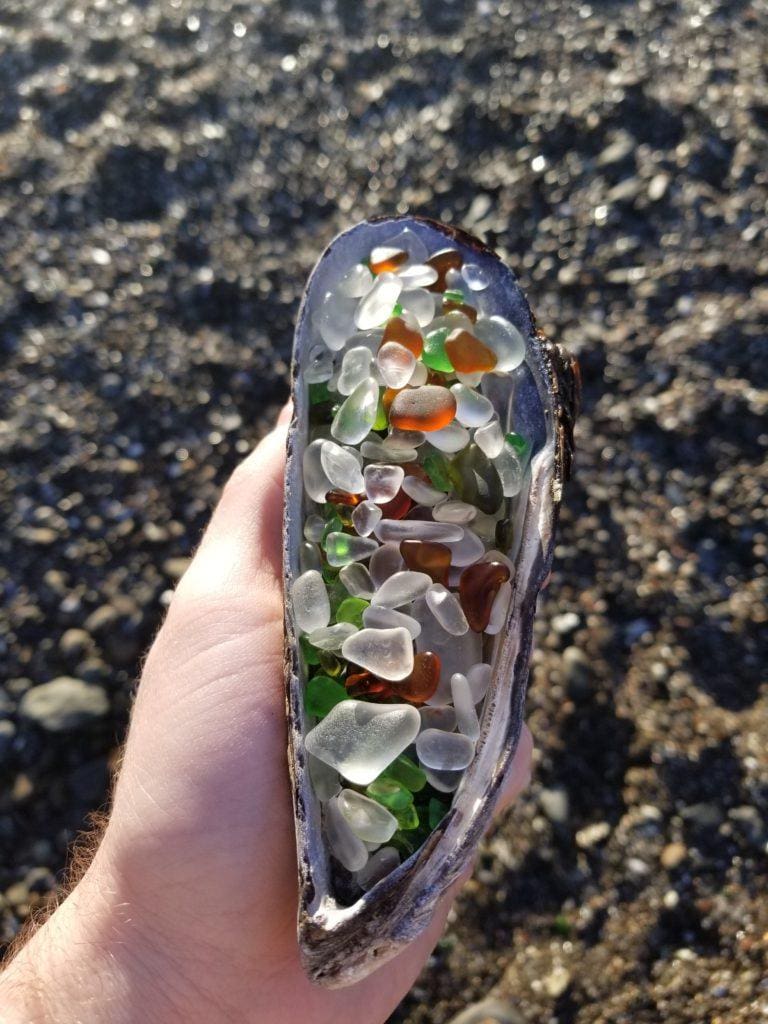 After checking it out, I'd like to share with you the details of this spot because I found most of the information on it to be pretty vague.
Let's begin with where Fort Bragg is:
It's literally on the coast of California, about 2 hours in between San Francisco and the Redwoods, 2 spots I also stopped at on my west road coast trip by the way.
While traveling along highway 1, you will find advertisements for it, and it's honestly very simple to get to when you have your GPS targeted there.
Here is the map location of Fort Bragg:
Before you hit the beach with the glass, you'll cross a nice town and see signs for this location there.
The signs will take you into a spacey parking lot, that was pretty empty when I was there (details my whole trip).
From there, you'll walk across a very small trail before getting to the coast and it's there that you'll have to walk down a little bit to get to the actual beach.
O

nce you get to Glass Beach, here is what you can expect:

The glass is scattered everywhere, but it's scattered and mixed in:

Looking at images of this spot, I had thought that this beach was filled with nothing but glass, but I guess this was a foolish assumption. It's actually mixed in with the sand and rocks, so when you dig in with your hands and lift it up, it's all mixed together so if you wish to collect only the glass from the location, you'll have to scavenge a bit and it may take you some time, but it's actually a fun activity that I enjoyed doing as did the other tourists who were there, including families with kids (if you have kids, they might love this spot).

I personally took about an hour collecting what I considered the most beautiful glass (most of the ones you'll find are clear white and green, I was looking for blue, yellow and red ones, those are rare):
Is there anything else worth doing at Glass Beach?
Well it depends on what level of entertainment you seek. In my case, I only needed one hour at this spot to be satisfied so I collected as much of the glass as I could, then got in my care and continued north to the Redwoods.
But this spot is also very scenic. Swimming on the actual beach is a big no, because of 3 things:
1) The water from what I understand isn't clean because the stuff that's on the shore comes from disposal waste.
2) There's rocks everywhere in this spot, so if you trip, you may end up hurt.
3) The waves there are pretty huge, at least when I was there, so swimming would be dangerous even if the water was clean.
However, what I said about this location being scenic is true, you can walk across the shore and enjoy seeing the waves come in. They are actually quite huge and because there's lots of rocks that cover the shore in this spot, you'll see some pretty big waves hit, but as long as you're on the shore itself, you won't be hit by them.
There's some cliff areas you can also hike in this spot and I did a little bit of that to get better pictures, but keep in mind that it is slippery there in most spots, so wear slip proof shoes: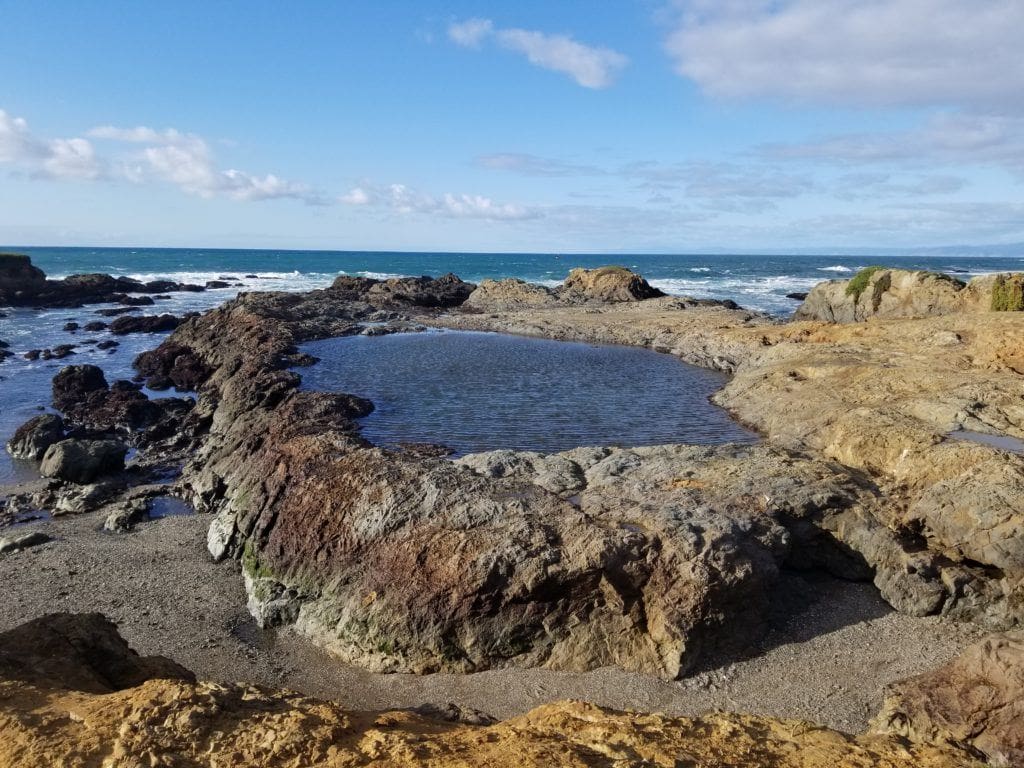 As for entertainment, the location itself also has a number of stores and restaurants, as well as hotels to stay at. I'm not sure if there's anything near this location to see other than Glass Beach itself, but since I was in a hurry, I didn't get a chance to check everything out.
There's more than one Glass Beach like this around the world? Oh yes!
Fort Bragg isn't the only place where you'll be able to find glass beaches and the name itself isn't some sort of trademark.
You'll find plenty of other spots with the same name in different locations. I included a link here to a page which shows 7 and do note that while that page says they're showing locations in the states, it's actually worldwide.
If you are in the states, there's a location like this in Hawaii and Boston and even one in Washington state called Port Townsend which I almost ended up visiting on my Canadian Rockies road trip in late 2019, but sadly, had to skip because I was in a hurry to catch the Ferry to Vancouver Island. Next time!
Is it dangerous to collect this stuff?
The only thing I'd worry about is the glass being sharp and in the whole hour that I took to collect it, I didn't encounter any that were.
Most of them were very smooth. I did pick out a few which weren't eroded completely, but their tips weren't sharp either, so you shouldn't have issues with that. If you want to be very safe, just wear some sort of protective gloves (even though I don't think you'll need it).
Now the other potential worry I had was that this location collects the glass from a disposal spot, so I guess my worry there was if there were any chemicals in the water and I don't think that's the case. If there was any hazard of that sort, this place would be closed.
Is it illegal to take this glass with you?
I honestly saw no signs saying I couldn't do it, so I just collected as much of it as I could, put it into an empty plastic bottle, put it in my bag and went on my way. It doesn't seem like the amount of glass on that beach will ever be short, so I'm sure year wide, people from all over drive by there and collect as much as they can.
Do I recommend you visit Glass Beach in Fort Bragg?
I personally enjoyed visiting this spot. I don't think there's much else to do around there, so if you are in the Pacific Northwest area, it is a stop I'd make, but for a brief period. Then continue onward. If you're headed north, stop at the Redwoods next. If you're headed south, stop at San Francisco and if you can go further south, Big Sur.
I want to add that shortly after I finished up at this location and headed north, I crossed some incredibly beautiful shore lines where there were barely any people, and this literally made me want to stop and spend the night there.
I mean look at this spot and you'll see what I mean: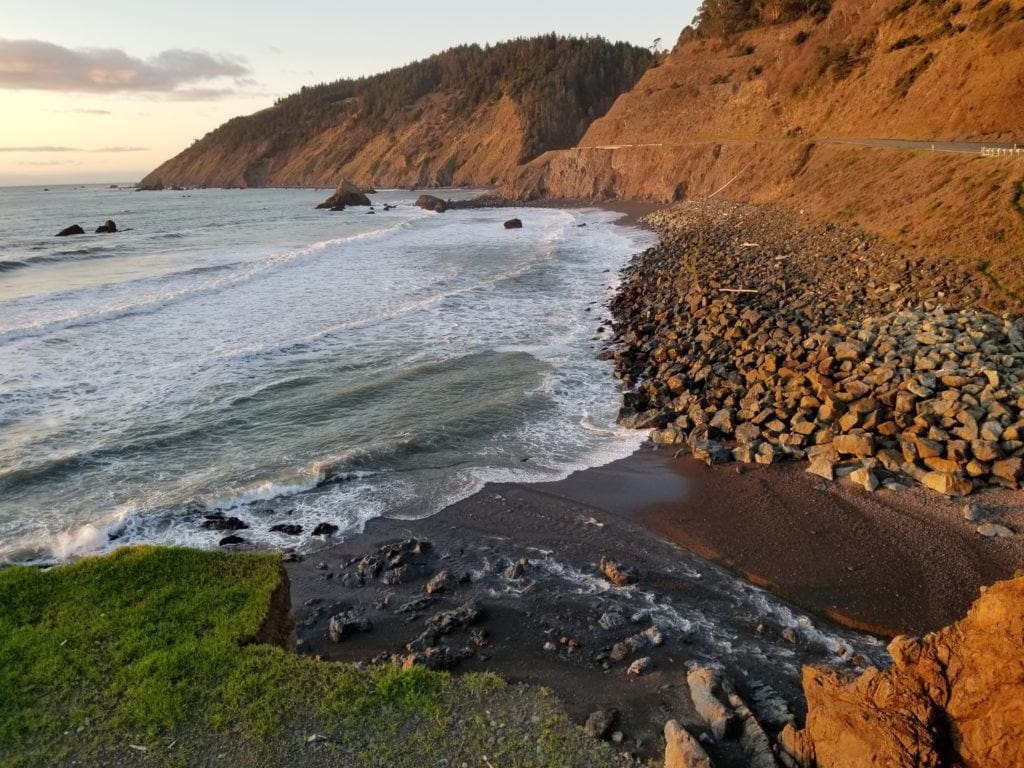 That's an example of the beauty I saw in the Pacific northwest! Later on I ended up seeing the Oregon coast, which does not have any glass beaches to my knowledge, but on the other hand, has amazing coastlines which you have to see to believe.
In fact, here are Oregon's 10 most beautiful coastal spots to see!
Have you been here or to Glass Beach? Let me know 🙂