One of the most famous attractions on the Washington Coast is Glass Beach Port Townsend and it's an area I have personally explored. In this article, I want to share how to find it and why when you do, it may be a good and bad experience like it was for me.
Quick info on Glass Beach Port Townsend:
Name: Glass Beach Port Townsend (aka Glass Beach Washington).
Location: Port Townsend Washington (specifically near North Beach County Park).
Things to do: Collecting sea glass, beautiful rocks, picnics, hiking and more.
Family friendly? Yes!
Pet friendly? Yes!
Rating:

4 out of 5 stars

.
Why Glass Beach Port Townsend can be both a good and bad experience:
On the good side, Port Townsend is amazing and worth visiting as a whole.
On the bad side, the actual glass beach there wasn't what I had hoped to see as the sea glass there isn't easy to find.
I'm going to focus on the actual glass beach here and will do a separate post on the town itself in the future because it really has a lot to offer. But as for the glass beach, if you are still looking to explore it, then this article will show you exactly where to go and where to look for the sea glass.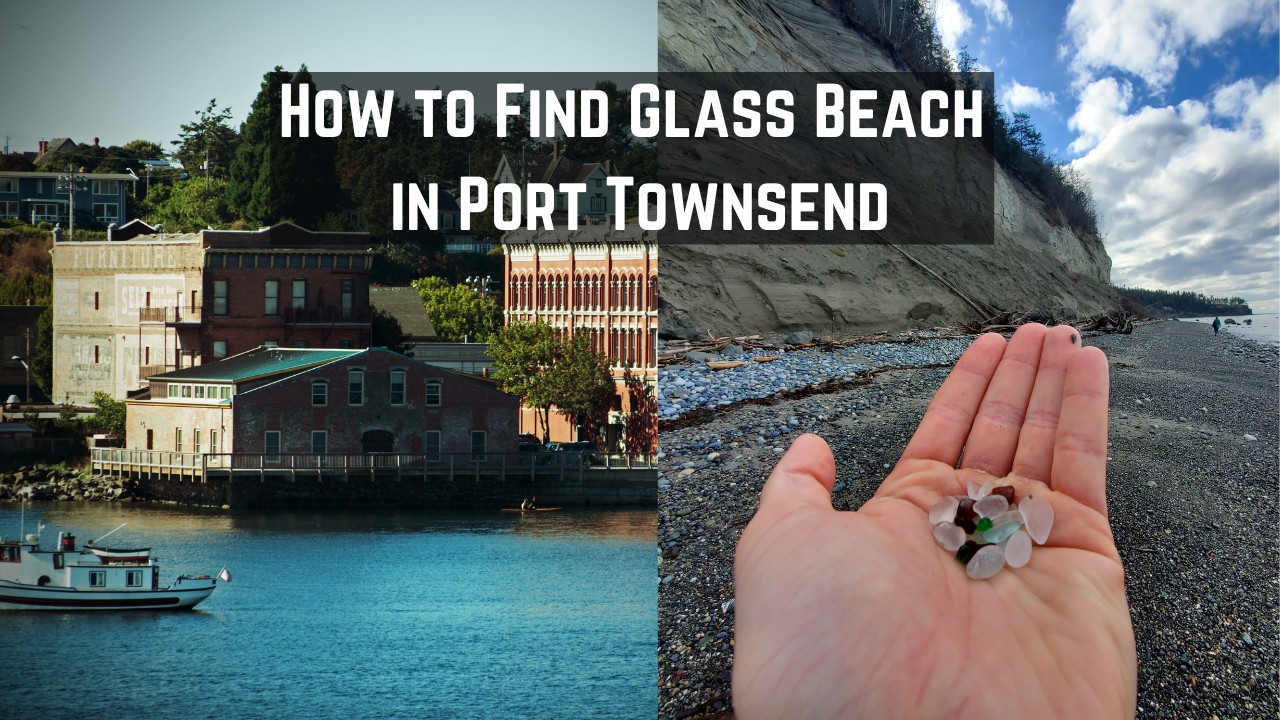 Here is how to get to Glass Beach Port Townsend step by step:
I never found official directions to this place, so I had to ask some locals but the following instructions will lead you there and if you have any questions about it, you can ask below. Let's begin:
1) Start your trip in North Beach Port Townsend: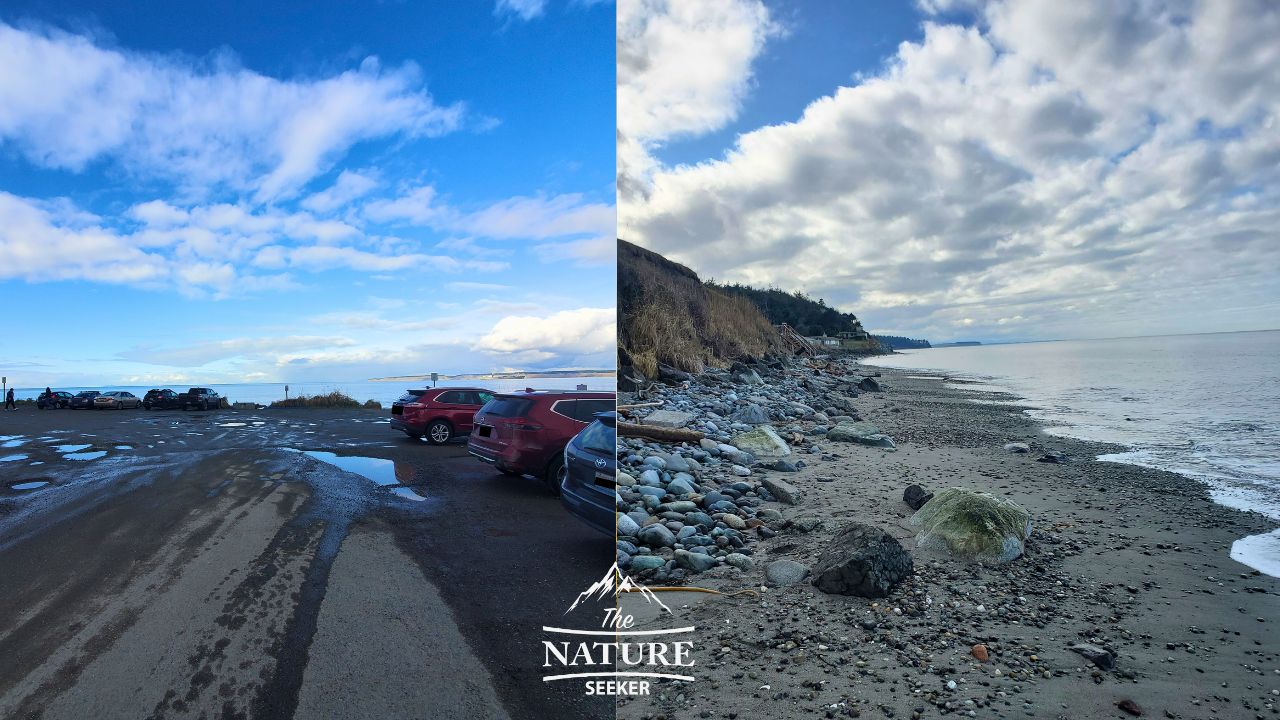 You won't find an actual Glass Beach Washington listing on Google maps for this spot, but North Beach County Park is where you'll need to start and that does have a Google listing. Basically it's on the north western side of the town and there is a parking lot right by the beach. There are also picnic tables and hiking trails there.
2) Once you park your car there, go to the beach and

turn left (head west)

:
This is very important because the way this place looks, it's more tempting to turn right as the sights look better (and there are hikes there) but left is where you'll want to go. At first the beach there will look very barren and during high tide, it won't seem like there's much space to walk there. But that's OK, just keep heading west.
3) You'll need to walk 1-2 miles on the beach before you reach the glass beach: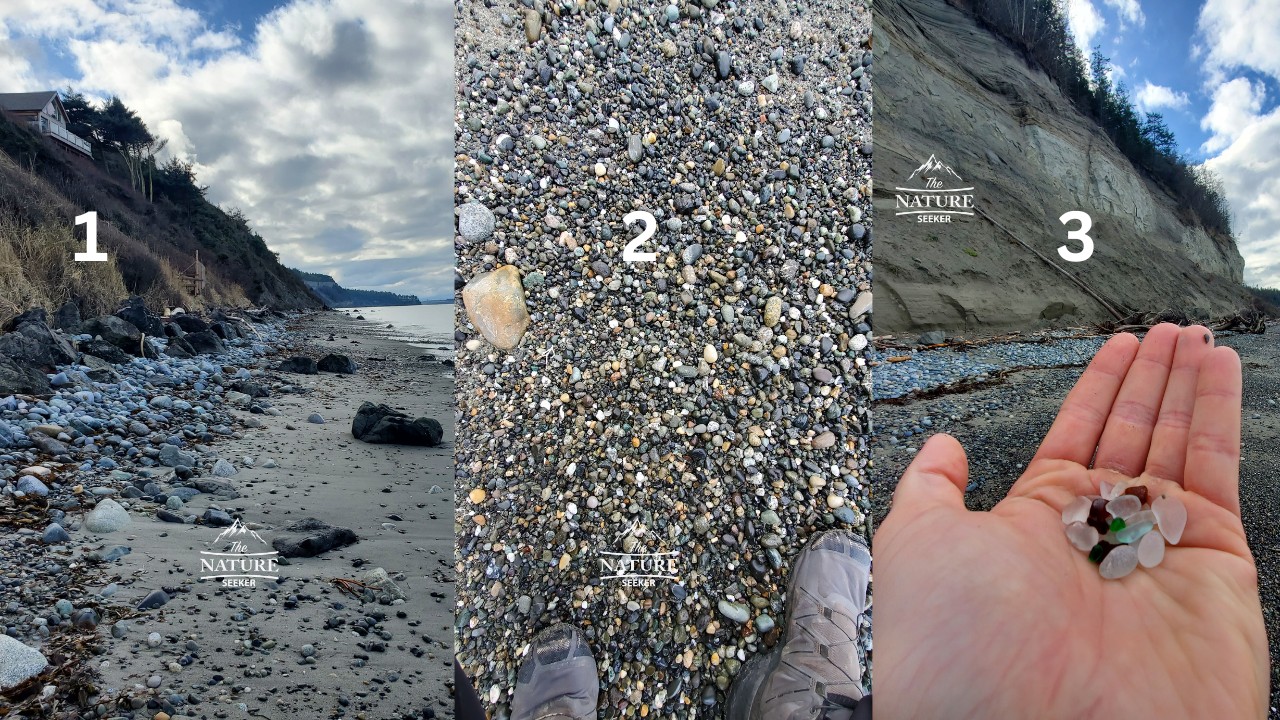 What's going to happen is that as you continue west along the beach, the cliffs to your left will get bigger and bigger. About 1-2 miles into this hike is when you'll come across the largest cliff areas and this is where you'll find the sea glass.
You may also come across some of it near the parking area, but about 1-2 miles in is where you'll have the best chance of it. The only problem is that even in the "peak" areas with the sea glass, it's still hard to find and you have to basically do a scavenger hunt to find it. Most of the sea glass you'll find there is very small.
Note: It's better to explore this area when it's low tide as you may find more sea glass then. I went during high tide.
In terms of colors, most of it will be white. I've found some light blue and green ones, but there are also rare amber colored ones too. After about 10 minutes of looking, I was able to collect a little bit of it. Once you're done, you can continue west on the beach to reach an area called McCurdy Point (2 miles west of the parking lot) and possibly find more of it, but if you're ready to go back, just backtrack on the beach to the parking lot.
4 surprisingly good things I discovered at the Glass Beach Washington:
Despite the sea glass beach Port Townsend area not being what I had hoped, I actually found several other things there which totally made up for it and here they are:
1) The hiking trails:
When you park your car by the beach, I would recommend exploring the eastern side of the beach too. Besides the beach, there are also more forest walks available there.
2) The actual hike to Glass Beach Washington:
It was actually pretty nice and seeing the giant cliffs as I went further along the beach was a very scenic experience.
3) The rocks on the beach are far better to check out than the actual sea glass:
This was one of the most surprising things to me as there are many exotic looking rocks all along the beach there and the colors and combinations of colors some of them have are incredible. I found them to be far more beautiful and on top of that, they were everywhere and easy to find/collect vs having to scavenge for sea glass. I was never a big fan of rock collecting but after seeing the beautiful rocks on (ironically) the glass beach in Port Townsend, that changed!
4) The greater Port Townsend area (biggest surprise):
I'm really glad I decided to take a few extra hours to explore the town further and as I said earlier, I will be making a separate post on what to see and do there. I didn't expect the town to be so beautiful and have so many things to see, aside from the glass beach. I do plan on returning there, and likely not for the sea glass, but to explore more of the town on my next trip in that area.
Olympic National Park

. It's right by the town and there's many places to see.
More

Washington Coast

areas with beautiful hikes and more.
Port Angeles would be the next town I'd see (although I enjoyed exploring Port Townsend more).

Cape Flattery

(very scenic area on the northwest coast).
Vancouver Island is another great place to explore.
Better alternatives to Glass Beach Port Townsend (it has even more of it):
The best option that I have personally explored is the Glass Beach California. That one is on the California Coast in a town called Fort Bragg and I've been there a few times. It also has sea glass, but there are cases where this spot is better/worse than Glass Beach Washington: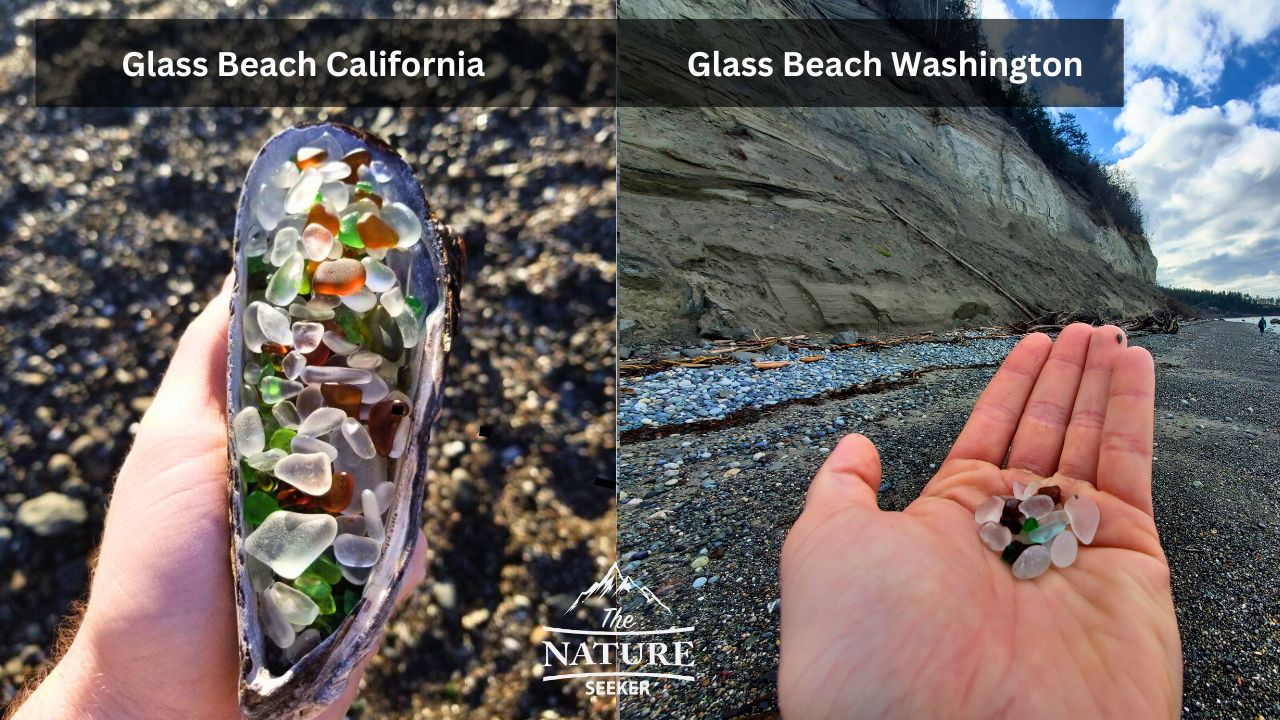 Here is where Glass Beach California is better:
Sea glass is everywhere on this beach and you can easily find and collect it.
I'd also say the weather and sunsets are better there.
Here is where Glass Beach Port Townsend is better though:
I was told you can take the sea glass here. You can't do that in the California one.
The scenery is better overall here in my opinion.
Is worth visiting the sea glass Beach in Port Townsend?
I would say yes, but again and ironically not because of the actual sea glass but the town itself. Yeah you'll find a lot of sea glass there if you follow the directions I gave and take the time and look for them, plus the beach walk is pretty nice, but overall it's the town of Port Townsend itself I recommend you spend more time exploring.
If nothing else, if you decide to still visit this area just for the sea glass, don't neglect the beautiful rocks I talked about and how they are much prettier and easier to find. That might make your visit to this specific spot well worth it.