Last year, 2 buddies of mine and I drove across the Cabot Trail in Nova Scotia. Let me share all the details of our trip and 10 things you'll want to see and do if you go there.
Firstly, our trip to this location was very impromptu. We had just returned from New Foundland, by Ferry, and when we were there, we explored Gros Morne National Park. Taking the overnight Ferry, we arrived in North Sydney very early in the morning and discovered that the Cabot Trail was not too far away.
A short drive from the Ferry terminal to Cape Brendon Island which is where this trail starts was only about 30 minutes away, and being that were had the whole day to travel, before heading back to the states, we decided to drive through this whole location, and we did not regret it!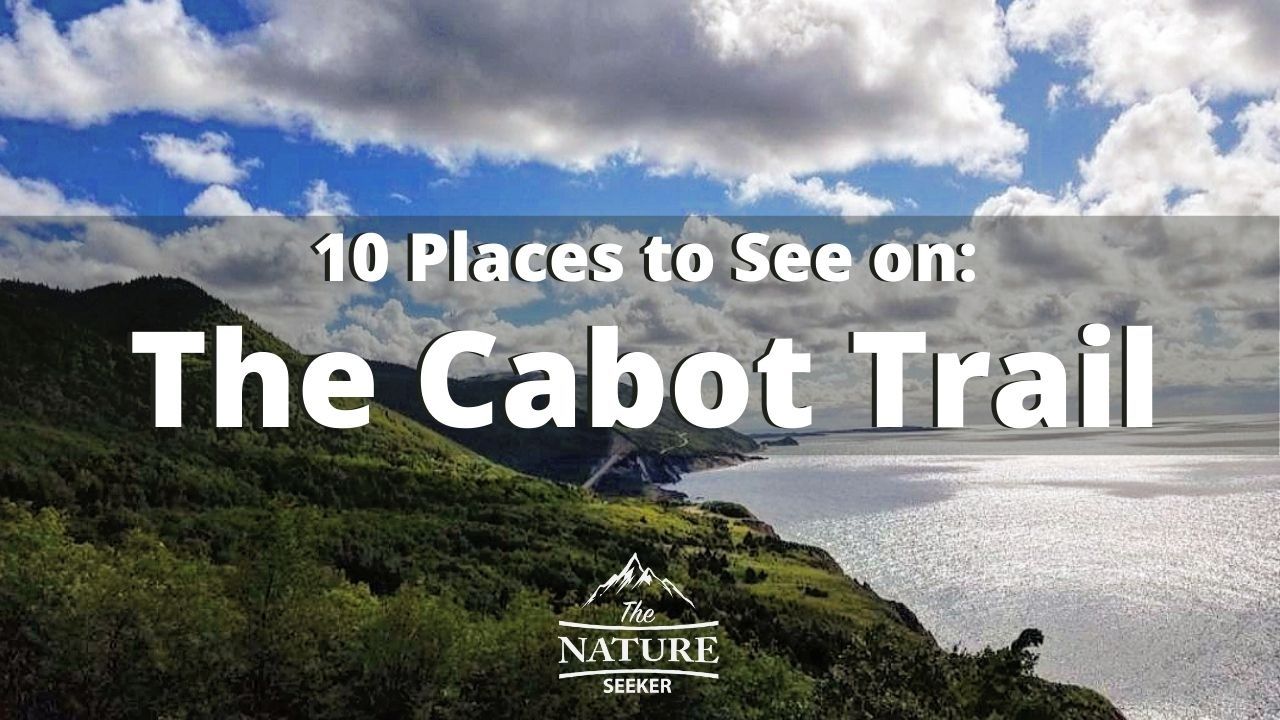 Where is the Cabot trail located?
It's in Nova Scotia, Canada. Specifically, it's in the north eastern region of this province. Within that province, there is an island called Cape Breton and the trail itself is on it. In reality, it's just a long scenic drive that's very popular in Canada and to anyone who lives in the eastern coast of the States, that's how we heard about it at least.
Here is a map of the Cabot Trail: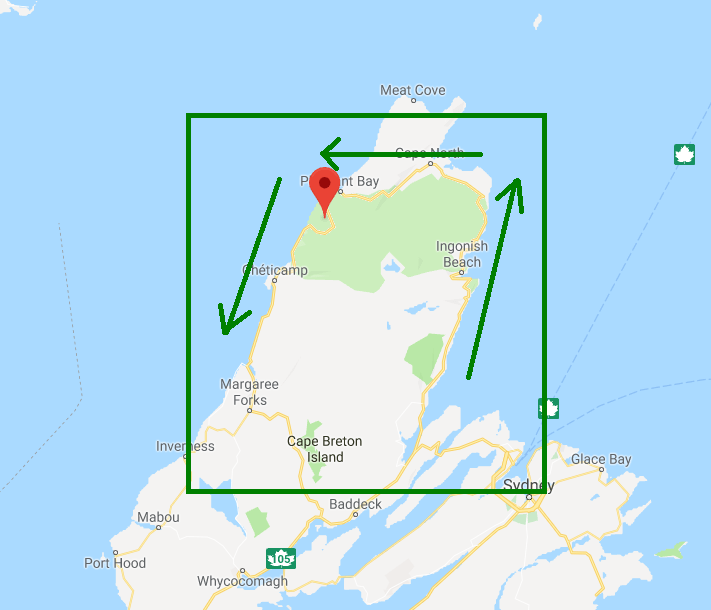 The arrows that I pointed out on the map basically show how the road loops around a park. This park is called Cape Breton Highlands National Park.
And one way to think of the Cabot trail is 2 ways:
It's a scenic drive around this park.

It's a scenic drive across the coast of Cape Breton Island, in the north east part of Nova Scotia.
Now you can do this scenic drive in the direction of the arrows I put up (Start on the eastern end, and finish up on the western end) and I would recommend that approach. This is because in our opinions, the eastern side of this drive was boring, whereas the western side was where we saw most of the beautiful spots I'll be showing.
Of course we did sort of rush through this region, so we probably missed many beautiful areas in each section of the drive, but never the less, we found the cool spots to be easier to see on the western side. Anyway, let's get to the list:
10 things to see and do while on this scenic road:
Stop at the Clucking Hen Cafe (amazing food).
Explore countless hikes across the Cabot Trail (east, north and west sides).
Go whale watching.
Check out Black Brook Clove Beach.
Stop in as many viewing areas as possible.
Check out Beulach Ban Falls.
Spend most of your time on the western side of the Cabot Trail (it's better).
Check out the highlands Sky Trail.
Just do the drive itself (it's an amazing scenic road).
Explore Egypt Falls.
These are based on the same things my friends and I did when we drove through it, although I have to say, we rushed this path too much and really need to come back to enjoy more of it! Let's get into each:
1) Stop at the Clucking Hen Cafe:
This is an awesome breakfast spot we stopped at on the eastern side of the drive to get some breakfast before embarking to finish the whole thing. This cafe has great food, and an amazing outdoor balcony with a view of the Atlantic ocean.
We had our breakfast outside and it was a very peaceful experience and we were also there in September, so it wasn't busy. One thing to note is that this cafe is closed after October.
2) There are plenty of hikes on the coast and within the park itself:
Like I said, Cabot Trail is a road that goes around the National Park of Cape Breton Island and within that area alone are dozens if not more hiking areas to stop at. We preferred to stick to the road and trust me, you'll find PLENTY of scenic spots to stop at which you won't be able to miss. Some of them go up 1,000 feet in altitude.
Other hikes within the park would require you get off the road and head more inland to reach. Here's how to find the best hikes on the Cabot Trail: Read my article on how to find easy hikes near me which will show you exactly how to navigate around the Cabot Trail and find the best hikes available wherever you are on this drive.
3) Whale sightings:
So we were considering doing a whale tour and you will find PLENTY of signs for these opportunities on the road (lots of tours are done around there). For the most part, the whales that do swim in this area do so in the northern, coastal end of the road. Unfortunately, sighting whales is also seasonal so call before you schedule a tour.
4) Visit Black Brook Cove Beach:
It's a beautiful spot with hiking opportunities on the actual coast.
5) Make sure to stop at any scenic spot that is on a high altitude:
As I said before, you won't miss it since these are right off the road. There are dozens of locations along the Cabot trail where you'll be able to enjoy awesome sights. Here is one at a VERY high point along the Cabot Trail drive we did:
6) Check out Beulach Ban Falls:

You will see signs for it as you're there, but there's a short side trail that's about 2 KM long that'll take you to the base of the falls and a parking lot next to it. From the parking lot, the waterfall itself is about a 100 feet away. When we were there, there wasn't too much water, but it was still beautiful. You can easily find this area on Google maps by just typing it in. That's exactly how we found it when we went.
7) Like I said earlier, the western side of the Cabot Trail is where it's more beautiful:
Most scenic areas are on the western end, so save your stops and gas for those areas. This is where you'll find mountains on the coast, the highest altitudes on the road, the most beautiful beaches and the most winding up and down roads (the ones which are most advertised for the Cabot Trail itself). This location is actually the spot which most advertisements show off for the Cabot Trail as a whole.
8) Check out the highlands:
This is also one of the most advertised spots along the road. It is also called Skyline Trail. It's basically a walking trail across that takes you atop of mountains that are on the coast and has some of the most scenic views from there.
This path is about a 5 KM walk. It was one of the spots we tried to see while driving through this whole location, but a GPS error led us to a different location (bad reception in the area made it hard to find the right spot), which unfortunately forced us to skip this spot, but here is the official area.
9) Just enjoy the drive on the Cabot Trail itself:
While there's plenty of places to stop along this drive, the truth is that the drive itself is so scenic, especially on the western end that it's worth it, itself to check out and just enjoy. The elevation changes and scenic views are so grand, that just driving through them is an experience itself.
10) Check out Egypt Falls:
This actual falls is OFF the official Cabot Trail, but since we were finishing on the western end, and then headed west back to the states, it was basically on our path back, so we decided to stop. This is an absolutely stunning waterfall. To get there, check out the location I'll embed for it into your GPS, and when you get there (there is a parking lot), there is a pretty steep hike down to the falls, which you should be careful of, but its literally right off the road.
Make sure you don't make the same mistake we did and continue down the road, which is connected to the parking lot. That will NOT lead you to the falls. Simply park your car and look for a wooden sign with an arrow pointing down to the falls and it will lead you there:
Just note that after you reach this falls, you will have to basically "climb" back up, so make sure you're in good shape, because I kid you not, this hike is short, but it's NOT easy. Just like with the other falls, all you need to do is Google map it and it'll take you there.
11) Bonus: Take the Cabot trail gondola ride!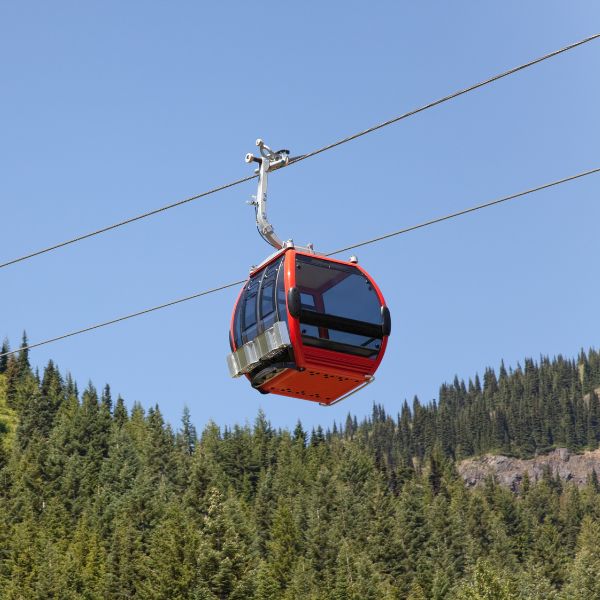 I was recently informed that the Cabot trail now has a gondola ride in the Cape Smokey area. It is officially called Atlantic Gondola.
It's located on the eastern shore of the Cabot Trail and is a great way to start your journey on it. It's very close to the Clucking Hen cafe I mentioned earlier. On this gondola ride, you will get amazing mountain and shoreline views of Nova Scotia and see a bit of the Cabot Trail drive as well.
There are also overlooks with trails at the top of the gondola area where you can sit and also get amazing views. From what I know this ride was NOT around when I visited the Cabot Trail in 2016 but if it were, I would have definitely went. But because it's recently opened up and is so accessible, I highly recommend you go here if you are planning to visit the Cabot Trail as it's another awesome way to explore this area.
Cabot Trail common questions and answers:
How long does it take to do the Cabot Trail?
It typically takes one to several days to drive the Cabot Trail. It all depends on how many stops you make and how long each one is.
Why is the Cabot Trail famous?
The Cabot Trail is very famous because it offers so much to see and do, including an iconic scenic drive, many overlooks, whale watching, hikes, waterfalls and so much more.
Can you do the Cabot Trail in one day?
Yes the first time I drove on the Cabot Trail, it took my friends and I about 10 hours to go through it entirely.
Where does the Cabot Trail start and end?
For my road trip, we began the Cabot Trail in Indian Brook (east side of Nova Scotia) and ended in Margaree Harbor (west side of Nova Scotia).
Is the Cabot Trail worth seeing and driving through?
If you are in Nova Scotia, yes absolutely. I listed a few places we visited, but within the road itself, like I said, you will find DOZENS of other things you can check out and if you have time, do it. We only had 1 day to do all the stuff we did, so we had to only go with a select few spots we found on our GPS and then go through them.
Other areas near the Cabot Trail to explore:
1) The closest is Bay of Fundy and I highly recommend it, especially the area known as Hopewell Rocks.
2) Gros Morne National Park. It requires either a ferry or plane ride to this province, but it houses the famous Gros Morne National Park which is also very beautiful to check out.
3) If you're visiting from the states, then I recommend reading up on my eastern United States road trip for ideas on what to see across the north eastern states of the U.S.
4) And finally, there is the Eastern Canada road trip post which shows all of the areas my buddies and I saw in Canada, including the Cabot Trail.
Want to know of other scenic drives like the Cabot Trail? Here's a few:
1) The Oregon Coast. It's one of the top scenic drives in North America in my personal opinion!
2) The Minnesota Coast. This may be right up there as one of the most scenic spots to explore and so far, I daresay it's better than the Cabot Trail (by far).
3) California Coast. Some of the most diverse and beautiful coastal land to explore is on the western end of the United States in California. I've done about 400-500 of exploration there and I do say their nature also beats the Cabot Trail. The most specific scenic drive in California that looks similar to the Cabot Trail is Big Sur.
4) Washington Coast. It's very different than the Cabot Trail because of the landscape, but it is stunning to explore and places like Olympic National Park and Cape Flattery are prime examples of this.
5) Maine Coast. It's the closest coastline to the Cabot Trail and in my opinion better as well, especially around the Acadia National Park area (Bar Harbor).