Taconic State Park in NY may be one of the best hidden gems I have ever discovered when traveling outside of NYC area. In this post, I want to share with you 7 main things to do there if you go and I highly recommend you do that because this place is absolutely amazing.
Here are the 7 things to do in Taconic State Park NY: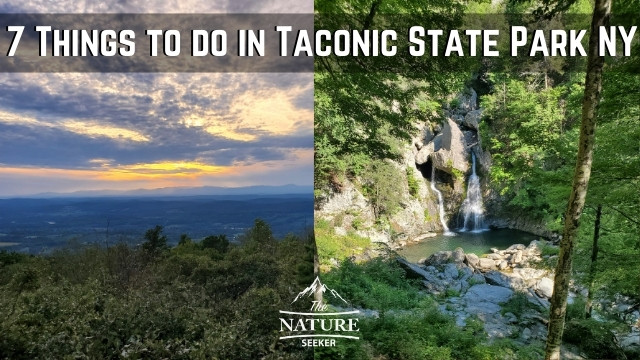 Check out Bish Bash Falls.
Cross the New York and Massachusetts border on one of the trails.
Camp out Taconic State Park.
Bike on the rail trail.
Explore Copake Ironworks historic site.
Stay at one of the cabins or cottages in the park.
Check out the Sunset Rock hike.
1) Check out Bish Bash Falls:
Like I mentioned earlier, the reason I even found Taconic State Park was while I was traveling to see Bish Bash Falls. As it just so happens, the location of Taconic State Park is unique in many ways, and one of them is because it actually connects with 2 other states, that being:
Massachusetts.
Connecticut.
Bish Bash Falls is actually in Massachusetts and as you drive from the west (as we did) into Taconic State Park, that place is officially located in New York State, but within that park are trails and roads that have you pass into Massachusetts and from the moment you do, you will officially be in Bish Bash Falls State Park.
The drive from Taconic State Park into Bish Bash Falls State Park is literally only a few minutes and Bish Bash Falls itself is an amazing waterfall to check out. The last 2 times I was there though, there were steps that led to the base of the falls, but they were closed off. Luckily you can get a close enough view of the falls itself, and there is an overlook trail right next to the official Bish Bash Falls trailhead (light blue color) that takes you to an awesome overlook of the region too.
2) Cross the New York and Massachusetts border (between Taconic Park and Bish Bash State Park):
To me this is one of the coolest features of Taconic State Park. You can cross the border into Massachusetts 2 different ways:
Just drive on the main road you take into Taconic State Park and you'll pass it while you head into Bish Bash Falls State Park. The road is 344 and called "Falls road".
The second is to stop at what is called Bish Bash Falls NY parking lot (which is still officially in Taconic State Park), and then take the

light blue trail

east. While you are on that trail which is very easy to walk on, and has you pass an very scenic river that is very clear (and runs from Bish Bash Falls), you will cross the official NY/MA border and see a sign for it.
From the parking lot to the waterfall (Bish Bash Falls) is about 1/4 miles one way. I strongly recommend doing this "hike" because of the amazing views of the river nearby. I have rarely seen such amazing clear water in my life and you can also sit close to the water if you want. As you get closer to the falls though, the elevation rises and access to the river from there is forbidden though.
3) Stay at one of the Taconic State Park camping sites: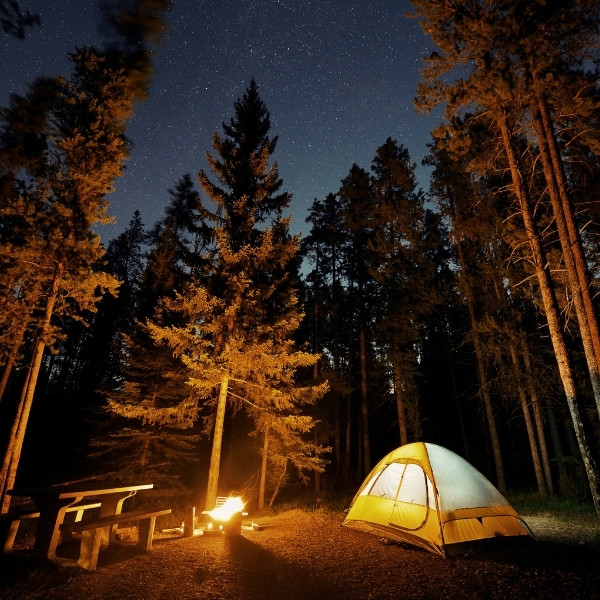 I personally do not like camping but if I were ever convinced to try it again, it would be in this park, that's how beautiful it is here. There are numerous areas, including cabins which I'll talk about later where you can rent a spot and be in the heart of Taconic State Park for however long you wish (link to reserve camping spots in Taconic State Park).
There are tons of sites where you can reserve an area to camp at within this park and if you are into that, this is one of the most peaceful/serene parks I would do that in. Considering the hikes and other activities are literally next door if you do, it's well worth it, but from what I have found out, the popularity of this park is high for camping, so make sure you reserve ahead of time. Now for something very different, biking:
4) Bike on the rail trail:
Mountain biking or just biking around the park is possible in Taconic State Park too (and the connecting Bish Bash Falls State Park as well). There is an old rail trail within this park that's connected to an old historic site I'll talk about in a moment, but the railroad there is no longer active or even around, but the area is still open for biking.
If you enjoy that sort of stuff, the nature and scenery here is perfect for a nice family bike ride. There are many miles of biking trails available here and even nearby within Bish Bash Falls and you have to remember, these parks are connected together meaning you will cross over between the states multiple times, whether you are just biking on the rail trail, hiking one of the many trails or even driving through one or more of the parks (Bish Bash or Taconic State Park). That in my opinion makes for an awesome experience!
5) Explore Copake Ironworks historic site: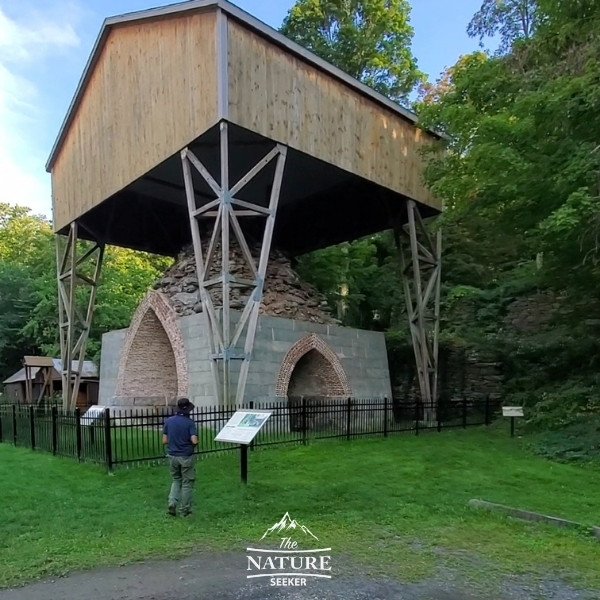 On my second exploration through Taconic State Park, I learned about the Copake Ironworks historic site and explored it with my buddy. I'm not normally someone who enjoys this type of stuff but in this case, I did enjoy the area.
You can explore an old giant furnace, a small museum and basically see what this area was like when it was still an active iron works area. This is also where you will see the old rail trail that you can bike on. I didn't spend too much time in this area, but my buddy absolutely loved checking it out and if you're into that stuff too (historic sites like this that is), then I recommend coming here too and it's literally within Taconic State Park.
Just as well, for similar types of areas, there is a place in NJ (3 hours south west) called Long Pond Ironworks State Park which has this type of stuff too, but I would say Taconic State Park is way better in many regards.
6) Stay at one of the cabins or cottages in the park:
The cabin areas are right by the entrance to Taconic State Park. Once you get into it, you will have a fork in the road (if you're coming from the western end) where turning right takes you into Copake Ironworks historic site and left which takes you to the trail/parking to Bish Bash Falls.
If you want to stay at one of the cabin/campground areas, you will want to turn right. Keep in mind that there are more campground spots across the park but the cabins here is where you will have access to everything you need including bathrooms and showers.
Having driven through the cabin area of this park, I have to say it was an amazing sight. The grass was very well managed and the trees surrounding the cabins made for a nice overlook to enjoy.
7) Do the Sunset Rock hike: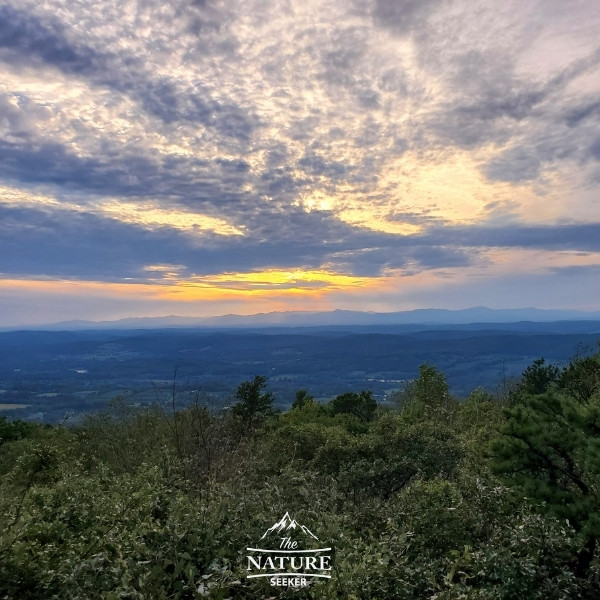 Sunset Rock was one of the other trails I explored with my buddy to finish up the day and we timed it in a way where we would make it during sunset time to get the best views. Sunset Rock happens to be one of the more popular trails within both Taconic State Park NY and Bish Bash Falls State Park.
Getting to it is possible in a few days:
The first is parking by Bish Bash Falls Parking lot that I shared earlier and taking a 3 mile hike up to it.
The second is driving to Sunset Rock trailhead which isn't an official spot on the map, but it involves leaving Taconic State Park and driving towards Sunset Rock road (mostly gravel/dirt road) and looking for the trailhead sign. From there, the hike to reach Sunset Rock is only about 1/5th of a mile.
Once you reach Sunset Rock, you will get an awesome view of the western side of this park as well as the Catskills in the distance. If you manage to get here on a good sunset day, then you'll have some amazing sights to check out. In our case the sunset we saw was awesome, but it could have been better without all the clouds. Either way, I do highly recommend it.
Questions about Taconic State Park:
Can you swim at Taconic State Park?
Yes there are several areas in Taconic State Park, including the nearby Bish Bash Falls where swimming is allowed.
Are dogs allowed in Taconic State Park?
Yes but there are limits to this including for basic exploration of Taconic State Park and camping there.
How many acres is Taconic State Park?
Several 1,000 acres and Taconic State Park also connects with another park and 2 states.
Here are a few more Taconic State Park photos: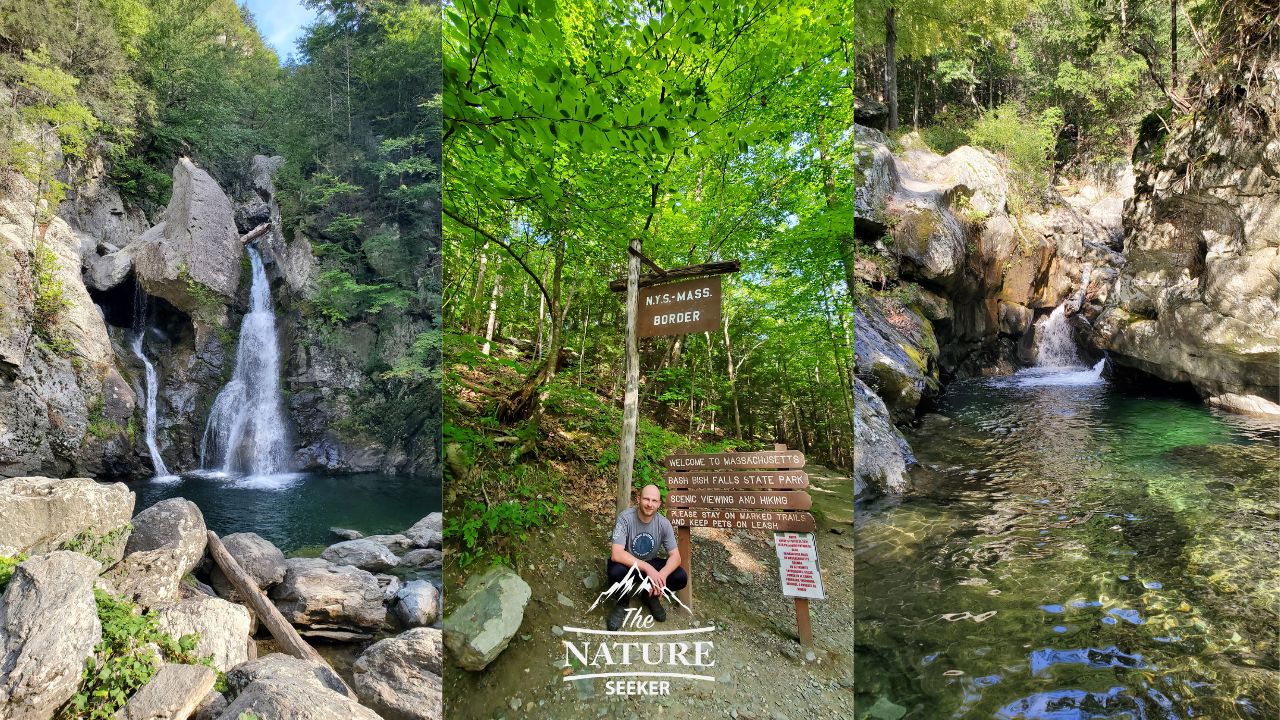 Other things to do near Taconic State Park:
Besides Bish Bash Falls being close by, there's many incredible things to do near Taconic State Park, but I would recommend a 1-2 hour drive each way to find these amazing spots that have even better hikes, waterfalls and views: