17 Best Adirondack Waterfall Hikes to go on
It's pretty well known that there is no shortage of amazing Adirondack waterfall hikes (there's probably 100s) but in this post I'm going to share with your the 17 best ones I've seen so far.
I have many articles detailing the beauty of New York and what to see there, including the top waterfalls all across the state but the Adirondack Mountains of this state deserve their own post for this topic because of how gigantic and beautiful this area is (and because I've had numerous people comment on how I don't cover this area enough). This post is also open to any suggestions (polite ones of course) about which waterfalls hikes you recommend I add to this list, so 17 isn't a final number here (it's more of my personal view on what I consider awesome waterfalls in the Adirondack Mountains).
Here are the 17 best Adirondack Mountain waterfall hikes to see:
Rainbow Falls
Rock Garden Falls
T Lake Falls
OK Slip Falls
Split Rock Falls
High Falls Gorge
Shelving Rock Falls
Beaver Meadow Falls
Buttermilk Falls
The Flume Falls
Rainbow Falls of Ausable Chasm
Wanika Falls
Alice Falls
Rocky Falls
Roaring Brook Falls
High Falls
Hanging Spear Falls
Before I get into the details of each of these waterfall hikes, I want to note that some of them in this region have the exact same names (such as High Falls or Rainbow Falls), but I will be providing details (map included) on where to find the specific ones on this list so you don't accidentally go to the wrong one.
Note: I don't have the best pictures of every waterfall (which is why some are missing) but I have included how to find them so you can see them on Google maps and decide if you want to check them out (with details on how to to hike to them). I can assure you that they are amazing (including the hikes). I'll be sure to update this post when new (better) photos come around.
Rainbow Falls: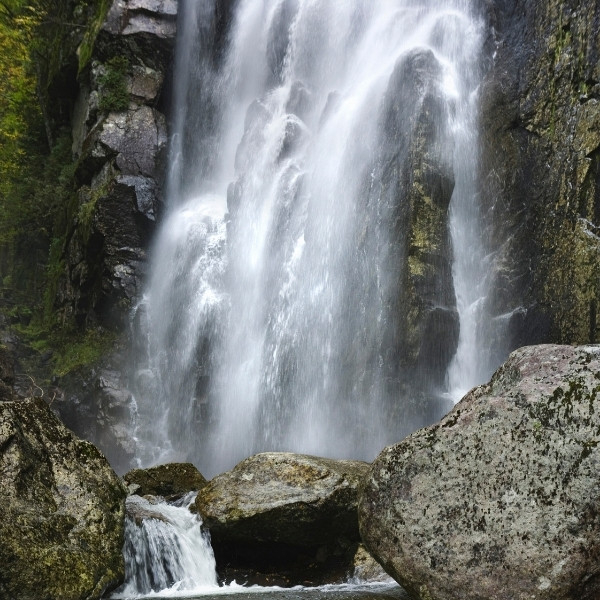 There's a good chance that if you look for popular Adirondack waterfalls, that this will be the one that pops up most often. Rainbow Falls is absolutely stunning to hike to, but it's not simple as it takes about 5 miles (one way) to reach. It's also part of an amazing (and long) hike called the Indian Head Adirondacks trail which I have done fully and aside from this waterfall being incredible, the hike itself is also amazing.
Rock Garden Falls: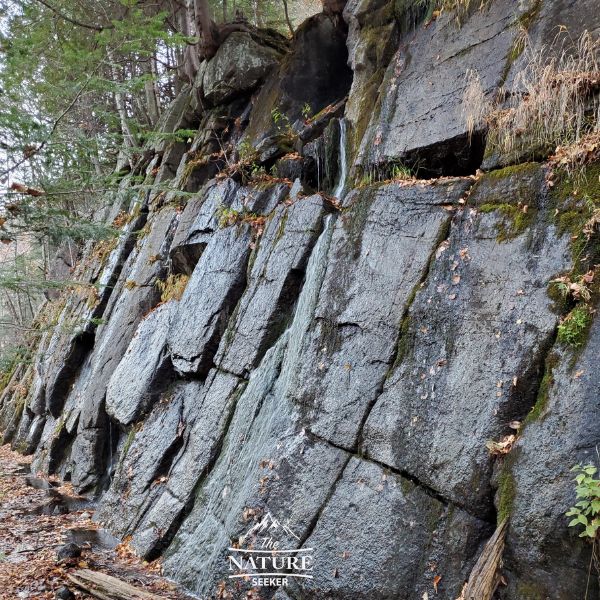 Rock Garden Falls is one of the shortest hikes to a waterfall you'll find in the Adirondack Mountains but there is no official trailhead to this falls. You have to follow specific directions which involves driving on road 73 and stopping at a certain pull off, then hiking down to the falls. I visited this waterfall very recently and I almost missed it because the water flow was so low but it is worth seeing because it's close to the road and very scenic (when the water flows well).
T Lake Falls:
T Lake Falls is very scenic but also requires a long hike to reach (5 miles one way). Fortunately it is on a trail that's easy to follow and one of the things about this waterfall that makes it so amazing is how tall it is. It is a cascading falls but overall height wise, it's very tall and there are sources that say it's the tallest in New York too (something I thought belonged to Taughannock Falls).
OK Slip Falls: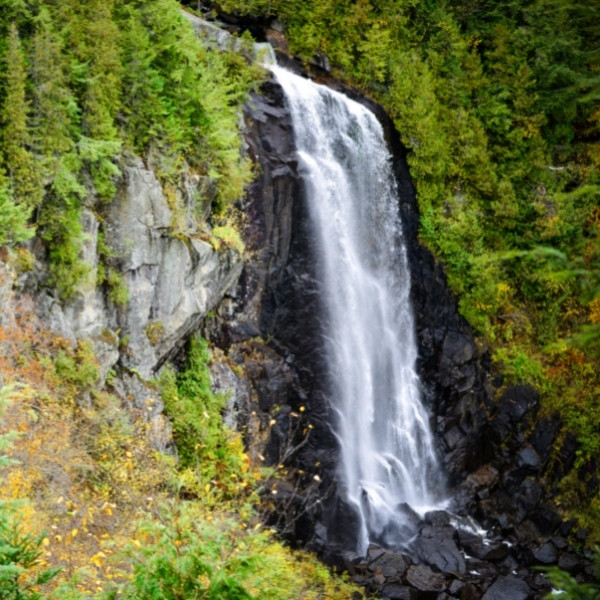 This is another huge waterfall that you can find in the Adirondacks, but reaching it also isn't easy. The hike is about 3-4 miles one way to reach the overlook of it but this is probably the #2 highest waterfall in the whole area.
Split Rock Falls:
Split Rock Falls is very similar to Rock Garden Falls in that it's basically close to the road and there is no official trail to reach it. Yet there is a pull off by Split Rock Falls trailhead here after which you will have to navigate down to the river and falls. This is not a large waterfall but it is very beautiful and there are swimming holes right by it. Also keep in mind that Split Rock Falls is not the only waterfall in New York that has this same name too so use that GPS link I provided to get you to the one in the Adirondack Mountains.
High Falls Gorge:
This is the only Adirondack waterfall hike that isn't so much a hike as it is a boardwalk. It's less than 1 mile to do it but to get in, you have to pay $13 per person (adult, kids tickets cost less). This is basically a gorge walk upriver to see beautiful waterfalls and views and it is very scenic and popular, great for families and people who can't really do more moderate level hikes in the Adirondack Mountains.
In somewhat related tourism spots, there are similar spots to explore in places like New Hampshire where there is a Lost River Gorge area and Flume Gorge that has similar adventures.
Shelving Rock Falls: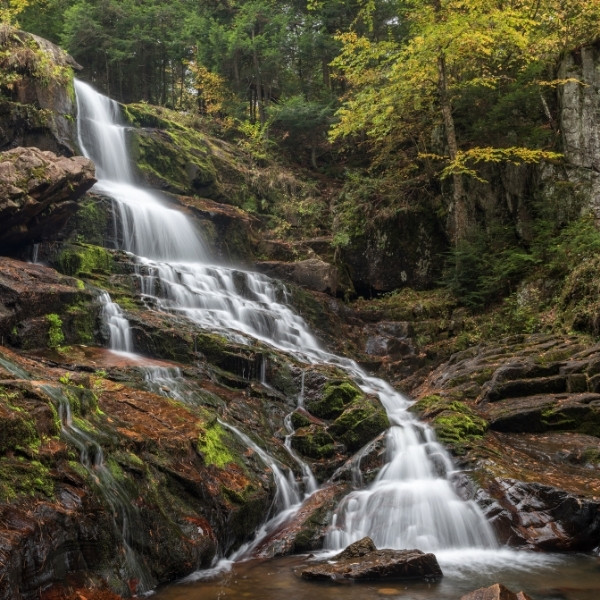 Shelving Rock Falls is a very popular waterfall around the Lake George area (southern most ends of the Adirondack Mountains) and is basically a scenic, cascading waterfall to hike to. There is also a great view of the Lake George area on this hike as well (Shelving Rock Mountain Summit).
Beaver Meadow Falls: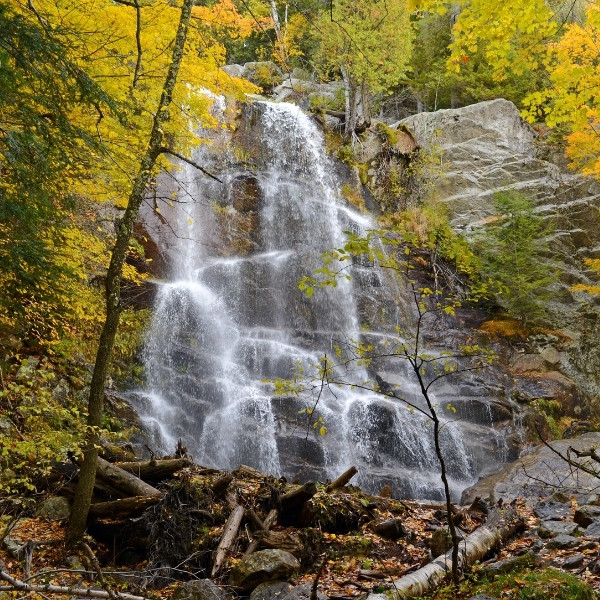 Beaver Meadow Falls happens to be on a connecting trail that takes you to Rainbow Falls (the first waterfall hike on this list). Getting there is also a long hike and since you are parking in the same area as for Rainbow Falls, you will need to get a reservation first. The waterfall itself is over 50 feet high, very scenic and is a great connecting falls to explore in addition to Rainbow Falls and other peaks in the Adirondacks in the area.
Buttermilk Falls: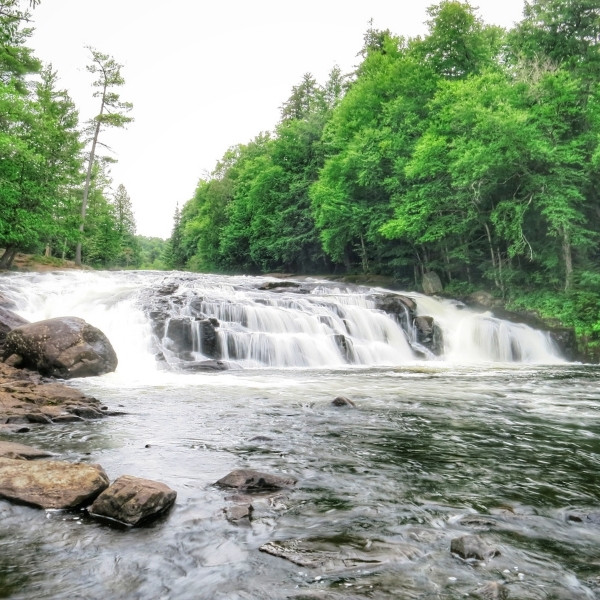 Buttermilk Falls isn't nearly as tall as most of the other ones on this list but it is very wide, beautiful and somewhat resembles Niagara Falls. Reaching this waterfall isn't difficult either and the hike to it is also pretty simple and scenic.
10) The Flume Falls:
This is also a small but beautiful waterfall. I added it to this list because it's located by a gorge, there is a scenic bridge over it and the hike to reach the waterfall and in general around the area is simple, scenic and fun to do. There is also a swimming hole to check out and overall for an Adirondack waterfall hike, this is one of the best.
Rainbow Falls (Ausable Chasm):
This is a great example of different waterfalls (in the Adirondacks in this case) which have the same exact name but are in totally different parts. This specific waterfall is located in Ausable Chasm, a stunning area in NY and the Adirondacks I recommend you visit.
There is a large bridge you can cross by car or walk on to see it. Another option is to get a ticket to enter Ausable Chasm and walk to a viewing platform where you can see the waterfall underneath the bridge that gives it that rainbow look plus a bunch of other great sights (I've made a post with more Ausable Chasm photos that show that and the other gems to see there). I also highly recommend exploring the greater Ausable Chasm area because it has a lot to of stunning areas to check out including a raft ride.
12) Wanika Falls:
Out of all the Adirondack waterfall hikes on this list, Wanika Falls is the longest and toughest. However it is also a beautiful waterfall and if you like challenging hikes with few crowds to worry about, this might be one to try.
13) Alice Falls:
Right behind Ausable Chasm (south in this case) is a small area for picnics and simple hikes. In that area is a nice waterfall hike called Alice Falls. It's not large, but it is a simple place to reach and if you are traveling with family or need a scenic spot to stay at for a meal, this is a great place to check out. There are also nice views and other falls in the area (like a dam waterfall).
14) Rocky Falls:
This is another small but scenic waterfall hike (with a swimming hole). Rocky Falls takes about 2 miles to reach but it worth it if you like good views, swimming and nice scenery. However it is also popular so there are crowds hiking there too.
Roaring Brook Falls:
This is a very tall, yet tight waterfall which you can see from a distance on the road. However because this post deals with hikes to Adirondack waterfalls, there happens to be one here too!
High Falls:
There are so many "High Falls" around the New England area, but this specific one I want to tell you about is in the Adirondack Mountains and is one of the most scenic waterfalls I've ever seen. It looks somewhat like Kaaterskill Falls (another Catskill waterfall), but is smaller, yet well worth visiting!
Hanging Spear Falls:
Hanging Spear Falls, the last waterfall hike on the list (at least for now) is also highly recommended. Like a few of the other options on this list, it is actually quite remote and takes over 5 miles to reach, making it a tough waterfall hike to explore, but at the same time better for less crowds to worry about.
More questions about Adirondack waterfalls:
How many waterfalls are in the Adirondacks?
There are several 100 waterfalls in the Adirondack Mountains.