A few days ago I explored a popular hike in the Catskills known as Slide Mountain Trail and while I was surprised I hadn't heard of it before, I want to share 5 things you should know about it because it may not be suitable for everyone.
Quick info on the Slide Mountain Trail:
Name: Slide Mountain hike.
Location: Slide Mountain Wilderness (south Catskills NY).
Distance: 5 miles+ in and out (longer options available).
Easy to get lost? Not really, trail is marked pretty well.
Difficulty: Hard.
Hike rating: 2.9 out of 5.
Recommended hike? Not really, unless you do one of the other options nearby. I'm not including this hike in my list of the best hikes in the Catskills.
Despite me not really recommending this hike, there's still ways to do it in which you can get more and see more out of it and this is what the majority of this article focuses on:
What are the 5 things you need to know about the Slide Mountain trail?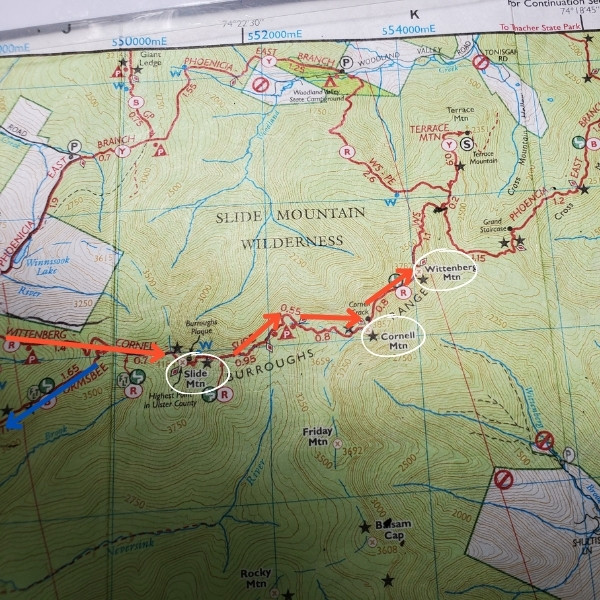 1) There are numerous ways to do this hike (3):
Option 1: The main one (5+ miles) involves parking at Slide Mountain Parking lot (where the trailhead starts), then walking up to the summit of Slide Mountain Wilderness. You can then walk back the same way.
You'll start on the yellow trail.
Then at around the half mile mark turn onto the red trail and take that all the way up to Slide Mountain.
You'll then go back down the red trail (the same way) and make a right turn at the yellow trail to return to the parking lot.
Option 2: The other involves doing the Slide Mountain loop trail (6-7 miles) where you:
Follow the exact same yellow trail.
Go on the red trail to reach the summit of Slide Mountain.
Then as you go back down, you'll take the blue trail for an extra 1.5 miles.
Then connect back to the yellow trail to return to the parking lot.
Option 3: The other major ones (most difficult) involves hiking to Slide Mountain, then continuing on the red trail till it's end which will have you cross 2 additional peaks/summits which are Cornell Mountain and then Wittenberg Mountain (total 12 miles if you use the in and out option). In short to do this trail:
Start on yellow.
Switch to red, follow it all the way to Wittenberg Mountain.
Return the same way.
2) The hike is not easy:
Even if you do the in and out option (5.5 miles in and out), it's about 90% uphill and about a mile of that is walking over many rocks. Keep this in mind and know it's strenuous.
3) The hike is mostly boring until you reach the last section of it:
The hike up is very boring and there's not much to see despite what you may see reviewers say. Only when you get to the top and the views/overlooks start to appear does it get good, but that's about 5% of the trail.
There is one major overlook before you reach Slide Mountain overlook itself which is amazing.
4) Slide Mountain Overlook itself is not that exciting (not much to see):
Seriously, when my buddy and I reached it, I couldn't even call it an overlook. It's just a giant boulder many people sit on and there's tons of trees all around it, so there's no amazing overlook to even enjoy.
This is why I didn't include a picture of it in this post. There was just a lot of people sitting on a rock with trees surrounding us. That's basically all there is to see in this area.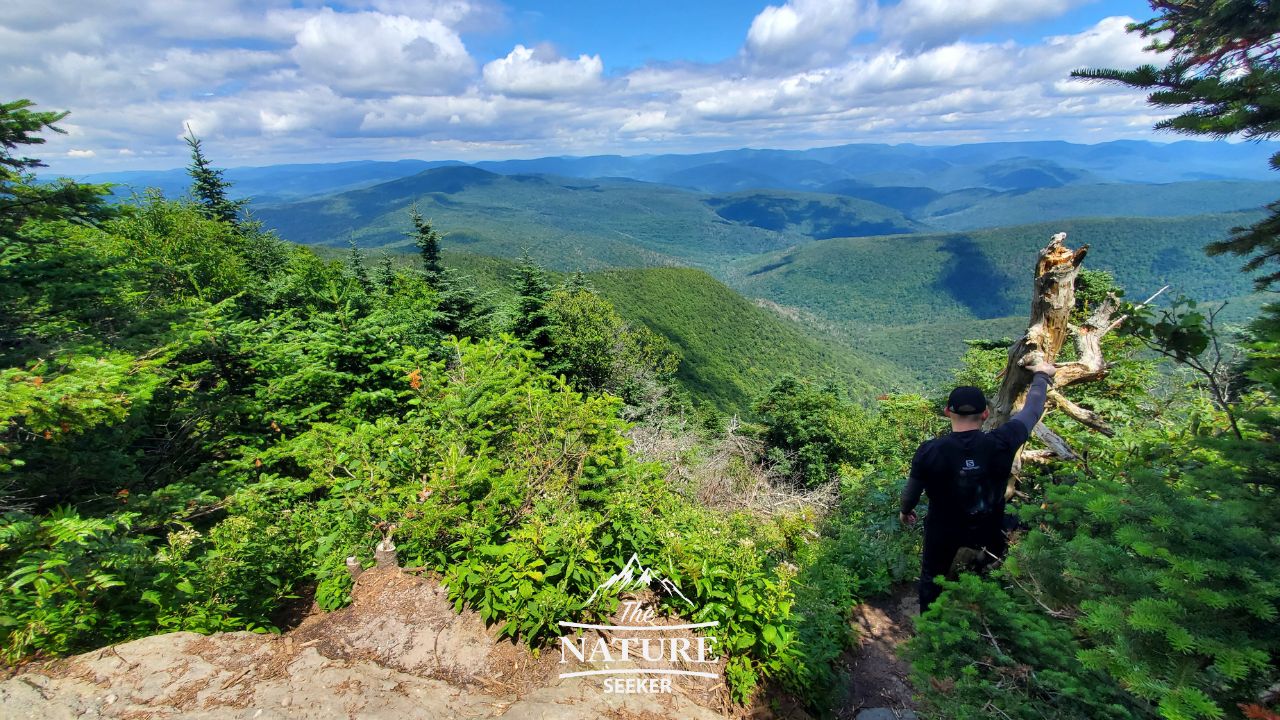 5) The best way to do this hike (if you're very fit) is the full 3 mountain hike:
The last option I mentioned above where you cross 3 peaks (Slide, Cornell and then Wittenberg) would give you access to the most views.
Fortunately once you reach the top of summit, the hike from there to the other 2 peaks is much simpler (not much elevation change).
If you intend to do this full hike, I'd recommend doing it very early because it is about 6+ miles one way to reach Wittenberg. Going back is easier because it's mostly downhill, but it's still better to start early.
Products that will make the Slide Mountain hike easier:
I personally didn't bring any trekking poles to this hike because I thought it would be short, but if you aren't very fit or are worried, hiking poles would make this a lot easier. The other things on the list are optional, but I would recommend good hiking or trail running shoes at least for footwear.
Bring some snacks and of course water for this hike.
More questions about Slide Mountain:
How difficult is Slide Mountain?
The hike to reach Slide Mountain is about 2.5 miles and about 1.5 of it is difficult because it's only uphill with scrambling rocks involved.
How tall is Slide Mountain in the Catskills?
Slide Mountain is over 4,100 feet high.
Where is Slide Mountain New York?
It's basically in the middle of Catskill Park in upstate New York.
Other nearby (better) hikes to explore after Slide Mountain trail: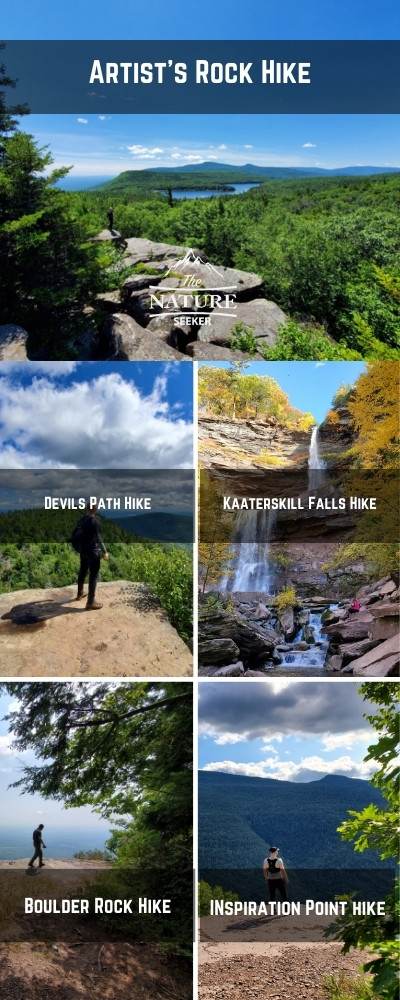 The good news is that even after you finish (or omit) Slide Mountain, there's many trailheads nearby to other places like Giant Ledge or McKenley Hollow and those are close by.
The best way to find them is either through Alltrails, or using the strategies I list in my how to find easy hikes near me post (in this case, look for cars parked nearby or trailheads).
There are many other hikes nearby and if you head north, you'll find many other hikes too like Devils Path, as well as North South Lake, a place called Boulder Rock and Kaaterskill Falls Trail.
Another option is Giant Ledge which is probably the closest to it. It's better, but not as amazing as the other options I listed.
And south of this trail (near Woodstock) is Overlook Mountain which is also a great option! Point is, all of these specific hikes I'd say are better places to explore than Slide Mountain Trail. I've included an info-graphic with some of my top choices on this list (see this Catskill Mountain hiking trails post for details).
I'm not trying to say don't do Slide Mountain Trail, but after exploring it and many other trails in the Catskills, I'd say this was one of my least favorite hikes in the area, but you may find that to be different for you, especially if you do the 3 peaks option instead of just hiking to Slide Mountain and then back.
One more thing to note:
Cell phone reception in Slide Mountain is horrible, including as you drive within the area.
There are some spots in the higher elevation parts where you'll get it but if you plan on coming here, make sure to establish your GPS ahead of time.