The amount of things you can do in South Mountain Reservation NJ is vast and in this post I want to share 10 of them that are based on my experiences researching it and personally traveling there.
In 2022, I decided to check this place out after going through another one called Watchung Reservation which I was honestly very impressed by as well. However, after seeing that South Mountain Reservation was only 20 minutes away, I decided to take a quick trip there and this place equally impressed me if not more, so that I decided to keep revisiting it and so the 10 places listed here reflect much of what I saw and what I have yet to do there (but they are rated highly by others who have tried them):
Here are the 10 things to do in South Mountain Reservation New Jersey:
Do the Brookside scenic drive.
Explore the waterfalls by the Brookside drive.
Check out the Old Factory area.
Stop by the South Mountain Picnic area.
Explore the South Mountain Reservation waterfall (Hemlock Falls).
Hike to Ball's Bluff.
Hike the Lenape trail.
Check out Washington Rock.
Do the Treetop Adventure Course.
Visit the Essex County Turtle Back Zoo.
These are the main things you can do at South Mountain Reservation and it covers hiking trails, fun activities and so forth. Additionally, there is also a dog park and mountain bike trails available here too.
1) Brookside drive (scenic road in South Mountain Reservation):
This is the drive I did when I first visited this park. It takes about 20 minutes to drive through and runs through most of the South Mountain. Off this drive is where you will find a lot of the above things to do including some of the main hiking trails, picnics, waterfalls and the zoo.
I am always a big fan of scenic drives and I have to say that in NJ, this is one of my personal favorites especially during the autumn and especially when it's raining (For whatever reason, I find this place to be even more beautiful when it rains there).
2) See the waterfalls off the same Brookside scenic drive: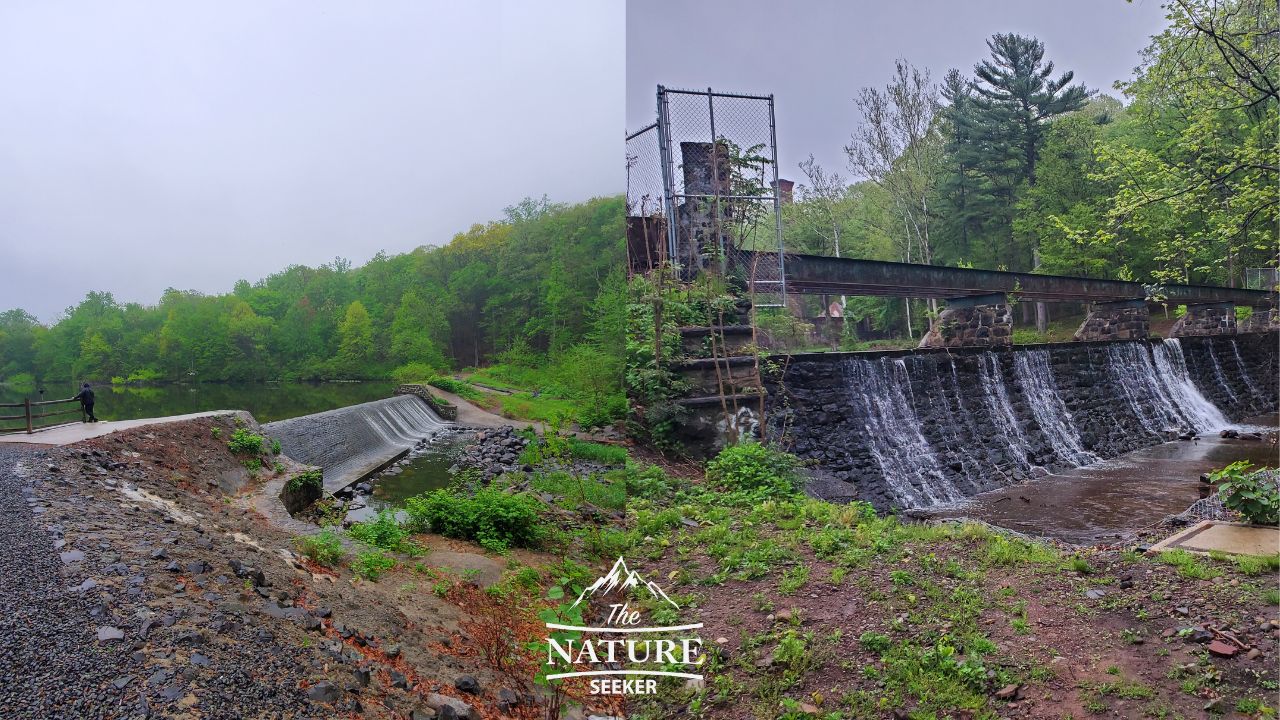 While you are on the Brookside drive, you will cross 2 ponds and a reservoir and drive parallel to a river that connects them, but while on it, you will find 2 beautiful waterfalls:
If you're entering this drive from the south, you will see them as follows:
1) The first one is a large dam waterfall by Meihao Valley Parking. It's literally 1 minute from the south entrance and it's a very beautiful waterfall.
2) The next one is Campbell's Pond. It is also a man made waterfall but there's a stone wall from it comes through. You can hike to it and most of the time, you can even get close to the waterfall. It isn't as large as the first but it's still beautiful.
I couldn't find the names of either of these waterfalls (one might be called Maple Falls), but at the very least you will know where to look for them and the good news is that they are hard to miss so if you enjoy seeing waterfalls, but not really hiking to them, these 2 should be on your list when you check out South Mountain Reservation.
3) See the Old Factory:
The Old Factory is a famous spot off the same Brookside Drive and it's also located very close to the second waterfall I mentioned. In fact you can get there by stopping at the parking lot by that waterfall and just hiking to the factory from there.
This factory is fenced off and there is a lot of graffiti around it (probably why that happened), but in any case just checking it out is another activity I recommend you try. It's very close to the parking area of the waterfall so it's worth seeing. There are also nearby hiking trails.
4) Check out the South Mountain picnic area:
Right after you check out the Old Factory, as you continue on the same drive, you will come across a large field with a couple of picnic tables around the area.
If you want to do a more mellow day trip to South Mountain Preserve, this is a good spot to stop at.
There are connecting hiking trails there, including one when you cross the creek (I believe it may be the Lenape trail) and that same trail may also intersect with the the one by the Old Factory too.
But either way, whether it's picnicking or hiking, both can be done from this spot.
5) See Hemlock Falls (the famous South Mountain Reservation waterfall):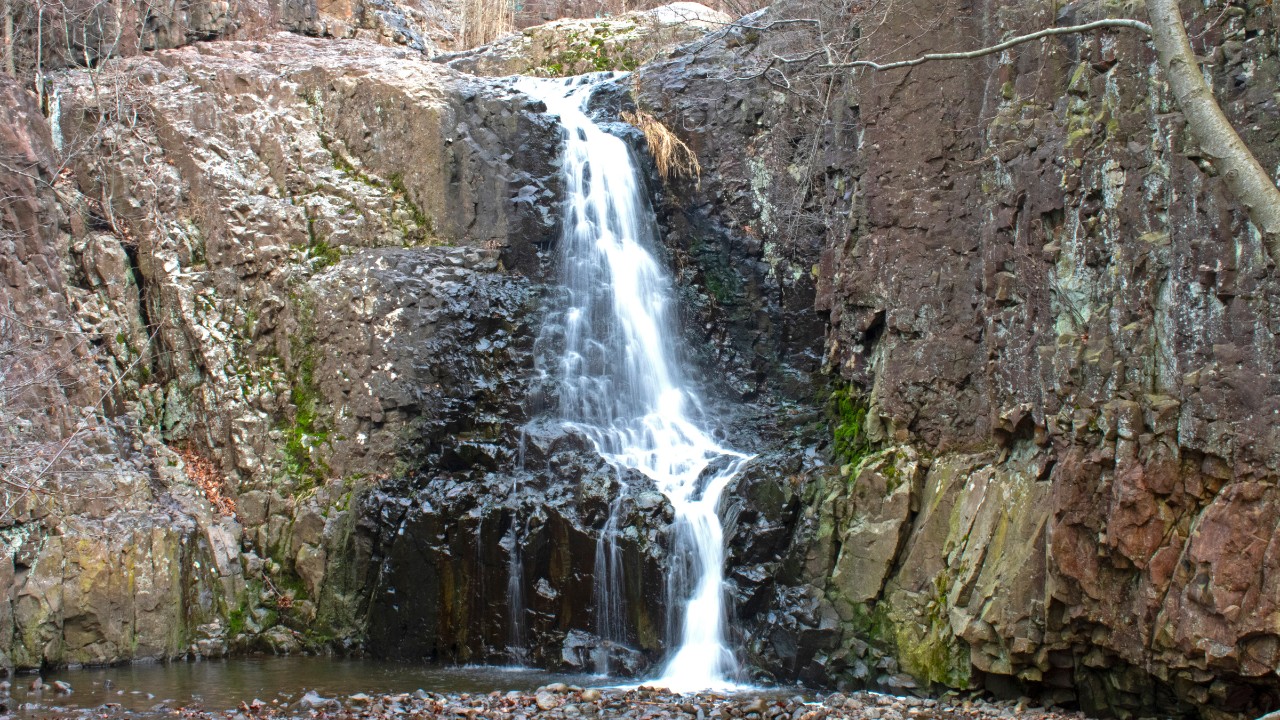 While the other 2 waterfalls I mentioned earlier are nice, the biggest and most famous one in the reservation is Hemlock Falls. There are several ways to get to it, including through the same hiking trails from the picnic area and Old Factory.
From those areas, it takes about 1 mile to reach and the hike is pretty easy to do.
There is also an (even shorter) trail from the Hemlock Falls parking lot where it takes about 1/4 miles to reach the waterfall. While going there, you will also cross another beautiful dam waterfall.
Just don't make the mistake of thinking that's Hemlock Falls. The real Hemlock Falls is natural and about 30 feet high.
I am also considering adding this trail to my list of the best hikes in NJ for how beautiful it is.
6) Do the Ball's Bluff hiking trail:
Ball's Bluff is a really nice man made stone formation located deep in South Mountain Reservation. To get to it, you have several choices:
Take the Lenape trail from the south end of the reservation (about 3 miles in and out).
Take the same Lenape trail from the Hemlock Falls parking lot (about 2 miles in and out).
Take one of the connecting trails if you want to challenge yourself, but be sure to know which trail you're on so you don't

get lost in the woods

.
7) Hike the Lenape Trail (the longest South Mountain Reservation hiking trail):
I've mentioned the Lenape trail a few times in this post and it's a great way to hike through the reservation and see some of the best places there.
But it's also important to know that this is not a traditional loop trail. It's more of an A to B point trail and if you do it, you will have to either backtrack if you start at one point or hike from one point to the other.
The full Lenape trail is about 4 miles long (one way) and it's great to explore if you enjoy trail running, more longer hikes or even mountain biking.
Here is information on the 2 points you can explore the Lenape trail from:
You can start from the Locust Grove Parking which is the southern end point of it.
Or you can start at the Hemlock Falls parking lot which is in the middle of the reservation and hike in between these places.
There are other trails around the area and again, just make sure you aware of where to go.

Alltrails

has maps of South Mountain Reservation you can use.
8) See Washington Rock:
Washington Rock is another iconic spot in the reservation which you can walk, hike or drive to. Most people just drive to it and you can do that from coming in from Crest Drive (south eastern side of the park).
The road does end and then a walking path continues from there. The walk from the parking area of Crest drive to Washington Rock is about 1/2 miles and takes about 20 minutes to do but it's a relaxing walk which I would recommend you do in autumn.
Once you reach Washington Rock, you can also get a nice view of the towns of Millburn and Maplewood.
9) Do the Treetop Adventure Course:
I didn't know that South Mountain Reservation had such an awesome attraction but now that I do, not only will I recommend you try it, but I'll also it when I get the chance too.
The Treetop Obstacle course is great for families and has you crossing different obstacles high up while you're tied to a rope and it's a very enjoyable activity.
I've done these kinds of Obstacle courses in places like Mont Tremblant and I really loved it. If you enjoy these types of attractions, there are other similar obstacle courses in the Catskill Mountains too, specifically by Hunter Mountain hotel.
10) Visit the South Mountain reservation Zoo (Essex County Turtle Back Zoo):
I have personally not visited this zoo but have driven past it everytime I have visited South Mountain Reservation.
It's a very interactive zoo in that there's petting spots available, a sea turtle area and overall, this is probably the best place for a family activity when you're visiting South Mountain Reservation in my opinion.
Nearby this zoo is a giant reservoir with a playground nearby for extra activities to check out after you visit the zoo there.
Another hike to consider is a short walk from that area to what is known as "The Crag" which gives you a nice overview of that same reservoir.
Things to do near South Mountain Reservation:
1) My top choice (nearby) would be Watchung Reservation. It also has many similar types of activities (not many waterfalls though).
2) Sourland Mountain Preserve is about 30 minutes away and is a much better option for elevated hiking trails (although the trails in South Mountain Reservation are better in my opinion).
3) Eagle Rock Reservation is another area very close to South Mountain Reservation with a few hiking trails and good overlooks of NYC.