As I recently learned, the Stairway to Heaven hike in NJ is very popular, and it's also a trail I completed. While on it, I learned several important things (5) which I would like to share for anyone who is doing it for the first time, because these things will help you prepare better for it as well as enjoy the many things it offers (It's way more than just a hike to a beautiful overlook).
Quick info on the Stairway to Heaven hike NJ:

Name: Stairway to Heaven.
Location: North of Vernon NJ.
Hiking distance: 2-3 miles in and out.
Difficulty: Moderate to hard.
Hike rating: 3.5 out of 5.
Easy to get lost? Not really, the trail is well marked.
Recommended hike? Yes, but only because of what else there is to see and do there. The actual hike itself is OK, but not great in my opinion.
Other than the basics of this trail, here's a summary of:
The 5 things to know about the Stairway to Heaven hike in Vernon New Jersey:
It's pretty strenuous (not for everyone).
Check out the famous mailbox close to the overlook.
Make sure to check out the Appalachian boardwalk hike alternative.
Find the suspension bridge.
Check out 5 other amazing hikes and parks nearby.
One thing I want to mention before I give you further details on the 5 things is that the parking for the trailhead is free to about 15 or so cars.
There is another one nearby, but I heard it's only accessible via payment. Most of the time, the main parking lot (free) is crowded on weekends. I did this hike on a Tuesday and when I got to the main parking, there was only space for about 3 cars (keep this in mind).
1) The Stairway to Heaven hike is pretty strenuous:
While it is short (a little over a mile up), the overall hike is pretty strenuous. You will begin at the parking lot, and for about 1,000 feet make your way up to the mountain. As soon as you enter the forest, the scrambling is not far from there.
Once you begin the scramble, it gets pretty tough in parts and it's almost entirely up from that point. Now if you didn't already know, the Stairway to Heaven hike is part of the official Appalachian Trail so you may see thru hikers in this area.
Be aware of the long, scrambling that goes into this hike and know that if you are not physically prepared, don't do it.
But if you are and need an extra hand, always wear good hiking or trail running shoes. Another thing which makes hikes (up and downhill) easier is trekking poles. I didn't bring mine on this one (Trailbuddy trekking poles), but I would have preferred it knowing what I know now.
The trail itself has a lot of switchbacks (zigzag turns) but your goal is to follow the white marker (which is the official trail marker color of the Appalachian Trail).
On a good note, I enjoyed hiking this trail way more than other popular ones I've done in New Jersey (like Sourland Mountain Preserve).
2) Find the famous mailbox on the Stairway to Heaven hike: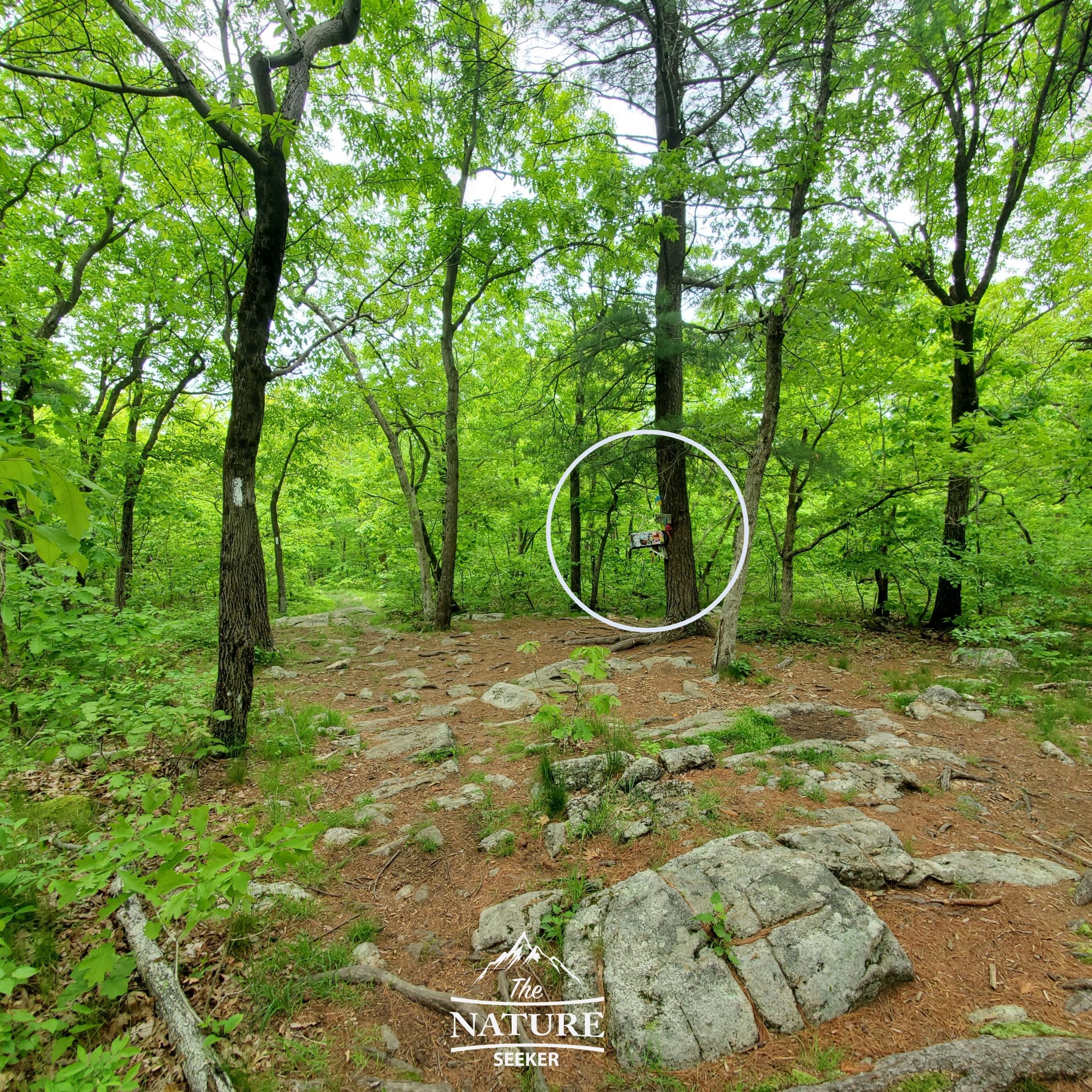 So I didn't know this until I accidentally stumbled upon it, but once you reach the VERY top of the mountain on the white trail, you will come upon a mailbox that has stickers, different colored paintings over it, and a notebook inside it which you can leave a note in.
I didn't know how popular this mailbox actually was until I overheard several hikers mention it. It's just something extra (like an Easter Egg) you can explore to make this hike more memorable.
Now here's an important thing to know: If you're on this trail to get to the famous overlook (which I assume you are), then know that it is actually before the area where the mailbox is (about a few 100 feet).
You will basically be on the white trail starting from the parking lot, but when you almost reach the top of the mountain, there will be a split on the trail. The white trail will turn right and continue uphill (till you reach the mailbox) and there will be a blue marker to the left which will take you to the overlook.
The good news is that the blue trail is only about 50 feet till you reach the overlook.
3) Do the hike on the Appalachian boardwalk:
You may or may not know this, but the actual Stairway to Heaven hike is just a small portion of the fun and sights you can check out in this area.
From the same parking lot where you start, if you go east, that will take you into and up the mountain to the overlook (and mailbox).
But once you finish that, you may have a ton of time left over (like I did)
But if you turn left (west), you will still be on the same Appalachian trail, just from another point and this will take you through marshes, forests and boardwalks for over a mile.
I followed this trail (west) for a few miles and to be honest, I actually enjoyed doing this hike more so than the actual Stairway to Heaven. This boardwalk you see comes and goes for quite a bit and each time, the scenery changes and you often see amazing sights.
Just as well, if you are not much of a hiker or are injured, walking on this part of the Appalachian trail is so much easier because it's much more flat and there are few elevation areas.
4) Find the suspension bridge (it's on the boardwalk trail):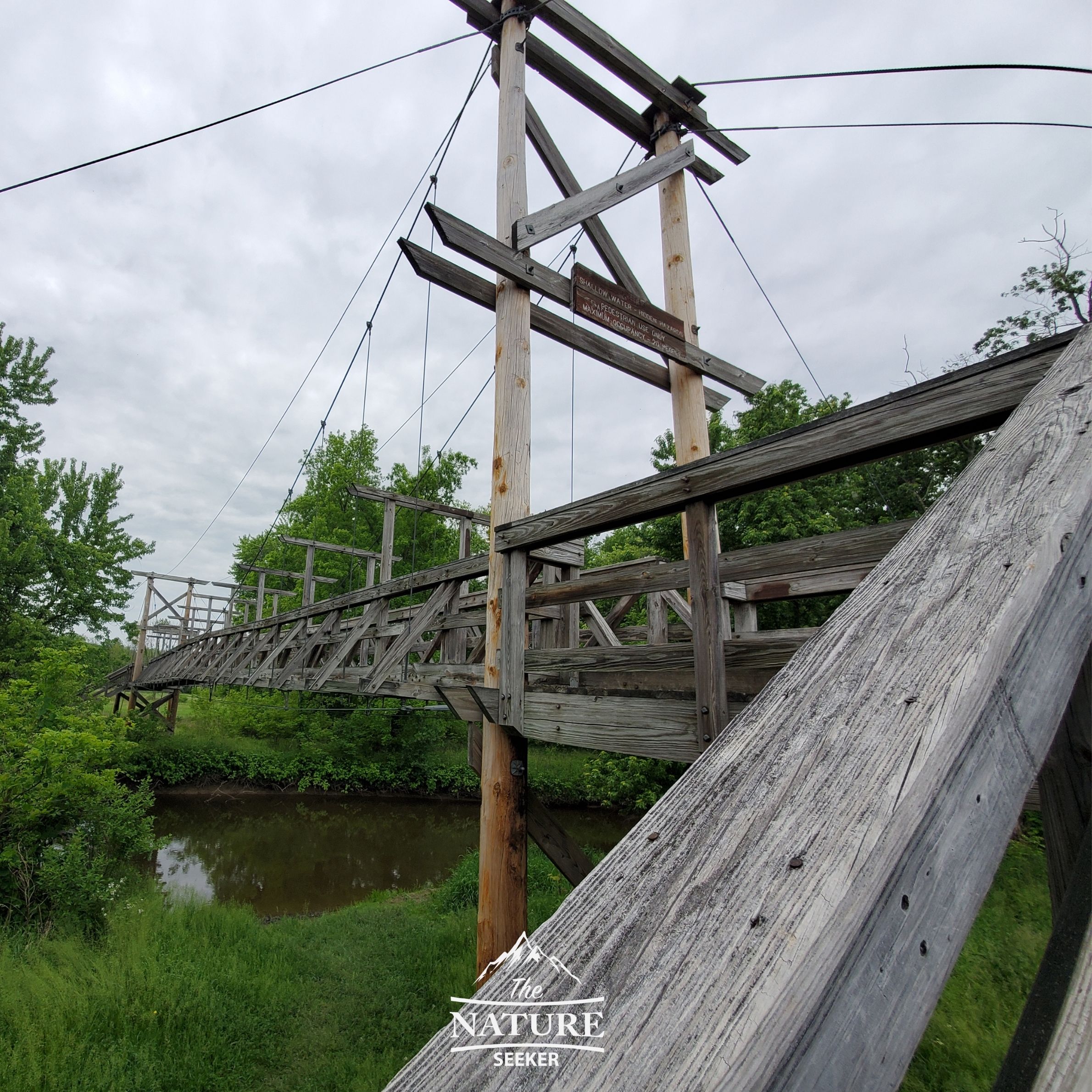 I was told about this Easter Egg once I started on the boardwalk trail and from the parking lot, it's about a 1.5 mile walk/hike to get there.
Your goal is to continue to follow the white markers (because there will be splits in the trails) and as long as you follow that, you will reach the suspension bridge which is a pretty cool sight.
Now I do want to mention the splits in the trails because there were 2 by my count and they are actually mountain bike trails. One of the turns I had to make (left) involved passing through a small gate to continue to the boardwalk area (and the suspension bridge). Again the key to make sure you are on the right trail is to continue to follow the white markers. But moving back to the bridge:
It's one of the many famous landmarks on the Appalachian Trail and just an extra thing you can explore while you are hiking in this region.
Further continuing west will take you into other famous parks on the Appalachian Trail (but we'll cover that in the next thing).
Frequently asked questions about the Stairway to Heaven hike: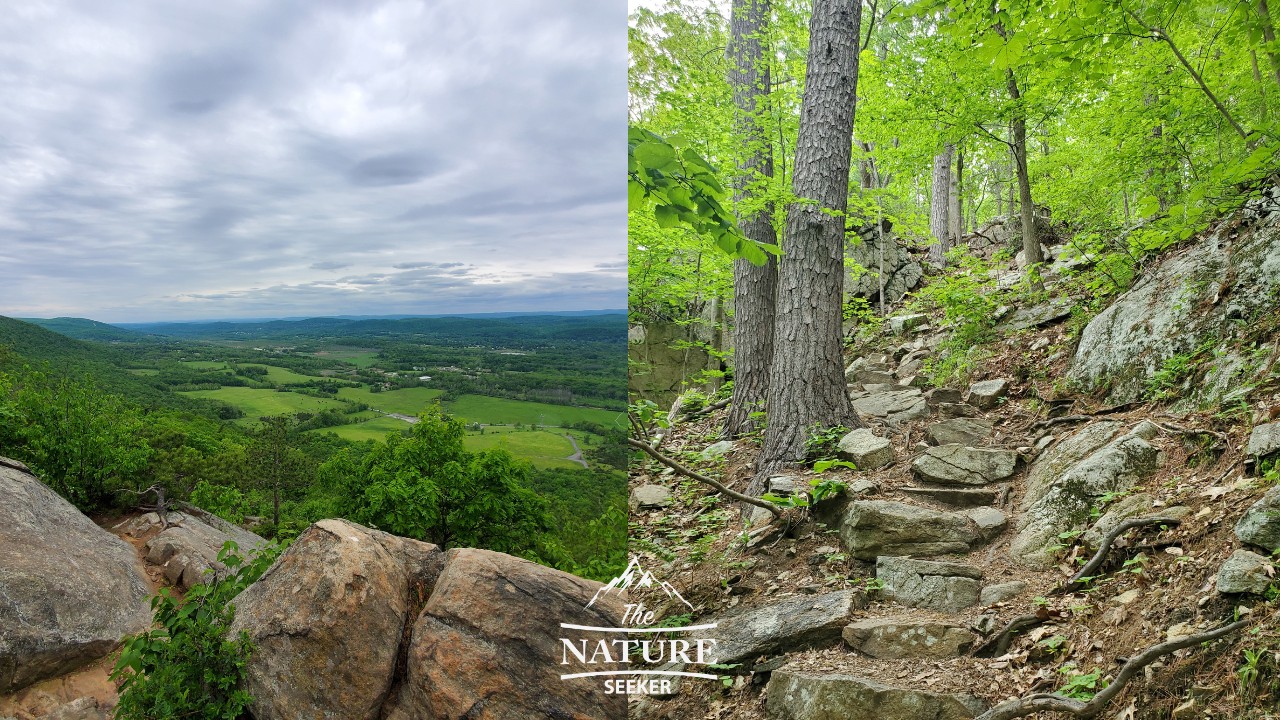 Is Stairway to Heaven hike in NJ hard?
For most people it's a moderate hike. For others, it may be difficult.
What is the elevation of Stairway to Heaven in NJ?
Close to 900 feet.
How long is the Stairway to Heaven hike in NJ?
About 2.5 to 2.7 miles (in and out).
Have more questions about the Stairway to Heaven trail? Ask them below!
Side note

(what other reviews say about the Stairway to Heaven trail):
Here's a post in Tripadvisor on this trail you should check out and I do recommend seeing these types of posts because:
It'll show you what others say about it and there's great tips you can get on additional things to do there.
Now one thing I want to finish on is the final tip which is:
One of the many things I (later) learned about the Stairway to Heaven hike is how closely positioned it is to other great parks and hikes nearby, many of which I have already explored, but it was just a really nice surprise to see how close they all were.
In fact, when I looked at the map, I was surprised at how close other places I had already been to, and how many other new spots were all close to this one, seemingly remote hike.
So let me share 5 of the top places to see near this area in case you're looking for more adventures:
5) Check out 5 other amazing hikes and parks nearby: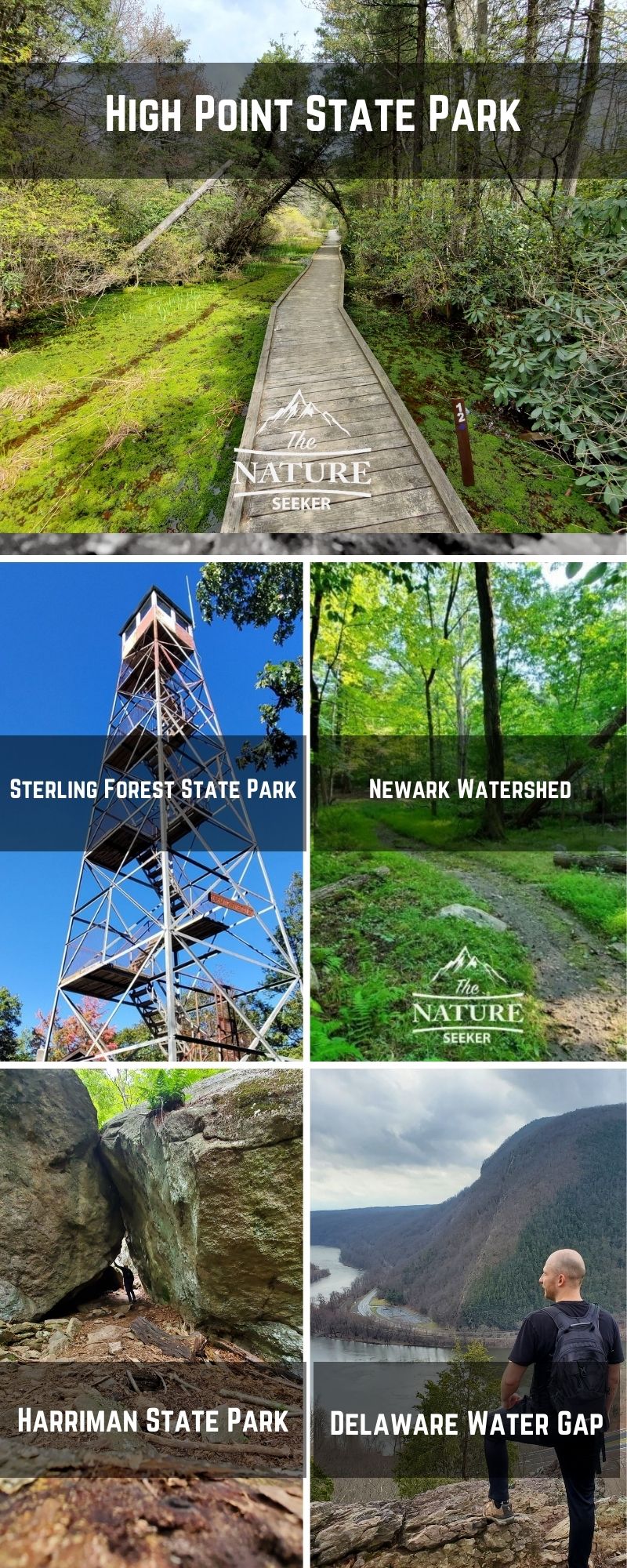 1) High Point State Park:
If you continue the boardwalk trail (west), you will eventually hit High Point State Park (It's about 10 miles of hiking to reach it or a 20-30 minute drive). I personally love this park and there's tons to do there.
2) Delaware Water Gap:
High Point State Park is within this region, but there are many hikes to check out at the Delaware Water Gap. The same Appalachian Trail crosses through it and there's also a popular hike called Mount Tammany trail.
3) Sterling Forest State Park:
Sterling Forest State Park is in New York, but the border lines between NJ and NY are so close at Stairway to Heaven that it doesn't take much driving or walking to reach this park.
I personally only hiked here once but I really enjoyed the "wild" elements of the hikes here including an awesome Fire Tower hike that was on the trail I did. Sterling Forest State Park is east of Stairway to Heaven (also about a 20 minute drive).
4) Harriman State Park:
Another eastern park I highly recommend you check out is Harriman State Park. It's about 30 minutes to reach it from Stairway to Heaven but there are tons of hikes and the same Appalachian Trail you do on Stairway to Heaven (if you go east) continues through Sterling Forest State Park and then Harriman State Park.
5) Newark Watershed:
This is the only place on the list I have not yet explored, but I found out about it while driving to Stairway to Heaven. There's a lot of hikes, lakes and scenery to check out there, something I plan to do in the near future. I believe you can also kayak here are well (or boating in general).
6) Other popular hikes:
Here's a list of the best hikes in NJ that I've seen.
Any gear recommendations for the Stairway to Heaven hike? Yes!
At bare minimum decent hiking shoes are excellent for this hike, but so are these things:
For me, I wore the backpack and Salomon shoes for this hike, but I did get tired a bit and wish I had my trekking poles with me.