I've always wanted to make a post on the subject of the Catskills vs Adirondacks, because I have explored both these mountain ranges a lot over the past decade and think they are equally awesome in many respects, but have many differences and situations where visiting one area is better than the other.
Here is the bottom line on the topic of the Catskills vs Adirondacks:
Both the Catskills and Adirondacks are awesome to explore for any sort of outdoor activities, year round period. The one you should visit more should be based on which one is closer to you and how much time you have to explore it. If you have several days to do a road trip in New York, then explore both mountain ranges.
Besides this, I want to share that you can do a lot in both these mountain ranges which is why I want to list the top activities you can do there and if it's better to do it in the Catskills or Adirondacks:
Catskill Mountains vs Adirondack Mountains (top activity categories):
Which has better hikes? Adirondack Mountains.
Which has better waterfalls? Catskills.
Which has better fall foliage views? Both.
Which is better to visit for ski trips? Adirondacks.
Which are better to visit if you're in NYC? Catskill Mountains.
Which are better to visit if you live in Montreal? Adirondacks.
Which have more to see overall? Adirondacks.
Which has higher peaks? Adirondacks.
Which are more beautiful? Both are equal (this is totally subjective).
Which are better for family trips? Both.
Which are better for camping? Adirondack mountains.
Which one has better places to stay at? Adirondack Mountains.
As you can see, the "score" here is mostly in favor of the Adirondack Mountains. However, this doesn't mean that anywhere where they win, you should ignore the Catskills (or vice versa).
You should honestly explore both mountain ranges for whatever category you are interested in because both the Catskills and Adirondacks have a lot to offer. It's just that if you have to choose one depending on time and distance constraints, there are some areas where the Adirondacks (or Catskills) are better than the other, but not by much and that's key.
Similarities between the Catskill Mountains and Adirondack Mountains:
Both are gigantic mountain ranges.
Both the Catskills and Adirondacks are located in New York State.
Both offer access to year round to many outdoor activities (hikes, skiing, camping, etc…).
Both have numerous scenic drives within them.
Both are incredible places to witness fall foliage in New York.
Both places have numerous towns, restaurants and places to stay at if you're visiting overnight.
There is actually a thru hike called the Long Path which passes through both the Catskills and Adirondacks.
Differences between the Adirondacks vs Catskills:
The Adirondacks Mountain range is a lot larger than the Catskills (by 3-4 times).
There are way more remote areas in the Adirondacks than Catskills (more roads/access in the latter).
The Adirondacks have many higher peaks (4,000+ elevation) than the Catskills (3,000+ elevation).
The Adirondack Mountains have more places to ski. In the Catskills, Hunter Mountain is really the main choice.
There are more towns and places to stay at in the Adirondack Mountains (more options).
Here's another good comparison between them.
3 areas where the Catskill Mountains beat the Adirondack Mountains:
1) There are unique sections of the Catskill Mountains that are incredible to explore (and closer to each other):
Most of these places have access to hikes that are way lower in elevation but they are great for rock climbing, caves and canyon explorations. At the same time reaching these areas takes a lot less time than nearby areas to the Adirondack Mountain (hours), so you can see more places in less time with these Catskill areas.
2) The Catskills are way better to visit if you live in NYC and want to take day trips there:
The mountain range is usually a 3 hour drive (for me at least) and it's a great place to go. A lot of the best day hikes near NYC that I have done have been in this area. In fact, I have a whole list of the best Catskill Mountain trails here you can see for specifics.
Some of my personal favorites are:
3) There is better cell phone reception in the Catskills:
That may not seem like an important factor but if you're a hiker and worried about getting lost in the woods, then the Catskills have less places where there is 0 reception than the Adirondacks. But I would still recommend you have Alltrails or navigation skills for any hike you do there, or anywhere because the deeper you go into any hike here, or anywhere, the less good phone reception you will have, but from my journeys across these mountain ranges, I've just noticed this to be the case.
5 areas where the Adirondack Mountains outshine the Catskill Mountains:
1) There are more scenic hiking trails in the Adirondacks (but not by much):
If I were to take the best hikes I've done in both places, then:
The Catskills would get a 9 out of 10.
Whereas the Adirondacks would get a 10 out of 10.
I'll be honest, because I live in NYC, I haven't visited the Adirondacks as often as I have the Catskills, but it's been accumulating for the former in recent years and so far, the hiking trails I've seen in the Adirondacks is slightly better (in some cases way better) than the Catskills.
Here are some examples:
The

Avalanche Pass hiking trail

(it's better than any hike I've done in the Catskills).
The

Indian Head Adirondack trail

(easily the top hike I've done in the whole NY state).
I've also explored numerous Adirondack waterfall hikes and while the waterfalls are better in the Catskills in my opinion, there are just way more options in the former and 2 of the best waterfalls in the area in my opinion are Rainbow Falls and Roaring Brook Falls.
The scenery in some of these trails are just in a league of their own, especially in the case of Avalanche Pass and Indian Head and while the Catskill Mountain trails still rock, if someone were to make me choose which is better, I have to give it to the Adirondacks here. I've also noticed much more hikes with ladders and cool props here too.
2) There are more scenic lakes in the Adirondacks than the Catskills:
I guess this is just because of the size of this place, but there are awesome lakes like Lake Placid, Chapel Pond, Ausable Lake and many more that I've seen than in the Catskills (North South Lake is the standout, but it's not very large).
3) The Adirondacks have better (and more) towns to stay at: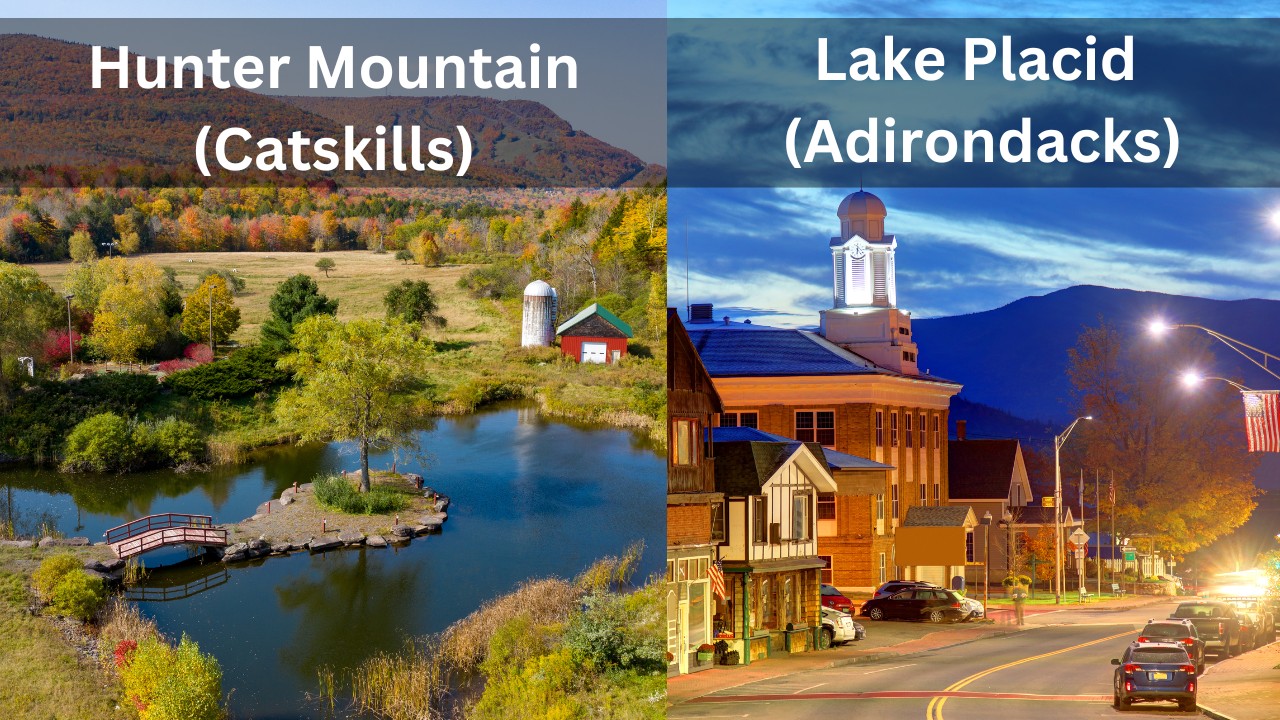 With the Catskills, there are definitely a lot of options, but the most popular are Hunter and Tannersville. Aside from that, if you go further south, then it's Mohonk Preserve or Lake Minnewaska.
But as good as these towns are, they are smaller and not as scenic or offer as much as the towns I've seen in the Adirondacks. The most notable is Lake Placid where I recently stayed at for 2 nights. I loved it more than any town I've seen or been to in the Catskills and it's a highly recommended spot to stay at if you're visiting overnight.
4) There are many more options for even greater adventures and things to do nearby:
With the Catskills, you have places to see nearby which are great which include:
Newburgh.

Hudson Highlands State Park

.
And more.
All of these places have cool towns, great parks but nothing high elevation or as incredible in terms of hikes, views and things to do as in the Catskills themselves in my opinion. At the same time, these places are honestly nowhere near as amazing as the things you can see near the Adirondack Mountains and here are just some of the standouts in that regard:
All of these areas on their own beat any of the other areas I mentioned above that are nearby the Catskills (even if you combine their pros together).
5) The scenic drive in the Adirondacks is better than in the Catskills too: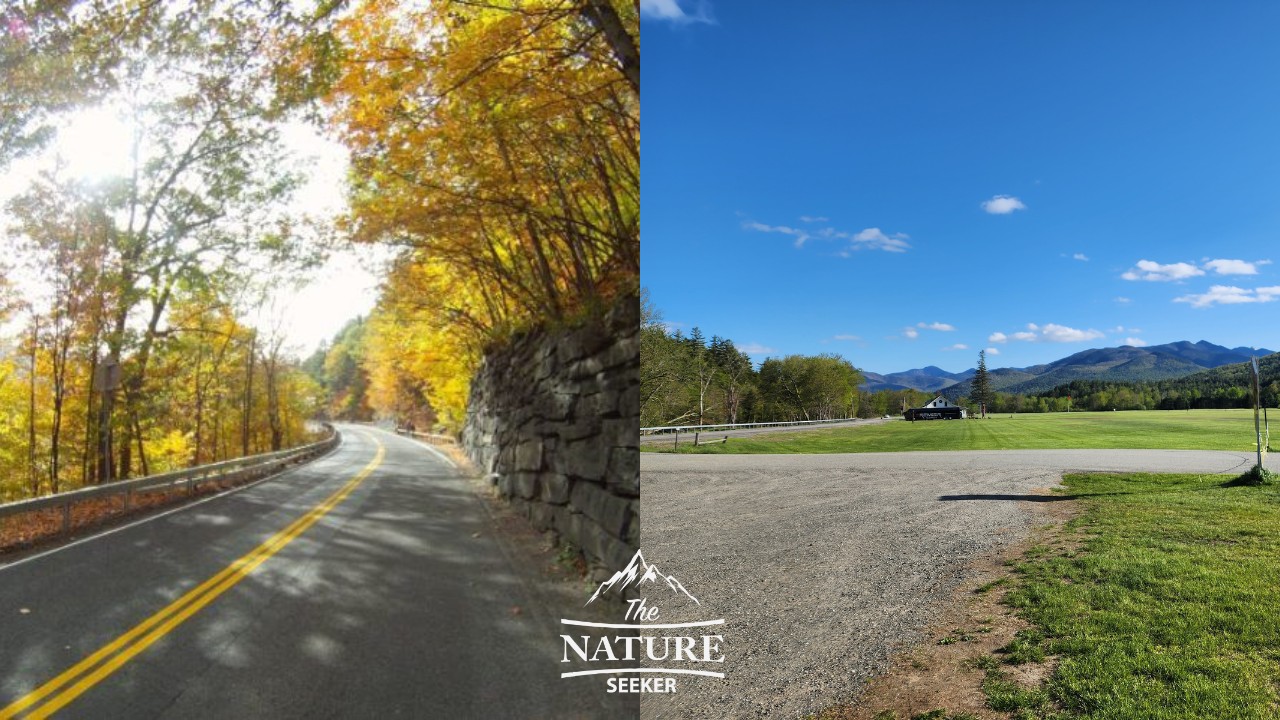 While I love the Catskill scenic drives that are available in the area and actually include it on my list of the top scenic drives in New York, the Adirondacks have more options, including the very popular High peaks scenic byway which I've done a few times. Another awesome one is to White face Mountain scenic drive which offers one of the best overlooks of the area.
One more mention is that there is an amazing scenic drive technically within the Adirondack Mountains region. It's road 9N which starts in Lake George and spans up to Lake Champlain, but after you pass Lake George, you will see the Adirondacks to your left and that is an amazing scenic drive worth checking out. Overall though, both these regions have great drives which I recommend you do to make your own decision on that, but that's just my opinion.
Other questions about the Adirondacks vs Catskills topic:
What is the difference between the Adirondacks and the Catskills?
The Adirondacks have more mountains and higher peaks than the Catskills.
Is Lake George in the Catskills or Adirondacks?
Lake George is in the Adirondacks area and is about 1 hour north of the Catskills.
How far apart are the Catskills in the Adirondacks?
It takes about 2 hours to drive from the Catskills to the Adirondacks.
My conclusions on the Adirondacks vs Catskills debate: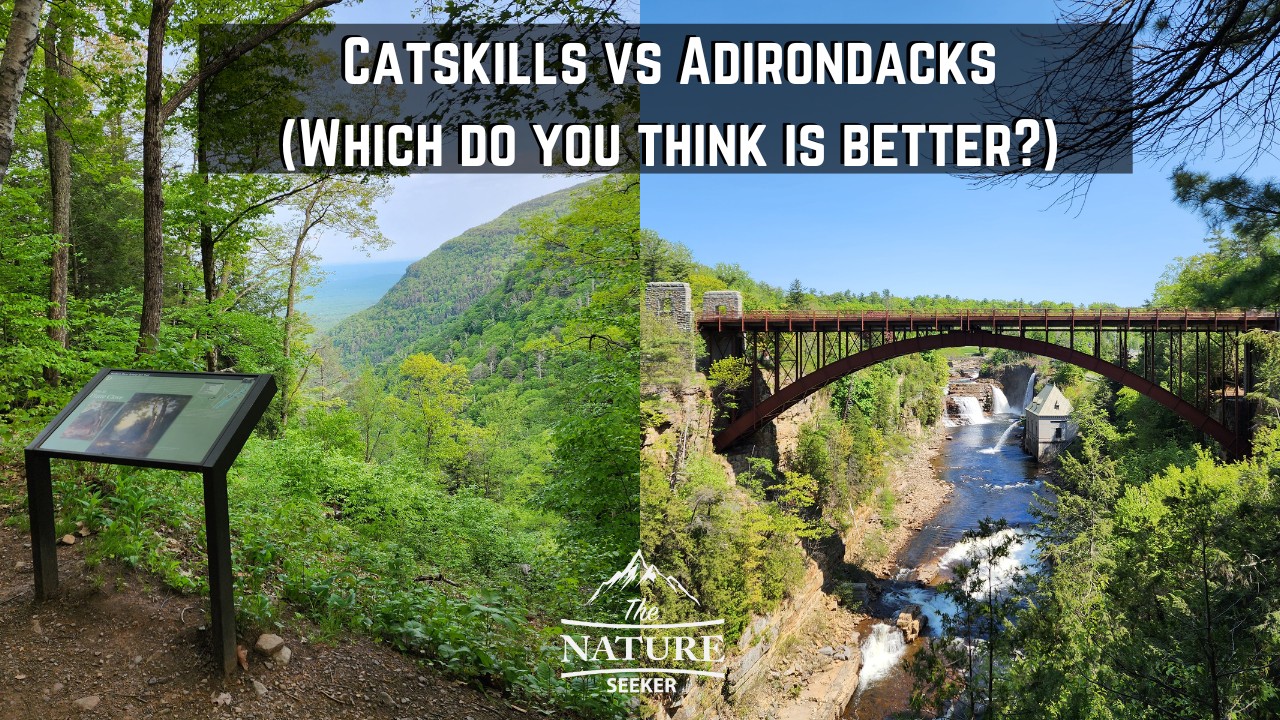 Again just as I said before, both places are incredible and if you live closer to the Catskills, visit those first. If you live closer to the Adirondacks, then visit that mountain range more then.
If you have a 2-3 day availability, then I'd visit both areas on a short road trip, but save more time for the Adirondacks if you can as there is more to explore there. For me, I've mainly done day trips to the Catskills and if I do road trips outside NYC, then I always try to focus on exploring more areas in the Adirondacks so I have more new places to explore and compare to other spots I've seen in NYC, besides the Catskills.
I know there are going to be a lot of people who read this that prefer the Catskills better or vice versa, but I'd love to know which of these mountain ranges you prefer more, if not equally so if you have your own personal experiences exploring one or both of them and/or have questions about this topic, I'd love to know about that below.
More things to see in New York outside the Catskill and Adirondack areas:
If you think that the only good mountain spots in New York are these 2 places, then I can promise you that this is just the beginning of what this state has to offer folks.
Here are just some equally amazing areas I highly recommend you explore aside from these 2 mountain ranges:
Finger Lakes (great competitor to the beauty of the Catskills and Adirondacks, just see

Watkins Glen State Park

).
1,000 Islands (I love this area and highly recommend it).
Letchworth State Park (small mountains, but amazing waterfalls and sights).
Just as well, you can also go further northeast (outside NY) and see amazing places like the Green and White Mountains too (similar to the Catskills and Adirondacks).
New York's nature is way more incredible than most people can even comprehend and besides those 2 mountain ranges, adding these 3 other spots to your exploration of this state will really showcase that point (I say that from experience exploring these places).