I've visited Mohonk Preserve NY many times and continue to come back because of all the things you can do there and if you're planning a first time visit here, I'm going to share 10 things to do when you do go that'll make your trip absolutely amazing.
Quick info on Mohonk Preserve:

Name: Mohonk Preserve.
Location: 20 minutes from New Paltz NY (2 hours north of NYC).
Things to do: Hotel, horse riding, hiking, weddings, kayaking and much more.
Family friendly? Yes.
Is it free to enter? No, you need to buy a Mohonk Preserve day pass or other fees for most major hikes in the area.
Rating: 5 out of 5.
Recommended? Yes!
Here are the 10 things to do in Mohonk Preserve NY (originally it was 7):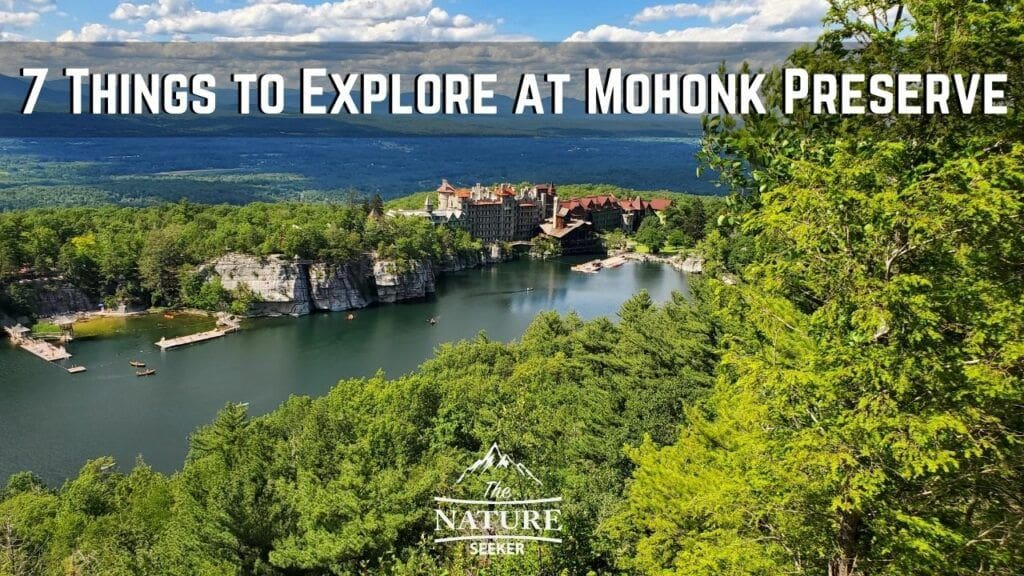 Do some Horseback riding.
Take a boat ride at Mohonk Lake.
Check out the Mohonk Mountain House.
Do the famous Labyrinth hike trail.
Walk or hike to Skytower, at the top of Mohonk Preserve.
Explore Split Rock swimming hole.
Do the Lost City Loop trail.
Hike the Bonticou Crag trail.
Try the Table Rocks trail.
Do the Rock Rift Crevices trail.
It just so happens that nearly every activity you can do in Mohonk Preserve has side adventures that can be done. For example, there's numerous hikes in this region that you can explore besides the Labyrinth and just as well, there's more than a few things you can do near or at the hotel there (all of which that I'll explain).
1) Enjoy some horseback riding at Mohawk Mountain Preserve: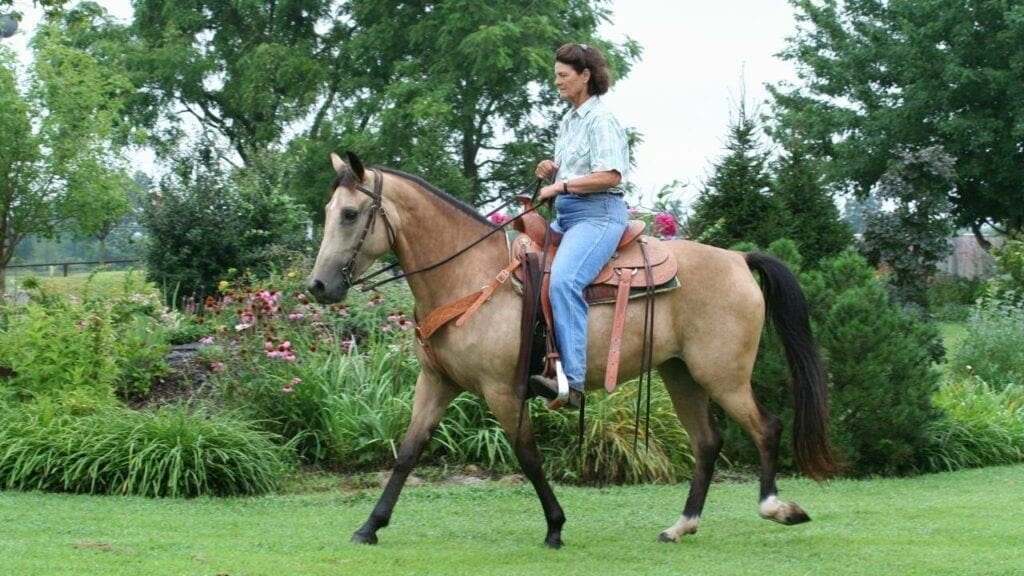 You will see a large stable right before you walk up to the Mohonk Mountain House (the hotel). When we went there, I believe you could only go if you made reservations, but the horseback riding option for this beautiful area is highly recommended.
There's many trails in this area and some of them are horseback accessible. So besides getting great views, you can also do that on horseback. Mohonk Preserve provides one of the best horseback riding spots in all of Upstate New York.

2) Check out the boat rides at Mohonk Lake:

Mohonk lake is right by the hotel and you have access to rent kayaks, paddle boats, and canoes. Mohonk lake itself is pretty small, but the area surrounding the lake, that being the hotel, the mountains, and overall the scenic views really make this view and an enjoyable thought to realistically explore. It's also very family friendly.

Of the 2 times I've visited this area, I have never been able to find the time to rent a kayak or canoe. I had to move onto exploring an awesome hike right next to the lake known as the Labyrinth which I'll get into shortly. But as you can see from that picture, there's plenty to explore if you go kayaking there.
I'm not sure about the rates or hours the kayaks and canoes go for there, but I would advise you go on an off season period to Mohonk Preserve (off season means anytime there isn't a long weekend or holiday happening) if you wish to avoid long lines and high prices.
This area overall is very expensive, whether it be the food, the cost to enter this place, and whatever else is on sale and I wouldn't be surprised if even the kayaks and canoes cost a lot to rent either.
3) Explore the Mohonk Mountain House hotel: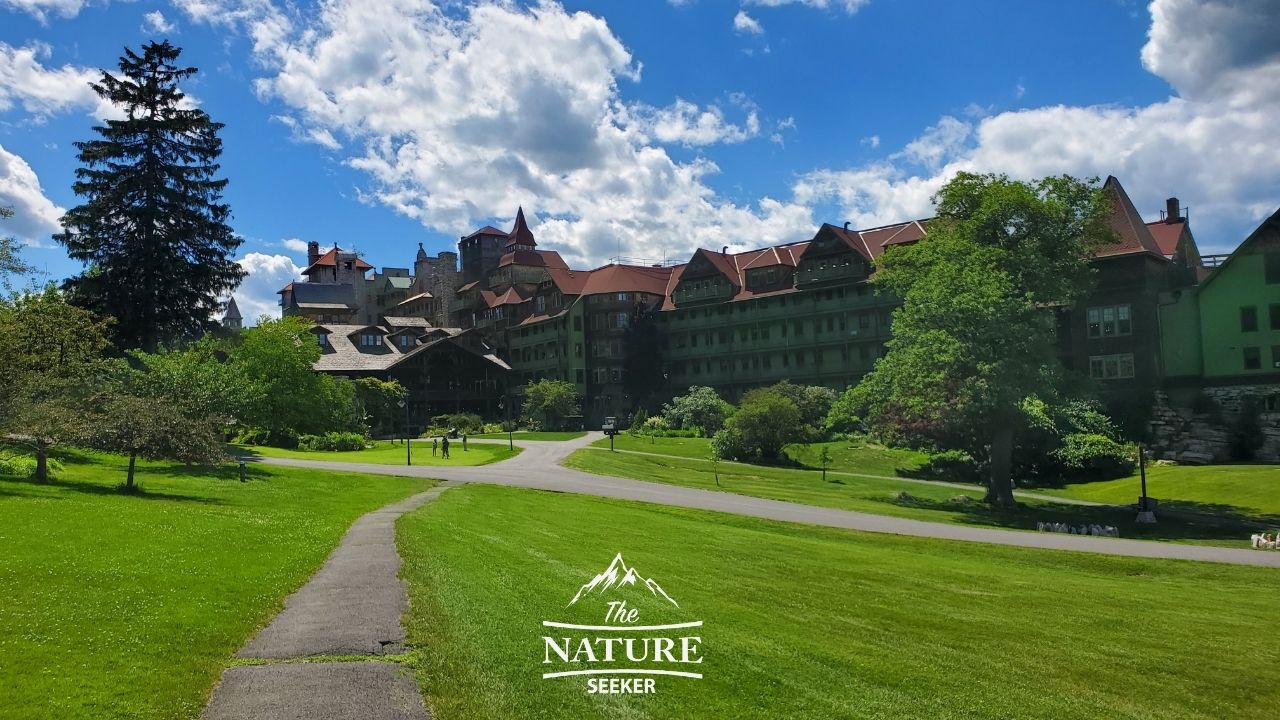 I have honestly never seen such an amazing hotel and you may think the same if you happen to go here. Pretty much anyone who visits the Preserve and decides to stay overnight will do so at the Mountain House I mentioned.
It's a very old, and very historic hotel which looks amazing and I have explored it many times (I have yet to stay there, as it is a very expensive spot). But it almost looks like some sort of fantasy hotel and if you do want to stay there, you can get info on staying at Mohonk Mountain house here.

It also has a lot of things you can explore like a spa and beautiful balconies leading out to the lake. I also recommend this spot and Mohonk Preserve overall as a great day trip near NYC to do.

Here's a list of things to do near Mohonk Mountain House:
Swimming on Mohonk Lake (about 50 feet from the hotel).
Boating (right by the entrance).
Exploring the famous botanical garden right the mountain house (100 feet from it).
Then there's some hiking trails, but that's reserved for the next thing to do on this list:
4) Check out the Labyrinth trail (one of the best Mohonk Preserve hiking trails):

The Labyrinth hike is truly amazing and it's located right across Lake Mohonk from the Mountain House. If you enjoy hikes with scrambling, a little bit of climbing and areas where you have to climb stairs and squeeze through rocks, then this is the hike that has all of this and more.
This hike runs parallel to the same hiking trail which goes up to the Skytop Tower of Mohonk Preserve and through the Labyrinth Trail, you will take the "scenic route" to reach it.
There are several awesome sections of this hike to note:
First, there is the massive scrambles and climbs through rocks in the beginning.
Then there is a lot of boulder hopping.
The hike ends at a place called Lemon Squeezer where you will go up stairways which takes you to an awesome overlook of the Catskill Mountains and Mohonk Preserve.
The Labyrinth hike is one of the best hikes near NYC in my opinion and while it is tough in parts, it's very fun and worth trying out. And it's one of many other hiking trails in Mohonk Preserve (but if you can only do one, this would be it).
5) Skytop Tower (an iconic Mohawk Preserve gem):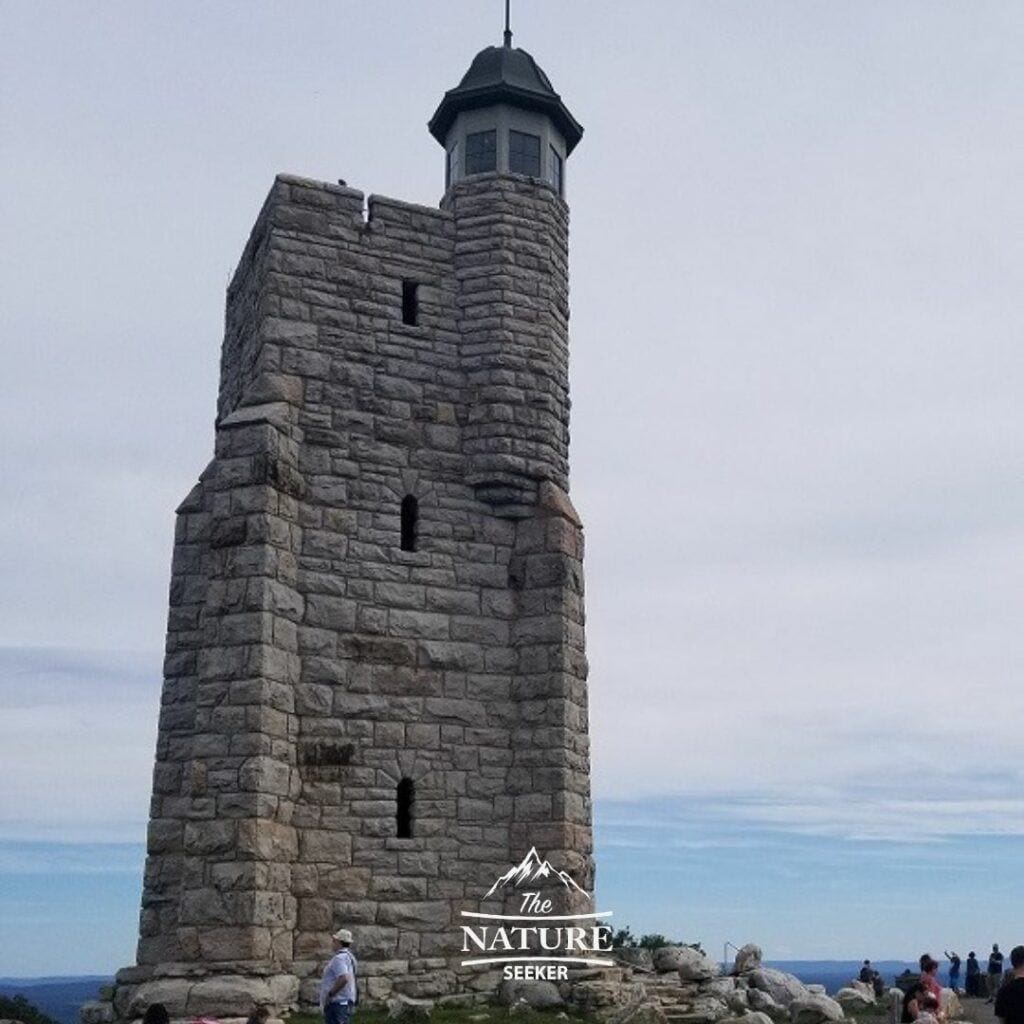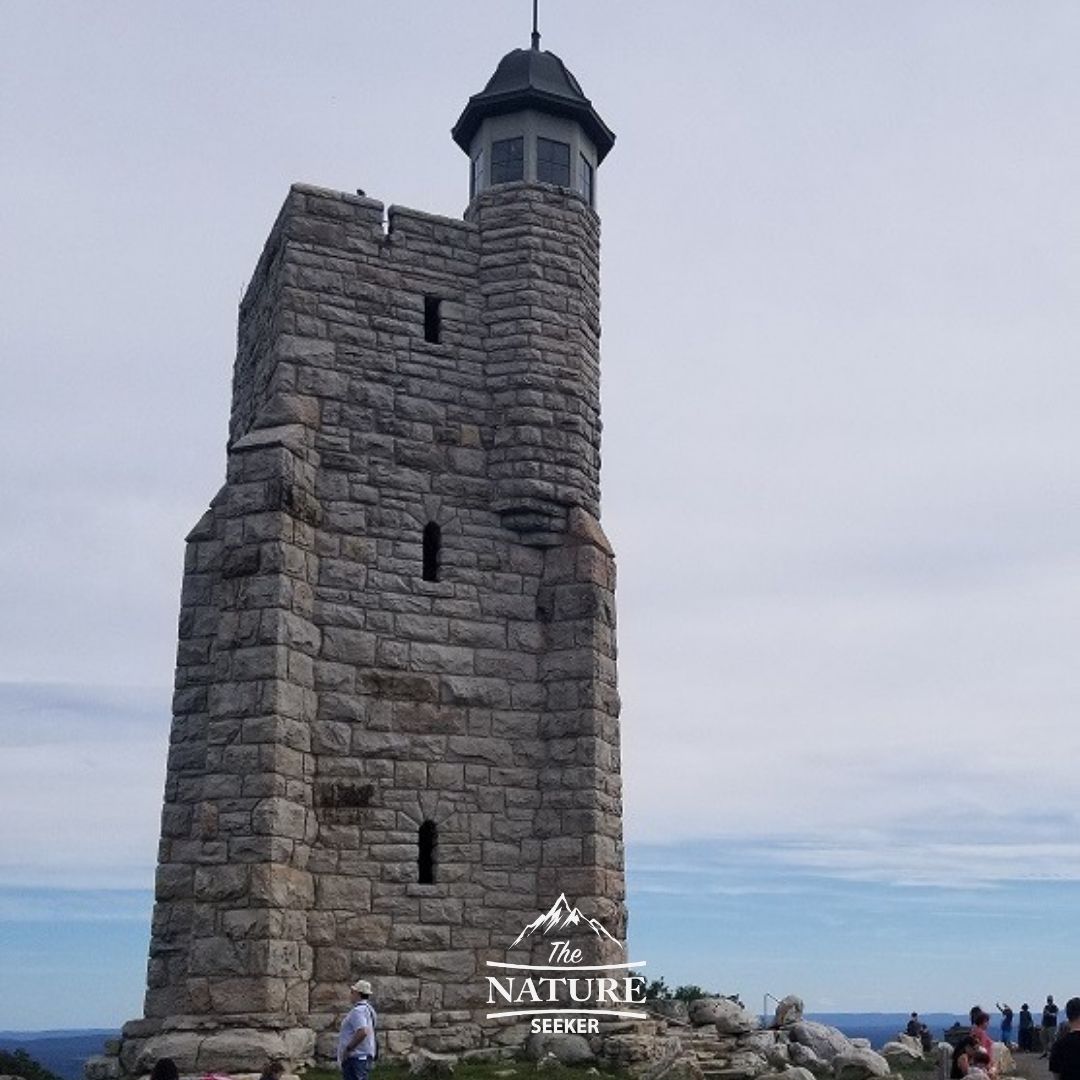 Again, you can reach Skytop Tower by either hiking to it via the Labyrinth trail or you can just walk on a much simpler trail that is actually above the Labyrinth to reach it. This is probably one of the most popular scenic overlooks in the entire Preserve as it's located at the top of the Mohonk Mountain.
You can see the hotel, and areas beyond the Preserve too, although I did also see many of these areas, while I was in the Labyrinth. If you're more of a beginner hiker and worried about the Labyrinth's challenges, just do the regular hike up to the Skytop Tower. A lot of people also do a loop hike by starting at the Labyrinth, taking it to the Skytop Tower, then hiking down the regular trail. Here is one of the other things you'll see when you reach Skytop Tower: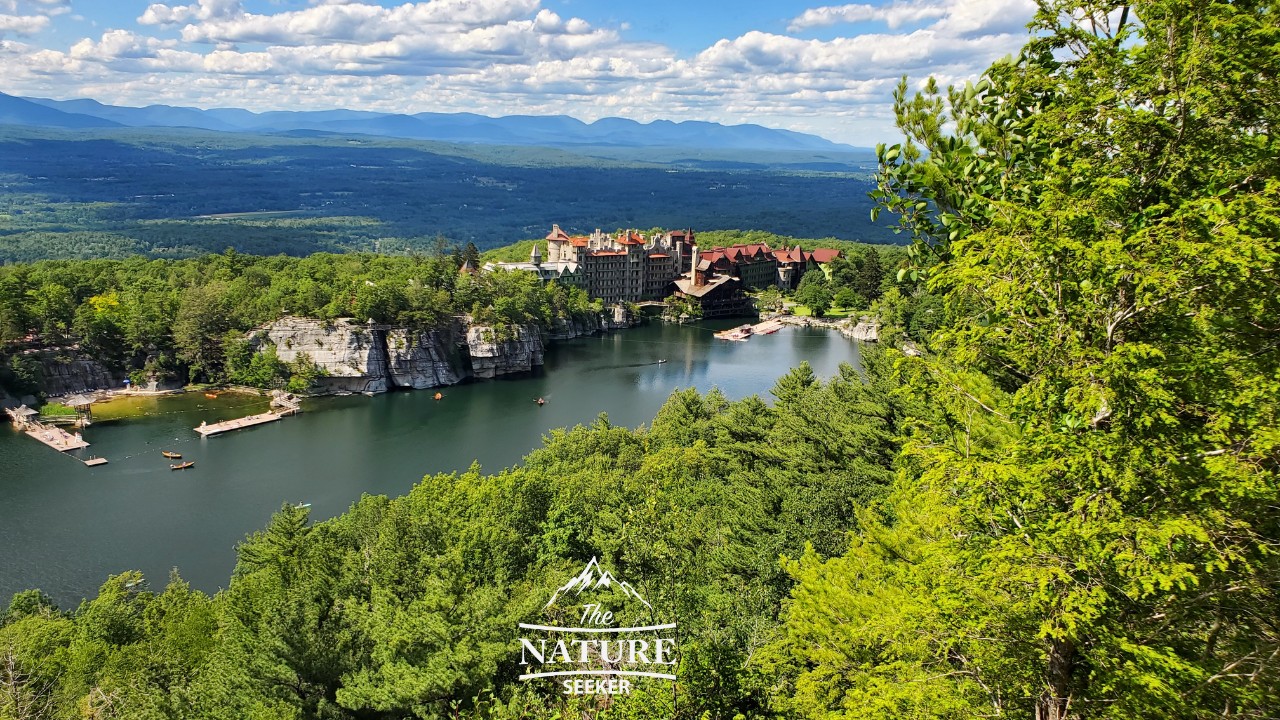 Side note: If you choose to take the easy walk up to Skytop Tower with the intent to do the Labyrinth hike after, forget it. You cannot enter into the Labyrinth hike from that end.
6) See the Mohonk Preserve Split Rock swimming hole: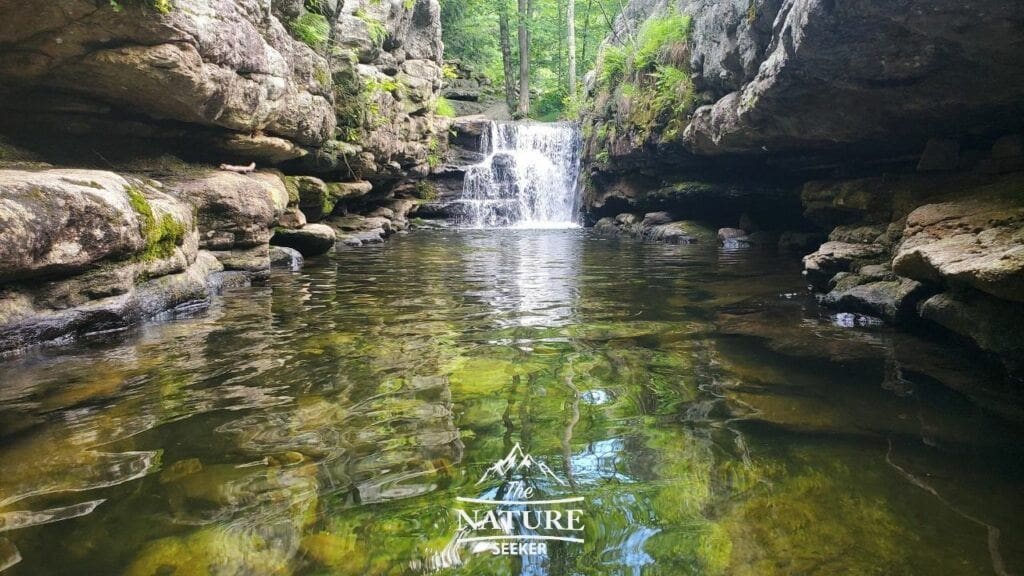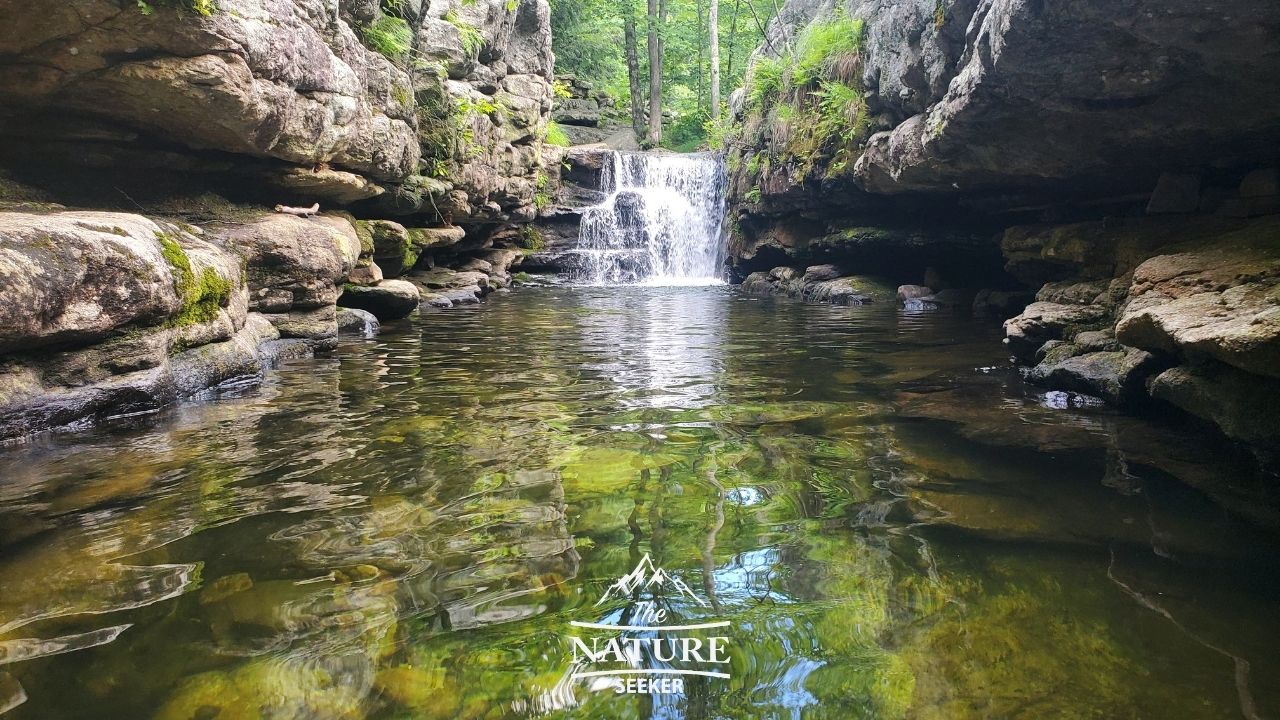 I had a chance to see the Split Rock swimming hole recently and it's also part of a list I made for the best swimming holes in the Catskills.
It's a small swimming hole area and is often crowded, but worth visiting if you enjoy swimming holes. There's a small gorge you can swim through with a waterfall at the end of it (as the picture shows). Cliff diving is not possible here as it's very shallow, but never the less, you can cool off in this swimming hole after a nice hike, and it just so happens, the next thing on this list is a perfect opportunity for that:
7) Do the Lost City Loop trail (It's an incredible hike):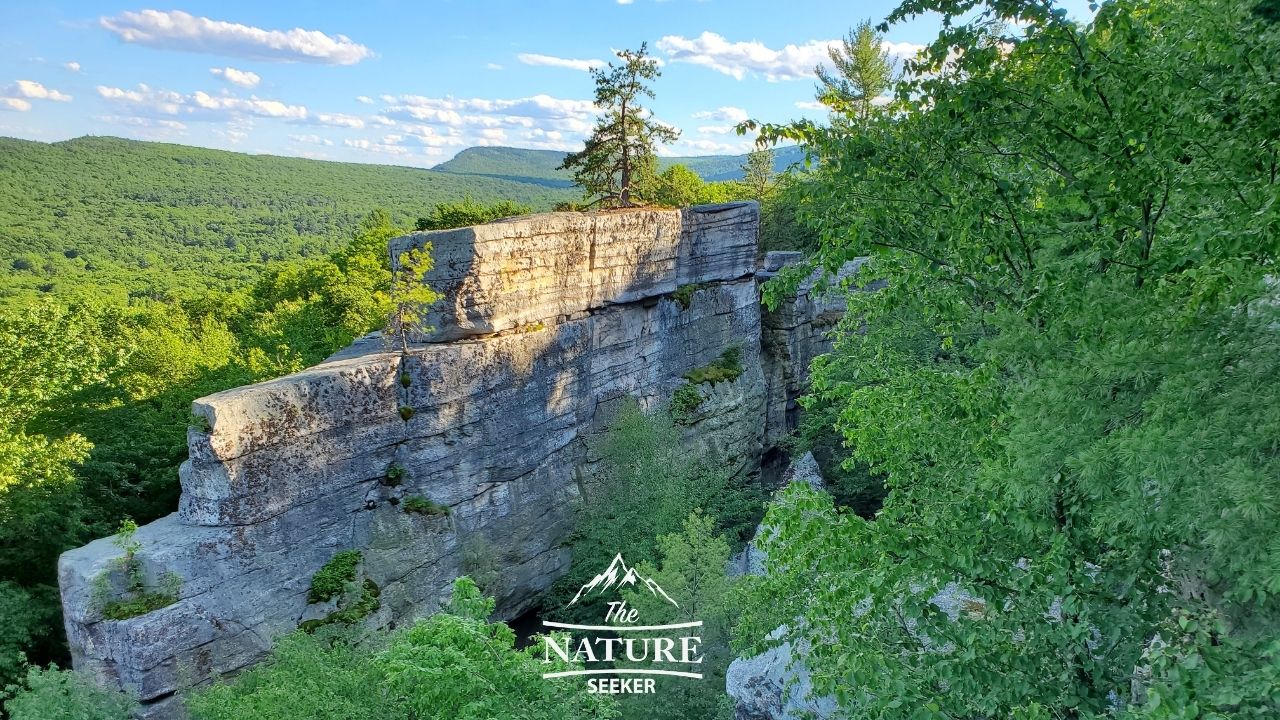 After doing a short swim in Split Rock Swimming hole, I went back to my parking lot and discovered that a beautiful hiking trail was right by the parking area where I left my car. I decided to explore it and it's called Lost City Loop which turned out to be an amazing trail.
It takes you through many gorges, nice hikes and cool overlooks that really do look like a lost city. The hike it only about 2-3 miles but was a perfect trail to finish my day hike in Mohonk Preserve. Overall this hike is very scenic and is anywhere from beginner to moderate.
Note: You do not need to buy a Mohonk Preserve Day Pass for this hike. You do however need to pay $10 for the parking.
8) Do the Bonticou Crag trail:
I am going to highly recommend you check out this trail if you're in Mohonk Preserve as it is just as good as the Labyrinth and the Lost City Loop with similar types of scenery and sights. Bonticou Crag Trail is located in Mohonk Preserve, but not in the actual resort area (with the Mountain House and Lake), but there is a fee to enter the parking lot to start this trail ($15). It's well worth it. The hike is less than 3 miles, but is very similar to the Labyrinth.
9) Table Rocks trail: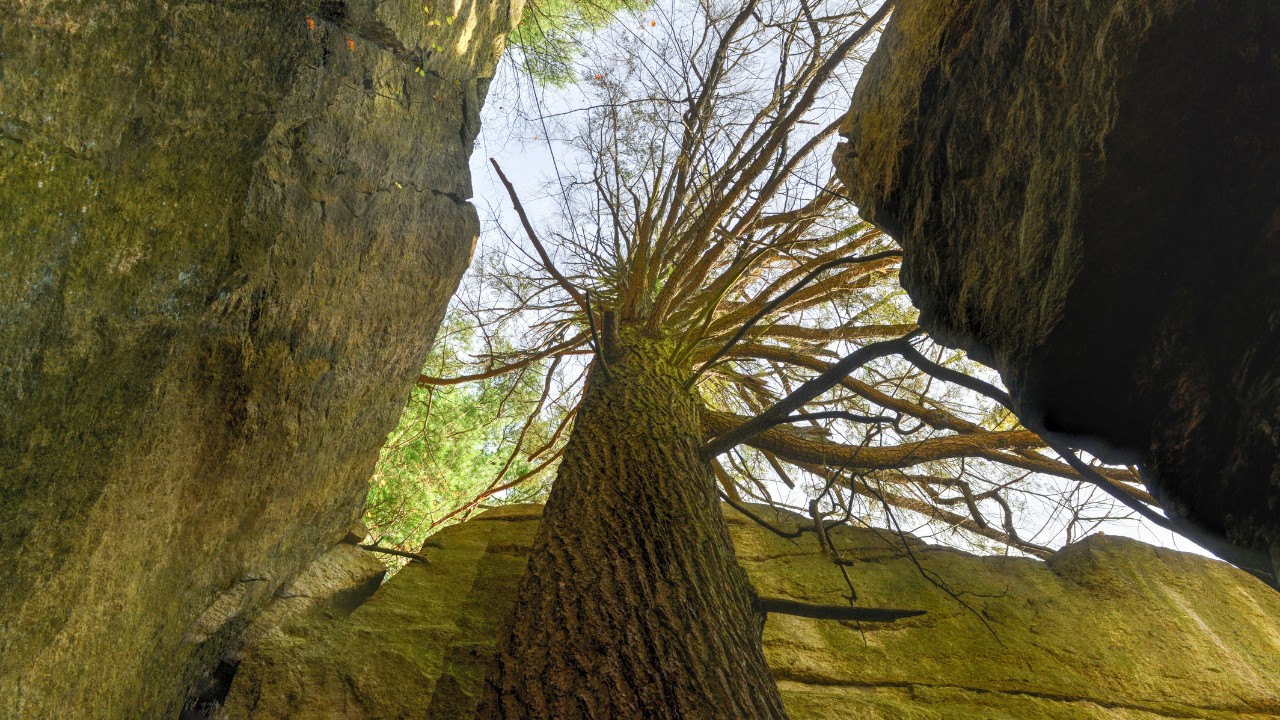 This is another awesome hike that's inside Mohonk Preserve. On top of that, it's actually connected to Bonticou Crag and you can even do a 5 mile loop that combines both that and this trail too (see hike details here).
Obviously the difficulty of the hike will be harder then, but because this is an awesome trail with caves, canyons and amazing overlooks, it's worth checking out in addition to Bonticou Crag if you have the time.
10) Rock Rifts Crevices trail:
This hike is also in the same vicinity of Mohonk Preserve as Table Rocks and Bonticou Crag, but the trail to it is a bit out of the way. It's about 5 miles long too and takes you through similar rock formations and amazing sights as the other 2 trails. If you have the time in one day to do all 3 of these trails (I'm talking about Bonticou Crag, Table Rocks and this one), then I would strongly recommend it as the hike would be under 15 miles and perfect for a day trip.
Questions about Mohonk Preserve:
How much does it cost to hike Mohonk Preserve?
To hike at Mohonk Preserve, you first need to enter the official parking area and it's $26 per person to enter.
How long is the Mohonk Preserve trail?
Every trail in Mohonk Preserve varies from being a few miles to over 10.
How many trails are in Mohonk Preserve?
There are close to 50 hiking trails at Mohonk Preserve.
Can you hike at Mohonk Preserve?
Yes, the most popular trail is the Labyrinth which has you see amazing sights of the Mohonk Mountain House, Skytop Tower and incredible views of the Catskills.
3 important things to know before you visit Mohawk Preserve:
If you're visiting this place, it's either because you're staying at the Mohonk Mountain House or just visiting for a day to explore the area and do the hikes.
1) If you're planning to stay at Mohonk Mountain House:
You will have to go through the Mohonk Mountain House Gate to get there. You'll then drive up 1-2 miles to reach the house.
2) You

need to buy

a Mohonk Mountain House Day Pass ($35 per person for hiking) if:
You intend to visit the area (including the hotel, Labyrinth hike and Skytop Tower). You will still have to travel through the Mohonk Mountain House Gate to enter, but you will have to park right by that entrance and hike to the Mountain House from there. You can't buy the pass at the gate, but online.
Here's the page to buy a Mohonk Mountain Day Pass (if you're just checking the place out for hikes, then buy a hiking pass). There are other passes you can buy but that's for activities inside the Mountain House.
3) You

do not need to buy

a Mohonk Mountain house day pass if:
You are planning to hike Bonticou Crag, the Table Rocks and Rock Rifts Crevices trail. These hikes are in Mohonk Preserve but outside the Mountain House area.
More Mohonk Preserve photos and more awesome places to check out nearby:
1) Sam's Point Preserve (pretty cool hiking with caves). It is less than an hour from Mohonk Preserve.
2) Lake Minnewaska State Park. Has beautiful trails and waterfalls that are great for family adventures and it's right next to Mohonk Preserve too!
3) The Catskill Mountains waterfalls. The area is an hour north of Mohonk Preserve, and I've included details on where to find the waterfalls there.
4) There's also a list of the best waterfalls across New York State I recommend checking out. Some of them are very close to Mohonk.
5) Breakneck Ridge. An awesome hike about an hour away from Mohonk Preserve. It's almost as fun as the Labyrinth and a bit longer and also is park of Hudson Highlands State Park which itself has many things to check out too.
6) Harriman State Park. Great park south of Mohonk Preserve and it also has a Lemon Squeezer hike there too (but totally different than the Labyrinth).
7) Hudson Valley hiking trails. The Hudson River is east of Mohonk Preserve, but it features many beautiful hikes (and parks) to check out.
8) Check out a post I wrote on how to find easy hikes near me. You can find plenty of trails, views, places to see and more using that (near Mohonk Preserve or anywhere else).