I've visited Mohonk Preserve three times so far and would like to share 7 cool things to do there as well as things to keep in mind before you go, such as how to prepare for it.
The first time I visited it, was with my mother when I was around 16 years old and just yesterday, 16 years later, I revisited it with my friends and some things have changed that first time goers should be aware of before they go.
This is a very beautiful area, with a lot of different activities you can do, 6 of which I'll share with you that are probably the most popular.
Here is just one of the many beautiful things to see at Mohonk Preserve:
This is one of the most popular viewpoints in the area and you can get there pretty easily with a simple hike, or elect to take a much more fun, but difficult path known as the Labyrinth hike which I'll talk about later (it's one of the exciting hikes I've ever done in my life).
Also notice the large mountain range behind the hotel. These are the Catskills which I visit pretty often and there's many things to do there too.

If you're someone who is exploring the upstate region, you'll probably want to go further north beyond Mohonk Preserve, as there is so much to see besides the Catskills, but that's for another article.
Let's stick to just this place because it too has a bunch of stuff to see.
Where is Mohonk Mountain Preserve located?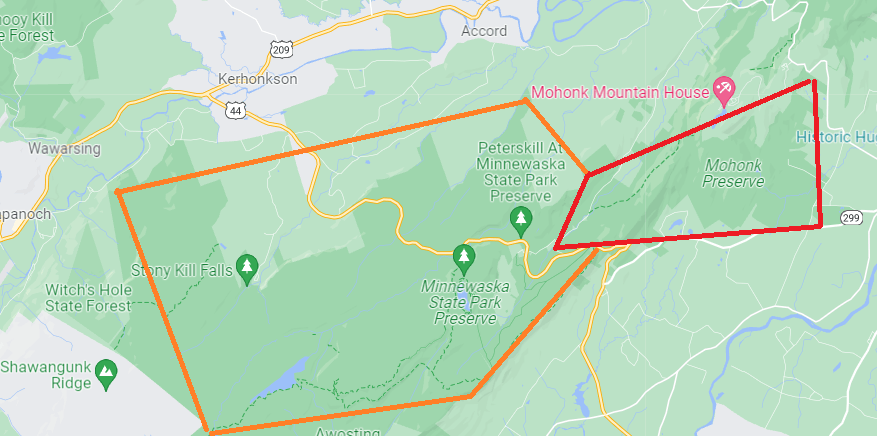 Mohonk is located about 2 hours north of NYC, near New Paltz. It's also a neighboring region to Lake Minnewaska State Park (orange on the map).

Mohonk Preserve is pretty easy to reach via GPS. There are multiple areas to enter into Mohonk Preserve, but for most of the activities on this list, start at Mohonk Mountain House.
The first time I went there, a shuttle was available to take people from the parking lot to the hotel and the main scenic spots in this location.
However, the second time that I visited it with my friends, we found out the shuttle service was discontinued (for over 3 years!) and we instead had to walk the 1-2 miles to reach the area.
This honestly is my only complaint about this location, but other than that, everything else is very enjoyable.
So my warning before you go is to expect there to be no shuttle service so if you have health issues, and can't walk 1-2 miles, don't go here unless you reserve a room at the hotel, which grants you permission to drive up to the hotel from the parking lot.
Here is a preview of the 7 things to do at Mohonk Preserve:

Do some Horseback riding.
Take a boat ride at Mohonk Lake.
Make sure to explore the Mohonk Mountain House.
Do the famous Labyrinth hike trail.
Walk or hike to Skytower, at the top of Mohonk Preserve.
Explore Split Rock swimming hole.
Do the Lost City Loop trail.
It just so happens that nearly every activity you can do in Mohonk Preserve has side adventures that can be done.
For example, there's numerous hikes in this region that you can explore besides the Labyrinth and just as well, there's more than a few things you can do near or at the hotel there (all of which that I'll explain).
1) Enjoy some horseback riding at Mohonk Preserve: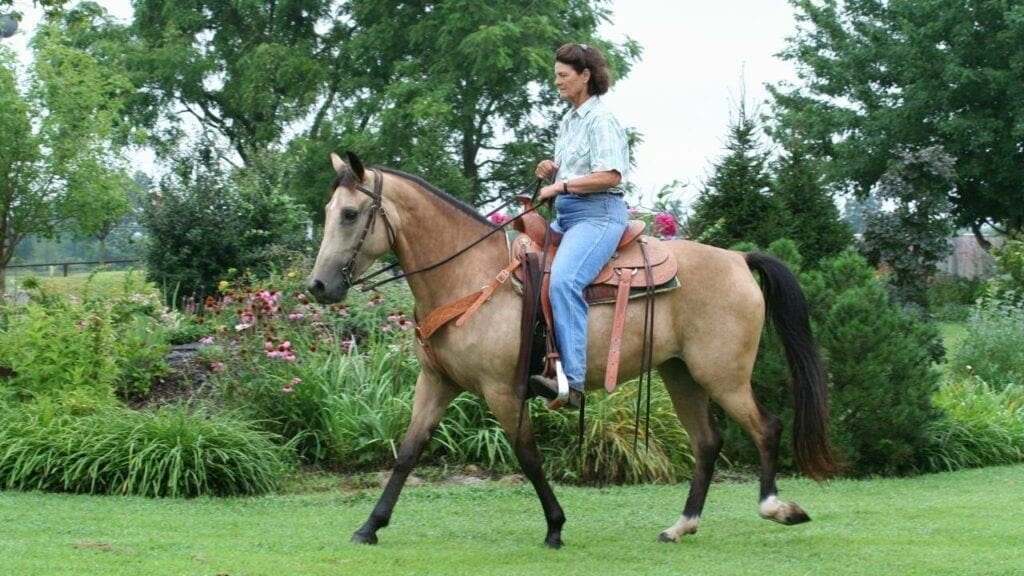 You will see a large stable right before you walk up to the Mohonk Mountain House (the hotel).
When we went there, I believe you could only go if you made reservations, but the horseback riding option for this beautiful area is highly recommended.
There's many trails in this area and some of them are horseback accessible.
So besides getting great views, you can also do that on horseback. Mohonk Preserve provides one of the best horseback riding spots in all of Upstate New York.

2) Check out the boat rides at Mohonk Lake: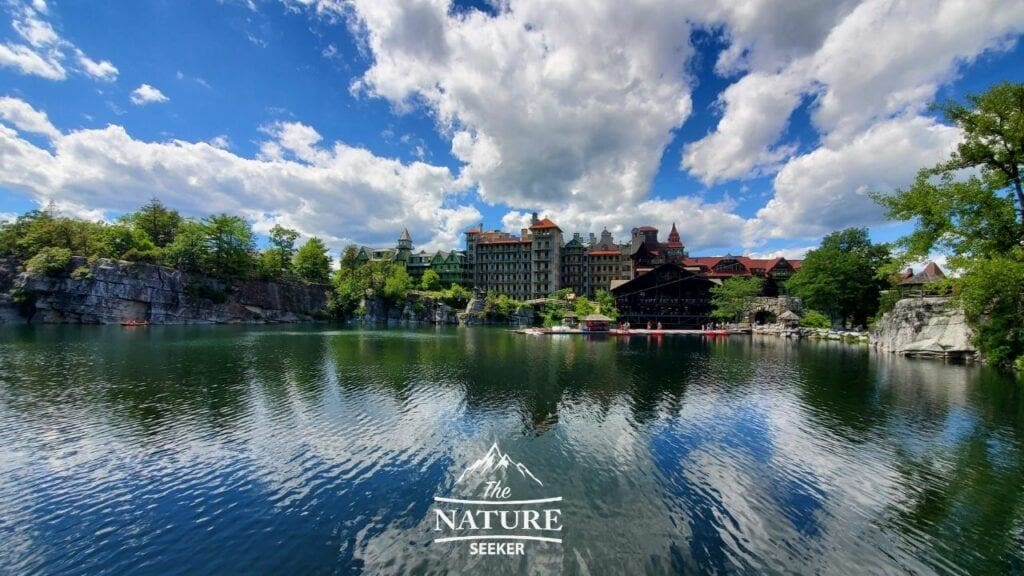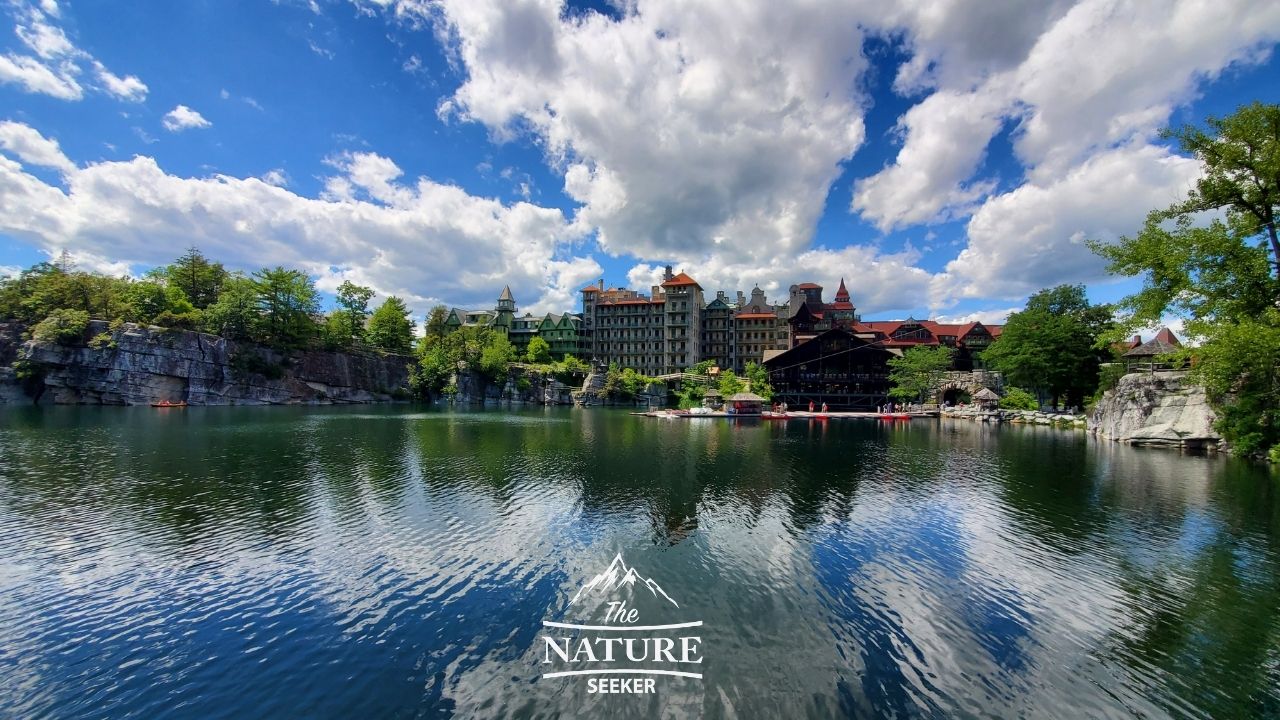 The lake is right by the hotel and you have access to rent kayaks, paddle boats, and canoes.
The lake itself is pretty small, but the area surrounding the lake, that being the hotel, the mountains, and overall the scenic views really make this view and an enjoyable thought to realistically explore. It's also very family friendly.

Of the 2 times I've visited this area, I have never been able to find the time to rent a kayak or canoe.
I had to move onto exploring an awesome hike right next to the lake known as the Labyrinth which I'll get into shortly.
But as you can see from that picture, there's plenty to explore if you go kayaking there.
I'm not sure about the rates or hours the kayaks and canoes go for there, but I would advise you go on an off season period to Mohonk Preserve (off season means anytime there isn't a long weekend or holiday happening) if you wish to avoid long lines and high prices.
This area overall is very expensive, whether it be the food, the cost to enter this place, and whatever else is on sale and I wouldn't be surprised if even the kayaks and canoes cost a lot to rent either.
3) Explore the Mohonk Mountain House hotel: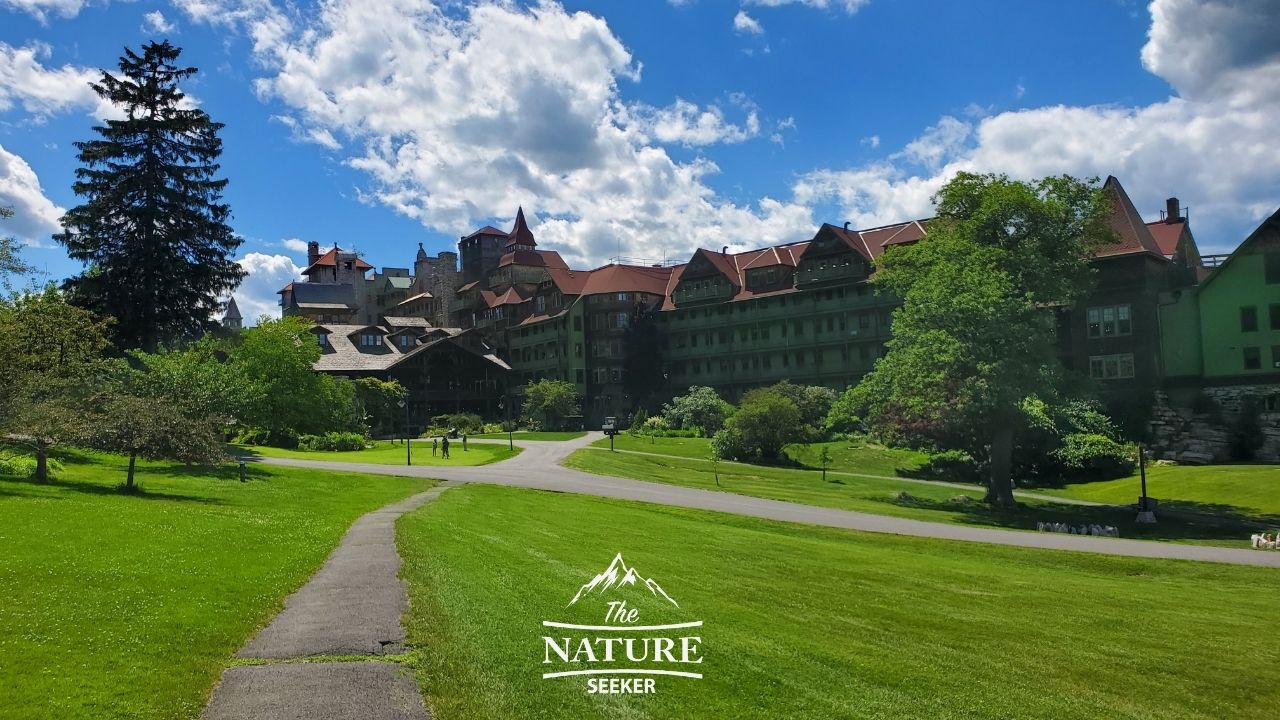 I have honestly never seen such an amazing hotel and you may think the same if you happen to go here.
Pretty much anyone who visits the Preserve and decides to stay overnight will do so at the Mountain House I mentioned.
It's a very old, and very historic hotel which looks amazing and we did explore it. It almost looks like some sort of fantasy hotel. 
It also has a lot of things you can explore like a spa and beautiful balconies leading out to the lake.
And honestly, exploring the areas outside of the hotel is also worth it, including the beautiful garden right next to it, the scenic walks and pathways around and across the hotel and more.
Trust me, the views and things to see around the hotel are itself an adventure.
4) Check out the Labyrinth trail (Mohonk Preserve's most famous hike):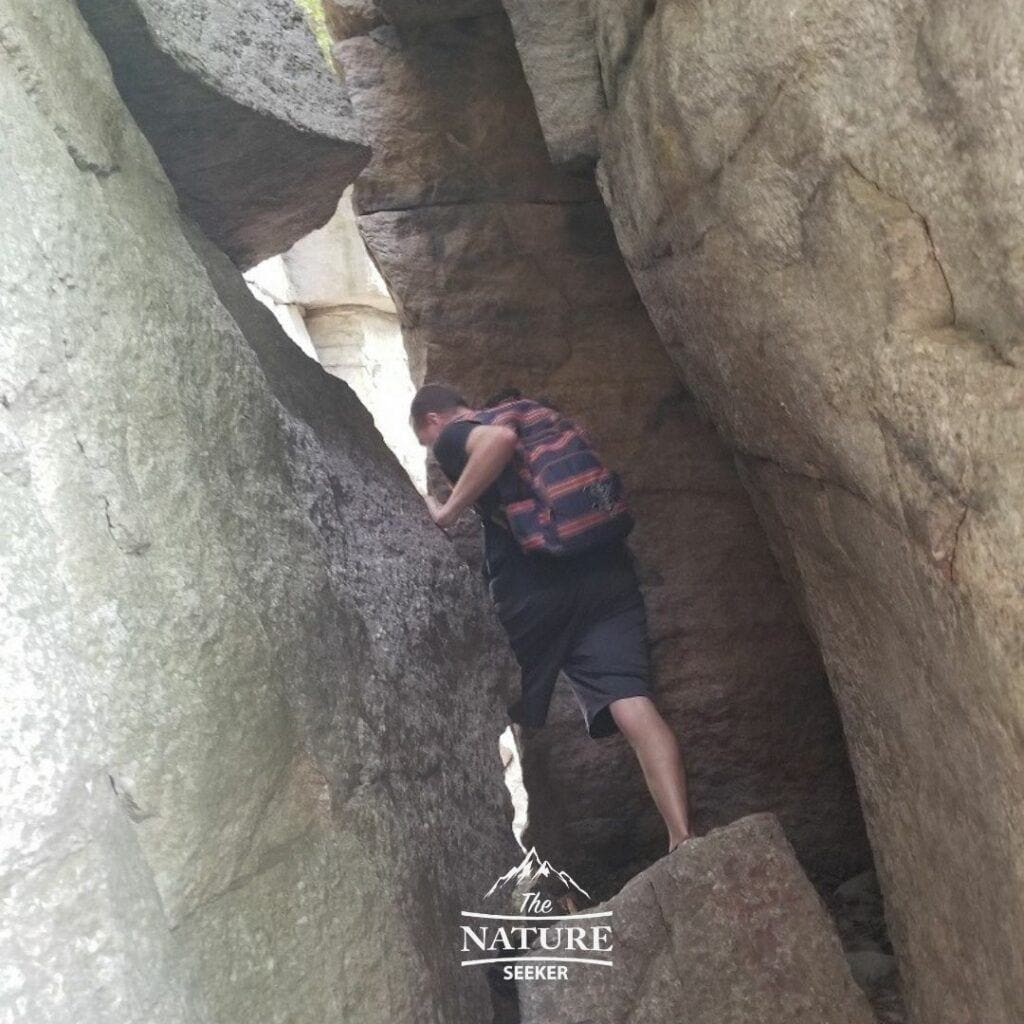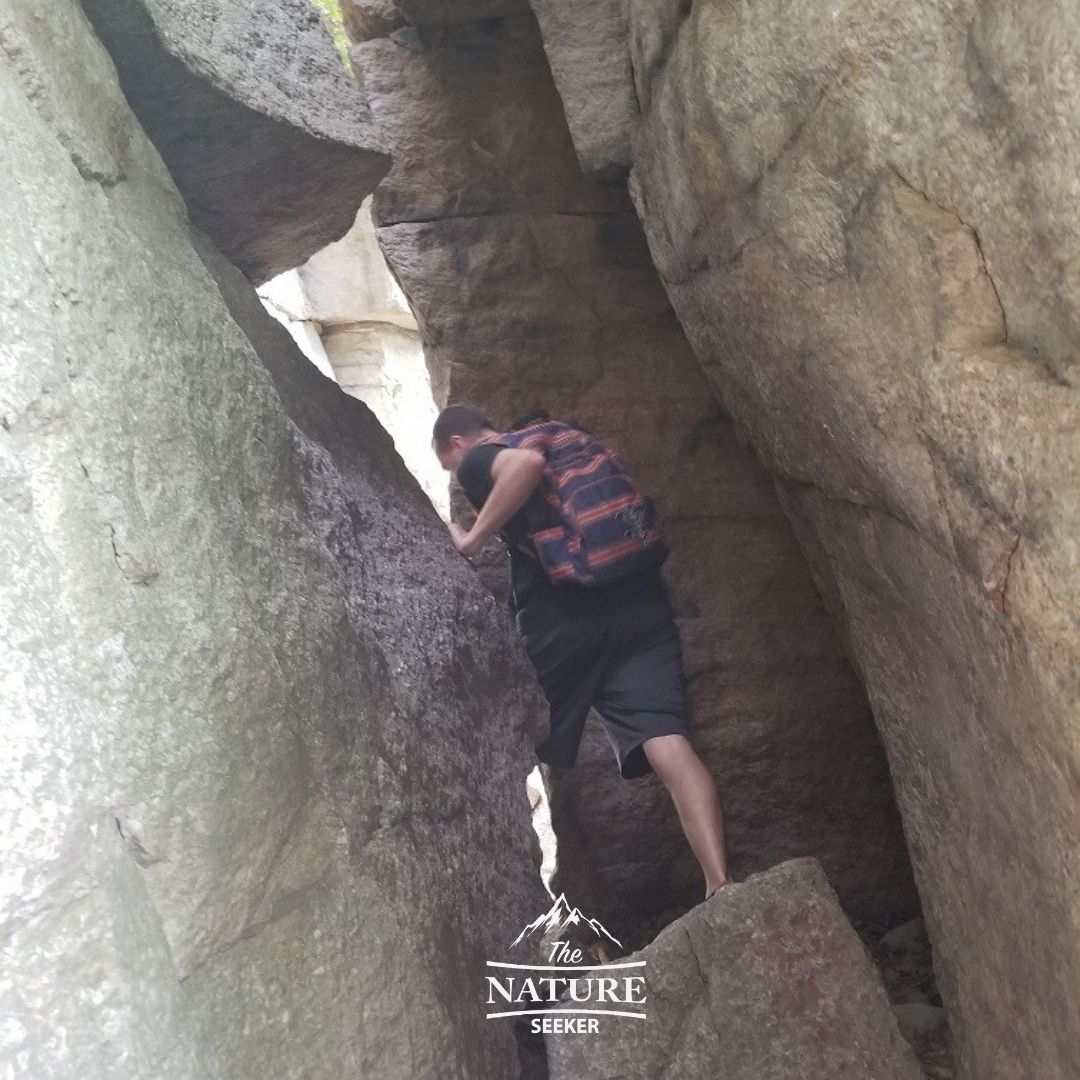 The first time I visited this place, one of the main reasons I went to this location was to explore new hiking trails and while visiting the hotel, we were told that there were 2 main hikes people took while visiting this place.
One was a regular uphill walk to a "Skytop Tower" while another was called the Labyrinth which was parallel to that trail, and led to the same Sky Tower, but was a much harder, and more fun hike.
Both of them would provide a very scenic overlook of the hotel, as well as the greater Mohonk Preserve area.
Being that I love challenging hikes and my mother doesn't (the first time I went) I elected to try the Labyrinth, while my mother went on the other hike.
We agreed to meet at the Skytop Tower. 
I'll say this much about the hike:
The Labyrinth was a very fun hike, especially in the beginning and I found myself climbing through caves, up ladders and even using both my hands and feet to scale up certain areas.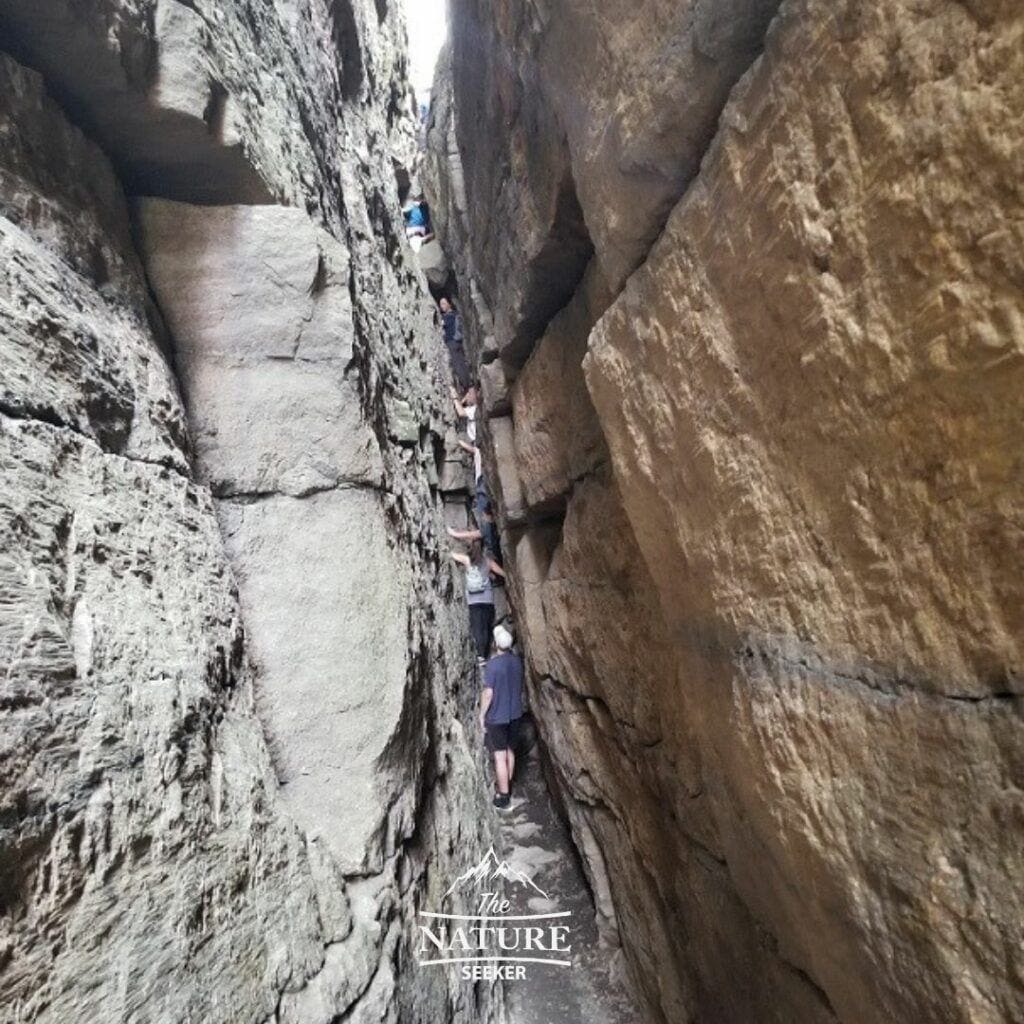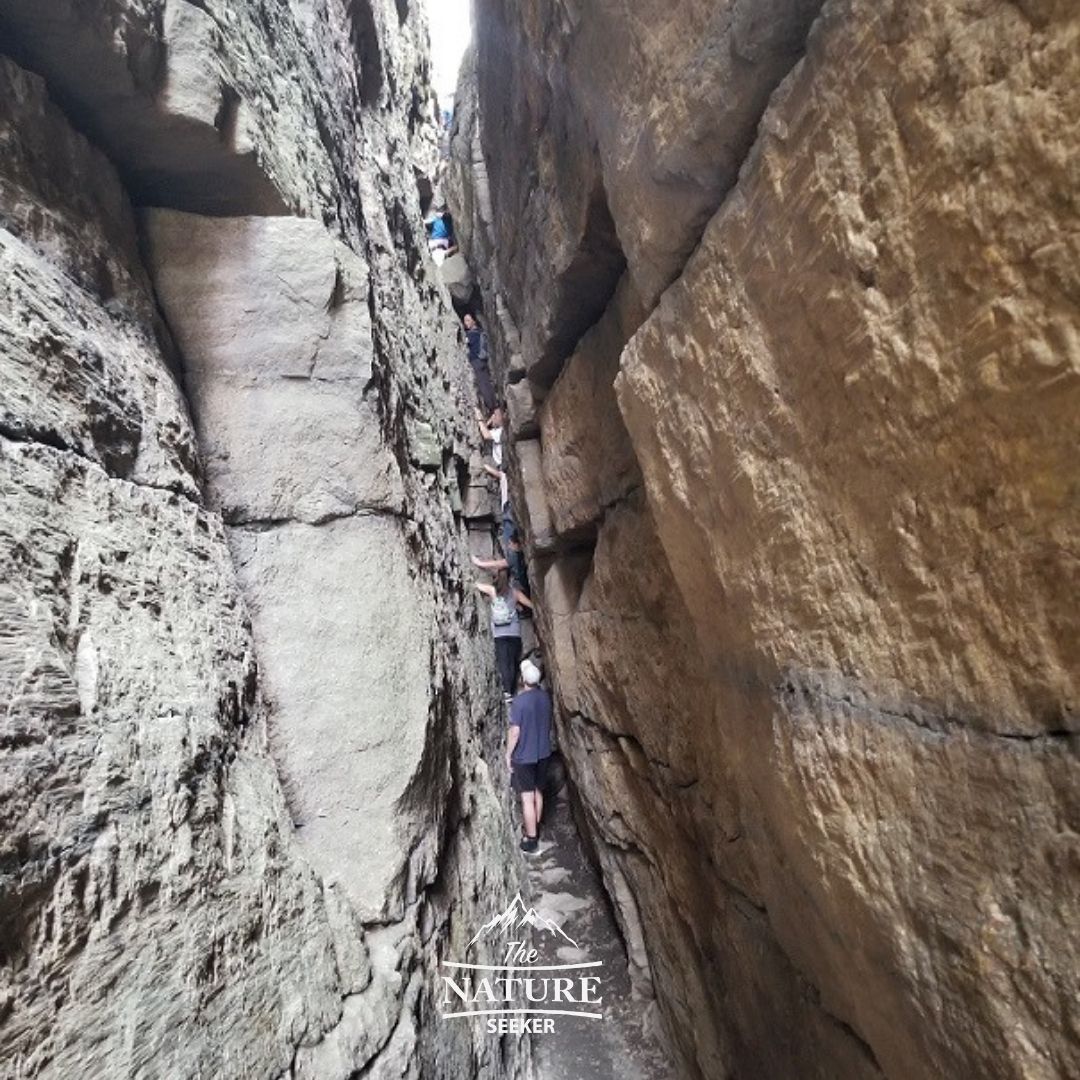 It is A LOT of fun and it's no wonder that it's considered one of the most popular hiking trails in the Catskills.

Now the problem is that the directions I was told to follow while there, actually led me into a completely different area, away from the Skytop tower where I was supposed to meet my mother and because I wasted so much time going in the wrong direction, I didn't get a chance to see the Skytop Tower (she did).
Luckily both our cell phones were working so I was able to tell her the situation.
If you're wondering how it's possible to get lost on a parallel trail, I'll tell you.
I was told to follow the red line markings in the rocks on the labyrinth trail and I did just that.
Throughout my hike, I was walking past other hikers who said I was close to the tower, but then, the red lines took a turn AWAY from the labyrinth, but being that I didn't see any other lines, I followed those and they led me into a forest.
This trail was probably an entrance from another point in the forest that I took and it led me to a road where I actually ran into other hikers who also got lost and were led into the same road.
Eventually, I figured it would take me too much time to get back and decided to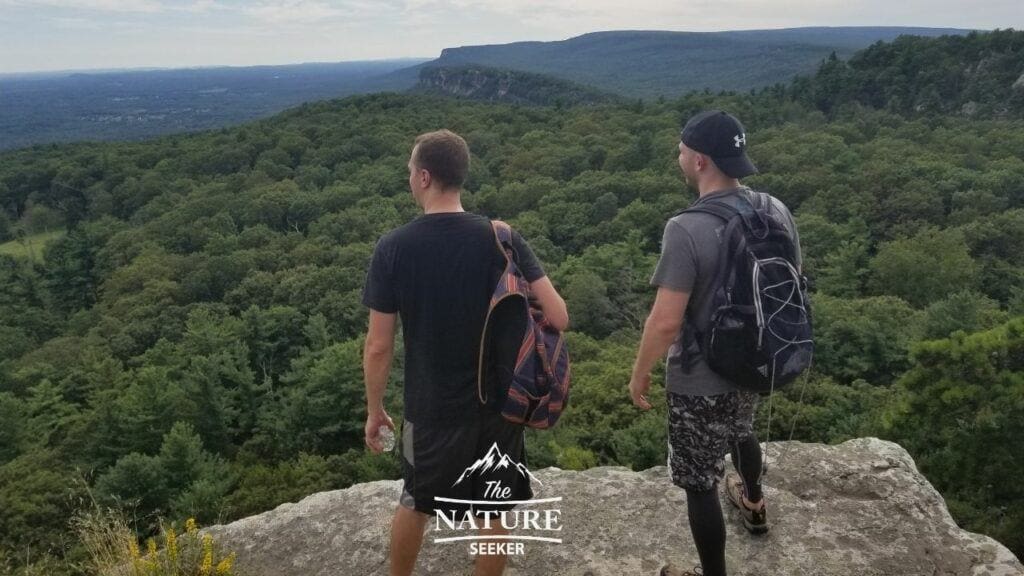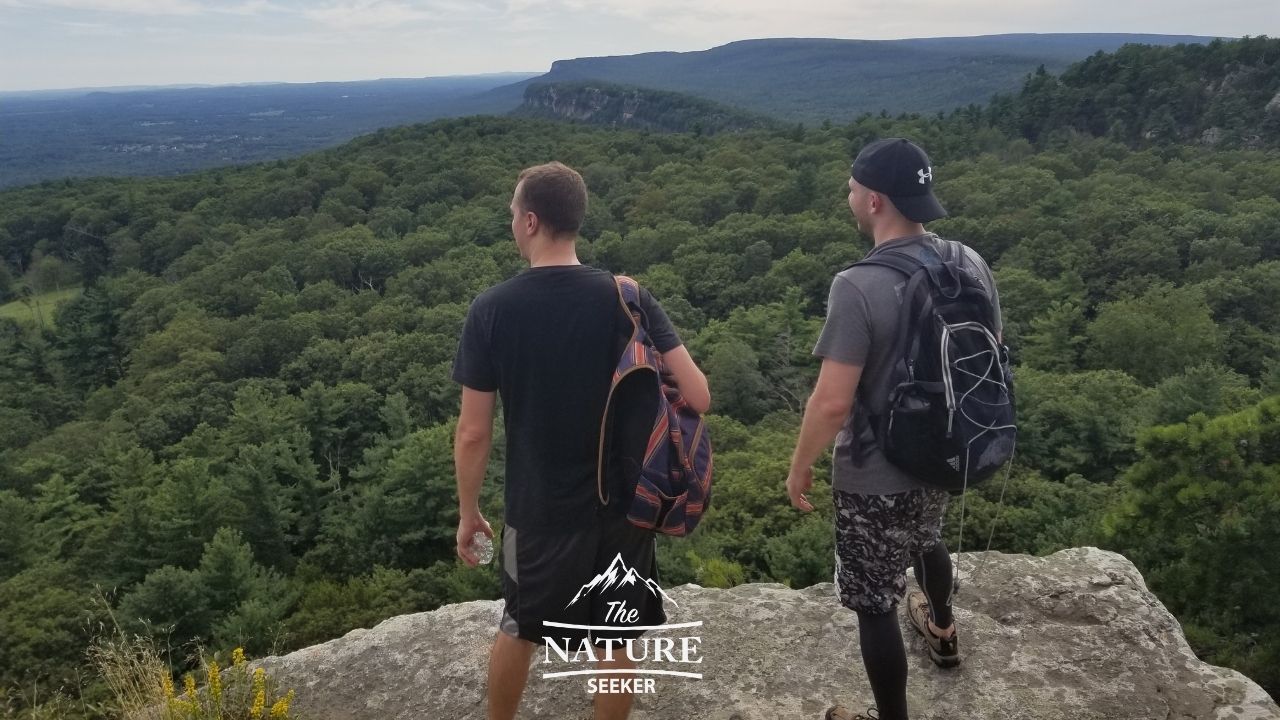 just backtrack. The red X you see on the map to the right is where I finally stopped and turned back.
Also, one thing I didn't really like was how horrible the map of Mohonk Preserve was drawn. It was very tough to figure out where I was, so the only way I could safely get back was to just hike back through the Labyrinth again. 
So if you decide to do this trail too, don't let the red lines which obviously lead away from the path, lead you into it. Stick as close as possible to the trail, and it will take you out to the Skytop Tower.
Luckily the second time I did this hike, I got it right (it wasn't difficult), and the beginning and end of this short, but challenging hike are totally worth it. You WILL be challenged especially towards the end with the Lemon Squeezer section of the Labyrinth.
One thing to note about that part is that it's commonly confused with the Lemon Squeezer hike on the Appalachian trail and these are 2 entirely different hikes (though not far apart).
But at the end, there is this awesome view that you get of the Catskills.
5) Skytop Tower: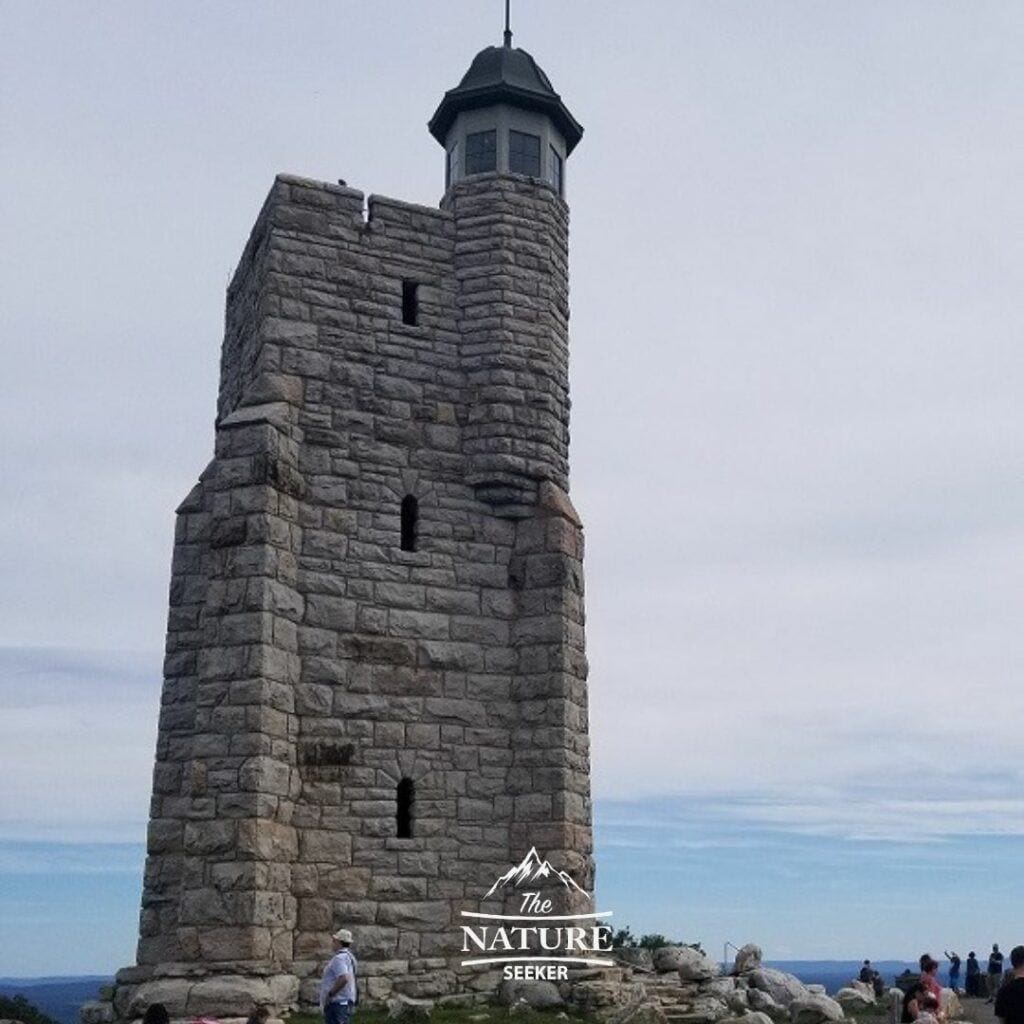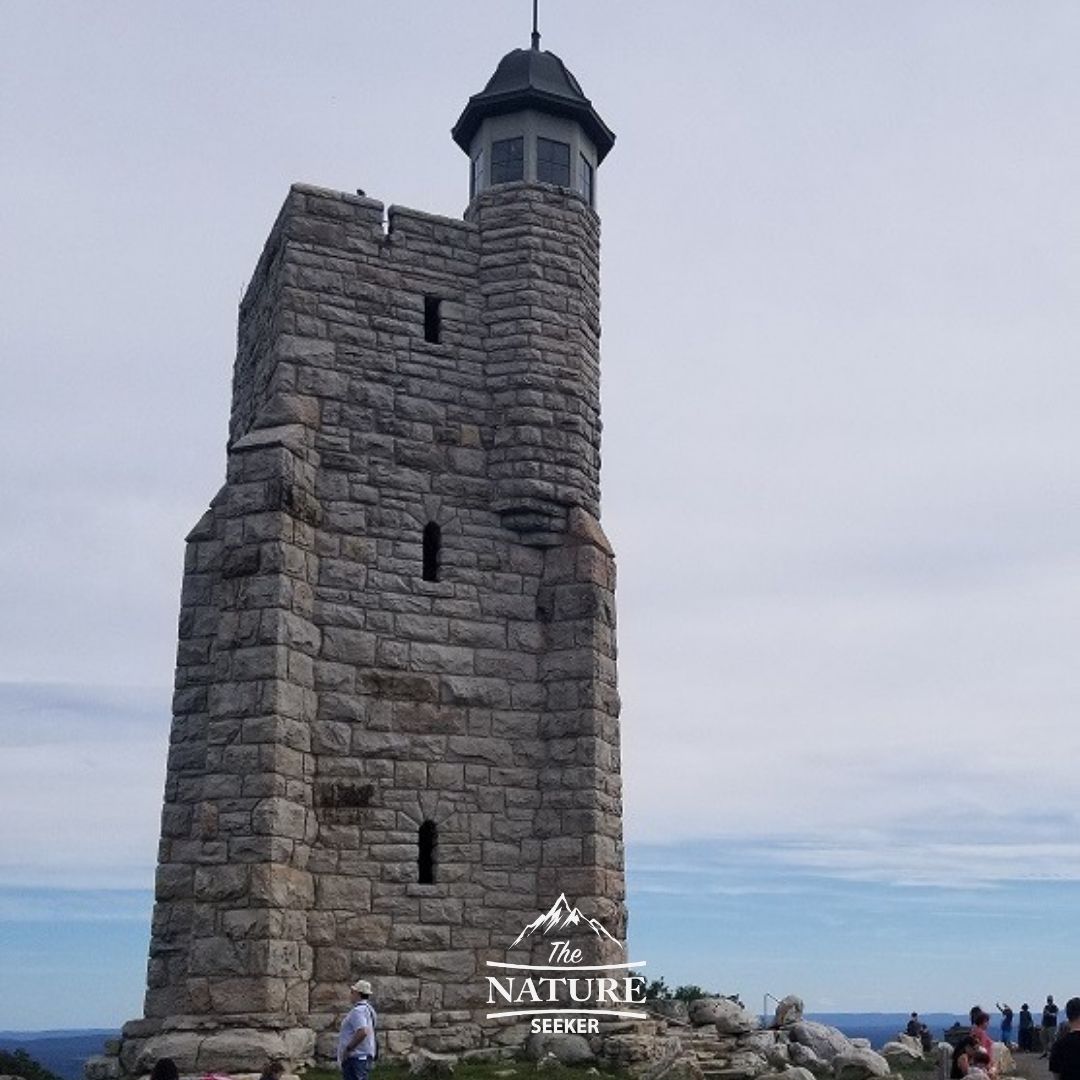 This is probably one of the most popular scenic overlooks in the entire Preserve as it's located at the top of the Mohonk Mountain.
You can see the hotel, and areas beyond the Preserve too, although I did also see many of these areas, while I was in the Labyrinth.
Like I said, the first time I visited, my mother did reach this location and she said it did look nice, but she didn't stick around for long, and we eventually met back at the bottom of the trail, where we originally split up.
But thankfully my second trip had my friend and I who did the Labyrinth hike again, reach it. 
Overall, our one day trip to Mohonk Preserve lasted for about 7 hours and we left, heading home, but not before visiting other locations not far from it.
It was enjoyable, but for me personally, I enjoyed other areas away from Mohonk.
I've had several opportunities to go there again throughout the years afterwards, but always ended up passing it and going to places like Widow Jane Mine and the Catskills.
Now for the next 2 things on the list, you will have to exit out of the Mohonk Mountain House region and head over to a different part of this area:
6) Split Rock at Coxing Hill (a swimming hole in Mohonk Preserve):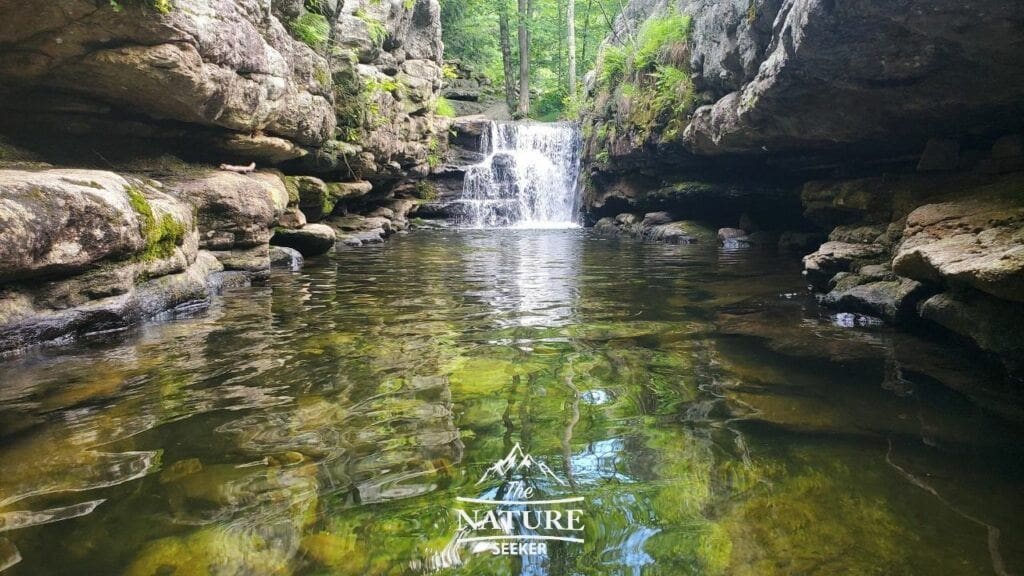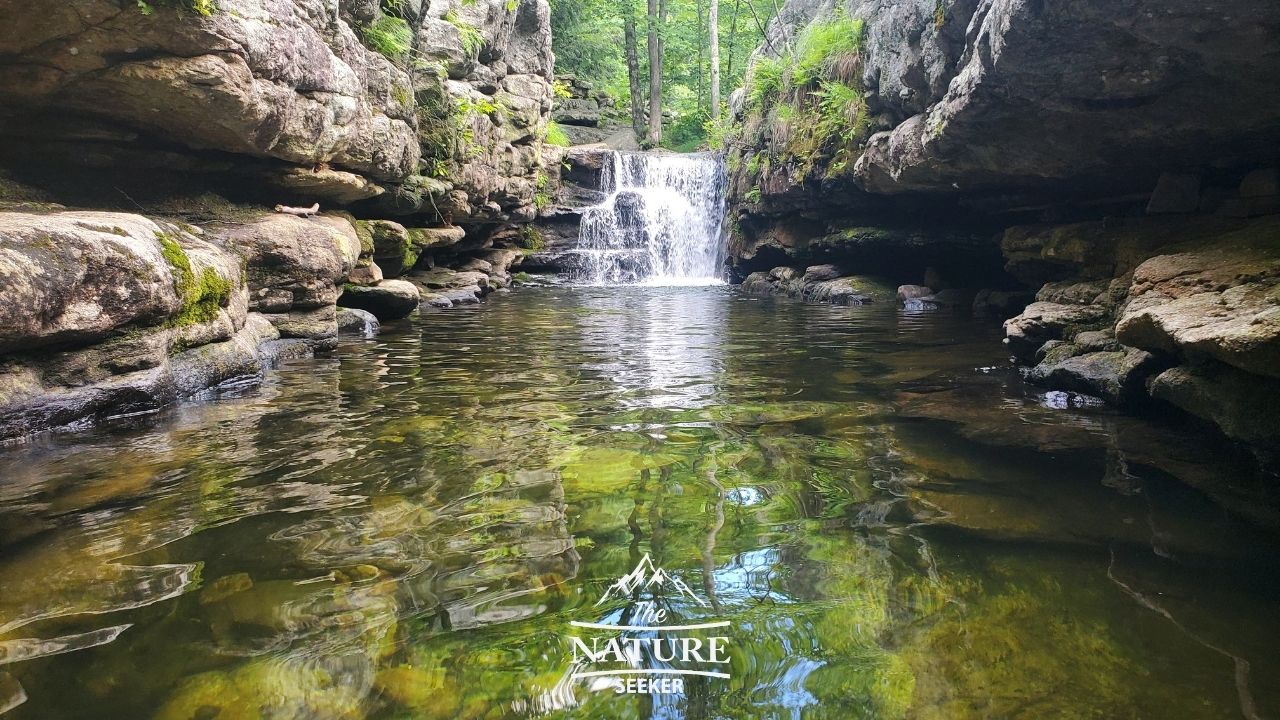 I had a chance to see the Split Rock swimming hole recently and it's also part of a list I made for the best swimming holes in the Catskills.
It's a small swimming hole area and is often crowded, but worth visiting if you enjoy swimming holes.
There's a small gorge you can swim through with a waterfall at the end of it (as the picture shows).
Cliff diving is not possible here as it's very shallow, but never the less, you can cool off in this swimming hole after a nice hike, and it just so happens, the next thing on this list is a perfect opportunity for that:
7) Do the Lost City Loop trail (It's an incredible hike):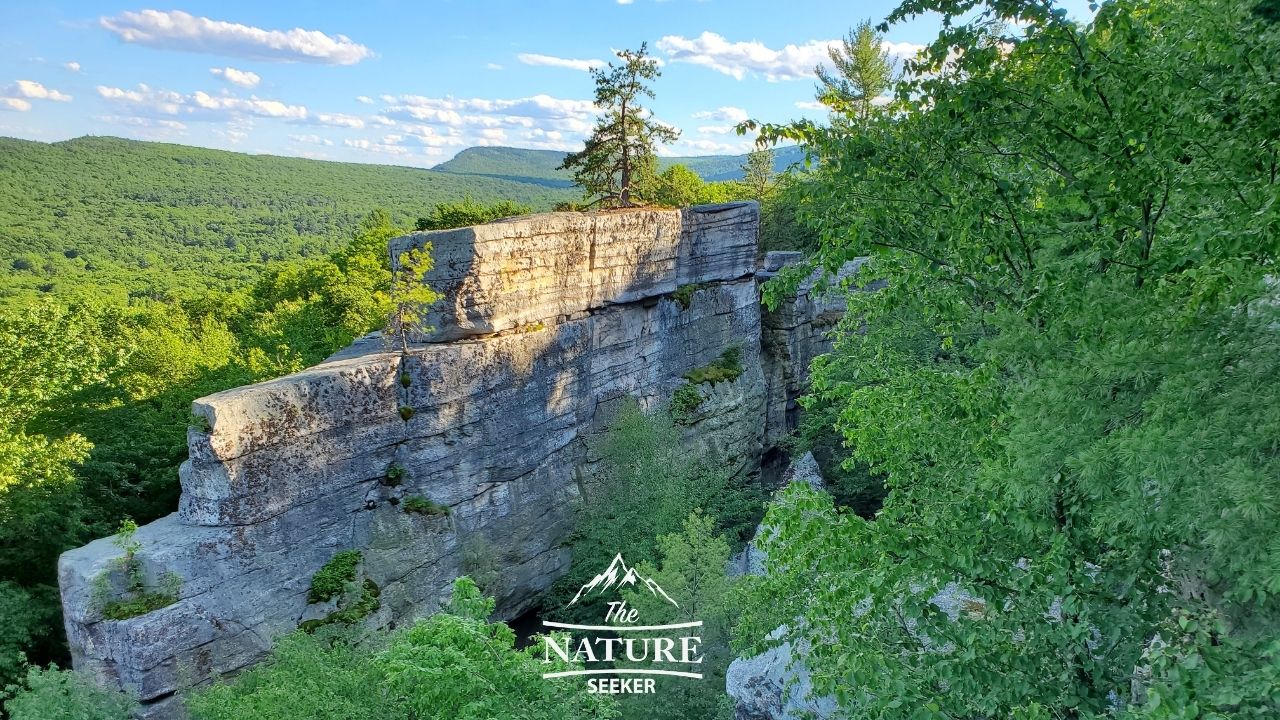 After doing a short swim in Split Rock Swimming hole, I went back to my parking lot and discovered that a beautiful hiking trail was right by the parking area where I left my car.
I decided to explore it and it's called Lost City Loop which turned out to be an amazing trail.
It takes you through many gorges, nice hikes and cool overlooks that really do look like a lost city.
The hike it only about 2-3 miles but was a perfect trail to finish my day hike in Mohonk Preserve. Overall this hike is very scenic and is anywhere from beginner to moderate.
Hiking at Mohonk Preserve, what I recommend wearing and bringing in general:
Questions about Mohonk Preserve:
How much does it cost to hike Mohonk Preserve?
To hike at Mohonk Preserve, you first need to enter the official parking area and it's $26 per person to enter.
How long is the Mohonk Preserve trail?
Every trail in Mohonk Preserve varies from being a few miles to over 10.
How many trails are in Mohonk Preserve?
There are close to 50 hiking trails at Mohonk Preserve.
Can you hike at Mohonk Preserve?
Yes, the most popular trail is the Labyrinth which has you see amazing sights of the Mohonk Mountain House, Skytop Tower and incredible views of the Catskills.
More adventures available near Mohonk Preserve:
1) Sam's Point (pretty cool hiking with caves).
2) Lake Minnewaska State Park. Has beautiful trails and waterfalls that are great for family adventures.
3) The Catskill Mountains. Its an hour north of Mohonk Preserve.
4) See this list of 10 day hikes near NYC which is not far from Mohonk Preserve.
5) There's also a list of 10 waterfalls across New York State I recommend checking out.
6) Breakneck Ridge. An awesome hike about an hour away from Mohonk Preserve. It's almost as fun as the Labyrinth and a bit longer and also is park of Hudson Highlands State Park which itself has many things to check out too.
7) Harriman State Park. Great park south of Mohonk Preserve!
8) Hudson Valley hiking trails. The Hudson River is east of Mohonk Preserve, but it features many beautiful hikes (and parks) to check out.