I've fully hiked the Bonticou Crag trail in Mohonk Preserve and in this post want to share with you not just my experiences, but also important things to know before you hike it too, including tips for completing the famous rock scramble there.
The hike is good but it's not recommended for everyone, and this post will help you understand what to expect and in addition to that what else you can do in the area before, after or perhaps even instead of this trail (that's just as fun) if you feel that Bonticou Crag isn't for you.
Quick info on the Bonticou Crag trail:
Name: Bonticou Crag.
What is it? Bonticou Crag is a mountain peak you hike to in Mohonk Preserve.
Location: Mohonk Preserve NY.
Distance: 2.5 mile loop.
Difficulty: Moderate (rock scramble area is hard).
Cost to get in? Yes, $15 per person.
Rating: 4 out of 5.
Recommended? For me, it was a good one time hike. The trail is pretty scenic in some areas, but boring in others, the rock scramble was the most fun part for me, but it was too short and I think there are much better trails in Mohonk Preserve and nearby areas that are better (I'll talk about them more below).
5 things to know about the Bonticou Crag trail in Mohonk Preserve:
The hike is very short (only 2.5 miles).
The rock scramble is short, fun, hard, and a bit dangerous (small kids, dogs, injured people shouldn't go).
The rock scramble is only 10% of the hike. The rest is scenic summit and forest walks mostly.
I recommend adding on the Table Loops trail which is connected to Bonticou Crag (5.5 miles total, details below).
There are very fun, more scenic and fun trails near this area (also explained below).
Now with all that said, let me go over what to expect as you do the Bonticou hike.
Let's start with the Bonticou Crag map: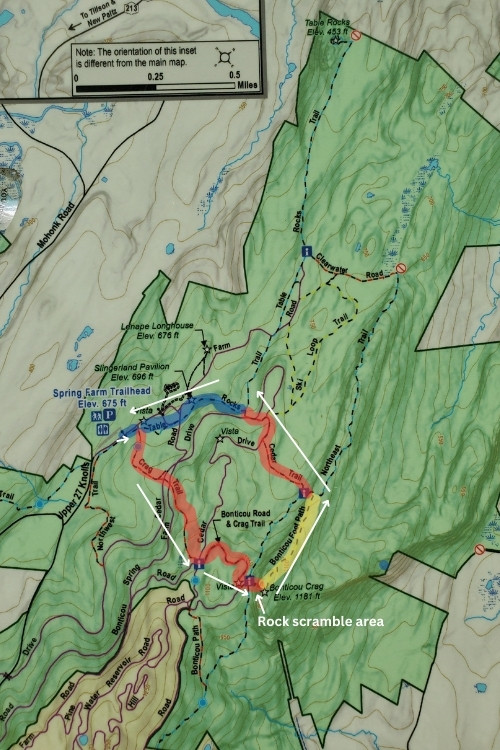 I've highlighted the 2.5 mile loop trail for you. There are some trail colors you will have to switch to throughout the loop do this, but overall the markers are easy to see and there are signs showing you which way to proceed to get back to the parking lot where you start (little risk in getting lost in the woods).
Further below, I will be showing you how to add on the Table Rocks Loop trail if you want to do a longer version of this hike, which connects Bonticou Crag and Table Rocks, making it a 5.5 mile hike. It just adds more scenery and things to do see and do on this trail (starts and ends in the same spot too).
1) Starting on the Bonticou Crag trailhead:
Here's the official trailhead to Bonticou Crag. It's actually called Spring Farm Trailhead in Mohonk Preserve. Keep this in mind because there's actually a Google GPS to Bonticou Crag that does not take you to the right spot (as I found out).
As you enter this area, you will cross a booth to pay $15 per person. They'll give you a map and ask you which trail you plan to do and will give you tips and recommendations. You may also get stickers to attach to your hand (it's like a ticket).
2) Starting the Bonticou Crag trail:
After you park your car, you'll walk up to the road you drove on, up steps and onto a blue trail called Table Rocks trail (it'll be parallel to the road). You'll only walk on this trail for about 200 feet before you turn right and begin the Crag Trail (red marker) and this is the trail that you'll follow for the next 1 mile.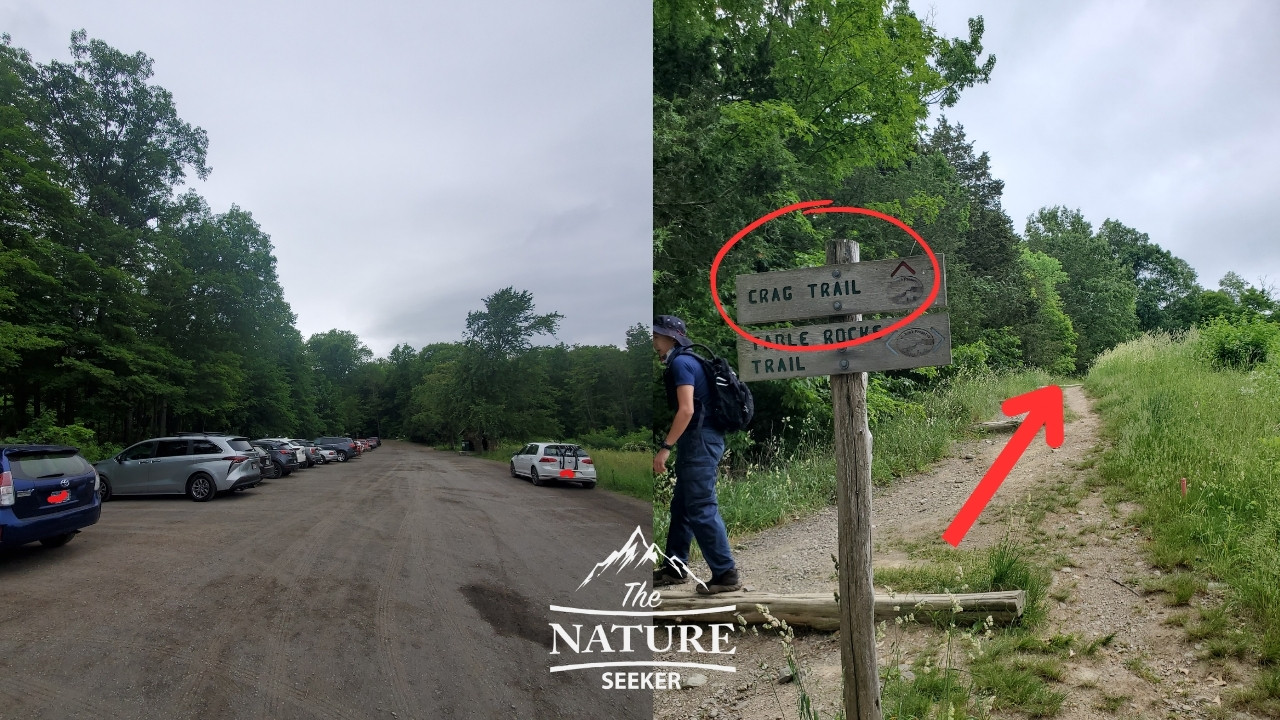 As you are on the trail, you will come across some paths and even pass by mountain bikers. Make sure to stay on the red path as it will zigzag around the area until you reach the scramble area.
3) Reaching the Bonticou Crag rock scramble area (500+ feet up, tips and what to expect):
Once you reach the rock scramble area, it can look very intimidating if you're afraid of heights, and it is about 500 feet (mostly up). The good news is that the same red trail markers are easy to spot so you will be shown how to navigate it correctly.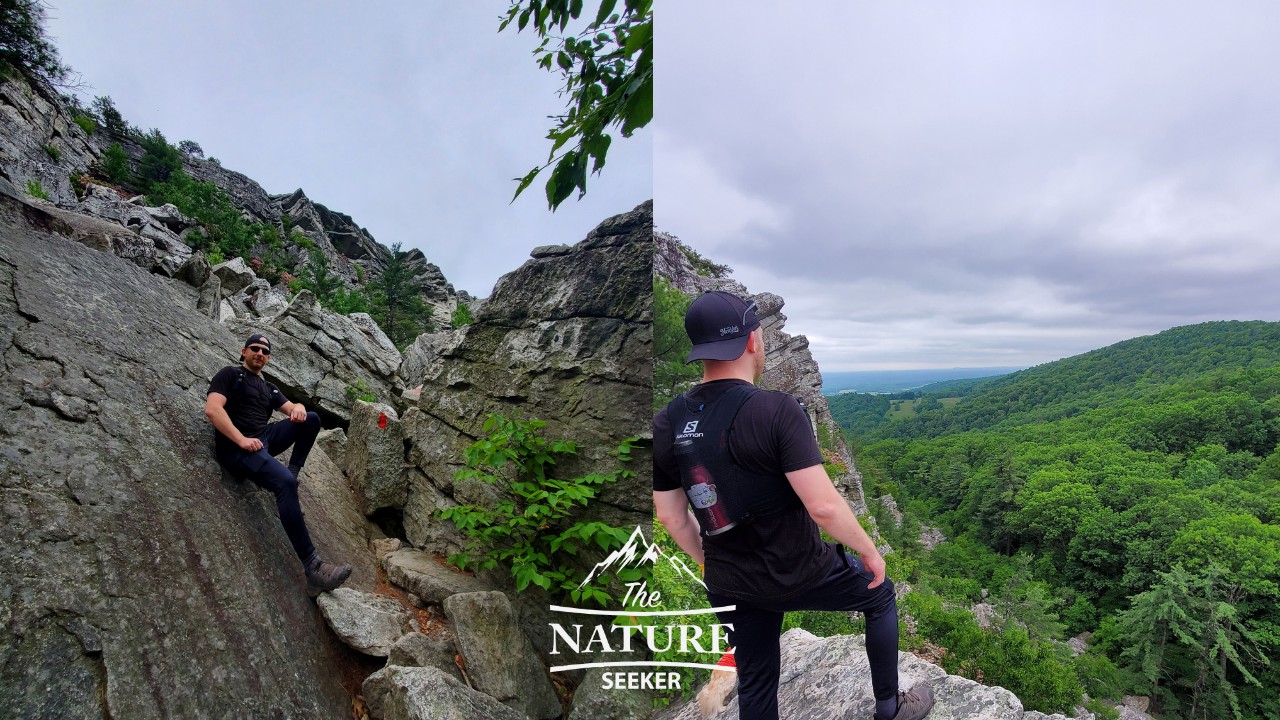 Here are some tips to help you with the rock scramble:
Don't bring trekking poles here (unless you can fold them). They will get in the way here.
Take your time on this part of the hike, it's pretty strenuous with huge boulder scrambles.
If you love scrambling, you'll love this part of the hike (I did).
It's not crazy steep here, but because the incline is steep, it'll feel that way.
I would not bring dogs or little kids here.
There is 1 climbing area near the top which can be intimidating so if you have someone else with you, ask them to help you (my friend and I helped a couple in this area with their dog).
Tip: You can also avoid the rock scramble and still reach the top of Bonticou Crag.
Start at the same

Table Rocks trail

.
Turn right on the same Crag trail.
You'll cross the same Table Rocks again, take it to the Bonticou Footpath trail (yellow).
The

yellow trail

will take you to the top of the rock scramble area (without having to do the rock scramble).
Return the same way (in and out trail, instead of a loop).
If this confuses you, then you can ask about the footpath trail (or how to summit Bonticou Crag without doing the rock scramble) at the gate you cross. Another option is using Bonticou Crag map on Alltrails and doing the path clockwise (counter clockwise is the path to the rock scramble). You can also find other versions of this hike on Alltrails in general.
Here's a map of Bonticou Crag hike without the rock scramble:
You just have to look for the yellow footpath sign and follow that up to skip the scramble. Remember, you can also ask about this at the front gate area just in case. That will take you up and then you'll turn left at the Northeast trail back to the Crag trail, then head back to the parking lot.
4) Finishing the Bonticou Crag trail (post rock scramble):
If you followed the red Crag trail, you will have done the rock scramble and once you get to the top, you will have beautiful overlooks of Mohonk Preserve.
You will also see the yellow Bonticou footpath path sign (pointing left) which you will then follow to continue the loop. Before you do it though, you can also briefly turn right to see more beautiful overlook areas, but once you're finished there, just get back on the yellow path to continue.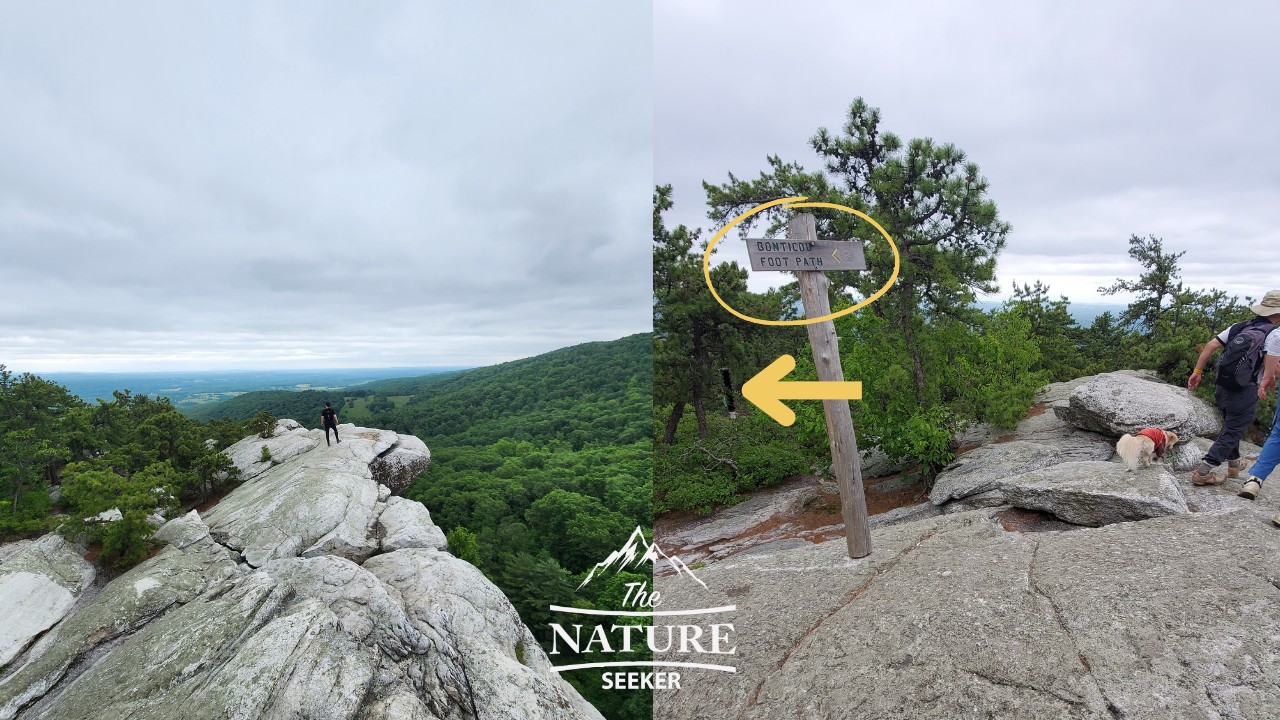 It'll be a steady decline in elevation from here and about 1/4 mile into it, you will come across another fork:
Option 1 (to finish the loop): At the fork, turn left, go through the Cedar Trail (Red), follow it to the Table Rocks trail, turn left, return to the parking lot.
Option 2 (shorter option to finish the loop): At the same fork, continue straight to the Northeast trail, a different blue trail (you'll see a sign saying it takes you to the parking lot). That'll take you back to the Crag trail (this is not the same red Cedar trail) which you will turn left on to get back to the parking lot.
Either one you choose, it'll take you back to the starting point. You can elect to do see a few new places if you choose option 1, vs option 2 which circles you back to the Crag trail.
5) Option 3, doing the Bonticou Crag and Table Rocks Loop (bonus hike, 3 plus mile add on):
At the same fork from above, if you turn right, you'll be on the blue Northeast trail but because you turned right (left would have taken you to the Crag trail), it'll take you towards an area called Table Rocks.
Let's start with a map of this loop: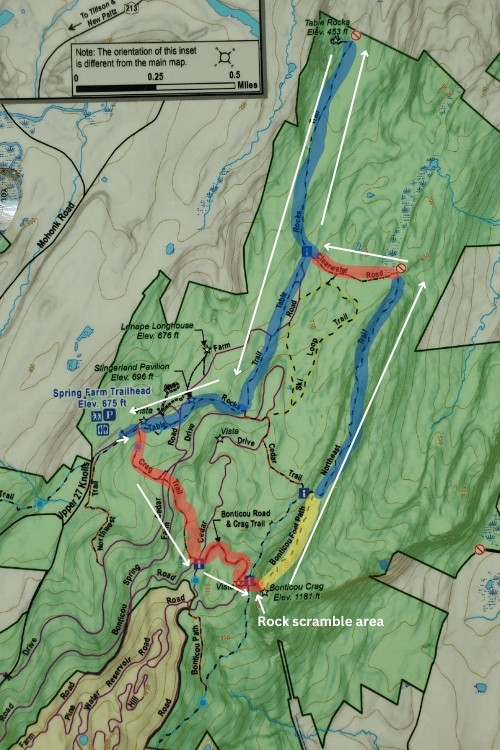 As you can see, this makes the hike almost 3x as long, but it does add a lot more value to it in my opinion which is why I recommend it. In any case, here's what to expect:
After you turn right at the above fork, 1/2 miles into the Northeast trail, you'll come across a 4 way fork.
Turn left (onto a red trail called Clear Water Road).
Follow that red trail for 1/4 miles until you come to the next fork.
Turn right at the fork (a new blue trail

called the

Table Rocks Trail).
Follow the blue Table Rocks trail to the Table Rocks area.
This will take you on a short loop around the Table Rocks.
You'll then return back to the red trail, Table Rocks trail 2 way fork from before.
On the fork, turn right and follow the Table Rocks trail (not the same as the Table Rocks area) back to the Springfield Parking lot.
On the way, you'll walk across fields and beautiful areas so there will be more to see.
Note: Do not mistake the Northeast Trail (blue) with the Table Rocks trail (a different blue path). They are the same color, but are totally different trails.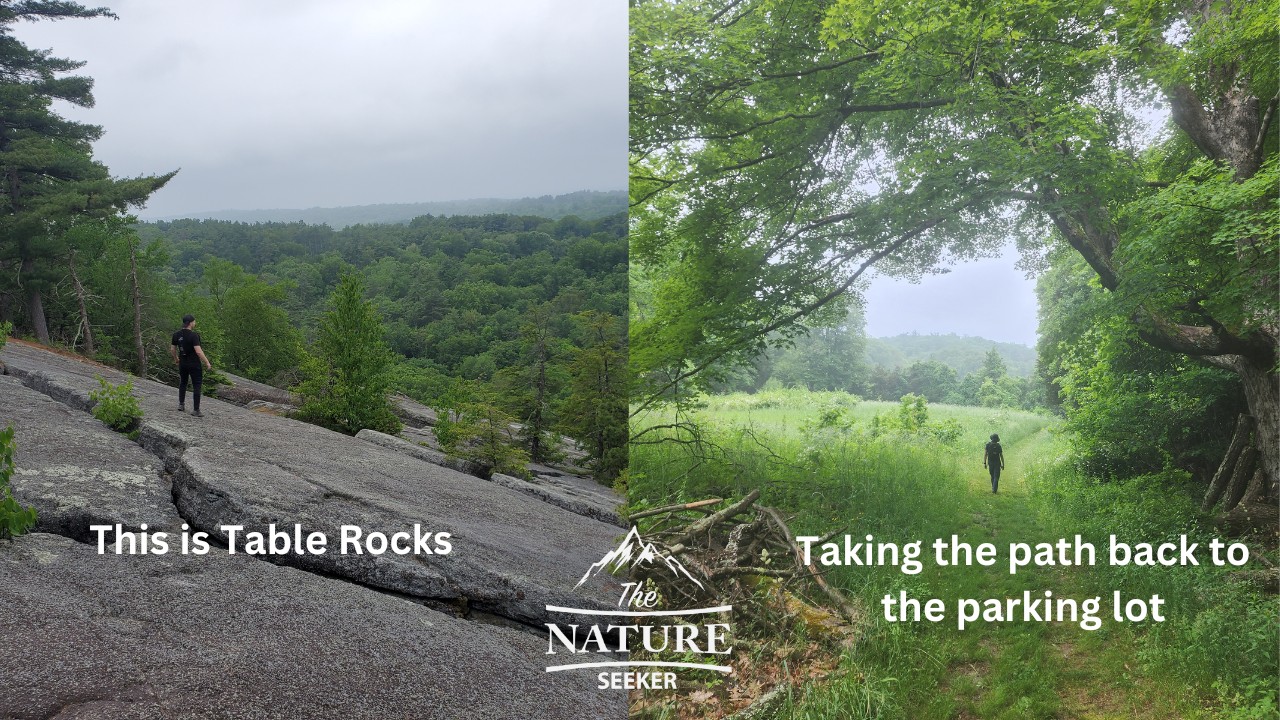 The add on hike itself is OK and scenic in several areas. Table Rocks is basically a giant combination of giant boulders with cracks in between which actually look like slot canyons on the inside, stuff that reminded me of the Nelson Kennedy Ledges State Park area, but the difference here is that I would not recommend going in because it's dangerous. You'll just walk atop the rocks, then head back on the blue trail.
Other questions about Bonticou Crag:
How hard is the Bonticou Crag?
The overall hike is easy, but the rock scrambling area of Bonticou Crag can be hard for a lot of people. You can also trails that avoid it and still check out the hike.
How much does it cost to go to Bonticou Crag?
It costs $15 per person to get into the Bonticou Crag parking area to start the hike.
Other things to try after, before or instead of Bonticou Crag:
1) I would recommend exploring more of Mohonk Preserve if you haven't already. It has more hikes and things to do that I showcase in that article.
2) Try the Labyrinth hike which is deeper into Mohonk Preserve (you need to pay an entrance fee).
3) I also recommend the Lost City Loop hike that has some scrambling and a cool swimming hole not far from the area.
4) I would highly recommend checking out Lake Minnewaska State Park and specifically the Getrude's Nose Trail. I personally think it's better than Bonticou Crag (no crazy rock scrambling here).
5) See Sam's Point Preserve if you have the time. It's not far from this area either and it has a pretty cool attraction called the Ice Caves which are fun to hike through.