There's at least 5 awesome things to do in Sam's Point Preserve NY and in this post I want to share them all with you as someone who has personal experience with that.
Quick info on Sam's Point Preserve NY:
Name: Sam's Point Preserve.
Location: Upstate New York, right next to Lake Minnewaska State Park.
Things to do: Hiking, picnics, ice cave exploring, lake views, waterfalls, sunsets and more.
Family friendly? Yes.
Are dogs allowed? Yes.
Can you explore Sam's Point in a day? Yes.
Rating:

4.5 out of 5

.
Recommended? Yes, Sam's Point is a great spot to visit, although I personally believe the neighboring parks are worth exploring more (Lake Minnewaska and Mohonk Preserve).
Things to know before you visit Sam's Point Preserve:
Sam's Point is part of the Lake Minnewaska Preserve area, but has it's own fee to enter.
There is a $10 car fee to get there.
You have to reserve a parking spot online if you visit on weekends (from April 15th-November 15th).
There is a visitor's center with maps and bathrooms available.
To get the most out of your visit to Sam's Point Preserve (doing most if not all 7 things on the list), I recommend coming here early in the morning.
The last thing I recommend understanding is the layout of Sam's Point which is basically a gigantic plateau you hike up to via 1 main trail. Then off that main trail is where you access most of the activities on this list (the trail is a 5 mile loop).
The 5 best things to do in Sam's Point Preserve:
Do the full Sam's Point loop trail.
Explore the Sam's Point ice caves.
Check out Lake Maratanza.
Hike to Verkeerder Falls.
See the sunset views from Sam's Point overlook.
Some people might think that these 5 activities aren't a lot of things to do, but it's really a lot and you're looking at about 15 miles of hiking, waterfall exploration, amazing cave hikes and more and that can make for an awesome full day of exploration of this place.
1) Hike the full Sam's Point loop trail: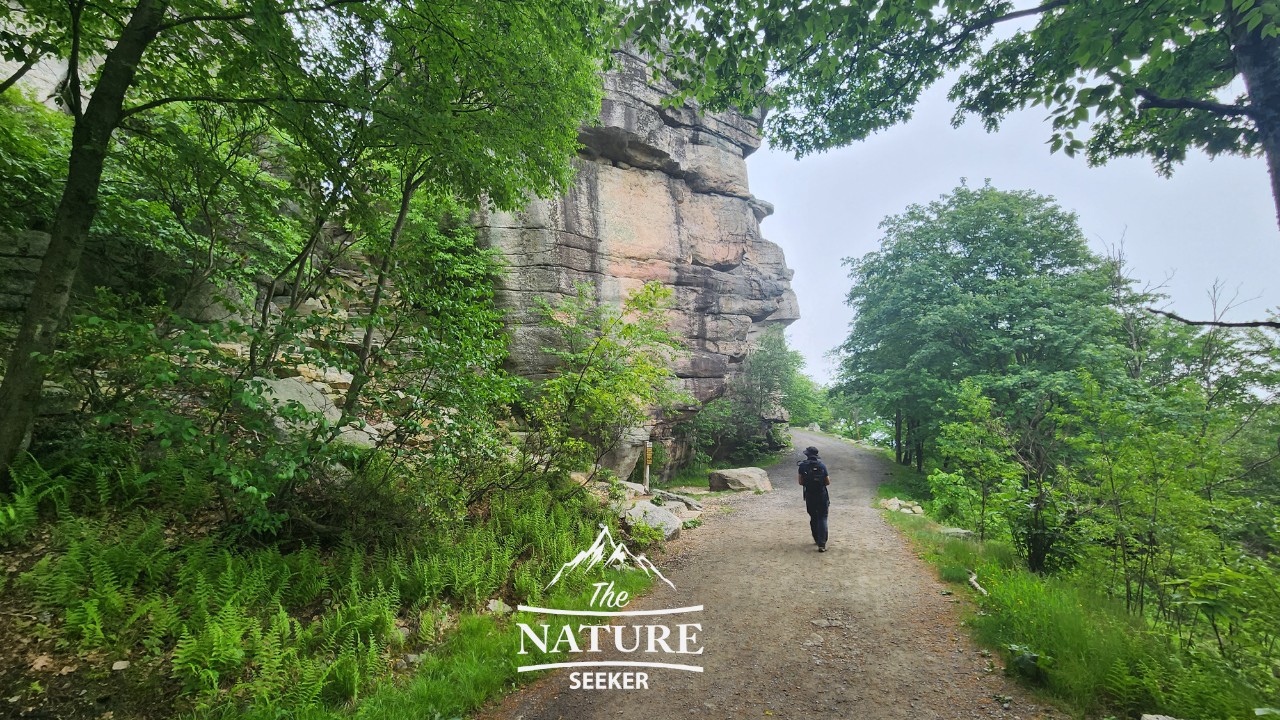 Description:
This is the main 10 mile hike in the area (it's called Sam's Point Fat Trail) which takes you to the top area of Sam's Point and then around the whole region. While on the summit part of the trail, you will also see signs for the other activities on this list (the ice caves, the waterfall trail, etc…).
When you first start on the trail, you will have 2 options (left or right). It doesn't matter which way you go because you will just come back from the other exit anyway because it's a loop.
The hike itself is a little boring for the first 1/2 mile but once you reach the summit area (where you will find Sam's Point Overlook), that's where it gets very scenic. If you want to fully go through Sam's Point, this is the hike you will want to do.
2) Hike the Sam's Point Ice Caves: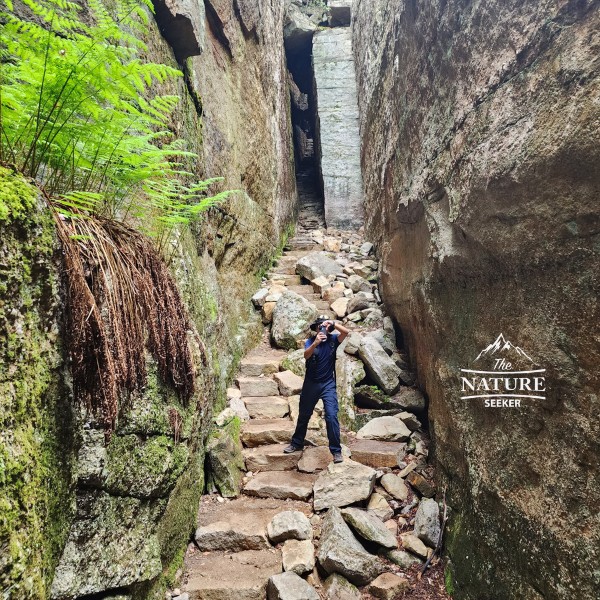 Description:
Out of all the activities to do at Sam's Point, the ice cave hike is arguably the most popular. It's about a 1/4 mile loop hike that takes you into a cave and slot canyon area.
Although there is a sign before you begin about how difficult this hike is, I personally didn't think it was tough because most of the path is easy to walk on. There are stone steps, boardwalks and even lamps inside some of the caves to show you where to go.
There are also 2 things you should know about this attraction:
1) The ice caves at Sam's Point close around winter time and reopen in late May. Trust me when I say you won't be able to get in during winter as they put up a huge metal fence that you just can't pass through.
2) If your main goal with Sam's Point Preserve is to see the ice caves, when you start on the main loop trail, turn right as it's only about 1.2 miles from there. If you go left, you will have to about 4 miles before you reach it.
3) When you exit the caves, there is an amazing unofficial overlook area to check out.
3) Explore Lake Maratanza: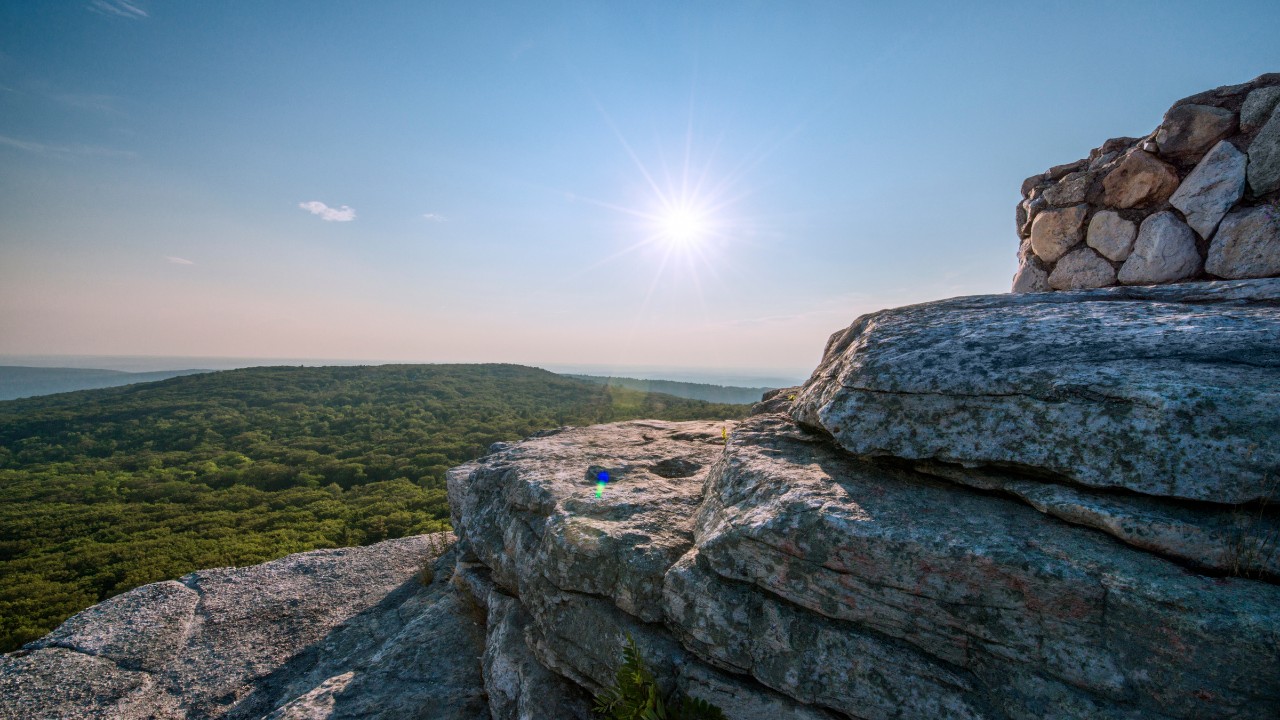 Description:
This is a small lake you will pass by as you do the loop trail. It's about 2 miles into it (if you go right on the start of the trail). The lake has some nice scenery, but overall it's just an additional spot to enjoy while you do the main loop hike.
Although it isn't deep there, just know that you can't swim at Lake Maratanza but it's a great stop to make if you do the full loop hike as it mixes up what you see there.
4) Hike to Verkeerder Falls: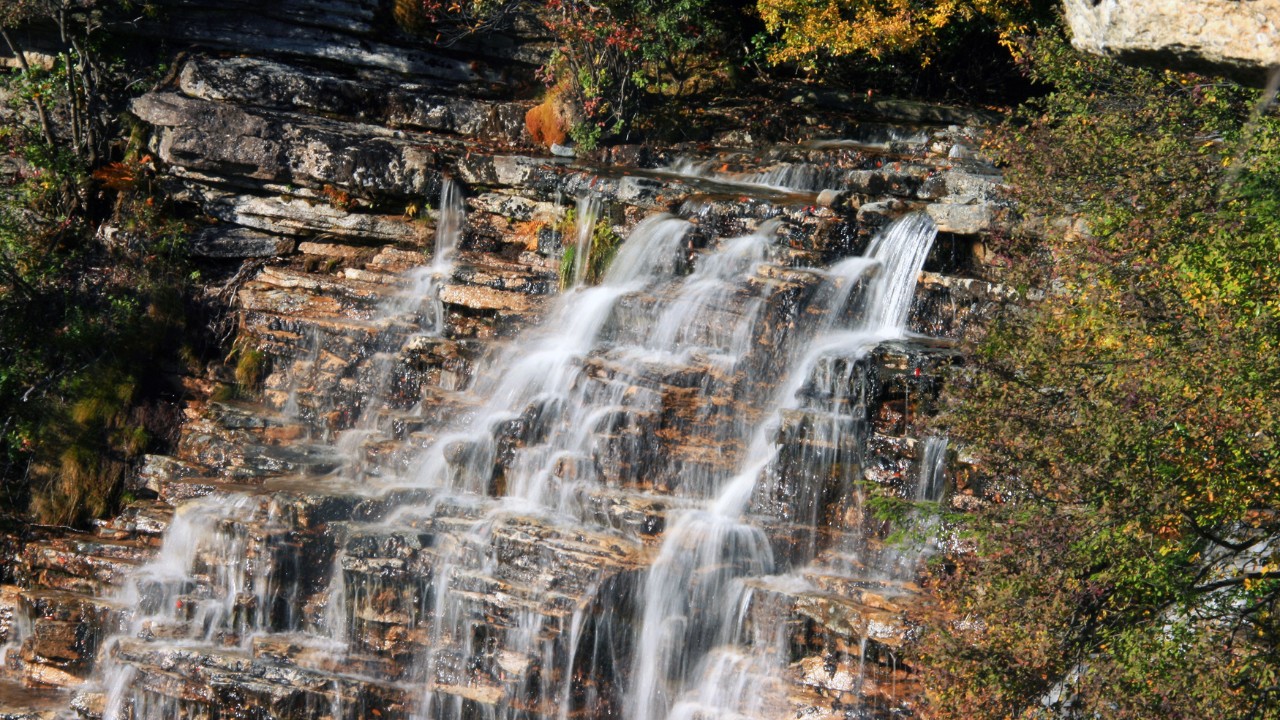 Description:
This is another side hike off the main Sam's Point trail to a huge waterfall (it's about 200 feet high). To get there, while you are on the main trail, you will head towards the ice caves hike that is off the loop and while on it (before you reach the ice caves), you will see signs to go to Verkeerderkill Falls.
The overall hike distance (from the parking lot) is about 8-9 miles and moderate because of the distance. There isn't any crazy scrambling or difficult hiking involved. You can do this trail one of two ways:
Start in the parking lot, get to the waterfall, then go back the same way (7 miles).
Start at the parking lot, get to the waterfall, return to the loop, finish the loop (8-9 miles).
You can find this waterfall trail on

Alltrails

.
If you like gigantic waterfalls like this, then I would also recommend you see my list of the best waterfalls in New York which has even better options.
5) Check out the sunset from Sam's Point Overlook: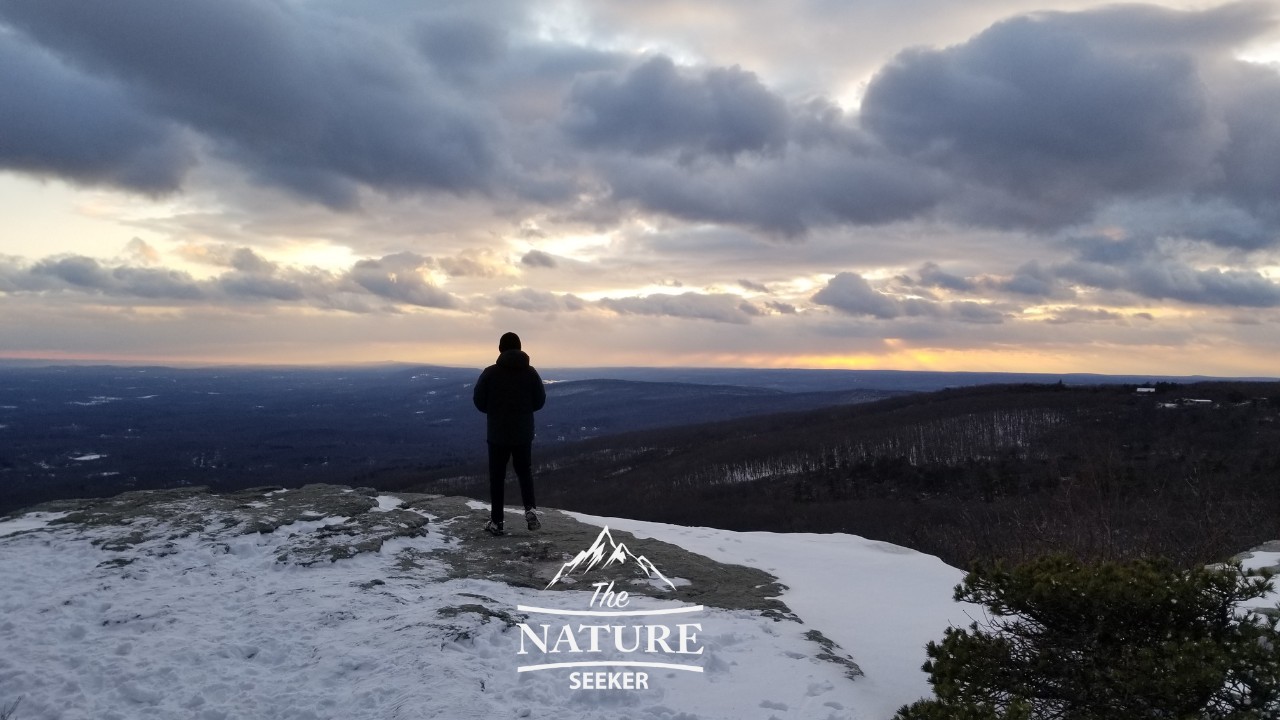 Description:
Sam's Point Overlook is great not just because of the actual scenery of upstate NY but also because of the sunset views there. This was something I was able to see on my first visit here, but timing it is important too.
Because Sam's Point Preserve closes at 8 pm every day, depending on the season, you have to get to this spot at the right time to catch it. If it's winter time, you can usually see the sunset around 4-5 pm. Spring and summer time, it'll be closer to 8 pm. The overlook area is very close to the parking lot (less than 1 mile if you turn right at the fork).
Here is a Sam's Point Preserve map (with every spot above on it):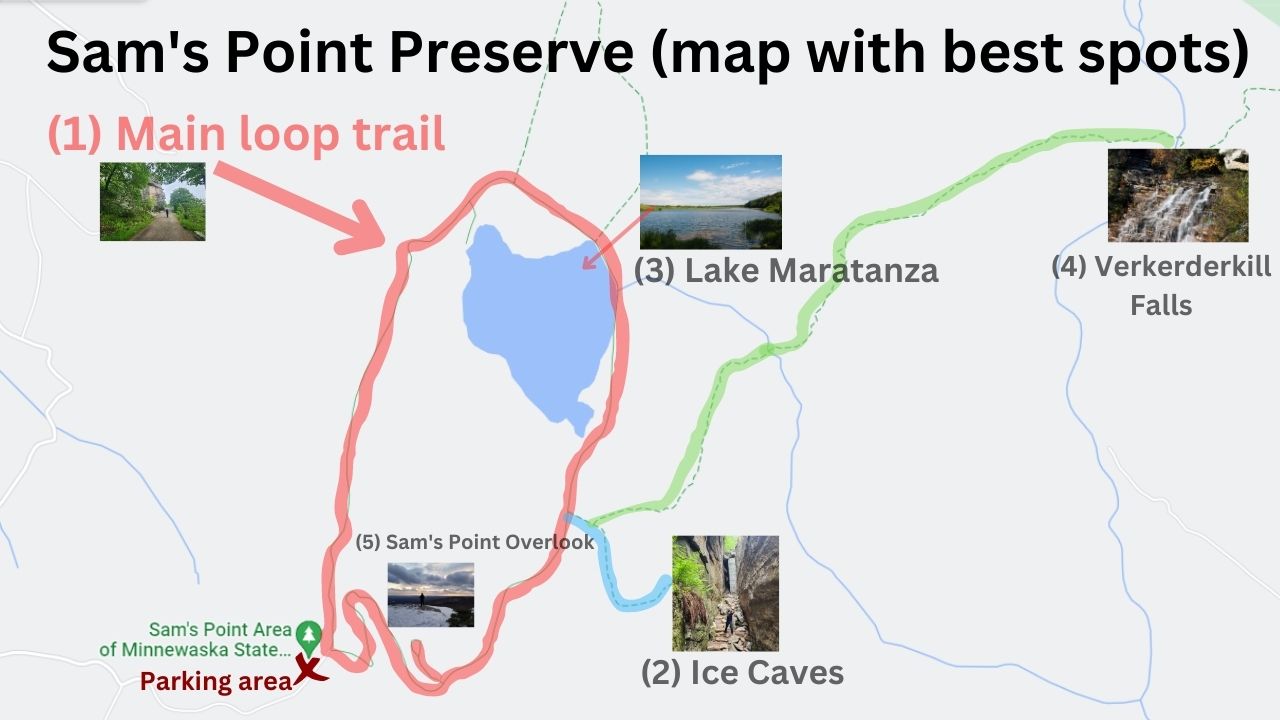 Other questions about Sam's Point Preserve:
How hard is the Sam's Point hike?
The main trail at Sam's Point is about 10 miles long. The hike to the top is moderate, but then very flat and easy at the summit.
Do you need a reservation for Sams Point?
Yes you do need reservations to park at Sam's Point but only on weekends or holidays between mid April to mid November.
Things I recommend you explore near Sam's Point:
1) Lake Minneswaska State Park. This is right by Sam's Point (15 minutes from it) and in my opinion there are way more fun trails and things to do there. For starters, in my opinion this is one of the best state parks in New York, they have an awesome waterfall, beautiful lake, swimming areas and way more to explore (like Gertrude's Nose, an amazing hike).
2) Mohonk Preserve. That is east of Lake Minnewaska (40 minutes from Sam's Point). It also has great trails (Lost City Loop, the Labyrinth, Bonticou Crag) and amazing historical sights like the Mohonk Mountain House. These are some of the best hikes near NYC I've done so far.
With these 2 places, you will have even more to see than in Sam's Point alone and because all 3 of these places are so close to one another, it's a great area to explore over a weekend trip.
3) Catskill Mountains. This is only about 1 hour north of Sam's Point but you will find many activities, hikes and bigger mountains to check out there.