The Hudson Valley has tons of amazing scenery and hiking trails to explore and as a New York City resident, I am ashamed to admit that it's taken me over 20 years to do just that.
However, I've been making up for that lost time this entire year and continue to discover more and more hiking trails in the Hudson Valley. In this post, I'd like to share the 10 which I consider to be the best.
Most of them will take you right by the Hudson River, while others are bit more inland. But what they all have in common is that they present awesome scenery, beginner-challenging hikes and an adventure you'll love to try, especially if you're a New Yorker.
Here are the 10 best hiking trails on the Hudson Valley:
Giant Stairs Palisades (4.5 miles).
Anthony's Nose (2-8 miles).
Reeves Brook Trail (3-4 miles).
Breakneck Ridge (3-10 miles).
Bull Hill Loop Trail (5 miles).
Storm King Mountain Trail (2.5 miles).
Bear Mountain Loop Trail (3-4 miles).
Little Stony Point Short Loop (1 mile).
Devils Path (Catskills).
Boulder Rock Trail (Catskills).
These are all great day hikes you can take outside NYC and even if you're just visiting, you'll be very surprised to know that just outside NYC lie some of the most amazing hikes you'll ever explore (trust me on that since I've been to many beautiful places).
Here is a map of the Hudson River Valley: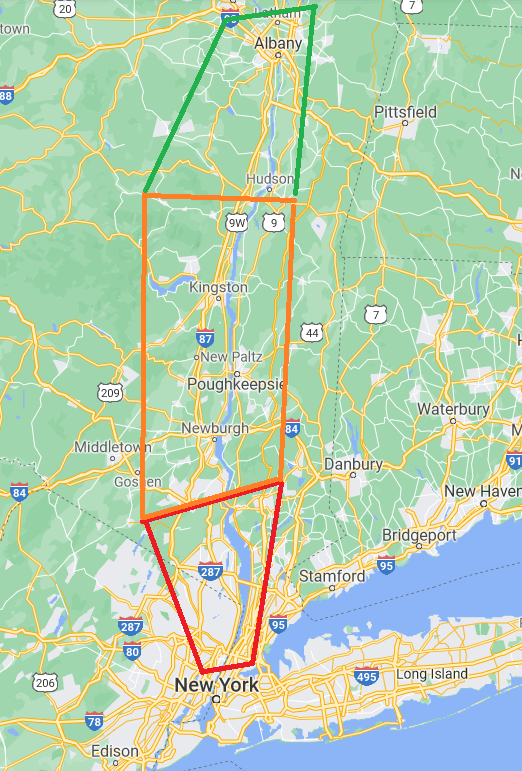 There's 3 areas to the Hudson River Valley area and I have a screenshot to the right which showcases it.
1) The red area is the lower Hudson River Area. It goes from NYC to around the Newburgh area.
2) Then we have the orange area which goes from Newburgh to just above the Catskill Mountains.
3) After that we have the green area which is the upper Hudson River Valley area which goes a bit north of Albany before it ends and Lake George begins soon after.
By the way, these colors are random. I just outlined the sections of the Hudson River area for easy reference.
Most of the hikes on this list are located close to each other in the lower Hudson Valley area, and 2 of them are in the middle part.
I have yet to explore much of the upper Hudson River area, but when I do, I'll add more of the hikes I find there.
And now that you know that this area is divided into 3 sections, let us cover the main point of this article which is the actual hikes in this region worth exploring.
Keep in mind that there are more than 10, but I think you'll find these to be awesome ones to explore, especially if you're just getting started in checking these areas out.
1) Giant Stairs Palisades: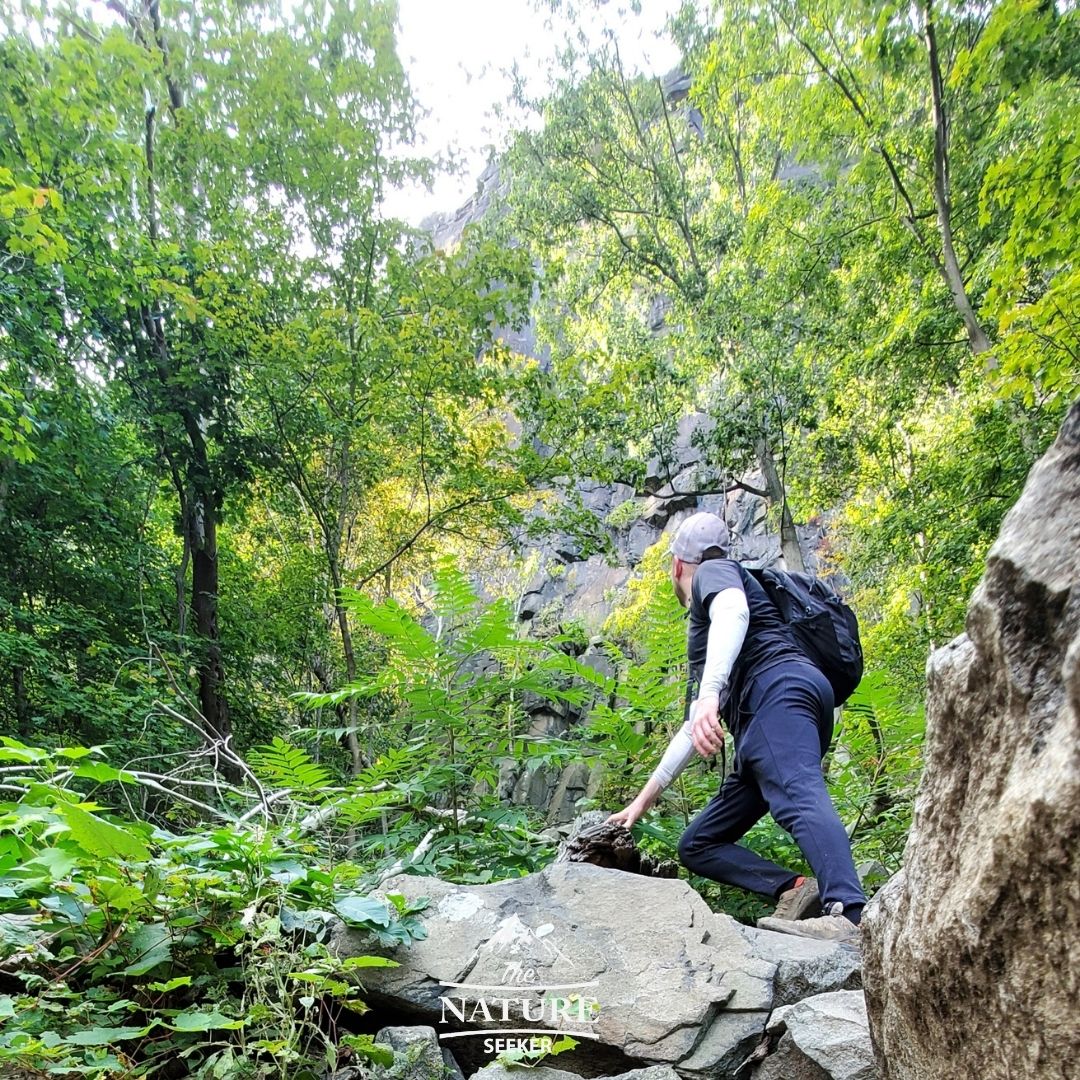 I'll be doing a more thorough dive into this hiking trail on the Hudson Valley, but I recently completed it and I really enjoyed (nearly) every minute of it.
It's moderate for most people, and will involve a bit of an decline/incline hike (4.5 miles), but the beauty of it is that if you want to get an awesome Hudson Valley hiking experience, no other hiking trail on this list will get you closer to the water than the Giant Stairs Palisades hike.
That picture you see to the right is me hiking through the actual "Giant Stairs" of the hike looking up at the giant mountain over me, which you can see across the Hudson River.
Besides this hike, there are also other attractions available within this region which is known as Fort Lee Historic Park.
If you finish this hike a bit early, I would strongly recommend reading that article I linked to because there's much more to see and do at this park.
And fortunately, the other hikes on this list are also very close by.
2) Anthony's Nose:
I did the Anthony's Nose hike awhile back (on a cloudy day) and as I later learned, there are 2 ways to do it:
1) The first is the short in and out trail which is only about 2 miles long. That's the one I did.
2) I later discovered if I started a bit south, there is another trailhead leading to the same area (Anthony's Nose) which makes it an 8 mile in and out trail.
Fortunately, I also later learned that the 8 mile option isn't that pretty, so I didn't miss out. But you can certainly opt to do that one if you wish.
For me, the 2 mile hike up to Anthony's Nose was enough and it gives you an awesome view of the Hudson Valley as well as intersecting a small part of the Appalachian trail.
Now if you also notice, there is a beautiful bridge there. It's called the Purple Heart Memorial Bridge and right across from it is one of the other parks and hiking trails on this list (Bear Mountain). Something to keep in mind.
3) Reeves Brook Loop Trail: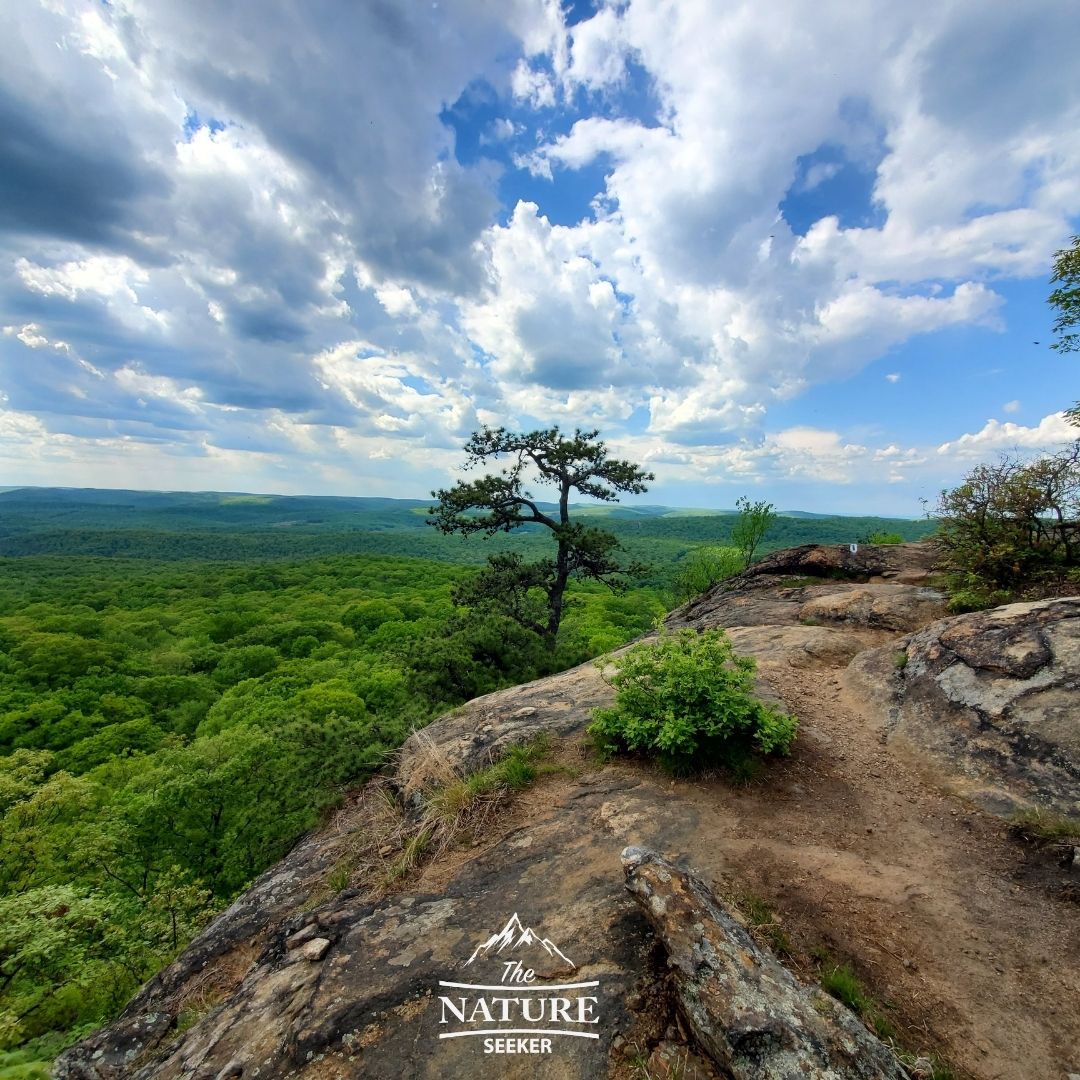 Out of all the Hudson Valley hikes on this list, this one is the furthest from the actual river.
It's located in Harriman State Park which is next door to Bear Mountain.
At certain sections of this park are overlooks from which it's possible to see the Hudson River. It's also about 3-4 miles long.
I included this particular trail because I've done it several times, think it's great for both beginners and moderate hikers and also because to me, Harriman State Park is one of the most awesome parks to explore on the Hudson Valley.
You can learn more about the Reeves Brook Trail here, but keep in mind that it's one of many possibilities in this park and this one will be the closest to the river.
One cool thing to note is that the same Appalachian trail I mentioned above that crosses through the Anthony's Nose hike, also crosses through here, as well as Bear Mountain.
You will also find the popular Long Path hiking trail here as well.
4) Breakneck Ridge: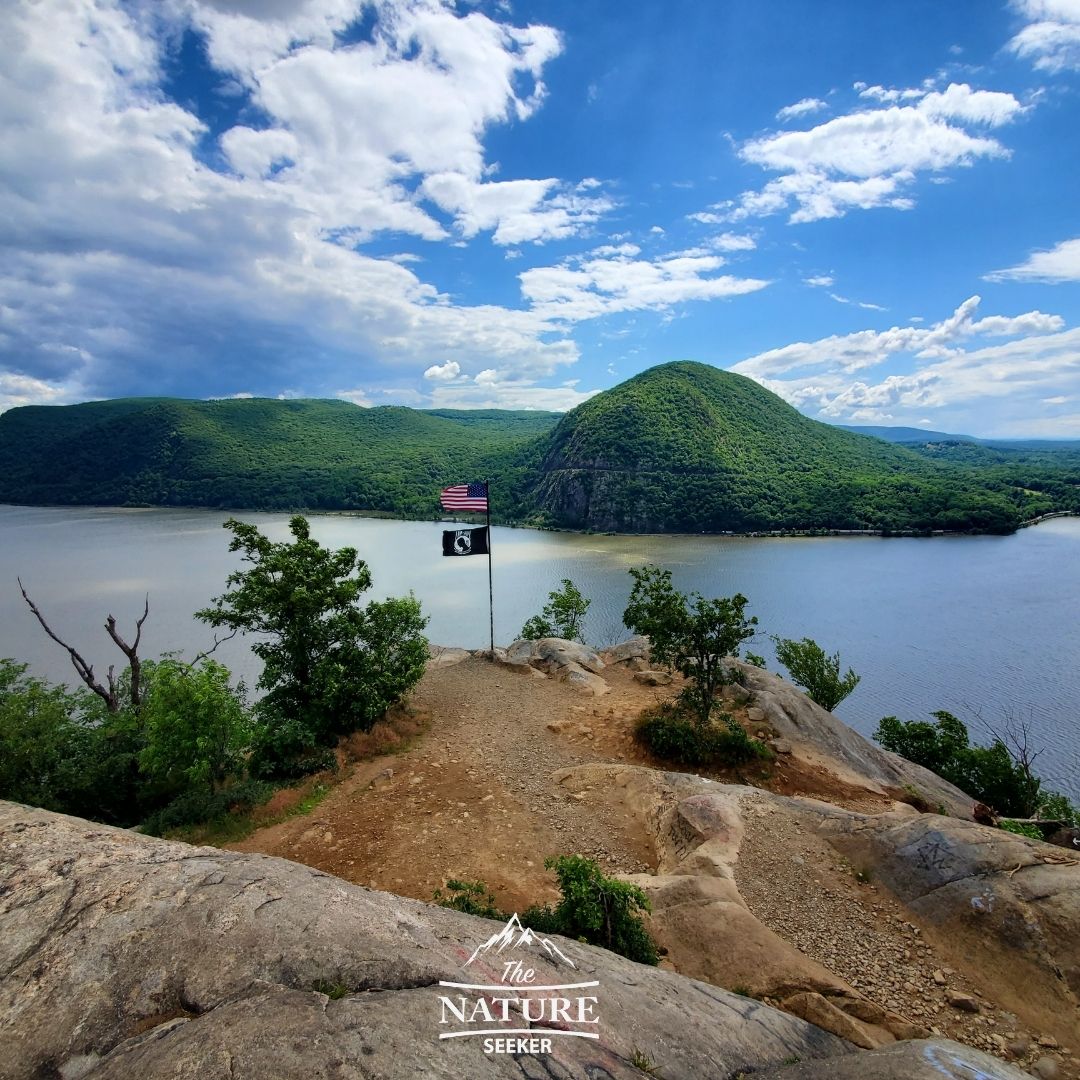 Breakneck Ridge may be the toughest and possibly most dangerous hikes on the list (it's really not that bad though, but it carries that reputation).
This hike is east of the Hudson River and is about 30 minutes north of Anthony's Nose.
In addition to being a fun and possibly dangerous hike, you will be going up a pretty steep incline for about a mile.
At the same time, you will also get great views of the Hudson River and also a mountain on the opposite end of the river (which is also on this list) called Storm King.
The view you see on the right is one of the view points of Breakneck Ridge (there's several).
Breakneck Ridge offers several hiking trails ranging from a few miles of a loop, to a longer one that is over 10 miles long.
I've personally done the shortest one, but tied it in with the next one on this list (Bull Hill Loop).
5) Bull Hill Loop Trail: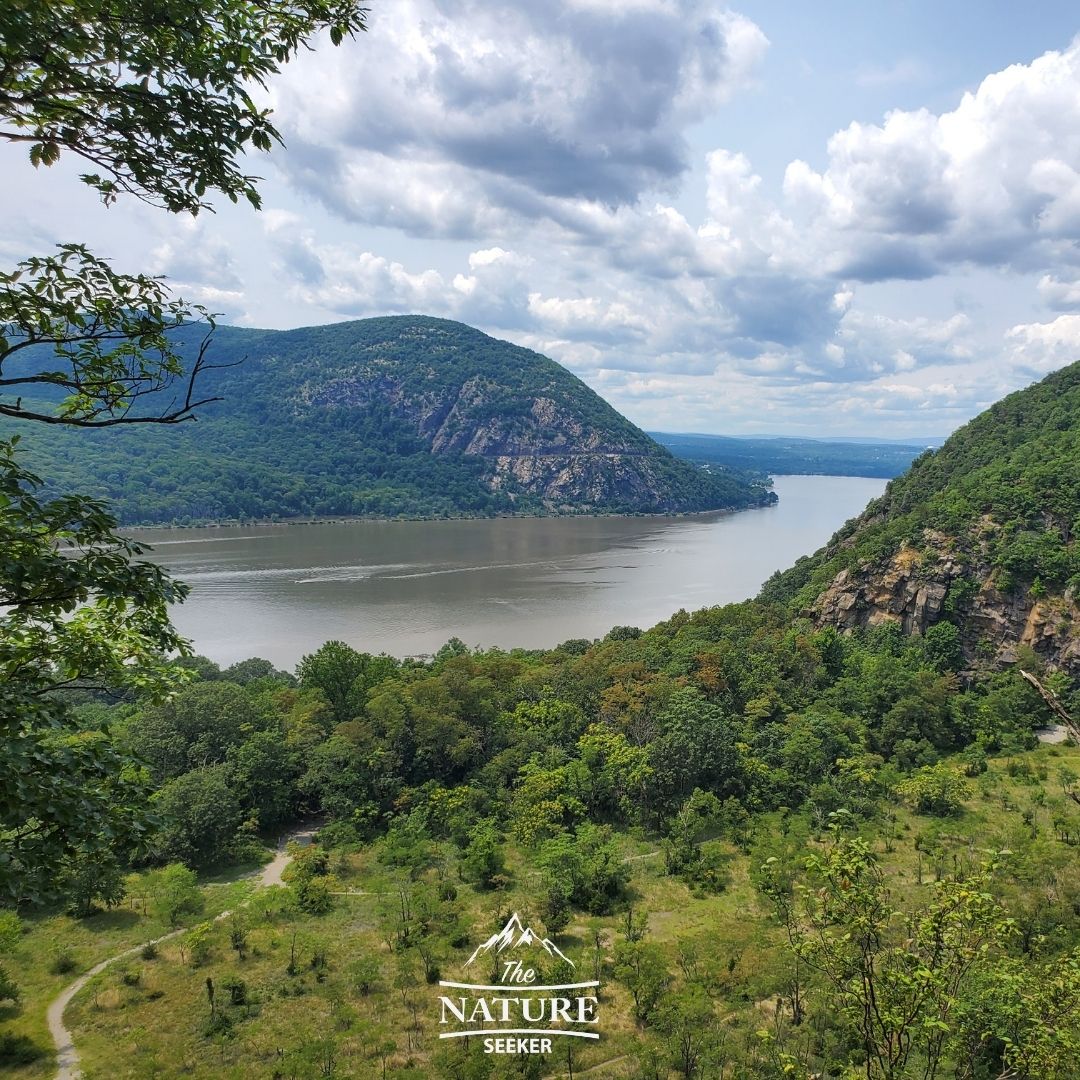 The Bull Hill Loop Trail is only a 5 minute drive from Breakneck Ridge (south), and it is an easier, but also very scenic hike you can do on the Hudson River Valley.
The views such as the ones you see to the right are plentiful on this trail (which is about 5 miles long).
You will also intersect with parts of the Breakneck Ridge hike as well and like I said above, I've tied these 2 hikes into one during one of my "expeditions there".
It wasn't easy, but it ended up being a near 10 mile hike that day.
In any case, Bull Hill Loop is a beginner to moderate hike and there are other options available that can make it longer (see the map for other options).
So far I've done this hike twice.
The first time was in the rain, which at first I hated, but then really appreciated and the other time was in hot weather (which made me appreciate the rainy hike more).
6) Storm King Mountain Trail: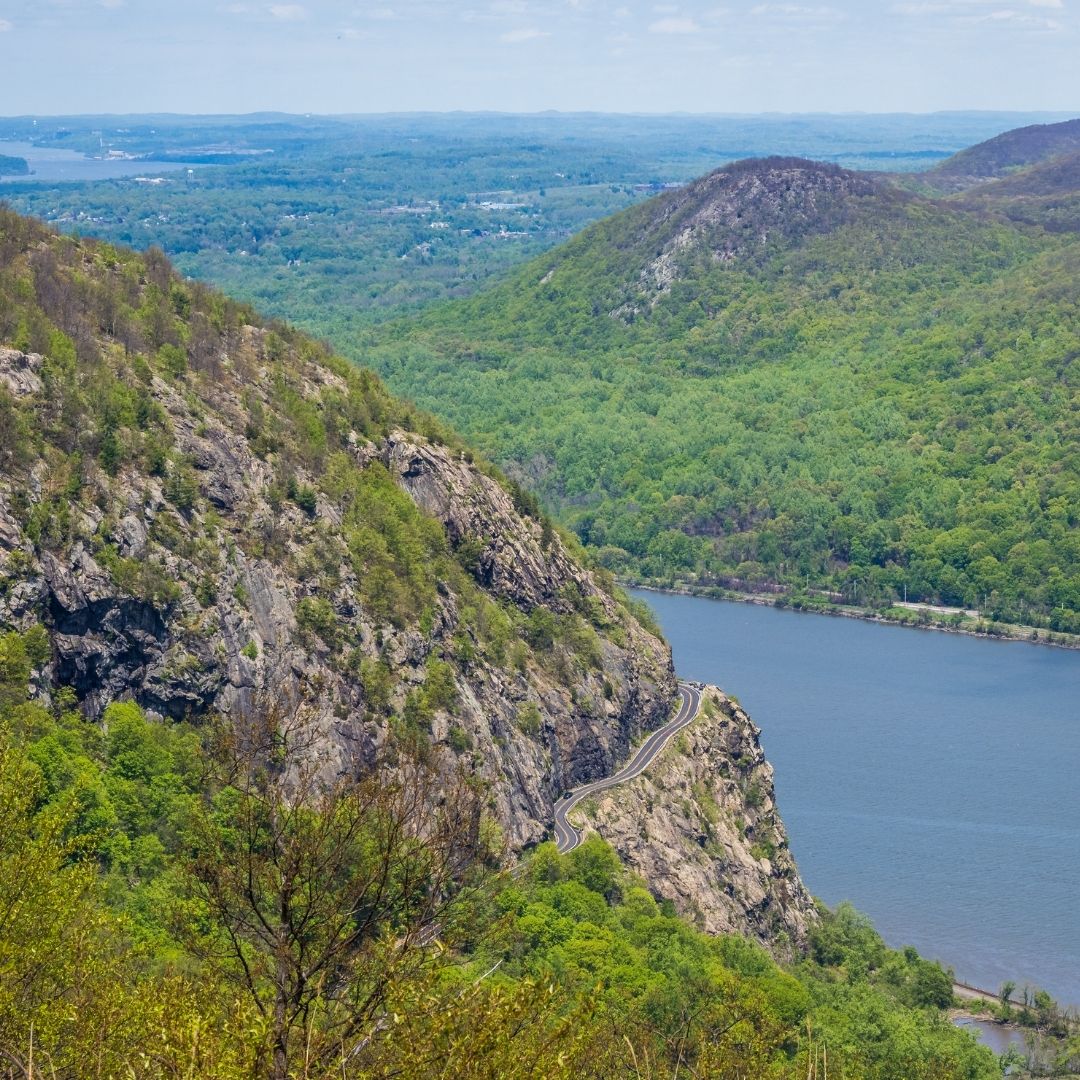 I'll be honest, this is one of the 2 hikes on this list I have yet to do.
But my road trip buddy explored it and said it's a pretty cool place to check out.
Storm King is a mountain right across Breakneck Ridge, on the west side of the Hudson Valley.
It is a state park with scenic drives and hikes (as you can see from the photo on the right).
There are also other attractions available in this state park, including a giant statue that is honestly hard to describe unless you see it yourself (you'll see what I mean if you ever check it out).
The one I have seen recommended as the top choice is the Storm King Mountain Trail which is about 2.5 miles long.
It will also give you a great view of the Hudson Valley, as well as Breakneck Ridge (plenty of photo opportunities).
7) Bear Mountain Loop Trail:
I've done the Bear Mountain hike once when I was little but have yet to fully explore it as it's meant to be explored.
And it's not because it's boring or anything.
It's just that most people who travel to Bear Mountain just prefer the other hikes nearby (and the fact that you have to pay to enter into this park).
But if you find yourself in Bear Mountain State Park, the hike which will take you to a nice overlook of the Hudson River is the Bear Mountain Loop Trail (see the right photo for reference).
It's only 3-4 miles long, not that difficult, and recommended if you're a beginner.
Additionally, Bear Mountain also has a nice lake in it which you can also check out and kayak on.
If I remember correctly, this park also has nice festivals available year round so in addition to hiking, other fun things are available here.
8) Little Stony Point Short Loop: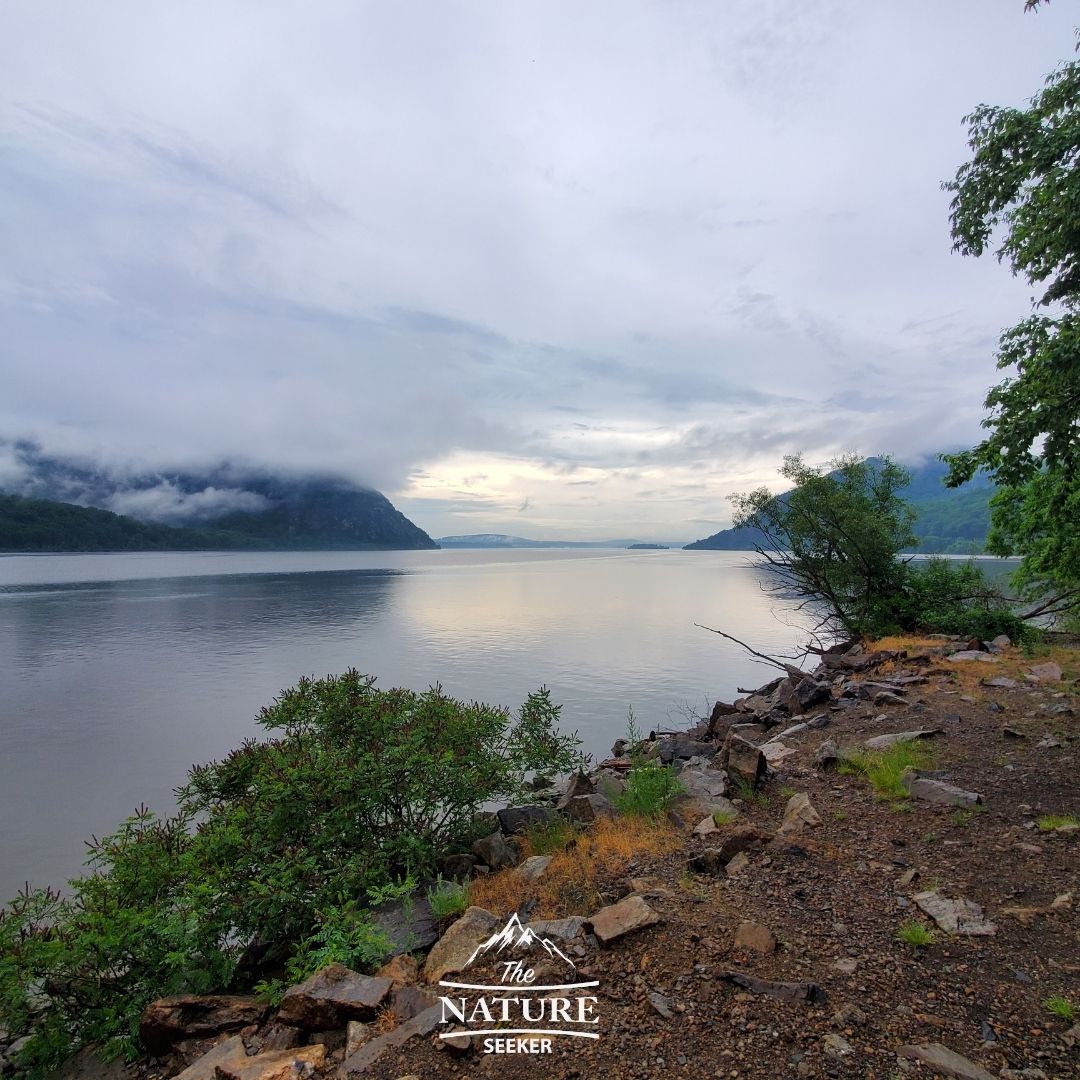 Out of all the hikes on this list, the Little Stony Point Short Loop is the shortest (1 mile and under) and easiest.
However, despite that, it's also the one which I think offers some of the best views of the Hudson Valley that I've ever seen (the picture to the right is a great example).
I've been to Little Stony Point twice and it's right next door to the Bull Hill Loop trail (you can park near this trail head and walk over to Little Stony Point).
There are 2 ways to check out Little Stony Point: The first is at the base of the park and the second is by taking a short hike up the green trail.
Additionally, this place has beaches and water sport amenities available.
If you're not much into hiking or just tired from doing one of the others on this list, then this is a great little place to check out afterwards.
After I do my hikes in Breakneck Ridge or Bull Hill (they are all part of the Hudson Highlands State Park area), I always make sure to check out Little Stony Point.
9) Devils Path (Indian Head Mountain in the Catskills):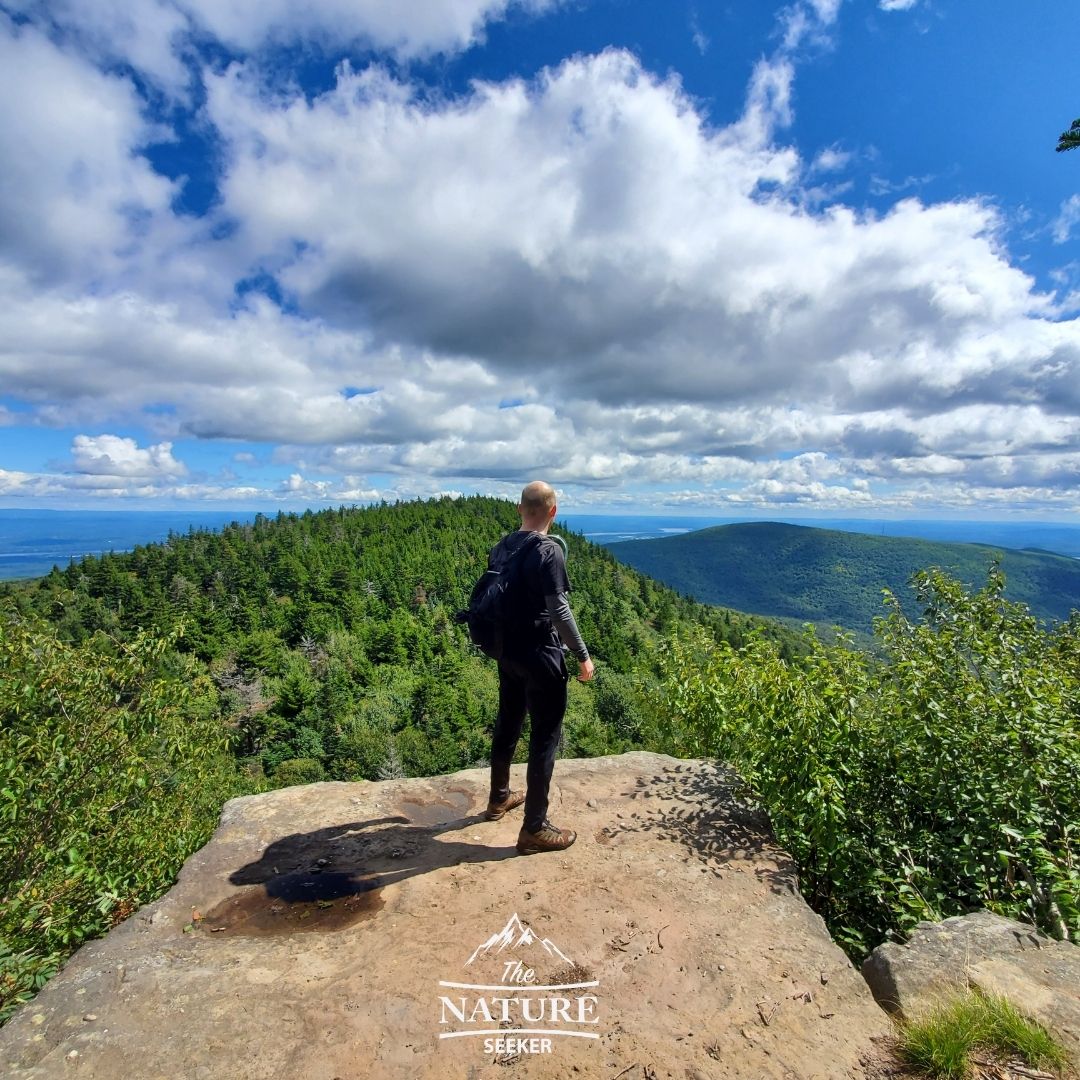 With this hiking trail, we are entering into the middle Hudson Valley River area, specifically the Catskill Mountains.
Now let me warn you: The Devils Path hike can be up to 22 miles long and is not recommended for beginners, but there are shorter options to this trail which will take you through sections of it.
The one I am recommending you check out is the Indian Head Mountain (one of the six mountains on the Devils Path trail).
It is 7 miles long and will take you through beautiful views of the Hudson River Valley (and an awesome hike too).
In fact, when you hit the summit of Indian Head, you will have 2 overlook areas, one of which you can see to the right, both of which will show off the Hudson River (and the mountain region in general).
I'm currently preparing to do the full hike in one day (perhaps next year), but until then, know it's one of the hardest (and best hikes) in the Catskills.
10) Boulder Rock trail: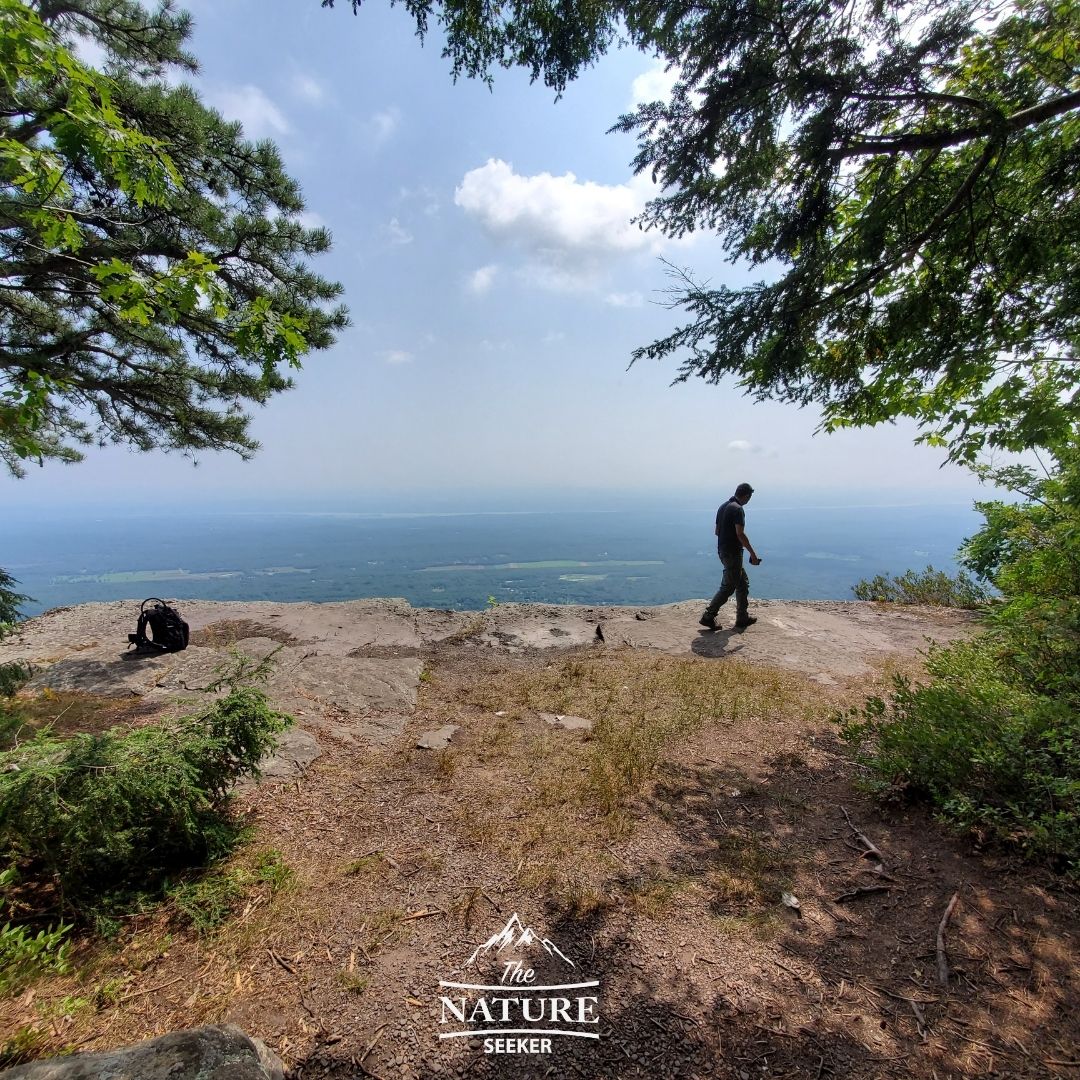 The Boulder Rock trail happens to be another popular hike in the Catskill Mountains and is a lot easier to do than Devils Path.
It is only about 3-4 miles (in and out) and has 3 overlook areas you can check out.
The best one is the one you see to the right in my opinion.
This picture was taken on a foggy day, but you can see the Hudson River.
But as you travel further into the trail, you'll come across the actual boulder which gives the trail it's name.
That region is beautiful, but it won't give you a great view of the Hudson River Valley like the previous overlook.
The Boulder Rock trail is a beginner to moderate trail and if you go, bring trekking poles.
I typically recommend something simple like the Trailbuddy Trekking Poles.
More Hudson River Valley hikes to come:
These 10 are obviously just the start as the Hudson River Valley stretches for over a 100 miles. But overall, you'll get a great experience hiking these amazing trails and if you have any personal recommendations of others to see in this region, do let me know!